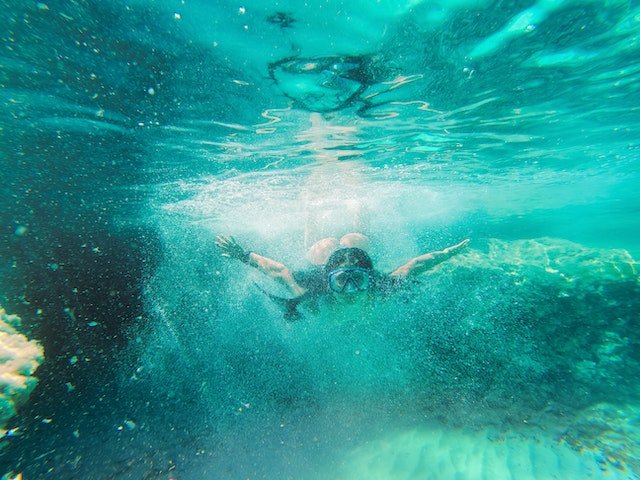 Mauritius, a shimmering gem located in the Indian Ocean, offers more than just its pristine beaches and lush landscapes. Dive beneath its sparkling waters, and you'll discover a world brimming with marine life, vivid coral reefs, and underwater treasures waiting to be explored. Whether you're an experienced diver or a first-time snorkeler, Mauritius' marine sanctuaries promise an unforgettable experience. 
Let's dive into the top places and experiences this island paradise offers.
Blue Bay Marine Park
Just a quick glance into the waters of Blue Bay Marine Park is enough to be enthralled by its breathtaking underwater panorama. Renowned for its incredible coral gardens and vibrant marine species, this is a haven for snorkeling enthusiasts. 
Opt for Mauritius tour packages that include a visit to this marine park, and you'll be rewarded with sights of parrotfish, angelfish, and countless other aquatic marvels. For beginners, snorkeling in the shallow waters of the Blue Bay offers an easy and safe way to get acquainted with the marine world.
Pointe D'Esny Wetland
If biodiversity is what you seek, Pointe d'Esny Wetland will not disappoint. This marine sanctuary is home to one of the largest seagrass meadows in Mauritius. Dive a little deeper and you'll find yourself surrounded by butterflyfish, sergeant majors, and even the occasional turtle. The sanctuary also plays an important role in conserving various species of marine flora and fauna.
Trou Aux Biches
Located on the northwest coast, Trou aux Biches offers a sublime diving experience. From captivating shipwrecks like the Stella Maru to flourishing coral reefs, there's no end to the wonders you can uncover here. 
The waters are teeming with marine life, including lionfish, Moorish idols, and moray eels. Dive schools in the area offer courses for divers of all levels, ensuring everyone can enjoy the beauty this site has to offer.
Mauritius Aquarium
For those who prefer to observe marine life without getting wet, the Mauritius Aquarium in Pointe Aux Piments is your go-to destination. 
Offering a panoramic view of life beneath the surface, the aquarium showcases more than 200 species of fish, invertebrates, corals, and sponges native to the Mauritian waters. Don't miss the shark feeding session which is an experience in itself!
Coin De Mire
Situated off the northern tip of Mauritius, Coin de Mire is a diver's dream come true. While the island itself is inaccessible, the waters around it offer some of the best diving spots. 
With dramatic underwater landscapes, caverns, and a plethora of marine species like trumpet fish, grouper, and blacktip reef sharks, Coin de Mire promises an adrenaline-pumping experience.
Mahebourg Waterfront
While Mahebourg is famed for its bustling markets and colonial charm, the waterfront is a lesser-known snorkeling gem. Rich in coral life and a nursery for juvenile fish, the Mahebourg Waterfront is ideal for snorkelers looking to explore the tranquil marine world. Look out for clownfish playing hide-and-seek among the anemones.
Conclusion
Mauritius, often celebrated for its terrestrial beauty, offers an equally, if not more, enchanting underwater world. Its marine sanctuaries, teeming with life and color, provide the perfect backdrop for diving and snorkeling adventures. Whether you're plunging into the depths of Coin de Mire or simply gazing at the wonders in the Mauritius Aquarium, the island promises a mesmerizing encounter with its aquatic inhabitants. 
So, the next time you consider a tropical getaway, let Mauritius' underwater wonders beckon you for an experience like no other. Dive in, and let the marine magic of Mauritius sweep you off your feet!