Alishan Travel Guide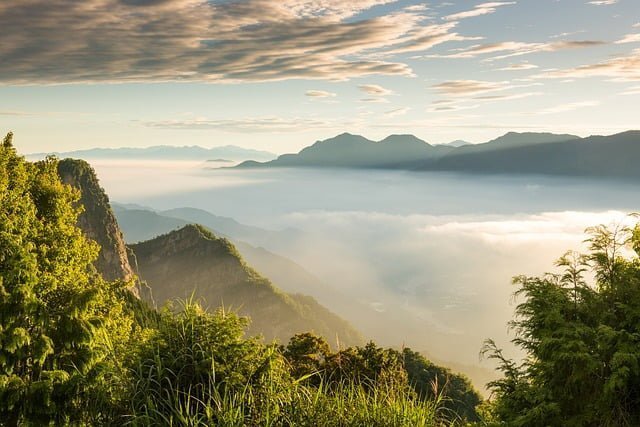 Introduction
Situated high in the mountains of Central Taiwan, Alishan is a place where many Taiwanese go to escape the stress of the city. Carpeted in a cloud forest and much cooler than the lowlands, it is a trip that refreshes the spirit of locals – we are confident it will do the same for you.
Top Attractions
On a trip to Alishan, you'll be spending the bulk of your time exploring the Alishan National Forest Recreation Area. A 1,400-hectare park situated at an average elevation of 2,200 metres above sea level, it is home to an extensive cloud forest which draws nature lovers from across the country on weekends and holidays.
A world apart from the subtropical lowlands, the area's average temperature hovers around ten degrees and it experiences more than 200 days per year of rain and fog. While you may want to pack rain-resistant clothing and an umbrella, the cool damp climate shouldn't stop you from discovering its trails and viewpoints.
While there are many wilderness trails to hike, make sure you pay a visit to this region's Sacred Tree. Said to be over 3,000 years old, this moss-covered cypress is a popular photo shoot venue for newlyweds and selfie takers.
Be sure to also wake up early so you can catch a natural phenomenon known as the Sea of Clouds. Due to the geological positioning of the Alishan Valley, temperature inversions occur frequently, resulting in morning cloud cover that hangs low over the valley.
Right after, stop in at a tea plantation nearby. Taiwan is well-known internationally for the quality of its tea, so it would be a shame if you didn't get to have a cup made from leaves plucked straight from the fields of one of Taiwan's most productive growing regions.
While all the previously mentioned attractions are all worth experiencing, you shouldn't leave the area without taking a ride on the Alishan Forest Railway. Originally built to transport cut logs from the region to waiting Japanese ships during the Colonial Period, the emphasis of the railway shifted from commerce to tourism.
Wending its way up the side of peaks, between giant trees and in season, alongside blooming cherry trees, it is a ride you won't soon forget. Book your trip on this attraction at least two weeks in advance, as its immense popularity makes getting walk-up tickets impossible through much of the year.
Pay a visit to Taiwan's highest place of worship by dropping by Shouzhen Temple. Spooked by supernatural occurrences in the woods of Alishan, forestry workers were moved to build this Buddhist temple in 1948. Like many Chinese-style Buddhist structures, its exterior is trimmed by intricate design features that temple lovers will adore. Between the incense smoke and throngs of pilgrims, it is an atmospheric place everyone should experience on a trip to Alishan.
Before leaving Alishan, head over to Tanayiku for a brief visit, as its grand suspension bridge, clean river, and indigenous cultural centre will keep you occupied for at least an hour or two. The river is only one of a few in all of Taiwan which are clean enough to allow fish to spawn without incident, while the Tsou First Nations people will treat you to dancing and cuisine which may make this place one of the highlights of your trip.
Other Attractions
Learn more about the history of this area by spending some time in the Alishan Museum. Made from the wood of this region, its interior contains exhibits which explain this area's history as a centre of the Taiwanese logging industry and its past as a home for indigenous people from the Tsou First Nation.
Check out a cross-section of a typical Cypress tree, and be amazed at its size – from the abundance of rings, you'll gain an appreciation for how long these virgin stands have existed in this part of the country.
Those wanting to learn even more about this region's First Nations people will want to spend part of their time visiting Yuyupas. A cultural hall built to help this tribe recover from the effects of Typhoon Morakot in 2009, it contains traditional houses, an exhibition hall, a theatre, and the princess' quarters.
In the exhibition hall, you'll find artifacts which show traditional clothing and how they hunted food over the years, among other items, making it a great place to see how the first residents of Taiwan lived before others moved here from the mainland.
Romantics will not want to miss including Sister Lake on their itinerary. A tranquil pond situated in the midst of the Alishan Forest Recreation Area, it is a gorgeous spot with a tragic tale attached to it. According to legend, sisters who were in love with the same man made a death pact to avoid their predicament from damaging their relationship as sisters.
Finally, don't miss the chance to send a wooden postcard to friends and family from the atmospheric Alishan Post Office. Despite the weight of this gift, it costs less than a dollar to send abroad, so do something touristy for a change – your loved ones will appreciate the gesture.