Nestled on the sun-kissed coastline of the Turkish Riviera, Antalya boasts a unique blend of ancient history, natural beauty, and modern sophistication. With its rugged mountains, golden beaches, and turquoise waters, it's no wonder why this charming Mediterranean city has captured the hearts of travelers from around the globe.
From strolling through the cobblestone streets of the old town, to indulging in delicious Turkish cuisine, to exploring the ancient ruins of nearby sites, Antalya offers an unforgettable experience that truly has something for everyone. Whether you're an adventure seeker looking for thrilling outdoor activities, a history buff wanting to uncover the secrets of the past, or simply seeking to unwind in a paradise-like setting, Antalya has got you covered.
Of all the beach resorts in Turkey, Antalya is one of its most popular. Lying on its Mediterranean coast, it is part of the Turkish Riviera. However, despite its association with all-inclusive holidays, Antalya is a great place for cultural travellers.
With a pair of ancient city ruins nearby and a well-preserved Old Town, Antalya will surprise you.
So why not come and discover for yourself what makes Antalya one of the most beloved destinations in Turkey? The warm hospitality of the locals, the stunning natural scenery, and the rich cultural heritage are all waiting for you to experience and cherish.
Come check out our Antalya travel guide as we cover the best things to do in Antalya, Turkey.
Antalya City Guide: A Brief History Of Antalya, Turkey
Antalya is a city located on the Mediterranean coast of southwestern Turkey. The city has a rich history dating back to ancient times, and it has been inhabited by numerous civilizations throughout its history.
The region was first settled by the Lycians in the 2nd millennium BCE, and it later fell under the rule of the Persian Empire. The city then came under the control of the Macedonian Empire, and was eventually absorbed into the Roman Empire in the 1st century BCE. During the Byzantine era, Antalya became an important center for Christianity in the region.
In the 13th century, the city fell under the rule of the Seljuk Turks, who were succeeded by the Ottoman Empire in the 15th century. Under Ottoman rule, Antalya became a center of trade and culture, and many impressive buildings and public works were constructed in the city.
In the early 20th century, Antalya was occupied by Italian forces during World War I, and it was later incorporated into the newly-established Republic of Turkey in the 1920s. Since then, the city has undergone significant development and modernization, while still preserving its rich cultural heritage and historical landmarks. Today, Antalya is one of Turkey's most popular tourist destinations, renowned for its stunning beaches, ancient ruins, and vibrant culture.
Antalya Top Attractions and Best Places to Visit in Turkey
Antalya is a fantastic destination in Turkey. However, before heading to the beach, take a day trip out to the Ancient City of Perga. While the ruins date back to Greek times, people have been living in the area since the Bronze Age.
Perga garnered a mention in the Bible. In the Acts of the Apostles, St. Paul and St. Barnabas preached the gospel in Perga in 46 AD. Its citizens abandoned the city in 1000 AD, shortly after the founding of the Seljuk Empire.
Throughout this site, you'll find many pillars, as well as reliefs featuring depictions of everyday life. Note that there is a lack of shade at this site. As such, be sure to bring a broad-rimmed hat, or a parasol to keep the sun off you.
Still in the mood to explore ancient ruins? Head next to the remains of Termessos. Perched high atop a mountain 30 kilometres outside of Antalya, this city infuriated Alexander the Great. Back in the 4th century BC, the legendary leader was conquering everything in sight.
In modern-day Turkey, only one city eluded his grasp: Termessos. A Pisidian city that sat atop a high mountain plateau, its superior positioning made a surprise attack impossible. He contemplated an assault, but thought better of it – it would have been a colossal waste of human lives.
Even the Romans didn't dare to take Termessos by force. In the 1st century BC, they reached a deal with the city-state. In it, they guaranteed their autonomy. At an unknown date in the future, nature did what no army could: An earthquake wrecked their aqueduct. With their water supply destroyed, Termesso's citizenry opted to abandon their home.
Today, the lack of past warfare has preserved Termesso remarkably. Its walls, gymnasium, theatre, temples, and other structures are in excellent condition. Even so, do respect your surroundings as you explore.
Back in Antalya, be sure to spend a half-day exploring Kaleiçi. This is the old city centre of Antalya – as such, it contains buildings dating back to Roman times. In addition, you'll find buildings from Byzantine, Seljuk, and the Ottoman era.
As you walk its streets, you'll find many museums, mosques, and old residences that ooze character. Some locals still live here, but entrepreneurs have converted most buildings into shops, restaurants, and hotels. Even so, keep this in mind when leaving a bar for your accommodation at night. By being quiet, you'll help improve the sustainability of tourism in Antalya.
If you're looking for a marquee attraction in Kaleici, make time for the Antalya Museum. It protects artifacts recovered from archaeological digs, as well as works of art from different Turkish periods. 5,000 items are on the floor at any given time, but it also has more than 25,000 items in storage.
As you wander its galleries, keep your eyes open for many amazing sights. These include things like the ancient bone relics of Saint Nicholas, traditional musical instruments, and marvellous sculptures.
Other Cultural Attractions: Trip to Antalya, Turkey
As you walk through the streets of Kaleici, be sure to stroll under Hadrian's Gate. This Roman-era construction once served as a gate into the city in Roman times. However, it had been obscured by the city wall in later times.
It was uncovered as the old city wall was deconstructed in the 1950s. After a restoration effort immediately thereafter, it regained its former prominence. Thanks to its remarkable preservation, it makes for an excellent photo op.
Want to get away from the beaches for a day? Spend an afternoon at the Lower Düden Waterfalls. While gorgeous, it is not possible to swim in the gorge. This downside is the only one, though. Its beauty, plus the fact you can go behind the falls, makes them worth a visit.
Let's face it, though – you're probably visiting Antalya for its beaches. Start by grabbing a sun lounger on Konyaaltı Beach. It starts at Antalya's west end and stretches six kilometres, ending at the base of high cliffs. This beach is a sociable place, and is a smart choice for families, as it is patrolled by lifeguards.
If you're looking for a place that is drop-dead gorgeous, make Kaputas Beach your destination. Reaching it requires a degree of physical fitness, as it is 200 steps straight down. Once you're at the base, though, you'll be on a beach with golden sand and cliffs all around.

source: Ultimate Bucket List on YouTube
Top 10 Things To Do in Antalya, Turkey For Visitors
Here are the top 10 things to do in Antalya:
Visit the Old Town (Kaleici): Explore the narrow streets of the old town, admire the Ottoman-era architecture, and enjoy the charming cafes, bars, and restaurants.
Explore the Antalya Museum: Discover the rich history and culture of Antalya and its surrounding regions through the museum's impressive collection of artifacts, including ancient sculptures, coins, and jewelry.
Take a stroll through Duden Waterfalls: Admire the stunning views of the waterfalls as they cascade over cliffs and into the Mediterranean Sea.
Sunbathe on Konyaalti Beach: Relax on the sandy beaches of Konyaalti, a popular spot for swimming, sunbathing, and water sports.
Visit the ancient city of Perge: Discover the ruins of Perge, an ancient city that dates back to the Hellenistic period and was once an important center for trade and commerce.
Take a boat tour of the Mediterranean Sea: Enjoy the stunning coastline of Antalya from the water on a boat tour, which will take you to secluded beaches, hidden coves, and underwater caves.
Discover the Termessos ruins: Hike through the Termessos ruins, an ancient city that was built on a steep hillside and offers breathtaking views of the surrounding landscape.
Go paragliding over the Taurus Mountains: Soar over the Taurus Mountains on a thrilling paragliding adventure and experience the beauty of Antalya from a unique perspective.
Take a trip to the Saklikent Gorge: Explore the Saklikent Gorge, a stunning natural wonder that offers hiking, river rafting, and canyoning adventures.
Visit the Antalya Aquarium: See a wide variety of marine life at the Antalya Aquarium, including sharks, rays, and colorful fish, and enjoy the interactive exhibits and displays.
What To Eat and Drink in Antalya, Turkey
Antalya, located on the Mediterranean coast of Turkey, is known for its delicious and diverse cuisine. Here are some of the must-try dishes and drinks:
Piyaz: A popular Antalyan salad made with white beans, onions, tomatoes, parsley, and lemon juice.
Adana kebab: Spicy, grilled minced lamb or beef, usually served with bulgur and roasted vegetables.
Iskender kebab: A dish consisting of thinly sliced lamb or beef, served over pieces of pita bread and topped with tomato sauce and yogurt.
Manti: Small dumplings filled with spiced lamb or beef and served with a garlic-yogurt sauce and melted butter.
Lahmacun: A thin, crispy pizza-like dish topped with spiced minced lamb or beef, onions, and tomatoes.
Baklava: A sweet pastry made with layers of filo dough, chopped nuts, and honey syrup.
Künefe: A sweet cheese pastry soaked in syrup and topped with pistachios.
Turkish tea: A strong, black tea served in small glasses.
Ayran: A refreshing drink made with yogurt, water, and salt.
Raki: A traditional Turkish alcoholic drink made with anise, usually served with water and ice.
Top Restaurants In Antalya, Turkey
Here are some of the top restaurants to consider in Antalya, Turkey:
Seraser Fine Dining Restaurant – Offering Turkish and Mediterranean cuisine, this elegant restaurant is located in the historic Kaleici neighborhood and features stunning views of the Mediterranean Sea.
Pio Gastro Bar & Bistro – Known for its creative cuisine and exceptional wine list, Pio is a favorite among locals and visitors alike.
Donerci Sahin Usta – If you're looking for a quick and satisfying bite, this popular spot serves up delicious doner kebabs.
Lara Balik Evi – This seafood restaurant is a must-visit for seafood lovers, with fresh catch of the day and an extensive menu of seafood dishes.
Mevlana Pide – For a taste of traditional Turkish pide (a type of flatbread pizza), head to Mevlana Pide for its delicious variety of toppings.
Doy Doy Restaurant – This family-owned restaurant is a local institution and serves up a range of Turkish and Mediterranean dishes, with a focus on fresh, high-quality ingredients.
Kirmizi Restaurant – Known for its authentic Turkish cuisine and friendly service, Kirmizi is a great option for a casual meal with friends or family.
Vanilla Lounge – This chic and stylish restaurant offers a fusion of Turkish and international cuisine, with a menu that includes everything from sushi to kebabs.
Mado – A popular chain of cafes and restaurants in Turkey, Mado is known for its delicious ice cream and traditional Turkish desserts.
Akdeniz Gurme – This modern restaurant serves up a range of Turkish and Mediterranean dishes, with a focus on using local, seasonal ingredients. Don't miss their grilled meats and fresh seafood dishes.
Tours For Visitors To Antalya, Turkey
Antalya is a city located on the Turkish Mediterranean coast and is known for its beautiful beaches, historic sites, and stunning natural scenery. Here are some of the top tours for visitors to Antalya:
Antalya Old Town Walking Tour: Take a guided tour of Antalya's charming Old Town and explore its winding streets, historic buildings, and lively markets.
Perge, Aspendos, and Side Full-Day Tour: Visit some of the most impressive ancient sites near Antalya, including the ancient cities of Perge and Aspendos and the seaside town of Side.
Antalya City Sightseeing Tour: See the highlights of Antalya on this city sightseeing tour, which includes visits to landmarks like the Antalya Museum, the Düden Waterfalls, and the Hadrian's Gate.
Antalya Cable Car Ride: Take a scenic cable car ride up to the top of the Taurus Mountains and enjoy breathtaking views of Antalya and the surrounding area.
Antalya Quad Bike Adventure: Get your adrenaline pumping with an exciting quad bike tour of Antalya's beautiful countryside.
Antalya Jeep Safari Tour: Experience the rugged beauty of Antalya's Taurus Mountains on a thrilling jeep safari tour.
Antalya Rafting Tour: Take on the rapids of the Köprülü Canyon with an exciting rafting tour of Antalya's beautiful countryside.
Antalya Diving Tour: Explore the underwater world of the Mediterranean Sea with a guided diving tour of Antalya's beautiful coastline.
Antalya Paragliding Tour: Soar above Antalya's beautiful coastline on a thrilling paragliding tour.
Antalya Boat Tour: Relax and enjoy the stunning scenery of Antalya's coastline with a leisurely boat tour.
Antalya Accommodations Guide: Hotels, Guesthouses and Hostels
Antalya, Turkey is a popular tourist destination, known for its stunning beaches, rich history, and vibrant culture. Whether you're looking for a luxurious resort, a budget-friendly hostel, or something in between, Antalya has a range of accommodations to choose from.
Lara Beach: This area is home to some of Antalya's most luxurious hotels, including the Delphin Imperial and the Limak Lara. Lara Beach is a beautiful stretch of white sand, and the hotels in this area offer a range of amenities, including swimming pools, spas, and restaurants.
Kaleici: Kaleici is the historic center of Antalya, and it's a great place to stay if you're interested in exploring the city's history. The area is full of narrow streets, ancient ruins, and Ottoman-era buildings. Some of the best hotels in this area include the Eski Masal Hotel and the Mediterra Art Hotel.
Konyaalti Beach: Konyaalti Beach is a popular destination for families and those looking for a more laid-back beach experience. There are several hotels in the area, including the Akra Hotel and the Hotel Su.
Belek: Belek is a great place to stay if you're interested in golfing, as there are several world-class golf courses in the area. The area is also home to several luxury hotels, including the Rixos Premium Belek and the Titanic Deluxe Golf Belek.
Side: Side is a charming town located about an hour from Antalya. It's a great place to stay if you're interested in exploring ancient ruins, as there are several nearby, including the Temple of Apollo and the Roman theater. Some of the best hotels in Side include the Barut Hemera and the Voyage Sorgun.
Alanya: Alanya is a popular beach destination located about two hours from Antalya. The area is known for its beautiful beaches and stunning views. Some of the best hotels in Alanya include the Eftalia Aqua Resort and the Long Beach Resort.
Olympos: Olympos is a small village located about two hours from Antalya. It's a great place to stay if you're interested in hiking or exploring nature. There are several budget-friendly hotels and hostels in the area, including the Kadir's Tree Houses and the Bayrams Tree Houses.
Kas: Kas is a small town located about three hours from Antalya. It's a great place to stay if you're interested in diving or exploring ancient ruins. Some of the best hotels in Kas include the Hotel Club Barbarossa and the Saylam Suites.
Cirali: Cirali is a small village located about two hours from Antalya. It's a great place to stay if you're interested in hiking or exploring nature. Some of the best hotels in Cirali include the Kimera Hotel and the Olympos Lodge.
Demre: Demre is a small town located about two hours from Antalya. It's a great place to stay if you're interested in exploring ancient ruins, as it's home to the ancient city of Myra and the Church of St. Nicholas. Some of the best hotels in Demre include the Eucalyptus Pension and the Simena Hotel.
Day Trips From Antalya, Turkey
Antalya is located on the Mediterranean coast of Turkey, making it an ideal destination for those who want to explore the region. Here are some popular day trips from Antalya:
Perge: This ancient Roman city is located just 18 km east of Antalya and is home to impressive ruins, including a stadium, theater, and ancient baths.
Aspendos: This ancient city is located 50 km east of Antalya and is home to one of the best-preserved Roman theaters in the world. It's still used for concerts and performances today.
Termessos: This ancient city is located 30 km northwest of Antalya and is situated on a mountain. It's one of the best-preserved ancient cities in Turkey and offers stunning views.
Kursunlu Waterfall: This waterfall is located 20 km northeast of Antalya and is a great place to escape the heat and enjoy the beauty of nature.
Duden Waterfalls: Located just a few kilometers from Antalya, these waterfalls are a popular destination for locals and tourists alike.
Side: This charming coastal town is located 75 km east of Antalya and is known for its beautiful beaches and ancient ruins.
Olympos: This ancient city is located 80 km southwest of Antalya and is situated in a stunning valley. It's home to an impressive theater and numerous ancient ruins.
Saklikent Gorge: This gorge is located 50 km west of Antalya and offers a unique outdoor experience. Visitors can walk through the gorge and enjoy the stunning scenery.
Myra: This ancient city is located 150 km east of Antalya and is home to some of the best-preserved Lycian rock-cut tombs in the region.
Pamukkale: While it's a bit further away (about a 3.5-hour drive), the stunning travertine terraces of Pamukkale are a must-see. The nearby ancient city of Hierapolis is also worth exploring.
These are just a few of the many day trips you can take from Antalya, each offering a unique glimpse into the region's history, culture, and natural beauty.
Antalya Transportation Guide
Antalya is a popular tourist destination in Turkey, so it has a well-developed transportation system. Here are some options for getting around Antalya:
Bus: The public bus system in Antalya is extensive and affordable, with routes that cover the entire city and the surrounding areas.
Tram: Antalya's modern tram system runs from the city center to the suburbs, passing through popular tourist areas like Lara and Konyaalti.
Taxi: Taxis are readily available throughout Antalya, but make sure to agree on a price with the driver before getting in.
Car rental: Renting a car is a convenient option for exploring the surrounding areas of Antalya. Many car rental companies have offices at Antalya airport.
Bicycle: Biking is a great way to see Antalya and get some exercise. There are several bike rental companies in the city.
Walking: Antalya's old town, Kaleici, is best explored on foot. Many of the city's historical sites and attractions are within walking distance of each other.
Where To Visit After Your Trip To Antalya?
If you're looking for other destinations to visit after your trip to Antalya, here are some suggestions:
Istanbul: Turkey's largest city and cultural capital, Istanbul is a must-visit destination with its rich history, stunning architecture, and delicious cuisine.
Cappadocia: A surreal landscape of fairy chimneys, underground cities, and hot air balloons, Cappadocia is a popular destination for adventure-seekers and nature lovers.
Bodrum: A popular seaside town with a rich history and beautiful beaches, Bodrum is a great place to relax and soak up the sun.
Ephesus: One of the best-preserved ancient cities in the world, Ephesus is a must-see destination for history buffs.
Pamukkale: Known for its white terraces of travertine, hot springs, and ancient ruins, Pamukkale is a unique and beautiful destination.
Fethiye: A popular coastal town with a vibrant nightlife, Fethiye is a great place to unwind and enjoy the Mediterranean lifestyle.
Konya: Home to the whirling dervishes and the tomb of Rumi, Konya is a spiritual center of Turkey and a fascinating destination for those interested in Sufism.
Mardin: A hilltop city with stunning views of the surrounding plains, Mardin is known for its rich history and distinctive architecture.
Safranbolu: A well-preserved Ottoman town with charming cobblestone streets and traditional houses, Safranbolu is a great place to experience Turkish culture.
Mount Nemrut: A UNESCO World Heritage Site known for its impressive statues and stunning views, Mount Nemrut is a popular destination for hikers and history buffs.
Marrakech, Morocco: Explore the bustling souks, visit stunning palaces and mosques, and try traditional Moroccan cuisine in this vibrant city.
Dubrovnik, Croatia: Visit this picturesque coastal town for its stunning old city, pristine beaches, and crystal-clear waters.
Petra, Jordan: This ancient city carved into the rock is a UNESCO World Heritage Site and one of the most awe-inspiring places to visit in the world.
Bled, Slovenia: With its crystal-clear lake, stunning castle, and majestic mountains, Bled is a picture-perfect destination for nature lovers.
Mykonos, Greece: This iconic Greek island is famous for its pristine beaches, charming whitewashed buildings, and vibrant nightlife.
Porto, Portugal: Visit this charming city for its historic architecture, delicious port wine, and stunning views of the Douro River.
Salzburg, Austria: This charming Austrian city is famous for its baroque architecture, stunning scenery, and connection to Mozart.
Edinburgh, Scotland: Visit this historic Scottish city for its stunning castle, charming streets, and vibrant cultural scene.
Tallinn, Estonia: This charming medieval city on the Baltic Sea is known for its stunning architecture, quaint cobblestone streets, and rich cultural history.
Fez, Morocco: This ancient Moroccan city is famous for its stunning architecture, traditional markets, and rich cultural heritage.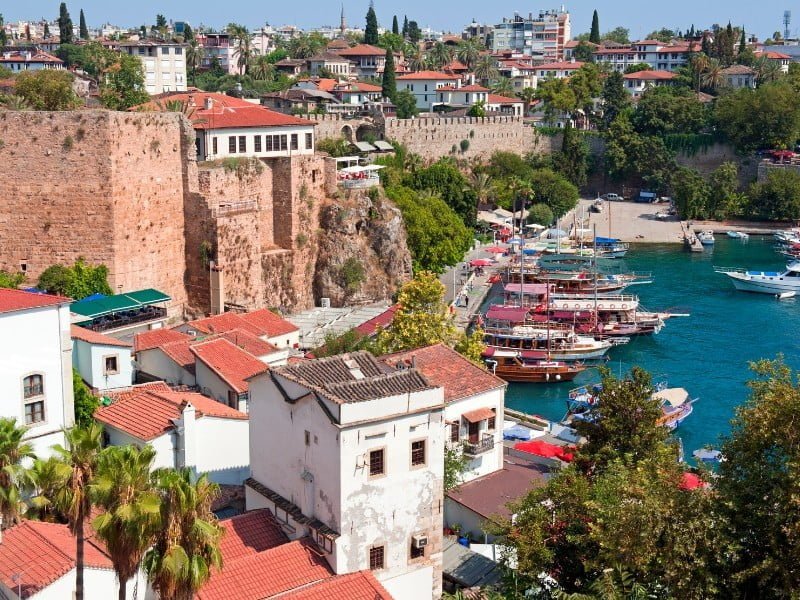 Antalya Travel Guide: Final Thoughts
Antalya is a city that has it all: beautiful beaches, rich history, delicious food, and a vibrant nightlife. From exploring ancient ruins to lounging on the beach, there's something for everyone in this Turkish paradise. The city's picturesque old town, stunning waterfalls, and bustling bazaars are just a few of the many reasons to visit Antalya.
With a wealth of activities, sights, and experiences to discover, Antalya is a destination that's sure to captivate and inspire. Whether you're a history buff, a foodie, or a beach lover, Antalya is an unforgettable destination that's not to be missed.
Amidst the shores of turquoise blue, Lies a city with wonders anew, Antalya, the city of Sun, With a charm that can never be undone.
The old town and the harbor so grand, Leave memories that forever stand, Walking down the cobbled streets, The city's history one can meet.
With mountains as the backdrop high, Nature here seems to touch the sky, From Düden Waterfalls to Kursunlu, The beauty of Antalya is all but few.
The beach stretches as far as the eye can see, The Mediterranean waves so calming and free, Lara Beach and Konyaalti, The perfect places to soak up the city's beauty.
Antalya, the city of allure, The memories here forever secure, This charming city of sun and sea, Is where your heart will long to be.