Welcome to Tivat, a charming coastal town nestled in the heart of the Bay of Kotor in Montenegro. Known for its stunning natural landscapes, rich history, and vibrant marinas, Tivat offers a delightful blend of relaxation, culture, and nautical charm. This Tivat travel guide will be your companion as you navigate through the town's attractions, discover its hidden gems, and soak in the beauty of the Adriatic coast.
With its picturesque setting and a backdrop of majestic mountains, Tivat offers an ideal escape for those seeking tranquility and natural beauty. The town is home to pristine beaches, secluded coves, and crystal-clear waters, perfect for sunbathing, swimming, and water sports enthusiasts. From the bustling town center to the peaceful coastal areas, Tivat has something to offer every traveler.
As you explore Tivat, you'll encounter a rich tapestry of history and culture. The town boasts historical sites such as the Renaissance Summer House Buća-Luković and the Church of St. Roko, which provide a glimpse into its past. Discover the unique architecture and charming streets lined with cafes, boutiques, and restaurants, where you can savor local delicacies and immerse yourself in the vibrant atmosphere.
One of Tivat's notable features is its marinas, including the luxurious Porto Montenegro. This glamorous nautical destination offers a haven for yacht owners, a vibrant waterfront with upscale shops and restaurants, and a hub for cultural events and festivals. Stroll along the marina promenade, admire the magnificent yachts, and indulge in the lively ambiance that permeates the area.
For nature enthusiasts, a visit to the nearby Island of Flowers (Ostrvo Cvijeća) and the Solila Nature Reserve is a must. Explore the lush vegetation, enjoy peaceful walks, and witness the diverse birdlife that calls these areas home.
Tivat also serves as a gateway to other remarkable destinations in the Bay of Kotor. Take a short drive to the UNESCO-listed Kotor Old Town, with its medieval charm and ancient city walls, or venture to the nearby towns of Herceg Novi and Budva, each offering their unique coastal allure.
This Tivat travel guide will provide you with insights, recommendations, and practical information to make the most of your time in this captivating coastal town. Whether you seek relaxation on sandy beaches, cultural exploration, or maritime adventures, Tivat promises an unforgettable experience along the stunning Montenegrin coastline. So, embark on your Tivat journey and let the beauty of this coastal gem captivate your senses.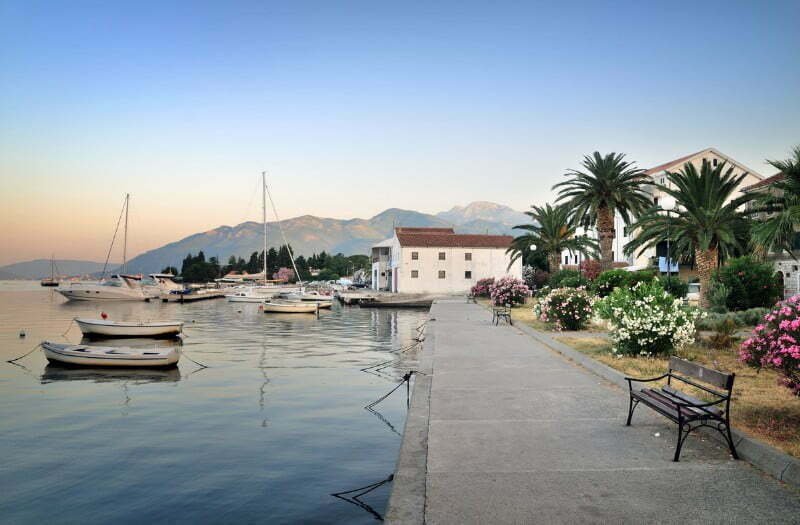 Tivat City Guide: A Brief History Of Tivat, Montenegro
Along the Montenegrin coast, Kotor and Budva attract much of the attention, and for a good reason. The former has a legendary old town, while the latter has the best beaches Montenegro.
However, if you want a quiet place to stay while in the area, consider Tivat. Located roughly halfway between the two destinations, it has all the natural beauty of the other spots. Not only that, but it also has attractions worth seeing on their own merits.
Come check out our Tivat travel guide as we cover the best things to do in Tivat, Montenegro.
Tivat, a beautiful coastal town in Montenegro, has a rich and fascinating history that spans many centuries. The town is situated on the shores of the Bay of Kotor, a stunning natural harbor on the Adriatic Sea.
The earliest known inhabitants of the Tivat area were the Illyrians, who lived there as early as the 4th century BC. Later, the Romans arrived and established a settlement in the area, leaving behind various ruins and artifacts that bear witness to their presence.
During the Middle Ages, Tivat was part of the Serbian state of Rascia, and later became part of the Nemanjic dynasty. In the 14th century, Tivat was ruled by the Bosnian King Tvrtko I, who built a fortress there to defend the town against the invading Ottomans.
During the Ottoman Empire, Tivat was part of the Sanjak of Herzegovina. However, the Ottomans did not leave a significant mark on the town's architecture or culture.
In the 19th century, Tivat came under the control of the Austro-Hungarian Empire. The Austro-Hungarians recognized the strategic value of the Bay of Kotor and built a naval base in Tivat. This move led to the rapid development of the town, and many new buildings and structures were erected during this time.
During World War I, Tivat was bombed by the Austro-Hungarian navy, which destroyed many of the town's buildings. After the war, Tivat became part of the Kingdom of Yugoslavia.
During World War II, Tivat was occupied by the Italian army, and later by the German army. The town suffered significant damage during the war, but it was able to recover quickly in the post-war years.
After the war, Tivat was part of the Socialist Federal Republic of Yugoslavia. During this time, the town continued to develop and expand, with new residential areas and tourist facilities being built.
In the 21st century, Tivat has become a popular tourist destination, attracting visitors from all over the world with its beautiful beaches, marina, and historic sites. The town has undergone significant development in recent years, with many new hotels and resorts being built to accommodate the growing number of visitors.
Despite all the changes that have taken place over the centuries, Tivat has managed to preserve its unique character and charm. Visitors can still see the remnants of the town's rich history in its many ancient ruins, historic buildings, and cultural landmarks.
Tivat Top Attractions and Best Places to Visit in Montenegro
Begin your time in Tivat by checking out the Maritime Heritage Museum. Back when Montenegro was a part of Yugoslavia, Tivat was home to the famed Arsenal shipyard. It once housed ships for that's nation's navy, but today, it is full of artifacts from that era.
However, you won't find its top attractions inside. Outdoors, you'll find two Yugoslav submarines in dry dock. While they no longer patrol the waters of the Adriatic, you can climb atop them via a steel staircase on the side. You even go inside, but to do that, you'll need to sign up for the guided tour. At 5 EUR apiece, it's a great value!
Before moving onto the other cultural attractions that Tivat has to offer, get a selfie with The Jadran. The Jadran is a 19th-century sailboat that the Montenegrin navy inherited from the former Yugoslavia. While you can't board the ship, it's a spectacular sight, especially when the crew unfurls its sails!
The Tivat area boasts a pair of small but impressive churches. Start by checking out the St. Roko Church. It is easy to access, as it is on the waterfront near the centre of town. This 19th-century beauty looks older than its age, as locals built it from rock quarried from nearby mountains. Because of this, it blends in well with surrounding buildings.
The interior is cosy and peaceful, making it a great place to reflect and recharge. Just be sure to dress and act respectfully – this church is more a local's spot than a bona fide tourist attraction. If you'd prefer to attend mass, the local priest holds services here daily at 9 am.
Venture further out of Tivat, and you'll find St. Mary's Church. This 15th-century gem boasts sweeping views of the Bay of Kotor and Perast, as it sits atop a local hill. Vehicle access is a challenge – the road is narrow, making it tough when encountering opposing traffic.
While it is physically taxing, we recommend hiking up. By taking your time and packing plenty of water, you'll get there, minus the stress of driving. The pastor often closes the church to outside visitors, but its exterior has impressive character. Besides, the views offer their own reward!
Are you staying in the area long-term? Take in some performing arts with the locals at the Tivat Culture Centre. The stage here host regional theatre troupes and touring musical acts alike. When shows aren't on, take in the art gallery, which features pieces from Montenegrin artists.
Other Cultural Attractions: Trip to Tivat, Montenegro
Some choose to dock in Kotor or Budva. However, many superyacht owners seek out the relative anonymity of Tivat by calling at Porto Montenegro instead. Consequently, if you choose to stay here, you'll get to check out all the boats that the rich & famous use to explore the world.
All this wealth attracts a variety of high-end businesses. Adjacent to the docks, you'll find many excellent designer shops, restaurants, and bars. Even if you don't patronize them, their presence makes for incredible people-watching. If you're not staying in Tivat, consider coming here for Porto Montenegro – you won't regret it!
Tivat can't compete with the likes of Budva when it comes to beaches. But it does have a pair that are great spots to spend a gorgeous day. Start by laying out a towel at Plavi Horizonti Beach. You'll find it a little way out of town in a small cove.
The waters here are very shallow, so this beach is an excellent place to take a young family. This fact also means the water here is warmer than elsewhere – perfect if you are accustomed to tropical beaches. The beach itself is a mix of sand and small pebbles, so it is easy on the feet.
Note that there is an entrance fee of 3 EUR per person. However, it does come with sun lounger access, which may be attractive to some.
Kalardovo Beach is another beach popular with Tivat locals and long-stay tourists. Its location puts it close by the regional airport – this may annoy some, but plane-spotters love it. Like Plavi Horizonti, the water here is shallow, making it suitable for children. A cafe and bar are on-site, so those who enjoy such conveniences may prefer this beach.
End your visit to Tivat with an evening on the Pine Embankment. A popular place among locals, you'll see plenty of them in the evening hours. Join them in a stroll, then have a meal in a cafe, restaurant, or bar. Porto Montenegro is nearby, so feel free to head here after visiting the famous marina.

source: Two Mad Explorers on YouTube
Top 10 Things To Do in Tivat, Montenegro For Visitors
Tivat is a charming coastal town in Montenegro that offers visitors a wide variety of activities and attractions. Here are the top 10 things to do in Tivat:
Visit the Porto Montenegro Marina: This luxury marina is a must-see for yacht enthusiasts and those interested in the high life. It features world-class restaurants, bars, and shops, as well as a variety of water sports activities.
Explore the Buca Fortress: This historic fortress was built during the Venetian era and offers stunning views of the Bay of Kotor. Visitors can walk along the ramparts and explore the fortress's interior, which includes a small museum.
Take a stroll along the Tivat Promenade: This lovely seaside promenade offers stunning views of the bay and is the perfect place for a relaxing walk or jog. There are also plenty of restaurants, bars, and cafes along the way.
Visit the Naval Heritage Collection: This museum showcases the history of Tivat's naval base, which was established by the Austro-Hungarian Empire in the 19th century. Visitors can see historic ships, submarines, and other naval artifacts.
Explore the Island of Flowers: This small island is located just off the coast of Tivat and is home to a beautiful botanical garden. Visitors can stroll through the garden, which features a wide variety of plants and flowers from around the world.
Relax on Plavi Horizonti Beach: This beautiful beach is located just a short drive from Tivat and offers crystal-clear waters and soft, white sand. There are also plenty of restaurants and bars nearby.
Visit the Gornja Lastva Village: This charming village is located just outside of Tivat and features traditional stone houses, narrow streets, and stunning views of the bay. Visitors can explore the village's many historic sites and enjoy a traditional meal at one of its many restaurants.
Take a boat tour of the Bay of Kotor: This stunning bay is one of the most beautiful natural harbors in the world and is best explored by boat. Visitors can take a tour of the bay, stopping at historic towns and villages along the way.
Hike to the Vrmac Fortress: This historic fortress is located on a hill overlooking Tivat and offers stunning views of the town and bay. Visitors can hike to the fortress, which takes about an hour, and explore its interior.
Visit the Tivat City Museum: This museum showcases the history and culture of Tivat, from its ancient Illyrian and Roman roots to its modern-day developments. Visitors can see a wide variety of exhibits, including ancient artifacts, historic documents, and contemporary art.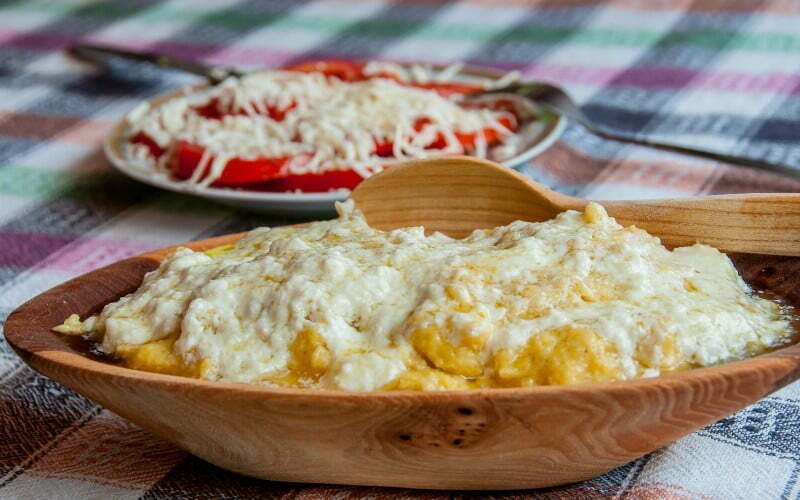 What To Eat and Drink in Tivat, Montenegro
Tivat is a town that is known for its vibrant and delicious cuisine, which is deeply influenced by the region's history and geography. Tasting the local dishes and drinks is a must for anyone visiting this charming coastal town. Here are some of the must-try foods and drinks in Tivat that will surely make your mouth water and your taste buds dance with joy:
Porto Montenegro: The crown jewel of Tivat, Porto Montenegro, is a sumptuous marina that caters to some of the most luxurious yachts in the world. The marina is beautifully designed, reminiscent of chic French Riviera towns with a Montenegrin twist. This is an excellent place to start your Tivat adventure. Indulge in high-end restaurants, browse through designer shops, or enjoy a relaxing day at the Yacht Club's infinity pool. The views of the Adriatic, coupled with the backdrop of the Montenegrin mountains, are truly breathtaking.
Pine Promenade: Just a short walk away from Porto Montenegro, the Pine Promenade, also known as Pine Embankment, is an elegant, tree-lined walkway overlooking the Tivat Bay. It's a lively, vibrant area brimming with cafes, restaurants, and small shops that cater to both locals and tourists. Here, you can enjoy the charm of everyday Tivat life and partake in the locals' favorite pastime: leisurely enjoying the stunning views of the bay over a cup of coffee or a delicious meal.
Plavi Horizonti Beach: A trip to Tivat would be incomplete without a visit to the city's most beloved beach, Plavi Horizonti. This sandy oasis, surrounded by olive groves and a dense pine forest, is a Blue Flag beach, indicating it meets high environmental and quality standards. Its shallow, crystal-clear waters are ideal for swimming and snorkeling. The beach also offers amenities like loungers, umbrellas, and nearby cafes for refreshments.
Tivat Solila: This unique ornithological and ichthyological reserve is one of Europe's most significant habitats for birds. The preserved salt pans in Tivat Solila are home to around 111 bird species, some of which are endangered. As you walk around the site, you can watch these beautiful creatures in their natural environment. Look out for flamingos, the black-winged stilt, and the Eurasian spoonbill, to name a few.
Saint Sava Church: This Serbian Orthodox Church, located on a hill in the Seljanovo neighborhood, is dedicated to Saint Sava, the founder of the Serbian Orthodox Church. It's a piece of elegant architecture, offering panoramic views of Tivat and the surrounding areas. The peaceful and serene atmosphere makes it a perfect place for quiet reflection.
Vrmac Peninsula: If you're into hiking, the Vrmac Peninsula is a must-visit. This mountain ridge divides Tivat and Kotor Bays. Its highest peak, Saint Ilija, is around 760 meters high, and the hiking trail leading to it offers magnificent views of the Boka Bay. The peninsula is also home to several small, charming villages, fortresses, and churches waiting to be explored.
Explore Local Cuisine: Montenegrin cuisine is a delightful blend of Mediterranean and Balkan flavors. In Tivat, you'll find numerous restaurants serving traditional dishes. Try Prova, known for its seafood and pasta, or Big Ben, famous for its pizzas and local dishes like 'cevapi' and 'burek.' Don't forget to try 'kacamak,' a traditional Montenegrin dish made with potatoes, wheat flour, and cheese.
Sea Dance Festival: If you're visiting Tivat in the summer, plan your visit around the Sea Dance Festival. This music festival, hosted on Buljarica Beach, has won multiple awards and is known for attracting renowned DJs and artists from around the globe. Enjoy the vibrant atmosphere, the music, and the beach setting, making it a memorable experience.
Botanical Gardens: Tivat is known for its green spaces, and the Botanical Gardens is one of them. The garden is home to over 100 different plant species from all corners of the world. Stroll through the garden paths, take in the vibrant colors and fragrances, and enjoy a moment of calm away from the city hustle.
Town Park: The Town Park is an oasis of tranquillity in the middle of Tivat. With its beautiful lake, playgrounds for children, and various species of plants and trees, it's the perfect place for a family picnic or a leisurely afternoon stroll.
Local Market: Every city or town's spirit can be best experienced at its local market, and Tivat is no exception. The vibrant Tivat market is located in the city center, where you can buy a variety of fresh local produce, from fruits and vegetables to cheeses and meats. The market also offers locally produced honey, olive oil, and wine. This is a great opportunity to interact with locals and get a taste of the region's rich culinary offerings.
Naval Heritage Collection: The Naval Heritage Collection is an extensive maritime museum located in Porto Montenegro. This 800-square-meter space is home to numerous exhibits that trace the naval history of the Bay of Kotor and Yugoslavia. You'll see everything from historic naval artifacts, photographs, models, and even a submarine (P-821 Hero), which serves as the highlight of the museum. It's an intriguing journey through time that gives insight into the region's naval traditions and history.
Water Sports: Tivat's calm and clear waters are ideal for a variety of water sports. From jet-skiing to paddleboarding, and from sailing to scuba diving, there's a water sport for every enthusiast. Several local companies offer equipment rentals and lessons, making it a fun and exciting way to spend your time in Tivat.
Sailing Lessons: If you've ever dreamed of learning how to sail, Tivat is the perfect place to do so. The Yacht Club Porto Montenegro offers sailing courses for both beginners and advanced sailors. Under the guidance of experienced instructors, you can learn to navigate the stunning Adriatic Sea. It's not only a skill but an unforgettable experience.
Cooking Classes: One of the best ways to understand a culture is through its food. Several local restaurants and culinary schools in Tivat offer Montenegrin cooking classes. These classes teach you how to prepare traditional Montenegrin dishes, offering you a deeper understanding of the local culinary traditions and ingredients, and allowing you to take a piece of Montenegro back home with you.
Wine Tasting: Montenegro has a rich wine culture, with winemaking traditions dating back thousands of years. In Tivat and its surroundings, you can visit local wineries that offer wine tasting tours. Savour the flavors of Vranac (a native red grape variety), Krstač (an indigenous white grape variety), and many others. It's a fascinating journey through the country's wine heritage that both novice and experienced wine lovers will appreciate.
Tivat Marina: Tivat Marina is not only a docking spot for boats but a bustling area full of restaurants, cafes, and shops. Whether you decide to have a meal, sip on a cocktail, or just enjoy a leisurely walk, the marina is a pleasant place to spend some time. You'll be fascinated by the luxurious yachts anchored there and the spectacular views of the bay.
Our Lady of the Rocks: A short boat ride from Tivat will take you to one of the Adriatic's most unique attractions, the artificial island of Our Lady of the Rocks. According to legend, the island was created over the centuries by local seamen who laid a rock in the sea after each successful voyage. Today, a beautiful church and museum, filled with numerous works of art and historical objects, stand on the island. The journey to the island, as well as the site itself, offers unforgettable views and photo opportunities.
Saint Marko Island: Saint Marko Island, with its lush Mediterranean vegetation, beautiful pebble beaches, and azure waters, offers a perfect getaway. It's a place to relax, unwind, and enjoy nature in all its glory. The island also has a rich history and was once home to a 13th-century Benedictine monastery.
Yacht Charter: If you prefer a more exclusive experience, consider chartering a yacht for the day. Several local companies offer a variety of yachts for rent, allowing you to explore the stunning Montenegrin coastline at your own pace. Whether you decide to stop at secluded beaches, hidden coves, or charming coastal towns, it's a day of luxury and adventure combined.
Top Restaurants In Tivat, Montenegro
Tivat is a stunning destination that boasts an array of dining options, from authentic local cuisine to international flavors. If you're looking for the best places to eat in Tivat, here are the top restaurants that will surely satisfy your cravings and delight your senses.
First on the list is One – Restaurant & Lounge Bar, an elegant and modern establishment situated in the prestigious Porto Montenegro. One offers a unique dining experience with its fusion of Mediterranean and Asian flavors, and its beautiful terrace overlooking the marina makes for a perfect setting to indulge in the exquisite cuisine.
Next up is Big Ben, a popular restaurant that boasts stunning views of Tivat Bay and a reputation for serving mouthwatering seafood dishes. The menu features a variety of grilled fish and seafood, as well as meat and pasta dishes, making it a must-visit for seafood lovers.
Kantun, located in the heart of Tivat, is a cozy and welcoming restaurant that offers traditional Montenegrin cuisine. The menu boasts hearty dishes such as kacamak, lamb, and grilled meats, and the portions are generous, making it an ideal place to satisfy your hunger after a day of exploring the town.
Al Posto Giusto is an Italian restaurant that has become a favorite among locals and visitors alike. The menu features authentic Italian dishes like pizza, pasta, and risotto, and the ambiance of the restaurant is cozy and intimate, making it perfect for a romantic evening out.
One&Only is a high-end restaurant situated in the luxurious One&Only Portonovi resort, offering an unforgettable dining experience. The menu features a delectable blend of Mediterranean and Montenegrin cuisine, and the stunning terrace overlooking the Adriatic Sea makes for a mesmerizing dining setting.
La Piazza is another Italian restaurant located in the heart of Porto Montenegro, offering a casual and laid-back atmosphere. The menu features a variety of pizza and pasta dishes, and the lovely outdoor seating area is perfect for enjoying the warm Mediterranean breeze.
Azimuth, located in the Regent Porto Montenegro hotel, is an elegant and upscale restaurant that serves a fusion of Mediterranean and Asian flavors. The beautiful terrace overlooking the marina provides a breathtaking setting for a memorable dining experience.
Verige65, situated on the Verige Strait, offers a spectacular view of the Bay of Kotor. The restaurant features a variety of seafood dishes, as well as meat and vegetarian options, and the beautiful outdoor seating area is a perfect spot to indulge in the delectable cuisine.
Lepetane is a charming restaurant located in the village of Lepetane, offering traditional Montenegrin dining. The menu boasts dishes such as fish soup, grilled fish, and meat dishes, and the restaurant's lovely outdoor seating area overlooking the bay provides an idyllic setting for a memorable dining experience.
Ribarsko Selo is a rustic and charming seafood restaurant situated in the village of Krašići. The menu features a variety of grilled fish and seafood dishes, and the restaurant's beautiful outdoor seating area by the water offers a serene atmosphere to enjoy the delicious cuisine.
These top restaurants in Tivat, Montenegro, offer a range of dining experiences that cater to different tastes and preferences, making them must-visit destinations for anyone seeking an exceptional culinary journey.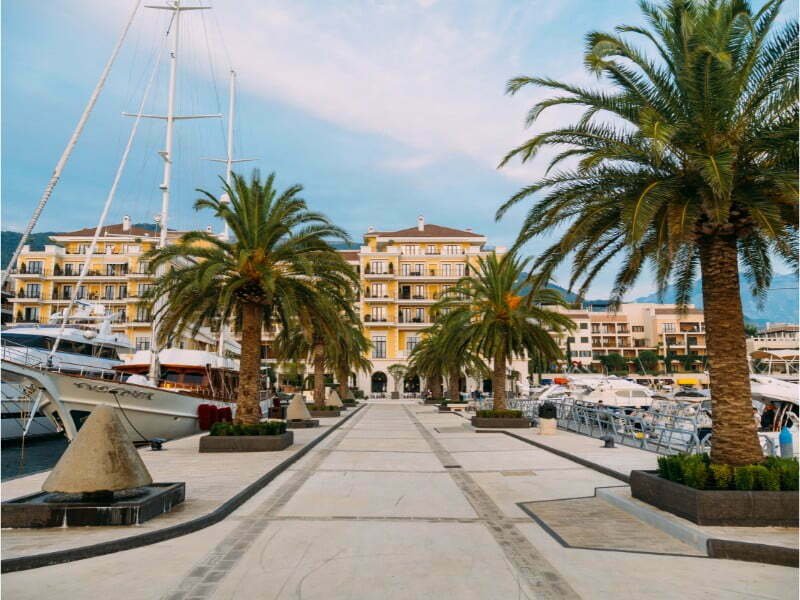 Tours For Visitors To Tivat, Montenegro
Nestled along the breathtaking coastline of Montenegro, Tivat is a town that embodies the beauty and rich history of this Balkan nation. As a travel writer and a passionate explorer, I have had the pleasure of experiencing Tivat's stunning scenery and immersing myself in its local culture. One of the highlights of my journey was discovering the range of tours available to visitors, each offering a unique glimpse into the town's history, natural wonders, and culinary traditions.
One of the tours that captured my heart was the Bay of Kotor Boat Tour, which provided an awe-inspiring view of the rugged coastline and turquoise waters of the bay. The tour's stops at the island of Our Lady of the Rocks and the charming town of Perast allowed me to explore historical landmarks and immerse myself in the town's culture.
Another tour that I highly recommend is the Wine Tasting Tour, where visitors can sample some of the finest wines produced in Montenegro. With visits to several wineries, the tour allowed me to learn about the winemaking process and taste the unique flavors of the local wines. It was a treat for the senses, and I couldn't resist bringing some bottles home as a reminder of my amazing experience.
For those who love adventure, the Adventure Tour is a perfect choice. From kayaking along the coast to hiking through the stunning mountains, the tour offered a unique perspective of Tivat's natural beauty. I felt invigorated and energized by the thrill of these activities, and the tour provided an unforgettable experience.
My culinary adventures in Tivat were also a highlight of my journey. The Traditional Cooking Class was a perfect way to learn about Montenegrin cuisine, which is a delightful blend of Mediterranean and Balkan flavors. The tour included a visit to a local market, where I selected fresh ingredients, followed by a cooking lesson where I learned how to prepare traditional dishes such as ćevapi and kacamak. The aromas, flavors, and textures of the dishes were a true delight, and I felt as though I had discovered a new passion for cooking.
Tivat is a town that offers a range of tours that cater to different interests and preferences, making it a perfect destination for any travel enthusiast. From boat tours to wine tasting, adventure tours, biking tours, and culinary experiences, there's something for everyone in Tivat. As a passionate travel writer, I highly recommend visiting this hidden gem of Montenegro and discovering the wonders of this stunning coastal town.
Tivat Accommodations Guide: Hotels, Guesthouses and Hostels
If you're looking for the perfect place to rest your head after a day of exploration, Tivat has an array of accommodations to choose from.
For the ultimate luxurious stay, the Regent Porto Montenegro is the perfect choice. Situated in the heart of Porto Montenegro, this elegant hotel offers stunning infinity pools, spa facilities, and beautifully designed rooms and suites.
For those on a budget, the Hotel Palma is an excellent choice. Located in the heart of Tivat, this hotel offers comfortable and modern rooms at an affordable price. It's just a few minutes' walk from the beach and the town center, making it a convenient choice for those looking to explore Tivat's attractions.
For a unique and personalized experience, the Hotel La Roche is an excellent option. Located in the heart of Tivat's old town, this charming boutique hotel offers cozy rooms, beautiful gardens, and personalized service. It's the perfect choice for those seeking a peaceful and relaxing stay.
If you're traveling with family or friends, the Apartments Villa Royal are an excellent choice. These spacious and modern apartments offer stunning views of the Bay of Kotor and are just a few minutes' walk from the beach. They come equipped with fully equipped kitchens, comfortable bedrooms, and balconies, making them ideal for a home away from home.
For a luxurious and pampering experience, the Palmon Bay Hotel & Spa is a must-visit. Located in the heart of Tivat's marina, this stunning hotel offers an infinity pool, spa facilities, and elegant rooms.
For those looking to escape the hustle and bustle of Tivat, the Hotel Splendido is an excellent option. Located in the charming town of Baosici, just a short drive from Tivat, this beautiful hotel offers a beachfront location, spacious rooms, and an excellent restaurant.
Tivat has an array of accommodations to choose from, whether you're seeking a luxurious stay or a cozy home away from home. With its mix of history, culture, and natural beauty, Tivat is the perfect destination for travelers seeking a unique and unforgettable experience.
Day Trips From Tivat, Montenegro
While this charming coastal destination is certainly worth exploring in its own right, it also serves as an ideal base for venturing out to discover the country's diverse and captivating attractions.
One such destination is the stunning medieval town of Kotor, which lies just a stone's throw away from Tivat. With its enchanting old town, winding cobblestone streets, and impressive fortress overlooking the town, Kotor is a true gem that should not be missed.
Another exquisite coastal town that can be visited from Tivat is Perast. This charming destination is steeped in history and boasts magnificent Baroque palaces and ancient churches. The town is also home to two captivating islands, St. George Island and Our Lady of the Rocks, both of which can be visited by boat tour.
For those seeking adventure and the great outdoors, Lovcen National Park is a must-visit. This stunning park, located inland from Tivat, boasts rugged mountain peaks, verdant forests, and scenic hiking trails that offer spectacular views of the surrounding landscape.
Budva is another mesmerizing destination that can be easily reached from Tivat. Known for its gorgeous beaches and lively nightlife, this coastal town also features a charming old town and a plethora of delicious restaurants, bars, and clubs.
For a spiritual journey, a visit to the Ostrog Monastery is an absolute must. Built into a sheer cliff face, this breathtaking monastery is a true architectural marvel and a revered pilgrimage site for Orthodox Christians.
Last but not least, nature lovers will not want to miss the opportunity to visit Lake Skadar, the largest lake in the Balkans. With its abundant flora and fauna, including rare bird species, this pristine natural wonder is a paradise for outdoor enthusiasts.
Tivat serves as an idyllic base for exploring Montenegro's diverse and captivating attractions. Whether you seek history, culture, adventure, or relaxation, Tivat's day trips offer something for everyone, ensuring a truly unforgettable experience.
Tivat Transportation Guide
When it comes to getting around Tivat, there are plenty of transportation options to choose from, each with its own advantages and charms. Here's a closer look at some of the best ways to explore Tivat and its surroundings:
Car rental: Renting a car is one of the most convenient ways to explore Tivat and its surroundings. With your own wheels, you can venture out at your own pace and visit hidden gems that may not be accessible by public transport. Whether you're interested in exploring the nearby mountain ranges or discovering the secluded beaches and coves that dot the coastline, having a car at your disposal is the best way to do it.
Taxi: Taxis are a popular and convenient way to get around Tivat. They can be hailed on the street or ordered through an app, and they are ideal for shorter trips within the town center or to nearby destinations.
Bus: Tivat has an excellent bus network that connects the town to other destinations in Montenegro. The buses are comfortable, affordable, and reliable, making them a great option for traveling longer distances. With routes that extend to neighboring towns like Kotor, Budva, and Herceg Novi, the bus network is an excellent way to explore the region without breaking the bank.
Ferry: Tivat is situated on the Bay of Kotor, which is known for its stunning scenery and picturesque towns. A ferry ride along the coast is a fantastic way to take in the beauty of the region while exploring different destinations. Regular ferry services connect Tivat to nearby towns like Kotor, Herceg Novi, and even Dubrovnik in Croatia, making it easy to explore the region's rich cultural heritage and natural beauty.
Water taxis: For a more unique and memorable way to explore the coast, consider taking a water taxi. These small boats operate like taxis and can take you to various destinations along the coast. Not only is it a fun way to travel, but it also offers stunning views of the coastline that are hard to beat.
Bicycle: With its relatively small size, Tivat is an excellent place to explore on a bike. There are several bike rental shops in town, and cycling is a popular way to explore the town and its surroundings. Whether you're cycling along the coast, exploring the mountain ranges that surround Tivat, or simply pedaling through town, cycling is a great way to experience the town's laid-back lifestyle and natural beauty.
Tivat offers a variety of transportation options that allow visitors to explore the town and its surroundings with ease and convenience. Whether you're renting a car to explore the region at your own pace, taking a ferry along the coast, or cycling through town, there are plenty of ways to experience Tivat's charm and beauty. With so many transportation options at your disposal, getting around Tivat is easy and enjoyable, allowing you to make the most of your time in this hidden gem of the Balkans.
Tivat 1 Day Travel Itinerary
Here's a detailed itinerary to help you make the most of your one day in Tivat:
Morning:
Porto Montenegro: Begin your day at Porto Montenegro, Tivat's luxurious marina. Start with a breakfast at one of the waterfront cafes. Try "One" or "Al Posto Giusto" for a variety of delicious breakfast options paired with freshly brewed coffee or tea. While there, take in the incredible views of the Adriatic Sea and marvel at the luxurious yachts docked at the marina.
After breakfast, take a stroll through the marina, making sure to explore the high-end boutiques and designer shops. This is also an excellent opportunity to admire the mix of Mediterranean and Venetian architecture that Porto Montenegro is known for.
Naval Heritage Collection: Next, head to the Naval Heritage Collection, an extensive maritime museum located within the marina. Spend a couple of hours immersing yourself in the rich naval history of the Bay of Kotor and Yugoslavia. Don't miss the submarine P-821 Hero, a highlight of the museum.
Afternoon:
Local Market: Make your way to the local market in the city center. Here, you'll find fresh local produce, cheeses, meats, and more. It's a great opportunity to experience the vibrant local culture and, if you're interested, to pick up ingredients for a picnic lunch.
Town Park: After visiting the market, head to the Town Park for a picnic lunch. With its beautiful lake, playgrounds, and various species of plants and trees, it's the perfect spot to relax and enjoy your freshly prepared meal.
Pine Promenade: Post-lunch, head to the Pine Promenade. This picturesque, tree-lined promenade offers stunning views of the bay and is filled with cafes, restaurants, and small shops. Spend some time strolling along the promenade, perhaps stopping for a gelato or a Montenegrin coffee at one of the many cafes.
Plavi Horizonti Beach: No visit to Tivat would be complete without a trip to the beach. Plavi Horizonti, known for its sandy shoreline and clear waters, is perfect for an afternoon dip. Swim, sunbathe, or just relax and enjoy the beautiful surroundings.
Evening:
Vrmac Peninsula: As the day begins to cool, head to the Vrmac Peninsula for a late afternoon hike. The stunning views of the Bay of Kotor from the top are worth the effort. Ensure to time your hike so you can catch the sunset from the top – it's a sight to behold.
Dinner at Prova: After a full day of exploring, treat yourself to a nice dinner at Prova, one of Tivat's well-loved restaurants. Located by the sea, it offers a menu filled with fresh seafood and other Montenegrin delicacies. Pair your meal with a local wine for a true taste of Montenegrin cuisine.
Nightcap at Porto Montenegro: After dinner, head back to Porto Montenegro for a nightcap. The marina comes alive in the evening, with live music and a vibrant atmosphere. Enjoy a drink at one of the waterfront bars while reflecting on your eventful day in Tivat.
While this is a packed day, it offers a balanced mix of culture, history, relaxation, and adventure, helping you make the most of your limited time in Tivat. Of course, feel free to tailor it to your preferences. Enjoy your trip!

source: Samuel and Audrey on YouTube
Tivat 3-4 Days Travel Itinerary
A 3-4 day visit to Tivat allows you to take in the city's highlights and even venture out to explore some nearby attractions. Here is a detailed itinerary:
Day 1:
Morning: Kick-off your adventure in Tivat with a visit to Porto Montenegro. Enjoy a hearty breakfast at one of the waterfront cafes and then spend some time exploring this luxurious marina. Take your time admiring the marina's stunning architecture, boutique shops, and the magnificent yachts that are often docked here.
Afternoon: Dedicate the second part of your day to the Naval Heritage Collection. This expansive maritime museum showcases exhibits that trace the naval history of the Bay of Kotor and Yugoslavia. The highlight is the submarine P-821 Hero, a must-see during your visit.
Evening: Close your day with a stroll down the Pine Promenade. This walkway offers stunning views of Tivat Bay, and is lined with numerous cafes and restaurants. Enjoy a relaxing dinner at one of the waterfront restaurants, like Big Ben, known for its pizzas and local dishes.
Day 2:
Morning: Start your day with a trip to Plavi Horizonti Beach. Spend your morning basking under the sun, swimming in the turquoise waters, or just relaxing on the sandy beach.
Afternoon: Visit the Tivat Market for lunch. Here you can try local delicacies or pick up some fresh produce and have a picnic lunch at the Town Park. Spend the rest of the afternoon exploring the park and its beautiful lake.
Evening: Spend your evening exploring the culinary scene of Tivat. Restaurants such as Prova are known for their delicious seafood and pasta dishes. After dinner, you can enjoy a stroll along the Tivat Marina, which is particularly charming at night.
Day 3:
Morning: Take a trip to the Vrmac Peninsula. The hike to the top offers a magnificent view of the Boka Bay and is a great way to start your day.
Afternoon: Visit the Botanical Gardens and enjoy a leisurely walk surrounded by vibrant colors and fragrances of various plant species.
Evening: For dinner, head to Restaurant Mitsu. This hidden gem serves a variety of sushi and other Asian delicacies. After dinner, take a walk to Saint Sava Church to enjoy panoramic views of Tivat at night.
Day 4:
Day Trip: Dedicate your fourth day to a day trip outside of Tivat. Consider visiting the artificial island Our Lady of the Rocks and the historical town of Perast or explore the city of Kotor, known for its Old Town and fortifications. You could also take a boat tour around the Bay of Kotor and marvel at the stunning landscape from the water.
Each evening, you could also explore Tivat's nightlife, which includes a variety of bars, pubs, and clubs. Venues such as "Culture Club Tarantino" and "The Clubhouse" in Porto Montenegro come highly recommended.
This 3-4 day itinerary aims to give you a balanced mix of beach time, cultural exploration, culinary delights, and natural beauty. As always, feel free to adjust the schedule based on your interests and preferences. Happy travels!

source: Montenegro Video Guide on YouTube
Tivat 1 Week Travel Itinerary
If you're planning a week-long trip to Tivat, here's a detailed itinerary to help you explore the city and its surroundings thoroughly:
Day 1:
Porto Montenegro: Start your journey by exploring Tivat's luxurious marina. Enjoy a relaxing breakfast at one of the numerous waterfront cafes and then stroll around to admire the stunning architecture and the lavish yachts. Visit the boutique shops and art galleries that are located in the marina.
Day 2:
Naval Heritage Collection: Dedicate your morning to the Naval Heritage Collection, an impressive maritime museum that showcases the rich naval history of the Bay of Kotor and Yugoslavia. Spend a few hours exploring the various exhibits, and don't miss the opportunity to see the submarine P-821 Hero.
Pine Promenade & Tivat Market: In the afternoon, take a walk along the picturesque Pine Promenade. Visit the Tivat Market to taste local delicacies and experience the vibrant local culture.
Day 3:
Plavi Horizonti Beach: Spend your entire day at the Plavi Horizonti Beach, basking in the sun, swimming, and enjoying various water sports. Relish a delightful lunch at the beachside restaurants.
Day 4:
Vrmac Peninsula: Head to the Vrmac Peninsula in the morning for a memorable hiking experience. The panoramic views from the top are absolutely stunning.
Botanical Gardens: In the afternoon, unwind at the Botanical Gardens in Tivat, home to a diverse range of plant species. Later, enjoy a relaxing dinner at a local restaurant.
Day 5:
Day Trip to Kotor: Dedicate this day to explore the nearby UNESCO World Heritage Site of Kotor. Visit the Old Town, the Cathedral of Saint Tryphon, and the Maritime Museum. Don't miss the hike up to the San Giovanni Castle for breathtaking views.
Day 6:
Day Trip to Our Lady of the Rocks and Perast: Take a boat ride to visit the artificial island, Our Lady of the Rocks, and explore its charming church and museum. Later, visit the town of Perast, another gem on the coast of Montenegro. Walk around the town, visit its museums, and enjoy a waterfront meal.
Day 7:
Explore Local Cuisine and Leisure Day: Dedicate this day to explore the local culinary scene of Tivat. Consider taking a cooking class to learn how to prepare traditional Montenegrin dishes. You can also consider a wine tasting tour. Spend the rest of the day at your leisure, revisiting any places you wish to explore further or just relaxing at a café by the marina.
Every evening, consider exploring the nightlife of Tivat, which offers a variety of pubs and clubs. Additionally, various cultural performances and concerts are held at the Cultural Centre Tivat, so check their schedule to see if there's anything that interests you.
This one-week itinerary provides a balanced mix of history, culture, culinary exploration, and relaxation. It ensures you experience the highlights of Tivat and also explore some iconic locations in the Bay of Kotor region. However, feel free to adapt it according to your preferences and pace.

source: Kristina Guberman on YouTube
Is Tivat A Safe City To Visit?
Tivat, like most of Montenegro, is generally considered safe for tourists. The city has a low crime rate, and the residents are known for their hospitality and friendliness towards visitors. But as with any travel destination, it's always important to take certain precautions to ensure your safety. Here's a more detailed overview:
General Safety:
Tivat is generally a very safe city with lower levels of crime compared to many other tourist destinations worldwide. Most locals are welcoming towards tourists and are often willing to help if you need assistance. The city is compact and easy to navigate, making it less likely for tourists to end up in less desirable areas accidentally.
Petty Crime:
While violent crime is rare, petty crimes like pickpocketing and purse snatching can occasionally occur, particularly in crowded areas or major tourist sites. As in any other city, it's essential to be aware of your surroundings, keep an eye on your belongings, and avoid displaying expensive items like jewelry or high-end electronics. It's also a good idea to keep copies of your important documents, such as your passport, in a separate place from the originals.
Road Safety:
While Tivat's city center is generally safe for pedestrians, it's worth noting that traffic in Montenegro can be a bit chaotic, particularly during the peak tourist season. Drivers may not always follow traffic rules to the letter, and pedestrian crossings are not always respected. If you decide to rent a car, be aware that road conditions can vary and that driving standards may be different from what you're used to.
Night Safety:
Tivat is known for its vibrant nightlife, particularly around Porto Montenegro. While the city is generally safe at night, usual precautions should be taken. Stick to well-lit areas, don't walk alone late at night, especially in areas you're unfamiliar with, and always ensure you have a safe way to get back to your accommodation.
Natural Hazards:
The most common natural hazards in this area are earthquakes and forest fires. While they are not common, it's a good idea to familiarize yourself with what to do in the event of such occurrences. Your hotel or local authorities should be able to provide guidance.
Health Safety:
Tap water in Montenegro is safe to drink, and hygiene standards in restaurants and cafes are generally high. However, as with travel to any new place, changes in diet and water can sometimes lead to minor stomach upsets. Consider eating at reputable restaurants and avoiding street food if you have a sensitive stomach.
In conclusion, Tivat is a relatively safe city to visit with standard precautions. It's always advisable to have travel insurance, stay aware of your surroundings, respect local customs and laws, and keep emergency numbers handy. These precautions will ensure that your visit to Tivat is a safe and enjoyable one.

source: ON World Travel on YouTube
When Is The Best Time To Visit Tivat?
Determining the best time to visit Tivat, Montenegro, largely depends on what you want out of your trip. Tivat, like the rest of the Adriatic coast, has a Mediterranean climate with warm summers and mild winters. Here's a detailed guide to help you decide when to plan your visit:
Spring (March to May):
Spring is a lovely time to visit Tivat as the weather begins to warm up, with average temperatures ranging from 15°C (59°F) to 20°C (68°F). The city is less crowded than in the peak summer months, and prices for accommodation and flights can be more affordable. This is a wonderful time to explore the city's attractions and take day trips to nearby destinations, like Kotor or Budva. The landscapes are vibrant with spring blooms, making it ideal for hiking, photography, and other outdoor activities.
Summer (June to August):
This is the peak tourist season in Tivat, when the weather is the warmest, with temperatures often reaching above 30°C (86°F). If you're looking to enjoy the beach and water activities such as swimming, sailing, or diving, this is the best time to visit. The city is lively during this period with many events, including the Summer Fest and Boka Night, where you can experience local culture, music, and cuisine.
However, keep in mind that because this is the high season, the city can get quite crowded, and prices for accommodation and services are usually at their highest. It's advisable to book your travel and accommodation well in advance if you're planning to visit during these months.
Autumn (September to November):
Autumn is another excellent time to visit Tivat. The weather remains pleasant, especially in September and early October, with temperatures ranging from 20°C (68°F) to 25°C (77°F). The sea remains warm enough for swimming, and the summer crowds start to thin out. The city takes on beautiful autumn hues, and the pace slows down a bit, making it a perfect time for a more relaxed exploration of the city and its surroundings.
Winter (December to February):
Winters in Tivat are generally mild with temperatures ranging between 7°C (45°F) to 15°C (59°F). While it's too cold for swimming and beach activities, it's a good time to explore the city without the tourist crowds. There are fewer sunny days, and rainfall is more frequent, but this also means you'll be able to experience the city from a different perspective. If you're interested in winter sports, you can visit the nearby mountains for skiing or snowboarding.
In conclusion, the best time to visit Tivat really depends on your interests. If beach activities and lively events are your preference, summer would be ideal for your visit. If you prefer milder weather, fewer crowds, and lower prices, consider visiting in the spring or autumn. Regardless of when you choose to visit, Tivat has something to offer to all types of travelers all year round.

source: Turisticka Organizacija Tivat on YouTube
Must-Visit Festivals and Events in Tivat?
Tivat is a vibrant city with a lively cultural scene that hosts a range of exciting festivals nearby throughout the year. Whether you're interested in music, art, food, or simply want to experience the local culture, Tivat has something to offer travellers in Montenegro. Here are some must-visit festivals around Tivat:
1. Tivat Summer Fest:
Usually taking place in July, the Tivat Summer Fest is one of the city's most anticipated annual events. It is a celebration of music, art, and local culture, featuring an array of performances by local and international artists. Events within the festival include concerts, theater performances, art exhibitions, and workshops, providing a holistic cultural experience. The festival takes place at various venues across the city, including the stunning Porto Montenegro.
2. Boka Night:
Boka Night, also known as "Bokeska Noc," is a traditional event that takes place every August. This event is one of the oldest and most popular events in the Boka Bay. It includes a day full of entertaining programs such as music performances, dances, and sports events. The highlight of the festival is a grand nighttime parade of decorated boats on Tivat's waterfront. The festival ends with a spectacular fireworks display.
3. Camellia's Days:
Held in the spring (March and April), Camellia's Days is a festival dedicated to the bloom of camellia flowers, symbolizing the arrival of spring. This festival includes various events like a flower arrangement competition, art exhibitions, concerts, and sports events. One of the highlights of this festival is the election of the "Lady of the Camellia," where women wear traditional costumes and camellia decorations.
4. Klapa Music Evenings:
If you are a fan of traditional music, Klapa Music Evenings are for you. Klapa is a form of traditional a cappella singing in Dalmatia, Croatia, and Montenegro. Throughout the summer, usually in July and August, groups from across the region gather in Tivat to perform. It's a great way to immerse yourself in the region's musical heritage.
5. Tivat Cultural Summer:
This event, stretching from June to September, offers a program full of concerts, theatre plays, art and literary nights, and various entertaining events. The program usually includes both local and international artists and takes place in different venues around Tivat.
6. Mediterranean Dance Festival:
Usually held in July, the Mediterranean Dance Festival is a celebration of dance and movement. This festival features performances from dance companies from around the Mediterranean region, offering a diverse range of styles and expressions. It also provides various workshops and masterclasses for those interested in learning dance.

source: Just Adrift on YouTube
Tivat Shopping Guide For Souvenirs
Shopping for souvenirs is an essential part of any travel experience. In Tivat, Montenegro, you'll find a range of unique and locally made items that can serve as wonderful mementos of your trip or gifts for loved ones back home. Here's a guide to shopping for souvenirs in Tivat:
1. Porto Montenegro:
Porto Montenegro is the luxury marina in Tivat that has a good number of boutiques and shops. While many of these stores feature high-end international brands, you can also find shops selling Montenegrin products and souvenirs. Here, you may find handcrafted jewelry, local wines, and high-quality apparel. It's also a lovely place to stroll around, even if you're not interested in buying anything.
2. Local Markets:
Tivat hosts several local markets where you can find all kinds of products, from fresh produce to local crafts. These markets are ideal for finding unique, handmade souvenirs. You can often meet the artisans who made the items, providing a personal touch to your shopping experience.
3. Handmade Jewelry:
Montenegro is known for its quality silverwork. You can find a range of beautiful silver jewelry, often with designs inspired by the local landscape, history, and culture. A piece of this jewelry can serve as a lasting reminder of your trip.
4. Olive Oil and Local Produce:
Montenegro has a rich tradition of olive oil production, and Montenegrin olive oil is renowned for its quality and flavor. Consider purchasing some to take home, along with other local products like honey, cheese, and prosciutto. Just be sure to check customs regulations in your home country before bringing food items back.
5. Rakija:
Rakija is a traditional Balkan fruit brandy, and each region has its own distinct variations. It's common to find homemade rakija in the local markets. You can find rakija made from plums, grapes, peaches, and even mixed fruits. It's a flavorful and unique souvenir, but once again, be sure to check customs regulations regarding alcohol in your home country.
6. Local Artwork:
Local artists often sell their work at markets and galleries throughout Tivat. This can range from paintings and prints depicting the beautiful Montenegrin landscapes, to ceramics, glasswork, and other handcrafted items.
7. Montenegrin Wine:
Montenegro has a long history of winemaking, and Montenegrin wines are gaining international recognition for their quality. A bottle of Vranac, a red wine native to the region, or a crisp, white Krstač, could be an excellent souvenir for a wine lover.
8. Traditional Clothing and Textiles:
Consider purchasing traditional Montenegrin clothing or textiles. Items such as hand-embroidered shirts or tablecloths, woven rugs, or traditional hats can make special and unique souvenirs.
When buying souvenirs, remember to ask the sellers if the items are handmade and locally produced to ensure you're getting an authentic Montenegrin product. Shopping in Tivat is a great way to support local businesses while taking home a piece of this beautiful destination.

source: Samuel and Audrey on YouTube
Where To Visit After Your Trip To Tivat?
As you conclude your travels in the charming town of Tivat, Montenegro, the question arises: where to venture next? The Balkan nation of Montenegro is small in size but rich in diversity, boasting breathtaking natural beauty, a rich cultural heritage, and a plethora of charming towns and cities to discover. Here, I present to you a handful of the most intriguing and captivating destinations to consider visiting after your sojourn in Tivat.
First on the list is Kotor, a short drive from Tivat. This UNESCO World Heritage Site is renowned for its magnificent scenery, fascinating history, and remarkably preserved medieval architecture. Stroll through the labyrinthine streets of Kotor's old town, climb atop the city walls for panoramic vistas of the bay, and explore the array of churches, palaces, and museums that contribute to the town's allure.

source: Samuel and Audrey on YouTube
Next, consider a visit to the vibrant coastal town of Budva. This charming locale is known for its lively old town, picturesque beaches, and effervescent nightlife. Take a dip in the crystal-clear waters of the Adriatic, traverse the fortifications that encompass the town, and indulge in the town's many delightful eateries, bars, and cafes.
For those seeking a bit of outdoor adventure, venture northward to Durmitor National Park. This rugged expanse of mountains, lakes, and pristine wilderness provides the perfect backdrop for hiking, rafting, and immersing oneself in the natural splendor of one of Europe's few remaining wilderness areas.
For a more contemplative experience, the Ostrog Monastery is a spiritual pilgrimage site of great significance in the Balkans. Built into the face of a sheer cliff, this 17th-century monastery is adorned with stunning frescoes and provides a glimpse into the history and traditions of the Serbian Orthodox Church.
Skadar Lake is an exquisite natural wonder that must not be missed. The largest lake in the Balkans, it boasts an abundance of diverse flora and fauna, and its tranquil beauty is a balm for the soul. Take a leisurely boat tour of the lake, meander through the quaint villages that dot its shores, and immerse yourself in the serenity of this spectacular site.
The country of Montenegro offers a treasure trove of destinations to explore beyond Tivat. With its vibrant culture, awe-inspiring landscapes, and enchanting towns, it is a destination that will captivate and inspire every traveler. So, set forth on your next adventure and let Montenegro's splendor unfold before you.
Outside Montenegro:
Dubrovnik, Croatia: Known as the 'Pearl of the Adriatic,' Dubrovnik's old town is a UNESCO World Heritage Site, famous for its stunning city walls, historic buildings, and beautiful views over the Adriatic. It's about a two-hour drive from Tivat.
Mostar, Bosnia and Herzegovina: Mostar is best known for its iconic Stari Most (Old Bridge), a symbol of the city's resilience. It's a three-hour drive from Tivat, but the journey is well worth it to experience the city's unique blend of Eastern and Western influences.
Tirana, Albania: If you're up for a slightly longer journey, consider heading to Albania's vibrant capital, Tirana. The city is full of colorful buildings, historical sites, and a thriving cafe culture.
Belgrade, Serbia: For a change of pace, consider heading inland to Serbia's bustling capital, Belgrade. The city offers an intriguing blend of Ottoman and Austro-Hungarian histories, energetic nightlife, and excellent food and drink.
Tivat Travel Guide: Final Thoughts
As we conclude this Tivat travel guide, it's clear that this small but charming town in Montenegro is a destination that should not be overlooked. From its rich history and culture to its stunning natural beauty and culinary delights, Tivat offers something for every type of traveler.
Whether you're seeking a peaceful retreat or an adventure-packed getaway, Tivat has it all. Explore the town's rich heritage at its museums and historic landmarks, indulge in its delicious cuisine, soak up the sun on its picturesque beaches, and venture out to discover the breathtaking landscapes that surround it.
But Tivat is just the beginning of what Montenegro has to offer. As I've highlighted, this Balkan nation is brimming with captivating destinations to discover, from the medieval architecture of Kotor to the outdoor adventures of Durmitor National Park and the spiritual pilgrimage site of the Ostrog Monastery.
Montenegro's allure lies in its diversity, offering travelers an array of experiences that cater to every taste and preference. It's a destination that rewards exploration, and one that is sure to leave an indelible impression on all who venture there.
So, as you plan your next trip, consider Tivat and Montenegro as your next destination. With its warmth, hospitality, and myriad of attractions, it's a destination that will leave you yearning for more.
The azure waters of the Adriatic Sea, A town of charm and hospitality, Tivat beckons travelers from far and wide, A place of wonder and beauty to confide.
Amidst the hills and verdant greens, A town of history and culture serene, Museums and landmarks tell tales of old, A treasure trove of stories waiting to be told.
Stroll through the streets of the old town, Discovering the past in each cobblestone ground, Savor the tastes of Montenegrin cuisine, A culinary journey that is sure to please.
The beaches invite with their crystal-clear waters, A playground for sun-seekers and leisurely strollers, The coastline is a sight to behold, A panorama of beauty that never grows old.
Beyond Tivat, Montenegro awaits, A land of diverse landscapes and captivating estates, From Kotor to Durmitor, the choices abound, A destination that rewards with every mile found.
So come and explore this jewel of the Adriatic Sea, A destination that will leave you feeling free, Tivat, a town of wonder and delight, A place that will steal your heart and take flight.