Dusseldorf Travel Guide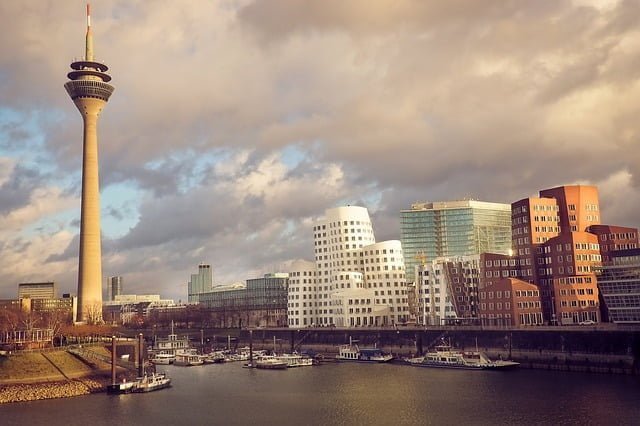 Introduction
Dusseldorf is one of Western Germany's most modern cities. It's true this city can't compete with the likes of Berlin on culture. Despite this, though, it holds its own with a collection of significant art galleries.
Together with its modern charms, Dusseldorf is definitely worth visiting for a couple of days.
Come check out our Dusseldorf travel guide as we cover the best things to do in Dusseldorf, Germany.
Top Attractions
After getting settled in Dusseldorf, make your way out to Schloss Benrath. Getting to this Baroque-style palace entails a ten-kilometre journey outside the city centre. Shortly after arriving, though, its beauty will reward your effort.
Its constructors erected in the 18th century for nobles Charles Theodor and Elisabeth Auguste. Over its existence, it served as a "pleasure palace" for them and their descendants. Aside from the architecture, this building also contains museums that focus on natural history and garden art.
Speaking of art, Dusseldorf is home to a pair of outstanding galleries. Start by exploring the Kunstsammlung Nordrhein-Westfalen Museum. Within its walls, you'll find some of the best contemporary and modern art made in the 20th century.
Artists represented here include the likes of Picasso, Jackson Pollock, and Andy Warhol. This institution also features exhibitions from recent artists, like Chinese visual artist/activist Ai Weiwei. Located in Dusseldorf's Old Town, this gallery is easy to include in tight itineraries.
If you still have an appetite for art, quell it by heading to Museum Kunstpalast. This gallery also features contemporary art. However, unlike the Westfalen Museum, Museum Kunstpalast features pieces from as far back as the 3rd century BC.
Here, you'll find drawings, paintings, sculptures, and other art forms stretching forward from Greek/Roman times. In particular, this museum's stained glass pieces make a visit here worth your time. On your way out, stop by the cafe for a quick treat.
If modern architecture is your bag, spend some time walking around Medienhafen. Translating to "Media Island" in English, it now hosts media companies where sailors once unloaded ships. Striking buildings and skyscrapers house these companies. In particular, the three buildings erected by famed architect Frank Gehry make a trip out here worthwhile.
Other Attractions
Want to indulge your inner gear head while having a delightful meal? Spend an evening at the Classic Remise Dusseldorf. Formerly a roundhouse where mechanics once serviced locomotives, it now houses vintage cars, shops, and restaurants.
All around you, you'll get to check out iconic models of Ferraris, Porsches, Bugattis, and Rolls Royces. After getting your fill of amazing autos, settle in for a beer or two at the onsite beer garden. If you 're not up for drinks, its restaurants and stores will keep you similarly occupied.
Check out Dusseldorfers as they go about their daily lives at the Carlsplatz Markt. When you aren't taking amazing portraits of vendors and shoppers, sample some local wares. In particular, the bratwurst in this market comes highly recommended.
If you are looking to bring home a great gift, you'll have lots of options to choose from here. However, do be aware of your nation's regulations on bringing foodstuffs over international borders. It would be a shame if a customs agent confiscated the local honey you bought.
It that bums you out, you can purchase non-food gifts and other goods along the Konigsallee. Along this kilometre-long boulevard, you'll find some of the finest luxury merchants in the world. Burberry, Chanel, Louis Vuitton, and Tiffany And Co are just a few shops you'll find here.
After completing your shopping, take a second to recharge and relax along Konigsallee's namesake canal. The river, trees, and other locals make this place a prime spot to hang out as well.
Lastly, make your way up the Rhine Tower. Standing 240 metres, or 789 feet above-ground, it offers the best panoramic views in all of Dusseldorf. After snapping some fantastic photos, be sure to have a meal at the on-site revolving restaurant.
What To Eat
Dusseldorf offers a variety of local dishes that visiting foodies should make an effort to try. At lunch, seek out some Ahzezupp, or pea soup. This hearty dish combines yellow peeled peas, potatoes, onions, carrots, and bacon. Topped with seasonings like marjoram, pepper, and parsley, it'll be a dish you'll return to during your stay.
At dinner, be sure to seek out some Rheinischer Sauerbraten. This roasted beef dish tops the perfectly-cooked rump with a raisin-studded sauce. It may sound a little strange, but trust us – this dish is heavenly.
If you're game for another heavy supper time dish, be sure to also have Dusseldorfer Senfrostbraten. This pork/beef roast coats the meat in a tangy mustard sauce. On the side, you'll often get green beans and/or fried potatoes, completing a dish you won't soon forget.