While many travelers to Germany may visit to explore the larger cities (such as Berlin) or popular tourist attractions (such as Europa Park) there remains untapped German cultural opportunities, German cultural attractions and German traditions worth partaking in that will take you off-the-beaten-path.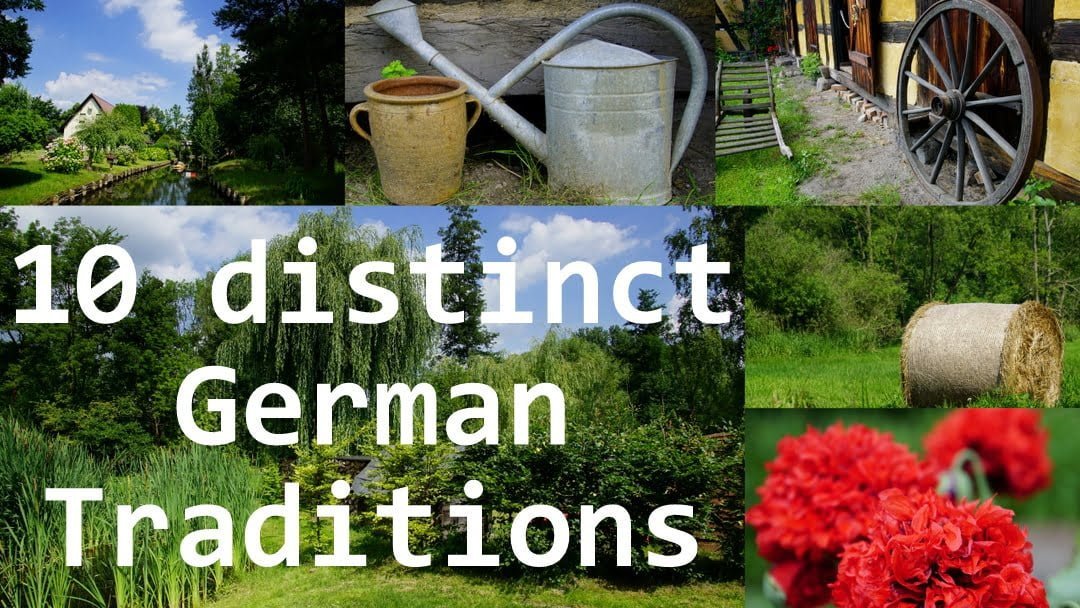 In order to delve deeper into German heritage consider places such as Spreewald, Rügen Island, Stralsund and Wustrow. What you'll find is a more laid back pace of life with ample opportunities to sample traditional German cuisine.
You can also visit open-air museums, take unique forms of transportation and engage in activities that will get you out of your comfort zone.
The following are ten things for you to consider to make your trip to Germany one to remember:
10 Distinct German Traditions
1) Punting Down A Canal
Sit back and relax in a comfortable flat-bottomed boat as you're pushed down a canal by your guide wielding a pole. This was easily one of the most memorable experiences I had on my return trip to Germany.
The slow pace of the journey allows you to snap plenty of photos, casually chat with other passengers or quietly take it all in.
Where you can try it: Spreewald
2) Open-Air Museum Experience
Open-air museums in Germany are like a time machine back to a simpler period of life. Old farming tools, thatched homes and realistic theme rooms are some of the top highlights of a visit to this kind of museum.
Some of our favorite activities included learning how to punt, riding a penny-farthing, and competing in a potato sack race. It's like being a kid all over again. In fact, if you do have a family this might be pushed to the top of your list.
Where you can try this: All over Germany
3) Sauna To Sweat It Out
Strip down naked and enter a small room where you'll sweat profusely while experiencing dry or wet heat. This may be a bit out of your comfort zone, but I guarantee you'll stick out like a sore thumb if you do decide to wear a bathing suit.
Instead, embrace being in your birthday suit because locals won't even notice and you'll enjoy the health benefits of a thorough detox.
Where you can try it: Spreewelten
4) Bismarck Herring For Lunch
If you're a fan of pickled fish be sure to try a Bismarck herring sandwich. The Baltic herring packed in small wooden barrels originated in Stralsund when Johann Wichmann, an admirer of Otto van Bismarck, sent a barrel to celebrate Bismarck's birthday.
Bismarck apparently loved it to such an extent that he agreed to have it named after him. I recommend trying it in a sandwich – it makes a nice snack or light lunch.
Where you can eat it: Stralsund (specializes in it)
5) Trabant Car Ride
Why rent a regular car when you can turn back the clock and cruise the town inside a Trabant. This vehicle was built back in the days of the German Democratic Republic, and it is a bit of a boat in terms of handling.
That being said, you'll garner all sorts of looks as you drive it around.
Where you can experience it: Rügen Island
6) Vintage Train Ride
Nothing is cooler than having an opportunity to take a vintage train ride. If you're visiting Ruegen Island you'll have a chance to board the Rasender Roland ("Rushing Roland") on a steam-powered journey that'll allow you to take in some of the most scenic stretches of the island.
Where you can ride it: Ruegen Island
7) Störtebeker (German Medieval Theatre)
If you fancy sword fights, explosions and all sorts of theatrics, you'll want to check out Störtebeker Festspiele. Based on the life of Klaus Stortebeker (German privateer) it reminded me a bit of the story of Robin Hood.
Where you can watch it: Rügen Island
8) Regatta Boat Race
It may not be easy to watch a boat race but if you visit Wustrow in late June you may have the opportunity to witness a regatta. I found it just as fascinating to watch the reaction of the crowds as I did the actual sailboats.
Where you can witness it: Wustrow
9) Strandkorb – Beach Basket
Strandkorb? That's German for beach basket and if you're a fan of comfort, you'll want to sit in one of them while enjoying some beach time. It's hard to believe these unique chairs have only been in existence for just over one hundred years.
Aside from being comfortable, the chair provides protection from the sun, rain and sand. If you fall sound asleep while lounging in one, I don't blame you 😉
Where you can try it: Most beaches along Germany's coasts
10) Gurkenmuseum (Pickle Museum)
If having a pickle from a jar just doesn't cut it, head over to the Gurkenmuseum (Pickle Museum) where you'll learn all about the process of making and preserving pickles. Aside from that you'll find lots of new innovative recipes.
Every year there are pickle competitions where participants compete to be crowned the Queen of Pickle production for that given year.
Where you can visit it: Spreewald
We tried/experienced all of these activities in the following videos: Visiting Spreewald, Germany
Germany Travel Videos (German Culture and Traditions)
Punting in Spreewald and feeding penguins at Spreewelten, Germany
Störtebeker Festspiele (Medieval German Theatre) – Rügen, Ralswiek, Germany
Visiting Rügen Island, Germany
Stralsund City Tour, Germany
Regatta Boat Race and Wustrow City Tour, Germany
Which of these German culture and traditions most interests you? Do you know of any particular German culture and/or tradition that you felt I left out here? Please let me known in the comments section below. Our trip was part of a partnership with the Germany Tourism board this past summer.