35 things to do in Prague travel guide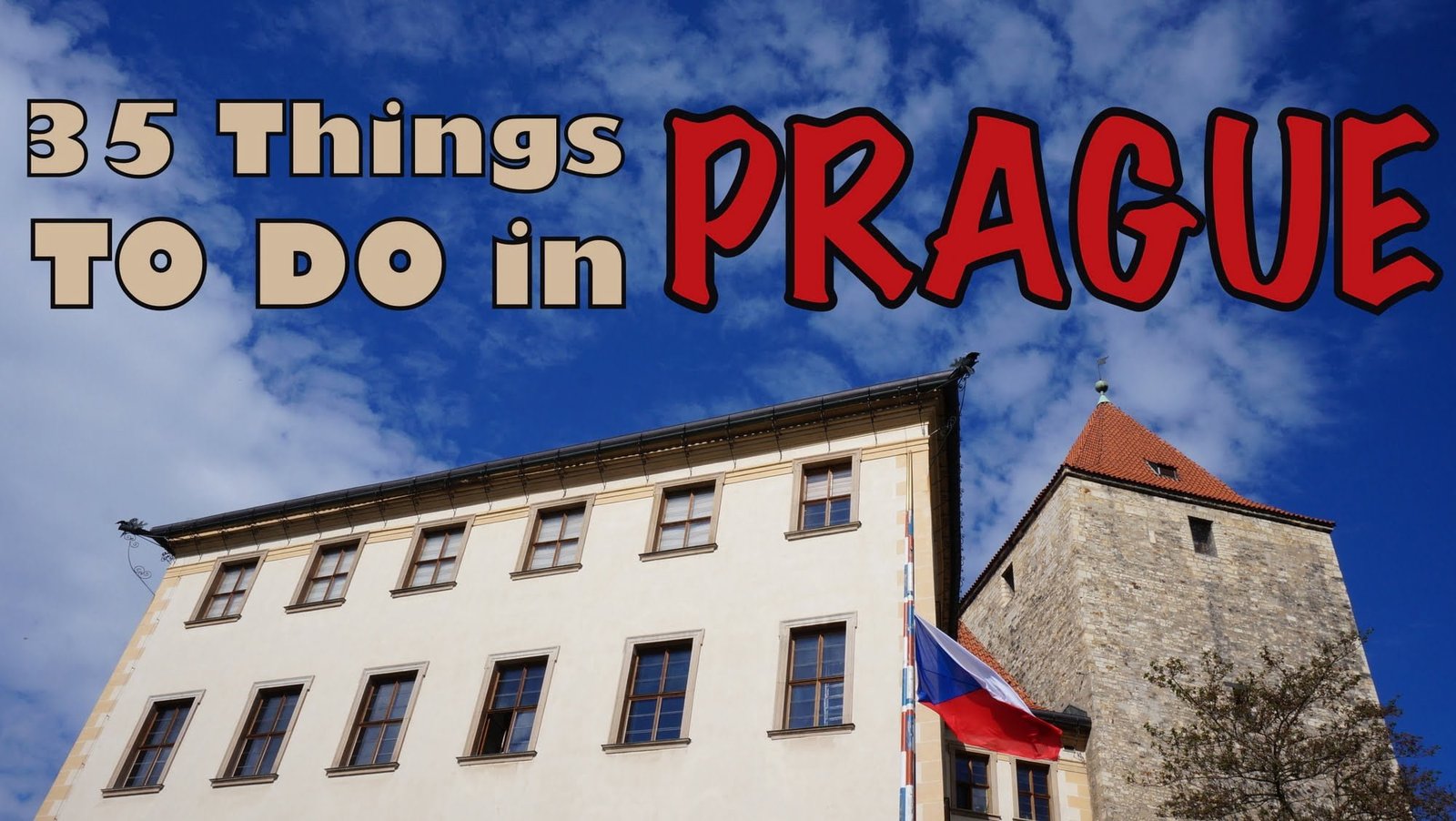 With one week in Prague, we hit the ground running trying to see and experience as much as we could in the Golden City.  There were times when I was wandering down mazes of cobbles that I had to pinch myself.  Is this city even real or is it a dream? We had high expectations and Prague's beauty and charm managed to exceed all of them.  Historical, bohemian, inexpensive and fun.  This is a city that is best explored on foot.  The swan-filled Vltava River divides this magical city filled with rustic bridges, ancient cathedrals and walled courtyards.  Chomping on hearty goulash and drinking a pint of Pilsner, which is cheaper than water, is your reward in the evening after your legs have turned to jello.  If you planned on only staying a few days that's truly a shame.  After a full week we felt reluctant to leave.
The following is a list of the Top 35 things to do in Prague:
Prague Travel Video
Prague Photo Essay
1)  Prague Castle
Prague Castle is the largest ancient castle in the world and it is home to several palaces, as well as a cathedral, a basilica, and gardens.  Given the entire complex is over seven times the size of a sports stadium, this 13th century charmer would take days to properly appreciate.  Some of the top highlights include visiting St. Vitus Cathedral, the Golden Lane and the tomb of St. John of Nepomuk.  Although there are many activities in Prague that are free, a visit to Prague Castle is certainly worth the price of admission.
2) Novy Svet
For a quiet little escape from Prague Castle, I highly recommend wandering down Novy Svet.  At one time, this cozy little neighborhood was home to servants of the Castle.  With a lengthy winding cobbled street, you'll be in the company of writers and artists who now call this neighborhood home.
3)  Kafka Museum
Franz Kafka (1883-1924) was a German language writer of novels who lived mos of his brief, anguished life in Prague. This museum is dedicated to him and his work and you'll find some of his letters, diary entries and photographs inside.  In the courtyard you'll notice a rather strange sculpture entitled "The Piss".  Inside you'll find manuscripts, documents and first editions of his work displaying his often darkly paradoxical work.
4)  John Lennon Wall
Stroll along the John Lennon Wall and you'll encounter portraits of Lennon and Yoko Ono.  At one time this was just a normal wall; however, since the 1980s it has been covered by images of Lennon with Beatles song lyrics. The graffiti is always evolving, so you never know what you'll find.  The wall represents ideals associated with youth including peace and love.  Admire the wall slowly or stand in front of it to take a selfie 😉
5)  Prague TV Tower
One of the most distinct landmarks in the city is Prague's TV Tower (Czech: Žižkovský vysílač).  Kind of sticking out like a sore thumb, this modern tower stands tall over the city's traditional skyline.  With an unconventional design resembling a rocket, you'll notice that there are babies crawling up and down.  The local enfant terrible sculptor David Černy is also responsible for creating 'The Piss.'
6)  Czech Food:  Goulash
Up next we have a heaping plate of Goulash.  Goulash is actually Hungarian but the Czech Republic does have its own variety. What differs between the two is that the Hungarian is usually served with meat, noodles and vegetables and the one from the Czech Republic only has meat.  I this at least once a day – while living in Prague – and it is the kind of hearty stick to your ribs meal that goes very well with a Pilsner beer.
7)  Saturday Market – Farmarske Trziste Jirak
You can't visit Prague without checking out a local Farmer's Market.  We just happened to stumble across Farmarske Trziste Jirak, where we were be able to pick up some pastries, cakes, street food and organic products. It was the perfect place for a  great leisurely brunch.  We ended up feasting on a Balkan burger while snacking on pastries for dessert while people watching.
8)  Prague's Old Town Square
Prague's Old Town is a place you can't miss. The elegant buildings in varying pastels are a place that you'll want to photograph.  If you come early in the morning there is hardly anyone, which is in stark contrast to the afternoon when it is a sea of humans.
9)  Saint Vitus Gothic Cathedral
Saint Vitus (Czech: Katedrála svatého Víta)  is a Gothic cathedral located within the walls of Prague Castle. Inside you'll be able to admire beautiful stained glass windows designed in the art nouveau style.  The cathedral houses the tombs of many Bohemian kings and Holy Roman Emperors as main feature of the Prague Castle complex.
10) Jewish Quarter
If you keep going north from the Old Town Square you'll find yourself in the Jewish Quarter of Josfov (German: Josefstadt).  Completely surrounded by the Old Town, this district was preserved during Nazi German occupation with the intention of being made into a museum of an extinct race.  Today, you'll be able to many architecturally stunning synagogues.
11) KGB Museum
On a rainy afternoon you should consider the KGB Museum as one of the more quirky attractions in the city.  Inside the KGB Museum you'll find old propaganda as well as some unusual pieces like a copy of Lenin's death mask, the radio from Beria's cabinet and Trotsky murder weapon.
12)  Golden Lane
The Golden Lane (Czech: Zlatá ulička) gets its name because legend has it that Emperor Rudolph was a fan of alchemy. He had alchemists working tirelessly to find a way to turn metal into gold, and to find the secret to eternal life.  Dotted with tiny colored homes, you'll find a museum of armory as one of the top highlights.
13)  Charles Bridge
Charles Bridge (Czech: Karlův most) is one of the most popular historic landmarks in the city crossing the Vltava river in Prague. If you walk across during the day, you'll find musicians, artists, and vendors selling souvenirs.  Marvel at the Old Town bridge tower, considered to be a magnificent example of civil gothic-style buildings in the world.  Also, be sure to compare and contrast the bridge early in the morning versus mid-afternoon.  It is astonishing how quiet and busy it is during these two distinct times in the day.
14)  Prague's Museum of Communism
Prague's museum of Communism (Czech: Muzeum komunismu) takes a look at the post–World War II Communist regime in former Czechoslovakia. Expect to see lots of posters heavy on propaganda, genuine artifacts and multimedia presentations.  Fascinating is the origins of this museum founded by American businessman and Prague bagel extraordinaire Glen Spicker.  Much of the collection in the museum was gathered by him at flea markets around the city.
15)  Astronomical Clock
When in Prague you can check out the medieval Astronomical Clock (Czech: Pražský orloj) .  Founded in 1410, this third-oldest astronomical clock goes off every hour and it is right in the heart of the Old Town.  Most fascinating is the skeleton ringing the bell.
16) Czech Street Food: Trdelník
You can't come to Prague and not sample the street food. One particularly popular item is the Trdlenik (Czech: Trdelník). You can order it with icing sugar, or if you're feeling adventurous, ask for nutella on the inside.  It is fascinating to watch it made: rolled dough wrapped around stick, grilled and covered in a sugary walnut mix.  As one of the most popular street food snacks in Prague, you'll have no problem finding a stall selling these.
17)  Feed Swans
Now one of the things I love the most about travel is the unexpected surprises. We didn't have this particular activity on our schedule but here we are out feeding swans.  They're obviously very used to human contact as we were able to get up close without them feeling intimated.
18) Funicular 
For really great views of the city you can consider taking the funicular up the hill.  However, we ended up walking because the line was really long at the time.  Whether walking or taking the tram, it is well worth your time making it to the top for some of the most spectacular views of Prague.
19)  Petrin Tower
Petrin Tower (Czech: Petřínská rozhledna) stands 63 meters high on a hill overlooking Prague. It strongly resembles the Eiffel Tower in Paris, and it's a fairly easy climb to the top.  Once used as a lookout and transmission tower, it is now a popular tourist attraction.
20) Maze of Mirrors
Another activity to consider is the Maze of Mirrors. It is more geared towards children but it is still a fun thing to do.  As a quirky attraction it is certainly not a must see/do activity; however, if you're nearby Petrin Tower it is worth a visit.
21) Vysehrad 
Vyšehrad is a historical fort located in the city of Prague. Here you'll find the ruins of Prague's other castle built in the 10th century, as well as a cemetery that's the resting place for many of Prague's artists and great thinkers.  Rotunda of St. Martin, just happens to be Prague's oldest surviving building dating back to the 11th century.  According to some, Vysehrad is the first area of settlement in the city.
22) Vltava River Cruise
For a leisurely afternoon, hop on a river cruise and enjoy a scenic journey down the Vltava River.  Considering crossing one of its 18 bridges – the most famous being Charles Bridge (mentioned above).
23) Drink Pilsner Beer
Pilsner beer is a Czech institution. This pale lager is known for its golden color, high level of foam and a nice light taste.  Deriving its name from the city of Plzen, Bohemia when it was first made back in 1842, the original company is still making it today.  The best thing about it is that it is cheaper than water and cola.  You better believe I had more than just one 😉
24) Jeleni Prikop Park
After all that sightseeing around the city, you'll likely want some time to relax. The Jeleni Prikop Park located right behind Prague Castle is a great place for a picnic or a little nap on the grass.  It is one of Prague's many quiet 'green escapes' from the heavily frequented tourist attractions.
25) Concert at the National Museum
Here is a cool little fact. Even though the National Museum is currently closed you can still attend musical performances in the evening.  You can see if you're interested in any of the concerts and that way you can get a peek inside of the National Museum.
26) Dancing House
The Dancing House (Czech: Tančící důmis) a building which stands out from the rest, done in the deconstructionist style.  Also known as the Fred and Ginger, it was completed in 1996 and is controversial for its non-traditional design in a city known for its Gothic, Baroque and Art Nouveau styles of architecture.
27) Try Absinthe
Anise is a  flavored spirit that is extremely popular in Prague.  This anise flavored spirit is potent coming in at 45-74% (90-148 proof) derived from flowers and botanicals. You can see it all over in all kinds of different stores.  My initial impression was that it was quite tasty.  I love any alcohol that tastes like licorice.
28) Mind Maze
There is an activity in Prague called Mind Maze. Basically, you're locked in the Alchemist's room for an hour and you have to go through clues to try and figure a way out. It is a mind game that involves a lot of teamwork and hashing out ideas together to solve the puzzle and get out of the room.  We ended up doing better than average (according to our guide at the end); however, we didn't make it out of the room in 60 minutes.  Apparently, only 1 in 5 does.  Considering it was our first time playing I thought we did okay.
29) Segway Tour
If you tire of walking, Segways are a fun way to get around the cobbled streets.  This is especially a good idea if you've been walking around the city for a few days in a row and your legs are getting sore.
30)  Miniature Museum
Another cool thing you can do is visit the Miniature Museum where you can marvel at microscopic art miniatures by Anatolij Konenko.  By wielding a magnifying glass you'll discover a three dimensional model of the Eiffel Tower and a caravan of camels, just to name a few.
31) Mucha Museum
The Mucha Museum pays homage to Alphonse Mucha, and it's a must visit if you enjoy art nouveau.  Drawing from over 100 exhibits you'll find paintings, drawings, pastels, photographs and more.
32) Take a Tram
The tram is an easy and inexpensive way to get around the city, plus if offers more of a local experience.  We used public transportation frequently as a way to conserve our walking legs.
33) Luxury Car Tour
If you want to explore the city in a more fashionable way we've seen people taking luxury car tours.  We noticed most 30 minute to one hour tours starting at around 40 Euros.
34) National Museum
One of the most important landmarks in the city, unfortunately the National Museum is closed until 2016 because it is undergoing renovations; however, the collection itself is spread across ten museums here in Prague so you can still visit those.
35) Strahov Monastery
It's a bit of steep walk to reach the monastery, but the long climb offers great views of the city below. Also, the library inside the monastery is certainly worth a peek!
And that sums up our visit to Prague! Our 1 week in the city left us bedazzled and it's a place that we'd be happy to revisit again in the near future.
What are some of your favorite things to do in the city? Please let us know in the comment section below.