Mauerpark Flea Market in Berlin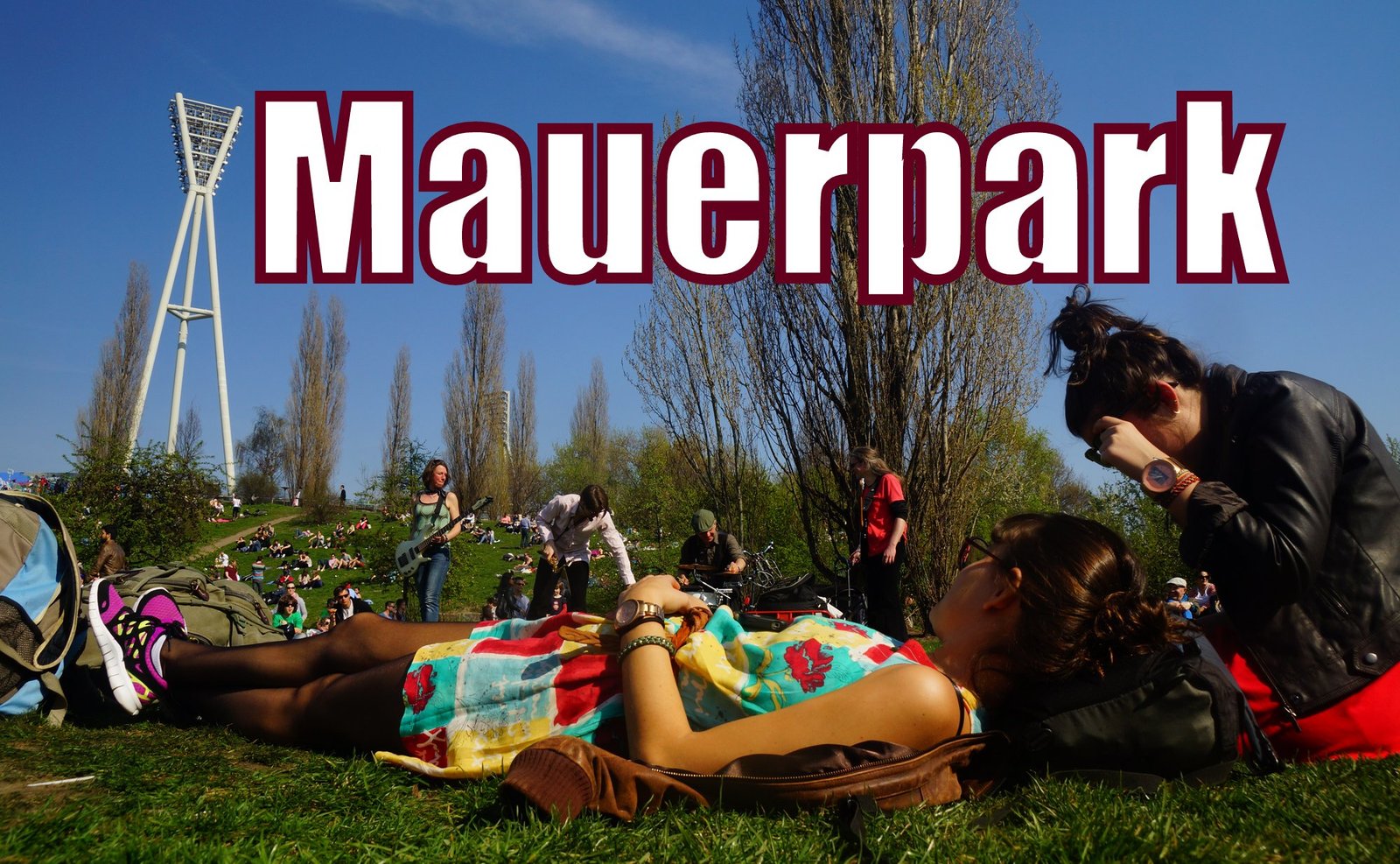 Having just settled into our apartment in Berlin little did I know one of the most hip flea market events took place just a stone throw away from our living quarters. The flea market in Mauerpark, (known locally as Flohmarkt am Mauerpark) is a hipster hangout hot spot every Sunday afternoon.
Initially, I thought a 'flea market' might be a tiny little hangout of university students perusing around for vintage clothes and a quick bite to eat.
What I didn't expect was that this park would be absolutely packed predominantly with young 20 somethings (and those of all ages) in an event featuring multiple musical performances, picnics, basketball pick-up games, live performances and an actual flea market specializing in everything from vintage fashions, vinyl Cd's, GDR memorabilia, antiques and German street food.
The market itself was so crowded and bustling that after I stopped for a second to snap a photo I completely lost Audrey and her friend from London (Rebecca) for nearly the entire afternoon! It was only during a performance at the pit where Audrey finally spotted me again some two hours after we had been separated.
All in all, it was a brilliant way to spend an afternoon and I enjoyed people watching and live performances even more than the flea market and street food. It just happened to be the warmest day of the spring that afternoon with clear skies and sunshine aplenty – certainly an added bonus. I'm hoping we'll get a chance to return again before we leave Berlin.
Travel Video: Mauerpark
Photo Essay: Flohmarkt im Mauerpark
This is the section of the walking path that lead from our apartment to Mauerpark.  In the distance you'll notice Audrey and Rebecca 😉
This should give you a good idea of just how busy the 'flea market' section of Mauerpark is in the middle of a Sunday afternoon.
A candid shot of a lady walking around the flea market section of Mauerpark.  It was around this time that I lost Audrey and Rebecca!
Here is an example of some of the things you could purchase at the German flea market in Berlin.
This is an example of the German street food being sold at the end of the flea market – this boy was looking to buy seasoned tornado chips.
This young man was showing off his impressive juggling skills while sitting down on the grassy field of Mauerpark.
A young couple lying down on the grass soaking up the sun and atmosphere from the live musical performances.
Hanging out on the grass drinking beer, cellphone texting and sharing laughs with friends.
This man was rocking out, boogieing and grooving to some rock and jazz performances.
This was my favorite shot of the day.  You'll notice the ladies in the foreground relaxing to the funk music being played right in front of them.
Although this was mostly a hipster hangout, you could spot a number of families enjoying the weekend festivities as well.
A couple of friends sharing conversation while sitting on the grass relaxing and stretching.
This was a more crowded section of the park where a lot of people were hanging out.
Here is the pit with a massive crowd prior to a live performance taking place.
I'm taking a photo of you while you're taking a photo of me 😉
A young guy just chilling out while a group behind him share beers.
Two gentleman share conversation over a bottle of beer.
This isn't my favorite photo of the day but it makes me smile more than any other.  What a cute dog 😉
This half naked man with pants down wearing a horse head was the most provocative musical performances I noticed 😉
An urban street artist designing art on the wall of Mauerpark.
A different vantage point showing the two artists at work.
A snapshot of a young lady and man sharing a conversation alongside the wall of Mauerpark.
The most intimate photo of the day – a couple kissing on the grass of Mauerpark in Berlin, Germany.
Here is a shot of the Mauerpark wall section when nobody else was around.
Have you been to Mauerpark before?  Is this the kind of hangout place you'd enjoy spending a Sunday afternoon?