Having just settled into our apartment in Berlin little did I know one of the most hip flea market events took place just a stone throw away from our living quarters. The flea market in Mauerpark, (known locally as Flohmarkt am Mauerpark) is a hipster hangout hot spot every Sunday afternoon.
Initially, I thought a 'flea market' might be a tiny little hangout of university students perusing around for vintage clothes and a quick bite to eat.
What I didn't expect was that this park would be absolutely packed predominantly with young 20 somethings (and those of all ages) in an event featuring multiple musical performances, picnics, basketball pick-up games, live performances and an actual flea market specializing in everything from vintage fashions, vinyl Cd's, GDR memorabilia, antiques and German street food.
The market itself was so crowded and bustling that after I stopped for a second to snap a photo I completely lost Audrey and her friend from London (Rebecca) for nearly the entire afternoon! It was only during a performance at the pit where Audrey finally spotted me again some two hours after we had been separated.
All in all, it was a brilliant way to spend an afternoon and I enjoyed people watching and live performances even more than the flea market and street food. It just happened to be the warmest day of the spring that afternoon with clear skies and sunshine aplenty – certainly an added bonus. I'm hoping we'll get a chance to return again before we leave Berlin.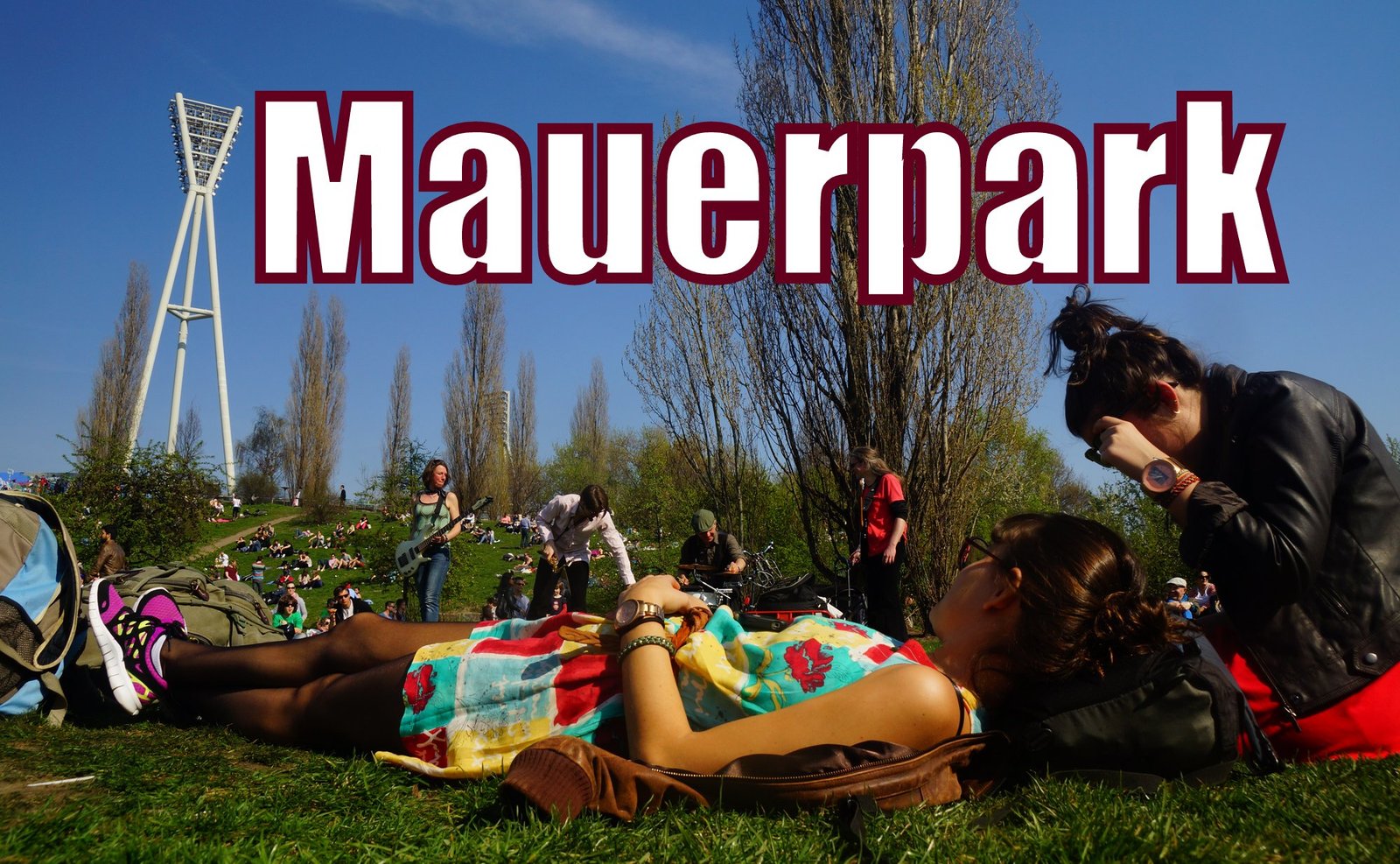 Mauerpark History
Mauerpark, located in Berlin's Prenzlauer Berg district, is not just any ordinary park. It's a place that embodies the city's spirit and tells a tale of its tumultuous past. The park's name itself speaks volumes – it's named after the Berlin Wall, the infamous structure that divided the city for decades.
But don't let the somber history fool you. Mauerpark is a vibrant and lively spot that's become a hub of culture and creativity. Every Sunday, the park is transformed into a bustling flea market, where vendors sell everything from funky vintage clothes to handmade crafts and trinkets. And the market is just the tip of the iceberg.
The park is also famous for its colorful murals and graffiti, which adorn the remnants of the Berlin Wall that still stand within its boundaries. Visitors can explore this section of the wall, which has become a canvas for local artists to express themselves.
But that's not all. Mauerpark is also home to a variety of other activities, including basketball and volleyball courts, a playground, and a massive open-air amphitheater. The amphitheater is the perfect spot to catch a concert or event, and it's often filled with locals enjoying a sunny day in the park.
What makes Mauerpark truly unique, though, is its diverse community. The park has become a gathering place for artists, musicians, and activists, creating a melting pot of alternative culture. It's a reflection of Berlin's spirit of resilience and creativity, and a testament to the city's ability to overcome its challenging past.
So, if you're looking for a place to experience the true essence of Berlin, Mauerpark is a must-visit destination. It's a park like no other, full of spunk and personality, and it's sure to leave a lasting impression on anyone who visits.
Mauerpark Flea Market in Berlin, Germany
Photo Essay: Flohmarkt im Mauerpark
This is the section of the walking path that lead from our apartment to Mauerpark.  In the distance you'll notice Audrey and Rebecca 😉
This should give you a good idea of just how busy the 'flea market' section of Mauerpark is in the middle of a Sunday afternoon.
A candid shot of a lady walking around the flea market section of Mauerpark.  It was around this time that I lost Audrey and Rebecca!
Here is an example of some of the things you could purchase at the German flea market in Berlin.
This is an example of the German street food being sold at the end of the flea market – this boy was looking to buy seasoned tornado chips.
This young man was showing off his impressive juggling skills while sitting down on the grassy field of Mauerpark.
A young couple lying down on the grass soaking up the sun and atmosphere from the live musical performances.
Hanging out on the grass drinking beer, cellphone texting and sharing laughs with friends.
This man was rocking out, boogieing and grooving to some rock and jazz performances.
This was my favorite shot of the day.  You'll notice the ladies in the foreground relaxing to the funk music being played right in front of them.
Although this was mostly a hipster hangout, you could spot a number of families enjoying the weekend festivities as well.
A couple of friends sharing conversation while sitting on the grass relaxing and stretching.
This was a more crowded section of the park where a lot of people were hanging out.
Here is the pit with a massive crowd prior to a live performance taking place.
I'm taking a photo of you while you're taking a photo of me 😉
A young guy just chilling out while a group behind him share beers.
Two gentleman share conversation over a bottle of beer.
This isn't my favorite photo of the day but it makes me smile more than any other.  What a cute dog 😉
This half naked man with pants down wearing a horse head was the most provocative musical performances I noticed 😉
An urban street artist designing art on the wall of Mauerpark.
A different vantage point showing the two artists at work.
A snapshot of a young lady and man sharing a conversation alongside the wall of Mauerpark.
The most intimate photo of the day – a couple kissing on the grass of Mauerpark in Berlin, Germany.
Here is a shot of the Mauerpark wall section when nobody else was around.
How To Get To Mauerpark?
Nestled in the vibrant Prenzlauer Berg district, Mauerpark is a gem that every traveler to Berlin should visit. Getting there is an experience in itself, as you have a few different options to choose from depending on your mood and the mode of transportation that best suits you.
If you're coming from the city center, hop on the U-Bahn and take the U2 line to the Eberswalder Strasse station. From there, it's only a few minutes' walk to the park, and as you stroll through the charming streets of Prenzlauer Berg, you'll feel the energy of the neighborhood come to life.
For a more scenic route, hop on the M10 tram and enjoy a leisurely ride through several popular neighborhoods in Berlin, including Mitte and Friedrichshain. As the tram approaches Mauerpark, the vibrant sounds and colors of the park's famous Sunday flea market will start to emerge, setting the tone for an unforgettable experience.
For the more adventurous and environmentally conscious traveler, renting a bike is a fantastic way to reach Mauerpark. Berlin has a fantastic network of bike paths, and you'll be able to explore the city's various neighborhoods on two wheels before arriving at your destination.
Although driving to Mauerpark is an option, it's best to avoid it if possible. Parking can be challenging, especially on weekends when the flea market is in full swing. Plus, exploring Berlin by public transportation or bike allows you to experience the city's unique energy and charm in a way that driving simply cannot offer.
In summary, getting to Mauerpark is an adventure that every traveler to Berlin should embark upon. The park's unique location and accessibility make it a fantastic destination to explore by foot, bike, or tram. So, why not embrace the journey and immerse yourself in the vibrant energy of Prenzlauer Berg?
Have you been to Mauerpark before?  Is this the kind of hangout place you'd enjoy spending a Sunday afternoon?