50 Things to do in New York City Travel Guide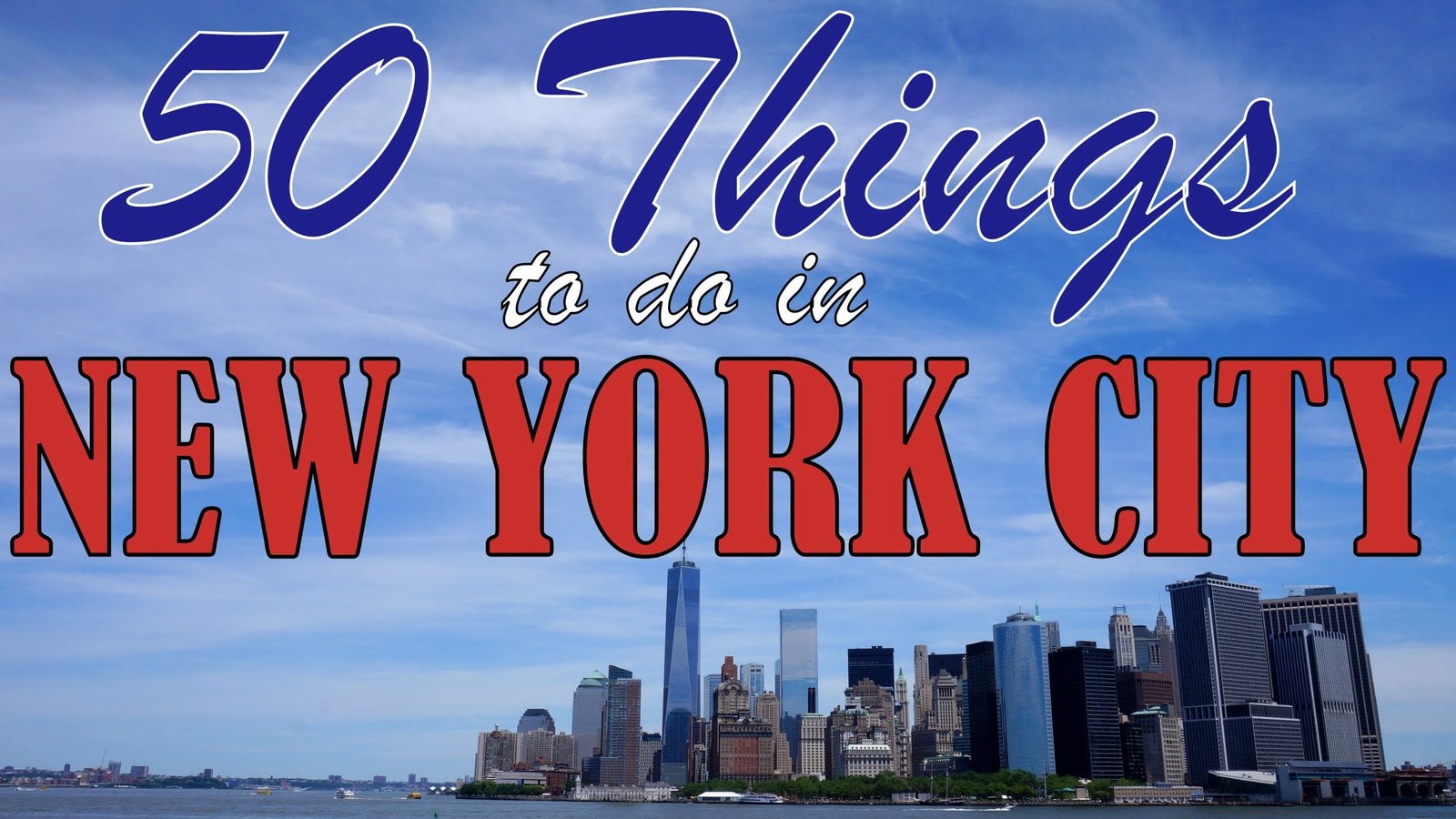 Our recent week in New York City was an action packed one. We decided to set ourselves a challenge to see and do as much as we possibly could, and that gave way to this video guide, photo essay and travel guide which highlights 50 of the top attractions.
In a city like New York this means we barely scratched the surface, but hopefully this video will highlight the cornucopia of possibilities that is the Big Apple.
New York City Travel Guide Video
City Guide: New York
1) Grand Central Terminal
Most journeys to New York City begin at Penn Station or Grand Central Terminal, and if you arrive at the later you'll be wowed by the building.  This commuter railroad terminal located at 42nd street and Park Avenue serves commuters traveling into the city from various locations in New York State receiving over 21 million visitors annually.  Many affectionately and colloquially refer to it as Grand Central Station and if you're a fan of Hollywood movies you'll recognize the terminal from numerous films.  For a great photo or video walk up the steps to a higher vantage point and marvel at the volume of people scurrying around.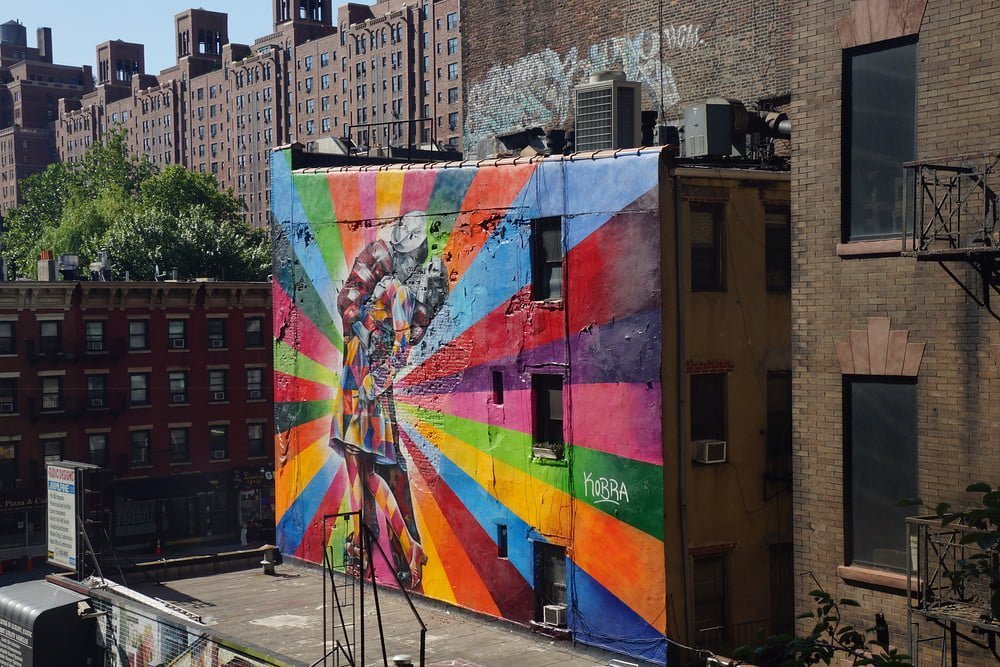 2) The High Line
A relatively new attraction in New York City is the The High Line, which is an old section of rail tracks that used to run from Chelsea all the way to the Meatpacking district. This linear public space has been reclaimed and and re-purposed into a walking park.  Stretching out over 1.6 kilometers, the former west side line tracks run from Gansevoort Street through the Meatpacking District and Chelsea.  The final section of the line is schedule for completion in fall of 2014.  We enjoyed the elevated views of the various neighborhoods we passed along with all of the opportunities to snap photos and occasionally sit down on a park bench just to rest.
3) Meatpacking District
The Meatpacking District was once home to markets, slaughterhouses, and packaging plants, but times have changed. Today you'll find a mixture of trendy restaurants, clubs and boutiques.  This Manhattan borough runs from West 14th Street south to Gansevoort Street and is now the home of many young professionals and hipsters.  We particularly enjoyed just wandering around without any specific purpose or aim.
4) Greenwich Village
The Village used to be a bohemian neighborhood that drew artists and musicians, but today you're more likely to find upper middle class families living here. The streets are shaded and quiet, and it's a nice place for a casual stroll.  Referred to by locals as simply "the Village", the exorbitantly high housing costs have caused artists to flee to SoHo, TriBeCa and more recently Williamsburg and Bushwick.  Home to many celebrities, you might spot Uma Thurman, Edward Norton or Matthew Broderick who live in the village.
5) Brooklyn Bridge
One of the things I had always dreamed about doing in New York City was to walk across the Brooklyn Bridge.  Completed in 1883, Brooklyn Bridge is one of the oldest suspension bridges in the United States connecting the boroughs of Manhattan and Brooklyn.  Spanning 486 meters it as the first steel-wire suspension bridge ever constructed.  You'll want to set aside a decent chunk of time to walk across the bridge slowly as the views of New York City (and especially Manhattan Island) are phenomenal.
6) Williamsburg
Williamsburg is one of the more popular neighborhoods in Brooklyn. It definitely has a very young feel as we spotted lots of twenty something year old's roaming the streets enjoying spot flea markets, independent restaurants and art galleries.  Considered to be the new 'it' spot Williamsburg has become quite popular given its lower rent prices. University students and young professionals have been flocking to this part of town for years.
7) Street Art in Williamsburg
For those who love to marvel at urban street art and graffiti be sure to check out the impressive tasteful murals along Bedford, Fillmore, and Roebling of Williamsburg.  It is the perfect way to spend a morning after feasting on a local brunch.  This area reminded me a lot of the Le Plateau neighborhood in Montreal and if we had another week to spend in the city, I would have definitely chosen to stay here.
8) Prospect Park
This is a massive park located in Brooklyn and it was designed by the same landscape architects who brought Central Park to life.  Under-rated compared to Central Park (I actually met New York residents who have never visited), it is a much quieter park to enjoy relaxing, exercise, tanning or a picnic.  Spread out over 583 acres, some of the highlights include the Long Meadow, the Picnic House, Litchfield Villa and the Boathouse.
9) Dumbo
The historic district of DUMBO, which stands for down under the Manhattan bridge overpass, is a fantastic place to go walking along the riverfront for up close and personal views of the Brooklyn and Manhattan Bridges and the Manhattan skyline.  As one of the top art districts in all of New York City, you'll find a section of art galleries as you wander around.
10) New York Style Pizza
You can't come to New York and not have a slice of authentic New York style pizza. I can't think of a better place to have it than in Brooklyn where you can order it by the slice along with a can of soda.  What is unique about New York style pizza?  It is known for its large, thin and wide bendable yet crispy shape.  It is typically hand tossed and is light on sauce compared to Chicago deep dish pizza.  Be sure to add lots plenty of oregano, garlic and Parmesan cheese to spice it up!
11) Bryant Park
We were kind of tired from a long day of walking and we decided to take a little break at Bryant Park. Low and behold we found that they have free board games that anyone can use throughout the day.
You'll catch friends, couples, and families playing games like chess, dominoes and scrabble. During the summer months, Bryant Park also becomes a popular hangout spot for people looking to relax and even work on their tans.
Be sure to sprawl out on the great lawn, one of the most impressive features of the park, serving as a 'lunchroom' for nearby office workers and fatigued pedestrians.
Out of all of the parks I visited in New York City, this was my favorite for relaxing and people watching.
12) New York Public Library
After visiting Bryant Park, you'll want to pop into the New York Public Library for a look at its beautiful interior.  If the nearly 53 million item collection doesn't impress you, wandering through the specific theme rooms certainly will.  Originating in the 19th century, this is easily the top library in the United States if not the world.
13) Staten Island Ferry
The Staten Island Ferry is free of charge and this makes it really popular with visitors who want to catch a glimpse of the Statue of Liberty from a distance.  In service 24 hours, 365 days a year the 8 kilometer scenic journey takes approximately 25 minutes each way.  Make sure to get in line early in order to snag an ideal spot for snapping photos and videos.
14) Statue of Liberty
If you want to get a closer look at Lady Liberty, you'll have to buy tickets to Liberty Island. If you make reservations well in advance, you can even climb to the viewing platform inside the crown; however, we decided to go with the free option of viewing her from the Staten Island Ferry.
The Statue of Liberty (French: La Liberté éclairant le monde) is a colossal neoclassical sculpture as a gift to the United States from France on October 28th, 1886.  Considering I share the same birthday, I'm only 95 years younger than Lady Liberty 😉 
15) Battery Park
Battery Park is located on the southern tip of Manhattan. It is home to a few different memorials and you'll also catch a lot of visitors hanging out in this area as they wait to catch the Staten Island Ferry from Manhattan to Staten Island.
Wandering around the park you'll notice 'The Sphere' which was damaged but not destroyed in the September 11, 2001 terrorist attacks.  In another section of the park, Hope Garden is a memorial dedicated to AIDS victims.
16) Little Italy
Little Italy may be slowly shrinking, as expanding Chinatown takes over, but it's still a great place to grab some Italian food & a gelato for dessert.  Today the neighborhood mostly caters towards tourists.
17) Little Korea
Having both lived in South Korea, we were thrilled to come across Manhattan's own Little Korea. We seized the opportunity and found a restaurant serving kimchi, pajeon, and kimchi bokkeum bap.  The food was as authentic as anything we tried in Korea and we ended up coming back several times before our time in New York City expired.
18) Chinatown
If you're looking for a bargain, Chinatown is a fun place to visit. The storefronts usually spill onto the sidewalks. It's one of the few places where you can haggle on the price of things or enjoy dim sum.  Home to the largest enclave of Chinese people in the Western Hemisphere it is located nearby Little Italy and Little Korea.  What is fascinating is that this is just one of six Chinatown neighborhoods in New York City.
19) Coney Island
Coney Island is all about good old fashioned fun. You can ride roller coasters, stroll down the boardwalk, enjoy some beach time, and then head over the Nathan's Famous hot dogs. We happened to be here during a parade, which explains why the streets were so busy. And that's our next tip – if you're here in June, don't miss the Mermaid Parade!
20) Mermaid Parade
New York City hosts numerous parades, festivals and events throughout the year but none quite as quirky as the Coney Island Mermaid Parade.  Celebrating the beginning of summer this events attracts participants and spectators by the thousands.  You'll notice paraders and spectators decked out in marine costumes that put Halloween to shame.  It's a lot of fun and it is entirely free; however, just make sure to arrive early in order to snag a good spot because the streets fill up quickly.
21) The Cloisters
Tucked in the northwest end of Manhattan is The Cloisters.  This building was built in the Medieval architectural style and it is home to some lovely sculptures and paintings.
The Cloisters will make you feel like you've traveled over to Europe as it is a peaceful retreat from Manhattan's busy streets.
Located in Fort Tyron Park, it is actually a branch of the Metropolitan Museum of Art home to over 5000 pieces of exhibiting art, artifacts and architecture from Medieval Europe.
22) Harlem's Apollo Theatre
The Apollo Theater is one of the most famous music halls in New York City located at 253 West 125th street in Harlem.  Its halls have opened for many famous performers over the year and it is a noted venue for African-American performers attracting 1.3 million visitors annually. Amateur Night is on Wednesdays, and it's great for spotting upcoming talent.
23) Soul Food in Harlem at Sylvia's
While in Harlem we wanted to try some soul food and we heard some great things about Sylvia's chicken.  We ended up having smothered chicken, candied yams and peach cobbler that melted in our mouths.
Soul food, for those unacquainted, is a popular African-American cuisine closely related to Southern United States food.
Some popular dishes worth trying include fried-chicken, hog jowl, black-eyed peas and sweet potato pie.
24) World Trade Center Memorial
We stopped by the National September 11 Memorial and Museum located at the World Trade Center site on the former location of the Twin Towers.  The memorial remembers victims and rescuers.
25) Trinity Church
Located at 75 Broadway in lower Manhattan, Trinity Church holds one of the oldest burial grounds in Manhattan and is the final resting place of many historic figures.  This historic parish is nearby Wall street.
26) Wall Street
Coming to New York City we had to visit Wall Street.  This is where millions (or should I say billions) are made and lost.
27) Lincoln Center
Lincoln Center is a space that celebrates the performing arts as it is home to the opera, the ballet and the theater.  Art aficionados will love the possibilities the Lincoln Center offers.
28) Ride a Bicycle
While I wouldn't recommend biking Manhattan's congested streets, Central Park really is a great place for a bike ride. If you're looking to cover a lot of ground, you can pick up a bike from one of the many rental shops or the city's Citi bike share system where you can unlock a bicycle from any station, ride wherever you want and return to any station 24/7.
29) Watch a baseball game at Yankee Stadium
Baseball has often been referred to as New York's game and no team in the history of Major League Baseball is more celebrated than the New York Yankees.  They've won more World Series championships than any other team and you can watch them play live during the summer months at Yankee Stadium.
30) MET Museum (Metropolitan Museum of Art)
Even if you're not into museums a trip to the MET (the Metropolitan Museum of Art) is highly recommended.  As the largest art museum in the United States, it has a permanent collection of more than two million works.  You find displays from Ancient Egypt, Byzantine and American modern art just to name a few.
Admission to the Met is by suggested donation only, meaning you can give as much (or as little) as you'd like although a recommend fee of $25 is shown at the counter.
31) Flatiron Building
This triangular shaped skyscraper is one of the most iconic buildings in the city. If you approach the building from a certain angle it looks 2-dimensional.  Located at 175 Fifth Avenue in the borough of Manhattan, it is easily one of the most iconic landmarks in all of New York City.
32) Washington Square Park
Washington Square Park is popular with families looking to cool down during the summer months. There is a large fountain where kids like to climb and splash around. The park is also known for its arch which is reminiscent of that in Paris.  As crazy as this sounds Washington Square Park is just one of 1,900 public parks in the city.
33) NYU (New York University)
And while you visit Washington Square Park, you can also take the opportunity to swing by the New York University campus.  As you meander about you'll spot such buildings as the La Maison Française.
34) National Museum of the American Indian
The National Museum of the American Indian has a fascinating collection, and the best part is that admission is free of charge.  In my opinion, this is the most under-rated museum I visited in New York City.
35) American Museum of Natural History
The American Museum of Natural History is located in the Upper West Side, and it has an extensive dinosaur collection. This is the perfect attraction for families visiting the New York City together.  Located nearby Central Park, this celebrated museum is visited by over million annually!
36) Times Square
We are now in Times Square – the busiest intersection in all of New York City. If you're going to be visiting I recommend you come at night time when all of the lights are on and hoards of people come out to play.
Times Square has often been nicknamed "The Center of the Universe" and "The Crossroads of the World". An estimated 330,000 people pass through daily.
37) MOMA (Museum of Modern Art)
MoMA (The Museum of Modern Art) houses modern and contemporary art including works of design, sculpture, photography and illustrated books.  It is a treasure trove of history related to the history of modern and contemporary art.
38) Roosevelt Island Tramway
A fun and adventurous way to get over to Roosevelt Island is to take a cable car from Manhattan.  This tramway runs from Manhattan to Roosevelt Island and the ride lasts 3 minutes. You get a fantastic aerial overview of the city, but it's also slightly unnerving if you don't like heights!
39) Fifth Avenue Shopping
Fifth Avenue is a shopping Mecca. The street is lined with prestigious high-end boutiques, and it's considered to be one of the most expensive shopping streets in the world.
40) Rockefeller Center
The Top of the Rock Observation Deck is located on the 70th floor and offers 360 degree unobstructed views.  The center, consisting of 19 buildings has been declared a National Historical Landmark.
41) Empire State Building
The Empire State Building, a 103-story skyscraper, was the world's tallest building for almost 40 years. While it has been surpassed many times since, it still boasts some of the best views of New York City.
42) Carnegie Hall
Carnegie Hall is a concert venue and it often plays host to classical performances.  Located just two blocks south of Central Park between 56th street and west 57 street, it is considered one of the most prestigious venues for classical and popular music.
43) Central Park
Central Park, also known as the lungs of New York City, is massive public park located in Manhattan with a plethora of different entrances. It is almost like a bit of a maze. If you really want to see the park properly you've got to come several times and you've got to enter from different entrance points.
We managed to visit Belvedere Castle, the Great Lawn, Shakespeare Garden, The Ramble, The Jackie Onassis Reservoir, the Alice in Wonderland Statue, and we still left feeling like we barely scratched the surface.
44) Strawberry Fields
Strawberry Fields is a section of Central Park dedicated to the memory of John Lennon. This was a place Lennon used to frequent, and travelers from far and wide stop by to leave a rose and pay their respects.
45) Street Food
For a quick bite grab some street food in New York City.  It's easy to find especially outside of major tourist attractions such as the MET.  My personal favorite was the giant pretzel!
46) Catch a Broadway Theatre Performance
You can't come to New York without taking in a musical. There are so many different ones to consider you can choose from Mama Mia to Phantom of the Opera.
47) Madison Square Garden
Madison Square Garden is home to the New York Rangers NHL hockey team. This building is one of the most famous in the whole world for sports, entertainment, concerts, shows, performances and other events.
48) African Burial Ground
This is a memorial site to the unnamed free and enslaved Africans who were buried here. It was only rediscovered in 1991.
49) Columbus Circle
The cool thing about this intersection is that it's the point from which all official distances from New York City are measured.
50) Take the Subway Metro
One of the best ways to get around New York City is of course by Metro.  If you want to really explore New York City, we recommend picking up a MetroCard so that you can zip around the city with no restrictions. It's cheap and it's efficient.
Final Thoughts: New York City
And that concludes a look at our very busy week in New York City. I'm still shocked we managed to cover so many attractions, but the great thing about this city is that distances aren't very long and there's always something really cool worth checking out around each corner.
Have you been to New York? What are your favorite things about this city? Feel free to share your thoughts in the comments section below.