This past summer I was fortunate enough to spend an entire week traveling around the Lombardy region of Italy. Half of my time was focused in Milan. The other portion dedicated to visiting scenic rural places such as Chiavenna and Bergamo.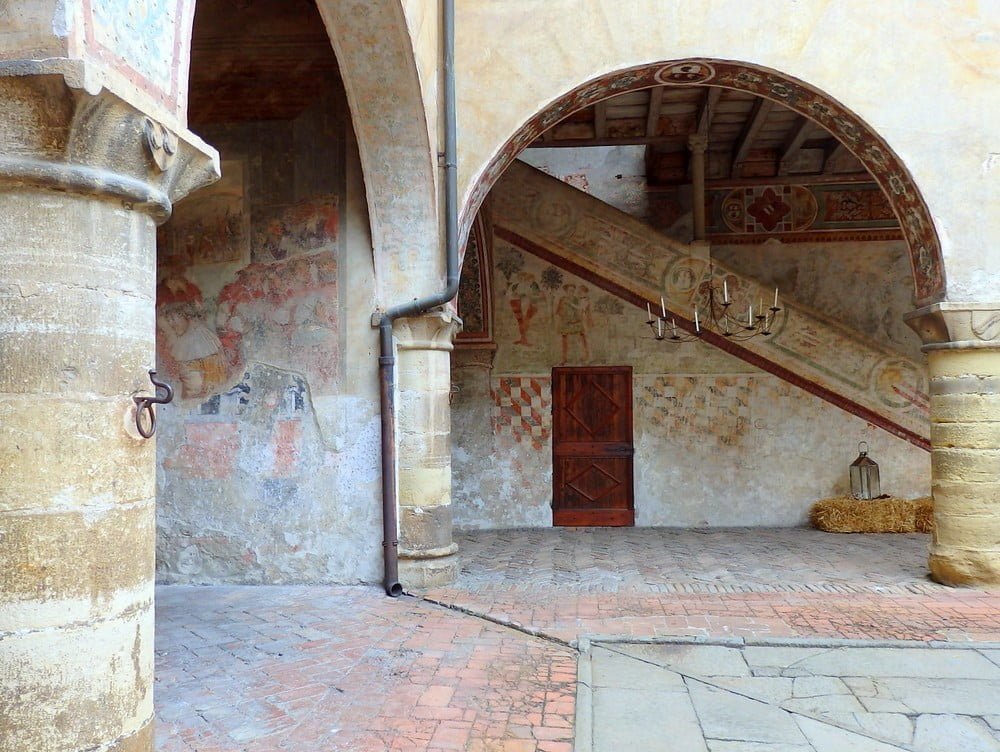 In Milan, I was surprised by the diversity of activities on offer – aside from just shopping. Including sampling cuisine unique to the city. Also, wandering around streets covered with tasteful street art. And finally experiencing fine dining and drinking in the evening.
Even more fascinating to me was how easy it was to escape the city and be fully immersed in the countryside. Merely, an hour or two by train allowed us to be straddling the border with Switzerland. Nearby the Italian Alps. Or marveling at the magnificent Lake Como.
The following is a travel and food guide of 10 unique things you can experience while visiting Lombardia.
10 Things to do in Lombardy
Street Art in Milan
It seemed as though every time we went for a walk in Milan we encountered colourful graffiti. Unlike other cities, where graffiti is often a symbol of decay and squalor, the street art in Milan was highly sophisticated and tasteful.
In particular, I recommend wandering around the neighborhoods of Leoncavallo, Isola, and Porta Ticinese. Moreover, you'll encounter the best street art the city has to offer.
Il Duomo Terrace
The Duomo, easily the most famous landmark in all of Milan, is a Gothic Cathedral currently listed as the 5th largest church in the world. Covered in marble, it is a marvel to witness by day and by night.
However, what many people don't realize is that you can get some of the best views in all of Milan from high atop its terrace. From here you'll enjoy incredible panoramic vistas. Also, you get a birds-eye view of people wandering about in the square below.
Risotto alla Milanese
We didn't have a bad meal while in Milan (or Lombardia for that matter). But for a dish unique to the city be sure to try Risotto alla Milanese. This dish consists of a starchy rice that has a unique ability to absorb liquids such as cheese and butter.
With nothing but saffron, cheese and butter, the simplicity of this dish is what makes it a winner. Therefore, it is meant to be had as a primo (first course). But it is filling enough to be a meal in and of itself.
BONUS: Breakfast in Milan is a sweet delight with a coffee!
Aperitivo
Milan is home to pulsating nightlife. The best way to get started is with an aperitivo. Unlike other Italian cities, where the apertivo is merely cocktails and few random bites, Milan offers generous buffet spreads.
It includes pizza, pastas, deli meats, desserts and more. Also, you'll find a wide selection of beverages to tickle your fancy.
We found ourselves satisfied and full after having an apertivo for the first time in the Navigli District. This particular area is known for nightlife.
It features some of the best restaurants. Come with 10-15 Euros in your pocket and be prepared to walk out feeling stuffed. Our favorite place was the Manhattan along the Navigli canal. Highly recommended!
Canal Ride
A canal cruise ride down Milan's Navigli District is an absolute must. The rides are typically an hour.
You pass by restaurants, cafes, bars and churches lined with colorful street art. Furthermore, it is a relaxing way to slowly take in the neighborhood. Do this while you plot where you'd like to cover on foot.
Polenta e Osei
How does polenta with bird sound to you? Don't be fooled by the poorly translated English name (Polenta e Osei).
Because this dessert that is unique to Bergamo. It will satisfy even the most discerning of sweet tooth critics. This cake, with a chocolate bird placed on top, is something you'll want to share with a friend considering how decadent it is.
Train Ride
Often taking transportation is just getting from A to B for most travelers. However, taking the train in the Lombardy region is a truly immersive travel experience.
You'll pass through cities, scenic lakes and mountains and small villages.
I found myself wanting to put away my kindle and pay attention to what was going on outside of the window. My favorite route was from Milan to Chiavenna.
This is where we had a chance to marvel at Lake Como.
Cooking course in Cavernago
If you're anything like us, you're rather skilled at devouring tasty Italian dishes. However, if you actually want to learn how to make them from scratch, consider taking a cooking course. While in Cavernago, we had an opportunity to visit Malpaga Castle. This is where we dressed up like royalty and learned how to make pumpkin ravioli and beef tartare along with tiramisu for dessert.
Although I'm usually all-thumbs in the kitchen. However, this cooking course with Foodlab 3.0 gave me the confidence to potentially try some of these dishes back home for family and friends.
Vertemate Franchi Castle in Prosto di Piuro
It is not everyday that you have the opportunity to visit a castle. While in Prosto di Piuro, just outside of Chiavenna, we had the opportunity to tour the Vertemate Franchi Palace.
It was built during the 16th century by brothers Franchi. Wandering inside gives you a sample of their aristocratic lifestyle. This separates them from mere commoners.
Bresaola Meat Festival in Chiavenna
I've been to a lot of festivals over the years. But never one centered exclusively around meat!
Every year in Chiavenna, the town celebrates its love for Bresaola.
Say, what? Bresaola. It closely resembles prosciutto. An air-dried meat that has been specially cured and aged for several months. Before taking on its dark red color.
I can honestly say we made it to all 14 stands as part of Dì de la Brisaola. This is where we sampled various kinds of this specialty meat.
It kind of ruined our plans for lunch but neither of us was complaining. The town itself really comes alive with marching bands. And the atmosphere is what really makes the event special in my opinion.
Our first introduction to travel in Italy, through the Lombardy region, left us craving more. We're hopeful that we'll be traveling more throughout the region. And also covering more of Italy in future months.
What are some of your favorite travel experiences? And foods you've sampled specifically in Lombardy and/or in all of Italy? Please let me know in the comments section below.