Matsumoto Travel Guide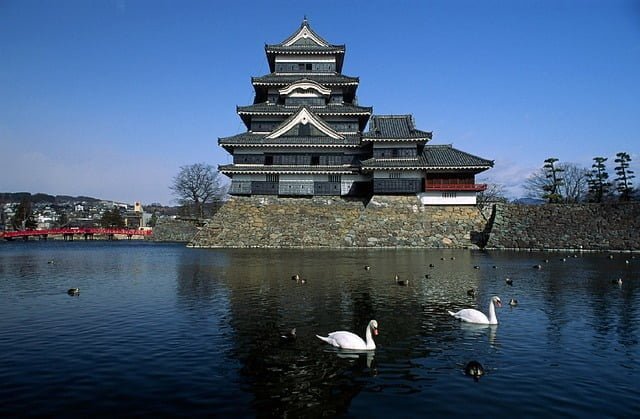 Introduction
Surrounded by mountains in the heart of Nagano Prefecture, Matsumoto is a well-rounded destination.
With cultural highlights that include an authentic castle and natural attractions like waterfalls and onsens, it is a solid place to visit on a tour of the Japanese Alps.
Come check out our Matsumoto travel guide as we cover the best things to do in Matsumoto, Japan.
Top Attractions
Begin your sightseeing in the region by spending time exploring Matsumoto Castle. Built in the Edo Period and maintained in its original form, this castle has an air of authenticity about it that many other castles in Japan lack.
Called the 'crow castle' for its black exterior, its colour was chosen specifically to intimidate invading armies. Today, its keep is repeatedly 'invaded' by tourists who come to admire its form, as well as the spectacular mountain scenery that rises up around it.
It is an especially popular place to be in the spring, as its grounds are home to scores of cherry trees. Exploding into hues of pink as the Matsumoto region transitions from winter, it can get crowded at times, so try to come during the week if throngs of people bother you.
Sample the creative talent of this area's artists by dropping by the Matsumoto City Museum of Art. An institution dedicated to modern art, the design of this building reflects the treasures contained within. Inside, you'll find works by Matsumoto native Yayoi Kusama, who is noted for her colourful pop art, as well as Shinzan Kimijyo, a famed calligrapher.
The rest of the museum contains paintings, pottery, and the personal effects of other area artists – they may not be household names to foreign visitors, but their works will amaze you just the same.
Situated in the Japanese Alps, Matsumoto has developed a Swiss-like obsession with clocks. As such, it shouldn't come as too big a surprise to find an attraction like the Matsumoto Timepiece Museum.
On the outside, you'll find the biggest pendulum clock in all of Japan, and inside, exhibits show off 300 different pieces which date back to the Edo Period. Sourced directly from the collection of Chikazo Honda, it is an eclectic but engaging sight to take in during your time in Matsumoto.
Visitors who want to check out a religious point of interest while in Matsumoto should make a point to visit the Yohashira Shrine. A Shinto shrine that was built during the Meiji Period, it is graced with a grey torii gate.
Inside, you'll find spots dedicated to the worship of four different Shinto deities. At its most busy during New Year celebrations and in the fall (when the trees are ablaze with seasonal colour), don't miss this place if you are interested in observing the locals as they go about the spiritual aspects of their lives.
Other Attractions
Nature lovers will not want to miss out on taking a day trip from Matsumoto to Norikura Kogen. Referring to a wilderness area to the west of Matsumoto, you'll have a variety of hiking trails, onsens, and spectacular views at your disposal.
Some walks end at a number of stunning waterfalls, with Sanbondaki easily being the most significant. A set of three falls that empty into the same mountain stream, it is a magnificent sight that will almost assuredly end up on your Instagram.
Sports lovers visiting the area in winter may want to take advantage of the small ski area located here. It may be tamer than nearby Nagano, but fewer crowds and lower prices will make up for this.
Haven't got your fill of falling water during your visit to the Matsumoto area? Include the Zengoro Waterfalls in your travel itinerary. Tumbling 30 metres from the top of a cliff, this cataract may not be the most dramatic water feature you'll ever see, but it isn't disappointing either.
Note that its position in the wilderness means you may come across bears, so take bear bells with you, or make noise as you make your way to the gorge where Zengoro can be found.
Need to take a break as you explore Matsumoto? Have a seat on one of the park benches in Matsumoto Alps Park. In addition to the seasonal colours in the spring (cherry blossoms) and fall (leaves turning colour) and the views of the Alps in the distance, there are a few attractions worth a look.
Within its bounds, you'll find a nature museum, a petting zoo, and an extensive playground for the kids. As such, you may find yourself lingering here longer than planned.
End your time in Matsumoto by shopping and dining on Nakamachi Street. There are over 40 eateries to choose from, with options ranging from regional Japanese to a plethora of international options. After eating, shop for local art or crafts, then finish your visit off with a coffee from one of this street's excellent cafes.