Damnoen Saduak Floating Market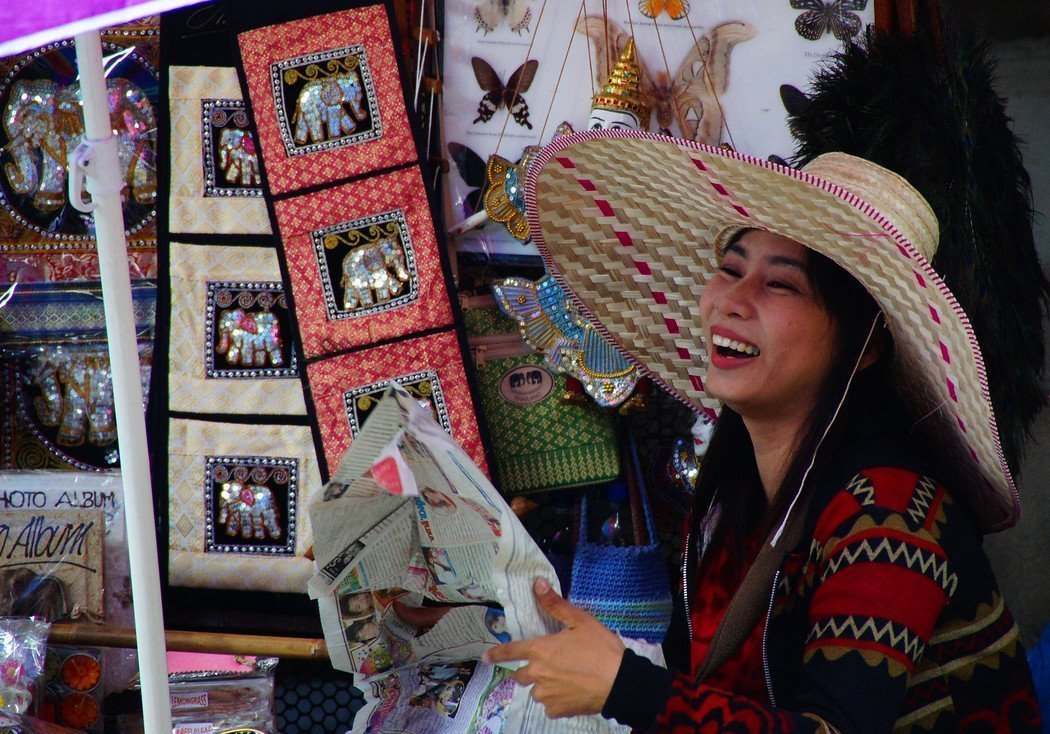 An elderly Thai lady wearing a conical hat dips her paddle into the water as I fire off an exposure of a vendor arranging an assortment of fruit at her individual stall. As a passenger on this small vessel making its way down a canal, I'm surrounded by colorful displays of goods and inundated by exotic smells at this Thai floating market.
Visiting markets (especially floating ones) is one of my favorite travel activities; however, the scene I tried to convey above is far from the truth. What I failed to mention is that the boat I'm on is packed with other foreigners (Thai: farang) with a plethora of other vessels – both behind and in front of us – transporting even more tourists.
As a travel photographer, this is a treasure trove of an opportunity to take candid portraits while capturing all of the colorful exotic displays and bustle of this Thai floating market; however, as I've pointed out in a previous article, impressive travel photos don't always have an equally impressive story behind them.
Unlike local markets, where vendors hardly notice the presence of a foreigner, I'm constantly being badgered to purchase something: "By from meeeee. Fried Bananaaaaa! Coconut here!!!!"
Conflicted by the reality of the situation, I can allow myself to feel entirely jaded by the experience or just go with the flow; I decide on the latter and continue pressing down on my shutter release as I wander around the floating market.
As a now popular tourist attraction, Damnoensaduak floating market was originally the name of a canal dug by military personnel during the reign of Thai King Rama IV. Rivers and canals, at the time were the lifeblood of transportation and goods; however, the now crowded market caters mostly towards tourists.
Photo Essay: Thai Floating Market
A Thai conical hat for sale on an otherwise bare display table
Scenic views from our longboat of lush green vegetation and murky brown waters prior to reaching the Thai floating market.
An elderly Thai lady paddles here way down the canal in a tiny vessel while trying to avoid colliding with much larger ones.
Batter is being poured into a mold being used to make Thai cakes.
A Thai lady vendor with a collection of hats for sale flashes a smile.
This is a side perspective shot of a Thai lady rowing a boat loaded with fruit to the floating market.
An overhead perspective shot of the colorful Thai floating market.
A candid moment, where this Thai lady is communicating with another vendor at the floating market.
A Thai lady with dyed hair makes eye contact with a group of tourists.
An overhead perspective travel photo of three rowboats filled with fruit (bananas and coconuts) passing each other at the same time.
A friendly exchange between two Thai vendors both selling deep fried banana wedges.
Colorful fans for sale with elephant patterned designs.
A selfie portrait from two tourists visiting the floating market.
A candid photo of a Thai lady wearing a conical hat and army fatigue inspired apron.
How do you feel about visiting an attraction that clearly caters towards tourists?