20 Photos of Petra, Jordan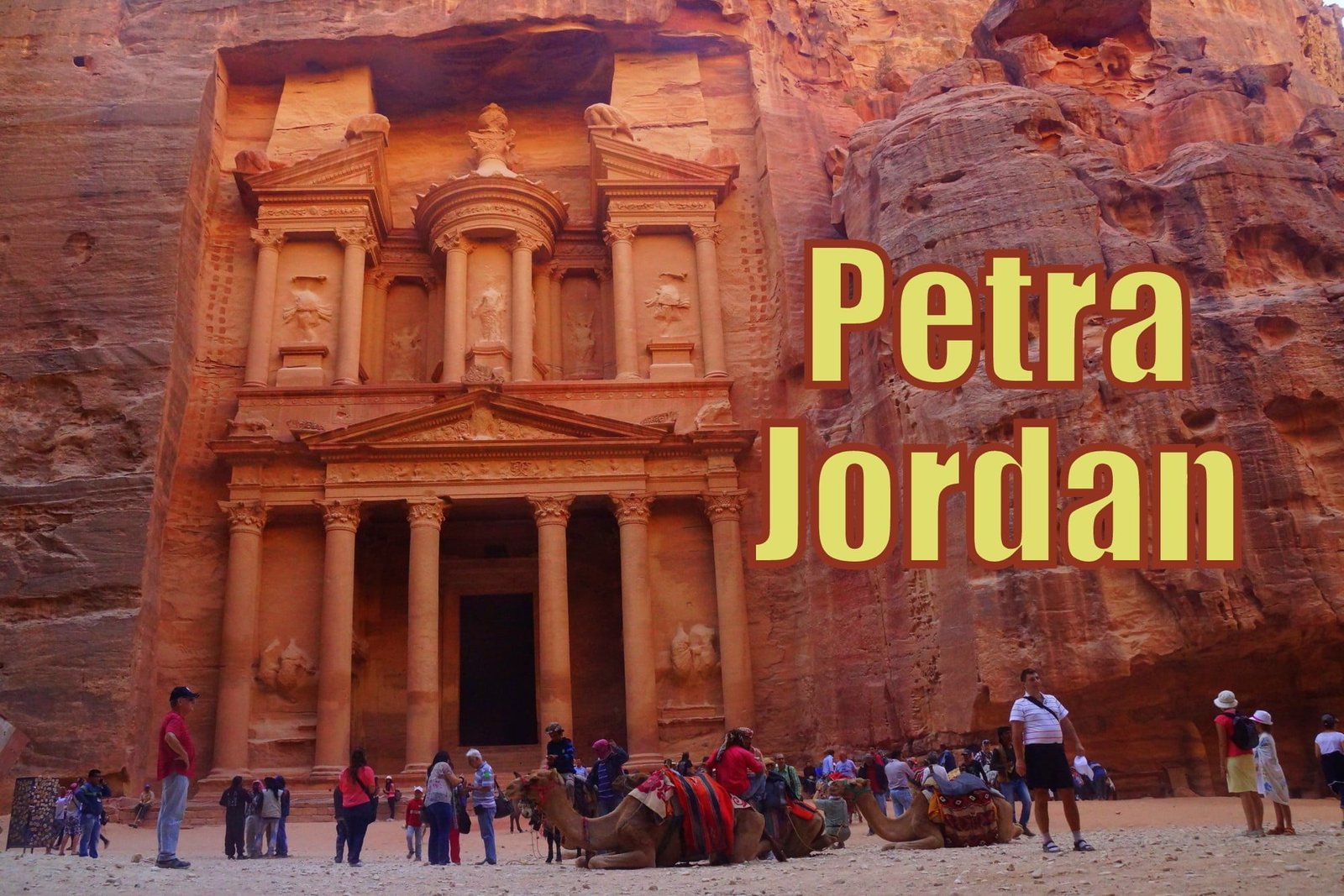 Our gregarious guide Mohammad pointed to the intricate carvings on the wall, "It's a urinal. I need two volunteers." Naturally, we were picked to do something this humiliating. Facing towards the 'urinals' we were suddenly spun around by his hands. My hand touched Audrey's fingers and at that particular moment I finally clued in to what was going on. This particular area was where marriage ceremonies took place and instead of our entire group laughing at us pretending to use the toilet, we shared the same genuine chuckles over the two of us involved in a mock wedding. Oh, how our families will be disappointed/shocked at having not being invited on our special day 😉
Many archaeological sites and/or UNESCO Heritage sites don't live up to the hype. When I visited the Taj Mahal in Agra I felt a little underwhelmed. Although it was impressive I expected more. I suppose at times I suffer a little bit from my preconceived expectations: Paris Syndrome except in more exotic locales. However, I must genuinely admit that Petra not only lived up to my expectations – it exceeded them. The sheer size in combination with the impressive architecture helped me channel my inner Indiana Jones 😉
Once called the 'rose red city' this ancient Nabataean city in the southern region of Jordan is home to the most famous tourist attraction (Petra) in all of Jordan. The former capital of the Nabataean kingdom from the 6th century BC thrived until it was conquered by the Roman Empire in AD 106. As a thriving center for commerce and trade, Petra flourished until a fateful earthquake devastated the cities infrastructure in AD 663. Saladin's conquest of the Middle East in 1189, rendered Petra abandoned with its memory lost to the west and east for centuries.
In fact, it wasn't until the daring Swiss explorer Johann Ludwig Burckhardt, disguised as an Arab scholar, infiltrated the – at the time – Bedouin inhabited city that it was put back on the world map. After numerous excavation efforts Petra is now Jordan's principle tourist attraction since 1929. It's well known in popular culture as the site where Indian Jones and the Last Crusade was filmed and recently in 2007 it was named one of the New Seven Wonders of the world. A distinction, that in my opinion, was rather tardy.
Photo Essay of Petra, Jordan
As a travel photographer, visiting Petra, Jordan is like a boy realizing a childhood dream of visiting a fantasy land. It was hard to put my camera down; however, I did manage to spend plenty of time taking in Petra with my own two eyes and not just behind the lens.
The moment I realized the treasury was mere meters in front of me is one of the most distinct memories I have from Petra, Jordan.  Another top moment was hiking the monastery in Petra.
This is the iconic image from Petra, Jordan – a wide angle perspective shot of the treasury. You won't have this place to yourself though as hoards of tourists, camels and even cats all compete for space.
I've seen this man many times in photo galleries from other friends who have been to Petra. It was almost surreal getting to take his photo.
The echoing sound of galloping horses is one in which you'll learn to familiarize yourself with when visiting Petra
A final shot I took (and edited in sepia) just before sunset.
Well, how could we resist not taking a lovey dovey couple shot in Petra, Jordan for our future grandchildren 😉
This man isn't nearly as imposing as he seems. In fact, I just had to pay him a small fee in order for him to let me pass. He even let me take his photo 😉
I often had to remind myself to turn around and look back. Petra is so grand and massive that you forget sometimes to check your surroundings from the rear.
There were no shortage of animal powered transportation options; however, mule certainly seemed less attractive of an option than going by camel or horseback.
No photo essay of mine would be complete with an obligatory shot of a roaming cat. This one was slinking around some trinkets being sold outside of a small shop.
The architecture and especially the intricate carvings boggled my mind. At this point in the day we were exhausted from all of the walking we had done. Worse yet was that the heat was really getting to us; however, we didn't want to miss out on climbing the steps to get a closer look.
HDR photography came in handy every once in a while given the contrast between the harsh shadows and bright highlights.
Fancy a camel ride? A few days later we rode camels from our Bedouin camp grounds to the area where we'd eventually have breakfast. Camels = 1, Sam and Audrey = 0 To say these lumbering beasts tenderized us would be quite the understatement.
The rewards of climbing steps were that we had a great vantage point view over Petra. On the right you'll notice many trinkets for sale.
Aside from Angkor Wat and Machu Picchu, I've never visited an archaeological site that lived up to its hype and impressed me as much as Petra, Jordan. I only wish I had more time to explore its vast expanse.
As a travel photography tip, don't forget to look up at your surroundings.
This Bedouin man was waiting on his camel for a tourist to come along an accept his offer for a ride.
Our surprise wedding at Jordan, Petra was something we'll never forget. Our families I'm sure won't either as in the sense they weren't invited 😉
In order to get a sense of the sheer size of these grounds, I've used people in the background as a scale. With more time I would have liked to have had the opportunity to explore more of the frontier areas of the city; however, with just half a day I think I made the most of my time here.
Travel Video: Petra
Petra, Jordan Travel Video
For this trip we partnered with My Jordan Journey.