As I walked up a steep hill I took the time to feel the warm sand beneath my toes as I took each step. When I reached the summit, I pivoted and marvelled at the scenery before my very eyes. Panoramic views of jagged rock formations on a bed of sand left a lasting impression. Each rock formation was so distinct it appeared it had been individually hand carved by an artist. I snapped a few photos and then I put my camera down and sat down in awe – some places are just worth the extra attention.
Visiting Wadi Rum was one of the true highlights of our journey to Jordan.  Known also as The Valley of the Moon, its name derived from the Aramaic root of 'elevated' and has been inhabited by many human civilizations over the years – most notably the Nabateans.  Home to the Zalabria Bedouin, the region is one of the most popular eco-adventure tourism spots in all of Jordan.  From treks to camel safaris to cultural experiences there is something for everyone to enjoy.
Our most memorable experiences included:
Sleeping in a Bedouin tent at night
Sharing a meal which was cooked under sand
Dancing, singing and lounging by the campfire
Riding camels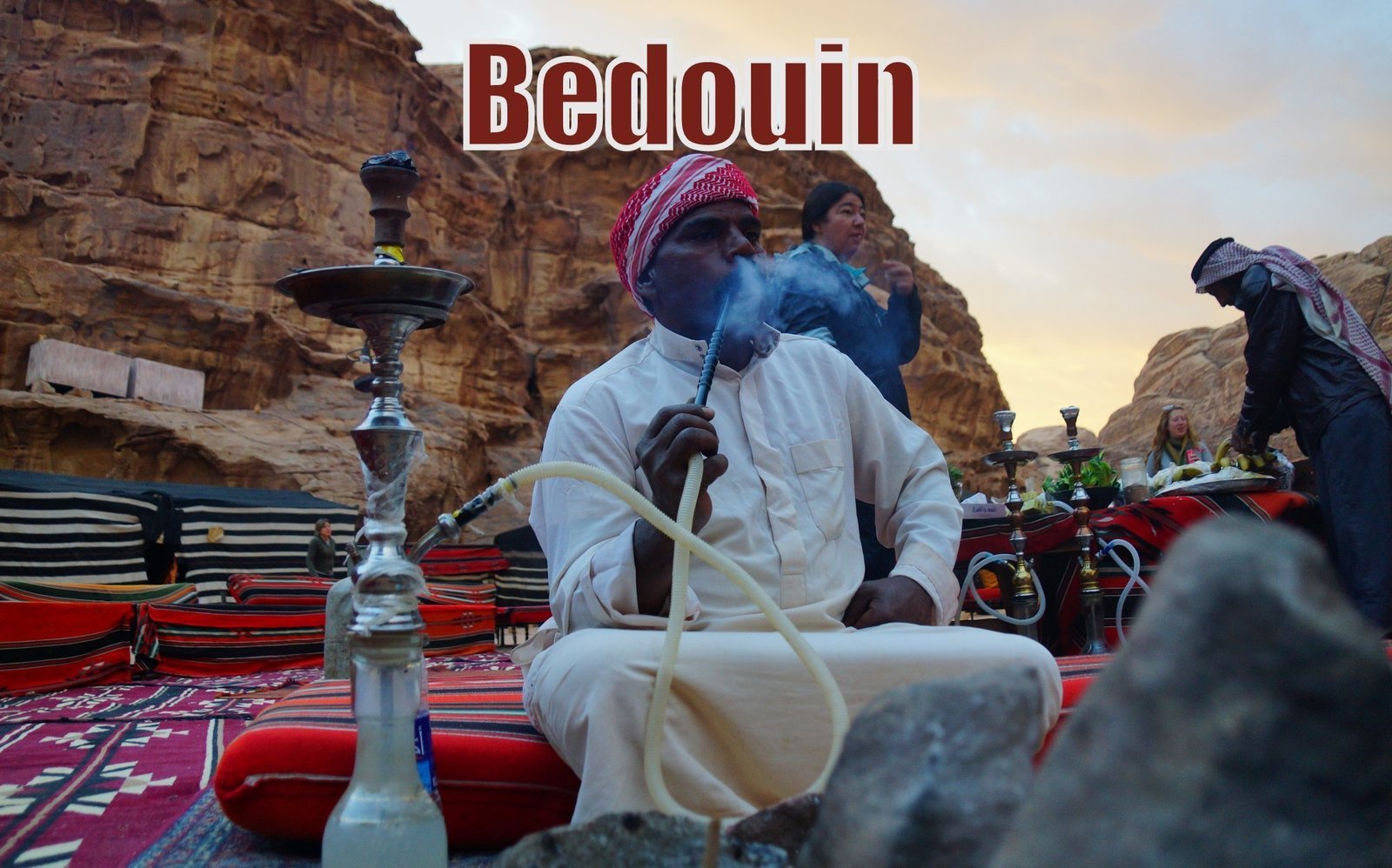 Fascinating History Of Wadi Rum
Wadi Rum is a captivating desert valley located in southern Jordan, steeped in history that dates back centuries. The valley, which is sometimes referred to as the Valley of the Moon, boasts a fascinating past that is ripe for exploration for history buffs and curious travelers alike.
The history of Wadi Rum is thought to have begun around 12,000 years ago, with the arrival of nomadic tribes from the north. These tribes were attracted to the valley by the abundance of natural resources and its strategic location on the trade routes between the Arabian Peninsula and the Mediterranean world.
Over the centuries, Wadi Rum has played a pivotal role in the history of the Middle East, with many famous figures passing through the valley on their way to conquer new territories. One of the most famous of these was Lawrence of Arabia, who used the valley as his base during the Arab Revolt against the Ottoman Empire in the early 20th century. The ruins of the fortress he built during this time can still be seen today.
Wadi Rum was also a significant location during World War I, with the British using the valley as a military outpost during their campaign against the Ottomans. The remains of the RAF airfield can still be seen today, along with many other remnants of the war.
Aside from its rich military history, Wadi Rum is also steeped in Bedouin culture, with many local tribes calling the valley home for generations. Visitors can explore the traditional Bedouin way of life, including their customs, music, and cuisine.
Today, Wadi Rum is a popular destination for travelers looking to explore the natural beauty of Jordan's desert landscape, with many tours and activities on offer, including camel rides, jeep tours, and overnight stays in Bedouin camps. Whether you're interested in history, culture, or simply seeking adventure, a visit to Wadi Rum is an experience not to be missed.
Bedouin Culture: Nomadic Ways
The Bedouin culture is a fascinating and integral part of the Middle East's rich history. For centuries, these nomadic tribes have roamed the deserts, living a life that is closely connected to nature and the land. Today, while the Bedouin lifestyle has undergone significant changes, the traditions and values remain an essential part of the region's cultural identity.
The Bedouin are known for their adaptability and resilience. They have always lived in harsh and arid environments, which has made them skilled in finding food, water, and shelter in the desert. The Bedouin people are also famous for their hospitality, which is rooted in their culture and religion. They believe that all travelers are guests of God and, therefore, must be treated with kindness and respect.
One of the most distinctive features of Bedouin culture is their unique sense of identity. The Bedouin are fiercely proud of their heritage and consider themselves guardians of the traditions passed down by their ancestors. This sense of identity is reflected in their language, music, dance, clothing, and cuisine.
Nomadic life is at the core of Bedouin culture, as they move from place to place in search of water, food and grazing land for their herds of goats, sheep, and camels. They live in simple tents made from woven goat hair and travel on camels, horses or donkeys. Despite the challenging conditions, Bedouins cherish their nomadic way of life, seeing it as an essential part of their cultural identity.
The Bedouin have a rich oral tradition that has been passed down from generation to generation. Their poetry and songs tell stories of love, war, and the beauty of nature. Many of these stories are based on real events that have taken place in the Bedouin's history, and they serve as a reminder of the challenges they have overcome.
Today, Bedouin culture is facing challenges, as the modern world encroaches upon their traditional way of life. However, efforts are being made to preserve and celebrate Bedouin culture. Many Bedouin communities are now open to visitors, offering them a glimpse into their way of life. Travelers can experience Bedouin hospitality, listen to their music and poetry, taste their food, and even learn some of their skills, such as camel riding and weaving.
Bedouin culture is a fascinating and complex aspect of the Middle East's heritage. While the Bedouin have faced many challenges throughout history, their resilience, adaptability, and deep-rooted sense of identity have allowed them to survive and thrive. Today, the Bedouin way of life is still alive and well, and travelers can experience their rich culture by visiting Bedouin communities throughout the region.
Bedouin Adventures: Exploring Wadi Rum
This is a sunset shot from our Wadi Rum tour where Audrey is rendered as a silhouette. Our guides specifically took us to this particular point roughly half an hour before sunset. We certainly were not disappointed.
As a travel photographer it is paramount to look back every once in a while. This particular shot was taken from the back of our pickup truck after it stopped for a few minutes. Looking back I noticed the spectacular cloud formations in the sky.
Here a Bedouin man puffs smoke out of his nose just outside of tent in Wadi Rum. Smoking hookah, know locally as Arghila or Shisha, is very common in Jordan. You can select tobacco with an assortment of different flavours. My personal favourite is apple mint.
Sleeping in a Bedouin tent was one of the top highlights from my time visiting Jordan. Here a group of Bedouin men prepare a camp fire at night that would later be used to serve tea.
This is a shot of Seven Pillars of Wisdom Mountain in Wadi Rum, Jordan taken just after lunch. Can you spot all seven?
The rock formations are especially impressive at Wadi Rum. I'm not a huge fan of HDR photography but I found myself taking several of these types of shots given the contrast between harsh shadows and light.
A Bedouin man puffs exhales smoke from a cigarette nearby our camp in Wadi Rum.
This is another shot of the same Bedouin man from the third photo in this gallery smoking Hookah. In this particular photo you can clearly notice the smoking device and rock terrain in the background.
This is a photo rock formations during a spectacular sunset in Wadi Rum. As a travel photography tip, it's a good idea to not only focus on the sunset. Look around and you'll often notice other subject areas worth shooting.
This is a telephoto shot of rock formations during sunset in Wadi Rum, Jordan.
This is a travel image of Audrey Bergner riding a camel for the first time. She did remarkably well and looked rather graceful for somebody with very little experience riding animals.
This is an action shot of a Bedouin boy and Dustin Main riding camels in Wadi Rum, Jordan. You'll notice Dustin wielding his dSLR camera in his hands. He took a lot of photos of our group which we greatly appreciated.
This is another perspective shot of rock formations during sunset in Wadi Rum, Jordan. This was the nicest sunset we witnessed during our entire time in Jordan.
I was a little under the weather at the time and having an opportunity to lounge by the camp fire prior to going to sleep was the coziest option at this Bedouin camp.
In this photo you can notice several mattresses that were used to sleep on around the camp fire at night.
This is a candid portrait of a Bedouin man smiling early in the morning before breakfast.
Here is another group shot of us riding camels. Can you spot Audrey?
Here is a photo of the tents we used while camping overnight with the Bedouins in Wadi Rum, Jordan. Inside our tent were sample mattresses, warm blankets and candles.
This particular Bedouin man was so photogenic I decided to take one more shot of him smoking Hookah 😉
Here is a candid shot of a Bedouin man smoking a cigarette and beaming an even more impressive smile.
One last scenic shot from Wadi Rum, Jordan.
Travel Videos:
Sleeping in a Bedouin tent, dancing, singing, smoking hookah and riding camels in Wadi Rum, Jordan
Visiting Wadi Rum, Jordan (وادي رم ): The Valley Of The Moon وادي القمر
How To Visit Wadi Rum
Wadi Rum is a mesmerizing destination in Jordan that is a must-visit for every adventurous traveler. Located in the southern part of Jordan, Wadi Rum is a vast desert region that boasts a unique and stunning landscape. The area is known for its towering sandstone cliffs, endless red sand dunes, and rock formations that seem to be crafted by nature's skilled hands. This breathtaking destination has drawn visitors from around the world, eager to experience the desert's rugged beauty and the warmth of the Bedouin people who call it home.
If you're planning a trip to Wadi Rum, there are several things to consider to make the most of your visit. First and foremost, make sure to pack appropriately for the desert climate, including sunscreen, a hat, and plenty of water. Keep in mind that temperatures can be extreme during the day, with scorching heat and chilly nights, so dress accordingly.
To explore Wadi Rum, there are several options to choose from, including hiking, camel rides, and 4×4 tours. Hiking is an excellent way to immerse yourself in the landscape and take in the stunning views at a more leisurely pace. Camel rides, on the other hand, offer a more traditional mode of transportation that allows you to experience the desert as the Bedouins have for centuries. For those seeking an adrenaline rush, a 4×4 tour is an exciting way to navigate the rugged terrain and discover the hidden gems of Wadi Rum.
If you're interested in learning more about Bedouin culture and traditions, be sure to visit one of the many Bedouin campsites in the area. Here, you can experience authentic Bedouin hospitality, learn about their way of life, and enjoy traditional meals cooked over an open fire.
Whether you're an adventurer seeking to explore the rugged terrain of Wadi Rum or a traveler interested in learning about Bedouin culture and traditions, this destination is sure to leave an indelible mark on your heart and soul. So pack your bags, grab your camera, and get ready for an unforgettable desert adventure.
When Is The Best Time Of Year To Visit Wadi Rum?
The best time to visit Wadi Rum in Jordan is during the cooler months between October and April. During this time, the temperature is milder and more comfortable for outdoor activities like hiking and camping. In particular, November through March is considered the peak season for tourism in Wadi Rum.
During the summer months, from May to September, the temperature in Wadi Rum can soar above 40 degrees Celsius (104 degrees Fahrenheit), making it very hot and uncomfortable for outdoor activities.
It's worth noting that Wadi Rum is a desert region, so temperatures can drop significantly at night, especially during the winter months. It's important to pack warm clothing if you plan on staying overnight in the desert.
Additionally, if you're interested in stargazing, the winter months offer clear skies and longer nights, making it an ideal time to witness the stunning night sky over Wadi Rum.
In the heart of Jordan lies a land, A place of beauty, a desert grand, Wadi Rum, where adventure calls, A place to explore, where freedom enthralls.
Red sand dunes rise high and steep, A landscape ancient, vast and deep, With canyons, arches, and caves to roam, A world of mystery and freedom to own.
The Bedouin people, proud and true, Guide us through this land anew, With tales of legends and stories old, Their hospitality, a treasure to hold.
The stars above, a sparkling sight, A canvas of wonder, a mesmerizing sight, As night descends, the desert alive, With the sound of silence, we thrive.
In Wadi Rum, we find our souls, Our spirits free, our minds unfold, A journey of discovery, an adventure to behold, A memory for life, an experience untold.
For this trip we partnered with My Jordan Journey.