Most people who visit Africa have one thing in mind: safari! Seeing animals in their natural habitat, hunting wild as they have for thousands of years, is an essential African experience and one that everybody should have at least once in a lifetime. If you spend the time and travel around Africa, you will soon find out that there are literally hundreds of opportunities to see wildlife. In almost every country there are National Parks where you can spot "The Big 5" which is actually an old hunting term that pertains to the 5 most dangerous animals to hunt – leopard, lion, rhino, elephant and buffalo.
This term is now applied to the safari where these are some of the best animals to spot. Of course there is much more to Africa than the animals, but they definitely play a huge part in the joy of travelling here and if you visit this magnificent continent, you must get in a jeep and explore the vast grasslands of parks like Kruger, Serengeti and the Masai Mara. This is A Photo Safari through these parks and a few of the lesser known parks in Southern and Eastern Africa. Enjoy!
**This is a guest post by Nick & Dariece of Goats On The Road: A Travel Website For Budget Backpackers. For more of their articles and photography, or to connect with them on Twitter and Facecbook, check out their bio at the bottom of the post!**
Animal Safari Photos from Africa Photo Essay: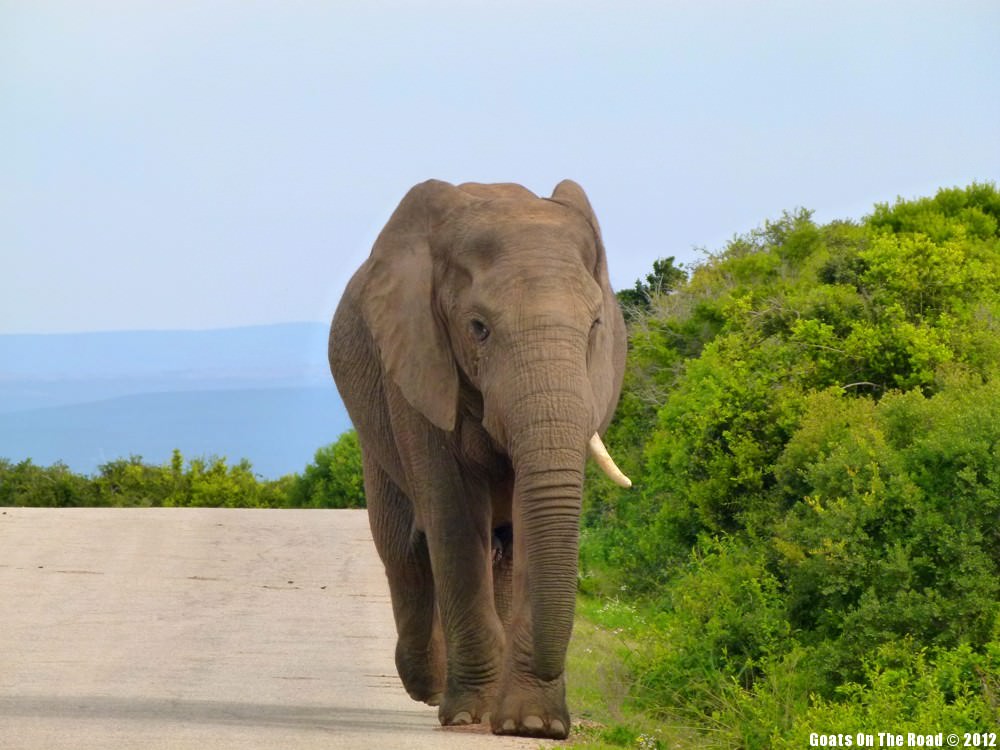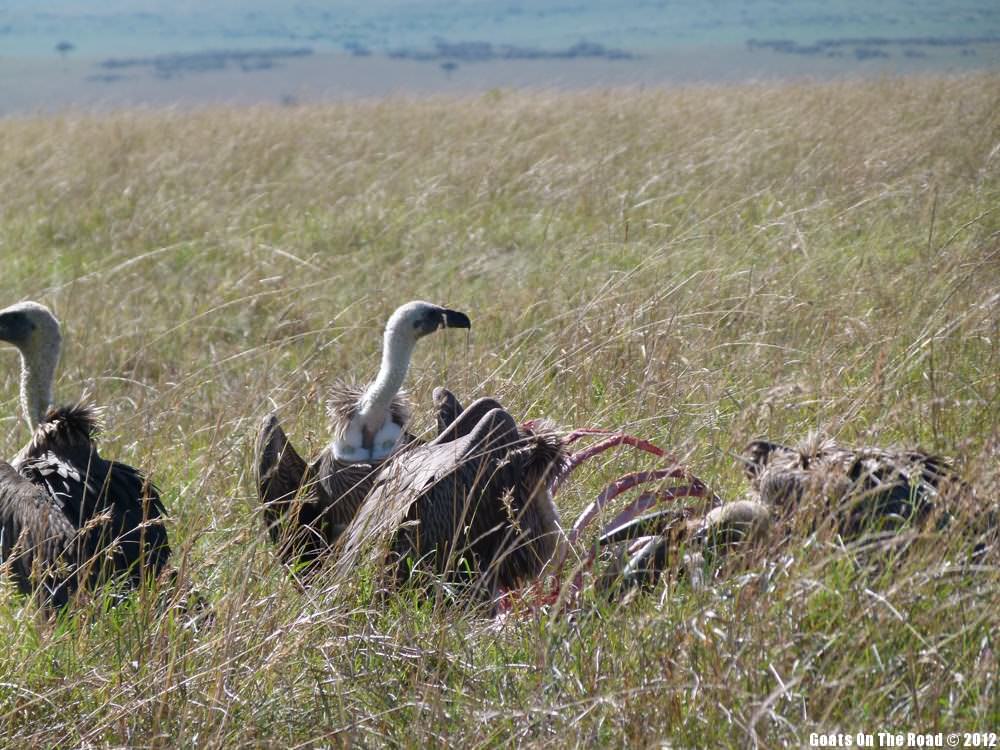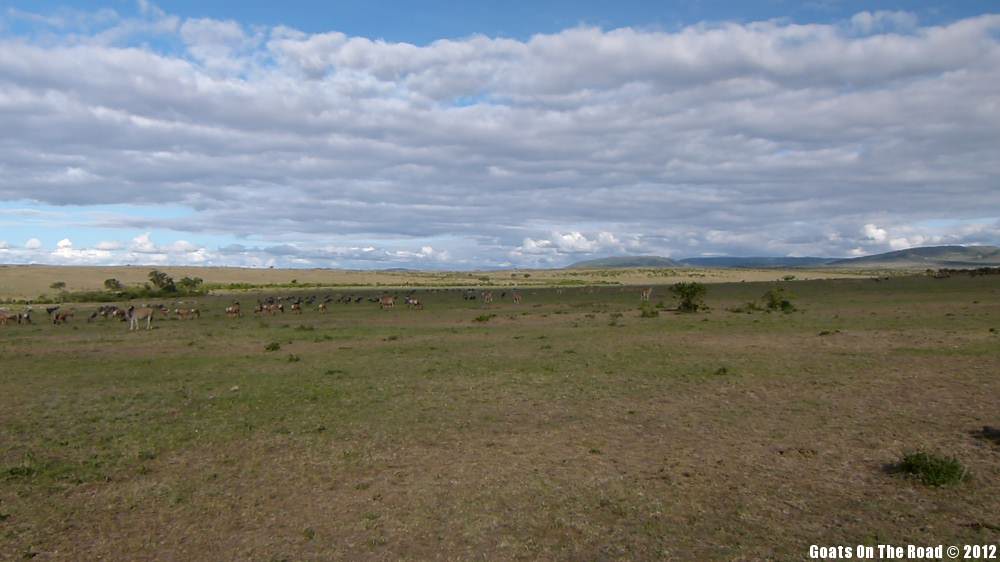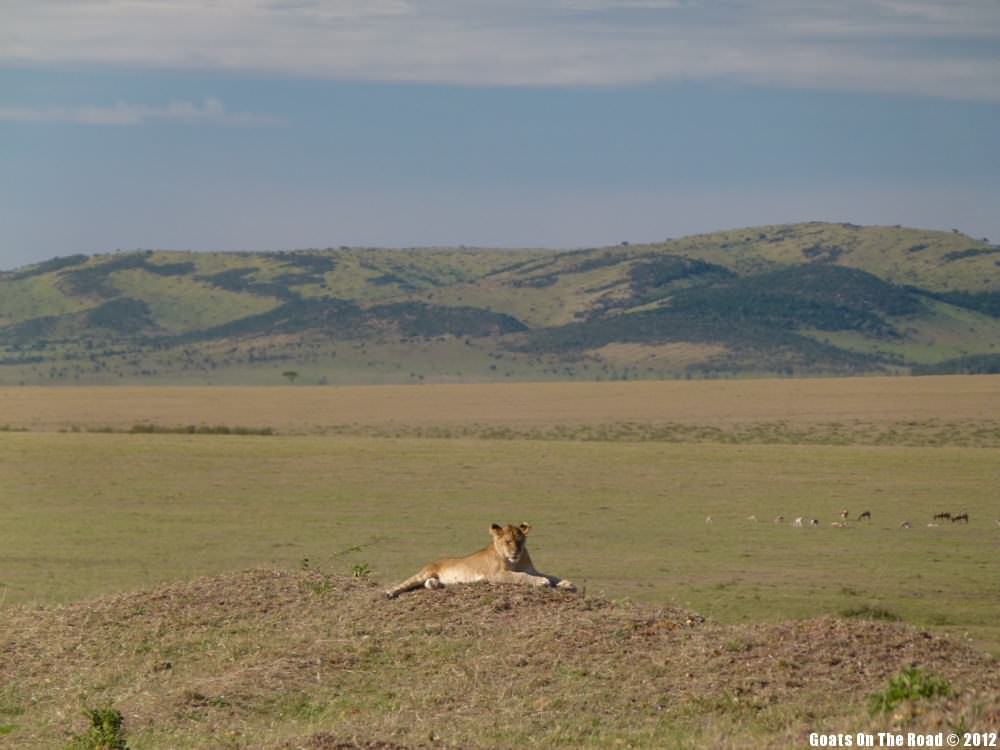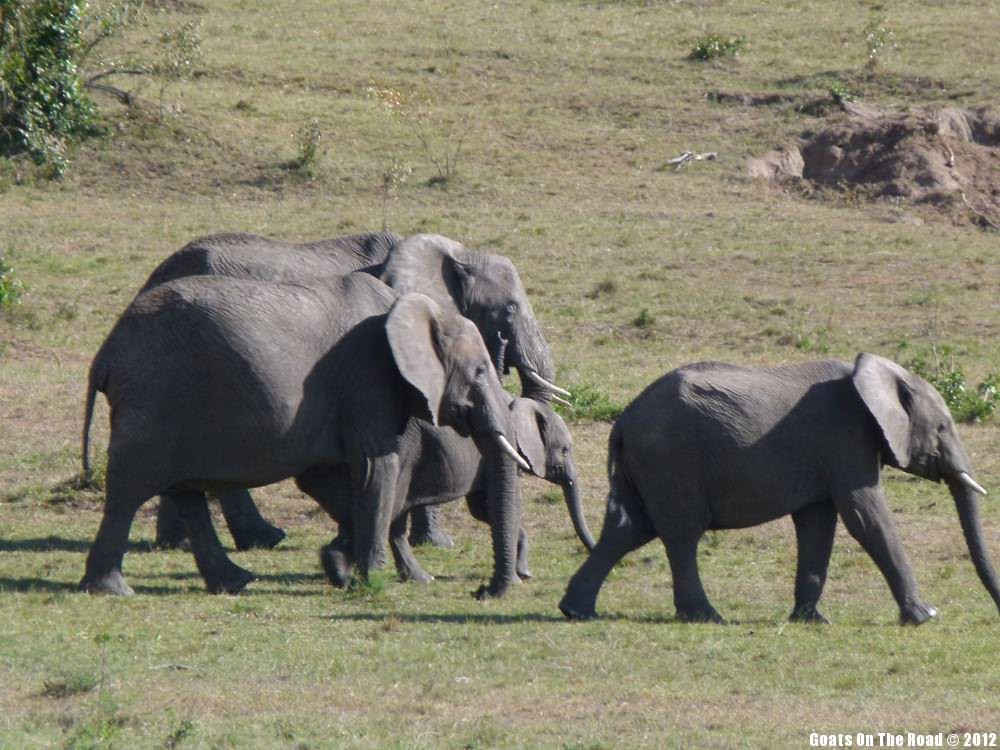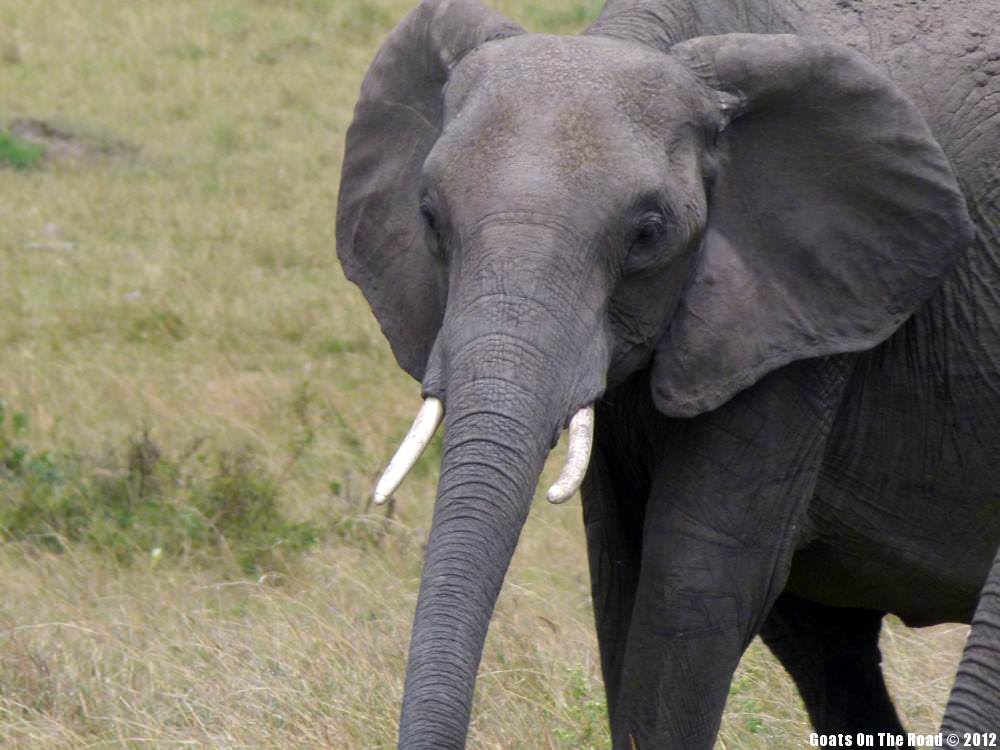 That's our Photo Safari and we hope you enjoyed it. Visiting Africa is incredible for so many different reasons, the culture, the tribes, the beaches, the history, the architecture and the colors, but for sure one of the main reasons that travellers make their way to the continent is to spot some amazing wildlife. We were lucky enough to spot the big 5 and much more. If you're looking for info on safaris, national parks and African travel in general, please check out our bio below!
Authors Bio:
Nick & Dariece have left everything behind in search of cultural experiences, beautiful beaches and off the beaten path adventures. They call themselves Goats On The Road and their website for budget backpackers encourages others to pack their bags and leave the ordinary behind. Visit Goats On The Road and get excellent tips for the adventurous budget backpacker! You can also follow along on their adventures on Facebook & Twitter.
____________________________________________________________________________________
Where Are The Top Places For Safari In Africa?
Africa is a continent that is home to a diverse array of wildlife and ecosystems, and as such, it has become a popular destination for safari enthusiasts from around the world. These safaris offer visitors an opportunity to see animals in their natural habitats, and to experience the breathtaking landscapes and cultures that make Africa such a unique and fascinating destination.
One of the most famous safari destinations in Africa is the Serengeti National Park in Tanzania. This vast savannah is home to the largest mammal migration in the world, and visitors to the park can witness wildebeests, zebras, and other animals as they travel across the plains. The park is also home to lions, elephants, leopards, and other big game, as well as over 500 species of birds. The Serengeti is a UNESCO World Heritage Site, and it is a must-visit destination for anyone interested in wildlife and conservation.
Another popular safari destination is the Maasai Mara National Reserve in Kenya. This reserve is known for the annual wildebeest migration, which is one of the most spectacular wildlife events on the planet. Visitors to the Maasai Mara can also see the Big Five (lion, leopard, elephant, rhino, and buffalo) and other wildlife. The reserve is also home to the Maasai people, who are known for their distinctive culture and way of life.
South Africa's Kruger National Park is another top safari destination. Kruger is one of the largest game reserves in Africa and is home to a wide variety of wildlife, including the Big Five. The park offers a range of accommodations, from luxury lodges to budget-friendly campsites, making it accessible to a wide range of visitors.
The Okavango Delta in Botswana is a unique safari destination, as it is a wetland that attracts a variety of wildlife, including elephants, lions, and hippos. Visitors to the delta can take a mokoro (traditional canoe) ride to explore the area and to get a closer look at the wildlife. The delta is also home to a number of lodges and campsites, which offer a range of accommodations and activities.
Etosha National Park in Namibia is another excellent safari destination. Etosha is home to some of the largest elephants in Africa, as well as lions, leopards, and other wildlife. Visitors to the park can also see a range of bird species and explore the salt pan that is the park's namesake. Etosha is a great destination for those interested in conservation and wildlife research, as it is home to a number of research facilities and conservation programs.
Africa offers a wide range of safari destinations, each with its unique landscapes, cultures, and wildlife. From the vast savannahs of the Serengeti to the wetlands of the Okavango Delta, visitors to Africa are sure to be awed by the natural beauty and diversity of this incredible continent.
How To Take Incredible Safari Photos While Visiting Africa
Photography on safari is a creative pursuit that can capture the natural beauty and excitement of the wildlife and landscapes of Africa. To achieve incredible safari photos, one must have the right equipment, timing, composition, creativity, and patience. Let's delve deeper into these key elements of safari photography.
Firstly, having the right equipment is essential for capturing high-quality photos on safari. A DSLR camera with a telephoto lens is ideal for capturing distant subjects, while a compact camera or smartphone can be used for closer shots or landscapes. It is also important to bring extra batteries and memory cards, so you never miss a shot due to dead batteries or full memory cards.
Timing is also critical for capturing great safari photos. The golden hours of sunrise and sunset offer soft, warm light that creates a beautiful golden glow, ideal for capturing stunning photos. Midday light can also be used, but one must be mindful of the harsh shadows that can be created. Hence, timing one's shots is crucial to capture the perfect photo.
Composition is another crucial element of photography. The rule of thirds is a fundamental photography principle that involves dividing the frame into thirds and placing the subject off-center. This creates a visually interesting composition and can draw the viewer's eye to the subject. Additionally, paying attention to the background is equally important, as it can make or break a photo. One should aim for a clear and unobstructed background, avoiding busy or distracting backgrounds that take away from the subject.
Getting creative with angles and perspectives can also result in unique and captivating shots. Experimenting with different angles, such as getting down low to capture a subject at eye level or shooting from a high vantage point, can create interesting and captivating photos.
Patience and persistence are essential in wildlife photography. It requires waiting for the perfect moment to capture the ideal shot. A photographer must be patient and take their time to achieve the perfect shot. In this way, the best photos often come from waiting for the right moment.
It is important to remember to respect the wildlife and their habitats when taking photos on safari. Following park rules and regulations, keeping a safe distance from the animals, and not disturbing their natural behavior are crucial for ethical photography practices.
Capturing incredible safari photos requires a combination of the right equipment, timing, composition, creativity, and patience. Photography on safari is an opportunity to capture the natural beauty and excitement of African wildlife and landscapes in a way that can be cherished for years to come.
Travel Tips For Having A Memorable Safari in Africa
Going on a safari in Africa can be a once-in-a-lifetime experience, providing an opportunity to witness some of the world's most magnificent animals and landscapes up close. However, to ensure a memorable safari, there are several factors to consider.
Firstly, it is essential to conduct thorough research and plan ahead. It is recommended to select a reputable tour operator, choose the right time of year for your trip, and decide on the best destination based on your interests and budget. This will help ensure that you get the most out of your safari experience and have the chance to see the wildlife and landscapes you are most interested in.
Secondly, it is important to get the necessary vaccinations and medications before embarking on a safari in Africa. This may include vaccinations for yellow fever, hepatitis A and B, and typhoid, as well as anti-malarial medication. It is advisable to consult with a healthcare professional before traveling to Africa to receive the latest medical advice and recommendations.
Packing appropriately is also crucial for a successful safari experience. It is recommended to pack comfortable and breathable clothing in neutral colors, as this helps to blend in with the environment and avoid attracting insects. Sunscreen, insect repellent, and a hat are also important to protect against the African sun.
Respect for the wildlife and environment is paramount on a safari in Africa. Tourists should always follow the instructions of their guide and avoid getting too close or disturbing the animals. Additionally, tourists should avoid littering and follow responsible tourism practices to minimize their impact on the environment.
Being open-minded and flexible is also important on a safari in Africa. The weather, wildlife sightings, and other factors can all impact the safari experience, so it is essential to embrace the adventure and enjoy the journey. This includes disconnecting from technology and immersing oneself in the natural environment, appreciating the sounds, sights, and smells of the wilderness.
Tourists should take the opportunity to interact with the local people and learn about their culture and way of life. This can provide a deeper understanding of the region and its people, and enhance the overall safari experience.
A memorable safari in Africa requires thorough research, preparation, and consideration of several factors. By being responsible and respectful towards the wildlife and environment, immersing oneself in the natural surroundings, and embracing the adventure, tourists can have an unforgettable safari experience that provides a deeper understanding of Africa and its people.