Heading back home to Canada for an extended period for the first time in years, I've been exploring my own backyard with a fresh set of eyes and unwavering enthusiasm.  When Audrey and I sat down to decide which Canadian city we'd first like to visit it was a no-brainer – Montreal.
Montreal, aside from its world class festivals, historic districts and European flare, is important to us for a number of reasons.  Firstly, this is where Audrey was born.  Prior to moving to Argentina for grade school, she spent her formative years growing up in Montreal, Quebec.  Secondly, Montreal was the first Canadian city that I traveled to on my own independently as a young adult.  In many regards, my initial visit to Montreal as a young man helped ignite in me a true passion for travel.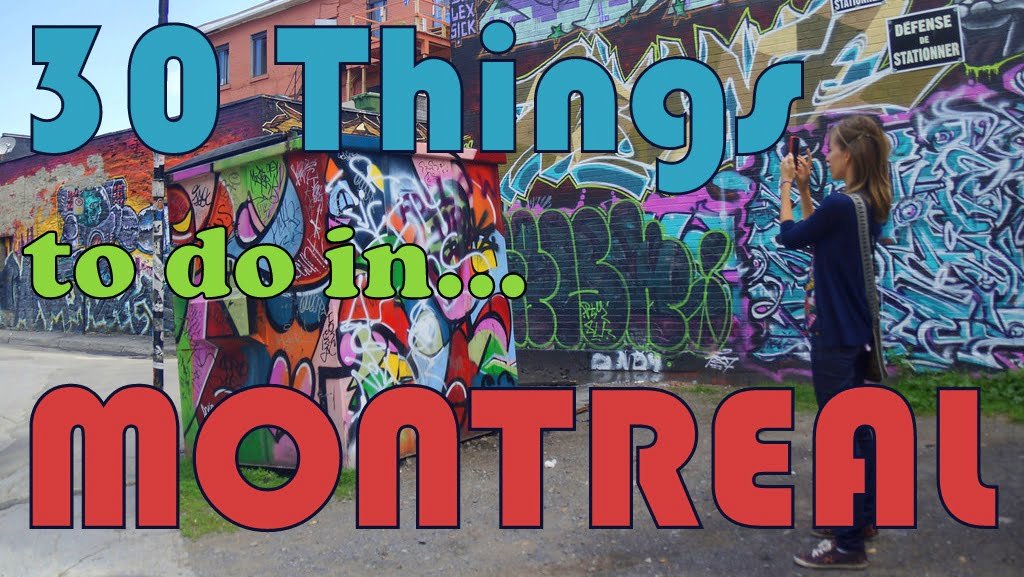 Montreal's History For Intrepid Travelers
Montreal is a city with a storied history that stretches back over four centuries. Founded in 1642 by French settlers, the city has grown into a thriving cultural and economic hub of Canada.
In its early days, Montreal served as a significant trading post for the fur industry, leveraging its strategic location along the St. Lawrence River to become a pivotal center for the transportation of goods and people, and attracting a diverse population from around the world.
During the 19th century, Montreal experienced robust growth, emerging as an influential center for industry and commerce. The city played a crucial role in the Canadian Confederation, contributing to the country's growth and development.
In the 20th century, Montreal underwent a period of rapid modernization and cultural flourishing, underscored by its hosting of the 1967 World's Fair. This momentous event marked a significant turning point in the city's history, elevating its international profile and solidifying its reputation as a sought-after destination.
Notwithstanding its many accomplishments, Montreal has also contended with a range of challenges throughout its history, including political unrest, social inequality, and linguistic tensions. These factors have all contributed to the city's distinctive character, and underscore the myriad opportunities it affords intrepid travelers to engage with its rich history. From the architectural splendor of Old Montreal to the dynamic arts scene and eclectic neighborhoods, Montreal promises a wealth of experiences for the curious and adventurous traveler.
30 Things to Do in Montreal Travel Guide
Montreal is a fascinating city that celebrates its European heritage, French Canadian culture and world class International reputation. Spend your days traipsing all over downtown Montreal where you'll find yourself meandering down cobblestone roads, marvelling at colony-era cathedrals and admiring views from the St Lawrence River. No city in Eastern Canada can match Montreal's vibrant food scene, never-ending parade of festivals and leisurely living.
Allow your mouth to water anticipating your next smoked meat sandwich at near century old Jewish delis, pitch fork fries smothered in copious amounts of cheese curds and gravy or tickle your refined palette with a proper sit down meal over many bottles of wine. As the cultural juggernaut of Canada, Montreal boasts no less than 250 theaters, 90 festivals and neighborhoods catering to artistic expression where you'll find an equal amount of things to do in the city whether it be summer, spring, fall or winter.
With old world European flavor and contemporary charms you'll feel one moment like you're a tourist and the next as if you're a local.  For such a massive city (2nd largest in Canada) it has a remarkably smaller city vibe at times.
With a full week to explore the city we hit the ground running and the following is a feature travel video, photo essay and travel guide showcasing the top 30 things to see and do in Montréal, Québec:
1) Visit the Museum of Fine Arts – Musée des beaux-arts de Montréal
Our first stop was the Montreal Museum of Fine Arts (MMFA) for a look at some of the current exhibitions. With over 13,000 square meters of exhibition space you'll want to set aside a decent chunk of the day to explore its 40,000 plus permanent works.  As the city's largest museum, you'll find it nestled on the historic Golden Square Mile section of Sherbroke Street.
*Please note that we made an error in the video regarding admissions for the museum and that the correct information is this:
Access to the Collections and Discovery Exhibitions is free for:
• Museum VIP members
• People aged 30 and under
• Ages 65 and up every Thursday
• The general public: the last Sunday of every month
• The general public during the Holiday season – December 26 to January 2 – and Spring Break.
• Families taking part in the activities offered in the Studios Art & Education Michel de la Chenelière (workshops and Family Lounge) will receive a dated pass.
• Underprivileged groups taking part in "Sharing the Museum" programmes, which benefit from the support of sponsors.
• All holders of membership cards from our cultural partners will enjoy the same discounts as applicable to admission to Major Exhibitions.*
2) Hike up Mount Royal Park – Parc du Mont-Royal
After getting into an unhealthy routine of devouring Poutine nearly every other day, having the opportunity to hike up Mount Royal Park was a blessing.  As one of Montreal's largest green spaces you'll find yourself strolling through forest paths, picnicking on large open fields and spotting wildlife such as squirrels and woodpeckers.  It you've been indulging in high calorie Montreal delights, spend a whole afternoon here burning it off without it feeling like cumbersome exercise.  Popular, yet not too overcrowded, you'll find yourself sharing spaces with tourists and locals alike.
3) Check out Le Plateau Neighborhood – Le Plateau-Mont-Royal
We decided to stay in the neighborhood of Le Plateau-Mont-Royal and we couldn't have hand picked a more ideal location in the city.  With charming residential streets lined with spiral staircases you're never far away from trendy restaurants and lively bars.  Formerly a working class neighborhood, this hip section of Montreal is where you can find Schwartz's Deli and many weekend street fairs during the summer months.  If you're not being greeted by friendly cats you'll likely catch a festival en route to your nearest bus or metro station.
4) Tam Tams drumming on Sundays in Mount Royal Park – Les Tam-Tams du Mont Royal
There is something going in Montreal during any time of year; however, summertime is when the city buzzes its finest.  On Sunday afternoons you'll find a huge drumming circle (Tam-Tams) on the east end of Mount Royal.  Drummers, by the thousands, converge along with dancers, visitors and vendors creating a lively and festive environment.  From 1 pm until sunset, this spontaneous and non-sponsored event has been going on for years with a distinctly 'laissez-faire' attitude.  I can't think of a better way to spend your Sunday afternoon.
5) Wander around the campus area of McGill University – l'Université McGill
McGill University is one of Canada's oldest and most prestigious universities.  On a sunny day it is well worth your time wandering around campus to soak up the student atmosphere, enjoy a picnic, tan a little and/or toss around a Frisbee.  I personally enjoyed all of the above aside from the tanning 😉
6) Eat poutine – cantines or casse-croûtes
There is one dish that you absolutely have to try when you come to Montreal and that is poutine.  For those unacquainted, this French Canadian dish consists of a heap of french fries smothered in copious amounts of cheese curds and gravy.  Thoroughly unhealthy in every regard, it is the kind of guilty pleasure dish that you'll want to indulge in at least once while visiting Montreal.  Where to eat it?  You'll find greasy spoons across the city specializing in this dish; however, a few names that get frequently mentioned as 'the best place to eat Poutine in the city' include La Banquise and Poutineville.  I can personally vouch for La Banquise and if you want to deviate from the classic cheese curds and gravy I suggest substituting it with goat cheese and bacon.  Oh my!  Do plan on walking for hours on end to burn off the extra calories!
7) Visit the historic area of Old Montreal – Vieux-Montréal
For a taste of Old World French charm, wander down the cobbled streets of Old Montreal. It'll feel like you've traveled back to France several centuries.  With origins dating back to the 17th century, this is one of the oldest urban areas in all of North America.  There are lots of highly regarded – albeit overpriced – restaurants to try in this area.  It's touristy, yet if you limit yourself to window shopping you'll snap some great photos while leaving with a fat wallet.
8) Lookout point from Mount Royal Park – Parc du Mont-Royal
One of the true joys of wandering around Mount Royal Park is the amazing lookout points.  On a clear day you'll feast your eyes on the city skyline, neighborhoods and Saint Lawrence River.  Forget paying the typical city tourist trap of an expensive elevator ride to an observation deck.  Instead, exercise your way up to the top and be rewarded for your efforts with these free views of the city.
9) Go shopping at Bonsecours Market – Marché Bonsecours
For fine dining and shopping in trendy boutiques, you can pop into the Bonsecours Market.  This two-story domed public market was at one time the main market in Montreal.  This Palladian style building located at 350 re Saint-Paul, is where many will commence their walk along the cobbled streets of Old Montreal.
10) Habitat 67 – Habitat
Habitat 67 is a unique housing complex and one of the most interesting architectural landmarks in the city that is best viewed from across the Montreal Old Port or up close for those willing to cross the Saint Lawrence River.  Designed by Israeli-Canadian architect Moshe Safdie as his Master's Thesis, this building was completed in time for Expo 67 World's Fair.  Many regard this building – known for its interlocking forms and connected walkways – as one of the most distinct architectural landmarks in all of Canada; however, it has also been given the accolade of being one of the top 10 ugliest buildings in all of North America by others.
11) Check out the many summer and winter festivals in Montreal including the Highlands games, Rogers cup, Tango events and Blues festival.
Whether you visit Montreal in the summer, fall, spring or winter, there are always festivals going on.  As a city of festivals here are just a few that you can circle on the calendar:
Igloofest (Mid January to early February)
Port Symphonies (Late February to early March)
Festival Nouvelles Musiques next instalment 2015
International Film Festival on Art (Late March to early April)
Croissant festival (Early May)
Montreal Chamber Music Festival (All of May)
Montreal Grand Prix (Early June)
Festival Mural public art fest (Mid June)
Montreal Folk Fest on the Canal (Mid to late June)
Montreal International Jazz Festival (Late June to early July)
International Festival of Circus Arts (Early to mid July)
Just for laughs (Most of July)
Dragon Boat Race Festival (Late July)
Rogers Cup tennis tournament (Early August)
Montreal Highland Games (All of August)
International tango festival (Early August)
Montreal World Film Festival (Late August to early September)
Jardins de lumière (Early September to early November)
Montreal Marathon (Late September)
Montreal Improv Festival (Early to mid October)
Cinemania French films subtitled in English (Early to mid November)
Old Montreal Extravaganza (Mid December to early January)
12) Saint Joseph's Oratory of Mount Royal – Oratoire Saint-Joseph du Mont-Royal
This roman catholic basilica and national shrine is located on the Westmount Summit and you'll have to climb 283 steps to reach the top.  As Canada's largest church it was designated a National Historic Site of Canada to celebrate its 100th anniversary in 2004.  As a travel photography tip, it well worth taking some shots from a distant vantage point before getting up close.
13) Visit the Montreal Biodome – Biodôme de Montréal
The biodome is a popular family friendly attraction for those visiting Montreal with children.  Stepping inside, allows you to walk through replicas of four ecosystems found in the Americas:
1)  South America:  Tropical Forest
2)  North America:  Laurentian Forest
3)  Gulf of Saint Lawrence:  Marine Eco-system
4)  Arctic / Antarctic:  Polar area
14) Montreal's Olympic Stadium 'The Big O' – Stade Olympique de Montréal
As a huge baseball fan, in the mid 90's, I was fortunate enough to come watch the Montreal Expos play at Olympic Stadium prior to the team relocating to Washington DC and changing its name to the Nationals.   This multi-purpose stadium, built specifically for the 1976 Summer Olympics, carries the nickname "The Big O' in reference to its donut shape; however, also because of the outrageous costs of building it.  Given that it is the largest stadium in Canada in terms of seating capacity, it is a great venue to take in a sporting event, concert or live musical performance.  Recently it hosted the Fifa U-20 World Cup.
15) Montreal Botanical Garden – Jardin botanique de Montréal
Because there was some landscaping work being done, we didn't get to walk the extent of the gardens; however, there is plenty to see here. The 190 acres botanical gardens are home to Japanese Gardens, Chinese Gardens, the First Nations Gardens and even Alpine Gardens.  As a designated National Historic Site of Canada, the gardens are considered as one of the most important in the world given its extensive collection.
16) Watch a Habs game the Montreal Canadiens – Les Canadiens de Montréal (le Club de hockey Canadien)
Hockey is like a religion in Canada nowhere else in the country takes it make seriously than Montreal.  Bell Centre is home to the NHL's Montreal Canadiens, one of the most celebrated and historic franchises in the history of sports, where you can catch a regular season game from October until mid April.  As the longest operating franchise in hockey history (1908) they've accumulated no shortage of team nicknames in both French and English:
Les Habitants, Le CH, Le Grand Club, Le Canadien, Les Canadiens, Le Bleu-Blanc-Rouge, La Sainte-Flanelle, Habs
No team has won more Stanley Cups than the Canadiens (24 in total); however, my favorite team the Chicago Blackhawks have had more success in recent years giving me bragging rights for the time being 😉
17) Eat Montreal smoked meat at Schwartz's – viande fumée
You have to eat smoked meat (unless vegetarian or vegan) if you come all the way to Montreal and there's not better place to do so than at Schwartz's Deli. This restaurant is an institution and it's worth lining up for.  What exactly is Montreal smoked meat or Montreal-style smoked meat?  It is a kind of kosher deli meat created by curing beef brisket with spices, cracker peppercorns and salt.  The processing takes over a week before it is finally hot smoked and then steamed to completion.  It is kind of similar to pastrami and is best served on rybe read with generous layer of yellow mustard.  When ordering you have a choice between several cuts:
Lean: the healthiest cut but less flavorful
Medium: most popular cut from the middle of the brisket
Fat: from the end of the brisket loaded with fat
I've tried them all and I prefer medium or 'old fashioned' which is a cut in between Medium and Fat 🙂
18) Notre-Dame Basilica – Notre-Dame Basilica
One of the most iconic landmarks in the historic district of Old Montreal is the Notre-Dame Basilica.  Step inside to marvel at blue ceilings and a gold adorned altar located at 110 Notre-Dame Street west just off of the corner of Saint Sulpice Street (nearby metro station – Place-d'Armes).  Built in the Gothic Revival style you'll have to pay $5.00 to enter as a visitor unless you're attending mass.
19) Cirque du Soleil 'Circus of the sun'
World renowned Cirque du Soleil (Circus of the Sun) offers performances around the world; however having a chance to watch it in Montreal, Quebec Canada – where it originated – is a once in a lifetime opportunity.  We watched on their latest shows 'Curious' and it was one of the most spectacular events I've ever witnessed.  Although the tickets aren't cheap it is well worth the price of admission considering the phenomenal coordinated performances offering a mix of circus arts and street entertainment.  On a personal note, this performance meant a lot to us because a Khmer teenager – attending an underprivileged school in Battambang, Cambodia  – we saw perform was accepted into their university scholarship program.
20) Montreal street art and graffiti
If you enjoy checking out graffiti and street art I would highly recommend the area around Saint Catherine's in the East end of the city. It is just so colorful. You can wander down the lanes with art to be fold all over the area.  Another great section of the city for this type of art is around the Le Plateau neighborhood where we were staying for the week.
21) Go shopping and people watching along Saint Catherine Street – Rue Sainte-Catherine
If you're looking to go shopping or people watching one of your best bets in all of Montreal is St. Catherine street.  Given its status as the main commercial artery of the city, you'll find all kinds of different stores and boutiques running parallel with Montreal's underground city.  Annually in July (for one week) Saint Catherine Streets hosts Canada's largest open-air sidewalk sale stretching an impressive 2 kilometers.
22) Go shopping or warm up under Montreal's Underground City – RÉSO or La Ville Souterraine
Montreal has long, brutal winters and this is when the underground city plays an important role. Most of the downtown area is interconnected by underground paths and underground shopping areas so you don't have to be out in the cold.  As one of the largest underground complexes in the world you'll be sharing this space with some 500,000 people (per day) if you visit the city during winter months.
23) Relax, exercise or have a picnic at La Fontaine Park – Parc La Fontaine)
Parc Lafontaine is located in the borough of Le Plateau Mont-Royal and it's a popular hangout spot on weekends. Friends come to play sports and enjoy a picnic by the pond.  Given this was the closest park to our apartment, we ended up coming here often to people watch and scarf down poutine.  Some of the monuments you can spot at the park include as follows:
Adam Dollard des Ormeaux
Louis-Hippolyte La Fontaine
Felix Leclerc
Charles de Gaulle
24) Montreal's Gay Village – Le Village gai
Located just off of Saint Catherine Street, Le Village (Montreal's Gay Village) is a vibrant neighborhood which is home to many gay bars, clubs, and theatres. In the summertime the street is lined with 200,000 pink balls over the pedestrian only street.  Government support of the village, given Montreal's status as a progressive city, has meant that money has been flowing in resulting in the neighborhood being a recent tourist attraction.
25) Eat Montreal bagels at St-Viateur Bagel – petit pain
For an afternoon pick me up (or at any time of the day) grab a famous Montreal style St. Viateur bagel.  What makes these bagels unique is that they are hand rolled and they are made in a wood burning oven.  When directly compared with its counterpart in New York City, Montreal bagels are sweeter, denser and smaller in size. St-Viateur is so popular that they produce twelve thousand bagels a day.  Grab them fresh and marvel at the enormous wood-fired ovens they pop out of.  I highly recommend the raisin cinnamon bagel with apple cinnamon cream cheese.
26) Ride a bicycle around the city
Given that Montreal is the most European and progressive city in North America, it should come as no surprise that getting around the city on bike is one of your best alternatives to walking or taking the underground.   Bixi stations, a bicycle sharing system with over 3000 bikes and 300 stations, let you hire out bikes for a few hours or for the full day, and you can return them at any bike station in the city.  With dedicated bicycle lanes you won't feel as though you're competing for space with vehicle traffic; however, do wear a helmet, as many cyclists in the city don't bother.
27) Visit Mary, Queen of the World Cathedral – Cathédrale Marie-Reine-du-Monde
This popular minor basilica cathedral is one of the top landmarks in downtown Montreal. It is the third largest church in the province of Quebec situated at 1085 Cathedral Street nearby Metcalfe Street.
28) Visit the Old Port of Montreal – Vieux-Port de Montréal
Montreal's Old Port is worth a wander.  This former French fur trading post is where you can enjoy a quiet stroll along the waterfront or stop for a mid-afternoon nap at one of the many little parks found in the area.  Some of the top attractions at this historical Old Port include the Montreal Science Centre, IMAX Theatre, Montreal Clock Tower and Cirque du Soleil.
29) Take the Metro around Montreal – Métro de Montréal
The best way to get around Montreal is by hopping on the metro. If you're going to be in the city for a few days we suggest you get a pass so that you can zip around from one neighborhood to the next without paying for individual tickets.  What's distinct about the Montreal Metro is its rubber tired fleet which is Canada's busiest subway system with a ridership per capita just behind New York City.
30) In-line skate or bicycle around Lachine Canal – Canal de Lachine
The Lachine Canal is especially popular with cyclists, joggers and in-line skaters.  It runs 14.5 kilometers starting from the Old Port of Montreal all the way to Lake Saint-Louis.  Deriving its name from the French word for China (La Chine),  if you're looking to escape the downtown core of Montreal (and get a little exercise) this is a great morning or afternoon option.
Montreal Summer Food Guide
Montreal's summer food scene is a tantalizing and diverse journey for any culinary enthusiast. The city is known for its cultural diversity, and its food is a reflection of that.
One must-try dish is poutine, a quintessential Quebecois comfort food made with crispy fries topped with rich gravy and fresh cheese curds. You can sample classic poutine at La Banquise or Poutineville, or try innovative variations like foie gras poutine at Au Pied de Cochon.
If you're in the mood for something sweet, be sure to try Montreal-style bagels, which are sweeter and denser than traditional bagels. St. Viateur and Fairmount Bagel are two of the most popular spots to indulge in this delicious snack. You can also satisfy your sweet tooth with pastries from patisseries like Maison Christian Faure or buttery croissants from Boulangerie Premiere Moisson.
For those who crave international flavors, Montreal has plenty of options. Visit Kazu for Japanese izakaya fare, Satay Brothers for Singaporean street food, or La Khaima for authentic North African cuisine. You can also explore the vibrant ethnic neighborhoods of the city, like Chinatown or Little Italy.
Montreal's love for smoked meat is legendary, and for good reason. Head to Schwartz's or Lester's Deli for some of the best smoked meat sandwiches in the city. Alternatively, try the unique fusion dishes at Dinette Triple Crown, which offers Southern-style fried chicken and Quebecois-style poutine in the same dish.
Of course, no Montreal summer food tour is complete without a visit to some of the city's iconic ice cream shops. Head to Kem Coba for creative flavors like coconut pandan or cardamom pistachio, or visit La Diperie for a customizable soft-serve cone dipped in your choice of toppings.
In short, Montreal's summer food scene is a reflection of the city itself: diverse, exciting, and full of surprises. With a rich variety of flavors and experiences, it's no wonder Montreal has become a foodie destination.
Montreal Summer Tours
Montreal, the cultural capital of Canada, has a lot to offer during the summer months. Here are some of the best summer time tours to explore the city and its surroundings:
Old Montreal Walking Tour – Discover the history and charm of Montreal's historic district with a guided walking tour of Old Montreal.
Mount Royal Park Hiking Tour – Hike to the top of Mount Royal and take in stunning views of the city from one of Montreal's most beloved parks.
Montreal Food Tour – Sample some of Montreal's best cuisine with a food tour that takes you to some of the city's top restaurants and markets.
Lachine Canal Bike Tour – Rent a bike and take a leisurely ride along the scenic Lachine Canal, which offers stunning views of the city skyline and surrounding parks.
Saint Lawrence River Boat Tour – See Montreal from a new perspective with a boat tour along the Saint Lawrence River, which takes you past historic landmarks and charming neighborhoods.
Montreal Mural Tour – Discover Montreal's vibrant street art scene with a guided tour of the city's many murals and graffiti.
Montreal Museum Tour – Explore Montreal's rich cultural history with a guided tour of its many museums, including the Montreal Museum of Fine Arts, the Pointe-à-Callière Museum, and the Museum of Contemporary Art.
Jean-Talon Market Tour – Browse the stalls at one of Montreal's most famous markets, the Jean-Talon Market, where you'll find a wide variety of fresh produce, baked goods, and other local specialties.
Underground City Tour – Escape the summer heat and explore Montreal's vast underground city, a network of tunnels and shopping centers that stretches for miles beneath the city.
Laurentian Mountains Day Trip – Take a day trip from Montreal to the Laurentian Mountains, where you can hike, swim, and enjoy the natural beauty of Quebec's countryside.
Montreal's summer time tours offer something for everyone, whether you're a foodie, a history buff, or an outdoor enthusiast. So why not explore this vibrant and beautiful city and see all that it has to offer?
Montreal Day Trips
Looking for a break from the hustle and bustle of Montreal's city streets? Consider taking a day trip to one of the nearby destinations. Here are a few suggestions for Montreal summer day trips:
Mont Tremblant: Just a 90-minute drive from Montreal, Mont Tremblant is a popular destination for outdoor activities like hiking, mountain biking, and kayaking. Enjoy stunning views of the Laurentian Mountains and take a ride on the scenic gondola.
Eastern Townships: The Eastern Townships region is known for its picturesque villages, wineries, and cheese factories. Take a scenic drive through the rolling hills and stop for tastings along the way.
Ottawa: Canada's capital city is just a two-hour drive from Montreal. Visit Parliament Hill, take a stroll along the Rideau Canal, and enjoy the city's many museums and galleries.
Quebec City: This historic city is just a three-hour drive from Montreal. Wander the charming streets of Old Quebec, visit the impressive Chateau Frontenac, and indulge in some of the city's famous cuisine.
Laurentian Mountains: The Laurentian Mountains are home to beautiful lakes, rivers, and forests, and offer plenty of outdoor activities like hiking, kayaking, and fishing. Take a day trip to the region and enjoy the natural beauty of Quebec.
No matter which destination you choose, you're sure to have an unforgettable summer day trip from Montreal.
Montreal Accommodations
If you're planning a summer trip to Montreal, you'll want to find the perfect place to stay. Here's a guide to Montreal summer accommodations to help you find the right fit for your trip:
Boutique hotels: Montreal is known for its unique and stylish boutique hotels. These properties often feature sleek design, artful decor, and personalized service. Consider Hotel Nelligan, Le Saint-Sulpice, or Le Germain Hotel Montreal for a boutique stay.
Luxury hotels: If you're looking for high-end accommodations, Montreal has plenty of luxury hotels to choose from. Options include Hotel William Gray, Fairmont The Queen Elizabeth, and Ritz-Carlton Montreal.
Bed and breakfasts: Montreal's bed and breakfasts offer a cozy and charming option for accommodations. These properties often feature historic architecture, homemade breakfasts, and personalized service. Consider Auberge du Vieux-Port, Petite Auberge Les Bons Matins, or Le Petit Prince for a B&B stay.
Vacation rentals: If you prefer a home-away-from-home experience, a vacation rental may be the way to go. Montreal has plenty of options on sites like Airbnb and VRBO. Look for apartments or houses in popular neighborhoods like Plateau-Mont-Royal or Old Montreal.
Hostels: If you're traveling on a budget or looking to meet fellow travelers, a hostel could be a good option. Montreal has several well-reviewed hostels, including HI Montreal, M Montreal Hostel, and Alexandrie Hostel.
No matter what type of accommodations you prefer, Montreal has plenty of options to suit your needs. Consider your budget, location preferences, and desired amenities when choosing where to stay for your summer trip to Montreal.
Montreal City Guide: Final Thoughts
So there you have it – a complete attractions guide to this beautiful world class Canadian city located in Quebec.  From festivals to live entertainment, and dining to shopping, Montreal has plenty to offer for travelers.
Montreal in the summer is quite the sight, A city that glimmers both day and night. From cobbled streets to the towering skyline, There's adventure and fun that you'll surely find.
You can stroll through the gardens, Mont-Royal, Or taste some fresh bagels, straight from the boil. Spend your days by the river, Lachine, Or explore the markets of Atwater and Jean-Talon.
You can hop on a bike and tour the city, From the Old Port to Mile-End, it's all so pretty. Discover the murals that colour the alleys, Or take a boat ride and see the city from the valley.
At night, the city comes alive with sound, The music, the lights, it's all around. From jazz bars to comedy shows, Montreal's nightlife is one of the city's glows.
So come to Montreal, in the summertime, And experience the joy that's hard to mime. A city that's cool, a city that's grand, Montreal's the place to visit, in this great land.
Have you been to Montreal?  
Let us know what you love about this city in the comments below.