20 Things to do in Milan
We had heard from friends that Milan, Italy was less than stellar from a travel perspective; however, what we found while exploring the fashion capital of Europe was that it surprisingly has a lot more to offer for those willing to delve a bit deeper. With only three full days to explore Milan we hit the ground running and tried to see and do as much as possible. We made time for major attractions like Il Duomo, Sforza Castle, and Galleria Vittorio Emanuele II, but we also veered away from the crowds in search of street art and interesting neighborhoods. This being Italy, we also tried to prioritize meals, sampling everything from pizza to risotto, and cappuccinos to aperitivos. The following travel guide will highlight 20 things to do when you visit Milan, Italy
1) Milan Catherdral
(Italian: Il Duomo – Duomo di Milano – Domm de Milan)
Our first stop was Il Duomo, which is the most recognized attraction in the city. The cathedral took nearly six centuries to complete and the exterior is covered in Candoglia marble, which gives it its off-white pinkish colour. Make sure to visit both during the day and at night for an entirely different experience.
2) Il Duomo Terrace
Climbing up to the cathedral's rooftop was one of the coolest things we did in Milan. We got some great views of the city and it was also really nice getting a closer look at the architecture. A fun little fact we learned: if you donate enough money you can get one of those church spires all to yourself.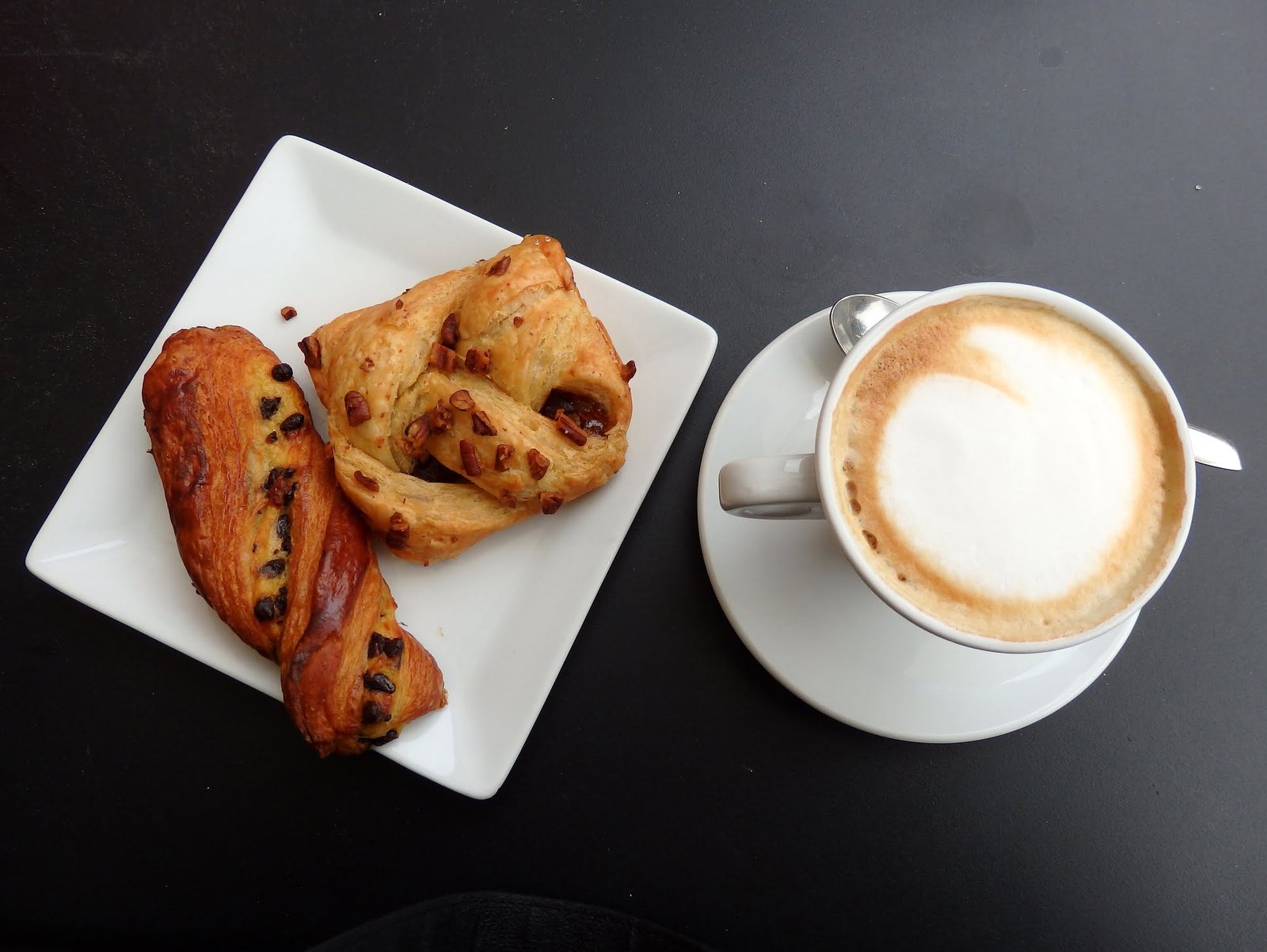 3) Italian Breakfast
Prior to arriving in Milan, we weren't entirely sure what an Italian breakfast looked like so we did a bit of research and asked around. Apparently, it is just a coffee and anything sweet including pastries, bread with jam, cake or cookies. A friend mentioned a great little cafe worth visiting and we ended up having our breakfast there every day. Considering downing a cappuccino and/or espresso along with a pecan filled pastry 😉
4) Sforza Castle
(Italian: Castello Sforzesco)
Something that surprised us about Milan is that there is a castle right in the middle of the city. Sforza Castle was built in the 15th century by the Duke of Milan, and it then underwent several restorations and expansions in the following centuries. Today it houses several of the city's most prized art possessions, including frescoes by Leonardo da Vinci and Michelangelo's very last sculpture.
5) The Galleria
(Italian: Galleria Vittorio Emanuele II)
For some upscale designer shopping, Galleria Vittorio Emanuele II is the place to be. It is considered one of the world's oldest and most beautiful shopping malls, and its most impressive feature is an arching glass and cast iron roof.
6) Risotto alla Milanese
If you're looking to try a pasta dish unique to Milan than definitely consider Risotto alla Milanese. In case you're not too familiar with risotto it is basically a type of rice that is thick, starchy and absorbs a lot of liquids. It gets its bright yellow color from saffron that is a bit of a reddish orange color when it is dry; however, when you stick it and mix it with the rice it turns it yellow. If you like pasta that is creamy, buttery and cheesy your taste buds will be in heaven.
7) Street Art around Porta Ticinese
Milan has a lot of really cool street art and you'll often stumble upon it when you're not even looking. We spotted some really cool pieces around Porta Ticinese.
8) Columns of San Lorenzo Roman Ruins
(Italian: Colonne di San Lorenzo)
The Colonne di San Lorenzo are the remains of Roman ruins that date back to the 2nd century. They are believed to have been part of a bath house before they were moved to their current location at some point during the 4th century.
9) Canal Boat tour
(Italian: linea traghetti gaggiano milano)
Another fun activity to try in Milan is a boat tour of the canals. The city's canals are attributed to Leonardo Da Vinci, who in 1482 was called over by the Duke of Milan to help renovate the city's canal system. So cruise on down knowing that Da Vinci once strolled the same neighbourhood you are visiting.
10) Navigli District Dining
Milan's Navigli District is one of the liveliest parts of town especially when the sun goes down. We recommend finding a little restaurant along the water's edge and enjoying a proper Italian meal al fresco.
11) Aperitivo: drinks and buffet
For the best value drink/meal combination in Milan be sure to have an Aperitivo in the evening. In a nutshell, you get yourself a cocktail for about 10 Euros and that gives you access to this massive buffet of like pizzas, pastas, olives. Anything you could possibly imagine. Although this is technically not a Vegas style dinner buffet, I'm quite certain you will be full to the point you won't want to grab dinner afterwards.
12) Shopping along Via Torino
And because Milan is one of the fashion capitals of the world you couldn't come to this city and not go shopping. We walked along Via Torino which boasts lots of different boutiques but there is several different areas around the city that you can check out.
13) Visiting Chinatown
One of the most distinct neighborhoods in Milan in Chinatown. If you want to have a nice Chinese meal and/or pickup some exotic fruits and vegetables this is your best bet.
14) Riding a bicycle like a local
Another thing we noticed about Milan is that locals bike everywhere. So if you want to do as locals do, consider hiring a bike for the day to help you get familiarized with the city.
15) Pizza al taglio
Prior to arriving in Italy I was already salivating over the opportunity to try Italian pizza. What I ended up liking best was pizza al taglio (also called pizza al trancio) which is basically extra thick slabs of pizza that almost looks a bit like focaccia bread. Oozing with gooey cheese and coming with all kinds of different toppings it's hard to limit yourself to just one slice 😉
16) Basilica of Sant'Eustorgio
We visited the Basilica of Sant'Eustorgio (nearby our neighborhood), which is believed to have once held the relics of the Three Magi.
17) Duomo Museum
If you didn't get enough of the Duomo and the rooftop terrace, you can also visit the Duomo Museum, which covers the cathedrals history and art a little more in depth.
18) New City Views
Like most European cities, Milan is steeped in history but that doesn't mean there aren't newer parts with modern architecture. We made some time to take a Hop-On-Hop-Off tour of the city, and that helped us see a different side of Milan.
19) Museum of Natural History
(Italian: Museo Civico di Storia Naturale di Milano)
We dropped by the Museum of Natural History, which is probably geared more towards children, but we were still curious to see their dinosaur displays.
20) Night views of Milan
Lastly, on our final night in Milan we went out for one last stroll around the city to enjoy some nighttime views. Swing by Il Duomo if you get a chance – it feels completely different when the lights come on and the crowds disperse.
Milan Travel Video
If you have trouble viewing this video click here:  http://youtu.be/g5v1_xpcEjw
Milan Photo Essay
And that's all for our visit to Milan. We hope this 20 things to do Milan travel guide, attractions video and photo essay will give you some cool ideas of sights and places to check out around town, and if you have any other suggestions for travellers, feel free to add those to the comments below.
Our trip to Milan, Lombardy was part of the #Blogville project where we stayed in a local apartment and experienced all of the best cultural activities, museums, restaurants, arts and entertainment the city has to offer.