We had heard from friends that Milan, Italy was less than stellar from a travel perspective; however, what we found while exploring the fashion capital of Europe was that it surprisingly has a lot more to offer for those willing to delve a bit deeper. With only three full days to explore Milan we hit the ground running and tried to see and do as much as possible.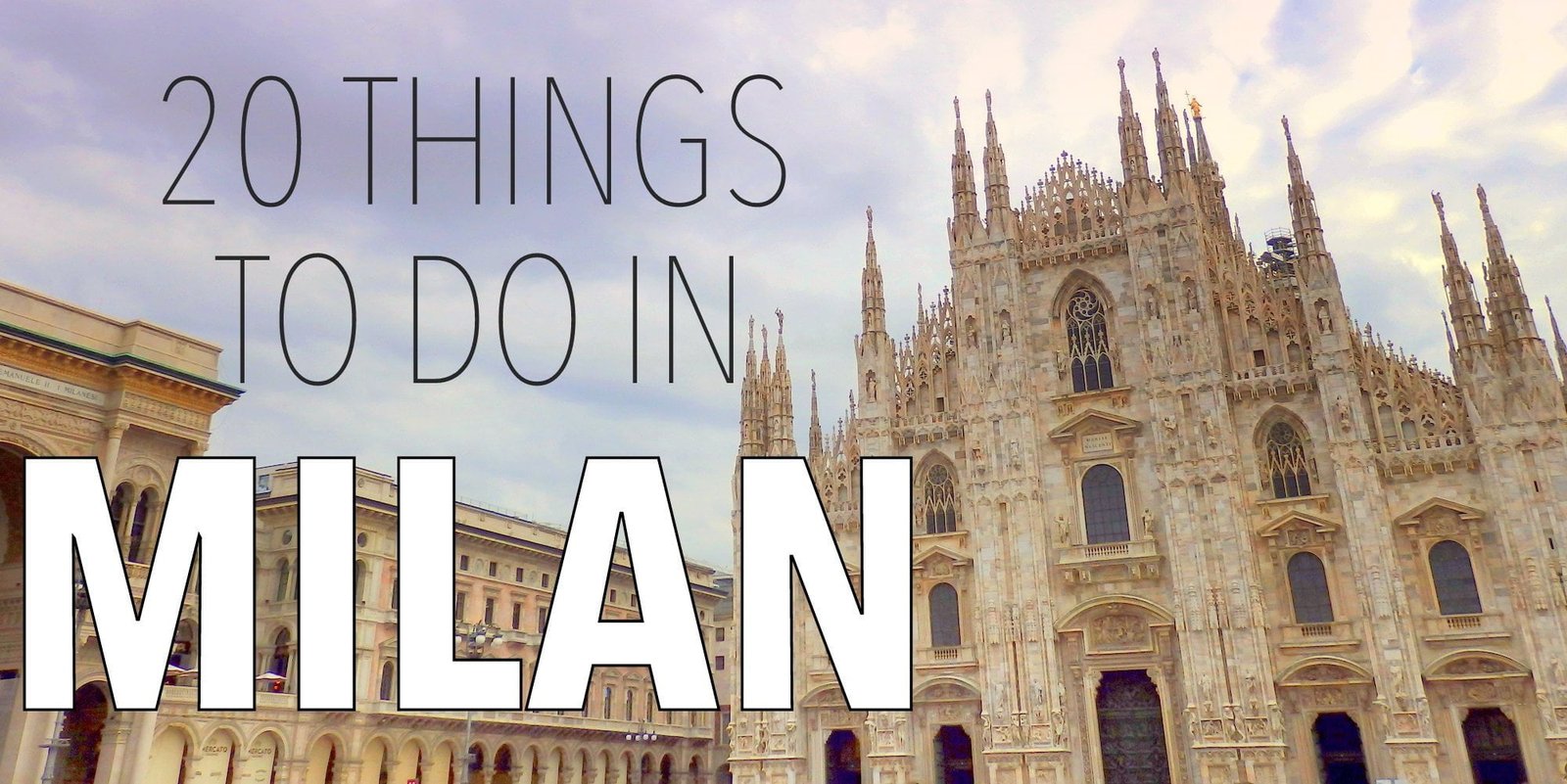 We made time for major attractions like Il Duomo, Sforza Castle, and Galleria Vittorio Emanuele II, but we also veered away from the crowds in search of street art and interesting neighborhoods. This being Italy, we also tried to prioritize meals, sampling everything from pizza to risotto, and cappuccinos to aperitivos. The following travel guide will highlight 20 things to do when you visit Milan, Italy.
History Of Milan, Italy
Milan boasts a storied and captivating history that dates back to antiquity. Here are some of the salient points that define Milan's rich and multi-layered history:
Antiquity: The city was originally established by the Celts in the 6th century BC, and subsequently fell under the yoke of the Roman Empire in 222 BC. During this era, Milan was an important hub of commerce and exchange, and saw the erection of many impressive structures and monuments.
Middle Ages: In the 4th century AD, Milan was designated as the capital of the Western Roman Empire under the aegis of Emperor Maximian. During the Middle Ages, the city was governed by an array of influential noble families, and flourished as a cradle of artistic and cultural expression, with such luminaries as Bramante and Leonardo da Vinci contributing significantly to its aesthetic patrimony.
Renaissance: The zenith of Milan's history was arguably during the Renaissance, a period when the city emerged as a preeminent center of art, culture, and commercial enterprise. The powerful Visconti family held sway during this epoch, and were instrumental in the construction of several of the city's most celebrated landmarks, including the awe-inspiring Cathedral of Milan (Duomo di Milano) and the imposing Sforza Castle.
Modern Times: In the 19th and 20th centuries, Milan played a pivotal role in Italy's fight for autonomy and unification. During this time, the city was transformed into a hub of industry, fashion, and design, and underwent a sustained period of restoration and conservation, whereby many of its hallowed edifices and monuments were reconditioned and preserved.
Today, Milan represents a vibrant and dynamic metropolis, one that seamlessly melds its rich past with contemporary innovation and artistic creativity. Visitors are invited to explore its renowned landmarks, museums, and galleries, or to immerse themselves in the pulse and vitality of its diverse and bustling neighborhoods and coffeehouses. From its ancient foundations to its cutting-edge vibrancy, Milan is an urban center that never ceases to enthrall and inspire.
Top 20 Things to Do in Milan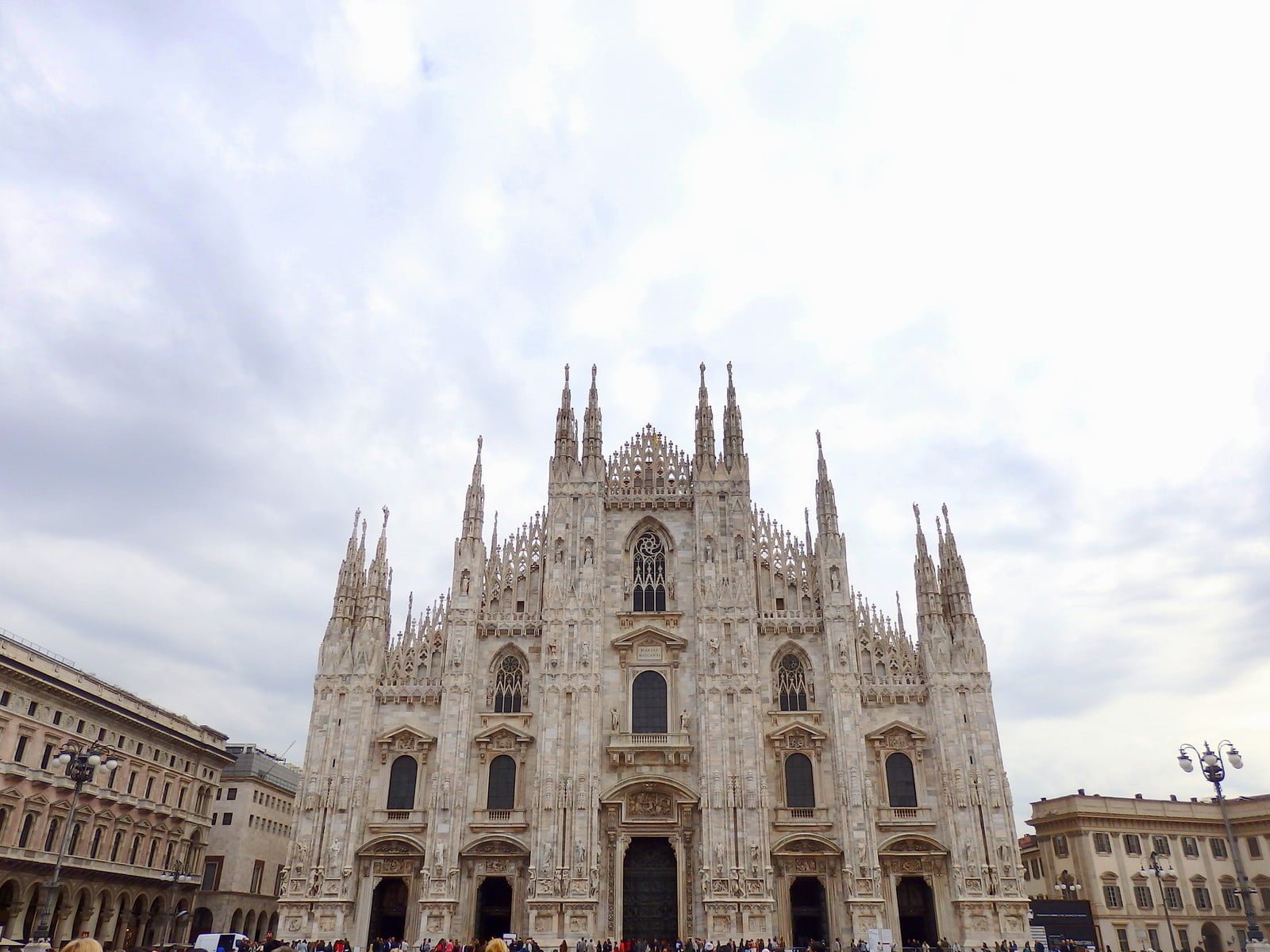 1) Milan Catherdral
(Italian: Il Duomo – Duomo di Milano – Domm de Milan)
Our first stop was Il Duomo, which is the most recognized attraction in the city. The cathedral took nearly six centuries to complete and the exterior is covered in Candoglia marble, which gives it its off-white pinkish colour. Make sure to visit both during the day and at night for an entirely different experience.
2) Il Duomo Terrace
Climbing up to the cathedral's rooftop was one of the coolest things we did in Milan. We got some great views of the city and it was also really nice getting a closer look at the architecture. A fun little fact we learned: if you donate enough money you can get one of those church spires all to yourself.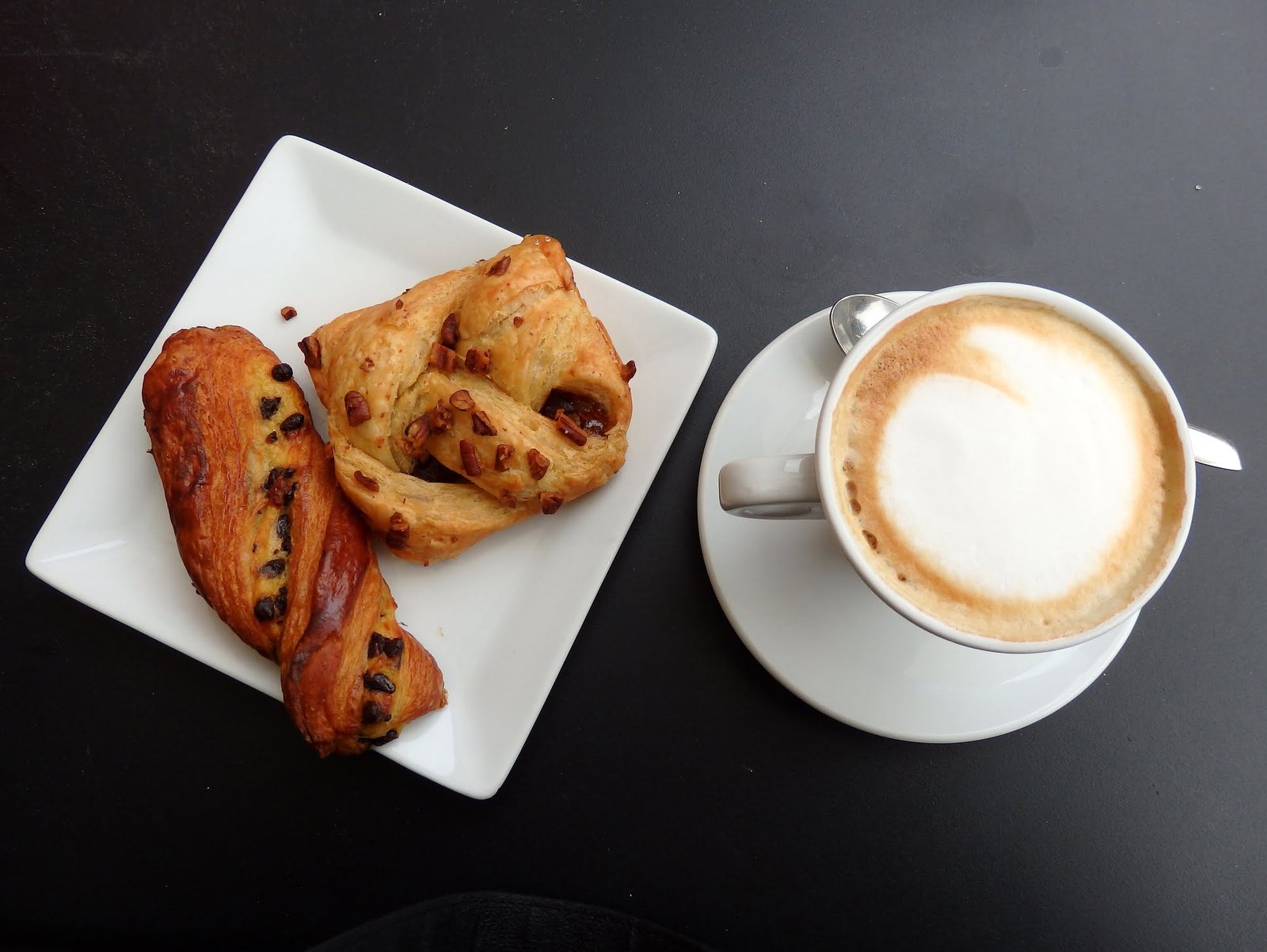 3) Italian Breakfast
Prior to arriving in Milan, we weren't entirely sure what an Italian breakfast looked like so we did a bit of research and asked around. Apparently, it is just a coffee and anything sweet including pastries, bread with jam, cake or cookies. A friend mentioned a great little cafe worth visiting and we ended up having our breakfast there every day. Considering downing a cappuccino and/or espresso along with a pecan filled pastry 😉
4) Sforza Castle
(Italian: Castello Sforzesco)
Something that surprised us about Milan is that there is a castle right in the middle of the city. Sforza Castle was built in the 15th century by the Duke of Milan, and it then underwent several restorations and expansions in the following centuries. Today it houses several of the city's most prized art possessions, including frescoes by Leonardo da Vinci and Michelangelo's very last sculpture.
5) The Galleria
(Italian: Galleria Vittorio Emanuele II)
For some upscale designer shopping, Galleria Vittorio Emanuele II is the place to be. It is considered one of the world's oldest and most beautiful shopping malls, and its most impressive feature is an arching glass and cast iron roof.
6) Risotto alla Milanese
If you're looking to try a pasta dish unique to Milan than definitely consider Risotto alla Milanese. In case you're not too familiar with risotto it is basically a type of rice that is thick, starchy and absorbs a lot of liquids. It gets its bright yellow color from saffron that is a bit of a reddish orange color when it is dry; however, when you stick it and mix it with the rice it turns it yellow. If you like pasta that is creamy, buttery and cheesy your taste buds will be in heaven.
7) Street Art around Porta Ticinese
Milan has a lot of really cool street art and you'll often stumble upon it when you're not even looking. We spotted some really cool pieces around Porta Ticinese.
8) Columns of San Lorenzo Roman Ruins
(Italian: Colonne di San Lorenzo)
The Colonne di San Lorenzo are the remains of Roman ruins that date back to the 2nd century. They are believed to have been part of a bath house before they were moved to their current location at some point during the 4th century.
9) Canal Boat tour
(Italian: linea traghetti gaggiano milano)
Another fun activity to try in Milan is a boat tour of the canals. The city's canals are attributed to Leonardo Da Vinci, who in 1482 was called over by the Duke of Milan to help renovate the city's canal system. So cruise on down knowing that Da Vinci once strolled the same neighbourhood you are visiting.
10) Navigli District Dining
Milan's Navigli District is one of the liveliest parts of town especially when the sun goes down. We recommend finding a little restaurant along the water's edge and enjoying a proper Italian meal al fresco.
11) Aperitivo: drinks and buffet
For the best value drink/meal combination in Milan be sure to have an Aperitivo in the evening. In a nutshell, you get yourself a cocktail for about 10 Euros and that gives you access to this massive buffet of like pizzas, pastas, olives. Anything you could possibly imagine. Although this is technically not a Vegas style dinner buffet, I'm quite certain you will be full to the point you won't want to grab dinner afterwards.
12) Shopping along Via Torino
And because Milan is one of the fashion capitals of the world you couldn't come to this city and not go shopping. We walked along Via Torino which boasts lots of different boutiques but there is several different areas around the city that you can check out.
13) Visiting Chinatown
One of the most distinct neighborhoods in Milan in Chinatown. If you want to have a nice Chinese meal and/or pickup some exotic fruits and vegetables this is your best bet.
14) Riding a bicycle like a local
Another thing we noticed about Milan is that locals bike everywhere. So if you want to do as locals do, consider hiring a bike for the day to help you get familiarized with the city.
15) Pizza al taglio
Prior to arriving in Italy I was already salivating over the opportunity to try Italian pizza. What I ended up liking best was pizza al taglio (also called pizza al trancio) which is basically extra thick slabs of pizza that almost looks a bit like focaccia bread. Oozing with gooey cheese and coming with all kinds of different toppings it's hard to limit yourself to just one slice 😉
16) Basilica of Sant'Eustorgio
We visited the Basilica of Sant'Eustorgio (nearby our neighborhood), which is believed to have once held the relics of the Three Magi.
17) Duomo Museum
If you didn't get enough of the Duomo and the rooftop terrace, you can also visit the Duomo Museum, which covers the cathedrals history and art a little more in depth.
18) New City Views
Like most European cities, Milan is steeped in history but that doesn't mean there aren't newer parts with modern architecture. We made some time to take a Hop-On-Hop-Off tour of the city, and that helped us see a different side of Milan.
19) Museum of Natural History
(Italian: Museo Civico di Storia Naturale di Milano)
We dropped by the Museum of Natural History, which is probably geared more towards children, but we were still curious to see their dinosaur displays.
20) Night views of Milan
Lastly, on our final night in Milan we went out for one last stroll around the city to enjoy some nighttime views. Swing by Il Duomo if you get a chance – it feels completely different when the lights come on and the crowds disperse.
Milan Travel Video
If you have trouble viewing this video click here:  http://youtu.be/g5v1_xpcEjw
Milan Photo Essay
List Of Foods To Try In Milan!
Here are 35 foods to try in Milan, along with a brief description of each:
Risotto alla Milanese – a savory rice dish infused with saffron and Parmesan cheese
Ossobuco – braised veal shank served with a rich tomato sauce
Cotoletta alla Milanese – a breaded and fried veal cutlet
Cassoeula – a hearty pork and cabbage stew
Panettone – a sweet bread loaf studded with candied fruit and raisins, traditionally eaten during the holidays
Tortelli di Zucca – pumpkin-filled pasta served with butter and sage
Gorgonzola – a creamy blue cheese, often served with fresh bread and honey
Salumi – assorted cured meats, such as salami and prosciutto
Polenta – a creamy cornmeal dish that pairs well with stews and sauces
Bresaola – air-dried beef served thinly sliced and drizzled with olive oil and lemon juice
Minestrone – a hearty vegetable soup often made with beans, pasta, and potatoes
Pizzoccheri – buckwheat pasta served with potatoes, cabbage, and cheese
Cassata – a traditional Sicilian dessert consisting of sponge cake layered with sweetened ricotta and candied fruit
Gelato – Italian-style ice cream, often served in a variety of flavors and with various toppings
Tiramisu – a decadent dessert made with ladyfingers soaked in coffee and layered with mascarpone cheese and cocoa
Sbrisolona – a crumbly almond cake, perfect with a cup of coffee
Cappuccino – a classic Italian coffee drink made with espresso and steamed milk
Espresso – a strong, concentrated coffee drink that is a staple in Italy
Negroni – a classic Italian cocktail made with gin, Campari, and vermouth
Spritz – a refreshing cocktail made with Prosecco, Aperol, and soda water
Aperitivo – a pre-dinner drink accompanied by small snacks and finger foods
Focaccia – a flatbread that can be topped with various ingredients, such as tomatoes and olives
Gnocchi – small potato dumplings served with a variety of sauces
Lasagna – layers of pasta, tomato sauce, cheese, and meat, baked to perfection
Ravioli – small pockets of pasta filled with cheese or meat, served with various sauces
Crostata – a tart filled with jam or custard, often served with a dollop of whipped cream
Grana Padano – a hard, nutty cheese similar to Parmesan, often grated over pasta dishes
Vitello tonnato – thinly sliced veal served with a tangy tuna sauce
Strudel – a sweet pastry filled with apples, raisins, and cinnamon
Mostarda – a spicy fruit-based condiment that pairs well with cheese and meats
Cotoletta alla Valdostana – a breaded and fried veal cutlet topped with ham and melted cheese
Casoncelli – small pasta dumplings filled with meat or cheese and served with butter and sage
Panna cotta – a creamy, custard-like dessert served with fruit or chocolate sauce
Orecchiette – small, ear-shaped pasta served with a variety of sauces
Amaretto – a sweet almond liqueur often served as an after-dinner drink
Milan Tours
Milan is a city rich in historical, cultural, and artistic significance, and boasts an array of tours that cater to the discerning traveler. Here are some of the premier tours on offer in Milan:
The Last Supper Tour – This tour enables visitors to witness one of the most celebrated works of art in the world, Leonardo da Vinci's The Last Supper. The tour encompasses a visit to the Santa Maria delle Grazie church, culminating in a guided viewing of the painting.
Milan Cathedral Tour – The Milan Cathedral, also known as the Duomo, is a magnificent architectural wonder that represents a defining symbol of Milan. This tour takes visitors on an expertly guided exploration of the cathedral, encompassing its intricate details, including the splendid stained glass windows.
La Scala Theater Tour – La Scala Theater is an emblem of Milan and is home to some of the world's greatest opera performances. This tour takes visitors backstage, providing a rare glimpse into the theater's storied past, as well as the celebrated performers who graced its stage.
Milan Food Tour – Milanese cuisine is renowned for its delectable flavors and textures. This tour exposes visitors to the city's finest gastronomic experiences, from traditional Milanese dishes to trendy new eateries, allowing them to savor a multitude of flavors and libations.
Milan Fashion Tour – Milan is known as one of the epicenters of the fashion world. This tour provides an immersive journey into the city's most esteemed fashion houses and boutiques, allowing visitors to experience the evolution of Milan's fashion history and to glimpse the latest fashion trends up close.
Brera Art Gallery Tour – The Brera Art Gallery is a Milanese institution, housing a formidable collection of Italian Renaissance art. This tour takes visitors on a guided journey through the gallery's many halls, showcasing works by renowned artists, including Raphael and Caravaggio.
Navigli Canal Tour – Milan's Navigli Canals represent an enchanting and historic facet of the city. This tour takes visitors on a picturesque boat ride down the canals, granting a unique perspective of the city's magnificent architecture and storied past.
These distinguished tours serve as a mere sampling of the many exceptional experiences that Milan has to offer, each providing an unparalleled glimpse into the city's beauty, culture, and history.
Milan Day Trips
Milan, situated in Lombardy's heartland, offers a plethora of alluring day trip options that allow visitors to discover the surrounding region's natural grandeur and rich cultural history. Here are some of the most superlative excursions that can be taken from Milan:
Lake Como – Lake Como, a short train ride from Milan, is a mesmerizing glacial lake encompassed by snow-capped peaks, serving as an idyllic respite from the city's hustle and bustle. Travelers can take a boat ride, stroll through charming hamlets, and relish in the spectacular panoramas.
Bergamo – Bergamo, a scenic hilltop town a mere 50 kilometers from Milan, is renowned for its medieval architecture, narrow streets, and enchanting Old Town. Visitors can explore the historic Piazza Vecchia, ascend the medieval Torre del Comune, and savor the delectable local fare.
Verona – Verona, the fabled abode of Romeo and Juliet, is a romantic city steeped in history and culture, boasting well-preserved Roman ruins and medieval edifices. Tourists can take a guided walk of the city, visit the famous Arena di Verona, and wander through the charming alleys.
Lake Maggiore – Lake Maggiore, straddling the Italian-Swiss border, is renowned for its translucent waters and spectacular vistas of the Alps. Travelers can take a boat ride to the Borromean Islands, explore the quaint towns, or simply unwind by the lake's placid waters.
Genoa – Genoa, a bustling port city on the Mediterranean, is teeming with a rich legacy of history and culture. Visitors can explore the Old Town, saunter through picturesque lanes, and relish in the flavorful Ligurian cuisine.
Pavia – Pavia, situated to the south of Milan, is a delightful university town with a storied past dating back to Roman times. Visitors can marvel at the imposing Certosa di Pavia, tour the medieval Piazza della Vittoria, and enjoy the lively ambiance of the city's cafes and taverns.
These superlative day trips from Milan offer the perfect opportunity for visitors to explore the region's natural beauty, cultural splendor, and historical significance, ensuring a comprehensive and unforgettable Italian sojourn.
Milan Accommodations
Milan, renowned worldwide for its opulence, fashion, culture, and business, is home to an array of exquisite accommodations that cater to the most discerning of visitors seeking a luxurious respite. Here is a list of the most sophisticated and elegant hotels in Milan:
Mandarin Oriental Milan – The Mandarin Oriental Milan is located in the heart of the fashion district, blending contemporary design with classical elegance, creating an ambiance that exudes refined sophistication. The hotel features a plethora of sumptuous rooms and suites adorned with refined furnishings and state-of-the-art amenities.
Park Hyatt Milan – The Park Hyatt Milan, situated in a historic building, boasts an atmosphere of timeless refinement, with antique furniture, marble floors, and intricate artwork. The hotel features lavish rooms, a Michelin-starred restaurant, and a serene spa.
Four Seasons Milan – The Four Seasons Milan epitomizes luxury and sophistication, with five-star accommodations that are elegantly appointed and a serene outdoor garden that provides an atmosphere of tranquility. The hotel also features a world-class spa and opulent suites.
Bulgari Hotel Milan – The Bulgari Hotel Milan is situated in a meticulously restored 18th-century palace, offering an unparalleled level of luxury and comfort. The hotel's lavish suites, rooftop bar, and spa and fitness center are designed to provide a world-class experience.
Armani Hotel Milan – The Armani Hotel Milan is located within the iconic Armani building and offers a minimalist-chic interior and impeccable service. The hotel features spacious rooms, a rooftop bar, and a world-class spa.
These exquisite hotels in Milan offer visitors the ultimate in comfort, luxury, and sophistication, providing a memorable stay in one of the world's most glamorous and sought-after destinations.
Milan Travel Guide: Final Thoughts
And that's all for our visit to Milan. We hope this 20 things to do Milan travel guide, attractions video and photo essay will give you some cool ideas of sights and places to check out around town, and if you have any other suggestions for travellers, feel free to add those to the comments below.
Our trip to Milan, Lombardy was part of the #Blogville project where we stayed in a local apartment and experienced all of the best cultural activities, museums, restaurants, arts and entertainment the city has to offer.