This was our first trip to Poland and we dove into the capital headfirst. While our travels may have started in the charming Old Town, it wasn't long before we discovered that Warsaw has a cool artsy side. We visited bright neon museums in the art district, shopped in boutiques selling soviet-chic apparel. Join us in our Warsaw Travel Guide!
We also got to experience the capital's legendary nightlife. In many ways it was a whirlwind visit. But it was also a fun introduction that made us curious to discover more of Poland in our future travels.
The following Warsaw travel guide, video and photo essay highlighting 25 things to do in the biggest city of Poland. It gives you a glimpse into this up and coming capital.
25 Things to Do in Warsaw, Poland
1) Castle Square Walking Tour
(Polish: plac Zamkowy w Warszawie)
Walking around the Old Town – especially Castle Square – is a fascinating experience because almost all of what you see is new even if it looks authentic.
Most of the city was razed to the ground after the Second World War, and that makes for a rather surreal visit.
Come during the day and at night for a completely different experience.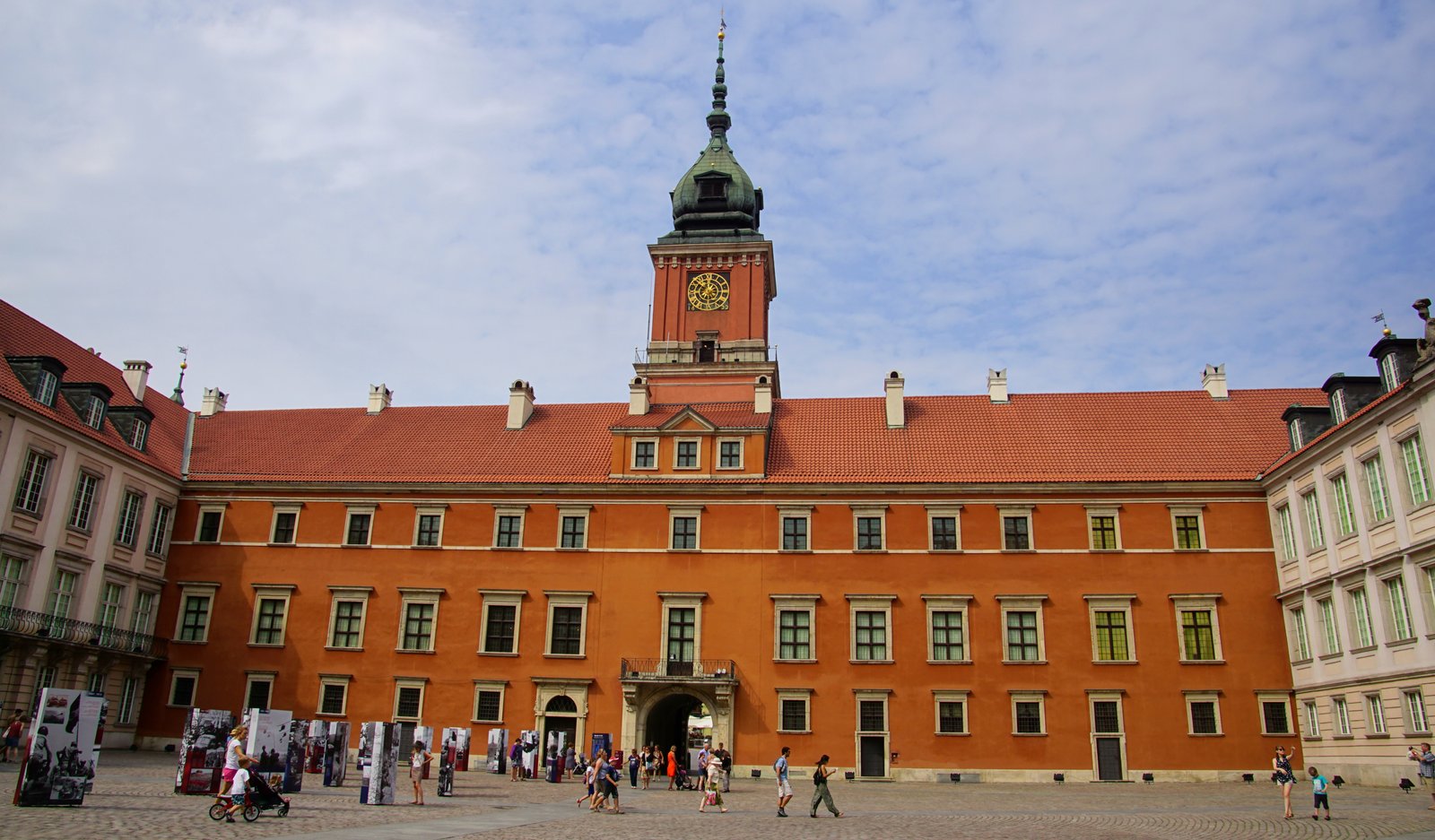 2) Royal Castle – Iconic Landmark
(Polish: Zamek Królewski w Warszawie)
One of the most recognizable landmarks is Warszawa's Royal Castle which used to be home to the Polish Monarchy.
Of course Poland hasn't had a monarchy for a really long time but this still remains an historical building.
Located in Castle Square it is a UNESCO heritage site and national monument.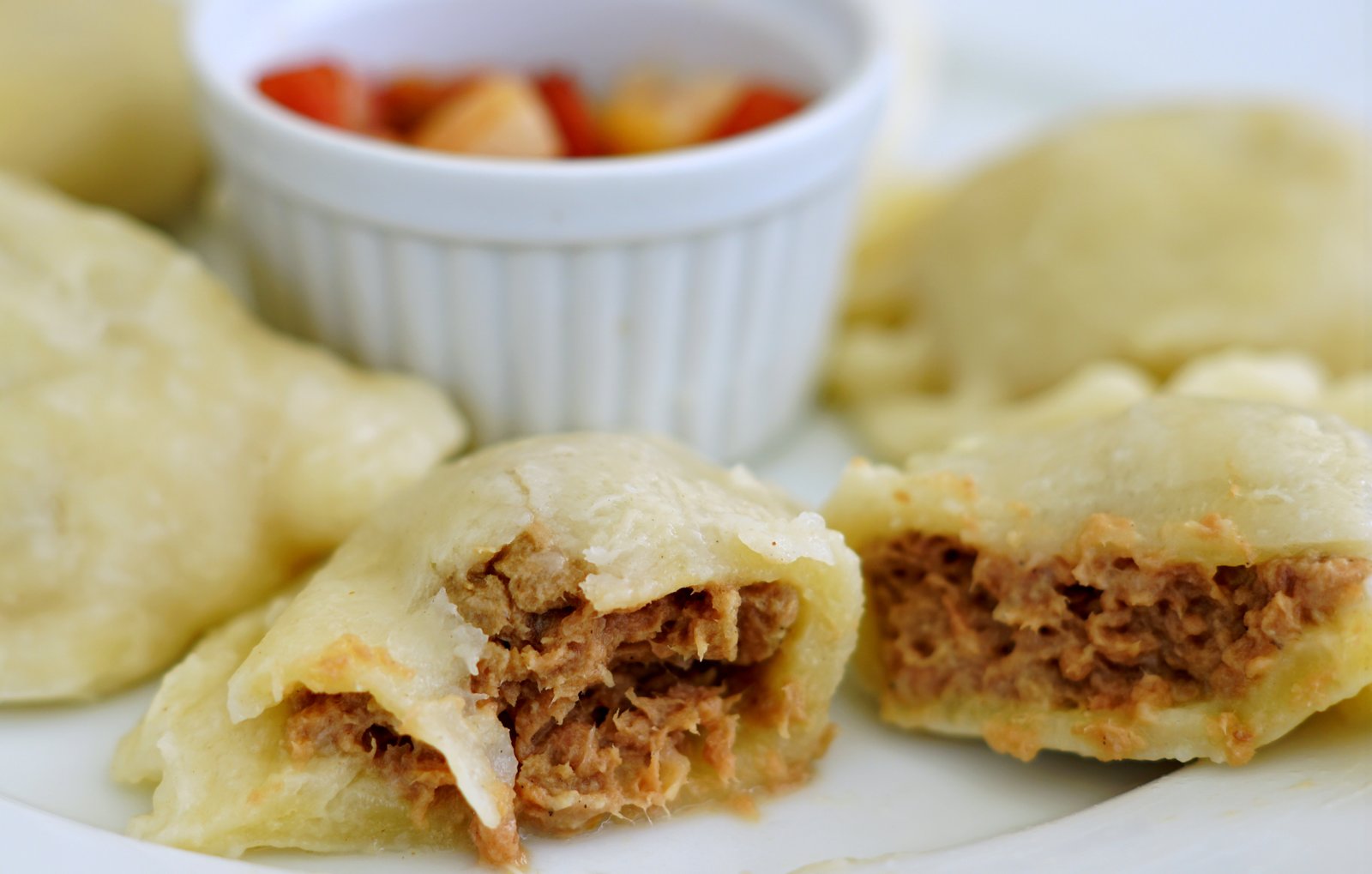 3) Pierogi – Authentic Polish Food
(Polish: Perogi)
On our first day in Poland we decided what better way to get acquainted with the local cuisine than to sample Pierogi. Considered by many to be 'the' National Dish we ordered a plate full of them along with beer.
If you've never tried Perogies before they're a stuffed dumpling. Typically, they are steamed and then they're fried and they come in a variety of different flavors.
Hence, we ended up ordering meat and cheese ones. But you can also get dessert pierogi (often fruit flavored) as well.
When we first ordered our pierogi we were surprised that restaurants only served 5 or 6 a plate. It seemed like a small meal at first glance. But we soon learned that looks can be deceiving and that pierogi are incredibly filling!
4) The Neon Muzeum – Quirky Attraction
(Polish: Muzeum Neonów)
The Neon Museum is located in Soho Factory Praga. And it is 'the place' to learn about Cold War Neon.
Hence, it's definitely one of the most interesting museums we've ever set foot in.
5) Nysa Van tour with Adventure Warsaw
During our trip we joined Adventure Warsaw for a historical tour of the city. Our ride was a bubblegum pink Nysa van from the Soviet days.
And together with our guide we cruised the city in style while uncovering a bit of the past. And learning how it has shaped the present day city.
6) Milk bar – Local Food Experience
(Polish: bar mleczny)
Milk bars are a bit of misnomer because you don't go there to drink milk, nor do you go there to drink alcohol.
You can however try dairy based Polish dishes in a cafeteria-like setting. This includes pink beetroot soup.
7) Vistula River Cruise Trip
On a nice summer day consider hiring a boat to cruise down the Vistula River.
The water levels were particularly low when we visited during the summer months. So our leisurely boat ride required a little bit of punting.
The boat trip was a fun way to see Warsaw's riverside beaches. And gaze at the Old Town off in the distance.
8) Pub Crawl – Legendary Nightlife
Warsaw has legendary nightlife. I would rank it in the same stratosphere as what you can find in Berlin.
To maximize your time and meet new friends consider taking a pub crawl and canceling sightseeing plans for the next morning 😉
9) Palace of Culture and Science
(Polish: Pałac Kultury i Nauki)
Much to the chagrin of locals the one building that really dominates the skyline here in Warszawa it is the Palace of Culture and Science. It was built in the 1950's as a so-called gift from the Soviet Union.
The sentiment towards the Palace of Culture and Science is very mixed. There are those who see beauty in this historical landmark. Whereas others who despise the Soviet regime that it once stood for.
If you are interested in visiting this structure, there are tours that take you behind closed doors, before going up to observation deck – on the 30th floor – for views of the city below.
10) Fryderyk Chopin Museum
(Polish: Muzeum Fryderyka Chopina)
The Chopin Museum is another museum to consider visiting.
It holds an extensive collection of manuscripts, letters and paintings that document the composer's life.
11) Making Pierogi with Polish Your Cooking
When we weren't sampling Polish food in restaurants, we were learning to make Pierogi by hand.
We ended up taking a cooking class with 'Polish Your Cooking' where we learned to make pierogi with various fillings including: ground beef and onions, cheese and potatoes, and strawberries for dessert.
It took us about 3 hours to prepare all the food. And then we devoured it in a matter of minutes.
12) Łazienki Park Royal Route
(Polish: Park Łazienkowski – Łazienki Królewskie)
Lazienki Park is the largest park in Warsaw. And the name means baths thanks to the bathing pavilion that was located on these very grounds.
The park is also part of the Royal Route. Which was a communication route that ran southward from the Old Town back in the days when snail mail was the only way to get urgent messages across.
13) POLIN Museum of the History of Polish Jews
(Polish: Muzeum Historii Żydów Polskich)
The POLIN museum sits on the site of the former Warsaw Ghetto and it documents the history of Polish Jews in a chronological timeline.
The exhibit starts out with the traveling merchants that came to Poland during the medieval period.
And it spans several hundred years through to the Holocaust and the Post War Years.
14) Bigos – Polish Hunter's Stew
While visiting Warsaw's Old Town be sure to sit down at a restaurant to try Bigos – also known as Polish hunter's stew. Consisting of an assortment of different meats and cabbage. Typically it is served in a bread bowl. No two Bigos recipes are the same.
It is basically just a mix of different cuts of meat where you can have beef, veal, pork, venison or rabbit. This is the type of dish you'd eat during the winter months.
But if you look hard enough you'll be able to find it on some restaurant menus year round.
15) Czar PRL – Life under Communism Museum
Another cool museum in our Warsaw travel guide is a visit to the Life Under Communism Museum. It may be small, but the way it's been set up will make you feel like you've travelled back through time.
Not only will you visit rooms styled the way the average home would have looked during Soviet period, but they also have posters, board games, music, and fashion from the same era.
16) Warsaw University Library Garden
For a look at a very unique garden? You can swing by the rooftop gardens at the Warsaw's University Library.
It's a beautiful place and we noticed more than one student napping there.
17) St. Anne's Church
(Polish: Kościół św. Anny)
While visiting the historic centre of Warsaw you'll spot St. Anne's Church where you can come during noon hour for a concert.
18) Warsaw Barbican Fortification
(Polish: barbakan warszawski)
The Barbican is a red-brick fortification that once encircled Warsaw. These days the city has expanded well beyond the fortification's limits. But it still remains one of the city's top attractions.
You'll find lots of artists and buskers along the main gates. And you can also enjoy some scenic views of the city by walking along the length of the wall.
19) Presidential Palace
(Polish: Pałac Prezydencki)
Just a short walk from Castle Square you'll find the Presidential Palace.
Which is an elegant classicist building that has been rebuilt and remodeled several times. Once it served as private property for several aristocratic families.
20) Polish Torpedo Dessert
(Polish: Rurki z Kremem)
If you're in the mood for a bit of a sweet treat consider having Polish Torpedo dessert known locally as Rurki z Kremem.
Consisting of a buttery flaky pastry filled with cream. It is a bit like an ice cream cone that isn't overly sweet.
21) Warsaw Uprising Museum
(Polish: Muzeum Powstania Warszawskiego)
A quirky addition to our Warsaw Travel Guide is The Warsaw Uprising Museum.
It is dedicated to the Warsaw Uprising of 1944 led by the Polish resistance army.
The museum chronicles the 63 days of the uprising as Poles fought against Germans.
22) Copernicus Science Centre
(Polish: Centrum Nauki Kopernik)
The Copernicus Science Centre is an interactive learning centre where you can discover science through experiments.
While we were probably a little too old for the exhibits, we can see how this would be a fun place for children.
23) Warsaw night views
How could we create a Warsaw travel guide with a focus on nightlife?
If you're in town during the summer months and over the weekend, I would also suggest checking out the Old Town at night.
There is live music, people are out enjoying a cool evening stroll, and the restaurants are packed. It's a really fun atmosphere.
24) National Stadium for Football Fans
(Polish: Stadion Narodowy)
For the football lovers, there's the option of catching a match at the National Stadium. Or perhaps a concert if it's not football season.
25) Paczki for Polish Dessert
(Polish: Pączk)
Just hours before departing to Romania we tried Paczki for the first time.
It's basically like a donut filled with jam inside covered in icing and sprinkled with almonds on top. Not a bad way to end a trip 😉
Warsaw Photo Essay
Warsaw Tours
Warsaw, the capital of Poland, is a city that offers a unique blend of modernity and history. From its rich cultural heritage to its contemporary attractions, Warsaw has a plethora of experiences for every type of traveler. If you are planning a trip to this magnificent city, you must take advantage of its numerous tours. These tours are the best way to explore the city's hidden gems, and they cater to all kinds of interests and budgets.
One of the most popular tours in Warsaw is the historic walking tour. This tour takes you through the city's past, including its involvement in World War II and the Holocaust. The knowledgeable guides will give you an in-depth understanding of the city's history, and you will get to see some of the most important historical sites in the city, such as the Warsaw Ghetto and the Palace of Culture and Science.
Another popular tour is the food tour. This tour takes you on a culinary journey through the city's many restaurants, cafes, and food markets. You will get to sample some of the city's most famous dishes, such as pierogi, kielbasa, and żurek. You will also learn about the city's food culture and the history behind each dish.
For art lovers, the Warsaw art tour is a must-do. This tour takes you to some of the city's best galleries and museums, where you can explore the works of famous Polish artists. You will also get to learn about the city's art history and the impact it has had on the world of art.
If you are interested in the city's nightlife, you can take the Warsaw pub crawl tour. This tour takes you to some of the city's best bars and clubs, where you can experience the city's vibrant nightlife scene. You will also get to meet other travelers and locals and enjoy some of the city's signature cocktails and beers.
Lastly, for those looking for a unique experience, the Warsaw communist tour is a great option. This tour takes you on a journey through the city's communist past, exploring sites such as the Palace of Culture and Science, which was built during the communist era. You will also get to learn about the city's transition to democracy and the impact it had on the city's architecture and culture.
No matter what your interests are, there is a Warsaw tour for you. These tours are the perfect way to explore the city's rich history, culture, and cuisine, and they will leave you with unforgettable memories of this enchanting city.
Warsaw Day Trips
As you explore the charming and historic city of Warsaw, consider venturing beyond its borders and embarking on a captivating day trip to uncover the hidden treasures of Poland. The surrounding region offers a plethora of breathtaking sights and experiences that will take your breath away and leave you yearning for more.
From the rolling hills of the Mazovian countryside to the majestic castles and fortresses of medieval Poland, Warsaw's nearby destinations are simply begging to be discovered. The region is steeped in a rich history, and visitors can delve deep into the country's storied past through visits to its iconic landmarks and monuments.
One of the most popular day trips from Warsaw is a journey to the enchanting town of Kazimierz Dolny, situated on the banks of the Vistula River. This picturesque locale is renowned for its charming medieval architecture and a stunning landscape that is sure to leave visitors awestruck.
Another must-see destination is the stunning city of Krakow, located just a few hours south of Warsaw. Boasting a plethora of beautiful landmarks and historic monuments, Krakow is a true jewel in the crown of Poland's cultural heritage.
For those seeking an escape from the hustle and bustle of the city, a visit to the stunning Masurian Lakes region is a must. The area is home to an abundance of tranquil waterways and scenic countryside, providing visitors with the perfect setting for a relaxing and rejuvenating retreat.
Other nearby attractions that should be added to your Warsaw itinerary include the beautiful Wieliczka Salt Mine, the stunning Białowieża Forest, and the awe-inspiring Tatra Mountains. With so much to explore, Warsaw's nearby day trip destinations are sure to provide visitors with unforgettable memories that will last a lifetime.
Warsaw Accommodations
Warsaw, the capital of Poland, is a city that perfectly blends the old and the new. It offers a variety of accommodations that cater to every traveler's needs and preferences, from luxurious hotels to budget-friendly hostels.
If you're looking for an extravagant experience, the city boasts some of the most opulent hotels in Europe, including the iconic Hotel Bristol and the elegant Raffles Europejski. These hotels are steeped in history and offer top-notch amenities, such as spas, rooftop bars, and Michelin-starred restaurants.
For those looking for more affordable options, there are plenty of mid-range hotels that offer comfortable accommodations without breaking the bank. The Hilton Warsaw City, the Mercure Warszawa Grand, and the Novotel Warszawa Centrum are just a few examples.
If you're traveling on a budget, Warsaw also has plenty of hostels and guesthouses that offer affordable lodging options. These include the Oki Doki Hostel, Patchwork Design Hostel, and Chillout Hostel.
If you're looking for a more unique experience, there are also several boutique hotels and apartments scattered throughout the city that offer a personalized touch. The H15 Boutique Hotel, for example, is a stunning Art Deco hotel that seamlessly blends modern amenities with historic charm. The Mamaison Residence Diana is another beautiful option, located in a renovated 19th-century palace.
Overall, Warsaw offers a wide range of accommodations that cater to every taste and budget. Whether you're seeking luxury, affordability, or something more offbeat, you're sure to find the perfect place to stay in this vibrant and charming city.
We came to Warsaw with little to no expectations and the city completely surprised us. Our week in the capital was spent sampling Polish cuisine, learning about the city's past through museums and historical tours, and also dabbling in a bit of the nightlife.
Warsaw is quickly rising through the ranks and we think it won't be long before travellers are flocking en masse. So if you're planning a trip to Poland, don't skip over the capital because there is more to Warsaw than meets the eye.
What did you think of our Warsaw travel guide? If you have any more suggestions of activities that travelers shouldn't miss, feel free to share those in the comments below.