What a difference a year can make. When we first visited Helsinki one summer ago, we only had a few days to explore the capital city of Finland. Unfortunately, the weather was overcast and drab and it was as though we were walking through a ghost town coming from ever chaotic Bangkok, Thailand.
Fortunately, on our most recent trip this summer we had more time to explore the city and the weather was far more cooperative.
With summer in full swing, we enjoyed dinners al fresco, boat trips to nearby islands, and lots of walking around town.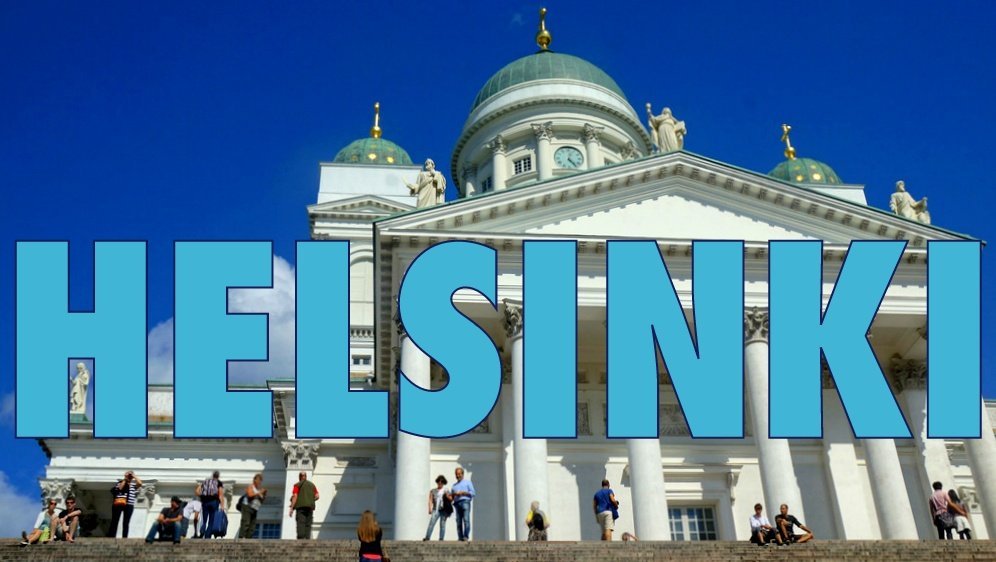 What amazed us was the plethora of outdoor adventure opportunities that exist mere kilometers away from the downtown core. Within minutes you can escape the masses and have your own little slice of nature while on your bicycle or kayak.
Here's a look at how we spent our time in Helsinki:
Helsinki History For Visitors
Get ready to delve into the exciting history of Helsinki, the vibrant capital of Finland! Founded in 1550 by the Swedish king Gustav Vasa, Helsinki quickly became a bustling trading post on the Baltic Sea. Throughout the 18th century, the city continued to grow and flourish as an essential center for trade. Then, in a spectacular turn of events, Helsinki became the capital of Finland when the country was still part of the Swedish Empire.
But it didn't stop there! In the 19th century, Helsinki underwent a massive transformation and modernization, with the construction of magnificent buildings and landmarks like the Senate Square and Helsinki Cathedral. The city's growth and development continued throughout the 20th century, culminating in the declaration of Finland's independence from Russia in 1917. And guess what? Helsinki became the capital of an independent Finnish state!
Today, Helsinki is a bustling metropolis brimming with culture and history. From the iconic Helsinki Cathedral and Ateneum Art Museum to the National Museum of Finland, there's something for every history buff. And let's not forget the lush Helsinki Central Park and the Helsinki Zoo for nature lovers. So, are you ready to discover Helsinki's fascinating past? Let's go!
12 Things to do in Helsinki Travel Guide
1) Street Performers and Street Performances
One of our favorite things about being in Helsinki were all the street performances taking place. Esplanade Park hosted several concerts, which were free to the public and we made the most of our lazy afternoons checking them out. There is no better spot in Helsinki for people watching.
2) Helsinki Cathedral
One of the most famous landmarks in all of Helsinki is Helsinki Cathedral. What is really cool about this church is that it is very different from other churches across Europe. Most European churches are very elaborate and are dotted with paintings inside; however, once we got inside this church we noticed simple, white and minimalist designs reminiscent of a blank canvas.
Helsinki Cathedral overlooks Senate Square, so after you visit the church, you can sit down on the steps and watch people go by.
3) Salmiakki Kiosk (Finnish Black Salty Licorice)
My idea of heaven on earth includes a Salmiakki kiosk nearby. As an enormous Salmiakki fan, a kind of astringent salty black licorice popular in Nordic countries, I could hardly contain myself when faced with Salmiakki options galore at this particular kiosk, which apparently sells over 91 types of Salmiakki products.
I finally settled on Salmiakki ice cream which came in the diamond shape. It was was creamy and sweet with an overpowering Salmiakki flavor.
If you're looking for something else to try, I've been told by locals that Salmiakki coffee is top notch from this kiosk.
4) Dinner in the Sky
How about spicing up your lunch? Instead of adding seasonings consider eating high up in the sky!  For a few select days over the summer, you can experience dinner in the sky; however, it will cost you a lot more than any meal on the ground 😉
5) Market Square to shop for Finnish souvenirs and eat salmon
Market square is a great place to pick up fresh vegetables and berries, and you can also try a number of traditional Finnish dishes ranging from grilled salmon to reindeer meatballs. We frequented the market almost daily, and at 10 Euros a meal, we thought it was a budget-friendly option for travellers.
What you'll notice in the photo above is Finnish grilled salmon, potatoes and vegetables. We found that sharing a plate was a very satisfying lunch.
6) Design district
Helsinki has a thriving design district and Audrey especially enjoyed visiting various shops which showcased the best of Scandinavian design. If your time is limited and you can't explore them all, then check out Marimekko which is renowned for its bold patterns and bright colours.
7) Carpet washing docks
Finland has a unique tradition where people come and wash their carpets on floating docks by the sea. The carpets are then left to dry overnight without fear of anyone stealing them.
Bars have popped up by some of the docks, so after washing your carpets you can relax with a drink in hand.
8) Chapel of Silence
The Kamppi Chapel of Silence is located in one of the busiest areas of Helsinki and is a place where anyone can drop by and just enjoy a moment of silence. No services are held in this church but they do have clergy and social workers on hand if anyone needs a little support.
9) Rock Church
Helsinki has a number of unique landmarks and attractions. One of them being this church carved out of a rock. Featuring world class acoustics it is actually a very popular concert hall.
The roof consists of a copper dome surrounded by a skylight, which allows natural light to stream into the building.
10) Bicycle City Tour
Easily one of my favorite activities in Helsinki was taking a bicycle tour. We started off by exploring the downtown area but it wasn't soon before we escaped all the hustle and bustle immersing ourselves in nature. I've never visited a city before where it was so easy to just get away from it all.
11) Kayaking at midnight
Kayaking is one of the most popular outdoors adventure activities in Finland and you can do it in Helsinki. On our midnight guided tour we paddled back home in the dark with nothing but the moon and our headlamps to guide us.
12) Boat tour of the islands
During one of our afternoons in Helsinki, we hopped aboard the Helsinki Sightseeing cruise. The trip was an hour and a half in length, and we got to see the various islands that make up the city's archipelago. It was a beautiful sunny day with blue skies, and we saw a lot of sailboats out on the water.
12 Things to do in Helsinki Travel Video
Helsinki Photo Essay
A couple enjoying a picnic and a bottle of wine while waiting for sunset on the recently opened Lonna Island in Helsinki, Finland.
A cluster of elaborate love locks in downtown Helsinki, Finland.
A rustic stone and brick building near the outer edges of Suomenlinna.
A Finnish farmer taking a break while beaming a radiant smile on Suomenlinna Island – Helsinki, Finland.
Ladies sharing a laugh and smiles after getting off of the ferry from Helsinki to Suomenlinna.
A group of girl friends dressed up nicely meeting up in downtown Helsinki, Finland.
A couple stop for a quick break while biking around Helsinki.
Delicious freshly made thin crust Finnish pizza.
Sunset views from our ferry cruise ride heading back from Lonna Island to Helsinki.
Tommi Toija's sculpture called Bad Bad Boy, which is part of an exhibition called Mutatis Mutandis. It will be in place until October 27, 2014.
Helsinki architecture just prior to sunset.
People standing on the steps and admiring the views of the city from Helsinki, Cathedral.
A shot of a small island just off of Helsinki during golden hour.
A perspective shot of an enormous cruise liner docked in Helsinki on a gorgeous summer afternoon in Finland.
A talented Finnish female performer singing on stage at Esplanade Park in downtown Helsinki.
Top Helsinki Tours
Hey there, fellow adventurer! Helsinki is packed with exciting tours that will let you experience the city's rich culture and history. Here are some of the top tours you don't wanna miss:
Helsinki City Tour: This tour is like a quickie introduction to Helsinki's hotspots. It's like speed dating for attractions, where you'll visit the Senate Square, Helsinki Cathedral, and the Sibelius Monument in just 1.5 hours. Talk about efficiency!
Helsinki Food Tour: Got a big appetite? This tour takes you on a culinary adventure through Helsinki's best local food spots. You'll get to taste traditional Finnish dishes like reindeer meat and Finnish cheeses. Prepare your taste buds for a treat!
Helsinki Archipelago Cruise: If you're feeling sea-sational, hop on a cruise and explore Helsinki's stunning archipelago islands. With breathtaking views of the coast, you'll feel like a sailor on a quest for adventure.
Helsinki Walking Tour: Are you ready for a stroll with some soul? A walking tour is an excellent way to experience Helsinki on foot and soak up the city's history and architecture. Choose a tour that interests you, like Art Nouveau or Finnish design, and walk away with some new knowledge.
Helsinki Sauna Tour: Heat up your trip with a sauna tour! Saunas are a big part of Finnish culture, and you'll learn about their history and traditions. Plus, you'll get to relax and unwind in a traditional Finnish sauna. Ahh, now that's what I call a steamy experience!
There you have it! Whether you're into history, food, or just looking to have some fun, Helsinki has the tours for you. So, what are you waiting for? Let's go explore!
What To Eat In Helsinki
Helsinki is renowned for its cuisine, offering an array of dishes that embody the country's distinctive culture and flavors. For the gastronomically curious, here is an erudite guide on what to eat in Helsinki:
Finnish Salmon: Finland is famous for its high-quality salmon, which is celebrated in Helsinki's culinary scene. The city's restaurants offer various preparations, including smoked and grilled salmon, all of which exemplify the country's culinary prowess.
Karjalanpiirakka: A traditional Finnish pastry, Karjalanpiirakka, features rye crust and a filling of rice and potatoes. Often accompanied by egg butter, this delicacy is a favorite snack for both locals and tourists.
Siskonmakkara: A Finnish sausage made with beef and pork, Siskonmakkara is frequently enjoyed as street food and served with mustard or ketchup.
Lihapullat: Finnish meatballs are made with a combination of pork and beef and flavored with a variety of herbs and spices. Typically served with mashed potatoes and lingonberry jam, this dish is a Finnish staple.
Leipäjuusto: This traditional Finnish cheese is produced from cow's milk and has a slightly salty and tangy flavor. Often grilled or baked, Leipäjuusto is served with cloudberry jam or honey.
Kalakukko: A Finnish fish pie originating from the eastern part of the country, Kalakukko is made with rye dough and stuffed with fish, bacon, and onions. This hearty dish is typically served warm and is a favorite among locals.
Karelian Stew: Slow-cooked beef stew, originating from the Karelia region of Finland, features beef, root vegetables, and spices, and is often accompanied by boiled potatoes.
Mustikkapiirakka: This traditional Finnish blueberry pie features a buttery crust and a filling of fresh blueberries. Mustikkapiirakka is often served with vanilla sauce or whipped cream.
In conclusion, Helsinki's cuisine is a fascinating fusion of tradition and innovation, providing a diverse and delightful gastronomic experience.
Popular Helsinki Day Trips
Are you an outdoors enthusiast looking for some fun day trips from Helsinki? Well, grab your hiking boots and your sense of humor because here are some popular options:
Nuuksio National Park: Who needs a gym membership when you have Nuuksio National Park? Hike through the stunning forests, enjoy a picnic by the lake, and try not to get lost in nature's maze.
Suomenlinna Fortress: Want to feel like you're in a real-life game of "Assassin's Creed? Take a short ferry ride to Suomenlinna Fortress and explore the historic fortress and its surrounding islands. Just make sure to watch your back for enemy attackers!
Porvoo: Ready to feel like you've stepped back in time? Take a trip to Porvoo and enjoy the charming old town and picturesque waterfront. And don't forget to indulge in some traditional Finnish food and drink, just like the locals did in the good ol' days.
Tulliniemi Nature Path: For the birdwatchers out there, Tulliniemi Nature Path offers a chance to spot some feathered friends in their natural habitat. But be warned, some of them might be a little too friendly and steal your snacks!
Helsinki Archipelago: Want to escape the hustle and bustle of city life? Head to the Helsinki Archipelago and spend the day hiking, swimming, or fishing on one of the islands. Just be prepared to share the beach with some furry seals who are always up for a game of beach volleyball.
So, there you have it! Whether you're an adventure seeker or just looking for a good laugh, Helsinki's day trips have something for everyone. Just don't forget to bring your sense of humor and an open mind, and you'll be sure to have a great time.
Helsinki Accommodations Guide
Hey there, if you're planning a trip to Helsinki and trying to figure out where to stay, I've got you covered! Let me break down some of the best accommodations in the city.
First, if you're looking for luxury, you can't go wrong with the Hotel Kämp or the St. George Hotel Helsinki. They've got everything you need for a five-star stay, from top-notch amenities to fine dining options.
If you're trying to stick to a budget, there are plenty of mid-range hotels like the Scandic Paasi and Hotel Fabian. They offer comfortable rooms and on-site restaurants, without breaking the bank.
For the adventurous and budget-conscious traveler, hostels like the Eurohostel Helsinki or CheapSleep Hostel Helsinki are great options. They have dormitory-style rooms, but also offer private rooms and shared facilities like kitchens.
If you're looking for more independence and space, consider renting an apartment through Airbnb or VRBO. This is a great option if you want to cook your own meals and have some privacy.
Finally, for those who want to be close to nature, there are camping options like Rastila Camping Helsinki and Helsinki City Camping. They're located near the city center and offer facilities like showers and saunas.
No matter what your budget or preference, Helsinki has something for everyone. So, book your accommodation, pack your bags, and get ready to enjoy this beautiful city!
Helsinki Travel Guide: Final Thoughts
Helsinki is a city that comes alive during the summer months; it was great enjoying all the events taking place as well as relaxing outdoors. We loved revisiting Helsinki and we discovered so many new places that we had completely skipped over the first time around.
Helsinki, the city of the North, Where nature and culture come forth. From the sea to the sky, The beauty of Helsinki will never die.
The forests and lakes are full of life, A perfect retreat from urban strife. From Nuuksio to Seurasaari, The outdoors here is nothing but merry.
The islands and archipelagos so grand, Invite you to explore and expand. Suomenlinna, the sea fortress so bold, A testament to Helsinki's history untold.
The churches and museums in this city, Are marvels of art and ingenuity. From the Helsinki Cathedral to Kiasma, Culture here will never make you feel like a stranger.
The people and culture of Helsinki, Are welcoming and full of empathy. The food and drink will leave you satisfied, And the saunas will warm your soul inside.
Helsinki, the city of the North, Where nature and culture come forth. From the sea to the sky, The beauty of Helsinki will never die.
Is Helsinki somewhere you'd like to visit soon? Let us know in the comments section below: