The smell of exotic putrid delicacies.  Unimaginable gridlock.  Neon flashing before my eyes.  I'm in my element.
The Shilin Night Market located in Taipei, Taiwan is one of the most formidable markets I've ever visited in Asia.  Encompassing two distinct sections it is home to over 500 plus food stalls.  Aside from small eateries one can witness movie theatres, karaoke bars, video arcades and a host of other shops lined up along the side streets and alleys.  Between 8 and 11 PM the market is saturated with a surplus of bodies all inching for space that seemingly doesn't exist.  Many businesses continue operating well past midnight.
I was simply mesmerized by sheer size of the market and the number of human bodies barraging through its crowded alleyways.  The following photo essay is an attempt to replicate what it is like to be part of the hoard that gathers there each and every night: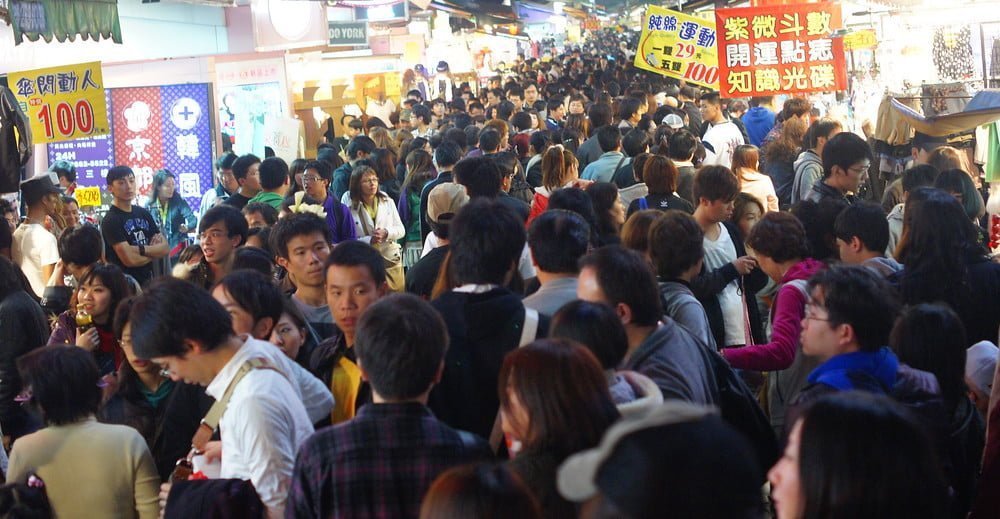 Shilin Night Market in Taipei, Taiwan
A close-up shot of people sampling some local delicacies.
A candid shot of a Taiwanese lady with a distinct face.
A young Taiwanese vendor dressed in funky attire tries to peddle shoes on the curb.
Various local delicacies (including meat and tofu) are spread out over a grill.
A vendor brushes the stinky tofu (臭豆腐) that lays skewered on the grill.
A shot of the crowd passing through the Shilin Night Market.
A candid shot of a Taiwanese lady.
A Taiwanese lady holding her dog smiles in this photo.
An illuminated pumpkin is on display at food stall.
*As a travel photography tip, one should consider using a fast lens for night photography on the street. A lens I personally recommend is the 50mm 1.8. The wide aperture allows one to take shots that are sharp when shot wide open with an ISO of either 800 or 1600.
A Taiwanese vendor arranges hot cakes that are sold to the crowds passing by.
A child holds onto her mothers back as she is being carried around the market.
A couple embraces with a hug as they wander the along the crowded Shilin Night Market.
A trendy young couple embraces in a vacant section of the market.
A homeless Taiwanese man extends his arm out for donations in a dimly lit section just outside the market.
Shilin Night Market History
The Shilin Night Market in Taipei, Taiwan has become a cultural icon, drawing in visitors from all corners of the globe with its lively atmosphere, unique offerings, and rich history. The market's origins date back to the early 1900s when it served as a small local market for farmers selling their produce.
Since then, the market has undergone significant transformations, particularly in the 1950s when it was relocated to its current location and expanded its offerings to become one of the most famous night markets in the world. Today, the market is a thriving hub of activity, attracting millions of visitors each year and offering a fascinating insight into Taiwan's vibrant street food culture.
From exotic delicacies like stinky tofu and fried chicken to sweet treats like bubble tea, the market's array of food options is sure to delight any visitor's taste buds. And with a vast selection of shops selling everything from trendy clothing to traditional handicrafts, the market also offers ample opportunities for souvenir shopping.
Despite undergoing renovations to keep up with modern times, the market has maintained its unique character and charm, which continues to captivate travelers from all walks of life. For anyone looking to experience the essence of Taipei's street life and cultural heritage, the Shilin Night Market is a must-visit destination that is sure to leave a lasting impression.
Shilin Night Market Street Food
The Shilin Night Market in Taipei, Taiwan is a food lover's paradise, boasting an impressive selection of street food that caters to all tastes and preferences. With its vibrant atmosphere, colorful displays, and enticing aromas, the market is a sensory feast that captivates visitors from around the world.
One of the market's most popular dishes is the "stinky tofu," a fermented tofu that is known for its pungent odor and bold flavor. Despite its distinctive smell, many people find the dish surprisingly tasty, with a crispy exterior and a soft, savory interior.
Other savory treats that visitors can enjoy include grilled squid, oyster omelets, and crispy fried chicken, which are often cooked right in front of you by skilled street vendors. These dishes are the perfect accompaniment to the bustling street scene, with the aromas of spices and herbs filling the air.
For those with a sweet tooth, the market offers an array of dessert options that are equally delicious. The shaved ice with fresh fruit is a particular favorite, with the ice shaved to order and topped with juicy chunks of mango, watermelon, or other seasonal fruits. Another popular dessert is the tapioca pudding, which is often served in small plastic cups and flavored with coconut or other tropical flavors.
And no visit to the Shilin Night Market would be complete without trying bubble tea, a refreshing drink made with black tea, milk, and chewy tapioca balls. With so many flavors and variations to choose from, bubble tea has become a quintessential part of Taiwanese food culture.
The Shilin Night Market's street food scene is a fascinating representation of Taiwan's diverse and flavorful cuisine. Whether you're a foodie looking to explore new tastes or simply seeking a memorable cultural experience, the market's mouthwatering offerings are sure to leave a lasting impression.
Accommodations For Visiting Shilin Night Market
When planning a trip to the vibrant and bustling Shilin Night Market in Taipei, Taiwan, one of the key factors to consider is where to stay. Luckily, the surrounding area offers a range of accommodations that cater to different budgets and preferences, making it easy to find the perfect place to rest after a long day of exploring.
One popular option is to stay in the nearby Shilin District, which is just a short walk from the market. This district offers a range of accommodation options, including budget-friendly hostels, mid-range hotels, and luxury properties, all within easy reach of the market's many food stalls and other attractions.
For a more upscale experience, the Xinyi District is a great option, offering a range of luxury hotels and high-end accommodations that cater to discerning travelers. This district is also home to Taipei 101, one of the city's most famous landmarks, which offers stunning views of the surrounding area.
If you're looking for a more local experience, the Zhongshan District is a great choice. This district is just a short metro ride away from the market and offers a range of hotels and guesthouses that cater to different budgets and preferences. It's also home to a variety of local shops and restaurants, allowing you to immerse yourself in Taipei's vibrant culture.
No matter where you choose to stay, it's important to book in advance, especially during peak travel periods, to ensure availability and the best rates. And with so many great accommodation options in the area, you're sure to find the perfect place to stay while exploring all that the Shilin Night Market and the rest of Taipei have to offer.
Shilin Night Market Final Thoughts
For anyone visiting Taipei, the Shilin Night Market is a must-see destination. This vibrant and bustling market has a rich history dating back to the early 1900s and has become a beloved cultural institution in Taipei. Over the years, it has evolved to become one of the largest and most popular night markets in the city, offering a wide range of street food, shopping, and entertainment options.
The market is situated in the Shilin District, which is located in the northern part of Taipei. It's easily accessible by public transportation, and visitors can take the MRT to Jiantan Station or Shilin Station and then walk to the market. The market is open from late afternoon until late into the night, and it's best to arrive in the early evening when the crowds start to gather.
One of the key draws of the Shilin Night Market is its food scene. The market is known for its street food, which includes a vast array of delicious and unique dishes such as stinky tofu, oyster omelets, fried chicken cutlets, bubble tea, and more. The food options are endless, and visitors can spend hours wandering the market and sampling different dishes.
Aside from food, the Shilin Night Market is also a popular shopping destination. Visitors can find a wide range of items for sale, including clothing, accessories, electronics, souvenirs, and more. Bargaining is expected, and visitors can often score great deals on items they purchase.
Finally, the market is also home to a range of entertainment options, including carnival games, movie theaters, and more. It's a great place to spend an evening with friends or family, soaking up the atmosphere and experiencing a slice of local culture.
In terms of accommodations, the surrounding area offers a range of options, from budget-friendly hostels to luxury hotels. The nearby Shilin District is a popular choice for those looking for convenience, while the Xinyi District and Zhongshan District offer more upscale and local experiences, respectively.
Overall, the Shilin Night Market is a unique and exciting destination that offers something for everyone. Its vibrant energy, diverse food scene, and shopping options make it a must-visit destination for any traveler visiting Taipei.