Shilin Night Market in Taipei, Taiwan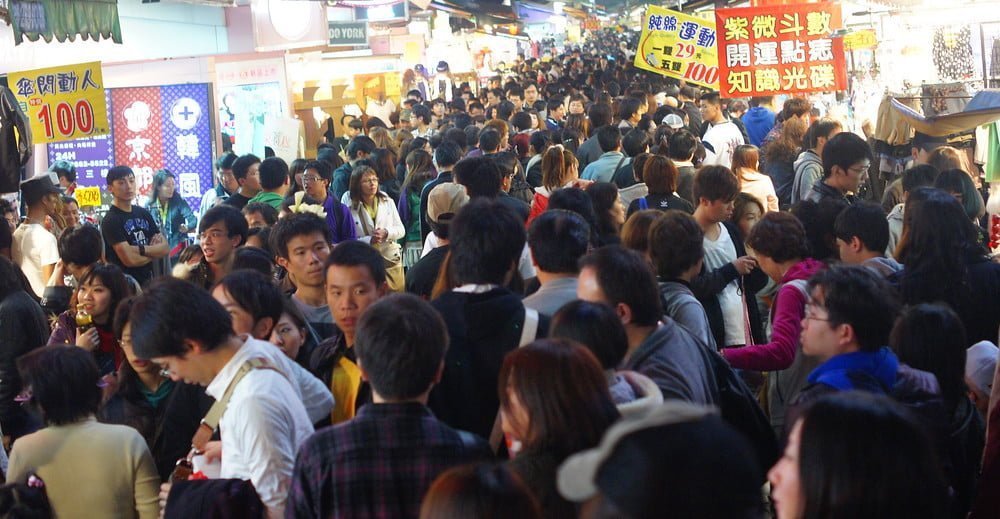 The smell of exotic putrid delicacies.  Unimaginable gridlock.  Neon flashing before my eyes.  I'm in my element.
The Shilin Night Market located in Taipei, Taiwan is one of the most formidable markets I've ever visited in Asia.  Encompassing two distinct sections it is home to over 500 plus food stalls.  Aside from small eateries one can witness movie theatres, karaoke bars, video arcades and a host of other shops lined up along the side streets and alleys.  Between 8 and 11 PM the market is saturated with a surplus of bodies all inching for space that seemingly doesn't exist.  Many businesses continue operating well past midnight.
I was simply mesmerized by sheer size of the market and the number of human bodies barraging through its crowded alleyways.  The following photo essay is an attempt to replicate what it is like to be part of the hoard that gathers there each and every night:
Photo Essay: Shilin Night Market
A close-up shot of people sampling some local delicacies.
A candid shot of a Taiwanese lady with a distinct face.
A young Taiwanese vendor dressed in funky attire tries to peddle shoes on the curb.
Various local delicacies (including meat and tofu) are spread out over a grill.
A vendor brushes the stinky tofu (臭豆腐) that lays skewered on the grill.
A shot of the crowd passing through the Shilin Night Market.
A candid shot of a Taiwanese lady.
A Taiwanese lady holding her dog smiles in this photo.
An illuminated pumpkin is on display at food stall.
*As a travel photography tip, one should consider using a fast lens for night photography on the street. A lens I personally recommend is the 50mm 1.8. The wide aperture allows one to take shots that are sharp when shot wide open with an ISO of either 800 or 1600.
A Taiwanese vendor arranges hot cakes that are sold to the crowds passing by.
A child holds onto her mothers back as she is being carried around the market.
A couple embraces with a hug as they wander the along the crowded Shilin Night Market.
A trendy young couple embraces in a vacant section of the market.
A homeless Taiwanese man extends his arm out for donations in a dimly lit section just outside the market.