If you find yourself working as a teacher in the interior of South Korea and have yet to experience a summer here: get ready. A wall of heat and humidity unlike anything that you've ever experienced in your life is coming.
While you'll likely have an A/C unit in your apartment (you DO have one right?) and hopefully some at work (private hagwons may, but public schools often do not), eventually you will have to step outside to head home, go grocery shopping, or meet your friends at the bar.
The soul-stealing muckiness will have you doing the unthinkable: cursing the sun and praying for a rainy day to cool things down (don't laugh, because you will!) However, it isn't all bad: on your weekends, South Korea's robust transport network will allow you the opportunity to flee the furnace-like interior and get to the coast, where a variety of surprisingly awesome beaches await your overheated body.
While the most famous strips of sand in the country lie within the urban environment of Busan, or on the fairytale island of Jeju, the West Sea beaches of in the Boryeong area are considerably less crowded (by Korean standards), of which Daecheon Beach is the most popular.
For those not wanting to travel to the opposite end of the country to get in some time on a sun lounger, Daecheon is a tantalizing alternative. When I taught in South Korea in the Cheonan/Asan area in 2013, I went on a weekend adventure to this place to see what it was all about, and I was suitably impressed.
What follows is a guide of how to get there, what is worth doing, and sights that I found amusing and/or delightfully weird. Hope you find it useful!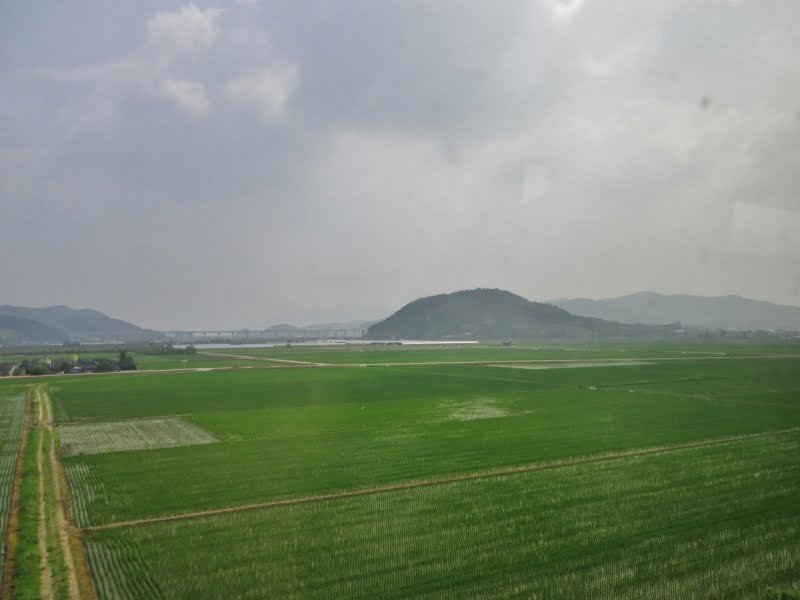 If you are coming down from Seoul on the KTX, you'll have to switch to the ITX, which is slightly slower of foot at a pedestrian 180 km/h, but you'll have a much better opportunity to witness countryside scenes like the ones pictured above, instead of having go by in a blur of green and blue.
As fun as the journey to get to Daecheon Beach was, it was time to get out there and explore everything this uniquely Korean beach town had to offer…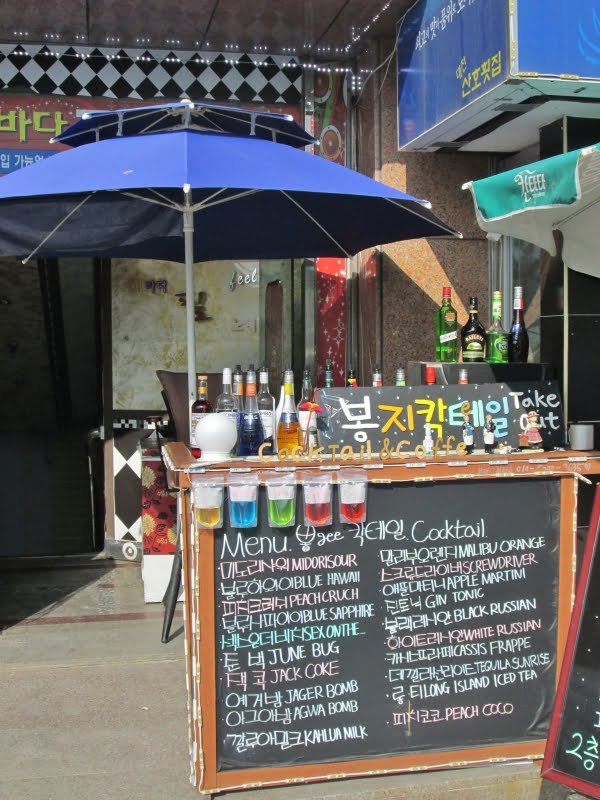 Korea is renowned for its drinking culture, and with numerous stands just like this, Daecheon Beach is no fortress of temperance either!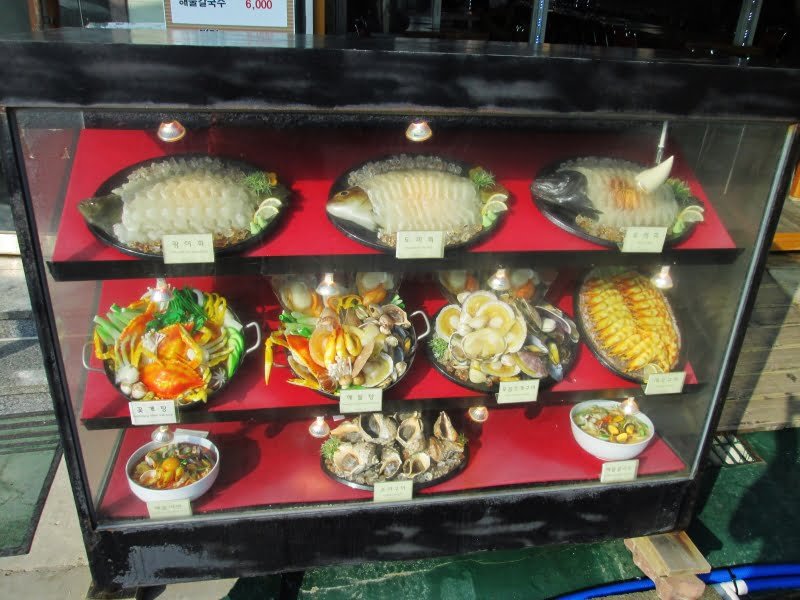 Being a marine nation where the ocean is never that far away, seafood can be easily found throughout much of Korea, but with the port of Boryeong being close by, there is a particular abundance of dishes from the sea along the main streets of this resort town.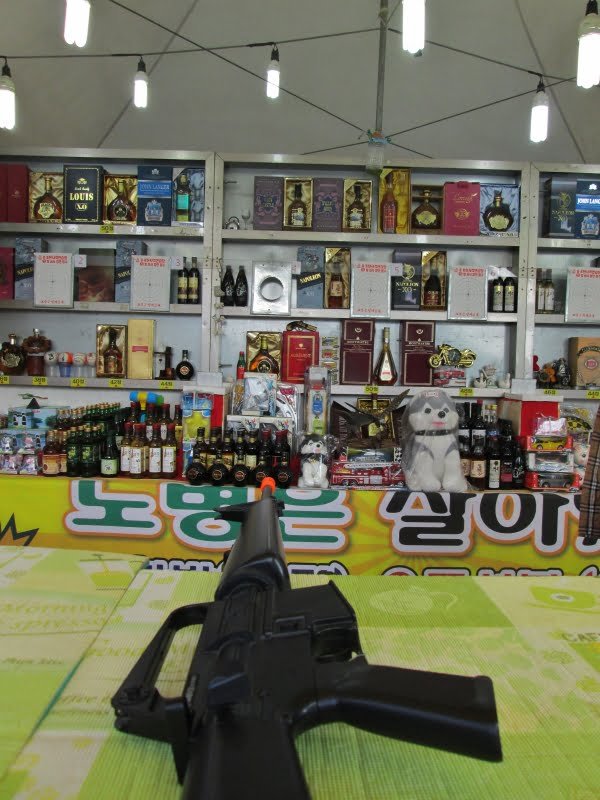 Being the official opening day for Daecheon Beach, a lively party atmosphere reigned through the town. This meant that midway games were available, and being the manly man that I am, I decided to put my shooting skills to the test.
Apparently I need to work on my aim before this Ebola thing morphs into the zombie apocalypse, because I missed on all my attempts, hitting 2 sixes and a four (the guy manning the game felt sorry for me and nailed an 8 at point blank range so I could look better to my friends … gotta love the "saving face" culture here!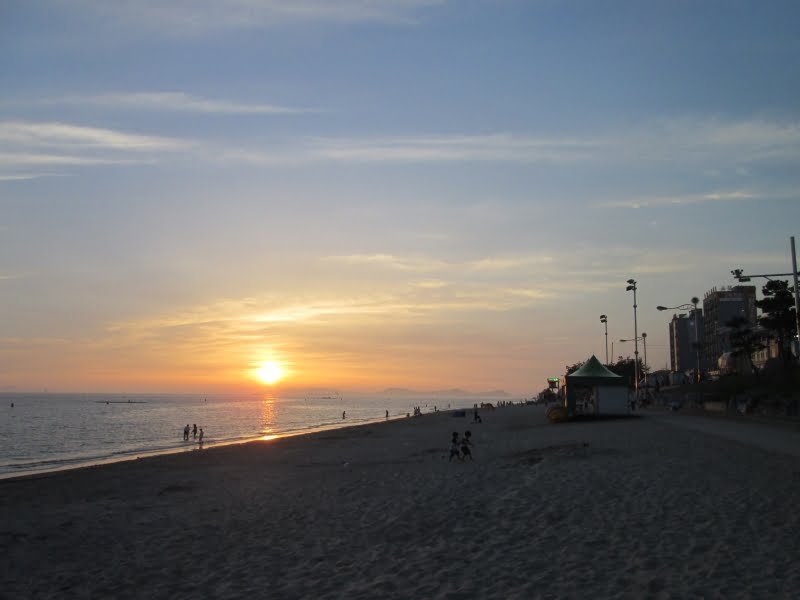 After a long day of exploring the beach and the surrounding town, a perfect end to the day with a sunset that would surely mark the start of what would be an excellent summer in this delightful beachside town in South Korea.
How to get to Daecheon Beach:
From Seoul – If you're coming from the big city, taking the ITX from Seoul station all the way to Boryeong would be best if you don't like the idea of transferring trains. If you're pressed for time though, you can take the KTX to Cheonan-Asan, and then make the lengthy walk from the bullet train platform to the slower ITX (bear in mind you'll have to buy a 2nd ticket here to continue onwards).
Also, the ITX shares the platform with Seoul subway Line 1, so ensure you are facing the proper track, lest you miss your train!
About the guest poster…
James Shannon is a freelance writer and social media specialist roaming the world in search of exciting experiences, be it through exotic cuisine, an amazing alpine hike, or through the acquisition of new skills and perspectives. His goal is set boots down on all seven continents by the time he is 40 years old, with #3 (South America) coming up in the New Year. You can follow his ongoing adventures in world travel, outdoor adventure, and life fulfillment on his blog, The Pursuit of Excitement, or via his social media accounts on Facebook or Twitter.