Indeed, Greece—a country replete with beguiling scenery, encompassing idyllic white-washed hamlets, an array of breathtaking islands, and pristine, sun-kissed beaches—rightfully claims its rank among the world's top echelon of travel destinations. Whether you are an aficionado of historical narrative, an epicure with a proclivity for tantalizing culinary journeys, or a leisure-seeker lured by the whisper of waves and the allure of warm sand, Greece, with its multi-faceted appeal, is sure to provide an encounter of captivating delight.
If you seek assistance in curating your forthcoming Greek travel itinerary, continue reading to discover an illustrious assembly of some of the finest destinations that this classical cradle of civilization has to offer.
Where To Start Your Greek Adventure?
Begin your odyssey in the historic heart of Greece: Athens. Time here offers an impressive immersion into the origins of Western civilization. The Acropolis, a citadel perched atop a rocky outcrop above the city, is home to several ancient structures of great architectural and historic significance, such as the Parthenon, a former temple dedicated to the goddess Athena. Amble around the charming Plaka district, where narrow, labyrinthine streets lead to delightful restaurants offering traditional Greek cuisine and enchanting shops selling local crafts. Visit the National Archaeological Museum, a treasure trove of antiquities that reflect Greece's rich history.
Santorini, a gem in the Aegean Sea, is renowned for its stunning sunsets, unique beaches, and the iconic blue-domed churches of Oia. The island's caldera, formed by a volcanic eruption, is a spectacle in itself. Venture into the ancient site of Akrotiri, a Bronze Age settlement that was preserved under volcanic ash. Taste the exquisite local wines produced from grapes nurtured by the island's volcanic soil, a testament to the island's resilience and adaptation.
Visit Greek Islands
Whether you visit them on Greek Island cruises or make use of Greece's extensive ferry system, there is much to see and do in the Greek islands.
Crete, the largest of the Greek islands, offers a diverse experience: Minoan ruins at Knossos, Venetian fortresses in Rethymno, snow-topped mountains, and serene beaches. Hike the Samaria Gorge for breathtaking views, and dine in the harbourside restaurants of picturesque Hania. Immerse yourself in the local culture by attending a traditional music concert or trying your hand at a cooking class to learn the secrets of Cretan cuisine.
Venture north to Thessaloniki, Greece's second-largest city, where modernity and history coalesce. Visit the White Tower, a symbol of the city with panoramic views from the top. Walk along Aristotelous Square, where you'll find a vibrant life scene with an array of cafes, boutiques, and restaurants. Explore the Rotunda, a massive round building that has served as a mausoleum, church, mosque, and now a museum.

source: Misk Travel Guide on YouTube
Distinct Cultural Gems in Greece
The UNESCO World Heritage Site of Delphi, once considered the centre of the world in ancient Greek religion, is an archaeologist's paradise. The Temple of Apollo and the ancient theatre are awe-inspiring. The on-site museum hosts a superb collection of artefacts found in the ruins.
Finally, make your way to the Peloponnese, a large peninsula connected to the mainland by the Corinth Canal. Visit Mycenae, the city of the legendary king Agamemnon, and take in the historic sights of ancient Olympia, where the Olympic Games were born.
Your journey through Greece promises an unforgettable exploration of historical marvels, gastronomical delights, and scenic wonders that are sure to leave a lasting imprint on your traveller's soul.
Home to picturesque whitewashed villages, a plethora of stunning islands, and beautiful beaches, it's no wonder that Greece ranks as one of the world's top tourist destinations. Whether you're a history buff, a food lover, or a beach bummer, Greece will have something to delight you.
Need help in preparing your Greek itinerary? Refer below for the best destinations to visit in Greece.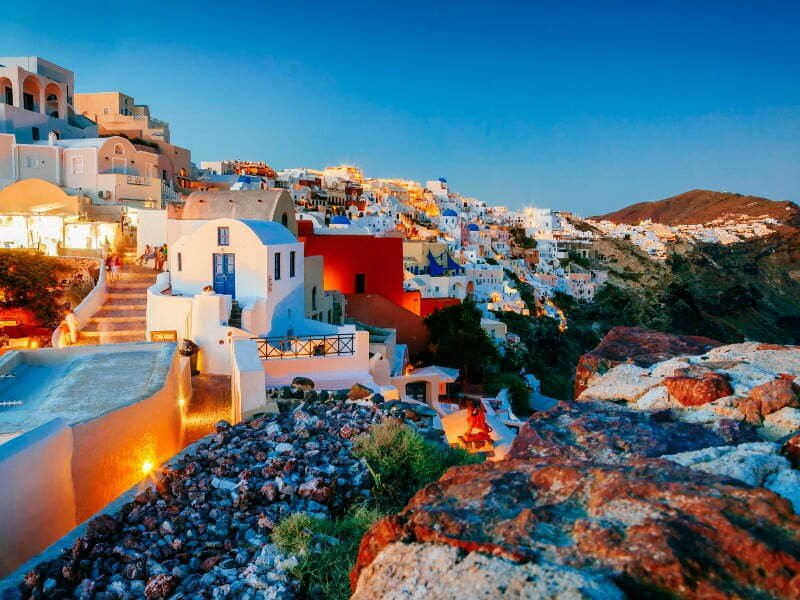 Santorini
Santorini is the ultimate Greek destination for many reasons. The picturesque island boasts dramatic views and breathtaking natural landscapes around every corner. 
Part of what makes Santorini a must-visit destination is its stunning whitewashed villages with narrow cobblestone streets and houses still exhibiting traditional architecture. Visit Oia, where you can marvel at the most beautiful sunsets. You'll love the reflection of hues of oranges and reds of the setting sun on the bright white buildings of the village. Explore Fira, the island's capital and home to the Museum of Prehistoric Thira, where you'll find items from the Bronze Age. 
You will also find many natural wonders to enjoy in Santorini. A volcano tour will give you a peek at the island's volcanic landscapes. Check out Mesa Vouno, a gigantic rock formation you can easily reach from Perissa and Kamari Beach. The massive collection of minerals and rocks seems to jut out of nowhere, and you can admire it best when the sun goes down.

source: Samuel and Audrey on YouTube
Highlights of Santorini
1. Iconic Landscapes and Architecture
Recognized as a dazzling gem amidst the Cyclades islands, Santorini mesmerizes with its juxtaposition of blue-domed churches, whitewashed buildings, and a sparkling Aegean Sea backdrop. The towns of Fira and Oia, perched perilously on cliff edges, offer stunning panoramic vistas of the sea, nearby islands, and the celestial dance of the setting sun.
Oia's maritime museums and art galleries further enrich your experience with insights into the island's seafaring past and its contemporary art scene.
2. Quaint Villages and Unique Beaches
A venture into the heart of Santorini will introduce you to enchanting villages such as Emporio and Pyrgos. Time seems to have stood still in these locales, where Cycladic architecture, narrow cobbled streets, and the tantalizing scent of blooming jasmine invoke a bygone era.
The island's geology presents a spectacle of unique beaches. Noteworthy among these are the Red Beach, with its remarkable crimson cliffs and dark sands, and the black pebble beach of Kamari.
3. Historical Wonders and Viticulture
History aficionados will find a treasure trove in the prehistoric city of Akrotiri, the so-called Greek Pompeii. This Bronze Age settlement, preserved under volcanic ash, provides a captivating glimpse into Santorini's Minoan past.
Wine enthusiasts must not miss the opportunity to explore Santorini's revered wineries. The unique volcanic soil nurtures indigenous grape varieties, contributing to the island's distinctive wines. Wine-tasting tours present an intimate look into this unique viticulture.

source: Samuel and Audrey on YouTube
Travel Tips for Santorini
1. Timing Your Visit and Transportation
Santorini sees its heaviest influx of tourists from June to September. To avoid the crowds and enjoy more affordable accommodations, consider visiting in the shoulder seasons: April to early June or September to October.
The public bus system is reliable, but renting a car or ATV offers greater flexibility. However, be prepared for the island's narrow, winding roads and heavy traffic.
2. Appropriate Attire and Health Precautions
The island's cobbled streets can pose a challenge to navigate in high heels or slippery shoes. Comfortable footwear is recommended. The evenings can be chilly, especially with the Meltemi winds, so pack a light jacket or wrap.
Remember to stay hydrated and protected against the Mediterranean sun. Always carry a bottle of water, a hat, and sunblock to prevent sunburn.
3. Local Cuisine and Respect for Customs
While upscale dining options abound in Fira and Oia, authentic and often more affordable culinary experiences await in the island's inland villages.
Finally, remember that Greece is a country with deep-rooted customs and traditions. Be respectful, especially when visiting religious sites, and embrace 'philoxenia', the Greek notion of hospitality towards strangers. This approach will ensure a memorable and enjoyable visit to this Aegean paradise.
Meteora
Suspended high above the terrestrial sphere, nestled in the bosom of central Greece's Pindus Mountains, rests the ethereal, monumental marvel that is Meteora. A location that stretches beyond mere geographical significance, Meteora is an enigmatic realm where the divinity of nature convenes with the spiritual essence of human civilization. Its name, derived from the Greek "metéōra", meaning "suspended in the air" or "in the heavens above", impeccably captures its extraordinary, lofty stature.

source: Samuel and Audrey on YouTube
Highlights of Meteora
The Monasteries:

The spiritual sanctity of Meteora is emblematized by its cluster of gravity-defying monasteries, perched precariously atop towering sandstone rock pillars. These ecclesiastical edifices, six of which still stand today, date back to the 14th century and were once the sanctuaries of solitude for a plethora of Byzantine monks. They present an arresting amalgamation of architectural brilliance and spiritual devotion, carved meticulously over centuries. The surreal and serene setting of these monasteries, juxtaposed against the formidable backdrop of massive rock formations, is a spectacle of inimitable beauty that would captivate any wanderer.

The Unique Geology and Landscapes:

The geological grandeur of Meteora is as captivating as its spiritual heritage. The strikingly unusual landscape, characterized by its gigantic, vertical rock pillars, was sculpted over millions of years by natural forces of weathering and erosion. This mesmerizing tableau of colossal stone towers, reaching for the sky, bestows upon Meteora an otherworldly ambiance, seemingly ripped from the pages of a mythical epic. The vistas of verdant valleys, craggy cliffs, and sun-soaked skies witnessed from the summit of these rock pillars are a testament to the timeless beauty of Mother Nature.

source: Samuel and Audrey on YouTube
Travel Tips for Meteora
Visiting Meteora requires thoughtful planning and respectful conduct, considering its profound religious and ecological significance. A guided tour is recommended to fully appreciate the historical and cultural nuances of this site. Visitors should dress modestly when exploring the monasteries, with shoulders and knees covered, respecting the orthodox monastic customs. It's advisable to arrive early to circumvent the afternoon tourist influx and savor the tranquil, spiritual ambiance in peace. Opting for a sunset tour can reward visitors with a breathtaking panorama of the landscape, bathed in the golden hues of twilight. Lastly, remember to tread gently, keeping your ecological footprint to a minimum, to preserve the pristine charm of Meteora for future generations.
Corfu
Otherwise known as Emerald Island, Corfu is one of the best destinations to visit in Greece. It's the second-largest island in the Ionian and has long been a holiday hotspot for those looking for a relaxing beach holiday in Greece. Furthermore, you will find some excellent rental properties around Corfu, perfect for those who wish to stay here longer.
Corfu's lush and hilly interior rolls down towards the deep blue Ionian Sea, with a smattering of beautiful beaches, picturesque villages, and fantastic restaurants tucked in between. Indeed, it is one of Greece's most beautiful islands and a must-visit on your Greek holiday.
Jump on a boat to explore the areas in the surrounding coastline and appreciate the island's unique charms from afar. If you're into hiking, you'll find many scenic trails around the island to discover unspoiled paradise. Corfu is brimming with nature reserves and is renowned for its wildlife and birdlife. Hike to the Corfiot wetlands of Alikes Lefkimmis, where you can spot rare bird species. If you're lucky, you can even spot flocks of flamingos taking up residence on the wetlands!
Corfu's magnificent beaches are another reason to explore this magnificent island. It boasts over 200 km of coastline, where you'll find some of Greece's cleanest beaches with crystal-clear waters.

source: Kristina's Travels on YouTube
Highlights of Corfu
1. Corfu Town: A Melange of Cultures and Eras
The island of Corfu, also known as Kerkyra, presents a unique blend of influences, from Venetian, French, and British occupiers to ancient Greek legends. The heart of the island, Corfu Town, encapsulates this cultural diversity in its elegant architecture and historic sites.
The Old Town, a UNESCO World Heritage site, is a splendid maze of narrow cobblestone streets, known as kantounia, lined with pastel-coloured Venetian-era buildings, Byzantine churches, and charming cafés. The Liston, an elegant arcade inspired by Paris' Rue de Rivoli, and the imposing Old and New Fortresses are standout attractions.
2. Scenic Splendour and Idyllic Beaches
Corfu's verdant landscape is a patchwork of olive groves, cypress trees, and wildflowers, punctuated by traditional villages. The village of Palaiokastritsa, reputedly the site of Odysseus's encounter with Nausicaa in Homer's Odyssey, offers breath-taking views from its hilltop monastery.
Corfu's coastline boasts a plethora of idyllic beaches, from the shimmering emerald waters of Agios Gordios to the soft sands of Glyfada. The northeastern coast, with its secluded bays accessible only by boat, offers opportunities for quiet contemplation and relaxation.
3. Corfiot Flavours and Melodies
Corfu's unique gastronomy reflects its multicultural history. Signature dishes like pastitsada (spiced meat or poultry pasta) and sofrito (garlic and herb-braised veal) can be enjoyed at cosy tavernas and sophisticated restaurants alike. The island's local kumquat liqueur and robust Corfiot wines provide perfect accompaniments.
Corfu's vibrant musical tradition, another testament to its diverse influences, can be experienced at local festivals and events. The island is particularly known for its philharmonic orchestras, and the Easter procession is a not-to-be-missed spectacle of faith and music.
Travel Tips for Corfu
1. Best Time to Visit and Getting Around
The best time to visit Corfu largely depends on your interests. While summer offers beach-friendly weather and lively resorts, spring presents lush landscapes and wildflowers, perfect for hiking and exploration.
The island has a comprehensive public bus system, and taxis are readily available. For greater flexibility, you might consider renting a car or a bike. However, be mindful that driving in Corfu can be challenging due to the narrow, winding roads.
2. Packing Essentials and Sun Protection
Dress codes in Corfu are generally casual. Lightweight, breathable clothing is best for the warm climate. Don't forget a more conservative outfit for visiting monasteries or churches, and a jacket for cooler evenings. Comfortable shoes are a must, especially if you plan to explore the Old Town or the island's natural attractions.
Sun protection is crucial. A high-factor sunscreen, a hat, and sunglasses are essential, and it's important to drink plenty of water to stay hydrated.
3. Savouring the Local Cuisine and Respecting Traditions
Enjoying Corfiot cuisine is an integral part of the island experience. Don't miss out on local specialities like bourdeto (spicy fish stew) or mandolato (nougat dessert), and take the opportunity to taste locally-produced olive oil.
While Corfiots are known for their hospitality, it's important to respect local customs and traditions, particularly when visiting religious sites. Demonstrating an understanding of local etiquette and a willingness to engage with the culture will enhance your Corfu experience.
Nafplio
Nestled in the heart of the Peloponnese peninsula, Nafplio, with its distinctive charm and rich historical tapestry, stands as a beacon of Hellenic heritage. A former capital of modern Greece, Nafplio, often referred to as the 'Naples of Greece', is steeped in a complex history that mirrors the tumultuous and eventful saga of the nation itself. Nafplio's cobblestone alleyways, Venetian fortresses, neoclassical mansions, and picturesque harbor are elegantly adorned with a symphony of colors and scents from vibrant bougainvillea and enticing local tavernas, creating a nostalgic atmosphere that harkens back to a bygone era.

source: Laura Bronner on YouTube
Highlights of Nafplio
The Palamidi Fortress:

Dominating Nafplio's skyline from a rocky hilltop, the Palamidi Fortress is an awe-inspiring edifice of Venetian military architecture. Built in the early 18th century during the Venetian reign, the fortress's robust walls and battlements illustrate the historical strife of the region. Ascending its legendary 999 steps rewards visitors with breathtaking panoramas of the terracotta-roofed town below, the shimmering Argolic Gulf, and the surrounding mountainous landscapes.

Bourtzi Castle:

Emerging like a sentinel from the sapphire waters of the Argolic Gulf, the Bourtzi Castle is a water fortress that narrates tales of Nafplio's rich maritime history. Constructed by the Venetians in the 15th century to fortify the city against sea invasions, the castle's distinct round towers and crenelated parapets have withstood the test of time. Today, accessible by a short boat ride, it offers idyllic views of Nafplio's waterfront and serves as a stunning backdrop for numerous cultural events.

The Charming Old Town:

The old town of Nafplio, with its labyrinthine lanes, presents an enchanting journey through time. Here, one can explore Syntagma Square, the heart of the city, encircled by neoclassical buildings, or visit the Archaeological Museum, which houses a collection of relics from the Bronze Age to Roman times. The old town's venetian houses, interspersed with quaint boutiques, traditional tavernas, and bougainvillea-draped balconies, add an irresistible charm to the city's narrative.
Travel tips for Nafplio
Visiting Nafplio is an exercise in sensory immersion, and one must be prepared to embrace the city's unhurried pace. A walking tour is the best way to absorb the city's charm, so comfortable footwear is recommended. Be prepared for a vigorous climb if you wish to explore the Palamidi Fortress; its 999 steps can be physically demanding but offer a rewarding vista. While the Bourtzi Castle is a must-visit, remember to check the boat timings to plan your journey better. In terms of gastronomy, don't miss the chance to indulge in Nafplio's local cuisine at one of the many tavernas dotting the old town. Finally, visiting during the shoulder seasons (spring and autumn) can help avoid the crowds and the summer heat, making for a more comfortable and serene exploration of this fascinating city.
Rhodes
Rhodes is one of those picturesque islands in Greece that offer an exciting combination of relaxation and exciting activities. It is known for its long sandy coast dotted with numerous beautiful beaches, offering fun outdoor activities, from surfing in Prasonisi to a parasailing flight from Tsambika Beach.
Boasting a rich history, no trip to Rhodes is complete without discovering its most fascinating ancient sites. Trek to the Acropolis of Lindos and check out the 4th-century Athena Lindia, a temple dedicated to Athena. Beyond the charming Old Town of Rhodes, you'll find Europe's oldest inhabited medieval city, occupied since 1300 and ruled by the Turkish and Italian for many years. Walk the cobblestone streets leading to the lower town, where you'll find public baths, mosques, and other buildings from the Ottoman times.
If you love wine, Rhodes is one of those places you should visit. The locals have been producing wine for over 2,000 years, and you'll learn more about this by joining wine tours and tastings. These tours will take you to local wineries known for producing quality wine since ancient times. 

source: Travel With Mansoureh on YouTube
Highlights of Rhodes, Greece
1. Historical Allure and Architectural Marvels
Rhodes, the largest of Greece's Dodecanese islands, presents a fascinating melange of history, culture, and natural beauty. Its storied past can be seen in the remnants of the ancient city of Kamiros and the Acropolis of Lindos. These archaeological sites bear testimony to the island's storied past, from the classical Greek period through Roman and Byzantine rule.
In the island's capital, Rhodes City, the UNESCO-listed medieval old town stands as a testament to the island's history under the Knights of St. John during the Crusades. This remarkably preserved town is a labyrinth of cobbled streets, lined with medieval buildings that house modern shops, restaurants, and accommodations. The Street of Knights, leading to the Palace of the Grand Master, is an architectural time capsule of this era.
2. Natural Splendours and Beachside Bliss
Venture beyond the historical heart of Rhodes, and you'll encounter a landscape imbued with natural beauty. The Valley of the Butterflies, a unique nature reserve, offers a serene environment filled with oriental sweetgum trees that attract thousands of butterflies each summer.
Rhodes' coastline is dotted with stunning beaches ranging from bustling, organized strips to secluded bays. The eastern coast, with beaches like Tsambika, Afandou, and the scenic Anthony Quinn Bay, is known for its crystal-clear, calm waters, while the western coast offers wilder, more dramatic landscapes.
3. Cultural Immersion in Local Villages
No visit to Rhodes would be complete without exploring the charm of its traditional villages. Places like Archangelos, with its active ceramics and shoemaking workshops, and Embonas, renowned for its local wines, offer visitors an immersive experience of the island's culture, traditions, and hospitality.
Travel Tips for Rhodes, Greece
1. Timing Your Visit and Getting Around
Rhodes is bathed in sunshine for about 300 days a year, making it a year-round destination. However, if you prefer milder temperatures and fewer tourists, consider visiting during the shoulder seasons, in May-June and September-October.
The local bus service, KTEL, operates across the island, and car rental services are plentiful. However, remember that the island's mountainous terrain can make for challenging driving conditions.
2. Dressing Appropriately and Protecting Yourself
When packing for Rhodes, consider both the cultural norms and the Mediterranean climate. Lightweight, breathable clothing is ideal for the warm weather, while a shawl or a light jacket may be needed for cooler evenings. For visits to monasteries and churches, modest attire is appropriate.
Always remember to protect yourself against the sun. Use a high-SPF sunblock, wear a hat, and stay hydrated, especially when spending time on the beach or while sightseeing.
3. Food and Drink Experiences
Rhodes offers an impressive array of dining options, from high-end restaurants in Rhodes Town to charming local tavernas in the villages. Don't miss trying local specialties like pitaroudia (chickpea fritters) and melekouni (a traditional sweet).
If you're interested in local wines, visit the wine village of Embonas. The local vineyards offer wine-tasting tours that will let you sample the island's distinctive wines.
4. Respecting Local Customs
Greek culture is deeply rooted in tradition, and respect for these customs will enrich your travel experience. Show courtesy when visiting religious sites, and respect the local customs and traditions. Philoxenia'—hospitality to strangers—is a cornerstone of Greek culture, and embracing this spirit will only enhance your journey through this enchanting island.
Thessaloniki
Unfurling along the crystalline waters of the Thermaic Gulf, Thessaloniki, Greece's second-largest city, pulsates with a vibrant blend of history, culture, and modernity. Esteemed as the 'co-reigning' city during the Byzantine era, Thessaloniki's urban tapestry is adorned with a diverse spectrum of architectural styles, from Roman and Byzantine to Ottoman and Sephardic. This effervescent metropolis, dubbed the 'Gastronomic Capital' of Greece, buzzes with lively markets, eclectic eateries, bustling promenades, and a dynamic arts scene, striking a harmonious balance between the time-honored and the contemporary.
Highlights of Thessaloniki
The White Tower:

The emblematic White Tower, rising majestically along the city's waterfront, is an indelible part of Thessaloniki's skyline. This cylindrical edifice, shrouded in a history of triumphs and tribulations, has served as a fort, a garrison, and a prison during its tumultuous past. Today, it houses a fascinating museum documenting the city's history and offers an unrivaled panorama of Thessaloniki from its rooftop viewing platform.

Rotunda of Galerius:

The Rotunda of Galerius, an architectural chameleon, is a testament to Thessaloniki's varied cultural influences. Initially conceived as a mausoleum in the 4th century AD, this impressive circular structure has morphed into a pagan temple, a Christian church, a mosque, and is now a museum. The interior, adorned with magnificent mosaics, and the towering minaret, a vestige of its Islamic past, mark the remarkable adaptability of this historical monument.

The Archaeological Museum of Thessaloniki:

Providing an enriching plunge into the Macedonian heritage, the Archaeological Museum of Thessaloniki curates a precious collection of artifacts spanning from prehistoric times to late antiquity. Exhibits encompass golden treasures from royal tombs, intricate statuary, ancient inscriptions, and Hellenistic mosaics, each elucidating an aspect of the region's rich archaeological and cultural legacy.

source: Dabble and Travel on YouTube
Travel tips for Thessaloniki
Immersing oneself in Thessaloniki's dynamic rhythm demands a spirit of curiosity and openness. Exploring on foot or by bicycle is an excellent way to uncover the city's hidden corners and bustling squares. Dress appropriately when visiting religious sites and respect local customs. For gastronomy enthusiasts, venturing into Modiano and Kapani markets is a must to savor local delicacies like bougatsa, souvlaki, and retsina. Night owls can enjoy the city's thriving nightlife, particularly in the Ladadika district. A sunset stroll along the Aristotelous Square and the city's promenade provides an enchanting conclusion to a day's exploration. Lastly, remember that Thessaloniki's charm lies in its harmonious blend of antiquity and modernity, thus take time to appreciate both these facets during your visit.
Mykonos
Since Greece consists of many different islands, the best way to discover as many beautiful places as possible is on a cruise. Enjoying the luxury small cruise ships in Greece is a great way to see more of the islands, explore the hidden gems, and visit famous places like Mykonos. Renowned for its wild party scene and world-class bars and clubs, Mykonos is a favourite of A-list celebrities and jet setters. But if you're not here to party, you'll find many other things to enjoy.
The charming port town of Mykonos is enough reason to visit the island. It has a maze of white-washed streets lined with traditional houses with blue doors decked in colourful bougainvillaeas. Stroll towards the quaint harbour from the main town and admire the luxurious yachts and traditional fishing boats. Visit the small beach nearby to take a refreshing dip.
No trip to Mykonos is complete without seeing its iconic windmills, which you can reach on a short walk from Little Venice. As the most photographed area on the island, it can get crowded, so come early.
The picturesque area of Little Venice is also a must-visit. It's a popular spot for chilling out, where you'll find locals and tourists enjoying a drink, sharing stories, and admiring the gorgeous sunset views.
Highlights of Mykonos
1. Labyrinthine Charm and Historic Wonder
Mykonos, known as the 'Jewel of the Aegean,' captivates visitors with its iconic windmills, whitewashed buildings, and labyrinthine streets. The island's main town, Mykonos Town (or Chora), is a maze of narrow, winding alleys brimming with charming boutiques, art galleries, and tavernas. Little Venice, with its vibrant houses sitting on the water's edge, is the perfect spot to watch the island's spectacular sunsets.
A step back in time, the archaeological site of Delos, just a short boat ride away, is one of the most important historical sites in Greece. The birthplace of the Greek gods Apollo and Artemis, according to mythology, Delos boasts an array of ancient ruins, including temples, markets, and an iconic row of lion statues.
2. Beaches, Parties, and Scenic Villages
Mykonos' coastline is a plethora of magnificent beaches, each with its own unique allure. Psarou Beach, with its azure waters and golden sands, is the epitome of beachside luxury, while Paradise and Super Paradise Beaches are renowned for their vibrant party atmosphere.
Away from the coast, the island's interior offers an equally engaging experience. Traditional villages, such as Ano Mera, provide an authentic slice of Mykonian life, replete with a historic monastery, rustic tavernas, and tranquil surroundings.

source: Suitcase Monkey on YouTube
Travel Tips for Mykonos
1. Best Time to Visit and Transportation Advice
The high season in Mykonos, from late June to early September, promises vibrant nightlife and bustling beaches but also comes with crowded streets and higher prices. Shoulder seasons, from April to June and September to early November, provide milder weather, fewer tourists, and more affordable rates.
While navigating the island, be aware that its roads can be narrow, winding, and hilly. The local bus system is reliable and covers most of the island. Taxis, while available, can be scarce during high season, making rental vehicles a popular choice for many visitors.
2. Attire Considerations and Sun Protection
Comfortable, breathable clothing is advisable for the warm Mediterranean climate. For visits to religious sites, modest attire is recommended. Footwear should ideally be comfortable and practical, as the streets of Mykonos Town are paved with uneven cobblestones.
Sun protection is essential in Mykonos. High-factor sunblock, sunglasses, a wide-brimmed hat, and a refillable water bottle are must-haves for any outing.
3. Savouring Mykonian Cuisine
Mykonos boasts a culinary scene that ranges from high-end gourmet restaurants to traditional family-run tavernas. Local specialties like kopanisti (peppery soft cheese), louza (spiced, cured pork), and amygdalota (almond pastries) are worth a try.
4. Cultural Sensitivity
Respect for Greek customs and traditions goes a long way in enhancing your experience on the island. Be mindful when visiting religious sites, as Greek Orthodox customs require modest dress and respectful behaviour. The Greek concept of 'philoxenia,' or friendliness towards strangers, is deeply ingrained in the local culture and is likely to be reciprocated when practiced by visitors.
Crete
Crete is home to some of the world's most stunning beaches, making it one of the best destinations to visit in Greece. Boasting dramatic coastlines with crystal-clear waters and soft golden sands, it is the best spot for a relaxing beach getaway. You'll find some of the best beaches near Chania, along the island's west side, such as Balos Lagoon and Elafonisi. 
Aside from enjoying the beaches, don't miss the opportunity to admire the gorgeous sunsets. As the sun begins to set, the sky above Crete turns into a spectacular canvas of orange, pink, and gold hues. Whether having a romantic dinner or taking a stroll at the beach, the island's breathtaking sunsets will leave you in awe.
Crete is a massive island. You could easily spend a week here and not see everything. But one of the best ways to admire its incredible natural landscapes is to hike, especially at the stunning Samariá Gorge. It's a national park with many hiking routes heading to a tree-clad gorge with bridges across streams and mountains.
Highlights of Crete
1. Echoes of Ancient Civilizations and Venetian Elegance
As the cradle of Europe's earliest advanced civilization, the Minoan, Crete is imbued with an unrivalled historical pedigree. The archaeological site of Knossos, with its sprawling palace complex, offers intriguing insights into this sophisticated Bronze Age society. Artifacts from Knossos and other Minoan sites can be admired at the Heraklion Archaeological Museum.
Crete's rich tapestry of history also includes a period of Venetian rule, evident in the well-preserved harbour town of Chania. Its charming Old Town, framed by 14th-century Venetian walls, is a labyrinth of narrow lanes, Byzantine churches, and inviting tavernas, all clustered around a beautiful Venetian harbour.
2. Bountiful Nature and Inviting Coastlines
Crete's topography is a symphony of soaring mountains, verdant valleys, and dramatic gorges. The Samaria Gorge, a UNESCO Biosphere Reserve, offers a challenging but rewarding hike through its majestic landscapes. The palm forest of Vai, Europe's largest, adds another unique facet to the island's varied flora.
The island's extensive coastline boasts pristine beaches and hidden coves. Elafonisi's pink sands and Balos Lagoon's turquoise waters are just two of the many stunning coastal locations that beg exploration.
3. Delightful Cretan Villages and Gastronomy
Crete's heart beats strongest in its traditional villages. Locations such as Anogeia and Archanes provide a glimpse into the island's rural rhythms, where time-honoured crafts, local festivals, and the indomitable Cretan spirit are a part of everyday life.
No visit to Crete is complete without indulging in its renowned gastronomy. With its emphasis on local, seasonal produce and the generous use of olive oil, Cretan cuisine is a delicious component of the Mediterranean diet. Savour local cheeses, wild greens, fresh seafood, and the ubiquitous raki at rustic tavernas and chic restaurants alike.

source: Here Be Barr on YouTube
Travel Tips for Crete
1. Seasonal Considerations and Navigating the Island
The ideal time to visit Crete depends on your preferences. The island enjoys hot, dry summers, with beach and resort areas at their liveliest. Spring and autumn offer milder weather, perfect for exploring the island's interior or enjoying quieter beaches.
Crete's size makes a car the best option for those wishing to explore extensively. However, local buses also serve most towns and major tourist destinations. Note that mountain driving can be challenging due to winding roads and sudden weather changes.
2. Dress Code and Sun Safety
Pack light, comfortable clothing for Crete's warm climate. A light jacket or sweater may be needed for cooler evenings or in the mountainous areas. Appropriate attire should be worn when visiting monasteries or churches. Shoes suitable for walking on uneven paths or hiking in gorges are also recommended.
Remember to protect your skin from the strong Mediterranean sun with high-SPF sunscreen. Sunglasses, a hat, and plenty of water are essential when outdoors.
3. Culinary Experiences and Cultural Etiquette
Don't hesitate to try local specialties like dakos (rusk salad), snails in various forms, or kalitsounia (sweet or savoury pies). Accompany your meal with local wines or the spirit of Crete, raki.
Greeks are known for their hospitality, but they also appreciate visitors who respect their customs and traditions. Be polite and respectful, especially in religious sites and small villages, and you'll receive a warm, Cretan welcome.
Delphi
Perched atop the slopes of Mount Parnassus, in the heart of the Greek mainland, lies Delphi, the awe-inspiring "navel of the world". This remarkable site, wreathed in a blend of mythical lore and historical significance, once served as the paramount sanctuary of the god Apollo and the dwelling place of the renowned Pythia, the oracle of Delphi. Encircled by a halo of towering craggy cliffs and verdant olive groves, the sacred precincts of Delphi stand as an eloquent testament to Greece's rich spiritual and cultural antiquity.
Highlights of Delphi
The Ancient Theatre:

Constructed in the 4th century BC, the Ancient Theatre of Delphi, hewn into the side of Mount Parnassus, showcases the grandeur of classical Greek architecture. The theatre, with its tiered stone seats that once echoed the voices of tragedians and poets, provides a mesmerizing vista of the sanctuary below and the sweeping landscapes beyond. The archeological remains of this edifice present a tangible connection to the time-honored theatrical traditions of ancient Greece.

The Temple of Apollo:

The centermost and arguably the most poignant structure in Delphi, the Temple of Apollo, is a symbol of classical Doric architecture. Despite being in ruins today, the site exudes an ethereal aura of its glorious past. It was within this sacred edifice that the legendary Pythia delivered her cryptic prophecies, attracting pilgrims from far and wide. As one wanders among the temple's remaining stone columns and fragments, the essence of the divine and mystical past can still be palpably felt.

The Archaeological Museum of Delphi:

To further delve into the historical and mythological legacy of Delphi, a visit to the Archaeological Museum is indispensable. The museum, with its meticulously preserved collection, houses some of Greece's most significant archaeological treasures. Highlights include the Naxian Sphinx, the enigmatic Charioteer of Delphi, and the exquisite architectural elements from the Treasury of the Siphnians. Each artifact narrates a compelling tale of the region's cultural, religious, and artistic evolution.

source: Greece Explained on YouTube
Travel tips for Delphi
When planning a sojourn to Delphi, it's essential to allocate sufficient time to fully explore and appreciate the site's myriad attractions. An expert-guided tour can enhance your understanding of the historical and cultural nuances of this ancient sanctuary. Proper footwear is crucial, as the terrain can be uneven. For the Archaeological Museum, it is advisable to go early to avoid the peak-hour crowds. Those with a penchant for hiking can explore the ancient footpath known as the "Sacred Way. Lastly, visitors should not miss the chance to appreciate the sunset over the Phocis valley from Delphi, a spectacle that imbues the landscape with an otherworldly glow.
Peloponnese
Cradled within the aquamarine clasp of the Ionian and Aegean seas, the verdant expanse of the Peloponnese peninsula presents an enticing tableau of ancient citadels, hallowed sanctuaries, and idyllic landscapes. A geographical marvel, severed from the mainland by the man-made Corinth Canal, the Peloponnese is steeped in Greek mythology and historical lore. Its terrain, a vibrant palette of sun-drenched vineyards, sprawling olive groves, azure coastlines, and snow-capped peaks, provides a scenic backdrop to the remnants of bygone civilizations that dot its bucolic countryside.
Highlights of Peloponnese
Ancient Olympia:

At the heart of the Peloponnese, ensconced amidst a verdant valley, lies Ancient Olympia, the birthplace of the Olympic Games. Here, within the consecrated precincts of this once-great sanctuary, the flame of athletic prowess and sporting camaraderie was kindled in 776 BC. The remains of the Temple of Zeus, the Stadium, and the Heraion evoke an atmosphere of reverence and awe, taking one back to a time when the spirit of competition melded seamlessly with the worship of deities.

The Medieval city of Monemvasia:

Nestled on a rocky islet off the Peloponnesian east coast, the Medieval city of Monemvasia, known as the "Gibraltar of the East," is a time capsule preserving the architectural grandeur of the Byzantine era. Ascend the winding paths through the lower town, where stone-built mansions, ancient churches, and cobbled lanes unfold in a charming maze, leading to the upper town, crowned with the fortress's ruins. The panoramic view of the azure Aegean from here is spellbinding.

The Diros Caves:

Descend into a subterranean realm of stalactites and stalagmites within the Diros Caves, one of the world's oldest and most enchanting cave systems. A boat ride through the eerie tranquility of the illuminated cave chambers, reflected in the mirror-like subterranean lake, imparts a surreal and otherworldly experience.

source: Sarah Goes Local on YouTube
Travel tips for Peloponnese
When charting a voyage across the diverse landscapes of the Peloponnese, it is beneficial to arm oneself with a well-researched itinerary and a spirit of adventure. A rental car is the most convenient mode of transportation to traverse the peninsula, given the significant distances and somewhat infrequent public transport.
For the history enthusiasts visiting Ancient Olympia, hiring a guide or purchasing an audio guide can greatly enhance the experience. Wear comfortable shoes and carry plenty of water for the exploration. When in Monemvasia, start early to avoid the midday sun and crowd, and don't forget your camera to capture the breathtaking vistas.
For the Diros Caves, book your tickets in advance, especially during peak season, as the number of visitors is limited due to preservation efforts. A light jacket is recommended as it can get quite cool inside the caves. Finally, make time to sample the region's excellent wines and local cuisine, as the Peloponnese is renowned for its gastronomic delights. Take the opportunity to immerse yourself in the rich tapestry of Greek life that thrives in the peninsula's charming villages and bustling towns.
Zakynthos
As an emerald gemstone set in the azure band of the Ionian Sea, Zakynthos or Zante, the 'Flower of the East', blossoms under the Mediterranean sun, captivating the senses with its lush landscapes, ethereal beaches, and verdant olive groves. Its vibrant canvas is animated by a melange of golden beaches, crystalline coves, and cerulean waters, punctuated by the slow-paced charm of traditional villages and the echoes of Venetian influence in its architecture. A sanctuary for diverse flora and fauna, Zakynthos provides a harmonious symphony of nature's splendors and cultural allure.
Highlights of Zakynthos
The Navagio (Shipwreck) Beach:

Ensconced amidst towering limestone cliffs, Navagio Beach, or Shipwreck Beach, is the sparkling jewel in Zakynthos's crown. Its claim to fame is the rusting carcass of a smuggler's ship that ran aground on its shores, now a poignant centerpiece to the alabaster beach and turquoise waters. The beach, accessible only by boat, offers an idyllic setting for sunbathing, swimming, and contemplative solitude.

The Blue Caves:

The Blue Caves, a series of geological marvels carved by erosion, beckon from the island's northern cape. Their name derives from the ethereal blue hue of the waters within, a result of light refraction. These caves, best explored by boat, present a kaleidoscope of mesmerizing colors and intricate formations, especially at sunrise when the play of light creates a dazzling spectacle.

Zakynthos Marine Park:

The Zakynthos Marine Park, nestled in the island's southern region, serves as a haven for the endangered loggerhead sea turtles (Caretta caretta) who nest on its beaches. The park also encompasses wetlands, sand dunes, and submerged reefs, sheltering a plethora of marine life and migratory birds. Environmental education activities, turtle spotting, and bird watching make for enriching experiences within this conservation area.

source: Mitchell Travels on YouTube
Travel tips for Zakynthos
To revel in the multifaceted beauty of Zakynthos, a keen spirit of exploration, coupled with a respect for nature and local culture, is necessary. Opt for guided tours to Navagio Beach and the Blue Caves to ensure safe navigation and enrich your understanding of these natural wonders. Waterproof cameras can capture the iridescent beauty of the caves, while sun protection is crucial for the beach visit.
For those planning to visit the Zakynthos Marine Park, adhere strictly to the guidelines provided to minimize human impact on the sensitive ecosystem. Night visits to the turtle nesting beaches are prohibited, while daytime visits should be conducted with utmost caution and respect for the nesting sites.
Renting a vehicle or a bicycle can be a rewarding way to explore the island's picturesque villages and landscapes. Embrace the island's slow rhythm, partake in its rich gastronomic offerings, and immerse yourself in the charm of Zakynthos. Above all, let the captivating blend of nature, history, and culture in Zakynthos forge unforgettable memories of your Grecian sojourn.
Conclusion: Diverse and Beautiful Destinations in Greece
From the celestial monasteries of Meteora, perched precariously on towering limestone pinnacles, to the labyrinthine alleys of Nafplio's old town whispering tales of Venetian grandeur; from the Oracle's sanctum in the lofty recesses of Delphi, pulsating with the echoes of ancient prophesies, to the cosmopolitan vibrance of Thessaloniki, where cultures meld in a delightful fusion; from the enigmatic ruins of Olympia nestling in the verdant embrace of Peloponnese, to the azure dreamscape of Zakynthos, resonating with the symphony of Ionian waves, Greece is a vibrant anthology of experiences waiting to be savored.
Explore all of Greece
The magnetic allure of Greece is not confined within the confines of its famed islands or its ancient ruins. It permeates the mainland's forgotten corners, the untamed landscapes, the modest villages, and the boisterous towns, each cradling tales of a bygone era, myths, legends, and the indomitable spirit of Greece. To truly comprehend the essence of Greece, one must journey beyond the beaten path, immerse oneself in its diverse tapestry, decipher the language of its winds, partake in its traditional feasts, and dance to the rhythm of its heart. And when you do, you will uncover a Greece that transcends the realms of fantasy and reality, where the extraordinary is interwoven into the everyday, and the past and the present exist in an eternal embrace.

source: Lost LeBlanc on YouTube
When is the best time to visit Greece?
While Greece's beauty and allure are perennial, the best time to visit depends largely on one's preferences and intentions. The months of April to June and September to October envelop Greece in pleasant weather, perfect for exploration and outdoor activities. These shoulder seasons see fewer crowds, making it an opportune time to delve deeper into the country's historic sites and natural splendors. However, those seeking to bask in the country's famed sun, sea, and sand may find the summer months of July and August to their liking, despite the tourist influx.
Beauty and Rich History of Greece
Greece, in all its glorious diversity, is a testament to the enduring prowess of civilizations past, an effervescent celebration of life and nature, and a perpetual muse for those seeking beauty and wisdom. It's a realm where history and mythology converge, where the celestial and the terrestrial dance in harmony, and where every grain of sand, every stone, every wave, and every gust of wind narrate an epic saga of power, resilience, and grace.
Visiting Greece is not merely a journey across physical distances; it's a voyage across time, a pilgrimage to the cradle of Western civilization, a dance with the mythical gods, and a heartfelt dialogue with the soul of the world. As you embark on this journey, remember that Greece is not a destination to be ticked off a list; it's an experience to be lived, a memory to be cherished, and a love story to be written with you as the protagonist. And when you depart, you'll leave a part of your heart in this enchanting land, forever yearning for the mellifluous serenade of the Aegean, the aroma of wild thyme wafting through the olive groves, and the gentle whisper of Greece under the star-studded Mediterranean sky.