Batangas Travel Guide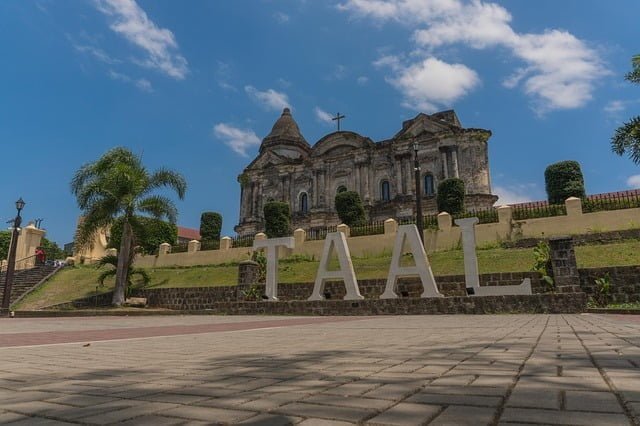 Introduction
Located to the south of Manila, Batangas province is a place many travellers pass through on their way to Mindoro and Puerto Galera. However, there are plenty of worthwhile attractions to visit if you are willing to take a closer look.
From a brooding volcano to the biggest cathedral in Asia, you'll wonder why this place isn't more popular with foreigners.
Cultural Attractions
Begin your adventure in Batangas province by taking a few hours to explore Taal Heritage Village. A great alternative for those unable to find time to travel all the way north to visit Vigan, this settlement has scores of amazing Spanish Colonial architecture to discover.
There are quite a few mansions that stand out – some are open to the public as museums for a small admission fee. With plenty of photographic opportunities in this historic town, allow an entire morning or afternoon to make the most of your time here.
If you are short on time while exploring the Taal Heritage Village, make sure you at least drop by Taal Basilica. This grand Catholic church, which is the biggest in all of Asia, was once located in San Nicolas before the massive 200-day eruption of the Taal Volcano decimated the original structure.
Rebuilt here, this structure boasts a fresco on its ceiling, a bell tower which permits amazing views of the entire town, and spectacular chandeliers. At present, it is undergoing extensive renovations to shore up its resiliency to seismic activity after a pair of earthquakes in recent years tested the structure.
Nonetheless, you should be able to see its best features without too much trouble, so don't let this fact stop you from visiting.
Make Caleruega Church the next religious attraction you visit during your time in Batangas province. While the structure itself is quite impressive, the grounds surrounding it is what makes this place worth visiting.
With an immaculately maintained garden (which includes a koi pond) enveloping this brick structure, you'll find peace and relaxation shortly after setting foot on this property. Note there is a 30 peso admission fee in place for visitors – however, this fee is waived if you are coming here to attend mass.
Looking for one more Catholic point of interest to visit while in Batangas? Make room in your schedule for Our Lady of Mt Carmel Church. Located in Lipa City, this place is reputed to be the site of a miracle reportedly perpetuated by the Virgin Mary.
Starting in the late 1940s and continuing at irregular intervals from that time on, showers of rose petals are said to have fallen from the sky, with no obvious explanation for the phenomenon.
Even if you aren't lucky enough to experience this for yourself, the church's garden (which is where the Virgin Mary statue and the rose petal showers have occurred over the years) is verdant enough to make a visit here worthwhile.
Other Attractions
In our minds, there is no attraction in Batangas bigger than the Taal Volcano. Featuring a caldera filled with a lake which contains an island where the current crater is located (boat tours to it are available in times of low danger), it is a complex volcanic feature which will fascinate geologists.
As an extremely active volcano, chances are favourable you will experience a tremor if you spend a few days in the area. However, this feature can also be done as a day trip from Manila if earthquakes make you nervous, so if you have time to kill before your flight, this is a great way to fill it with an action-packed day.
Mountaineers looking to leave behind the smog of Manila for the fresh air of Batangas will enjoy scaling the slopes of Mt. Batulao. With an elevation of only 2,663 feet, it is an easy climb to do for those who lack the experience to scale steeper, more technically difficult peaks.
However, note you are required to pay a fee for a guide who will accompany you up the mountain. Further, do not underestimate this mountain despite its short stature – bring lots of water to keep you alert and in good condition throughout your climb.
Learn about how honey is made in Batangas by paying a visit to the Milea Bee Farm. Here, the resident beekeeper will educate you on the nuances of raising these pollinators and honey creators. Don't be scared, as you will be shown how to behave around these insects without inciting them.
You'll also get to tour the on-site garden, which includes vanilla, cinnamon, and edible flower plants. Afterwards, you'll have a chance to enjoy tea created partially from ingredients sourced from the garden.
Batangas isn't as well known for beaches as other provinces in the Philippines, but if you need to spend time by the ocean during your visit, you'll be happy with what you find at Masasa Beach. The sand may be rough in nature, but as looks go, you'll be in love from the second you arrive here.
If you hunger for more, sign up for an island hopping tour, and local boat owners will take you out to isles with paradisaical beaches more commonly associated with this country.