Nara Travel Guide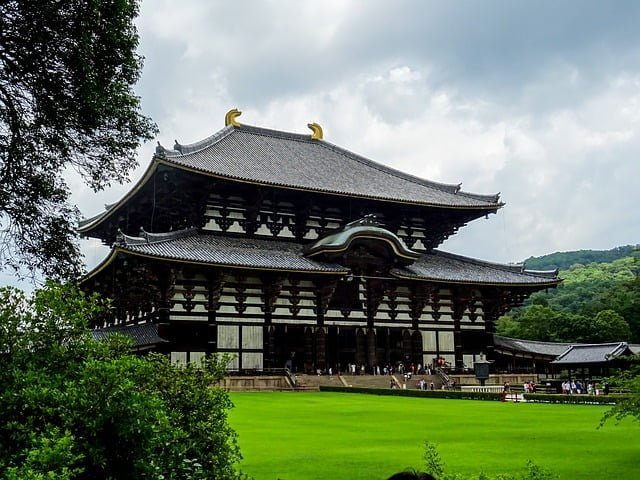 Introduction
Serving as a capital of ancient Japan, the Nara of today is one of this nation's cultural powerhouses.
Home to Japan's most significant Buddhist temple, as well as a park with the friendliest deer you'll ever meet, Nara is a can't miss destination for travellers passing through Kansai.
Come check out our Nara travel guide to Japan as we cover the best things to do in Nara, Japan.
Top Attractions
Start your time in the city of Nara by checking out Todaiji Temple. Built in the 8th century, this Buddhist hall of worship was once head of all lesser Buddhist temples nationwide. The power it wielded was so great that the capital of Japan was moved from Nara to Nagaoka in the late 8th century to reduce the influence of the priests on national policy.
The main hall of this complex (the Daibutsuden) is known for being the world's largest wooden structure. It is gobsmacking, especially when you consider its current size is 33% smaller than its original footprint. Inside, you'll find Japan's largest bronze statue of the Buddha, as it stands 15 metres over its admirers.
With numerous temples, halls, and museums in this complex, expect to spend several hours to an entire day taking in everything this attraction has to offer.
Todaiji Temple is located alongside Nara Park. While it is one of this city's primary green spaces, it is more than a place to relax. More than 1,000 deer freely roam the grounds, soliciting food from human attendees.
Over the years, these animals have become habituated to the presence of people; as such, they are very docile, though they can be somewhat aggressive if you have food on you. Crackers that the deer like are freely sold in this park, allowing you to feed them if you so choose. Some have learned to bow as a form of begging, a funny quirk considering that the kowtow, a bowing motion done as a show of respect, is a common greeting among people in Japan.
Buddhist temples aren't the only religious landmarks worth seeing in Nara – while you are here, drop by Kasuga Taisha, Nara's most prominent Shinto shrine. Dedicated to the deity responsible for the protection of the city, it has been around for more than a thousand years.
Kasuga Taisha is best known for having scores of lanterns. Scattered throughout the complex, they are lit on two occasions – early February and in the middle of August. If you are in the area at either of these times, don't miss either of these festivals.
Japanese Buddhism has given the Nara area plenty of exquisite art over the years. If you want to check it out, be sure to visit the Nara National Museum. Housed in a building that dates from the Meiji Restoration, you'll find statues, objects used in religious ceremonies, scrolls, paintings and other objects of artistic interest in its many wings.
Other Attractions
Looking for other Buddhist temples to check out while you are in Nara? Be sure to include Toshodaiji Temple on your travel itinerary. This temple was built in the mid-8th century for Ganjin, a Chinese Buddhist priest, who had travelled to Japan at the request of Japanese Buddhists.
His task: help the priests in Japan spread and teach Buddhism as effectively as possible. Here, you will find his grave, and his statue is also located on temple grounds. However, it is only revealed once per year around June 6th, the day Ganjin passed away.
Located amidst a lush forest, those visiting this temple will enjoy an atmosphere of serenity that is befitting of this religion.
Those with green thumbs will want to ensure that the Isuien Garden is on their list of places to visit in Nara. With mountains and the Todaiji Temple in the background, the landscape of this traditional Japanese garden will inspire even the most jaded traveller.
A composite of two gardens built in the 17th and 19th centuries respectively, this scenic place also comes with a tea house and a museum that shows off pottery and other artifacts imported from China and Korea, making it a spot you'll linger longer than planned.
Yoshikien Garden is a place that is also worth your time. Originally built for the priestess of Kofukuji Temple, this green space is divided into three separate gardens: one for mosses, one with water features, and another where tea ceremonies are held.
If you are on a budget, be sure not to miss this attraction, as no admission is charged for visiting foreigners.
End off your time in Nara by spending an evening discovering Naramachi. Home to the commercial sector of Nara since the Edo Period, it is known for its narrow entryways. Merchants deliberately had narrow buildings built to limit their tax burden, as authorities charged tax based on the width of doorways.