Welcome to Kaunas, Lithuania's vibrant cultural hub and the country's second-largest city. Situated at the confluence of the Nemunas and Neris rivers, Kaunas offers a perfect blend of historical charm, architectural marvels, and a thriving arts scene. As you explore this captivating city, you'll discover a rich tapestry of history, stunning landmarks, and a warm, welcoming atmosphere.
Kaunas boasts a fascinating past that is evident in its well-preserved architecture. The Old Town, with its cobblestone streets and Gothic, Renaissance, and Baroque buildings, transports you back in time. Stroll through the Town Hall Square, visit the impressive Kaunas Castle, and explore the charming narrow alleys filled with cozy cafes, restaurants, and boutiques.
For art and history enthusiasts, Kaunas is a treasure trove. The city served as the temporary capital of Lithuania during the interwar period, and you can delve into this era at the iconic Ninth Fort, where a museum exhibits the history of Lithuania's struggle for independence. Explore the M. K. Čiurlionis National Museum of Art, showcasing the works of the famous Lithuanian painter and composer, or visit the Vytautas the Great War Museum to learn about the country's military history.
Nature lovers will find solace in the lush green spaces that surround the city. Take a leisurely walk along the picturesque banks of the rivers or explore the verdant Kaunas Botanical Garden, a haven of biodiversity and tranquility.
In recent years, Kaunas has also gained a reputation as a cultural center, attracting artists, designers, and innovators. The city is home to numerous galleries, theaters, and festivals that celebrate the arts in all its forms. From contemporary art exhibitions to avant-garde performances, Kaunas pulsates with creative energy.
As you wander through the streets, take time to savor the flavors of Lithuanian cuisine. Indulge in traditional dishes such as cepelinai (potato dumplings) or skilandis (smoked meat sausage), and pair them with local craft beer or mead.
Whether you're captivated by history, art, nature, or culinary delights, Kaunas promises an unforgettable journey. Its unique blend of tradition and modernity, combined with the warmth of its people, will make your visit to this Lithuanian gem an enriching and memorable experience.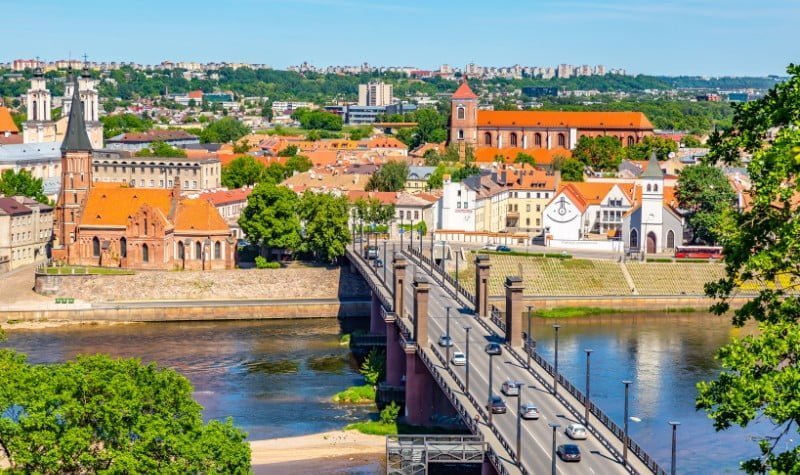 Kaunas City Guide: A Brief History Of Kaunas, Lithuania
Kaunas is the second city of Lithuania. However, it doesn't feel like a place that plays second fiddle to a massive capital. Part of that was due to its past as provisional capital. However, this city has always been a historically significant place in Lithuania.
From churches to war history, museums to old quarters, you'll find plenty to see and do here.
Come check out our Kaunus travel guide as we cover the best things to do in Kaunas, Lithuania.
Kaunas is a city of considerable historical significance and cultural relevance, situated in the heart of Lithuania's central region. Its roots extend back over 700 years, making it one of the oldest and most distinguished cities in the country.
The earliest known reference to Kaunas dates to 1361, when the Teutonic Knights established a wooden fortress on the confluence of the Nemunas and Neris rivers. The strategic location of the castle, situated at the intersection of two major trade routes, proved critical to the growth and prosperity of the city in subsequent years.
During the fifteenth and sixteenth centuries, Kaunas emerged as a thriving commercial hub and a prominent member of the Hanseatic League. The city's merchants conducted trade with European cities, importing luxury goods such as silk, spices, and precious metals, while exporting Lithuanian grain, furs, and timber.
In the mid-seventeenth century, Kaunas was overrun and devastated by Swedish forces during the Northern War. Despite suffering significant losses, the city managed to revive itself and continued to flourish in subsequent centuries.
In the nineteenth century, Kaunas became a center of Lithuanian culture and nationalism, with its intellectuals and artists championing Lithuanian language and culture and advocating for independence from foreign rule.
In 1918, following the declaration of Lithuania's independence from Russia, Kaunas served as the temporary capital of the newly-formed republic. The city experienced a period of rapid modernization and expansion, with the construction of numerous buildings, the implementation of new infrastructure projects, and the establishment of a modern water supply system and electric lighting.
During World War II, Kaunas was subjected to brutal occupation by Nazi Germany, with the establishment of a Jewish ghetto in which thousands of individuals were imprisoned and murdered. In the aftermath of the war, the city was absorbed into the Soviet Union and underwent further development and industrialization.
In the wake of Lithuania's 1990 independence, Kaunas has continued to thrive as a vibrant cultural, economic, and educational center, attracting visitors from across the globe with its rich historical legacy, stunning architectural landmarks, and diverse cultural attractions.
Kaunas Top Attractions and Best Places to Visit in Lithuania
Start your time in the Kaunas area with a trip to the Lithuanian Folk Museum. This picturesque attraction boasts over a hundred authentic buildings transported from across the Lithuanian countryside. One was even moved here from Siberia, in honour of Lithuanians who spent time in Soviet-era gulags.
That particular structure is an earthen dwelling. However, the others show off the wood-frame buildings Lithuania is famous for. Arranged to resemble a centuries-old Lithuanian village, visitors will get a sense for what life was like then.
Do try to time your visit so you arrive during one of several festivals. While it might not be the most comfortable to witness, Uzgavenes is by far the most famous. Held before Ash Wednesday, attendees celebrate the beginning of winter's end by burning it in effigy.
When planning your visit, remember that this site is enormous. It spans over 175 hectares – it is entirely possible to spend the entire day. At a minimum, give yourself three hours to appreciate this historic site.
Lovers of visual art will not want to miss a visit to M. K. Ciurlionis National Art Museum. It boasts pieces from the namesake artist, and from international, making it a highlight of Kaunas. Upon arriving, its exterior will command attention, as it boasts Art Deco features.
Inside, the focus, apart from M. K. Ciurlionis' collection, is on Lithuanian art. As you walk through its galleries, you'll find examples of folk, applied, and fine art from Lithuanian artists. To fill out its collection (355,000 pieces in all), you'll find items from other cultures around the world.
Upon check-in, pick up the accompanying audio guide. Not only will it aid comprehension, but you'll also get to hear the music that M. K. Ciurlionis composed.
While Kaunas escaped the widespread damage suffered elsewhere during WWII, it did not emerge unscathed. Learn about the horrors of that conflict and life under Soviet occupation at the Ninth Fort. It was initially part of a massive fortress built by the Russian Empire in the late 19th century. However, the notorious history of this complex unfolded in the 20th century.
After the Red Revolution of 1918, it went from defending the frontier to housing political prisoners. Dissidents spent a short time here before being sent off to forced labour camps in Siberia. As horrible as that was, the Ninth Fort became a cog in Nazi Germany's death machine during WWII.
While Auschwitz was their most notorious death camp, the Ninth Fort was home to horrors of its own. On one day alone (October 29, 1941), Nazis executed as many as 50,000 Lithuanian Jews. On top of this, thousands of Jews and other prisoners were brought here to meet their end.
In 1984, a Lithuanian sculptor completed a poignant memorial to those killed. It is a chilling reminder of the damage hate can do when it is left unopposed. You'll find this attraction on the outskirts of Kaunas. If you don't have a car, take bus route 23 from the central bus station in town.
Not all of the local Jewish population met an ugly end during the Second World War. Before the Nazi occupation, scores lined up outside Sugihara House, looking for a way out of Europe. This residence served as the Japanese consulate at the time.
Thanks to the local consul general, thousands of Jews were able to transit through Russia. For his actions, Chiune Sugihara attained recognition from Yad Vashem, or the World Holocaust Remembrance Centre. Be sure to check out the short film, which explains his story in further detail.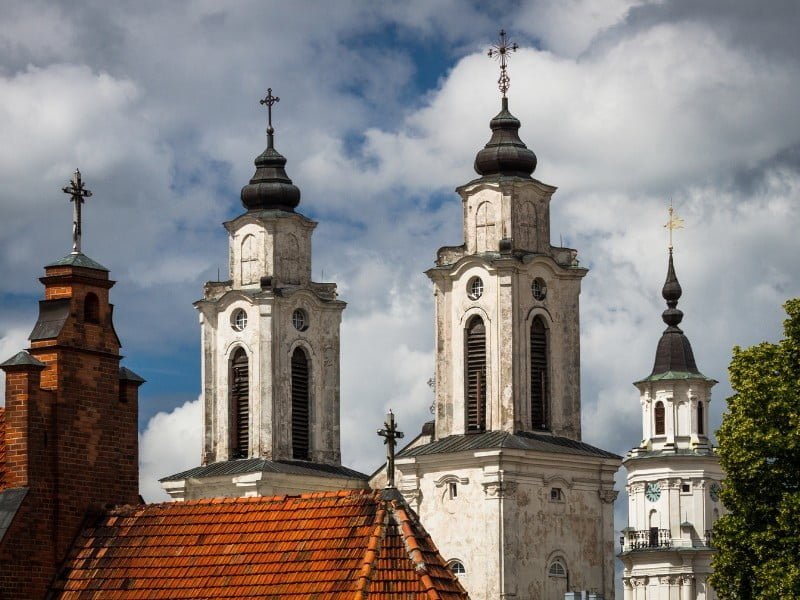 Other Cultural Attractions: Trip to Kaunas, Lithuania
Kaunas is bursting with culture – if you have time, make a trip out to the Pazaislis Monastery. A Lithuanian noble founded this Catholic institution in the 17th century. It was the largest of its kind in Lithuania and became known for its Italian Baroque architecture.
Its colourful history will astound you. Over the centuries, it didn't just serve as a religious institution. It was a horse stable for Napoleon's army, a WWI war hospital, and an art gallery under the Soviets. In addition to being an attraction in its own right, it also hosts music events. Everything from orchestras to ABBA has played here – don't miss this place.
If you're looking for a kooky museum to hit up, check out the Devils' Museum. As the name suggests, it shows off artistic interpretations of the devil from around the globe. In all, you'll find 3,000 pieces featuring Satan and other occult objects.
End your visit to Kaunas by spending a lively day exploring Old Town Kaunas. Unlike Vilnius, its old core escaped bombardment. Spend hours admiring its centuries-old building as you walk along cobblestone streets. Then, grab a meal, coffee, or beer at a sidewalk restaurant, and watch the world go by!

source: Atlasito on YouTube
Top 10 Things To Do in Kaunas, Lithuania For Visitors
Kaunas offers a plethora of attractions for tourists of all ages and interests. Here are the top 10 things to do in Kaunas:
Visit the Old Town: Kaunas' Old Town is a charming area filled with winding cobbled streets, colorful buildings, and quaint squares. Here, visitors can explore the city's rich history and admire its unique architecture. The Old Town is home to a number of significant landmarks, including the Kaunas Town Hall, the Kaunas Castle, and the Gothic-style St. George's Church.
Explore Kaunas Castle: Built in the 14th century, Kaunas Castle is a must-visit attraction for history buffs. The castle served as a fortress, a residence for Lithuanian dukes, and a prison. Visitors can explore the castle's ruins and learn about its fascinating history at the on-site museum.
Discover the Ninth Fort: The Ninth Fort is a memorial site and museum dedicated to the victims of Nazi atrocities during World War II. The fort was used as a concentration camp during the war, and thousands of people were imprisoned and executed here. The museum offers a poignant and moving insight into the tragedy of the Holocaust.
Take a stroll through the Laisvės Alėja: Laisvės Alėja is a pedestrian street that runs through the heart of Kaunas. It is lined with shops, cafes, and restaurants, making it a perfect place to take a leisurely walk, do some shopping, or grab a bite to eat.
Visit the Vytautas the Great War Museum: The Vytautas the Great War Museum is one of the largest military history museums in the Baltic States. It showcases Lithuania's military history, including weapons, uniforms, and other artifacts from various periods.
Admire the Christ's Resurrection Church: This stunning Neo-Byzantine church is one of Kaunas' most impressive landmarks. The church boasts magnificent interior decorations, including colorful stained-glass windows, mosaics, and frescoes.
Walk along the Nemunas River: The Nemunas River runs through Kaunas, offering visitors a picturesque setting for a leisurely walk or bike ride. The riverbanks are dotted with parks, cafes, and recreational areas, making it a popular spot for locals and tourists alike.
See the Pažaislis Monastery: The Pažaislis Monastery is a beautiful Baroque complex located just outside Kaunas. The monastery boasts stunning architecture, elaborate frescoes, and intricate sculptures, making it a popular destination for art and architecture enthusiasts.
Visit the Museum of Devils: This quirky museum features a collection of over 3,000 devil-related artifacts, including sculptures, paintings, and masks. Visitors can learn about the role of the devil in Lithuanian folklore and superstition.
Relax at the Kaunas Botanical Garden: The Kaunas Botanical Garden is a tranquil oasis of greenery, featuring over 6,000 plant species from around the world. The garden also boasts a beautiful Japanese garden, making it a perfect spot for a relaxing stroll or picnic.
What To Eat and Drink in Kaunas, Lithuania
Kaunas, Lithuania is a city that offers a rich culinary tradition with a variety of delicious local dishes and drinks. For those visiting Kaunas, here are some must-try foods and beverages:
Cepelinai: This hearty dish is a staple of Lithuanian cuisine and consists of potato dumplings filled with minced meat or cottage cheese. It is often served with sour cream and bacon bits.
Kibinai: Kibinai are savory pastries filled with meat and vegetables, typically served with sour cream or ketchup. These baked treats originated from the Karaim community in Lithuania and are now a popular street food in Kaunas.
Šaltibarščiai: This cold soup is a refreshing dish to try on a hot summer day. It is made from beets, sour cream, and kefir, and often served with boiled potatoes and hard-boiled eggs.
Lithuanian beer: Lithuania has a strong beer culture, and Kaunas is home to many breweries that produce high-quality beer. Some of the most popular beer brands in Kaunas include Švyturys, Kalnapilis, and Utenos.
Krupnikas: This traditional Lithuanian liqueur is made from honey and various spices, including cinnamon, cloves, and nutmeg. It is often served as a digestif after a meal or used in cocktails.
Black bread: Lithuania is known for its delicious rye bread, and Kaunas is no exception. Black bread is a staple of Lithuanian cuisine and is often served with butter or cheese.
Žemaičių blynai: These potato pancakes are a popular breakfast food in Kaunas. They are made from grated potatoes, flour, and eggs, and often served with sour cream and bacon bits.
Kava: Lithuanians love their coffee, and Kaunas has many cozy cafes where you can enjoy a cup of coffee and a pastry. Some popular cafes in Kaunas include Caffeine, Coffee Inn, and Holy Donut.
Gira: This traditional Lithuanian drink is a fermented beverage made from rye bread and malt. It has a slightly sour taste and is often served chilled.
Lithuanian cheese: Lithuania has a variety of delicious cheeses, including Džiugas, a hard cheese with a nutty flavor, and Šakotis, a sweet, cake-like cheese that's typically served at celebrations.

source: Aplins in the Alps on YouTube
Top Restaurants In Kaunas, Lithuania
Kaunas, Lithuania is a food lover's paradise, with so many incredible restaurants serving up delicious cuisine that is sure to tantalize your taste buds. Whether you're in the mood for traditional Lithuanian dishes or international fare, there's something for everyone. Here are some of the top restaurants in Kaunas that you absolutely have to check out:
Monte Pacis – This upscale restaurant will take your breath away with its incredible atmosphere and delectable modern Lithuanian cuisine made with fresh, locally-sourced ingredients. You'll be blown away by dishes like smoked duck with beetroot puree and venison with juniper berries.
Grey – This chic restaurant is a foodie's dream come true with its innovative cuisine and trendy decor. Their menu is full of unique and exciting dishes like grilled octopus with squid ink risotto and beef tartare with caviar.
Telegrafas – This sophisticated restaurant is the perfect place to indulge in a luxurious meal of Lithuanian and European cuisine. With dishes like pan-seared scallops with black pudding and lamb rack with mint sauce, your taste buds will be singing with joy.
Bernelių užeiga – This charming restaurant is all about comfort food, serving up traditional Lithuanian dishes like cepelinai, kugelis (potato pudding), and šaltibarščiai. It's the perfect spot to enjoy a warm and hearty meal in a cozy atmosphere.
Kuhne – This delightful restaurant is all about putting a modern spin on classic Lithuanian cuisine. You'll love dishes like smoked salmon with beetroot and horseradish and pork belly with apple and cabbage.
Apvalaus stalo klubas – This restaurant is a haven for vegetarians and vegans, serving up delicious plant-based dishes made with fresh, locally-sourced ingredients. You won't even miss the meat with dishes like quinoa and vegetable salad and tofu stir-fry.
Bajorkiemis – This rustic gem is located in the countryside and serves traditional Lithuanian dishes made with ingredients from their own farm. You'll love dishes like wild mushroom soup and pork chops with roasted vegetables while taking in the beautiful scenery.
Bučeris – This cozy spot is all about delicious Italian cuisine, with classic dishes like margherita pizza and spaghetti carbonara that will transport you straight to Italy.
Būsi trečias – This casual restaurant is the perfect spot to indulge in some Lithuanian comfort food like potato pancakes and meatballs. The portions are generous, and the prices are reasonable, making it a great option for budget-conscious travelers.
Snekutis – This traditional Lithuanian pub is the perfect place to experience the country's lively and fun-loving culture. You'll love dishes like sausages, pickled herring, and fried bread with garlic sauce while enjoying the lively atmosphere.
Tours For Visitors To Kaunas, Lithuania
Kaunas, Lithuania is a city that's full of surprises, and taking a tour is the perfect way to discover them all. Whether you're a history buff, a foodie, or just someone who loves to explore, there's a tour for you. Here are some of the top tours to get you started:
Old Town Walking Tour – If you want to feel like you've stepped back in time, a walking tour of Kaunas' old town is a must. You'll feel like a medieval noble as you stroll through the narrow streets, gazing up at the stunning architecture and stopping for a coffee at a charming café. Just be careful not to get lost in the maze of alleys!
Kaunas Castle and Ninth Fort Tour – If you're a fan of history, this tour is for you. You'll get to explore the fascinating Kaunas Castle, which has served as a military fortress, prison, and museum over the centuries. Then, you'll visit the Ninth Fort, a former Nazi concentration camp that's now a museum. It's a sobering experience, but an important one.
Kaunas Art Nouveau Tour – Who says art can't be fun? This tour will take you on a journey through Kaunas' Art Nouveau heritage, showing you some of the city's most stunning buildings. You'll learn about the history and architecture of these gems while admiring their intricate details. Just don't forget to look where you're going – you might trip over your own feet while gazing up at the beauty!
Kaunas Street Food Tour – Hungry? This tour will fill you up in more ways than one. You'll get to sample some of the most delicious Lithuanian dishes, from cold beetroot soup to meat pastries. And don't forget about the coffee, beer, and desserts! Just make sure you bring stretchy pants – you're going to need them.
Kaunas Cycling Tour – If you're feeling adventurous, a cycling tour is the way to go. You'll get to explore the city's parks and neighborhoods while getting some exercise. And if you're feeling competitive, you can always race your fellow tour-goers to the finish line. Just don't forget to ring your bell when passing people – safety first!
No matter what your interests are, Kaunas has a tour that will make you laugh, learn, and love the city even more. So grab your sense of humour, your appetite, and your bike, and book a tour today!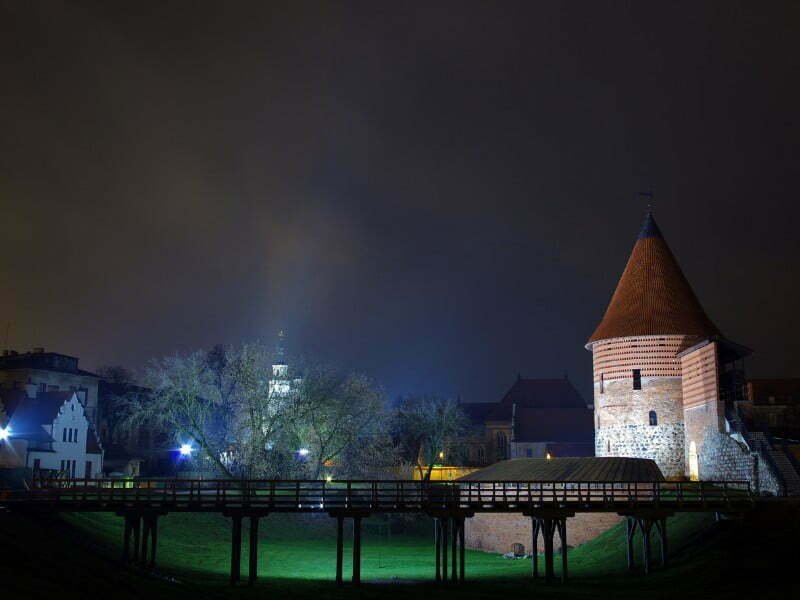 Kaunas Accommodations Guide: Hotels, Guesthouses and Hostels
Kaunas, a cultural and historical city of Lithuania, provides an array of accommodations for visitors, ranging from the plush confines of luxury hotels to the frugality of budget-friendly hostels. Regardless of your purpose of visit, be it a romantic sojourn, a family vacation, or a solo adventure, there is a dwelling that caters to your specific needs. Here is an intellectual guide to some of the finest lodgings in Kaunas:
Hotel Kaunas – Located in the city's heart, Hotel Kaunas appeals to visitors who desire proximity to the bustling city centre. The property boasts spacious and comfortable rooms, equipped with modern amenities and furnished with tasteful decor. The hotel features a restaurant and bar, fitness centre, and sauna, offering a well-rounded experience.
Daugirdas Hotel – Daugirdas Hotel, situated in a historic edifice in the old town, is an ideal option for a romantic getaway. This boutique hotel exudes an ambiance of sophistication and elegance, with rooms adorned in an opulent style. The property also features a restaurant and bar, along with spa services, catering to the desires of discerning guests.
Magnus Hotel – For a more economical choice, Magnus Hotel presents an excellent option. The rooms, clean and comfortable, are equipped with modern amenities, and the hotel offers a complimentary breakfast buffet. This hotel is situated in proximity to the old town and boasts an on-site restaurant and bar.
R Hostel – R Hostel is an excellent choice for budget travellers. The hostel, situated in the old town, provides both dormitory-style and private rooms. The property has a shared kitchen and common area, along with free Wi-Fi and a 24-hour front desk.
AirBnB – For a more unconventional and indigenous experience, consider booking an AirBnB in Kaunas. This option offers a myriad of choices, from snug apartments in the old town to contemporary lofts in the city centre. Staying in an AirBnB also provides an opportunity to interact with the locals, obtaining first-hand insight into the city's cultural and historical gems.
Kaunas, with its diverse lodgings, offers accommodation options that cater to a variety of preferences and budgets. So, avail yourself of the chance to book your stay and commence your exploration of this captivating city.
Day Trips From Kaunas, Lithuania
Kaunas, Lithuania is a hidden gem in the heart of the country, offering plenty of exciting day trip options for adventurous travelers. Here are some of the best destinations to explore from Kaunas:
Trakai Castle – If you're a history buff, you'll fall in love with Trakai Castle. This medieval fortress sits on an island in Lake Galve, about an hour's drive from Kaunas. Explore the castle's interior and learn about Lithuania's rich medieval history while enjoying the stunning views of the lake.
Curonian Spit – The Curonian Spit, a UNESCO World Heritage Site, is a breathtaking natural wonder you don't want to miss. Located three hours away from Kaunas, this unique landscape is perfect for hiking, cycling, and birdwatching. You'll be amazed by the serene beauty of the sand dune spit separating the Curonian Lagoon from the Baltic Sea.
Hill of Crosses – A spiritual and moving destination, the Hill of Crosses is located an hour and a half from Kaunas. Thousands of crosses cover the hill, left by visitors as a symbol of faith, hope, and love. The view from the top is awe-inspiring and is guaranteed to leave you feeling inspired and connected.
Pazaislis Monastery – The Pazaislis Monastery, located on the outskirts of Kaunas, is a true architectural masterpiece. The baroque-style church and cloister are breathtaking, and visitors can attend concerts and events in the church, take a guided tour of the grounds, and enjoy the serene surroundings.
Aukstaitija National Park – Nature lovers will be in their element at Aukstaitija National Park, located two hours from Kaunas. This natural wonderland features forests, lakes, and rivers, perfect for hiking, cycling, kayaking, and fishing. You'll be amazed by the picturesque landscapes and the tranquility of the park.
Kaunas is a fantastic base for exploring Lithuania's rich culture and natural beauty. So, pack your bags, hit the road, and discover the adventure and wonder waiting for you just outside the city.
Kaunas Transportation Guide
Exploring Kaunas is a thrilling experience, and you need a transportation guide that can match your adventurous spirit! Here's a comprehensive guide that will help you navigate the city like a true explorer:
Public Transportation – Don't let the fear of getting lost stop you from exploring Kaunas. The city's public transportation system, including buses and trolleybuses, is easy to use and affordable. You can buy tickets on board, or use a contactless payment card, and hop on and off at your leisure. With frequent routes and extensive coverage, public transportation is a great option for those who want to see the city's highlights without breaking the bank.
Taxis – If you're looking for comfort and convenience, taxis are the way to go. Kaunas has plenty of taxis available, and negotiating the fare is part of the adventure. Jump in and explore the city like a local, without worrying about directions or schedules.
Car Rental – For those who want to venture beyond the city limits, renting a car is the perfect choice. With several car rental companies operating in the city, you can choose a car that suits your needs and budget. Drive around the beautiful countryside, discover hidden gems, and make your own itinerary without relying on schedules or public transportation.
Bike Rental – Kaunas is a city that loves biking, and you can join in on the fun too! Rent a bike from several locations throughout the city and explore the city's beautiful bike paths and lanes. Pedal through the city like a true adventurer and discover new sights and sounds.
Walking – Finally, if you're up for a challenge, put on your walking shoes and explore the city on foot. With most of the major attractions within walking distance of each other, you can take your time, enjoy the scenery, and experience the city like a local.
Exploring Kaunas is an adventure that requires vigour and valiance, and this comprehensive transportation guide will help you get around the city like a true explorer. Choose from public transportation, taxis, car rentals, bike rentals, or walking, and immerse yourself in the city's rich history and culture.
Where To Visit After Your Trip To Kaunas?
After exploring the stunning city of Kaunas, you may be wondering where to go next. Luckily, there are plenty of incredible destinations nearby that are worth visiting. Here are some of the top places to visit after your trip to Kaunas:
Vilnius – Lithuania's capital city, Vilnius, is only about an hour away from Kaunas by car or bus. With its stunning Old Town, vibrant arts and culture scene, and delicious food and drink, Vilnius is a must-visit destination for anyone traveling to Lithuania.
Trakai – Located just outside of Vilnius, Trakai is a picturesque town famous for its stunning castle, which sits on an island in the middle of a lake. Take a boat ride to the castle, explore its fascinating history, and enjoy the stunning views.
Curonian Spit – This long, thin strip of land on the Baltic Sea is a UNESCO World Heritage Site and one of Lithuania's most unique natural wonders. With its towering sand dunes, quaint fishing villages, and stunning beaches, the Curonian Spit is a paradise for nature lovers.
Klaipeda – Lithuania's third-largest city, Klaipeda, is located on the coast and has a rich history as a major trading port. Visit the old town, explore the city's museums and galleries, and enjoy the fresh seafood.
Hill of Crosses – Located about two hours from Kaunas, the Hill of Crosses is a pilgrimage site that has been visited by millions of people over the years. This stunning hill is covered in thousands of crosses, left there by visitors as a symbol of their faith.
There are plenty of incredible destinations to visit after your trip to Kaunas. From the bustling capital of Vilnius to the stunning natural beauty of the Curonian Spit, these destinations offer something for every traveler. So pack your bags, hit the road, and continue your Lithuanian adventure!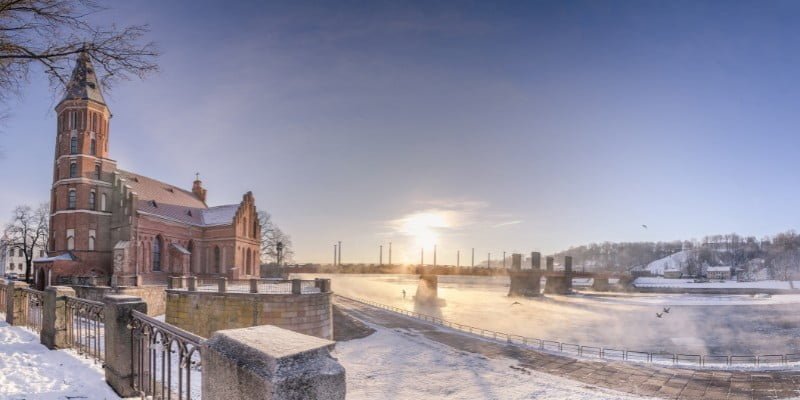 Kaunas Travel Guide: Final Thoughts
Kaunas is a vibrant and fascinating destination that should be on every traveler's bucket list. With its rich history, stunning architecture, and vibrant arts and culture scene, there's something for everyone in this charming city.
Whether you're wandering the charming streets of the Old Town, exploring the fascinating museums and galleries, or indulging in the delicious food and drink, Kaunas is a city that will capture your heart and leave you with unforgettable memories.
So pack your bags, book your accommodations, and get ready to explore this hidden gem of the Baltics. With its friendly locals, rich history, and stunning attractions, Kaunas is a destination that you won't soon forget.
In the heart of Lithuania lies Kaunas,
A city that's full of wonder and life.
Where the Old Town's charm enchants us,
And the Nemunas River flows bright.
Its streets are lined with history and art,
A testament to times long past.
Where architecture steals our hearts,
And culture thrives, everlast.
With each step, a new discovery,
A treasure waiting to be found.
Where the people are warm and friendly,
And joy and laughter can be heard all around.
So come and explore this magical place,
Let its beauty leave you in awe.
For in Kaunas, a world of wonder awaits,
And memories that will forever enthrall.