Pohang isn't on the itinerary of many travellers to Korea. It's not hard to imagine why – as an industrial city dominated by steelworks, it doesn't make for an attractive postcard. However, if you dig deeper, you'll find reasons to venture off the beaten path.
Close by, a pair of millennia-old temples see few foreign tourists. A fishing village is home to this country's easternmost point. And in summer, it hosts a fun fireworks festival. Ready to leave the crowds behind? Check out this under-touristed city for a day or two.
Come check out our Pohang visitor suggestions as we cover the best things to do in Pohang, South Korea.
Pohang City Guide: A Brief History Of Pohang, Korea
Pohang, a city situated on the stunning eastern coast of South Korea, has a captivating history that spans back centuries.
During the Three Kingdoms era, Pohang was known as Gyeongju Dokdo and served as a pivotal port city for the Silla Kingdom. Its strategic location played a crucial role in the development of Silla's maritime trade and commerce. The city was a bustling hub of activity, with merchants from all over the region coming together to exchange goods and ideas.
As the years went by, Pohang continued to thrive and became a center of Confucianism during the Unified Silla Dynasty. Many prominent Confucian scholars flocked to the city, drawn to its strong cultural heritage and dynamic intellectual community. Pohang became a shining beacon of education and culture in the region, with its residents deeply proud of their city's heritage.
During the Joseon Dynasty, Pohang's importance continued to grow, with the city being recognized for its thriving fishing industry. The city's port was a vital hub for the transportation of goods between the eastern provinces of Korea and Japan, bringing a wealth of trade and prosperity to Pohang.
In the 20th century, Pohang underwent a massive transformation, becoming a thriving center of heavy industry. The city played a pivotal role in the development of South Korea's economy, and it is home to the world-renowned Pohang Iron and Steel Company (POSCO). The steel company is an icon of the city, embodying the hard-working and passionate spirit of the people of Pohang.
Today, Pohang is a city that exudes passion and pride, with its residents fiercely protective of their city's heritage and traditions. Its beautiful beaches and breathtaking landscapes draw tourists from all over the world, eager to experience the unique blend of history and modernity that defines Pohang.
In short, Pohang is a city that is brimming with passion, history, and culture, making it a must-visit destination for anyone looking to explore the rich tapestry of South Korean heritage.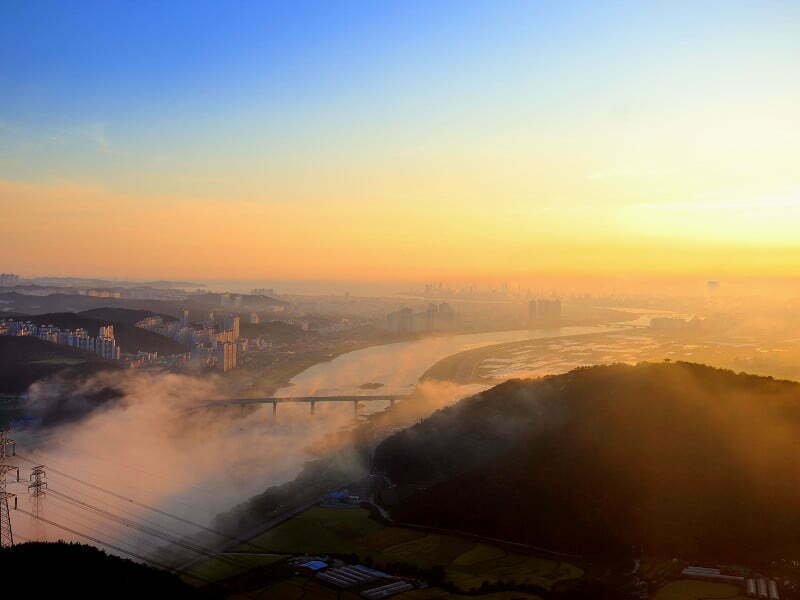 Pohang Top Attractions and Best Places to Visit in South Korea
Begin your time in Pohang by dropping by Bogyungsa Temple. Founded at the dawn of the 7th century, this Buddhist hall of worship is ancient. Despite this fact, it is not dissimilar to many other temples around the country.
Thus, it puzzles many visitors why this place is so popular. In actuality, this sight is most famous for the waterfalls and hiking trails accessible from its grounds. A dozen waterfalls are reachable from this temple – visit in the spring, when rainfalls ensure heavy flows.
Want to spend time amidst this inspiring natural landscape? Try a temple stay – you'll get to participate in the monastic life, afterwards, you'll know who you truly are.
If you're still in the mood to check out temples after Bogyungsa, be sure to visit Oeosa Temple. Like its cousin, Oeosa came into being during the Silla Period – carbon dating puts it around the 6th century.
It got its name from a folk tale – one day, two monks came upon two dead fish in a lake. As they gazed upon them, one suddenly sprang back to life. Oeosa was a word for "fish" back then, giving their temple its current name.
In addition to the usual Buddha statues, you'll find plenty of fish statues and carvings around. Apart from this, it's another peaceful temple in a stunning mountain environment. Check out the small museum on site – it's free and contains a bronze bell from the 13th century.
Over the latter half of the 20th century, Pohang became one of South Korea's most prominent industrial cities. POSCO is one of its largest firms, contributing the steel that led to the rise of this Asian tiger.
Learn about its history by visiting the Posco Museum. Through its exhibits, you'll learn about the development of the steel industry in Korea. From the 50s to today, incredible volumes of steel rolled off their lines, helping this nation rise to greatness.
After checking out the museum, you'll have the option to go on a factory tour. As you move through the facility, your guide will explain each process in a relatable way. For this reason, it is an excellent attraction for those into the industry.
If you are visiting Korea between late May and Early June, be sure to attend the Pohang International Fireworks Festival. Each night, a different team will put on an impressive pyrotechnical display above Yeongil Bay. Before the show, there are also parades, street performers, and plenty of amazing Korean street food – don't miss out.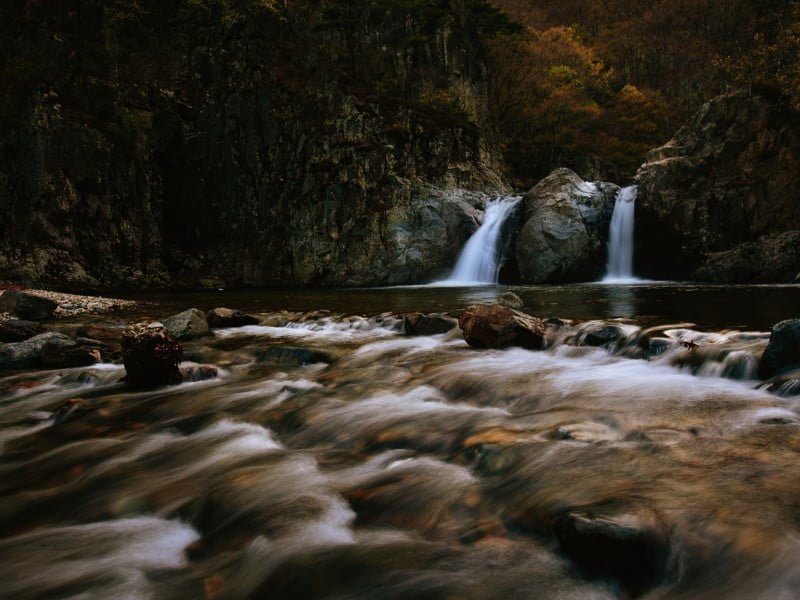 Other Cultural Attractions: Trip to Pohang, Korea
If you need to escape the city during your time in Pohang, make plans to check out Naeyeonsan County Park. It protects the land around Naeyeonsan Mountain, a peak that rises 930 metres above sea level. With trails that lead to stunning waterfalls, a day here will go a long way toward recharging your batteries.
Pohang is an important fishing port on the East Sea. See the latest catches of their fishers by dropping by the Jukdo Market. Within, over 200 vendors hawk everything from giant tunas to a bewildering array of shellfish. A hop, skip, and a jump away, restaurants stand ready to prepare the freshest seafood you've ever eaten. If you are a fan, you owe it to yourself to have a meal here.
Stand at Korea's most eastern point at Homigot Sunrise Square. Each New Year's Day, Koreans from across the country gather to witness the first sunrise of the new year. Don't worry if you're not around then – plenty come to watch at other times of year as well.
Art lovers will appreciate the sculptures found here. Cast in bronze, they depict a set of hands that symbolize the land and the ocean. Together, they make a case for reconciliation and co-existence, something we should all get behind.
If you are visiting Pohang during the summer months, the heat can be rather stifling. Cool off by spending an afternoon on Yeongildae Beach. With off-white sand, refreshing water, and samishi restaurants within easy reach, there are few better places to relax on a summer day than here. Do as the locals do and pitch a tent – it will shield you from the sun as you relax.

source: cari cakes on YouTube
Top 10 Things To Do in Pohang, South Korea For Visitors
Admire the spectacular sunrise over the sea at Homigot Sunrise Square, featuring a monumental bronze sculpture depicting two hands reaching toward the sky.
Immerse yourself in the lively atmosphere of Jukdo Market, a bustling traditional market famous for its delectable seafood and local delicacies.
Take a leisurely stroll along the pristine sands of Bukbu Beach, one of Pohang's most exquisite and serene beaches.
Discover the fascinating history of Pohang's iconic steel company, POSCO, and its crucial role in the development of South Korea's economy at the POSCO Museum.
Explore the rich cultural heritage of Pohang and its metamorphosis from a small fishing village to a bustling industrial center at the Pohang City Museum.
Hike up to the top of Hyeongsan Observatory and take in the breathtaking panoramic views of the city and the sea.
Experience the exhilaration of surfing at Guryongpo Beach, one of South Korea's top surfing spots, known for its consistent waves and crystal-clear waters.
Indulge in a relaxing day of pampering at the opulent Pohang Spa Land, featuring a variety of hot springs, saunas, and massage services.
Bask in the tranquil ambiance of Oeosa Temple, a serene ancient temple nestled in the foothills of a mountain and adorned with remarkable Buddhist artwork and architecture.
Savor the delectable flavors of fresh raw fish at one of Pohang's renowned hwae restaurants, where you can sample a range of local seafood delicacies.
What To Eat and Drink at Restaurants in Pohang, Korea
Pohang is a coastal city in South Korea that is renowned for its fresh seafood and vibrant culinary scene. The city has a diverse range of local dishes and drinks to try, each with its own unique flavors and textures.
One of the must-try foods in Pohang is Hwae, a dish made with fresh raw fish that is thinly sliced and served with a spicy chili sauce. This is a specialty of Pohang, and there are many local restaurants that serve it. Another popular dish is Ssiat Hotteok, a sweet Korean pancake filled with seeds and nuts that is a popular snack in the city.
For a hearty meal, visitors should try Pohang Gomtang, a beef soup made with slowly simmered beef bones and served with rice. Another popular dish is Gamja-tang, a spicy pork bone soup with potatoes. Pohang is also known for its mackerel, which is often served grilled or marinated in a spicy sauce.
In terms of drinks, visitors should try Pohang Soju, a traditional Korean rice wine that is distilled in Pohang and is known for its clean, smooth taste. Pohang also has a thriving coffee culture, with many local cafes that serve excellent coffee and baked goods. Visitors can also sample Korean craft beer, as Pohang is home to several craft breweries.
For a sweet treat, visitors should try Sikhye, a sweet, fermented rice drink that is often served as a dessert. Omija tea is another popular drink in Pohang, made from the dried fruit of the omija plant, which has a tart, refreshing flavor.
Overall, Pohang offers a diverse range of culinary delights that cater to all tastes and preferences. Visitors can indulge in fresh seafood, hearty soups, sweet desserts, and a variety of drinks, all while immersing themselves in the vibrant culinary culture of the city.

source: Pohang.guy.포항.아재 on YouTube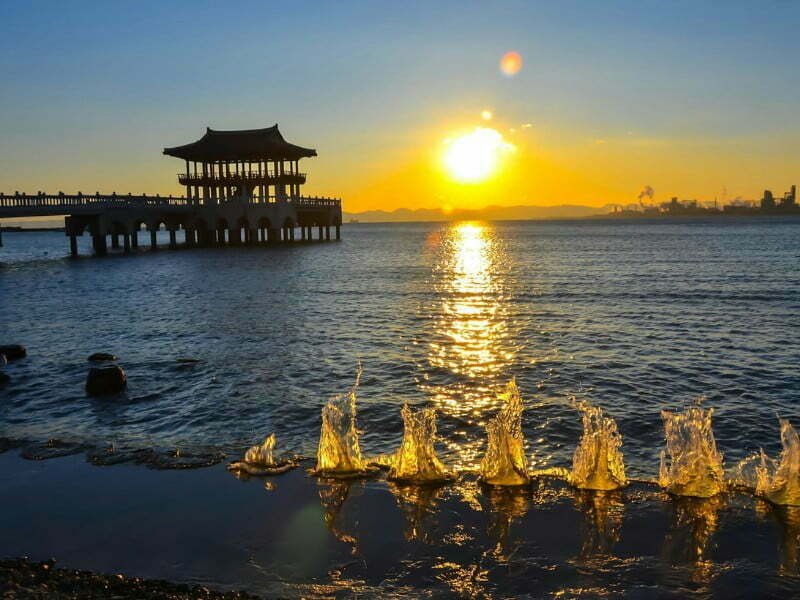 Tours For Visitors To Pohang, Korea
Pohang, Korea is a city that is full of surprises, and there are plenty of amazing tours that will take you on a journey through its rich culture and history. Here are the top tours that you should not miss when visiting Pohang:
Homigot Sunrise Tour: Witness the breathtaking sunrise at Homigot, the easternmost point of the Korean peninsula. This tour will take you on a scenic drive along the coast and offer you the chance to capture stunning views of the sea and sky as the sun rises over the horizon.
Oryukdo Skywalk and Gamcheon Culture Village Tour: This tour takes you on a journey through Busan, where you can walk along the breathtaking Oryukdo Skywalk, a glass-bottomed walkway that offers an incredible view of the ocean. After that, you will visit the charming Gamcheon Culture Village, known for its colorful houses and narrow streets.
Pohang Traditional Market and Jukdo Market Tour: Explore the vibrant local markets of Pohang on this tour, where you can shop for traditional Korean souvenirs, fresh produce, and delicious street food. The tour also includes a visit to Jukdo Market, where you can try fresh seafood caught by local fishermen.
Yeongildae Beach and Cheongho-dong Cultural Village Tour: This tour takes you to Yeongildae Beach, one of the most beautiful beaches in Korea, where you can soak up the sun and swim in crystal clear waters. After that, you will visit Cheongho-dong Cultural Village, where you can learn about the history and culture of Pohang through traditional Korean houses and exhibits.
Pohang Steelworks and POSCO Museum Tour: Get an insight into the industrial side of Pohang on this tour, where you can visit the Pohang Steelworks, one of the largest steel mills in the world. The tour also includes a visit to the POSCO Museum, where you can learn about the history and achievements of POSCO, one of the leading steel manufacturers in the world.
Pohang offers a variety of tours that cater to every interest, whether it's culture, history, or nature. Each tour is unique and offers an unforgettable experience that will make your visit to Pohang even more memorable.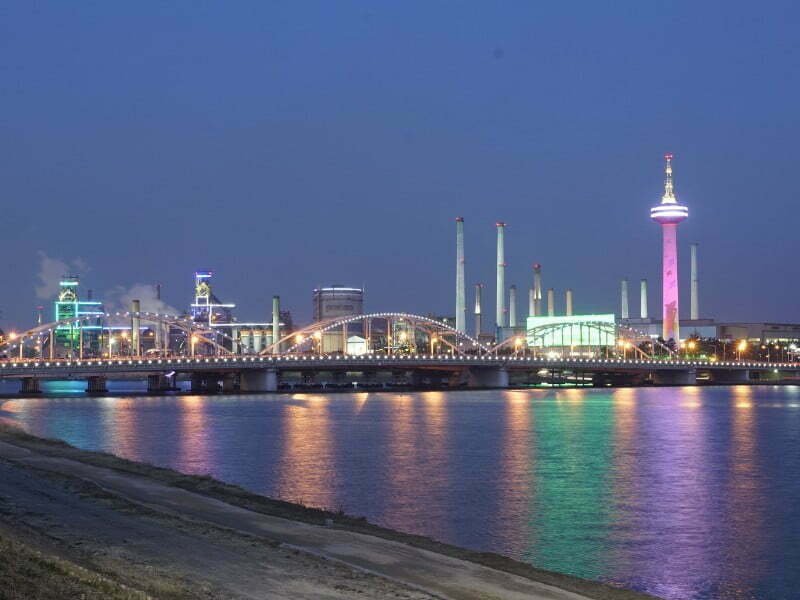 Pohang Accommodations Guide: Hotels, Guesthouses and Hostels
I am thrilled to share with you a guide that will help you find the best accommodations for your stay.
Pohang is a city that is bursting with life and character, and it's crucial that you choose the perfect place to rest your head at night to fully experience all it has to offer. Whether you're looking for budget-friendly options or luxurious getaways, Pohang has it all.
Hotels are a popular choice for those who want to indulge in top-notch facilities and services, and Pohang has some of the best around. Imagine yourself lounging by the pool, dining in one of the finest restaurants in town, and waking up in the comfort of your plush hotel room at the Hilton Pohang, Lotte Hotel Pohang, or the Ramada Hotel Pohang.
For those on a budget, motels are a fantastic option that won't break the bank. You can find many motels in and around the city center, including the popular Hotel Flamingo and the Hotel Love.
If you prefer a more personal touch to your accommodation, guesthouses are an excellent choice. Pohang has many guesthouses located in the city center and near popular tourist attractions. Imagine being welcomed with open arms at the Pohang Guesthouse or the Guesthouse K.
For an authentic experience, nothing beats staying with a local family through a homestay program. Experience the local culture and cuisine of Pohang by booking through websites such as Airbnb and Homestay.com.
If you're an outdoor enthusiast, camping is the perfect way to immerse yourself in the natural beauty of Pohang. You can pitch a tent at the Yeongildae Beach Campsite or the Homigot Sunrise Park Campsite and wake up to breathtaking views.
No matter what kind of accommodation you choose, book in advance to ensure availability, especially during peak tourist seasons. Let the passion of Pohang captivate you and enjoy your stay to the fullest!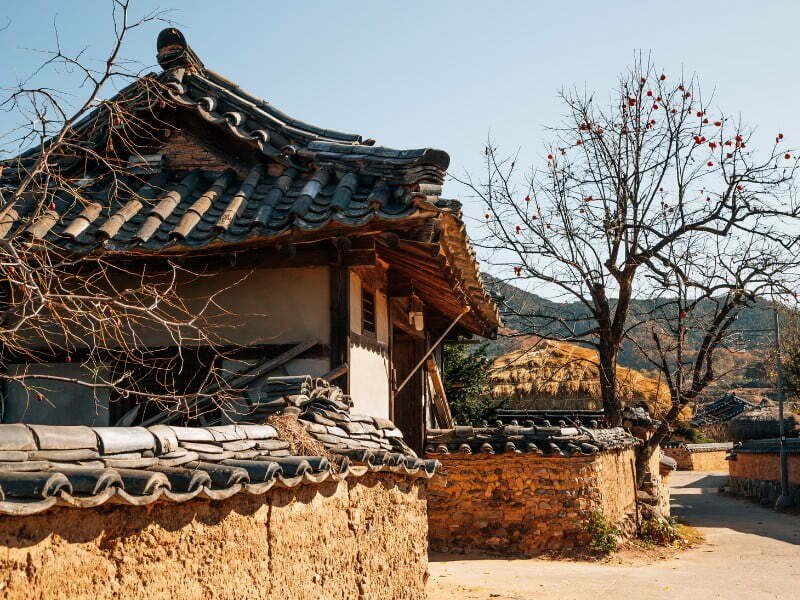 Day Trips From Pohang, South Korea
Here are some of the best day trips you can take from Pohang:
Gyeongju: Gyeongju is a historic city located just 40 kilometers south of Pohang. It was once the capital of the ancient Silla Kingdom and is now a UNESCO World Heritage Site. Visit the Royal Tomb Complex of Gyeongju, Cheomseongdae Observatory, and Anapji Pond to immerse yourself in the history of the region.
Andong: Andong is a small city located 70 kilometers west of Pohang, famous for its traditional Korean culture. Visit the Andong Hahoe Folk Village, where you can see traditional Korean homes and experience local customs and festivals.
Yeongdeok: Yeongdeok is a small coastal town located 70 kilometers north of Pohang. It is famous for its squid fishing industry, and you can enjoy a fresh seafood lunch and even try your hand at squid fishing yourself.
Uljin: Uljin is another coastal town located 70 kilometers south of Pohang. It is known for its stunning mountain scenery, with many hiking trails that offer spectacular views of the East Sea.
Oeosa Temple: Oeosa Temple is a beautiful Buddhist temple located just 20 kilometers east of Pohang. It is surrounded by scenic mountains and offers visitors a peaceful and spiritual retreat from the city.
Daegu: Daegu is a bustling city located 80 kilometers southwest of Pohang, known for its shopping, nightlife, and traditional markets. Visit the Seomun Market, Dongseongro Street, and the Daegu Modern History Museum to get a taste of the city's vibrant culture.
Whether you're interested in history, culture, nature, or simply want to explore the surrounding area, there's something for everyone on these day trips from Pohang.
Pohang Transportation Guide
Pohang is a bustling coastal city located in South Korea, and as with any urban center, efficient transportation is crucial to its economic, social, and cultural vitality. In this paper, we will explore the various transportation options available to visitors and residents of Pohang.
First and foremost, Pohang boasts an extensive and affordable public transportation system consisting of buses and taxis. The bus network covers many major landmarks and attractions within the city, and a T-Money card can be purchased and recharged at convenience stores throughout the area. Meanwhile, taxis are a readily available and efficient mode of transportation, particularly for shorter distances or urgent travel needs.
In addition to the aforementioned modes of transportation, Pohang also offers a subway system that connects the city center with nearby towns and cities. This option is both affordable and efficient, with single-use tickets and rechargeable cards available for purchase at subway stations.
For those who prefer a more eco-friendly and active mode of transportation, Pohang Bike, a bike-sharing system, is available for rental at various stations throughout the city. This system is particularly useful for exploring Pohang's beautiful coastline and scenic areas.
Moreover, for those who desire the convenience and independence of a personal vehicle, car rentals are available at both the airport and rental agencies located throughout the city. It should be noted, however, that traffic can be heavy during peak hours and parking can be limited in certain areas.
The transportation options available in Pohang provide a range of choices for visitors and residents alike, catering to diverse needs and preferences. Understanding and utilizing these options is essential for navigating the city effectively, and allows individuals to fully explore all that this vibrant urban center has to offer.
Where To Visit After Your Trip To Pohang?
After experiencing the beautiful coastal city of Pohang, there are several nearby destinations that are well worth a visit. Each destination offers unique cultural, historical, and natural experiences that are sure to enrich your travels.
Gyeongju: Just a 30-minute drive from Pohang, Gyeongju is known as the "museum without walls" due to its abundance of historical sites and relics. The city was the capital of the Silla Dynasty (57 BC – 935 AD), and visitors can explore ancient tombs, temples, and palaces that showcase the city's rich cultural heritage. The UNESCO World Heritage Site, Bulguksa Temple, is a must-visit destination, featuring a series of beautifully crafted pagodas, statues, and stone bridges. Gyeongju National Museum is also worth a visit, showcasing over 100,000 Silla Dynasty artifacts.
Busan: Located an hour away from Pohang, Busan is a bustling port city that offers a unique blend of modernity and tradition. It is known for its stunning beaches, such as Haeundae Beach, which is often called the "Miami Beach of South Korea". Visitors can also experience Busan's vibrant food scene, with dishes such as ssiat hotteok (sweet pancakes stuffed with nuts and seeds) and milmyeon (a spicy noodle dish) being local favorites. Busan's markets are also a must-visit destination, with Jagalchi Fish Market being one of the largest in South Korea. For stunning views of the city, visitors can take a cable car ride to the top of Busan's famous Busan Tower.
Daegu: Just two hours away from Pohang, Daegu is known for its traditional markets, museums, and historic sites. Seomun Market is one of the largest traditional markets in South Korea, offering a variety of street food and unique souvenirs. Visitors can also explore Daegu's historical sites, such as the Donghwasa Temple and the Gyeongsang-gamyeong Park, which was once the royal palace of the Joseon Dynasty.
Andong: Located approximately three hours away from Pohang, Andong is a traditional Korean town that offers visitors a glimpse into the country's rich cultural heritage. Hahoe Folk Village is a must-visit destination, showcasing traditional Korean architecture and culture. Visitors can also explore the nearby Byeongsan Seowon, a Confucian academy and temple that dates back to the Joseon Dynasty. Andong is also known for its traditional food, with dishes such as Andong jjimdak (a spicy chicken stew) and Andong soju (a traditional Korean liquor) being local favorites.
Seoul: For those who want to experience the energy and excitement of South Korea's capital city, Seoul is just four hours away from Pohang. Visitors can explore traditional markets, such as the famous Namdaemun Market, and cultural sites such as the Gyeongbokgung Palace, which was the main royal palace of the Joseon Dynasty. Seoul is also known for its modern shopping districts, such as Myeong-dong and Gangnam, which offer a variety of high-end fashion boutiques and department stores.
South Korea offers a wealth of destinations and experiences to explore beyond Pohang. From the historic sites and traditional markets of Daegu to the stunning beaches and vibrant food scene of Busan, there is something for every traveler to enjoy. Whether you're interested in exploring the country's rich cultural heritage or immersing yourself in its modernity and energy, these nearby destinations are well worth a visit.
Pohang Travel Guide: Final Thoughts
Pohang is a beautiful coastal city that offers visitors a unique blend of natural beauty, cultural heritage, and modern amenities. From its stunning beaches and mountains to its historic sites and museums, there is something for every traveler to enjoy.
When planning a trip to Pohang, visitors should consider exploring nearby destinations such as Gyeongju, Busan, Daegu, Andong, and Seoul. These destinations offer unique cultural, historical, and natural experiences that are sure to enrich any traveler's journey.
In terms of transportation, visitors can easily access Pohang by train, bus, or plane. Once in the city, there are several transportation options available, including buses, taxis, and rental cars.
As for accommodations, there are plenty of options to choose from, ranging from luxurious hotels to affordable guesthouses. Visitors can choose to stay in the city center for easy access to amenities and attractions, or opt for a more secluded location for a peaceful and tranquil stay.
Pohang is a must-visit destination for travelers who want to experience the beauty and charm of South Korea's eastern coast. Whether you're interested in exploring its rich cultural heritage or simply soaking up its natural beauty, Pohang offers a truly unforgettable experience.
The waves crash against the shore In Pohang, a city worth exploring more From the towering mountains to the sparkling sea There's a world of wonder waiting for you and me
In this coastal city, there's so much to see From ancient temples to modern technology The city's history is rich and deep Its cultural heritage weaved into every street
The people here are kind and warm Welcoming visitors in every form With delicious food and stunning sights Pohang is a traveler's delight
So come and explore this city by the sea Embrace its beauty and let your spirit free From the mountains to the shore Pohang is a place you'll forever adore.