Situated on the eastern seaboard of South Korea, Pohang is an enchanting blend of coastal beauty, industrial prowess, and a rich tapestry of history and culture. Often overshadowed by its more prominent counterparts like Seoul or Busan, Pohang has a unique charm that offers visitors a more intimate and authentic experience of Korea. This travel guide aims to unveil the secrets of Pohang and introduce travelers to the multifaceted allure of this hidden gem.
Geography and Climate
Nestled between the towering Taebaek Mountains and the expansive East Sea, Pohang enjoys a temperate maritime climate. This results in mild winters and warm, humid summers, making it an ideal destination year-round. The jagged coastline, dotted with small islands and peninsulas, provides countless spots for picturesque sunrises and tranquil beach moments.
Historical Significance
Pohang's history can be traced back to the Samhan period. The region has witnessed the ebb and flow of various dynasties and has a plethora of historical sites. The ancient Yangdong Folk Village, a UNESCO World Heritage Site, offers a glimpse into traditional Korean life, with its well-preserved thatched-roof houses and ancient shrines.
Industrial Importance
While history runs deep, Pohang is also home to the modern steel behemoth, POSCO, one of the world's largest steel companies. This industrial base, juxtaposed against its natural beauty, creates a unique blend of modernity and tradition. The POSCO Museum gives insights into the city's evolution and its significance in the global steel industry.
Cultural and Recreational Experiences
For those seeking cultural immersion, the Jukdo Market, Pohang's largest traditional market, offers a sensory feast. Here, one can sample local delicacies, purchase handmade crafts, and witness the vibrant energy of local life.
Nature enthusiasts will revel in the offerings of Bogyeongsa Temple, set against the backdrop of the twelve waterfalls of Mt. Naeyeonsan. The temple is a serene space of spiritual reflection and the surrounding nature trails offer refreshing hikes.
The Homigot Sunrise Square is another must-visit, renowned for its breathtaking sunrises. As its name suggests, the square celebrates the beauty of the dawn, with its iconic giant hand sculpture pointing towards the horizon, symbolizing hope and a bright future.
Culinary Delights
Pohang's coastal location ensures a bounty of seafood. From the freshest raw fish to hearty bowls of 'gwamegi', a local specialty made from half-dried herring, the city's culinary landscape is a delight for seafood aficionados. Moreover, local eateries also serve up traditional Korean dishes, ensuring a gastronomic adventure for every palate.
Pohang, with its intriguing mix of history, modernity, nature, and gastronomy, promises an unparalleled experience. Whether you're a history buff, a nature lover, a foodie, or simply someone looking to explore an off-the-beaten-path destination, Pohang awaits with open arms and a myriad of stories to share. Dive deep into this guide to unearth all that Pohang has to offer, and embark on a journey of discovery in this South Korean haven.
Pohang City Guide: A Brief History Of Pohang, Korea
Pohang isn't on the itinerary of many travellers to Korea. It's not hard to imagine why – as an industrial city dominated by steelworks, it doesn't make for an attractive postcard. However, if you dig deeper, you'll find reasons to venture off the beaten path.
Close by, a pair of millennia-old temples see few foreign tourists. A fishing village is home to this country's easternmost point. And in summer, it hosts a fun fireworks festival. Ready to leave the crowds behind? Check out this under-touristed city for a day or two.
Come check out our Pohang visitor suggestions as we cover the best things to do in Pohang, South Korea.
Pohang, a city situated on the stunning eastern coast of South Korea, has a captivating history that spans back centuries.
During the Three Kingdoms era, Pohang was known as Gyeongju Dokdo and served as a pivotal port city for the Silla Kingdom. Its strategic location played a crucial role in the development of Silla's maritime trade and commerce. The city was a bustling hub of activity, with merchants from all over the region coming together to exchange goods and ideas.
As the years went by, Pohang continued to thrive and became a center of Confucianism during the Unified Silla Dynasty. Many prominent Confucian scholars flocked to the city, drawn to its strong cultural heritage and dynamic intellectual community. Pohang became a shining beacon of education and culture in the region, with its residents deeply proud of their city's heritage.
During the Joseon Dynasty, Pohang's importance continued to grow, with the city being recognized for its thriving fishing industry. The city's port was a vital hub for the transportation of goods between the eastern provinces of Korea and Japan, bringing a wealth of trade and prosperity to Pohang.
In the 20th century, Pohang underwent a massive transformation, becoming a thriving center of heavy industry. The city played a pivotal role in the development of South Korea's economy, and it is home to the world-renowned Pohang Iron and Steel Company (POSCO). The steel company is an icon of the city, embodying the hard-working and passionate spirit of the people of Pohang.
Today, Pohang is a city that exudes passion and pride, with its residents fiercely protective of their city's heritage and traditions. Its beautiful beaches and breathtaking landscapes draw tourists from all over the world, eager to experience the unique blend of history and modernity that defines Pohang.
In short, Pohang is a city that is brimming with passion, history, and culture, making it a must-visit destination for anyone looking to explore the rich tapestry of South Korean heritage.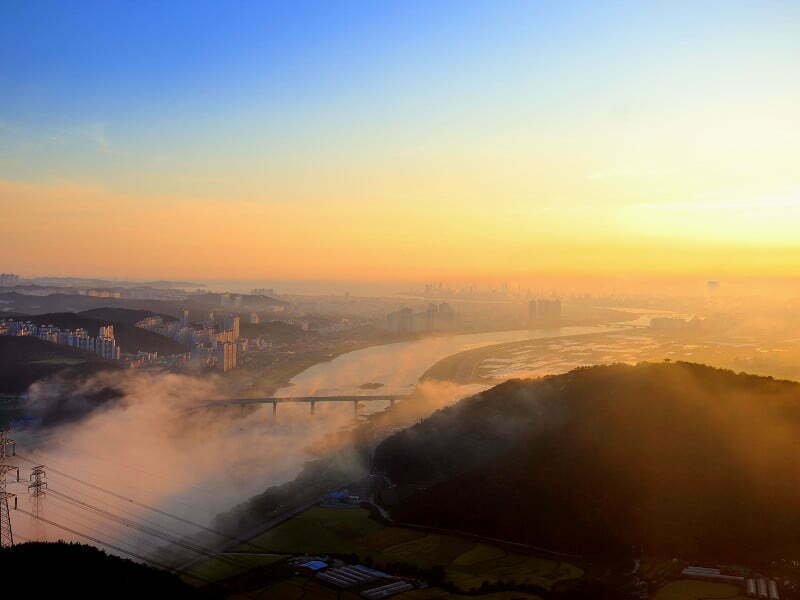 Pohang Top Attractions and Best Places to Visit in South Korea
Begin your time in Pohang by dropping by Bogyungsa Temple. Founded at the dawn of the 7th century, this Buddhist hall of worship is ancient. Despite this fact, it is not dissimilar to many other temples around the country.
Thus, it puzzles many visitors why this place is so popular. In actuality, this sight is most famous for the waterfalls and hiking trails accessible from its grounds. A dozen waterfalls are reachable from this temple – visit in the spring, when rainfalls ensure heavy flows.
Want to spend time amidst this inspiring natural landscape? Try a temple stay – you'll get to participate in the monastic life, afterwards, you'll know who you truly are.
If you're still in the mood to check out temples after Bogyungsa, be sure to visit Oeosa Temple. Like its cousin, Oeosa came into being during the Silla Period – carbon dating puts it around the 6th century.
It got its name from a folk tale – one day, two monks came upon two dead fish in a lake. As they gazed upon them, one suddenly sprang back to life. Oeosa was a word for "fish" back then, giving their temple its current name.
In addition to the usual Buddha statues, you'll find plenty of fish statues and carvings around. Apart from this, it's another peaceful temple in a stunning mountain environment. Check out the small museum on site – it's free and contains a bronze bell from the 13th century.
Over the latter half of the 20th century, Pohang became one of South Korea's most prominent industrial cities. POSCO is one of its largest firms, contributing the steel that led to the rise of this Asian tiger.
Learn about its history by visiting the Posco Museum. Through its exhibits, you'll learn about the development of the steel industry in Korea. From the 50s to today, incredible volumes of steel rolled off their lines, helping this nation rise to greatness.
After checking out the museum, you'll have the option to go on a factory tour. As you move through the facility, your guide will explain each process in a relatable way. For this reason, it is an excellent attraction for those into the industry.
If you are visiting Korea between late May and Early June, be sure to attend the Pohang International Fireworks Festival. Each night, a different team will put on an impressive pyrotechnical display above Yeongil Bay. Before the show, there are also parades, street performers, and plenty of amazing Korean street food – don't miss out.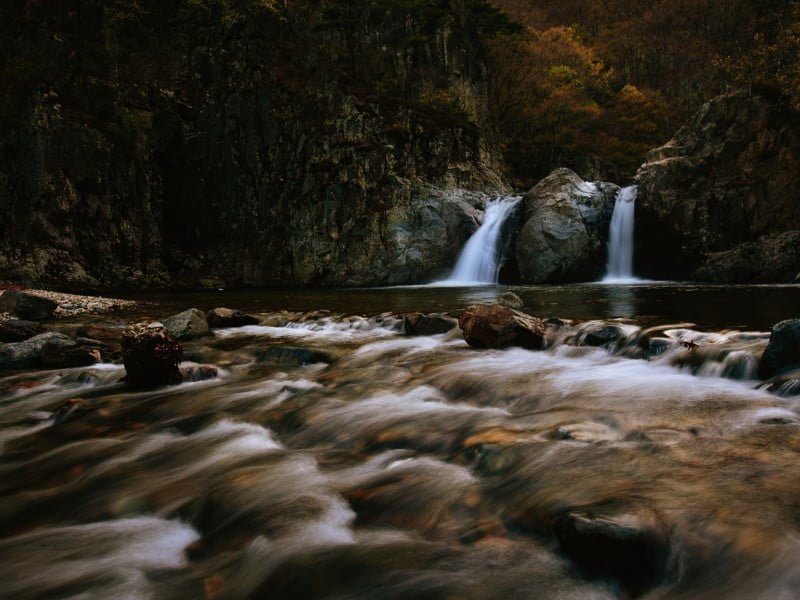 Other Cultural Attractions: Trip to Pohang, Korea
If you need to escape the city during your time in Pohang, make plans to check out Naeyeonsan County Park. It protects the land around Naeyeonsan Mountain, a peak that rises 930 metres above sea level. With trails that lead to stunning waterfalls, a day here will go a long way toward recharging your batteries.
Pohang is an important fishing port on the East Sea. See the latest catches of their fishers by dropping by the Jukdo Market. Within, over 200 vendors hawk everything from giant tunas to a bewildering array of shellfish. A hop, skip, and a jump away, restaurants stand ready to prepare the freshest seafood you've ever eaten. If you are a fan, you owe it to yourself to have a meal here.
Stand at Korea's most eastern point at Homigot Sunrise Square. Each New Year's Day, Koreans from across the country gather to witness the first sunrise of the new year. Don't worry if you're not around then – plenty come to watch at other times of year as well.
Art lovers will appreciate the sculptures found here. Cast in bronze, they depict a set of hands that symbolize the land and the ocean. Together, they make a case for reconciliation and co-existence, something we should all get behind.
If you are visiting Pohang during the summer months, the heat can be rather stifling. Cool off by spending an afternoon on Yeongildae Beach. With off-white sand, refreshing water, and samishi restaurants within easy reach, there are few better places to relax on a summer day than here. Do as the locals do and pitch a tent – it will shield you from the sun as you relax.

source: cari cakes on YouTube
Top 33 Things To Do in Pohang, South Korea For Visitors
Here are 33 of the top things to do in Pohang:
Homigot Sunrise Square: Begin your day by witnessing a mesmerizing sunrise at Homigot Sunrise Square. The iconic giant hand sculpture is not just an artistic marvel, but it symbolizes hope and unity. The square is a testament to the beauty of new beginnings.
Yangdong Folk Village: Step back in time in this UNESCO World Heritage Site. Wander through the well-preserved traditional houses, and immerse yourself in Korea's rich heritage.
Bogyeongsa Temple: Located at the foothills of Mt. Naeyeonsan, this temple offers a peaceful retreat. The adjacent twelve waterfalls provide a scenic backdrop for introspection.
Jukdo Market: Engage your senses in Pohang's largest traditional market. From fresh produce to authentic Korean dishes, the market buzzes with local life and flavors.
Guryongpo Modern History Museum: Delve into Pohang's modern history, centered around its fishing industry, by visiting this captivating museum located in a converted Japanese colonial-era building.
Oeosa Temple: A serene space overlooking the East Sea, Oeosa offers beautiful ocean views paired with traditional temple architecture.
POSCO Museum: Understand Pohang's industrial transformation by visiting this museum, which chronicles the journey of one of the world's leading steel companies.
Chilpo Beach: Spend a day lounging on this pristine beach, known for its clear waters and soft sand. The nearby pine forest adds to its tranquility.
Heunghae Naeil Market: Experience local life, taste street food, and shop for trinkets and souvenirs at this bustling market.
Naeyeonsan Mountain Park: Hike through this scenic park, and be rewarded with panoramic views of Pohang and the East Sea.
The Pohang Museum of Steel Art: An artistic exploration of steel, this museum combines art and industry in a unique way.
Songdo Beach: Another of Pohang's beautiful beaches, Songdo is perfect for water sports and sunbathing.
Gyeongju Day Trip: Located close to Pohang, the historic city of Gyeongju offers tombs, temples, and ruins from the Silla dynasty.
Guryongpo Lighthouse: Capture stunning views of the coastline and deep blue sea from this iconic lighthouse.
Gwamegi Festival: Celebrate Pohang's culinary heritage at this annual festival that pays homage to gwamegi, a half-dried herring dish.
Pohang International Fire & Light Festival: Be enchanted by spectacular firework displays and lighting installations during this vibrant event.
Wolpo Beach: A lesser-known gem, Wolpo Beach is ideal for those seeking a more secluded beach experience.
Jeokbyeokgang Cliffs: Marvel at the breathtaking natural rock formations that rise majestically above the sea.
The Pohang War Memorial: Pay your respects and learn about the sacrifices made during the Korean War.
Mulgeonri Reed Fields: Wander through these expansive fields, home to migratory birds and a serene atmosphere.
Pohang Aquarium: Experience marine life up close, from colorful fish to larger sea creatures, at this educational center.
Yeongildae Beach: Popular among locals and tourists alike, this beach comes alive in the evenings with food stalls and live performances.
Guryongpo Peninsula: A great spot for a leisurely drive or a bike ride, offering picturesque views of the coastline.
Pohang Canal: Stroll or cycle along the canal, especially beautiful during sunset with reflections of the city lights.
Unification Park: Home to a retired navy ship and submarine, this park offers insights into South Korea's maritime defense history.
Yeongil Bay: Ideal for picnics and family outings, the bay area offers serene sea views and a breezy ambiance.
Norae Sarangbang Karaoke: Embrace Korean pop culture by singing your heart out in one of Pohang's popular karaoke rooms.
Pohang Iron Bridge: A testament to the city's steel industry, this bridge is also a fantastic spot for photography, especially during sunset.
Dine at a local seafood restaurant: Experience the rich flavors of the East Sea by indulging in seafood dishes like raw fish, abalone porridge, and clam soups.
Bulguksa Temple and Seokguram Grotto: A short trip from Pohang, these UNESCO World Heritage Sites are a must-visit for their spiritual and architectural significance.
Daesindong Ancient Tombs: Explore the historical essence of Pohang with these ancient burial grounds from the Silla period.
Pohang Science Museum: Engage with interactive exhibits and deepen your understanding of various scientific concepts at this modern facility.
Pohang Stadium: Feel the local sports spirit by catching a football match or event at this contemporary stadium.
From the serenity of ancient temples to the hustle and bustle of lively markets, Pohang offers a diverse range of experiences for travelers. Each of these 33 things to do encapsulates a different facet of this charming city, ensuring that every visitor finds something that resonates with their interests.
What To Eat and Drink in Pohang, South Korea
Pohang's location on the eastern coast of South Korea blesses it with an abundance of seafood, making it a haven for gastronomes. Beyond just seafood, the city also offers a variety of other delightful Korean dishes and beverages. Dive into the culinary delights of Pohang with this comprehensive guide.
1. Gwamegi (Half-Dried Pacific Herring or Saury)
One of Pohang's signature dishes, gwamegi is made by drying either Pacific herring or saury during the winter. The process gives the fish a unique texture—somewhere between fresh and fully dried. It's usually eaten with fresh vegetables, garlic, and chili paste (gochujang) or served with hot rice.
2. Snow Crab
Jumunjin, a district within Pohang, is particularly renowned for its snow crab. The crab is either steamed to perfection, retaining its natural flavor and sweetness, or used in various dishes, including stews and soups.
3. Agujjim (Steamed Monkfish)
Originally from Masan, this dish has also become popular in Pohang. Agujjim is made of monkfish and bean sprouts, seasoned with soy sauce, gochujang, and various spices. The dish offers a wonderful combination of the delicate flavors of the fish and the spiciness of the sauce.
4. Grilled Eel
A popular dish throughout Korea, in Pohang, eel is often grilled with a special marinade and served over rice. Rich in vitamins and known for its stamina-boosting properties, eel is a favorite, especially during the hot summer months.
5. Hoe (Raw Fish)
Being a coastal city, Pohang offers some of the freshest seafood in the country. Hoe is thinly sliced raw fish, often served with side dishes like kimchi, fresh vegetables, and a dipping sauce made from soy sauce and wasabi. The texture and taste of the fish, paired with the sharpness of the wasabi, make for a delectable combination.
6. Makgeolli
While this fermented rice beverage is popular throughout Korea, the coastal influence of Pohang might introduce you to unique seafood pairings. The milky, slightly carbonated drink has a subtle sweetness that complements the flavors of Pohang's seafood.
7. Soju
No list about Korean beverages would be complete without mentioning soju, the ubiquitous Korean spirit. Typically distilled from rice or grains, soju is often enjoyed with meals and is a staple of Korean dining culture.
8. Seaweed Soup (Miyeok-guk)
Traditionally eaten on birthdays, this nutritious soup made from seaweed is believed to provide health benefits, including good skin and detoxification.
9. Tteokbokki with Seafood
While tteokbokki (spicy rice cakes) is a popular street food all over Korea, in Pohang, it's not uncommon to find versions enhanced with fresh seafood, adding depth to the dish.
10. Bingsu
For dessert, try bingsu, a shaved ice dish topped with various ingredients like sweet red beans, fruit, and condensed milk. In Pohang, you might find variants topped with local fruits or even seafood-inspired flavors.
11. Local Teas
Korea boasts a variety of traditional teas. In Pohang, look for establishments that serve teas made from local ingredients, such as barley, ginger, or jujube. These teas not only warm the soul but are also believed to offer health benefits.
12. Pajeon (Korean Pancake)
A perfect accompaniment to a rainy day, Pajeon is a savory pancake made with scallions. The seafood version, Haemul Pajeon, is loaded with various seafood and is especially popular in Pohang.
13. Dongdongju
Similar to makgeolli but with rice grains left in, dongdongju is a delightful, slightly fizzy traditional drink often served in a bowl. Pair it with pajeon for a classic Korean combo.
14. Grilled Shellfish
Being a coastal city, Pohang's selection of fresh shellfish is commendable. Clams, mussels, and scallops are grilled right at your table and best enjoyed with a splash of lemon or a dab of chili paste.
15. Janchi Guksu
Translating to "banquet noodles", this dish features thin wheat noodles in a light broth, often garnished with vegetables and seafood. It's a simple yet flavorful dish, symbolizing celebration and festivity.
Pohang offers a rich tapestry of flavors, from its seafood delicacies to traditional Korean fare. To truly appreciate the essence of the city, indulge in its culinary offerings, each telling a story of the sea, the land, and the people who call Pohang home.

source: Adrienne Hill on YouTube
Top Restaurants In Pohang, Korea
While Pohang is renowned for its industrial prowess, beneath the facade lies a culinary haven that embraces both its coastal location and the rich Korean gastronomic tradition. Here's a detailed guide to some of the top restaurants in Pohang that serve an array of dishes, from traditional Korean feasts to fresh seafood delights:
1. Guryongpo Jumunjin Halmae Agujjim
Specialty: As the name suggests, this restaurant is renowned for its Agujjim (Steamed Monkfish).
Ambiance: Traditional Korean setting with floor seating.
Must-try: Besides the Agujjim, their spicy seafood soup is a favorite among locals and tourists alike.
2. Hoe Center
Specialty: Freshly caught and sliced Hoe (Raw Fish).
Ambiance: A straightforward establishment, the restaurant's charm lies in its ultra-fresh seafood offerings.
Must-try: The assorted raw fish platter, which gives diners a taste of various local catches.
3. Pohang Jukdo Market Food Alley
Specialty: A variety of street foods and traditional dishes.
Ambiance: Bustling with energy, this market offers a genuine taste of Pohang's everyday culinary scene.
Must-try: Tteokbokki with seafood, Gwamegi, and freshly made Kimbap.
4. Hyundae Gwamegi
Specialty: Gwamegi, the half-dried Pacific Herring.
Ambiance: Modern interiors combined with traditional Korean touches.
Must-try: Their Gwamegi served with an assortment of side dishes is a culinary journey not to be missed.
5. Jeongdongjin Snow Crab
Specialty: Fresh Snow Crab.
Ambiance: A coastal establishment with serene views of the ocean, perfect for a seafood feast.
Must-try: Steamed snow crab, which retains the sweet, delicate flavors of the crab.
6. Maemul Soon Dubu
Specialty: Soft Tofu Stew.
Ambiance: This cozy eatery offers an intimate dining experience with traditional floor seating.
Must-try: The seafood soft tofu stew, which combines the silkiness of tofu with the richness of seafood.
7. Chamsutgol BBQ House
Specialty: Korean Barbecue.
Ambiance: A lively atmosphere where patrons can grill their meat to perfection at the table.
Must-try: Marinated beef ribs and thinly sliced pork belly, paired with an array of side dishes.
8. Okdongsik Coffee Shop
Specialty: Coffee and Korean desserts.
Ambiance: A blend of modern cafe aesthetics with traditional Korean elements, offering a serene space to relax.
Must-try: Their hand-drip coffee paired with a traditional Korean rice cake.
9. Yongho Jeonbok Abalone Restaurant
Specialty: Abalone dishes.
Ambiance: A traditional setup focusing on Korea's rich culinary tradition.
Must-try: Abalone porridge, a creamy, rich dish known for its health benefits.
10. Mulnaengmyeon Street
Specialty: Cold Noodle Soup.
Ambiance: A collection of eateries in a street dedicated to Mulnaengmyeon.
Must-try: The classic cold buckwheat noodles in a chilled broth, perfect for a hot day.
Pohang's dining scene reflects its coastal charm, historical roots, and the vibrant, ever-evolving culinary landscape of Korea. Whether you're a seasoned foodie or just a curious traveler, the city's restaurants promise a delightful gastronomic journey that caters to both traditional and contemporary palates.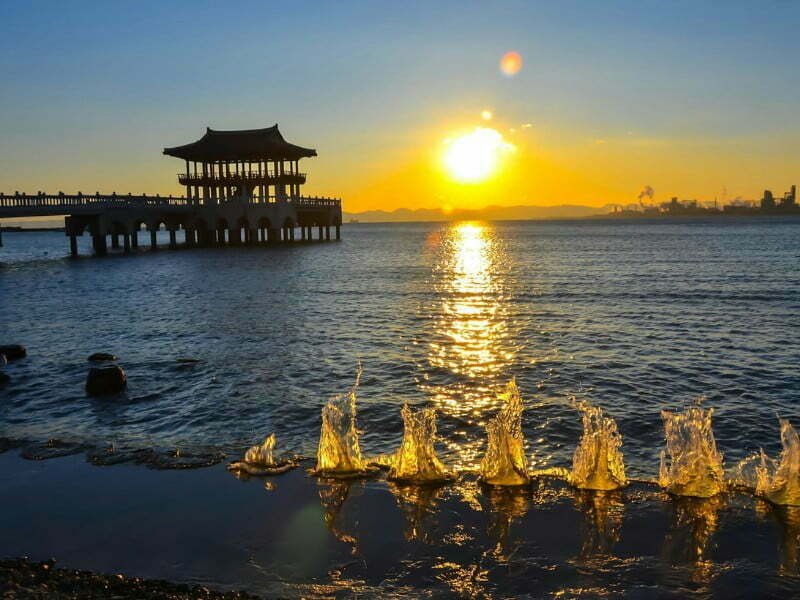 Tours For Visitors To Pohang, Korea
Pohang, Korea is a city that is full of surprises, and there are plenty of amazing tours that will take you on a journey through its rich culture and history. Here are the top tours that you should not miss when visiting Pohang:
Homigot Sunrise Tour: Witness the breathtaking sunrise at Homigot, the easternmost point of the Korean peninsula. This tour will take you on a scenic drive along the coast and offer you the chance to capture stunning views of the sea and sky as the sun rises over the horizon.
Oryukdo Skywalk and Gamcheon Culture Village Tour: This tour takes you on a journey through Busan, where you can walk along the breathtaking Oryukdo Skywalk, a glass-bottomed walkway that offers an incredible view of the ocean. After that, you will visit the charming Gamcheon Culture Village, known for its colorful houses and narrow streets.
Pohang Traditional Market and Jukdo Market Tour: Explore the vibrant local markets of Pohang on this tour, where you can shop for traditional Korean souvenirs, fresh produce, and delicious street food. The tour also includes a visit to Jukdo Market, where you can try fresh seafood caught by local fishermen.
Yeongildae Beach and Cheongho-dong Cultural Village Tour: This tour takes you to Yeongildae Beach, one of the most beautiful beaches in Korea, where you can soak up the sun and swim in crystal clear waters. After that, you will visit Cheongho-dong Cultural Village, where you can learn about the history and culture of Pohang through traditional Korean houses and exhibits.
Pohang Steelworks and POSCO Museum Tour: Get an insight into the industrial side of Pohang on this tour, where you can visit the Pohang Steelworks, one of the largest steel mills in the world. The tour also includes a visit to the POSCO Museum, where you can learn about the history and achievements of POSCO, one of the leading steel manufacturers in the world.
Pohang offers a variety of tours that cater to every interest, whether it's culture, history, or nature. Each tour is unique and offers an unforgettable experience that will make your visit to Pohang even more memorable.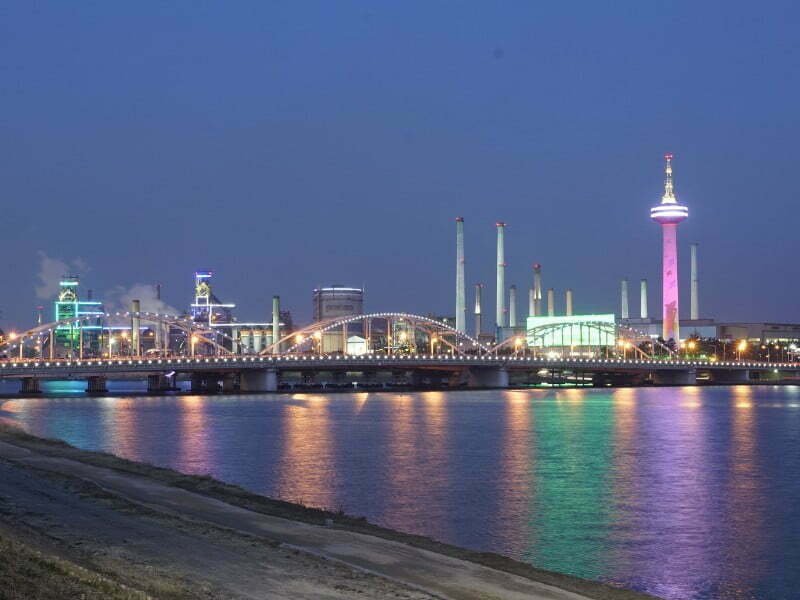 Pohang Accommodations Guide: Hotels, Guesthouses and Hostels
I am thrilled to share with you a guide that will help you find the best accommodations for your stay.
Pohang is a city that is bursting with life and character, and it's crucial that you choose the perfect place to rest your head at night to fully experience all it has to offer. Whether you're looking for budget-friendly options or luxurious getaways, Pohang has it all.
Hotels are a popular choice for those who want to indulge in top-notch facilities and services, and Pohang has some of the best around. Imagine yourself lounging by the pool, dining in one of the finest restaurants in town, and waking up in the comfort of your plush hotel room at the Hilton Pohang, Lotte Hotel Pohang, or the Ramada Hotel Pohang.
For those on a budget, motels are a fantastic option that won't break the bank. You can find many motels in and around the city center, including the popular Hotel Flamingo and the Hotel Love.
If you prefer a more personal touch to your accommodation, guesthouses are an excellent choice. Pohang has many guesthouses located in the city center and near popular tourist attractions. Imagine being welcomed with open arms at the Pohang Guesthouse or the Guesthouse K.
For an authentic experience, nothing beats staying with a local family through a homestay program. Experience the local culture and cuisine of Pohang by booking through websites such as Airbnb and Homestay.com.
If you're an outdoor enthusiast, camping is the perfect way to immerse yourself in the natural beauty of Pohang. You can pitch a tent at the Yeongildae Beach Campsite or the Homigot Sunrise Park Campsite and wake up to breathtaking views.
No matter what kind of accommodation you choose, book in advance to ensure availability, especially during peak tourist seasons. Let the passion of Pohang captivate you and enjoy your stay to the fullest!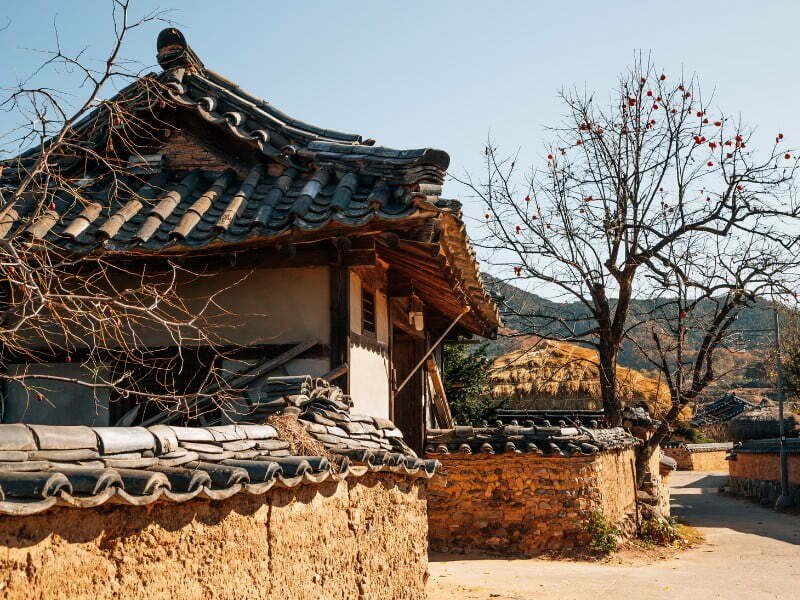 Day Trips From Pohang, South Korea
Pohang's coastal location and proximity to several cultural and natural wonders make it a prime base for day excursions. Whether you're looking for historical sites, natural beauty, or bustling urban landscapes, the region surrounding Pohang has a variety of destinations to offer.

source: Samuel and Audrey on YouTube
1. Gyeongju
Distance: Approximately 30 kilometers south of Pohang.
Overview: Often referred to as "the museum without walls," Gyeongju was the capital of the ancient Silla Kingdom. It's packed with historical and cultural heritage sites.
Highlights:

Bulguksa Temple: A UNESCO World Heritage site, this temple is an architectural marvel of the Silla era.
Seokguram Grotto: Located near Bulguksa, this artificial grotto houses a magnificent statue of Buddha.
Gyeongju National Museum: Gain insight into the rich history and artifacts of the Silla dynasty.
Royal Tombs: Explore the vast burial mounds of Silla monarchs.
2. Ulsan
Distance: Roughly 55 kilometers southeast of Pohang.
Overview: Ulsan is a coastal city known for its beaches, industrial complexes, and petrochemical hubs.
Highlights:

Taehwagang National Garden: A serene place with beautifully landscaped gardens and a bamboo grove.
Daewangam Park: A seaside park with walking trails offering panoramic views of the East Sea.
Petroglyphs of Bangudae: Ancient rock carvings offering a glimpse into prehistoric South Korea.
3. Andong
Distance: Approximately 90 kilometers west of Pohang.
Overview: Andong is known as the "Capital City of Korean Spiritual Culture" and offers a deep dive into traditional Korean culture and heritage.
Highlights:

Andong Hahoe Folk Village: A UNESCO World Heritage site, this village has preserved the Joseon-era homes and traditions.
Andong Hanji Paper Factory: Witness the traditional process of making Hanji, Korean handmade paper.
Woryeonggyo Bridge: The longest footbridge in Korea, it offers a scenic view of the Nakdong River.
4. Juwangsan National Park
Distance: Roughly 100 kilometers northwest of Pohang.
Overview: This national park is renowned for its beautiful valleys, dense forests, and unique rock formations.
Highlights:

Daejeonsa Temple: Nestled within the park, it's a peaceful retreat.
Jusanji Pond: A tranquil pond surrounded by lush greenery and misty mountains.
Juwangsan Mountain: Offers several hiking trails with picturesque views.
5. Yeongdeok
Distance: About 80 kilometers north of Pohang.
Overview: A coastal town known for its snow crabs, Yeongdeok offers beautiful seascapes and seafood delicacies.
Highlights:

Yeongdeok Snow Crab Market: Savor the region's specialty crab dishes.
Wind Power Theme Park: Offers an insight into renewable energy and panoramic sea views.
Yeongdeok Sunrise Park: A great spot to catch the early morning sunrise.
6. Ulleungdo Island
Distance: It requires a ferry ride from Pohang Passenger Terminal, typically around 3 hours.
Overview: Located in the middle of the East Sea, this volcanic island is known for its rugged landscapes, dense forests, and mysterious caves.
Highlights:

Dokdo Museum: Learn about the history and significance of the Dokdo islands.
Nari Basin: A caldera that has transformed into a scenic grassland.
Seacoast Tour: Experience the pristine waters and intricate coastline.
7. Mungyeong
Distance: About 140 kilometers west of Pohang.
Overview: Mungyeong is known for its ancient mountain passes, traditional tea culture, and beautiful terrains that make it an ideal place for hiking and enjoying nature.
Highlights:

Mungyeong Saejae: An ancient mountain pass and now a provincial park, it was historically one of the main routes connecting Seoul and Busan.
Mungyeong Traditional Chasabal Festival: Celebrate the pottery and tea culture of Korea.
Mungyeong Coal Museum: Understand the coal mining history of the region.
8. Bonghwa
Distance: About 110 kilometers northwest of Pohang.
Overview: Bonghwa is a picturesque county surrounded by mountains and rivers, making it a hub for nature enthusiasts and those seeking a tranquil escape.
Highlights:

Buncheon Train Station: Part of the "Train to Nowhere" tour, it offers scenic train rides along the Bonghwa Buncheon Line.
Sungbo Museum: Learn about the folklore and fairy tales of Korea.
Naeseongcheon River: Famous for its crystal-clear waters, ideal for fishing and relaxation.
9. Geoje Island
Distance: Approximately 180 kilometers south of Pohang.
Overview: Geoje Island, connected to the mainland by two bridges, is the second-largest island in Korea and is known for its scenic beaches, shipbuilding yards, and historic sites.
Highlights:

Haegeumgang: Rocky cliffs emerging from the sea, it's a prime spot for boat tours.
Oedo-Botania: A marine botanical garden offering beautiful landscapes.
Historical Park of Geoje POW Camp: Offers insight into the life of prisoners during the Korean War.
10. Tongyeong
Distance: About 200 kilometers south of Pohang.
Overview: Often dubbed as the "Naples of Korea", Tongyeong is a coastal city known for its seafood, particularly oysters, and its vibrant marine culture.
Highlights:

Tongyeong Jungang Market: Delight in fresh seafood and the famous Tongyeong honey bread.
Hallyeosudo Viewing Ropeway: Experience panoramic views of the surrounding islands and waters.
Dongpirang Village: A hillside village with colorful murals and art installations.
These additional locales offer a mix of history, nature, and culture, further showcasing the richness and diversity of the regions surrounding Pohang. From the mountainous terrains of Mungyeong to the serene waters of Geoje, day-trippers have a plethora of options to make the most of their Korean adventure.
The regions surrounding Pohang offer a mix of historical richness, natural beauty, and cultural exploration. These destinations ensure that travelers can experience the diversity and depth of South Korea's landscape and heritage, making Pohang an ideal base for these excursions.
Pohang Transportation Guide
Pohang is a bustling coastal city located in South Korea, and as with any urban center, efficient transportation is crucial to its economic, social, and cultural vitality. In this paper, we will explore the various transportation options available to visitors and residents of Pohang.
First and foremost, Pohang boasts an extensive and affordable public transportation system consisting of buses and taxis. The bus network covers many major landmarks and attractions within the city, and a T-Money card can be purchased and recharged at convenience stores throughout the area. Meanwhile, taxis are a readily available and efficient mode of transportation, particularly for shorter distances or urgent travel needs.
In addition to the aforementioned modes of transportation, Pohang also offers a subway system that connects the city center with nearby towns and cities. This option is both affordable and efficient, with single-use tickets and rechargeable cards available for purchase at subway stations.
For those who prefer a more eco-friendly and active mode of transportation, Pohang Bike, a bike-sharing system, is available for rental at various stations throughout the city. This system is particularly useful for exploring Pohang's beautiful coastline and scenic areas.
Moreover, for those who desire the convenience and independence of a personal vehicle, car rentals are available at both the airport and rental agencies located throughout the city. It should be noted, however, that traffic can be heavy during peak hours and parking can be limited in certain areas.
The transportation options available in Pohang provide a range of choices for visitors and residents alike, catering to diverse needs and preferences. Understanding and utilizing these options is essential for navigating the city effectively, and allows individuals to fully explore all that this vibrant urban center has to offer.

source: Pohang.guy.포항.아재 on YouTube
Pohang 1 Day Travel Itinerary
Pohang, with its rich maritime legacy, industrial importance, and stunning natural beauty, offers an array of experiences for travelers. In just one day, you can get a taste of its vibrant culture, delicious cuisine, and scenic landmarks. Here's a detailed guide to making the most of 24 hours in Pohang:
Morning:
1. Sunrise at Homigot Sunrise Square
Time: 5:00 AM – 6:30 AM
Overview: Start your day early at one of the easternmost points of South Korea, renowned for its breathtaking sunrises. Homigot is also famous for its "Hand of Harmony" sculptures – a pair of hands emerging from the sea and the land.
Tip: Bring a light jacket or blanket as it might be chilly during the early hours, even in summer.
2. Breakfast at a Local Eatery
Time: 7:00 AM – 8:00 AM
Overview: After the sunrise, head to a nearby traditional restaurant for a hearty Korean breakfast.
Must-try: "Juk" (Korean porridge) or "Gukbap" (rice soup).
3. Pohang Canal Tour
Time: 8:30 AM – 10:00 AM
Overview: Explore the city's waterways and get a unique perspective of Pohang from the water. You'll pass by some of the city's major sites, including its impressive steel bridges.
Tip: Wear a hat and sunscreen, as the boat ride can get sunny.
Mid-Day:
4. Visit Pohang Steel Art Museum
Time: 10:30 AM – 12:00 PM
Overview: Dive deep into Pohang's steel-making history. The museum combines art with industry, providing insights into the steel-making process and displaying steel-based artworks.
Tip: Don't miss the interactive exhibits.
5. Lunch at Pohang Jukdo Market
Time: 12:30 PM – 2:00 PM
Overview: Experience the hustle and bustle of one of the largest seafood markets in Korea. The market offers a variety of eateries where you can taste fresh seafood and local dishes.
Must-try: "Gwamegi" (semi-dried herring or saury), fresh "Hoe" (sashimi), and spicy seafood stews.
Afternoon:
6. Relax at Yeongildae Beach
Time: 2:30 PM – 4:00 PM
Overview: Take a leisurely stroll along this popular sandy beach, or if you're visiting during the warmer months, take a dip in the sea.
Tip: You can rent parasols and beach mats if you wish to relax longer.
7. Explore Bogyeongsa Temple
Time: 4:30 PM – 6:00 PM
Overview: Located amidst lush mountains, this ancient temple offers serenity and historical significance. Not far from the temple are the Bogyeongsa waterfalls, a series of twelve falls cascading down the mountainside.
Tip: Wear comfortable shoes as there's a bit of hiking involved to reach the temple and the waterfalls.
Evening:
8. Dinner in a Traditional Korean Restaurant
Time: 6:30 PM – 8:00 PM
Overview: Enjoy a sumptuous Korean meal to end your day of exploration.
Must-try: "Bulgogi" (marinated and grilled beef), "Samgyeopsal" (pork belly barbecue), or a seafood dish, given Pohang's coastal location.
9. Night View at POSCO Bridge
Time: 8:30 PM – 9:30 PM
Overview: The illuminated bridge over the Hyeongsan River offers a mesmerizing view of the city's skyline. The bridge stands as a testament to Pohang's steel industry.
Tip: Ideal for photography enthusiasts.
10. Pohang Night Market & Street Food Tour
Time: 10:00 PM – 11:30 PM
Overview: No trip to a Korean city is complete without experiencing its night market. Indulge in an array of street foods, shop for souvenirs, and immerse yourself in the local nightlife.
Must-try: "Tteokbokki" (spicy rice cakes), "Hotteok" (sweet pancakes), and "Odeng" (fish cake skewers).
Wrap-Up: Head back to your accommodation for a well-deserved rest, taking with you memories of a day well spent in Pohang.
This itinerary offers a mix of cultural, historical, and recreational activities, giving travelers a comprehensive experience of Pohang in just one day. Adjustments can be made based on individual preferences and travel pace.

source: Your Korean Friend on YouTube
Pohang 3-4 Days Travel Itinerary
Spanning three to four days in Pohang allows for a deeper exploration of the city's nuances, its surrounding regions, and offers a balanced mix of relaxation and adventure. Here's a detailed itinerary:
Day 1: Delving Deep into Pohang's Heart
Morning:
Homigot Sunrise Square: Start your journey with the sunrise and witness the iconic "Hand of Harmony".
Breakfast at a traditional eatery: Savor "Juk" (Korean porridge) or "Gukbap" (rice soup).
Mid-Day: 3. Pohang Canal Tour: A 90-minute tour showcasing the city's landmarks from the water.
Lunch at Jukdo Market: Indulge in fresh seafood dishes like "Gwamegi" and spicy seafood stews.
Afternoon: 5. Pohang Steel Art Museum: Understand Pohang's steel-making legacy.
Yeongildae Beach: Enjoy the seaside ambiance and maybe a short nap!
Evening: 7. Dinner at a seafood restaurant: Given Pohang's coastal location, seafood is a must-try.
POSCO Bridge Night View: Witness the city light up.
Day 2: Nature and Spirituality
Morning:
Bogyeongsa Temple: Start early and explore the temple grounds.
Bogyeongsa Waterfalls: A series of 12 falls cascading down the mountainside.
Mid-Day: 3. Lunch at a local eatery near Bogyeongsa: Try "Bibimbap" or "Dolsot Bibimbap".
Afternoon: 4. Naeyeonsan Mountain Park: Hike and explore the park's waterfalls and scenic views.
Ocheon Stream: A relaxing spot to enjoy the view and perhaps some bird-watching.
Evening: 6. Dinner at a traditional Korean restaurant: Go for "Samgyeopsal" (pork belly barbecue).
Stroll in Central Pohang: Enjoy the city's nightlife.
Day 3: Historical and Coastal Adventures
Morning:
The Independence Hall of Korea: Delve into Korea's tumultuous history.
Breakfast at a café nearby: Enjoy some Korean pastries with a warm beverage.
Mid-Day: 3. Lunch at Jukdo Market: Try different stalls and taste varying dishes.
Pohang Modern History Museum: Get an insight into the city's transformation in the last century.
Afternoon: 5. Chilpo Beach: Relax and enjoy the coastal beauty.
Chilpo Aquarium: Explore marine life native to the region.
Evening: 7. Dinner at a coastal eatery: Savor dishes made from the day's fresh catch.
Night Market Exploration: Street foods and late-night shopping spree.
Day 4: Surrounding Excursions and Farewell
Morning:
Day Trip to Gyeongju: Explore Bulguksa Temple and Seokguram Grotto.
Brunch in Gyeongju: Try "Hwangnam-bbang", a local bread filled with sweet red bean paste.
Mid-Day: 3. Anapji Pond: Located in Gyeongju, it offers serene views and historical context.
Lunch at a traditional restaurant in Gyeongju: Opt for "Ssambap" (rice with vegetable wraps).
Afternoon: 5. Return to Pohang: Rest at your accommodation or explore nearby areas.
Souvenir Shopping: Buy some local goods, crafts, or snacks to take home.
Evening: 7. Farewell Dinner at Pohang's best seafood restaurant: A culinary conclusion to your journey.
Nighttime stroll on the beach: Reflect on your travel experiences in Pohang.
This 3-4 day itinerary offers a blend of cultural, historical, recreational, and gastronomical experiences. It's designed to provide travelers with a comprehensive view of Pohang and its surrounding regions. Always adjust based on individual preferences and pace. Safe travels and enjoy Pohang to the fullest!

source: Daria Parkkk on YouTube
Pohang 1 Week Travel Itinerary
A week in Pohang provides a fantastic opportunity to immerse oneself in the unique blend of coastal charm, industrial prowess, cultural richness, and surrounding natural beauty. This itinerary will guide you through a balanced blend of relaxation, exploration, and authentic cultural experiences.
Day 1: Introduction to Pohang
Morning:
Homigot Sunrise Square: Begin with the ethereal sunrise and the iconic "Hand of Harmony".
Breakfast at a local eatery: Sample Korean porridge ("Juk") or "Gukbap".
Afternoon: 3. Pohang Canal Tour: A guided waterway tour around Pohang's landmarks.
Lunch at Jukdo Market: A seafood lover's paradise.
Evening: 5. Pohang Steel Art Museum: Explore the steel heritage.
Dinner at a Korean BBQ restaurant: Try "Samgyeopsal".
Day 2: Nature and Exploration
Morning:
Bogyeongsa Temple: Experience serenity and historical ambiance.
Breakfast at the temple's vicinity: Traditional temple food.
Afternoon: 3. Bogyeongsa Waterfalls: Marvel at the cascade series.
Lunch in the nearby village: Relish local specialties.
Evening: 5. Naeyeonsan Mountain Park: Hike and immerse in the views.
Dinner at a hillside eatery: Korean stews and soups.
Day 3: Pohang's Beach Vibes
Morning:
Yeongildae Beach: Beach activities and sunbathing.
Brunch at a seaside café: Enjoy ocean views.
Afternoon: 3. Chilpo Beach: Experience a less crowded coastal setting.
Chilpo Aquarium: Explore the marine life.
Evening: 5. POSCO Bridge Night View: City lights and photography.
Dinner at a coastal seafood restaurant.
Day 4: Delve into History and Culture
Morning:
The Independence Hall of Korea: Korean history at its core.
Breakfast at a nearby café: Korean bakery treats.
Afternoon: 3. Pohang Modern History Museum: Witness the city's modern transformation.
Lunch at Jukdo Market: Explore more stalls and dishes.
Evening: 5. Central Pohang Stroll: Feel the city's pulse and shop.
Dinner at a traditional Hanok restaurant.
Day 5: Day Trip to Gyeongju
Morning:
Bulguksa Temple and Seokguram Grotto: UNESCO World Heritage sites.
Brunch in Gyeongju: "Hwangnam-bbang" and local teas.
Afternoon: 3. Anapji Pond: Historical insights and tranquility.
Gyeongju National Museum: Delve deeper into Korea's Silla Dynasty.
Evening: 5. Tumuli Park: Explore royal tombs from the Silla era.
Dinner in Gyeongju: "Ssambap" and "Makgeolli" (rice wine).
Day 6: Industrial Insights and Local Life
Morning:
POSCO Factory Tour: Witness the steel production.
Breakfast in an industrial district eatery: Local dishes.
Afternoon: 3. Attend a Local Workshop: Try traditional crafts or pottery.
Lunch at a downtown restaurant: Fusion Korean cuisine.
Evening: 5. Explore the Arts District: Galleries, theaters, and performances.
Dinner at an upscale Korean fusion restaurant.
Day 7: Farewell Pohang
Morning:
Ocheon Stream: Relaxing morning, possibly try fishing.
Brunch at a riverside café.
Afternoon: 3. Souvenir Shopping: Local crafts, snacks, and gifts.
Pohang Harbor Tour: Get a different perspective of the city.
Evening: 5. Last visit to Yeongildae Beach: Reflect and relax.
Farewell Dinner at Pohang's finest: Seafood specialties and drinks.
This one-week itinerary offers an in-depth view of Pohang, balancing urban experiences, historical sites, natural attractions, and indulgent gastronomic journeys. Adjust the plan based on preferences, pace, and local events or festivals that may be taking place during the visit. Safe travels and enjoy every moment in Pohang!

source: Tastes Seoul Good테이스트서울굿 on YouTube
Pohang 1 Month Travel Itinerary
Spending a month in Pohang is a splendid opportunity to not only see the popular tourist spots but also to truly immerse oneself in the local culture, experience day-to-day life, venture deeper into the surrounding regions, and even engage in some unique activities. This month-long itinerary aims to offer a blend of diverse experiences.
Week 1: Introduction and Immersion
Days 1-3: Getting Acquainted
Homigot Sunrise Square
Yeongildae Beach
POSCO Factory Tour
Pohang Canal Tour
Days 4-5: Cultural Exploration
Bogyeongsa Temple
Bogyeongsa Waterfalls
Pohang Modern History Museum
Visit traditional Hanok villages
Days 6-7: Local Living and Leisure
Stay at a local's home (Homestay)
Learn basic Korean phrases
Attend local community events or village festivals
Week 2: Nature and Adventure
Days 8-10: Trekking and Exploring
Naeyeonsan Mountain Park
Ocheon Stream fishing experience
Chilpo Beach
Chilpo Aquarium
Days 11-12: Road Trips Outside Pohang
Visit nearby towns and attractions
Engage in rural experiences
Days 13-14: Relaxation and Reflection
Visit local spas and saunas (Jimjilbang)
Write a travel journal or start a vlog
Week 3: Deep Diving into Culture and History
Days 15-17: Extended Gyeongju Trip
Bulguksa Temple and Seokguram Grotto
Gyeongju National Museum
Tumuli Park
Days 18-20: Engage in Local Activities
Join workshops for Korean pottery or crafts
Cooking classes for traditional dishes
Days 21-22: Festivals and Performances
Attend local theater performances or concerts
Visit during a festival, if dates align, for cultural insights
Day 23-24: Spiritual Journey
Meditation retreat at a local temple
Experience a Templestay program
Week 4: Culmination and Exploration
Days 25-26: Nearby Provinces and Towns
Explore Ulsan's industrial sites
Daegu's traditional markets and modern shopping areas
Days 27-28: Return to Pohang and Venture Further
Revisit your favorite places
Explore off-the-beaten-path attractions
Days 29-30: Engage in Community
Volunteer opportunities in local communities
Engage in beach cleanup or tree planting activities
Days 31: Farewell Pohang
Hold a small gathering with friends you made
Gift exchange and photography session
Farewell dinner with local delicacies
Staying in Pohang for a month allows one to truly embrace the city's rhythm, its people, culture, and landscapes. By the end of the month, one won't just be a tourist but someone who has forged memories and connections with the land and its people. Remember, it's always beneficial to have flexibility in the itinerary, as spontaneous experiences can often become the most treasured memories. Safe travels and enjoy your extended stay in Pohang!

source: Kayla Cosmos on YouTube
Is Pohang A Safe City To Visit?
Pohang, located on the eastern coast of South Korea, is a city that has been welcoming tourists for many years. As with any destination, understanding the safety context is crucial for a well-informed trip. Here's a detailed look into the safety of visiting Pohang:
General Safety: Pohang, like much of South Korea, boasts a relatively low crime rate, especially when it comes to violent crimes. The city is generally considered safe for tourists. Residents are typically respectful, and the local police force is reliable. As with anywhere, it's always advisable to maintain common-sense precautions, like not leaving belongings unattended.
Safety for Solo Travelers: Solo travelers, including women, often find Pohang safe to navigate. Daytime explorations are typically trouble-free, and even nighttime activities can be safely enjoyed, provided one sticks to well-lit areas and avoids overly secluded spots.
Cultural Considerations: South Korea possesses a distinct cultural ethos. While Pohang is more accustomed to tourists than some of the more remote Korean locales, being respectful and aware of local customs and traditions is a part of traveling safely and harmoniously. For instance, dressing modestly at religious or traditional sites, avoiding loud or disruptive behavior, and being polite can make your trip smoother and more enjoyable.
Traffic Safety: While pedestrian-friendly in many areas, always be cautious when crossing streets in Pohang. Drivers can sometimes be fast, and traffic rules might differ from what one is accustomed to in their home country. Always use pedestrian crossings and obey traffic lights.
Natural Hazards: Pohang's geographical location makes it susceptible to occasional earthquakes and typhoons. While the city infrastructure is built to withstand such natural events, always staying updated on weather forecasts and having a basic emergency plan can be beneficial.
Health and Medical Safety: Medical facilities in Pohang are modern and efficient. However, it's essential to have travel insurance in case of emergencies. Also, while the city's tap water is technically safe to drink, those with sensitive stomachs may opt for bottled water to avoid any minor ailments.
Scams and Petty Theft: While instances of scams targeting tourists are infrequent in Pohang, maintaining a general awareness is vital. Always be wary of overly persistent street vendors or unsolicited offers that seem too good to be true.
Language Barrier: While English is not widely spoken by everyone in Pohang, especially the older generation, most signage includes English translations, and younger residents often have a basic grasp of the language. Using translation apps, carrying a phrasebook, or learning some basic Korean phrases can enhance interactions and avoid misunderstandings.
Pohang is a relatively safe city to visit. With a blend of modern amenities and rich cultural experiences, it offers tourists a comfortable environment. However, as always, staying aware, being respectful, and practicing common-sense precautions will ensure your trip is both enjoyable and safe.

source: Zona Zuma on YouTube
When Is The Best Time To Visit Pohang?
The best time to visit Pohang largely depends on your preferences regarding weather, events, and local attractions. Pohang, located on South Korea's east coast, experiences all four seasons, each bringing its unique charm. Here's a detailed breakdown of what to expect throughout the year:
Spring (April to June):
Weather: Spring in Pohang is pleasant with mild temperatures and blooming flowers. The cherry blossoms, a much-anticipated event throughout Korea, make their appearance, turning many parts of the city into picturesque landscapes.
Activities and Attractions:
Cherry Blossom Festivals: Streets lined with cherry blossom trees become major attractions. Parks and temples surrounded by these trees are especially scenic.
Outdoor Adventures: This is a great time for hiking and visiting local parks, such as the Naeyeonsan Mountain Park.
Seaside Activities: While the sea might still be a tad chilly for swimming, beachside walks and picnics can be enjoyable.
Considerations: Spring is a popular time for domestic travel in Korea, so some areas might be more crowded, especially during cherry blossom peaks.
Summer (July to August):
Weather: Summers in Pohang can be hot and humid, with temperatures often rising above 30°C (86°F). There's also the monsoon season, which brings heavy rainfall.
Activities and Attractions:
Beaches: Places like Yeongildae Beach become popular spots for swimming and sunbathing.
Water-based Activities: Try water sports or just relax by the coast.
Summer Festivals: Various events and festivals, often focused on music or the arts, take place during this season.
Considerations: Due to the school holidays, summer can be a peak travel season. Also, be prepared for the rainy spells and pack accordingly.
Autumn (September to November):
Weather: Arguably the best season in terms of weather, autumn brings cool, crisp air and clear skies. The fall foliage in Pohang is a treat for the eyes with vibrant shades of red, orange, and yellow.
Activities and Attractions:
Leaf Peeping: Mountains and parks in and around Pohang offer stunning views of the autumnal landscape.
Cultural Events: With the harvest season in full swing, various cultural and food festivals are held.
Outdoor Exploration: The moderate temperatures make it ideal for hiking, cycling, and other outdoor activities.
Considerations: Similar to spring, autumn is a favorite for many travelers, so popular spots can get crowded.
Winter (December to March):
Weather: Winters are cold, with temperatures often dropping below freezing. While Pohang doesn't receive as much snow as some other parts of Korea, it does see occasional snowfall.
Activities and Attractions:
Winter Festivities: Celebrate Korean Lunar New Year and participate in local traditions.
Indoor Activities: Explore museums, art galleries, and indoor attractions like the Pohang Steel Art Museum.
Winter Sea Views: The East Sea takes on a different charm in winter; enjoy tranquil, chilly beach walks.
Considerations: Dress warmly, as coastal winds can make it feel colder than the actual temperature.
The ideal time to visit Pohang largely depends on individual preferences. While spring and autumn are particularly favored for their temperate weather and natural beauty, summer offers beach activities, and winter brings a serene ambiance. Ensure you align your visit with any particular events, festivals, or seasonal activities you're keen on experiencing.

source: Mobile Traveler on YouTube
Top Festivals and Events in Pohang
Pohang, like much of South Korea, is rich in cultural events and traditions, each reflecting the city's history, culture, and spirit. These festivals offer a unique insight into local life, arts, and heritage, making them a must-visit for travelers. Here's an in-depth look at some of Pohang's top festivals and events:
1. Pohang International Fireworks Festival:
About: Pohang takes pride in hosting one of Korea's most significant fireworks festivals. This festival boasts an array of mesmerizing pyrotechnics set against the backdrop of the sea.
Activities: Apart from the main fireworks event, there are concerts, street performances, and local food stalls, ensuring entertainment for all ages.
When: Usually held in late July.
2. Pohang Steel Art Festival:
About: Celebrating Pohang's status as a steel production hub, this festival combines art with industry. Artists use steel as their medium to create stunning pieces.
Activities: Includes steel art exhibitions, workshops where attendees can make their own steel art, and cultural performances.
When: Dates vary, but it typically occurs in the fall.
3. Pohang Mullet Festival (Corvina):
About: The mullet, locally known as "gulbi," is one of the delicacies of Pohang. This festival celebrates the fish and its significance to the region.
Activities: Tasting events, fishing contests, cooking classes, and more.
When: Held in October.
4. Pohang Rock Festival:
About: This music festival celebrates rock music and has grown in popularity, attracting both domestic and international bands.
Activities: Multiple stages with varied rock genres, from indie to heavy metal. Plus, food stalls and merch booths.
When: Typically in the summer, around July or August.
5. Pohang Yeongil Bay Cherry Blossom Festival:
About: Celebrating the breathtaking beauty of cherry blossoms, this festival takes place around Yeongil Bay, an area lined with these stunning trees.
Activities: Cherry blossom viewing, photo contests, parades, cultural performances, and traditional games.
When: Spring, usually in early April, depending on the bloom.
6. Naeyeonsan Azalea Festival:
About: Held at Naeyeonsan Mountain, this festival is a celebration of the vibrant azaleas that blanket the mountain during this period.
Activities: Mountain hiking, photography, traditional performances, and local food stalls.
When: Spring, typically in April.
7. Pohang International Lighthouse Marathon:
About: A unique event that combines athleticism with scenic views, this marathon showcases Pohang's beautiful coastal paths.
Activities: Various race categories, including full marathon, half-marathon, and shorter races. Post-race events often include celebrations and local food.
When: Dates can vary, but it's often in late summer or early fall.
8. Pohang Winter Light Festival:
About: As winter descends, parts of Pohang light up with beautiful illumination displays, creating a magical ambiance.
Activities: Light shows, concerts, parades, and themed zones for children.
When: December through early January.
Pohang's festivals are a reflection of its culture, nature, and industry. Visiting during one of these events provides travelers with the chance to experience the city's vibrancy and immerse themselves in local traditions. Whether you're a lover of art, nature, food, or music, Pohang's diverse festivals offer something for every kind of traveler. Always check specific dates and schedules in advance, as they can vary slightly from year to year.

source: Life With Damsi on YouTube
Pohang Shopping Guide and Souvenir List
Pohang may be best known for its industrial contributions and scenic beauty, but it also has a vibrant shopping scene. From traditional crafts to modern designs, here's a comprehensive guide on where to shop and what souvenirs to bring home from Pohang.
Where to Shop in Pohang:
1. Jungang Market:
Overview: A traditional Korean market, Jungang offers a myriad of items, from fresh produce to apparel.
Specialty: Local foods, traditional Korean goods, and handmade items.
Location: Near downtown Pohang.
2. POSCO Street:
Overview: As the name suggests, it's close to the POSCO steel company. This street is lined with numerous shops and cafes.
Specialty: Trendy clothing stores, boutiques, and cafes.
3. Pohang Canal Shopping Street:
Overview: A refurbished area, this shopping district is filled with modern and traditional shops.
Specialty: Fashion boutiques, accessories, and artisanal cafes.
4. Dongbin Market:
Overview: Another traditional market in Pohang, it's less touristy than Jungang, offering an authentic local experience.
Specialty: Fresh seafood, local snacks, and traditional Korean products.
Souvenir List:
1. Pohang Steel Crafts:
Overview: Being the steel city, Pohang boasts artisanal items crafted from steel. These can range from sculptures to functional items.
Where to Buy: Local galleries, POSCO Museum shop, and some stalls in Jungang Market.
2. Pohang Gulbi (Dried Mullet):
Overview: A renowned delicacy, Pohang's dried mullet is considered one of the best in the country.
Where to Buy: Seafood shops in Jungang Market or specialized stores around the city.
3. Traditional Korean Pottery:
Overview: Korea is famed for its ceramic arts. While Pohang is not the primary production hub, it still offers beautifully crafted pottery.
Where to Buy: Boutiques near tourist attractions and major markets.
4. Local Textiles and Fabrics:
Overview: Traditional Korean fabrics, embroidered items, or modern fashion can make unique souvenirs.
Where to Buy: Clothing boutiques on POSCO Street or stalls in Jungang Market.
5. Korean Teas and Local Snacks:
Overview: From fragrant teas to sweet and savory snacks, Korean culinary delights are a must-buy.
Where to Buy: Grocery stores, traditional markets like Jungang or specialty food stores.
6. Hanji Crafted Items:
Overview: Hanji is traditional Korean paper, known for its durability and unique texture. Items can range from stationary to decorative pieces.
Where to Buy: Craft shops, major markets, or specialty souvenir stores.
7. Traditional Korean Accessories:
Overview: This includes items like ornate hairpins, jewelry, and other accessories inspired by historical Korean designs.
Where to Buy: Accessory boutiques on Canal Shopping Street or Jungang Market.
8. Korean Skincare and Beauty Products:
Overview: Korean beauty products have gained international fame. Pohang offers numerous brand outlets and local products.
Where to Buy: Major malls, department stores, or specialized cosmetic shops.
Conclusion:
Pohang, while not as commercialized as Seoul or Busan, still provides a rich shopping experience. The blend of traditional and modern, the coastal influence, and the steel city's legacy all come together to offer unique and memorable souvenirs. Whether you're shopping for yourself or looking for gifts, there's something in Pohang for every traveler. Always remember to check for authenticity and, when possible, support local artisans and craftsmen.
Where To Visit After Your Trip To Pohang?
After experiencing the beautiful coastal city of Pohang, there are several nearby destinations that are well worth a visit. Each destination offers unique cultural, historical, and natural experiences that are sure to enrich your travels.
Gyeongju: Just a 30-minute drive from Pohang, Gyeongju is known as the "museum without walls" due to its abundance of historical sites and relics. The city was the capital of the Silla Dynasty (57 BC – 935 AD), and visitors can explore ancient tombs, temples, and palaces that showcase the city's rich cultural heritage. The UNESCO World Heritage Site, Bulguksa Temple, is a must-visit destination, featuring a series of beautifully crafted pagodas, statues, and stone bridges. Gyeongju National Museum is also worth a visit, showcasing over 100,000 Silla Dynasty artifacts.
Busan: Located an hour away from Pohang, Busan is a bustling port city that offers a unique blend of modernity and tradition. It is known for its stunning beaches, such as Haeundae Beach, which is often called the "Miami Beach of South Korea". Visitors can also experience Busan's vibrant food scene, with dishes such as ssiat hotteok (sweet pancakes stuffed with nuts and seeds) and milmyeon (a spicy noodle dish) being local favorites. Busan's markets are also a must-visit destination, with Jagalchi Fish Market being one of the largest in South Korea. For stunning views of the city, visitors can take a cable car ride to the top of Busan's famous Busan Tower.
Daegu: Just two hours away from Pohang, Daegu is known for its traditional markets, museums, and historic sites. Seomun Market is one of the largest traditional markets in South Korea, offering a variety of street food and unique souvenirs. Visitors can also explore Daegu's historical sites, such as the Donghwasa Temple and the Gyeongsang-gamyeong Park, which was once the royal palace of the Joseon Dynasty.
Andong: Located approximately three hours away from Pohang, Andong is a traditional Korean town that offers visitors a glimpse into the country's rich cultural heritage. Hahoe Folk Village is a must-visit destination, showcasing traditional Korean architecture and culture. Visitors can also explore the nearby Byeongsan Seowon, a Confucian academy and temple that dates back to the Joseon Dynasty. Andong is also known for its traditional food, with dishes such as Andong jjimdak (a spicy chicken stew) and Andong soju (a traditional Korean liquor) being local favorites.
Seoul: For those who want to experience the energy and excitement of South Korea's capital city, Seoul is just four hours away from Pohang. Visitors can explore traditional markets, such as the famous Namdaemun Market, and cultural sites such as the Gyeongbokgung Palace, which was the main royal palace of the Joseon Dynasty. Seoul is also known for its modern shopping districts, such as Myeong-dong and Gangnam, which offer a variety of high-end fashion boutiques and department stores.

source: Samuel and Audrey on YouTube
South Korea offers a wealth of destinations and experiences to explore beyond Pohang. From the historic sites and traditional markets of Daegu to the stunning beaches and vibrant food scene of Busan, there is something for every traveler to enjoy. Whether you're interested in exploring the country's rich cultural heritage or immersing yourself in its modernity and energy, these nearby destinations are well worth a visit.
Pohang Travel Guide: Final Thoughts
Pohang is a beautiful coastal city that offers visitors a unique blend of natural beauty, cultural heritage, and modern amenities. From its stunning beaches and mountains to its historic sites and museums, there is something for every traveler to enjoy.
When planning a trip to Pohang, visitors should consider exploring nearby destinations such as Gyeongju, Busan, Daegu, Andong, and Seoul. These destinations offer unique cultural, historical, and natural experiences that are sure to enrich any traveler's journey.
In terms of transportation, visitors can easily access Pohang by train, bus, or plane. Once in the city, there are several transportation options available, including buses, taxis, and rental cars.
As for accommodations, there are plenty of options to choose from, ranging from luxurious hotels to affordable guesthouses. Visitors can choose to stay in the city center for easy access to amenities and attractions, or opt for a more secluded location for a peaceful and tranquil stay.
Pohang is a must-visit destination for travelers who want to experience the beauty and charm of South Korea's eastern coast. Whether you're interested in exploring its rich cultural heritage or simply soaking up its natural beauty, Pohang offers a truly unforgettable experience.
The waves crash against the shore In Pohang, a city worth exploring more From the towering mountains to the sparkling sea There's a world of wonder waiting for you and me
In this coastal city, there's so much to see From ancient temples to modern technology The city's history is rich and deep Its cultural heritage weaved into every street
The people here are kind and warm Welcoming visitors in every form With delicious food and stunning sights Pohang is a traveler's delight
So come and explore this city by the sea Embrace its beauty and let your spirit free From the mountains to the shore Pohang is a place you'll forever adore.