Up until recently, it was common for foreigners to confuse Pyeongchang for Pyongyang. Home to the 2018 Winter Olympics, this resort town couldn't be more different from the capital of North Korea.
Most of the world knows this place for being a hotbed of winter sports, and it does deliver. However, it is a solid all-season destination. It is close by to a national park that is a joy to hike through in the summer. It is home to tranquil farms that are popular with film directors. And yes, there is a historically significant temple in the area.
No matter the time of year, a trip to Pyeongchang will be a memorable one.
Come check out our Pyeongchang travel guide for curious visitors as we cover the best things to do in Pyeongchang, South Korea.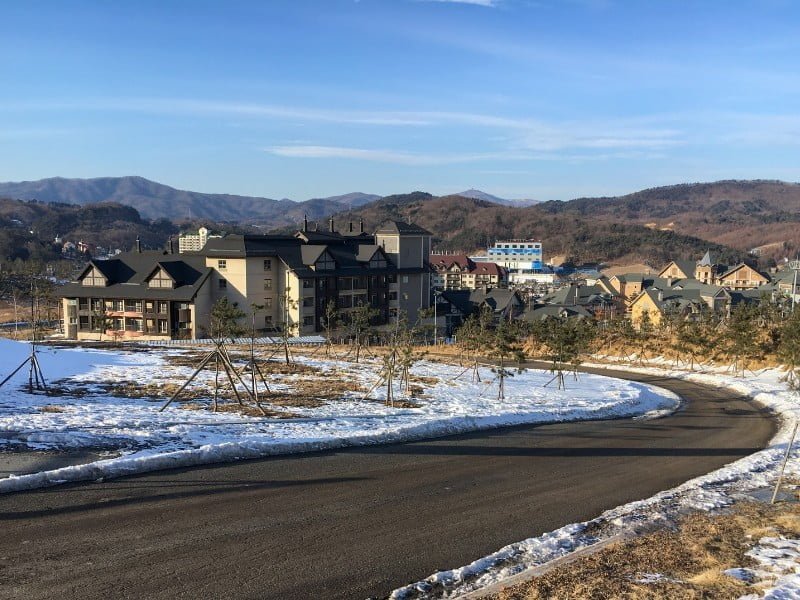 Pyeongchang City Guide: A Brief History Of Pyeongchang, South Korea
Pyeongchang is a county located in the Gangwon Province of South Korea. It is known worldwide for hosting the 2018 Winter Olympics, but the area has a rich history that dates back thousands of years.
The earliest evidence of human habitation in Pyeongchang dates back to the Neolithic Age, around 3,000 BCE. Archaeological excavations have uncovered artifacts such as pottery, stone tools, and burial mounds from this period.
During the Three Kingdoms period of Korean history, Pyeongchang was part of the ancient kingdom of Goguryeo. It was an important strategic location due to its location in the Taebaek Mountains, which served as a natural barrier against invading armies.
In the 7th century, Pyeongchang became part of the Silla kingdom, which controlled much of the Korean Peninsula. During this time, Buddhism flourished in the region, and several important temples were built, including Woljeongsa, which is still in use today.
Pyeongchang remained a relatively isolated and rural area for much of its history. During the Japanese colonial period in the early 20th century, the area was used primarily for forestry and mining.
It was not until the 1990s that Pyeongchang began to develop as a tourist destination. The area's natural beauty and the popularity of winter sports led to the construction of several ski resorts and other recreational facilities.
In 2003, Pyeongchang made its first bid to host the Winter Olympics, but lost out to Vancouver. The area continued to invest in its infrastructure and made a second bid for the 2014 Winter Olympics, but lost to Sochi.
Finally, in 2011, Pyeongchang was chosen to host the 2018 Winter Olympics, marking a major milestone for the county. The event brought international attention to Pyeongchang and helped to boost its economy and tourism industry.
Today, Pyeongchang is a popular destination for winter sports enthusiasts and travelers looking to experience the natural beauty of South Korea's mountainous landscape. It remains an important cultural and historical center, with many ancient temples and other historic sites to explore.
Pyeongchang Top Attractions and Best Places to Visit in South Korea
Finding many cultural attractions in Pyeongchang can be hard. However, Woljeongsa Temple is a notable exception to that rule. Nestled in a forested valley, Monk Ja Jang constructed this Buddhist hall of worship in the 7th century.
It has a nine-storey pagoda, a museum boasting Goryeo Dynasty artifacts, as well as a Sitting Buddha statue. However, its biggest claim to fame is the fact that it is home to relics of the Buddha. Scholars say the abbot buried his bones within a hermitage on temple grounds. Even if you are skeptical, this old structure and its stunning natural surrounds make this attraction a must see.
The Pyeongchang area is a rare oasis of nature in a heavily-urbanized country. Experience the best of this wilderness by spending time exploring Odaesan National Park. This nature reserve protects thick forests that cover five peaks – Dongdaesan, Durobong, Horyeongbong, Sangwangbong, and Birobong.
As you walk through stands of yew trees and royal azalea, watch for musk deer and boars. Do take pictures if you encounter them, but keep your distance – their habitat is super limited in modern times.
Most visit Odaesan National Park as a day trip, but if you prefer, there are places where you can camp. Leave your site the way you found it – it will preserve the park and help others enjoy as well.
If you are into sports, you're likely aware that Pyeongchang was the host of the 2018 Winter Olympics. Ride the runs that the world's best athletes raced upon by paying a visit to Phoenix Snow Park. Of its seventeen runs, the FIS (Federation International de Ski) recognizes four as being suitable for competitions.
Even when you aren't trying to channel Lindsay Vonn, this winter sports centre offers plenty to do. The base boasts a sauna, bowling alley, arcade, billiards hall, a karaoke bar, and other diversions. Accommodations are also available, with a luxury hotel and a condotel located on site.
Are you visiting the Pyeongchang area during late December or January? Celebrate winter with locals by checking out the Pyeongchang Trout Festival. As the name implies, ice fishing is the main draw, but this festival offers more than that.
This party also offers traditional folk games, sledding, ice skating, and sleigh rides. When those in your party catch fish, they can have on-site cooks prepare it, making for a fresh dinner.
Other Cultural Attractions: Trip to Pyeongchang, South Korea
South Korea is a mountainous country, with 70% of its land area taken up by elevated terrain. Most highlands are too steep for agriculture, but in Pyeongchang, plateaus have made farms like Samyang Ranch viable.
Their crisp, fresh air creates a perfect climate for grazing livestock. These pastures and its trademark milk cows has made this place a favoured shooting location for Korean dramas. These include Lover's Concerto, Taegukgi: The Brotherhood of War, When Romance Meets Destiny, and many others.
Herbnara Farm is another agricultural attraction that is well worth a visit on a trip to Pyeongchang. Situated in the Hongjeong Valley, this farm is popular among visitors in all seasons. In particular, people come in spring for its flowering royal azaleas, and in autumn for its outstanding foliage.
Summer is also a favoured time to visit, as this farm's high elevation makes it noticeably cooler than Seoul. While here, check out more than 100 different herbs, a garden with fragrant plants, and their herbal tea cafe.
When you get back in town, be sure to check out the Pyeongchang Olympic Market. A traditional food market re-named to attract tourists during the Winter Games, be sure to come here with an appetite. You can find Korean favourites here with ease, but do keep your eyes open for local specialities.
These include buckwheat pancakes, tadpole noodles (made from corn flour), and sundae (Korean-style sausage). Let your nose guide you – believe us, you won't be disappointed!
The bone-penetrating cold of a Pyeongchang winter can wear out even the hardiest traveller. Recover by spending a day enjoying Ocean 700. This indoor water park boasts waterslides, a wave pool, and more, making it ideal for travelling families.

source: 감성여행,쉼 on YouTube
Top 10 Things To Do in Pyeongchang, Korea For Visitors
Here are the top 10 things to do in Pyeongchang:
Skiing and Snowboarding – Pyeongchang is renowned for its world-class ski resorts. The county hosted the 2018 Winter Olympics, and the facilities for both beginners and advanced skiers and snowboarders are exceptional. Some of the most popular ski resorts in Pyeongchang include Yongpyong Ski Resort, Alpensia Ski Resort, and Phoenix Snow Park.
Visit the Olympic Venues – The 2018 Winter Olympics showcased Pyeongchang to the world. Visitors can tour the venues that hosted the games, including the Pyeongchang Olympic Stadium, which is now used for various cultural events and concerts, the Alpensia Ski Jumping Centre, and the Gangneung Ice Arena.
Hike in the Mountains – Pyeongchang is situated in the Taebaek Mountains, which provide breathtaking hiking trails for outdoor enthusiasts. Some of the most popular trails include the Odaesan National Park, Woljeongsa Temple, and Mount Seorak. These trails offer a range of difficulty levels, and visitors can enjoy stunning views of the surrounding landscape.
Visit Woljeongsa Temple – Woljeongsa Temple is one of the most important Buddhist temples in South Korea. Located in the forested hills of Pyeongchang, this beautiful temple complex features intricate architecture and stunning gardens. Visitors can explore the temple grounds, attend a prayer service, and learn about the history and traditions of Buddhism.
Experience Traditional Culture – Pyeongchang is home to many traditional Korean cultural sites that offer visitors a glimpse into the country's rich history. Some of the most popular cultural attractions in Pyeongchang include the Pyeongchang Hyanggyo Confucian School, which was established during the Joseon Dynasty, and the traditional Korean village of Jeongseon.
Try Local Cuisine – Pyeongchang is known for its unique local cuisine, which includes dishes such as dakgalbi (spicy stir-fried chicken), makguksu (buckwheat noodles), and hwangtae (dried pollack). Visitors can sample these dishes at local restaurants and markets, or even try their hand at cooking them during a cooking class.
Relax in Hot Springs – Pyeongchang is home to several hot springs resorts, where visitors can soak in the healing mineral waters and enjoy scenic mountain views. Some of the most popular hot springs in Pyeongchang include the Hwacheon Seowon Hot Springs and the Jinbu Hot Springs.
Enjoy Water Sports – During the summer months, visitors can enjoy a range of water sports on the Soyang River, including rafting, kayaking, and fishing. These activities are a great way to cool off during the hot summer months and take in the natural beauty of Pyeongchang.
Visit the Samyang Ranch – The Samyang Ranch is a scenic ranch that offers visitors the chance to see a variety of farm animals, ride horses, and enjoy the picturesque landscape of Pyeongchang. The ranch also features a petting zoo, a flower garden, and a cheese factory.
Attend Local Festivals – Pyeongchang hosts several annual festivals that showcase the area's unique cultural heritage and natural beauty. Some of the most popular festivals include the Pyeongchang Trout Festival, which takes place in winter, the Taebaeksan Mountain Snow Festival and which takes place in February.
What To Eat and Drink at Restaurants in Pyeongchang, South Korea
Pyeongchang is known for its unique cuisine that incorporates fresh, locally-sourced ingredients. Here are some of the must-try dishes and drinks in Pyeongchang:
Dakgalbi – Dakgalbi is a spicy stir-fried chicken dish that is a specialty of Pyeongchang. It is made by marinating chicken in a spicy sauce, along with vegetables such as cabbage, sweet potato, and scallions. The dish is then grilled on a hot plate and served with rice. Dakgalbi is a popular dish among locals and visitors alike, and it's a great way to experience the fiery flavors of Pyeongchang.
Makguksu – Makguksu is a type of noodle dish that is made with buckwheat noodles and served cold. The noodles are typically topped with vegetables, such as cucumber and radish, and a spicy sauce made from gochujang (Korean red chili paste). This refreshing and spicy dish is a great way to cool off on a hot summer day in Pyeongchang.
Hwangtae – Hwangtae is a type of dried pollack that is a popular ingredient in Pyeongchang cuisine. It is often served in soups and stews, or grilled and eaten as a snack. Hwangtae has a unique texture and flavor that pairs well with other ingredients in traditional Korean dishes.
Hanwoo Beef – Hanwoo beef is a type of high-quality Korean beef that is known for its tenderness and rich flavor. Pyeongchang is famous for its Hanwoo beef, which is often grilled and served as a main dish. Hanwoo beef is considered a luxury food in Korea, and Pyeongchang is a great place to try it.
Soju – Soju is a traditional Korean liquor that is made from rice or barley. It is a popular drink in Pyeongchang and is often enjoyed with meals or as a social drink. Soju has a mild flavor and is often mixed with other ingredients to create cocktails or flavored drinks.
Makgeolli – Makgeolli is a traditional Korean rice wine that is made by fermenting rice with a yeast and water. It is a slightly sweet and tangy drink that is popular in Pyeongchang, especially during the summer months. Makgeolli pairs well with spicy or savory foods, and it's a great way to experience the local flavors of Pyeongchang.
Coffee – Pyeongchang has a thriving coffee culture, with many coffee shops and cafes offering a range of specialty drinks. Coffee is often enjoyed as a morning or afternoon pick-me-up, and many cafes also offer snacks and desserts. Whether you're looking for a quick caffeine fix or a place to relax and unwind, Pyeongchang has a coffee shop for you.
Bindaetteok – Bindaetteok is a type of Korean pancake that is made from ground mung beans and vegetables, such as onion and chives. It is often served as a snack or appetizer and is a popular street food in Pyeongchang. Bindaetteok has a crispy texture and a savory flavor that pairs well with spicy dipping sauces.
Sannakji – Sannakji is a Korean dish that consists of live octopus that is sliced and served raw. It is a delicacy in Pyeongchang and is often enjoyed with a spicy dipping sauce.
Korean Tea – Pyeongchang is home to several tea plantations that produce a variety of high-quality Korean teas. Visitors can sample different types of tea, including green tea, black tea, and herbal tea, and learn about the history and traditions of Korean tea culture.
Tours For Visitors To Pyeongchang, Korea
Here are some of the top tours for visitors to Pyeongchang:
Ski Tours – Pyeongchang is home to some of the best ski resorts in Korea, and ski tours are a popular activity for visitors during the winter months. Whether you're a beginner or an experienced skier, there are ski tours available that cater to all levels.
Cultural Tours – Pyeongchang has a rich cultural heritage, and cultural tours are a great way to explore the history and traditions of the region. Visitors can tour traditional Korean villages, visit local museums and cultural centers, and participate in cultural workshops and events.
Temple Stay Tours – Temple stay tours offer visitors a chance to experience the peaceful and contemplative lifestyle of Korean Buddhist monks. Visitors can stay overnight in a temple, participate in meditation and chanting, and learn about the history and teachings of Buddhism.
Food Tours – Pyeongchang is known for its delicious and unique cuisine, and food tours are a great way to sample some of the local specialties. Visitors can visit local markets and food stalls, sample street food, and dine in traditional Korean restaurants.
Nature Tours – Pyeongchang is home to stunning natural landscapes, including mountains, lakes, and forests. Nature tours offer visitors a chance to explore the outdoors and experience the beauty of the region. Activities include hiking, kayaking, and scenic drives.
Winter Olympics Sites Tours – Pyeongchang hosted the 2018 Winter Olympics, and tours are available that allow visitors to explore the Olympic venues and learn about the history of the games. Visitors can visit the Olympic Stadium, the ski resorts, and the Olympic Village.
Paragliding Tours – Pyeongchang is a popular destination for paragliding, and tours are available for visitors who want to experience the thrill of flying over the stunning mountain landscapes. Visitors can book tandem flights with experienced pilots and enjoy breathtaking views of the region.
Eco Tours – Pyeongchang is committed to sustainability and eco-tourism, and visitors can participate in tours that focus on environmental conservation and sustainable living. Activities include organic farming, nature walks, and green energy workshops.
Hot Springs Tours – Pyeongchang is home to several natural hot springs, which are believed to have healing properties. Hot springs tours offer visitors a chance to relax and rejuvenate in the warm, mineral-rich waters.
Hanwoo Beef Tours – Pyeongchang is famous for its high-quality Hanwoo beef, and tours are available that allow visitors to learn about the rearing and production process of this luxurious food. Visitors can visit local farms and ranches and sample some of the finest Hanwoo beef dishes in the region.
Pyeongchang Accommodations Guide: Hotels, Guesthouses and Hostels
Whether you're visiting for the Winter Olympics, the skiing, or just for a relaxing getaway, there are a variety of accommodations available to suit your needs and preferences. Here's a guide to Pyeongchang accommodations:
Ski Resorts – Pyeongchang is known for its excellent ski resorts, and many visitors choose to stay at one of the ski resorts during their visit. Ski resort accommodations range from luxury hotels to cozy lodges, and many offer ski-in/ski-out access and on-site restaurants and amenities.
Hotels – There are several hotels in Pyeongchang that cater to visitors, ranging from budget-friendly options to luxury hotels. Many hotels offer amenities such as on-site restaurants, spas, fitness centers, and shuttle services to popular attractions.
Guesthouses – Guesthouses are a popular choice for budget-conscious travelers who want to experience local culture and hospitality. Pyeongchang has several guesthouses that offer private rooms or shared dormitories, as well as communal spaces and kitchens.
Hanok Stays – Hanoks are traditional Korean houses that have been converted into accommodations. Hanok stays offer visitors a unique and authentic Korean experience, with traditional architecture, furnishings, and decor. Many Hanok stays also offer cultural activities such as tea ceremonies and traditional Korean meals.
Camping – Pyeongchang has several campgrounds and RV parks that offer scenic and affordable accommodations. Camping is a great option for visitors who want to immerse themselves in nature and enjoy outdoor activities such as hiking, fishing, and biking.
Temple Stays – For visitors who want a spiritual and contemplative experience, temple stays offer accommodations in Buddhist temples. Visitors can participate in meditation and chanting, enjoy vegetarian meals, and learn about Buddhist teachings and traditions.
Pension Houses – Pension houses are similar to guesthouses, but typically offer more amenities and services. They are a popular choice for families or groups of friends who want a comfortable and homey environment.
Condominiums – Pyeongchang has several condominiums that offer spacious and fully furnished accommodations. Condominiums are a great choice for visitors who want the convenience of a home away from home, with amenities such as kitchens, laundry facilities, and separate living areas.
No matter what your budget or preferences, there are plenty of accommodations available in Pyeongchang to suit your needs. Make sure to book in advance, especially during peak travel seasons, to ensure availability and the best rates.
Day Trips From Pyeongchang, South Korea
Here are some of the top day trips you can take from Pyeongchang:
Jeongseon – Jeongseon is a small town located about 30 minutes from Pyeongchang. It's known for its traditional Korean architecture, including hanoks and other historic buildings. Jeongseon is also home to the Jeongseon Arirang Market, a popular destination for local food and souvenirs.
Gangneung – Gangneung is a coastal city located about an hour from Pyeongchang. It's a popular destination for its beaches, seafood, and historical sites. Some of the top attractions in Gangneung include Gyeongpo Beach, Gyeongpodae Pavilion, and Ojukheon House.
Seoraksan National Park – Seoraksan National Park is a stunning natural park located about two hours from Pyeongchang. It's known for its dramatic mountain landscapes, hiking trails, and waterfalls. Some of the top attractions in Seoraksan National Park include Ulsanbawi Rock, Biryong Falls, and the cable car ride to Gwongeumseong Fortress.
Chuncheon – Chuncheon is a city located about an hour and a half from Pyeongchang. It's known for its scenic lakes, parks, and cultural attractions. Some of the top attractions in Chuncheon include Nami Island, Chuncheon Myeong-dong Street, and Soyang Lake.
Yangyang – Yangyang is a small town located about an hour and a half from Pyeongchang. It's known for its beautiful beaches, including Naksan Beach and Hajodae Beach. Yangyang is also home to the Yangyang International Airport, which offers flights to other parts of South Korea.
Woljeongsa Temple – Woljeongsa Temple is a historic Buddhist temple located about an hour and a half from Pyeongchang. It's known for its beautiful natural surroundings, including the nearby Odaesan National Park. Visitors can participate in temple stays, meditation, and other cultural activities.
Daegwallyeong Sheep Ranch – Daegwallyeong Sheep Ranch is a popular attraction located about 30 minutes from Pyeongchang. It's a working ranch with over 200 sheep, as well as horses, cows, and other animals. Visitors can take a tour of the ranch, watch sheep-shearing demonstrations, and enjoy the scenic views.
These are just a few of the top day trips you can take from Pyeongchang. Whether you're interested in nature, culture, or food, there's something for everyone in the surrounding areas.
Pyeongchang Transportation Guide
Here's a transportation guide for Pyeongchang:
Bus – The most convenient and affordable way to get around Pyeongchang is by bus. There are several local buses that run between the various towns and attractions in the area. The Pyeongchang Shuttle Bus is a popular option for visitors and offers several routes, including the Pyeongchang Olympic Route and the Daegwallyeong Sheep Ranch Route. Bus tickets can be purchased at the bus terminal or on board the bus.
Taxi – Taxis are readily available in Pyeongchang and can be hailed on the street or found at taxi stands. However, they can be quite expensive, especially for longer distances. It's recommended to negotiate the fare with the driver before getting in the taxi.
Rental Car – Renting a car is a good option for visitors who want more flexibility and independence in their transportation. Several car rental companies, including Avis and Hertz, operate in Pyeongchang. Visitors must have a valid driver's license and be at least 21 years old to rent a car in South Korea.
Train – The closest train station to Pyeongchang is the Jinbu Station, which is about a 30-minute drive away. From Jinbu Station, visitors can take a local bus or taxi to Pyeongchang. The KTX high-speed train also operates between Seoul and Gangneung, which is about an hour away from Pyeongchang.
Airport Shuttle – Visitors arriving at Incheon International Airport or Gimpo International Airport can take an airport shuttle bus to Pyeongchang. The shuttle buses operate daily and take about three hours to reach Pyeongchang. Tickets can be purchased at the airport or online in advance.
Bicycle – Pyeongchang is a popular destination for cycling enthusiasts, and there are several bike rental shops in the area. Visitors can rent a bike and explore the scenic countryside at their own pace.
Overall, Pyeongchang's transportation system is reliable and convenient, with several options available to visitors. Whether you prefer to take the bus, rent a car, or explore by bicycle, there's a transportation option that will suit your needs.
Where To Visit After Your Trip To Pyeongchang?
After visiting Pyeongchang, there are several nearby attractions and destinations that visitors can explore. Here are some suggestions for where to visit after your trip to Pyeongchang:
In summary, there are many destinations that visitors can explore after their trip to Pyeongchang, depending on their interests and travel plans. From cultural attractions to natural scenery and outdoor activities, there's something for everyone in South Korea.
Pyeongchang Travel Guide: Final Thoughts
Pyeongchang is a must-visit destination for anyone looking for an authentic Korean experience. From its natural beauty to its cultural attractions, Pyeongchang has something to offer for everyone. Whether you're looking to ski in the winter or hike in the summer, Pyeongchang has it all.
As we've covered in this travel guide, there are many things to do and see in Pyeongchang, including exploring the local cuisine, taking part in cultural activities, and enjoying the scenic beauty of the region. Some of the top things to do in Pyeongchang include skiing at the Olympic ski resort, visiting the Woljeongsa Temple, and trying the local delicacies such as makguksu and dongdongju.
When it comes to accommodations, Pyeongchang offers a variety of options, from luxurious resorts to affordable guesthouses. Transportation is also convenient with various options such as taxis, buses, and trains.
If you're looking to explore more of Korea, there are many nearby destinations to consider such as Gangneung, Jeongseon, and Taebaek. Seoul, the capital city of South Korea, is also just a few hours' drive away.
Pyeongchang is a destination that should not be missed. With its natural beauty, rich culture, and warm hospitality, Pyeongchang offers a truly unforgettable experience that will leave you with memories to last a lifetime.
In Pyeongchang's embrace, A winter wonderland awaits, Skiing down snowy slopes, An adventure that never abates.
The Olympic spirit lives on, In this land of beauty and grace, From Woljeongsa Temple's serenity, To the thrill of the ski race.
Delicious dishes to savor, Makguksu, dongdongju and more, As the fire crackles in the hearth, A warm welcome at every door.
From sunrise to starry night, Pyeongchang's beauty never fades, A perfect place for travelers, To discover in every shade.
So come and bask in Pyeongchang's glory, And let the magic take hold, A land of wonder and adventure, A story that will never grow old.