Welcome to Stralsund, a picturesque city located on the northern coast of Germany. Known for its rich history, stunning architecture, and proximity to the Baltic Sea, Stralsund is a captivating destination for travelers seeking a blend of cultural heritage and natural beauty. This charming city offers a perfect balance between modern amenities and preserved medieval charm, making it a delightful place to explore.
Stralsund's historical significance is evident in its well-preserved old town, a UNESCO World Heritage Site. Strolling through its narrow cobblestone streets, you'll encounter magnificent Gothic buildings, charming gabled houses, and impressive churches that reflect the city's prosperous past. The imposing St. Mary's Church, with its towering spire, is an iconic landmark that dominates the skyline and offers breathtaking views from its observation deck.
Aside from its architectural wonders, Stralsund is also renowned for its maritime heritage. The city's strategic location on the Baltic Sea has shaped its history as a vital trading port and a center of maritime trade. The German Maritime Museum, housed in a former Franciscan monastery, offers a fascinating journey through the region's seafaring past, showcasing intricate ship models, maritime artifacts, and interactive exhibits.
Nature enthusiasts will be enthralled by Stralsund's proximity to the Baltic Sea and its stunning coastal landscapes. The city is surrounded by a network of idyllic islands and peninsulas, including the nearby island of Rügen, known for its white sandy beaches, dramatic cliffs, and picturesque seaside resorts. From relaxing beach walks to exhilarating water sports, Stralsund provides an array of outdoor activities for visitors of all interests.
As the gateway to the Western Pomerania Lagoon Area National Park, Stralsund offers unparalleled opportunities for exploring pristine nature. This protected area boasts a unique ecosystem of lagoons, wetlands, and diverse flora and fauna. Nature lovers can embark on hiking trails, kayak through serene waters, or join guided tours to observe migratory birds and other wildlife.
To satisfy your culinary cravings, Stralsund offers a delectable selection of local delicacies. From fresh seafood caught in the Baltic Sea to hearty German cuisine, the city's restaurants and cafes cater to every palate. Be sure to sample the region's renowned fish dishes and savor a glass of locally brewed beer or the famous Rügen-distilled spirits.
Whether you're interested in history, outdoor adventures, or simply enjoying the laid-back atmosphere of a coastal town, Stralsund has something to offer every visitor. With its captivating blend of cultural treasures, natural beauty, and warm hospitality, this enchanting city is a must-visit destination in northern Germany.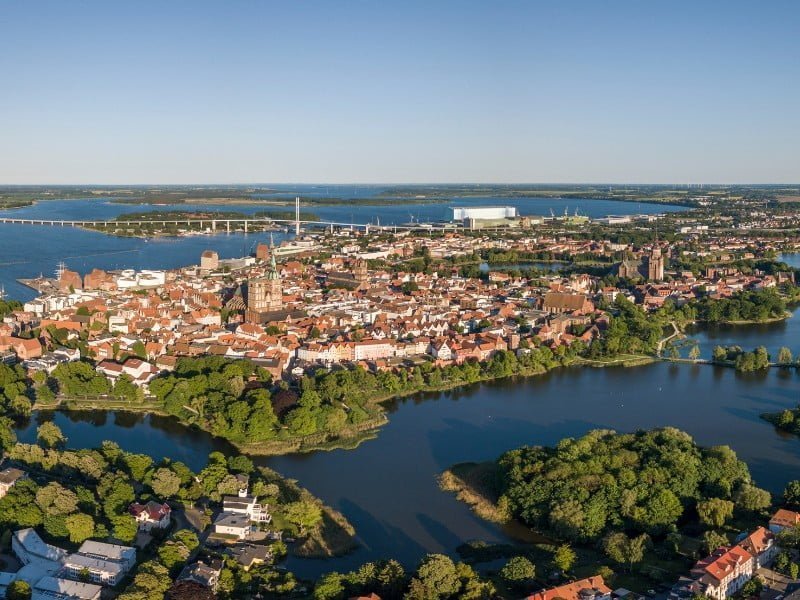 Stralsund City Guide: A Brief History Of Stralsund, Germany
For travelers interested in the history of Stralsund, this city has a fascinating past that spans centuries. Here is an overview of the historical significance of Stralsund:
Hanseatic League: Stralsund was a prominent member of the Hanseatic League, a powerful trading alliance of cities in Northern Europe during the Middle Ages. The city flourished as a key Hanseatic port, contributing to its economic and cultural development. Its strategic location on the Baltic Sea made it a vital hub for maritime trade.
Gothic Architecture: Stralsund boasts an impressive collection of well-preserved Gothic architecture. The city's historic center, Altstadt, is a UNESCO World Heritage Site and showcases architectural gems such as the St. Mary's Church (Marienkirche). This imposing brick church, with its towering spire, is a testament to the city's wealth and influence during the Hanseatic period.
Wars and Conquests: Stralsund endured its fair share of conflicts throughout history. It played a significant role in the Thirty Years' War (1618-1648) when it successfully defended itself against Swedish and Danish forces. The city's fortifications, including its medieval city walls and gates, were instrumental in its defense.
Swedish Rule: In the aftermath of the Thirty Years' War, Stralsund came under Swedish rule and remained part of the Swedish Empire for about a century. This period left a lasting impact on the city's culture and architecture, with Swedish influences evident in some buildings and traditions.
Prussian Era: Stralsund became part of the Kingdom of Prussia in the late 18th century. Under Prussian rule, the city experienced modernization and urban development. Many of the city's neoclassical buildings date from this period, including the City Hall and the imposing Ozeaneum, a museum dedicated to marine life.
World War II: Like many cities in Germany, Stralsund suffered significant damage during World War II. The city's historic center was severely affected, but extensive restoration efforts after the war helped preserve its architectural heritage.
Today, travelers can explore the rich history of Stralsund through its well-preserved medieval buildings, museums, and informative guided tours. The German Maritime Museum offers a deep dive into the maritime history of the region, while the Stralsund Museum provides insights into the city's cultural heritage. Additionally, walking through the narrow streets of Altstadt allows visitors to soak in the atmosphere of a bygone era and appreciate the historical significance of this captivating city.
Stralsund Top Attractions and Best Places to Visit in Germany
Stralsund is the prettiest German city you've never heard of. Through the centuries, this former Hanseatic League city retained most of its iconic Gothic architecture. When you aren't ogling its buildings, its world-class aquarium and museum ship will also compete for your attention.
Begin your visit to Stralsund with a trip to the German Oceanographic Museum. This complex has three buildings – the original structure, an aquarium, and a coastal satellite museum.
Its exhibits contain information on fishing, conservation activities, and the plants/animals of the Baltic Sea. After getting your fill here, head to the Ozeaneum. This public aquarium houses over 7,000 creatures in 39 tanks. Of note is one of the world's biggest exhibitions on whales. Finally, head out to the Natureum, where the focus is on its natural surroundings.
Next, learn about this region's story by visiting the Stralsund Museum of Cultural History. This institution, which is the oldest of its kind in the Mecklenburg region, focuses on its folklore, art, and culture.
From prehistory to its days as a Hanseatic city, this museum covers a lot of ground. Of particular interest is the exhibit on the history of the German navy in Stralsund. However, do have Google Translate at the ready – this place is a bit off the foreign tourist track.
Want to delve further into the naval history of Stralsund? Head down to the waterfront and board the Gorch Fock I. Christened and launched in 1933, this tall ship began life as a school ship for German naval cadets.
After World War II, the Gorch Fock was set adrift. The Soviets claimed and renamed it the Tovarishch. In 2003, Ukraine sold it back to Germany. Today, it is a museum ship. While a bit weathered, boat geeks will love this place.
While in Stralsund, lovers of religious monuments will not want to miss St. Mary's Church. When it opened, this brick Gothic church was the tallest building in the world. Take a peek inside to see the Stellwagen Organ, one of Europe's biggest Baroque-era pipe organs.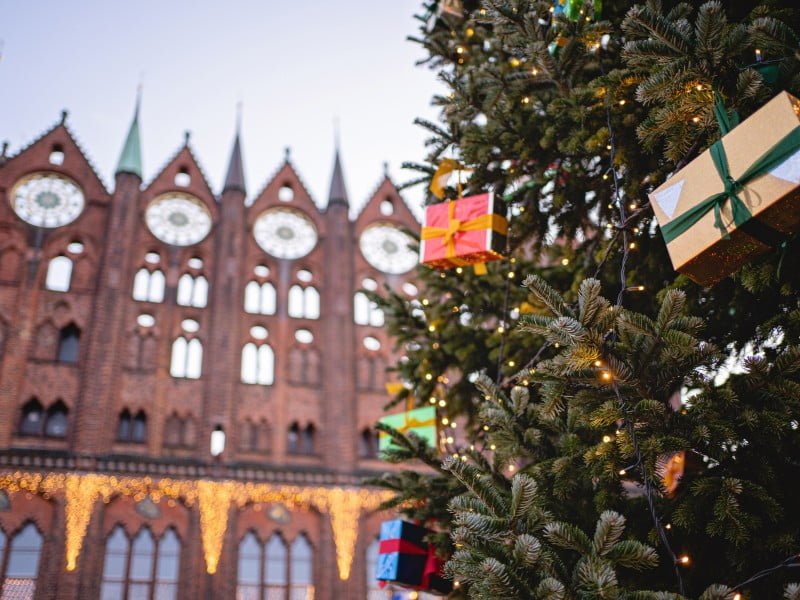 Other Cultural Attractions: Trip to Stralsund, Germany
Scope out the best architecture in Stralsund by dropping by Rathaus Stralsund. This brick Gothic administrative building dates back to the early 14th century.
Back then, the city was part of the Hanseatic League. At that time, it served as a shop for imported Belgian clothing, among other things. Today, people do more than marvel its architecture – it also has an arcade and a relaxing cafe.
Architecture fans will also not want to miss checking out the Wulflamhaus. Like Stralsund city hall, this townhouse rose back in the 14th century. And just like the place before, it is a picturesque example of the Brick Gothic style of building.
It first housed the mayor of Stralsund, starting in the 1350s. Today, the former residence has taken on numerous functions – it has art galleries, a brewery, and preserved storehouses. Thanks to its style and preservation efforts, this building and others have garnered Stralsund UNESCO recognition.
Beer fans will not want to leave Stralsund without spending time at Stortebeker Braumanufaktur. Since the 19th century, this brewery has produced this city's beer of record – Stralsunder Pils. A brewmaster will lead visitors through the complex. In doing so, they'll explain the brewery's history, how they make beer, and other topics.
At the end of your visit, you'll get to taste one of this facility's famous beers. Just be sure you have a safe way home afterwards!
If you are travelling as a family through Northern Germany, plan to spend a day exploring the Stralsund Zoo. Spanning over 16 hectares, it's home to mostly animals native to Germany, but it does contain some from abroad.
Most of interest is its pair of white donkeys. Of all breeds, white is the rarest, so be sure to feed them a carrot, ok?

source: Samuel and Audrey on YouTube
Top 33 Things To Do in Stralsund, Germany For Visitors
Stralsund, a Hanseatic town in the northern German state of Mecklenburg-Vorpommern, has a rich history, unique architecture, and a prime location on the Baltic Sea. With its preserved medieval old town and numerous attractions, Stralsund is a gem worth exploring. Here are the top 33 things to do when visiting:
Stralsund Old Town: This UNESCO World Heritage site features cobblestone streets, unique gabled houses, and an authentic Hanseatic atmosphere. Take a leisurely walk to soak in the medieval ambiance.
St. Nicholas Church (Nikolaikirche): Built in the 13th century, this is one of the oldest and most significant churches in Stralsund. Marvel at its Gothic architecture and visit the soaring tower for a panoramic view.
Ozeaneum: A top-notch maritime museum with engaging exhibits showcasing the marine life of the Baltic Sea and North Sea. Don't miss the impressive aquariums and the giant model of a blue whale.
Stralsund Harbour: Walk along the harbor and enjoy the views of the Baltic Sea, the old town, and the Rügen Bridge.
Rügen Bridge: This impressive bridge connects Stralsund to the island of Rügen. Either drive across, bike, or walk to experience great views.
Maritime Museum: Located in the former Dominican monastery, this museum provides insights into Stralsund's maritime history, including shipbuilding and navigation.
Stralsund Town Hall: A striking example of North German Brick Gothic architecture. Don't miss the beautiful facade featuring terracotta reliefs.
Gorch Fock I: Tour this historic sailing ship, which is now a museum ship moored at the harbor. Learn about its history and life on the sea.
St. Mary's Church (Marienkirche): Another Gothic architectural wonder, this church has been a defining element of Stralsund's skyline for centuries.
Monastic and Cathedral Church of Saint John: Visit this church for its beautiful interiors and peaceful courtyard.
Dielenhaus: Explore this beautifully restored medieval building, which often hosts exhibitions and cultural events.
Rügendamm: This causeway and bridge system is an older connection between Stralsund and Rügen and offers picturesque views.
Hiddensee: Take a day trip from Stralsund to this beautiful car-free island. Explore its pristine beaches, dunes, and lighthouses.
Zoological Museum Stralsund: A small but engaging museum with exhibits on animals from the region and around the world.
City Wall: Parts of Stralsund's medieval city wall still stand. Walk along segments of the wall and climb its defense towers.
Commandantenhus: This museum provides insights into Stralsund's history during the Thirty Years' War.
Kniepertor: One of the preserved medieval gates of Stralsund. A testament to the city's historical fortifications.
Theatre Vorpommern: Watch a play or performance in this regional theatre, which showcases local and international talent.
Aquarium Stralsund: A smaller attraction in the Ozeaneum, it offers a closer look at local marine life.
Kütertor: Another historic city gate, showcasing the impressive medieval fortifications of the town.
Nautineum: Located on the island of Dänholm, it showcases Stralsund's relationship with the sea, including exhibits on fishing, marine biology, and navigation.
Frankenwall Promenade: Take a stroll along this scenic route, enjoying views of the old town and its surrounding waters.
Kulturkirche St. Jakobi: A former church turned cultural venue, it hosts various events including concerts and exhibitions.
Rugia Island: Though larger and necessitating more than a day, it's worth exploring its chalk cliffs, sandy beaches, and picturesque landscapes.
Strandbad Stralsund: Relax at this beach with a view of Rügen Bridge and nearby islands.
Spielzeugmuseum Stralsund: A toy museum displaying toys from various eras, a nostalgic journey for many.
Jungfernstieg: A lovely promenade alongside the water offering serene views and pathways for walking or cycling.
Dänholm: Explore this small island located between Stralsund and Rügen, which played significant roles in various wars.
Heilgeistkloster: This medieval monastery complex provides a glimpse into the town's religious history.
Museumshaus "Zum Koggenanker": Dive into the city's history, from Hanseatic times to the present.
St. George's Fountain: A historic fountain in the old town square, illustrating the legend of Saint George slaying the dragon.
Ferries to Altefähr: Enjoy the scenic ferry ride and explore Altefähr, a picturesque town on Rügen with fantastic views back to Stralsund.
Local Cuisine: Finally, don't leave Stralsund without trying local specialties. Enjoy fresh Baltic Sea fish dishes and regional drinks.
While Stralsund may not be as well-known as some other German cities, its rich history, architectural gems, and maritime attractions make it a fascinating destination worth diving into.
What To Eat and Drink in Stralsund, Germany
While exploring Stralsund, stop at a bar for a pint of Stralsunder Pils. This beverage offers hints of lemon and bread, with medium to high hoppiness.
Stralsund was once part of West Pomerania. While this city is unmistakably German, many influences still persist, During your stay, grab a sandwich topped with Paprykarz Szczeciński. Long ago, during a visit to Africa, Pomeranian sailors encountered Chop Chop, a local dish. They took many of its ingredients and used them to create this spicy spread.
This region also lies close to Southern Sweden. Over the generations, they have influenced this region's sweet tooth by giving it its favourite dessert – Schwedeneisbecher. Known in English as a Swedish sundae, this dish mixes vanilla ice cream, eggnog, applesauce, and whipped cream.
When it comes to culinary delights, Stralsund offers a variety of delicious local dishes and beverages that you shouldn't miss. Here are some must-try foods and drinks in Stralsund:
Smoked Fish: Being a coastal city, Stralsund is renowned for its fresh and flavorful smoked fish. Try locally caught herring, salmon, or eel, prepared using traditional smoking methods. These delicacies can be savored as they are or incorporated into sandwiches, salads, or hearty fish platters.
Matjes Herring: Matjes herring is a specialty in Stralsund and throughout the region. This young, lightly salted herring is known for its tender texture and delicate flavor. It is often served with onions, pickles, and a tangy cream sauce, making for a delectable appetizer or main course.
Stralsund Räucherlachs (Smoked Salmon): Indulge in the rich and smoky flavor of Stralsund's renowned smoked salmon. This local delicacy is prepared using traditional smoking techniques, resulting in a velvety texture and distinctive taste. Enjoy it on its own, in sandwiches, or as a topping on freshly baked bread.
Zwiebelfleisch (Onion Meat): Zwiebelfleisch is a traditional dish of marinated and slow-cooked pork or beef served with a generous portion of caramelized onions. The meat becomes tender and succulent, while the caramelized onions add a sweet and savory touch to the dish. It is often accompanied by mashed potatoes or crusty bread.
Stralsunder Labskaus: Labskaus is a hearty and filling dish originating from seafaring traditions. It typically consists of corned beef or minced meat, potatoes, onions, and beetroot, all mashed together. It is usually served with a fried egg on top and pickles on the side. This comforting dish is a favorite among locals.
Stralsunder Beer: Quench your thirst with a glass of Stralsunder beer, brewed locally with a rich brewing tradition dating back centuries. Choose from a variety of styles, including pilsner, wheat beer, or a traditional lager. The beer is known for its refreshing taste and high-quality craftsmanship.
Rügen Distilled Spirits: Rügen, the nearby island, is famous for its distilleries producing high-quality spirits. Sample some Rügen-distilled gin, vodka, or whiskey, which often incorporate local ingredients like juniper berries or sea buckthorn. These spirits offer a unique taste of the region.
Pomeranian Apple Cake: End your culinary journey with a slice of Pomeranian apple cake. This delicious dessert features layers of tender apples, cinnamon, and a buttery crust. Served warm with a dollop of whipped cream or a scoop of vanilla ice cream, it is the perfect way to satisfy your sweet tooth.
Stralsund's culinary scene embraces its coastal location, offering an array of seafood delicacies, hearty dishes, and locally crafted beverages. Don't miss the opportunity to savor these flavors and indulge in the gastronomic delights that the city has to offer.

source: Best Places To Go on YouTube
Top Restaurants In Stralsund, Germany
Stralsund is home to a variety of restaurants that cater to different tastes and preferences. Here is a list of top restaurants in Stralsund known for their quality cuisine:
Scheelehof Restaurant: Located in the historic Scheelehof complex, this restaurant offers a refined dining experience. Indulge in regional and international dishes prepared with locally sourced ingredients. The elegant ambiance and attentive service add to the overall dining experience.
Braugasthaus Zum alten Fritz: Situated in a charming historic building, this restaurant combines traditional German cuisine with a relaxed beer garden atmosphere. Enjoy hearty dishes like schnitzel, sausages, and roasted meats, accompanied by a selection of local beers.
Wulflamstuben: Nestled in the heart of the Old Town, Wulflamstuben offers a cozy and welcoming atmosphere. The menu features classic German dishes with a focus on regional flavors. Try their fish specialties or indulge in a comforting plate of Zwiebelfleisch (onion meat).
Oma's Küche: Experience homemade flavors and a warm, nostalgic ambiance at Oma's Küche. The menu offers traditional German dishes prepared with love and care, including hearty stews, savory meat dishes, and delightful desserts. The restaurant's cozy interior adds to its charm.
Alte Brauerei: Housed in a former brewery building, Alte Brauerei serves a mix of German and Mediterranean cuisine. Their menu includes a variety of dishes, ranging from seafood and pasta to steaks and vegetarian options. The restaurant also has a beer garden where you can enjoy your meal outdoors.
Fischermann's Restaurant: As the name suggests, Fischermann's Restaurant is a seafood lover's paradise. Located near the harbor, it offers a range of fresh fish and seafood dishes, from grilled fish to seafood platters. The restaurant's maritime-inspired decor and waterfront views enhance the dining experience.
Zum Scheel: This family-run restaurant focuses on serving seasonal and regional dishes. The menu showcases a mix of German and Mediterranean flavors, featuring ingredients sourced from local suppliers. The restaurant's cozy and rustic atmosphere creates a welcoming setting for a memorable meal.
Restaurant Kontor: Set in a historic building, Restaurant Kontor offers a stylish and sophisticated dining experience. Their menu features modern interpretations of regional cuisine, with a focus on fresh and high-quality ingredients. The restaurant also boasts an extensive wine list to complement the dishes.
Mönchsgut: Located on the nearby island of Rügen, Mönchsgut is worth the short trip from Stralsund. This restaurant offers a unique dining experience with its farm-to-table concept. Enjoy a variety of seasonal dishes prepared using ingredients sourced directly from their own farm.
These restaurants provide a range of dining options, from traditional German cuisine to seafood specialties and international flavors. Whether you're seeking a fine dining experience or a cozy local eatery, Stralsund has something to satisfy every palate.

source: UltramodernHome on YouTube
Tours For Visitors To Stralsund, Germany
Stralsund offers a variety of tours that allow visitors to explore the city's rich history, natural beauty, and cultural heritage. Here are some popular tours for visitors to Stralsund:
Guided City Walking Tour: Join a guided walking tour to discover the highlights of Stralsund's historic city center. Knowledgeable guides will lead you through the charming streets, providing insights into the city's history, architecture, and significant landmarks. Learn about the Hanseatic League, visit St. Mary's Church, explore the city walls, and hear captivating stories about Stralsund's past.
Harbor Boat Tour: Embark on a boat tour of Stralsund's harbor to experience the city from a different perspective. Cruise along the waterfront, passing by historical buildings, shipyards, and the iconic Rügendamm bridge. Learn about the maritime history and importance of Stralsund as a trading port while enjoying panoramic views of the city skyline.
Island of Rügen Excursion: Take a day trip to the nearby island of Rügen, known for its stunning coastline, picturesque villages, and natural landscapes. Join a guided tour to explore popular attractions such as the famous chalk cliffs of Jasmund National Park, the seaside resort towns of Binz and Sellin, or the historic Prora complex. Discover the island's unique charm and enjoy its pristine beaches and scenic countryside.
German Maritime Museum Tour: Dive into the maritime history of the region with a guided tour of the German Maritime Museum. Learn about the evolution of seafaring, explore interactive exhibits, and marvel at the extensive collection of ship models and maritime artifacts. Gain a deeper understanding of Stralsund's connection to the sea and its importance as a trading and shipbuilding center.
Nature Tours: Join guided nature tours to explore the natural beauty surrounding Stralsund. Discover the Western Pomerania Lagoon Area National Park, a protected reserve known for its unique ecosystem and diverse birdlife. Take a kayak tour through the tranquil waters, go hiking along scenic trails, or join birdwatching excursions to observe migratory birds and wildlife.
Culinary Tours: Indulge in the local flavors of Stralsund with culinary tours that introduce you to the city's gastronomic delights. Sample fresh seafood, taste traditional dishes, and visit local food markets and specialty shops. Learn about the regional ingredients and culinary traditions that have shaped the local cuisine.
Night Watchman Tour: Experience Stralsund's past come alive with a Night Watchman Tour. Accompanied by a costumed guide, wander through the darkened streets of the Old Town and listen to tales of the city's history, folklore, and legends. This atmospheric tour provides a unique and entertaining way to discover the secrets of Stralsund after sunset.
These tours offer a range of experiences, allowing visitors to delve into Stralsund's history, natural surroundings, and cultural offerings. Choose the ones that interest you the most to make the most of your visit to this captivating city.

source: Travel By 3 Girls on YouTube
Stralsund Accommodations Guide: Hotels, Guesthouses and Hostels
When it comes to accommodations in Stralsund, visitors have a range of options to suit their preferences and budget. Here's a guide to help you find the right place to stay in Stralsund:
Historic Hotels: Stralsund offers several hotels housed in historic buildings, providing a charming and unique experience. These hotels often feature traditional architecture, elegant interiors, and modern amenities. They are usually located in or near the Old Town, offering easy access to the city's attractions.
Modern Hotels: If you prefer contemporary accommodations, Stralsund has a selection of modern hotels that offer comfort and convenience. These hotels provide well-appointed rooms, onsite amenities such as restaurants and fitness facilities, and easy access to transportation links.
Guesthouses and B&Bs: For a more personal touch, consider staying in a guesthouse or bed and breakfast in Stralsund. These smaller establishments often offer cozy and comfortable rooms with personalized service. They are usually located in residential areas or within walking distance of the city center.
Apartments and Vacation Rentals: If you prefer a home-away-from-home experience, renting an apartment or vacation home is a great option. Stralsund has a variety of apartments available for short-term stays, ranging from cozy studios to spacious multi-bedroom units. This option provides more flexibility and the opportunity to cook your meals and live like a local.
Hostels and Budget Accommodations: Travelers on a budget can find affordable accommodations in Stralsund, including hostels and budget hotels. These options offer shared or private rooms, communal spaces, and basic amenities. They are a great choice for backpackers or those looking for cost-effective lodging.
Campgrounds and RV Parks: If you prefer a more outdoorsy experience, Stralsund and the surrounding area have campgrounds and RV parks. These options are ideal for nature lovers and provide facilities for camping or parking your RV while offering proximity to the city's attractions.
When choosing accommodations, consider factors such as location, amenities, pricing, and reviews from previous guests. Booking in advance, especially during peak travel seasons, is advisable to secure your preferred choice. Whether you prefer a historic hotel, a cozy guesthouse, or a self-catering apartment, Stralsund offers a range of accommodations to suit different preferences and budgets.

source: Samuel and Audrey on YouTube
Day Trips From Stralsund, Germany
Stralsund's strategic location on the northern coast of Germany makes it an excellent starting point for day trips to explore the surrounding region. Here are some popular day trip destinations from Stralsund:
Island of Rügen: Just a short distance from Stralsund, the island of Rügen offers stunning natural beauty and picturesque towns. Visit the iconic chalk cliffs of Jasmund National Park, relax on the sandy beaches of Binz or Sellin, explore the charming seaside resort of Göhren, or discover the historic Prora complex.
Hiddensee: Take a ferry from Stralsund to the car-free island of Hiddensee, known for its unspoiled landscapes and tranquility. Enjoy leisurely walks along the sandy beaches, rent a bicycle to explore the island's picturesque villages, and soak in the peaceful atmosphere of this idyllic getaway.
Greifswald: Visit the neighboring city of Greifswald, located along the Greifswalder Bodden lagoon. Stroll through the historic city center, admire the impressive Brick Gothic architecture, and explore the university campus, which adds a vibrant and youthful atmosphere to the city.
Usedom: Head to the island of Usedom, renowned for its beautiful sandy beaches and charming seaside resorts. Enjoy sunbathing, swimming, and water sports activities, or explore the elegant spa architecture in the towns of Heringsdorf, Ahlbeck, and Bansin. Don't miss the chance to visit the historic Usedom Palace.
Peenemünde: Venture to Peenemünde, a historic site where the V-2 rocket was developed during World War II. Explore the Peenemünde Historical Technical Museum, which provides insights into the rocket's development and its impact on modern rocket technology.
Stettiner Haff: Discover the Stettiner Haff, a large lagoon shared between Germany and Poland. Take a boat tour or rent a kayak to explore the serene waters and observe the diverse birdlife. Visit the charming town of Ueckermünde, with its picturesque harbor and medieval castle.
Hanseatic City of Wismar: Travel to Wismar, another UNESCO World Heritage Site, and explore its well-preserved medieval architecture. Admire the Market Square with its stunning Brick Gothic buildings, visit the Gothic-style St. Mary's Church, and explore the harbor area with its historic warehouses.
These day trips from Stralsund offer a variety of experiences, including natural beauty, historical sites, and coastal charm. Whether you prefer exploring islands, visiting historic towns, or immersing yourself in nature, there is something for everyone within easy reach of Stralsund.

source: Sofia Lohse – Berlinerin unterwegs on YouTube
Stralsund Transportation Guide
Navigating transportation in Stralsund is relatively straightforward, with various options available to help you get around the city and explore the surrounding areas. Here's a transportation guide for Stralsund:
Public Transportation: Stralsund has a well-connected public transportation system consisting of buses and trams. VVR (Verkehrsgesellschaft Vorpommern-Rügen) operates the local bus services, and VVW (Verkehrsgesellschaft Vorpommern) operates the tram service. Both offer convenient options for traveling within the city and nearby areas.
Bicycle: Stralsund is a bicycle-friendly city with designated bike lanes and paths. Renting a bike is an excellent way to explore the city and enjoy the surrounding natural landscapes. Several bike rental shops are available, offering hourly or daily rentals.
Walking: Stralsund's compact size and well-preserved historic center make it highly walkable. Many of the city's attractions, including the Old Town and the harbor, are within walking distance of each other. Exploring on foot allows you to soak in the city's charm and discover hidden gems along the way.
Taxis: Taxis are readily available in Stralsund and can be hailed on the street or found at designated taxi stands. You can also book a taxi in advance through local taxi companies. Taxis are a convenient option for getting to specific destinations or for traveling with heavy luggage.
Car Rental: If you prefer the flexibility of having your own vehicle, several car rental agencies operate in Stralsund. Renting a car allows you to explore the surrounding region at your own pace. However, keep in mind that parking can be limited in the city center, and some areas may have restrictions or require a parking permit.
Ferries: Stralsund is well-connected to nearby islands and coastal destinations via regular ferry services. Ferries provide access to popular destinations such as the island of Rügen and Hiddensee. Ferry schedules may vary depending on the season, so it's advisable to check the timetables in advance.
Train: Stralsund has a train station with connections to major cities in Germany and other European destinations. The Deutsche Bahn operates regional and long-distance trains, providing a convenient option for traveling to and from Stralsund.
It's important to note that Stralsund has a Low Emission Zone (Umweltzone) in the city center, where only vehicles meeting specific emission standards are allowed. Make sure to check if your vehicle meets the requirements or consider alternative transportation options if necessary.
With these transportation options available, you can easily navigate Stralsund and explore its surroundings, whether it's discovering the city's historical treasures, venturing to nearby islands, or embarking on day trips to the beautiful coastal areas of northern Germany.
Stralsund 1 Day Travel Itinerary
Embark on a captivating 1-day exploration of Stralsund with this detailed itinerary:
Morning:
Begin your day at the lively Alter Markt (Old Market Square), where the impressive Town Hall and St. Nicholas Church stand. Admire the intricate architecture and absorb the vibrant atmosphere of this historical hub.
Immerse yourself in Stralsund's past at the Stralsund City Museum, housed in the former St. Catherine's Monastery. Explore interactive exhibits that showcase the city's rich history and maritime heritage. Discover artifacts from the Hanseatic era and learn about Stralsund's significance as a trading hub.
Step into the UNESCO World Heritage-listed Stralsund Old Town, where history comes alive through its well-preserved medieval buildings. Wander through the labyrinthine cobblestone streets, uncover hidden courtyards, and imagine life during the city's prosperous Hanseatic days.
Afternoon:
Delve into the wonders of the sea at the German Oceanographic Museum, located in the grand former Dominican monastery. Marvel at the diverse exhibits showcasing marine life, oceanography, and underwater exploration. Don't miss the spectacular Oceanarium, home to mesmerizing sea creatures.
Indulge in a leisurely stroll along the harbor promenade, where the Baltic Sea sparkles in the distance. Take in the picturesque views, watch boats sail by, and immerse yourself in the maritime atmosphere. Choose from the waterfront restaurants and savor a delightful meal featuring fresh seafood.
Make your way to the remarkable St. Mary's Church, a Gothic masterpiece. Step inside to admire its awe-inspiring architecture, intricate details, and historical significance. For a panoramic view of Stralsund, ascend the tower and be rewarded with breathtaking vistas.
Evening:
Wind down your day with a tranquil walk along the Sundpromenade. Enjoy the serene ambiance as you pass through beautifully landscaped parks and gardens. Witness a captivating sunset over the water, casting a warm glow on the cityscape.
While this itinerary provides a comprehensive exploration of Stralsund, remember that there is always more to discover in this charming Hanseatic city. Consider extending your visit to explore additional museums, such as the Ozeaneum or the German Maritime Museum, or venture to the nearby islands of Rügen or Hiddensee to experience the natural beauty of the region.

source: DW News on YouTube
Stralsund 3-4 Days Travel Itinerary
If you have 3-4 days to spend in Stralsund, you can delve deeper into the city's rich history, explore its surroundings, and experience the charm of the Baltic Sea. Here's a suggested travel itinerary to make the most of your time:
Day 1:
Morning:
Start your day by visiting the Stralsund City Museum, located in the former St. Catherine's Monastery. Dive into the city's history and maritime heritage through captivating exhibits and artifacts.
Explore the UNESCO World Heritage-listed Stralsund Old Town. Stroll through its narrow streets, discover hidden courtyards, and admire the magnificent architecture, including the iconic Town Hall and St. Mary's Church.
Afternoon:
Head to the German Oceanographic Museum, housed in the striking former Dominican monastery. Immerse yourself in the wonders of the sea through interactive displays and a visit to the Oceanarium.
Take a relaxing walk along the harbor promenade, enjoying the scenic views of the Baltic Sea. Consider indulging in a seafood dinner at one of the waterfront restaurants.
Day 2:
Morning:
Venture to the nearby island of Rügen, accessible by car or train from Stralsund. Explore the picturesque seaside towns of Binz and Sellin, known for their beautiful beaches and charming architecture.
Visit the Jasmund National Park and witness the dramatic white chalk cliffs of Königsstuhl. Take a leisurely hike along the coastal trails for breathtaking views of the Baltic Sea.
Afternoon:
Discover the seaside resort town of Göhren, located on the southeastern coast of Rügen. Enjoy its sandy beaches, explore the promenade, and savor local cuisine at one of the seaside cafes.
Optional: Take a scenic steam train ride on the Rasender Roland, a nostalgic narrow-gauge railway that runs through the island's picturesque landscapes.
Day 3:
Morning:
Explore the Hanseatic Museum in the historic warehouse district. Learn about the city's prominent role in the Hanseatic League and gain insight into the maritime trade that shaped Stralsund's history.
Visit the Ozeaneum, a world-class museum dedicated to the exploration and conservation of the marine world. Discover impressive exhibits and interactive displays that showcase the diverse ecosystems of the Baltic and North Seas.
Afternoon:
Take a boat trip to the nearby island of Hiddensee, a tranquil and car-free island. Enjoy the unspoiled nature, sandy beaches, and charming villages. Rent a bicycle to explore the island's scenic paths and visit the lighthouse at Dornbusch.
Return to Stralsund in the evening and enjoy a relaxing dinner in one of the city's cozy restaurants.
This itinerary offers a balanced mix of exploring Stralsund's historical treasures, venturing to the nearby island of Rügen, and experiencing the beauty of the Baltic Sea. Feel free to modify it based on your preferences and interests, and remember to check for any specific opening hours or travel restrictions during your visit. Enjoy your time in Stralsund!
Stralsund 1 Week Travel Itinerary
With a week to explore Stralsund and its surrounding region, you'll have ample time to immerse yourself in the city's history, delve into its cultural offerings, and discover the beauty of the Baltic Sea. Here's a suggested 1-week travel itinerary for Stralsund:
Day 1:
Begin your journey by exploring the UNESCO World Heritage-listed Stralsund Old Town. Visit iconic landmarks such as the Town Hall, St. Mary's Church, and the Gothic Brick Gothic architecture. Wander through the charming cobblestone streets and soak in the historical ambiance.
Day 2:
Dive deeper into Stralsund's history by visiting the Stralsund City Museum and the Hanseatic Museum. Gain insight into the city's maritime past, its role in the Hanseatic League, and its connection to the Baltic Sea.
Day 3:
Take a day trip to the island of Rügen, just a short journey from Stralsund. Explore the stunning Jasmund National Park and marvel at the dramatic white chalk cliffs of Königsstuhl. Enjoy the natural beauty, serene beaches, and charming seaside towns of Rügen.
Day 4:
Spend the day at the German Oceanographic Museum, where you can delve into the wonders of the sea and learn about marine life through interactive exhibits. Don't miss the opportunity to explore the Oceanarium, housing a variety of captivating marine species.
Day 5:
Venture to the nearby island of Hiddensee, known for its unspoiled nature and car-free environment. Rent a bicycle and explore the scenic paths, visit quaint villages, and enjoy the tranquility of this peaceful island retreat.
Day 6:
Discover the cultural side of Stralsund by visiting the Theater Stralsund, where you can catch a performance or enjoy a guided tour of the venue. Explore the Kulturhistorisches Museum (Cultural History Museum) and delve into the city's cultural heritage.
Day 7:
Relax and unwind on the picturesque beaches of Stralsund, such as the popular Strandbad Stralsund or the Zingst beach. Enjoy a leisurely day by the Baltic Sea, sunbathe, or take a refreshing swim in the clear waters.
Throughout your week-long stay, make sure to sample the local cuisine, including fresh seafood specialties, traditional German dishes, and regional delicacies. Take leisurely walks along the harbor promenade, savoring the serene views of the Baltic Sea.
This itinerary allows you to fully immerse yourself in the charm, history, and natural beauty of Stralsund and its surroundings. Feel free to modify it based on your interests and preferences, and take advantage of any special events or festivals happening during your visit. Enjoy your week in Stralsund!

source: DW Travel on YouTube
Stralsund 1 Month Travel Itinerary
Spending a month in Stralsund provides an ample opportunity not just to explore the city in depth but also to immerse in its culture, interact with locals, and perhaps even take short trips to the nearby areas. Here's a comprehensive travel itinerary for a month-long stay in Stralsund:
Week 1: Immersion and Introduction
Day 1-2: Arrival and Acclimatization

Arrive in Stralsund and check into your accommodation.
Take a leisurely walk around your neighborhood to get a feel for the city.
Enjoy a local meal at a recommended restaurant.

Day 3-4: Old Town Exploration

Visit the Stralsund City Hall and Neuer Markt.
Explore the St. Nicholas' Church and the St. Mary's Church.
Spend time at the Stralsund Harbor, watching the boats and enjoying the sea breeze.

Day 5: Museums

Visit the German Oceanographic Museum (Ozeaneum).
Explore the Cultural History Museum.

Day 6-7: Local Life and Cuisine

Attend a cooking class or workshop to learn about regional specialties.
Spend an evening at a local pub or café, interacting with residents.
Week 2: In-depth Exploration
Day 8-9: Art and Culture

Visit local art galleries.
Attend a live performance or a show at the theater.

Day 10-11: Surrounding Nature

Plan a day trip to the Rügen Island, Germany's largest island, located just off Stralsund. Visit the white chalk cliffs, beaches, and national parks.
Explore the Stralsund Zoological Garden.

Day 12-14: Maritime Exploration

Tour the Gorch Fock I, a tall ship anchored in Stralsund.
Spend a day at the beaches nearby, perhaps trying out water sports or simply relaxing.
Week 3: Leisure and Regional Trips
Day 15-17: Regional Travels

Take a 2-day trip to Greifswald, another beautiful Hanseatic town.
Explore its historical sites and the nearby Eldena Abbey ruins.

Day 18-20: Leisure and Personal Exploration

Reserve these days for personal interests, be it reading at a local café, photography, or just wandering aimlessly to discover hidden gems.

Day 21: Shopping and Souvenirs

Revisit Ossenreyerstraße and other local markets for souvenirs and gifts.
Try the local produce, cheeses, or regional specialties.
Week 4: Final Adventures and Farewell
Day 22-24: Adventure and Activities

Engage in a cycling tour around the city or the countryside.
Try sailing or other water sports in the Baltic Sea.

Day 25-27: Culinary Adventures

Dine at some of the best local restaurants.
Attend a wine or beer tasting event, understanding the flavors of the region.

Day 28: Reflection

Spend a day journaling or simply reminiscing about your experiences.
Take a leisurely stroll in the parks or along the waterfront, soaking in the city's atmosphere one last time.

Day 29-30: Farewell and Departure

Do last-minute shopping or sightseeing.
Prepare for your departure, ensuring you've collected all memories and experiences.
Throughout the month, ensure you attend any local events, festivals, or fairs that might be happening. Engaging with the community, attending workshops or classes, and even taking part in local traditions will offer a deeper connection to Stralsund. A month will allow you to move beyond the surface and genuinely experience the heart and soul of this Hanseatic gem.
Is Stralsund A Safe City To Visit?
Stralsund, like many other towns in Germany, boasts a relatively high level of safety for locals and visitors alike. Its rich history, striking architecture, and maritime charm have been drawing in tourists for years. However, as with any travel destination, it's essential to be informed and exercise some standard precautions. Let's delve into the details:
General Safety
Crime Rate: Stralsund has a low-to-moderate crime rate, particularly when it comes to violent crimes. Most common are petty crimes like pickpocketing, especially in crowded areas or tourist hotspots.
Police Presence: The local police, known as "Polizei," are professional and efficient. There's a visible police presence in major public areas, ensuring a sense of safety. If you need assistance, they are approachable and usually have officers who speak English.
Healthcare: Stralsund has quality healthcare facilities. The hospitals and clinics are well-equipped, and medical staff are trained to high standards. It's advisable for visitors to have travel insurance that covers medical expenses.
Safety Tips for Tourists
Beware of Pickpockets: Like any touristy area, there's a risk of pickpockets, especially in crowded places. Always keep an eye on your belongings and avoid displaying expensive items, like jewelry or cameras, conspicuously.
Stay Aware After Dark: While Stralsund is generally safe, it's wise to stay cautious in less populated areas or dimly lit streets after dark. Stick to well-lit areas, and if possible, avoid walking alone late at night.
Accommodation Safety: Choose reputable accommodation. Most hotels and guesthouses in Stralsund have modern safety features, but it's always good to double-check. Always lock your doors and windows when leaving your room.
Road Safety: While driving, adhere to speed limits and traffic rules. German roads are well-maintained, and drivers are generally disciplined. If you're a pedestrian, always use crosswalks and be mindful of bicyclists.
Stay Informed: It's always a good idea to be updated about local news. While Stralsund isn't prone to significant disturbances, being informed will help you avoid any unexpected situations.
Emergency Numbers: Familiarize yourself with emergency numbers in Germany. The general emergency number is 112, which can be dialed for medical emergencies, fire, or when in need of police assistance.
Public Perception
Stralsund is perceived by many as a quaint, historic town with a friendly local population. Residents are accustomed to tourists, given the city's UNESCO World Heritage status and its attractions. The community is generally welcoming and helpful towards visitors.
Conclusion
In conclusion, Stralsund is a relatively safe city to visit, offering a rich blend of history, culture, and scenic beauty. While serious crimes are infrequent, it's essential to maintain standard travel precautions to ensure a trouble-free visit. As always, staying aware of your surroundings, respecting local customs, and being informed can go a long way in ensuring a memorable and safe trip.
When Is The Best Time To Visit Stralsund?
Determining the best time to visit Stralsund depends on your preferences, as different seasons offer unique experiences in this historic Hanseatic city. Here's a detailed breakdown of what to expect during different times of the year:
Spring (March to May)
Pros:
Rebirth of Nature: Spring sees Stralsund waking up from its winter slumber. The trees begin to bud, flowers bloom, and the city's parks and open spaces become green and lively.
Mild Weather: The temperatures are moderate, making it comfortable to explore the city.
Fewer Tourists: This is a shoulder season, meaning there are fewer tourists compared to the summer months. This can lead to a more relaxed atmosphere and potentially better deals on accommodations.
Cons:
Unpredictable Weather: Spring can bring varying weather conditions, from sunny days to sudden rain showers.
Summer (June to August)
Pros:
Best Weather: Summer is the warmest time of the year in Stralsund, with long daylight hours. This is ideal for sightseeing, boat trips, and enjoying the Baltic Sea beaches nearby.
Festivals and Events: Many of Stralsund's notable festivals, like the Stralsunder Hafentage (Harbor Days), take place during these months. The city is vibrant and full of activities.
Open Attractions: All attractions, including some that might be seasonally closed, are open during this period.
Cons:
Crowds: Being the peak tourist season, expect more crowds at major attractions and in the Old Town.
Higher Prices: Due to the influx of tourists, accommodation and other services might be pricier.
Autumn (September to November)
Pros:
Autumn Foliage: The city takes on a beautiful hue with fall colors. This is an especially picturesque time for photographers.
Fewer Crowds: As summer vacationers depart, the city becomes less crowded.
Harvest Season: Regional produce is abundant, making it a great time for food enthusiasts.
Cons:
Cooler Weather: Temperatures begin to drop, especially in late autumn, and days become shorter.
Unpredictable Weather: There might be more rainy days during this season.
Winter (December to February)
Pros:
Christmas Markets: Stralsund hosts magical Christmas markets. The festive lights and decorations, paired with the historic backdrop, create a charming atmosphere.
Winter Sports: While Stralsund isn't a winter sports destination, the nearby areas offer some opportunities for winter activities.
Cons:
Cold Weather: Winters can be cold, with temperatures often dropping below freezing. Ensure you're dressed warmly.
Shorter Days: Daylight is limited, giving you fewer hours for sightseeing.
Conclusion:
The best time to visit Stralsund largely depends on individual preferences:
For the best weather and a lively atmosphere, summer is ideal.
If you want to experience the city without large crowds and enjoy the blossoming nature, spring is a great choice.
For a more serene experience coupled with the beauty of fall colors, opt for autumn.
To enjoy the festive charm and Christmas markets, consider visiting in winter.
Regardless of when you choose to visit, Stralsund offers a rich tapestry of history, culture, and natural beauty that will captivate any traveler.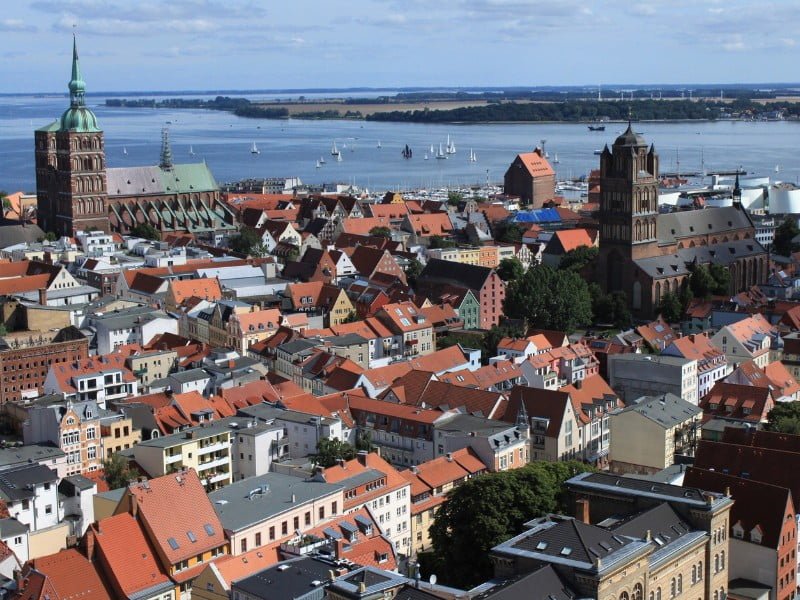 Must-Visit Festivals and Events In Stralsund
Stralsund, with its maritime charm and Hanseatic heritage, hosts a plethora of vibrant festivals and events throughout the year. These celebrations, deeply embedded in the town's culture and history, offer locals and tourists alike an opportunity to experience the true spirit of the town. Here are some of the must-visit festivals and events in Stralsund:
Stralsunder Hafentage (Stralsund Harbor Days):

When: Annually, usually in June.
What: A maritime festival that celebrates Stralsund's seafaring traditions. The harbor comes alive with sailing ships, market stalls, live music, and much more.
Highlights: Boat parades, shanty choirs, craft fairs, and a firework finale over the harbor.

Wallenstein Days (Wallensteintage):

When: Annually, typically in July.
What: This event transports visitors back to the 17th century, commemorating the Thirty Years' War and the siege of Stralsund by General Wallenstein's troops.
Highlights: Historical re-enactments, medieval markets, parades, and theatrical performances.

Stralsunder Christmas Market (Stralsunder Weihnachtsmarkt):

When: Late November to December.
What: A traditional German Christmas market set against the historical backdrop of Stralsund.
Highlights: Wooden stalls selling handicrafts, mulled wine (Gluhwein), local delicacies, festive lights, and a carousel for kids.

Rügen Bridge Marathon:

When: Annually, usually in October.
What: A marathon event where participants run across the iconic Rügen Bridge, offering unique views of Stralsund and the Baltic Sea.
Highlights: The marathon also includes half-marathon, 10k, and kids' races.

Baltic Sail:

When: Annually, during summer.
What: A series of events across various Baltic cities, with Stralsund being a key participant. It celebrates the maritime heritage of the region.
Highlights: Parade of traditional sailing vessels, regattas, harbor festivities, and cultural exchanges.

Fishermen's Day (Fischertag):

When: Annually, typically in July.
What: A traditional event celebrating the town's fishing heritage.
Highlights: Fishermen showcase their crafts, seafood delicacies are prepared, and folk music performances take place.

Vineta Festival:

When: Summer months.
What: A theatre festival that tells the legend of the sunken city of Vineta, a sort of Baltic Atlantis.
Highlights: Theatrical performances, often held on outdoor stages, bringing folklore and myths to life.

Jazz at the Monastery (Jazz im Kloster):

When: Throughout the year, specific dates vary.
What: A series of jazz concerts held in the historical surroundings of Stralsund's monasteries.
Highlights: Local and international jazz artists perform in the unique acoustics of ancient monastic settings.

Stralsund Long Night of Museums (Stralsunder Lange Nacht der Museen):

When: Annually, dates vary.
What: A cultural event where Stralsund's museums stay open late into the night.
Highlights: Special exhibitions, guided tours, workshops, and interactive events for all age groups.

Day of the Open Monument (Tag des offenen Denkmals):
When: Annually in September.
What: Historic buildings and monuments, many of which are usually closed to the public, open their doors for visitors.
Highlights: Guided tours, lectures, and the chance to see hidden architectural treasures.
Each festival and event in Stralsund offers a unique insight into the culture, history, and daily life of this Hanseatic town. Whether you're immersing yourself in medieval history, enjoying the maritime atmosphere, or simply soaking in the festive vibe, Stralsund has something special to offer for every visitor.
Shopping Guide and Souvenir List For Visitors To Stralsund
Stralsund is a treasure trove of unique finds. With its rich Hanseatic history and maritime influence, the city offers a variety of shopping options and memorable souvenirs. Here's a detailed guide to shopping in Stralsund, complete with a list of must-buy items:
Shopping Guide
Stralsund's Old Town: Start your shopping excursion in the heart of Stralsund. The cobbled streets of the Old Town are lined with boutique shops, artisanal craftsmen, and antique stores.
Ossenreyerstraße: Often referred to as Stralsund's main shopping street, here you'll find a mix of local shops, well-known brands, and cozy cafes.
Local Markets: Stralsund hosts various weekly markets. The Neuer Markt in the city center is an excellent place to find fresh produce, local delicacies, and handmade crafts.
Rügenpassage: For those who prefer an indoor shopping experience, this is one of Stralsund's main shopping centers with a variety of retail outlets.
Artisanal Workshops: Stralsund has several artisans who maintain traditional crafts. Seek out workshops where you can watch them work and buy directly.
Souvenir List
Amber Jewelry: The Baltic Sea region is renowned for its amber. In Stralsund, you'll find beautifully crafted amber jewelry, from necklaces to earrings.
Marzipan: While Lübeck is more famous for marzipan, Stralsund also offers this sweet delicacy in various forms. Consider purchasing marzipan sweets or figurines.
Ship Models: Reflecting its maritime history, Stralsund has several shops where you can purchase intricately detailed ship models.
Hanseatic Crafts: Items like ceramic mugs, embroidered cloths, or leather goods adorned with Hanseatic motifs make for unique keepsakes.
Baltic Sea Salt: Harvested from the Baltic Sea, this special salt is a perfect gift for food enthusiasts. Some varieties are blended with local herbs or seaweed.
Local Spirits and Beers: Stralsund and the surrounding region produce some unique alcoholic beverages. Consider bringing back a bottle of regional schnapps, liqueur, or a local craft beer.
Fish Delicacies: As a coastal town, Stralsund excels in fish products. Look for canned or smoked Baltic herring, eel, or other seafood specialties.
Handmade Textiles: Items like hand-woven scarves, linens, or blankets, often made with traditional techniques and patterns.
Nautical Decor: Reflecting its maritime heritage, items like marine-themed decor, lighthouse miniatures, and naval instruments can be found in many shops.
Books: Consider purchasing a book on Stralsund's history, architecture, or maritime tales. English-translated versions are available for international visitors.
Local Art: Stralsund has a thriving arts scene. Visit galleries and studios to find paintings, sculptures, or prints that capture the city's essence.
Traditional Toys: Wooden toys, often handcrafted and painted, are reminiscent of a bygone era and make for charming gifts for kids.
When shopping in Stralsund, always remember to check the authenticity of items, especially when purchasing amber or artisanal crafts. It's also a good idea to engage with local sellers; their stories add depth and context to your purchases, making your souvenirs even more special.

source: Samuel and Audrey on YouTube
Where To Visit After Your Trip To Stralsund?
After your trip to Stralsund, there are several fascinating destinations nearby that you can consider visiting. Here are a few suggestions for your post-Stralsund exploration:
Berlin: Make your way to the bustling capital city of Germany, Berlin, which is approximately a 2.5-hour train journey from Stralsund. Immerse yourself in the vibrant culture, rich history, and diverse attractions of Berlin. Explore iconic landmarks like the Brandenburg Gate, the Berlin Wall, the Reichstag building, and visit world-class museums, art galleries, and vibrant neighborhoods.
Hamburg: Head west to the lively city of Hamburg, located about 3.5 hours by train from Stralsund. Hamburg offers a mix of maritime heritage, modern architecture, and vibrant nightlife. Explore the historic Speicherstadt, visit the renowned Miniatur Wunderland, take a harbor cruise on the Elbe River, and enjoy the lively atmosphere of the St. Pauli district.
Lübeck: Travel south to the picturesque city of Lübeck, a UNESCO World Heritage Site renowned for its well-preserved medieval architecture. Known as the "City of Seven Spires," Lübeck boasts charming alleyways, grand churches, and the iconic Holstentor gate. Explore the historic old town, visit the Niederegger marzipan factory, and enjoy the city's delightful cafes and restaurants.
Copenhagen: If you're up for an international adventure, consider heading north to the Danish capital, Copenhagen. From Stralsund, you can take a train to Rostock and then a ferry to Gedser, Denmark. From there, Copenhagen is just a short train ride away. Discover the iconic sights of Copenhagen, such as Nyhavn, Tivoli Gardens, the Little Mermaid statue, and indulge in the city's vibrant food and design scenes.
Rügen Island: Extend your exploration of the region by spending more time on Rügen Island, which is easily accessible from Stralsund. Explore the stunning chalk cliffs of Jasmund National Park, visit picturesque seaside towns like Binz and Sellin, and relax on the beautiful sandy beaches. Don't miss the enchanting Cape Arkona with its lighthouse and ancient Slavic temples.
Szczecin, Poland: Cross the border into Poland and visit the city of Szczecin, located about 2 hours from Stralsund by train. Discover its rich history, explore its beautiful parks and gardens, and visit the towering Pomeranian Dukes' Castle. Enjoy the vibrant atmosphere of the city's bustling streets and sample Polish cuisine at local restaurants.
Usedom Island: Extend your stay on the Baltic Sea and explore the German side of Usedom Island. Experience the island's stunning beaches, charming seaside resorts, and tranquil nature. Visit the imperial resort architecture in Heringsdorf, explore the fishing village of Peenemünde, and relax in the natural beauty of Usedom's coastal landscapes.
Schwerin: Travel to the city of Schwerin, known for its magnificent Schwerin Castle. Located about 2 hours from Stralsund by train, Schwerin offers a captivating blend of history and natural beauty. Explore the fairy tale-like castle, stroll through the picturesque old town, and enjoy the tranquility of Lake Schwerin.
Stralsund to Copenhagen by Ferry: Consider taking a ferry from Stralsund to Copenhagen for a scenic and leisurely journey. From Stralsund, take a ferry to Rønne on the Danish island of Bornholm. Explore Bornholm's beautiful landscapes, historic sites, and charming coastal villages. From there, you can take another ferry to Copenhagen to continue your exploration of the Danish capital.
Jasmund National Park and Rugen Hinterland: If you're captivated by the natural beauty of Jasmund National Park on Rügen Island, consider further exploration of the Rugen Hinterland. Discover the dense forests, charming villages, and rolling hills of the region. Hike through the picturesque landscape of the Rugen Biosphere Reserve and immerse yourself in the tranquility of nature.
Wismar: Located approximately 1.5 hours south of Stralsund, Wismar is another UNESCO World Heritage Site known for its well-preserved historic architecture. Explore the charming Market Square (Marktplatz), visit the Gothic-style St. Mary's Church, and admire the beautiful gabled houses. Don't miss the chance to visit the Wismar Maritime Museum and stroll along the picturesque harbor.
Strasbourg, France: If you're up for a longer journey, consider visiting the beautiful city of Strasbourg in France. It's about a 6-hour train ride from Stralsund. Discover the unique blend of French and German influences in the architecture, visit the stunning Strasbourg Cathedral, explore the charming Petite France district, and indulge in Alsatian cuisine.
Potsdam: Located near Berlin, Potsdam is known for its magnificent palaces and gardens. Take a day trip to explore the Sanssouci Palace, the New Palace, and the stunning gardens of Sanssouci Park. Don't miss the opportunity to visit the Dutch Quarter (Holländisches Viertel) and explore the charming streets lined with Dutch-style houses.
Mecklenburg Lake District: Venture into the picturesque Mecklenburg Lake District, also known as the "Land of a Thousand Lakes." This region is perfect for outdoor enthusiasts and nature lovers. Enjoy activities like boating, kayaking, and cycling, and explore the scenic lakes, charming villages, and lush forests.
Rostock: Located approximately 1.5 hours west of Stralsund, Rostock is a vibrant university town with a rich maritime history. Explore the historic city center, visit the impressive Rostock Town Hall, and stroll along the Warnemünde beach promenade. Don't miss the chance to experience the lively atmosphere of the Warnemünde Fish Market.
Lauenburg: Located along the Elbe River, the picturesque town of Lauenburg is known for its well-preserved medieval architecture. Explore the historic old town, visit Lauenburg Castle, and enjoy panoramic views of the river and surrounding landscapes.
Güstrow: Head inland to the town of Güstrow, known for its beautiful Renaissance-era palace. Explore the Güstrow Palace, which houses a museum featuring art and artifacts from the region. Visit the striking St. Mary's Church and enjoy the town's charming atmosphere.
Neubrandenburg: Discover the medieval city of Neubrandenburg, surrounded by well-preserved city walls and four grand gates. Explore the historic city center, visit the Gothic-style St. Mary's Church, and walk along the ramparts for panoramic views of the city.
Stettiner Haff: Venture to the Stettiner Haff, a lagoon shared between Germany and Poland. Explore the charming town of Ueckermünde on the German side, with its picturesque harbor and medieval castle. Cross the border into Poland to visit the town of Świnoujście, known for its sandy beaches and historic lighthouse.
Sächsische Schweiz National Park: Embark on a longer trip to the Saxon Switzerland National Park, located in eastern Germany near the Czech border. This stunning national park is known for its dramatic sandstone cliffs, deep gorges, and enchanting forests. Enjoy hiking, rock climbing, and breathtaking views of the Elbe River.
These destinations offer diverse experiences, from cultural and historical immersion to coastal beauty and international flair. Choose the one that aligns with your interests and travel preferences to continue your journey after visiting Stralsund.
Stralsund Travel Guide: Final Thoughts
As you conclude your Stralsund travel guide, it's important to reflect on the charm and beauty of this captivating city. Stralsund's rich history, well-preserved architecture, and proximity to the Baltic Sea make it a remarkable destination for travelers seeking a unique blend of cultural heritage and natural wonders.
In Stralsund, you can wander through the enchanting streets of the Altstadt, admiring the Gothic architecture and soaking in the medieval atmosphere. Visit the iconic St. Mary's Church, explore the German Maritime Museum, and take in the panoramic views from the observation deck.
Beyond the city, you can embark on day trips to nearby attractions such as the island of Rügen, with its stunning beaches and chalk cliffs, or explore other charming towns in the region like Wismar or Greifswald.
Stralsund's culinary scene delights with fresh seafood, smoked fish, and regional specialties like Matjes herring and Zwiebelfleisch. Don't forget to try the local beers and Rügen-distilled spirits, adding to your gastronomic experience.
Transportation options in Stralsund are varied, including public buses and trams, walking, cycling, taxis, and even ferries to nearby islands. These options ensure convenient access to the city's attractions and allow for exploration of the surrounding areas.
Whether you're fascinated by history, crave natural beauty, or simply seek a relaxing coastal getaway, Stralsund has something to offer every traveler. Its warm hospitality, combined with the preserved medieval charm and maritime heritage, create an unforgettable experience.
As you plan your trip to Stralsund, consider the recommended activities, day trips, accommodations, and transportation options. Immerse yourself in the city's history, savor its culinary delights, and take in the breathtaking landscapes. Stralsund promises a memorable journey that will leave you with cherished memories of this enchanting city on Germany's northern coast.
In Stralsund's embrace, where history unfolds, A journey awaits, of stories yet untold. A city of wonders, by the Baltic Sea, Where travelers find solace, and beauty to see.
The Altstadt beckons, with its medieval grace, Cobblestone streets, and buildings that embrace. Gothic spires soar, reaching for the sky, Whispering tales of the Hanseatic League's pride.
St. Mary's Church stands tall, an architectural delight, Its ancient walls speak of faith, through day and night. Step inside, where stained glass dances with light, And feel the history envelop you, oh so bright.
The harbor calls, with ships sailing in, Trading dreams and treasures, under the sun's gentle grin. Watch as seagulls soar, their wings taking flight, As the sea breeze whispers secrets, a traveler's delight.
German Maritime Museum tells tales of the sea, Of brave sailors and journeys, as far as can be. Explore its exhibits, dive deep into the past, Discover the wonders that maritime legends cast.
From Ozeaneum's depths, to Gorch Fock's grace, Stralsund's maritime spirit you'll truly embrace. The lighthouse guides, with its steadfast beam, Guiding travelers home, as if in a dream.
Indulge in flavors, culinary delights, Smoked fish, Matjes herring, tempting bites. Raise a glass of Stralsunder beer, so fine, Sip Rügen-distilled spirits, like amber sunshine.
Through narrow streets and city walls, we roam, Immersed in Stralsund's charm, our hearts find home. With every step, a story we unfold, In Stralsund's embrace, a traveler's tale to be told.
So venture forth, to Stralsund's welcoming shore, Where history, beauty, and memories galore. In this city of wonders, your spirit will soar, As you wander, explore, and forever adore.