Asahikawa Travel Guide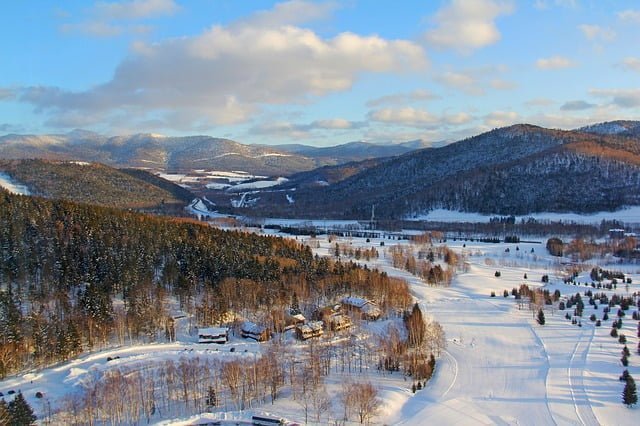 Introduction
Located in the interior of Hokkaido about 85 miles away from Sapporo, Asahikawa is the coldest city in Japan. It set the cold temperature record in the country (-41c) in 1902, and is regularly among the most frigid spots in the nation every winter.
As unappealing as this sounds, though, it has forced the citizens to adapt in a way that makes it an incredible winter city. Its ramen scene is among the most robust in Japan, the frontcountry and backcountry skiing on nearby mountains is excellent, and its winter festival, while overshadowed by big brother Sapporo, is world class.
It also has plenty to see in summer, as sights like the Ueno Farm will delight those who enjoy stylish gardens.
Come check out our Asahikawa travel guide as we cover the best things to do in Asahikawa, Japan.
Top Attractions
Begin your time in this northern Japanese metropolis by learning about its past at the Asahikawa City Museum. Spread over two floors, its exhibits not only discusses the history of the city, but it also tells the story of the Ainu people, who have lived in this region since prehistoric times.
Although the museum's displays are mostly done in Japanese, Google Translate can help you bridge the communication gap with its real-time translation functionality. With an admission fee of only 300 yen, it is also a cost-effective attraction, so don't miss it if you are on a backpacker budget.
Apart from being known as the coldest city in Japan, Asahikawa is also revered for being the source of some of this nation's best sake. Learn more about this rice-based liquor during a visit to the Otokoyama Sakezukuri Museum.
Located on the property of a well-loved sake brand that has made this product for over 340 years, you will be walked through the distilling and brewing process that goes into creating this liquor. As you head from one station to the next, you'll sample the high-quality water that led the founders to establish this distillery in the first place, and at the end, you'll get to sample the finished product.
If you want to sample, though, make sure you arrive here via a tour or by public transportation of some kind, as drivers are banned from consumption due to societal attitudes that are squarely against drunk driving.
Get acquainted with one of Japan's better-known authors by spending some time at the Ayako Miura Literature Museum. Asahikawa was her hometown – its natural beauty and bone-chilling winters inspired many of her works, including the novel, Melting Point.
With many of her works adapted into films, she had a considerable impact on the writing and arts scene in Japan throughout her life. In the museum dedicated to her, you'll learn about the titles she wrote throughout her life, as well as other incidental details about her life.
If you are visiting Asahikawa during the winter months, don't let the cold get you down. Instead, embrace it wholeheartedly by attending the Asahikawa Winter Festival. While it is not as big as the Sapporo Snow Festival 85 miles away, it makes up for its smaller footprint by commissioning the building of an absolutely gigantic centrepiece snow sculpture each year.
One of these creations claimed the Guinness World Book of Records title for the world's biggest snow sculpture in 1994. Each year, a different theme changes up what is made here, and with coloured lights illuminating these works by night, they are a truly amazing sight to behold.
Other Attractions
As noted above, Asahikawa embraces the fact it is a winter city. No attraction hammers this point home quite like the Snow Crystal Museum. As the name suggests, its theme is solely centred around snowflakes.
While this may not be the most riveting topic for some, those with inquisitive minds will enjoy the ice columns, the snowflake-themed art contained within, and the overall decor of this cozy museum.
If you are travelling through Hokkaido as a family, spending an afternoon at the Asahiyama Zoo will prove to be time well spent. Unquestionably, the penguins are the star attraction here, as visitors will get the chance to walk through a glass tunnel built beneath their holding tank.
Additionally, there are glass domes within the polar bear and wolf enclosures that permit visitors to get up close and personal with these creatures in a safe manner. With a mix of animals endemic to Hokkaido and from around the world, it is a wonderful place to bring the kids.
If you are visiting during the warmer months of the year, ensure that a trip to the Ueno Farm is on your schedule. A gem situated in the countryside just outside Asahikawa, it makes use of English-style gardening to show off over 200 different kinds of flowers.
In addition to the various gardens found on this property, there is also an on-site restaurant and an ice cream stand, making this spot a delightful place to spend a summer afternoon.
If you need a break while touring around Asahikawa, rest on a bench found within Tokiwa Park. A beloved city park located within walking distance of the state art gallery downtown, it is home to the winter festival and other events throughout the year.
The rest of the time, it is a popular place to exercise or simply relax.