Welcome to Budva, a charming coastal town nestled along the Adriatic Sea in Montenegro. Known for its breathtaking beaches, ancient history, and vibrant nightlife, Budva is a popular destination for travelers seeking a perfect blend of relaxation, culture, and excitement.
With its origins dating back over 2,500 years, Budva is one of the oldest settlements on the Adriatic coast. Its rich history is evident in the well-preserved Old Town, with its narrow, cobbled streets, ancient walls, and medieval architecture. Lose yourself in the labyrinthine alleys, visit the Citadel, and admire the beautiful churches that tell tales of the town's past.
But Budva is not only about history—it is a destination where pristine beaches meet azure waters, inviting you to unwind and bask in the Mediterranean sun. From the popular Mogren Beach to the secluded Jaz Beach, there is a spot for everyone seeking sand and sea. Dive into crystal-clear waters, engage in water sports, or simply lounge under an umbrella and enjoy the soothing sounds of the waves.
As the sun sets, Budva transforms into a vibrant hub of nightlife and entertainment. From bustling bars and clubs to open-air beach parties, the town offers a dynamic and lively atmosphere for those seeking to dance the night away. Don't miss out on experiencing the renowned Budva Summer Festival, a cultural extravaganza of music, theater, and dance that lights up the town during the summer months.
Beyond Budva, you can explore the stunning Montenegrin coast, with its hidden coves, charming fishing villages, and panoramic viewpoints. Take a day trip to the nearby island of Sveti Stefan, a picturesque islet-turned-resort that offers a glimpse into a bygone era of luxury and tranquility.
With its mix of natural beauty, historical charm, and vibrant energy, Budva captivates visitors from around the world. Soak up the sun, immerse yourself in the culture, and create unforgettable memories in this enchanting coastal gem of Montenegro.
Budva City Guide: A Brief History Of Budva, Montenegro
For travelers interested in the history of Budva, this coastal town in Montenegro boasts a rich and diverse past that spans over two millennia. Here's an overview of the historical significance of Budva:
Ancient Origins: Budva's history dates back to ancient times when it was known as Butua. The town's strategic location along the Adriatic coast made it an important trading center for various Mediterranean civilizations, including the Greeks, Romans, and Byzantines. The remnants of these ancient civilizations can still be found within the walls of Budva's Old Town.
Medieval Period: During the medieval era, Budva witnessed the rise and fall of different powers. It was part of the Byzantine Empire, followed by Venetian rule, which lasted for nearly four centuries. The Venetians fortified the town with robust walls and towers that still stand today. Budva's architecture and cultural influences during this period were predominantly Venetian, and the town prospered as a commercial and maritime hub.
Ottoman Rule: In the late 15th century, Budva fell under Ottoman rule. This period brought changes in the town's demographics and cultural landscape. The Ottomans left their mark, including the Hamam (Turkish bath) and the minaret of the Mosque of the Holy Trinity, both of which can be seen in Budva's Old Town.
Montenegrin and Yugoslavian Period: In the 19th century, Budva became part of the Principality of Montenegro and later the Kingdom of Yugoslavia. Throughout the turbulent 20th century, Budva experienced various political shifts and played a role in the fight for Montenegro's independence.
Modern Era: Since the breakup of Yugoslavia and the establishment of an independent Montenegro, Budva has flourished as a popular tourist destination. The town's historic charm, stunning beaches, and vibrant nightlife have attracted visitors from around the world.
Today, Budva preserves its ancient heritage in its well-preserved Old Town, where medieval walls, narrow streets, and centuries-old buildings transport visitors back in time. The town has found a balance between preserving its historical identity and embracing the demands of modern tourism.
Exploring Budva's history offers a captivating journey through the layers of civilizations that have left their imprints on this picturesque coastal town. From ancient ruins to medieval fortifications, Budva invites travelers to discover its cultural heritage while enjoying the beauty of its stunning coastline.
Budva Top Attractions and Best Places to Visit in Montenegro
Marketed as Montenegro's answer to the crowded beaches and islands of Croatia, the Budva Riviera has become better known in recent years. With the Old Town charms of other towns along the Adriatic Coast, and a fortunate position close to the second largest river canyon system in the world, this coastal resort city is an excellent place to enjoy the sun after exploring the culture of interior regions in the Balkans.
While you may have beaches on your mind, start your time in Montenegro's finest coastal resort area by touring the Old Town of Budva. The ancient settlement was founded on an island joined to the mainland by a sand bar more than 2,500 years ago, but it was during the times of the Venetian Empire that fortifications were built to protect the residents that dwelled within its confines.
Starting in the 14th century, a system of ramparts, walls and gates were erected to protect against external threats, and with a bit of luck over the past 600 years, much of it has survived to the present day.
Apart from examining the Old Town's defenses, a number of interesting churches (the Church of St. John has the Madonna in Punta, which is a notable icon worth seeing if you are into religious relics), cosy alleys and the usual assortments of shops, restaurants and bars can be found within.
If you are seeking a truly noteworthy religious point of interest in the area though, making a trip outside town to the Podmaine Monastery should be added to your travel itinerary. Built in the 15th century as a Serbian Orthodox Monastery, this sight is best known for its frescoes, one of which has attracted a fair bit of controversy over the years.
After an earthquake in 1979, the older frescoes in one of the smaller churches on site was remade to depict the heads of the rival Montenegrin Orthodox Church and Yugoslav dictator Tito as heretics that were being led to hell by agents of Satan. Political commentary aside, the present day grounds of the monastery are a peaceful place, making it a great place to spend part of an afternoon when exploring Budva.
While the reinforced walls around the Old Town of Budva served as enough of a deterrent to military forces from the medieval and Renaissance periods, the latter half of the 19th century brought about the need for new defenses that could cope the modernization of warfare.
The Kosmac Fortress, built high above the city of Budva, served as a defensive point to protect the region against any potential incursions by the Austro-Hungarian Empire, as the border between this regional power and Montenegro was not far from the city.
While the structure is in a state of disrepair, fans of grit and military history will love it, while others should visit solely for the photo opportunities of Budva below, and the Adriatic beyond it.
Other Cultural Attractions: Trip to Budva, Montenegro
Spanning across the world's largest canyon outside of the Grand Canyon in the USA, the Tara Bridge is a popular destination for those seeking out some of the most dramatic natural scenery in the Budva Riviera. While shutter bugs will be happy enough to take multiple photos of this place from various angles, those seeking something a bit more active will find plenty to do here, as there are opportunities to white water rafting in the Tara River below, or soar along a zipline with hundreds of metres of dead air beneath them.
There are many beaches in Budva area that serve as the main draw for many visiting the region, but if you don't want to be paralyzed by choice, then settling on Ploce Beach will prove to be a wise decision. It is a lively place, with many pool bars for those looking to party the day away, while there is plenty of incentive for those that wish to go swimming to do so, as the crystal clear waters and smooth stones will surely make it a memorable experience.
If the crowds at the beach are interfering with your need for serenity, you can pursue it by taking a boat trip over to the Island of St. Nicholas. While you can soak up the rays on one of three beaches (one of which is clothing-optional), you can also go for a hike up its lofty backside, where many birds and small mammals can be sighted.

source: Samuel and Audrey on YouTube
Top 13 Things To Do in Budva, Montenegro For Visitors
Here are the top 13 things to do in Budva, Montenegro:
Explore Budva Old Town: Wander through the narrow, cobblestone streets of the historic Old Town, surrounded by ancient walls. Discover charming squares, traditional stone buildings, and visit historic landmarks such as the Citadel and the Church of St. Ivan.
Relax on Budva's Beaches: Enjoy the sun and sea on Budva's stunning beaches. Popular options include Mogren Beach, Jaz Beach, and Slovenska Beach. Take a dip in the crystal-clear waters or simply unwind on the sandy shores.
Visit Sveti Stefan: Take a short trip from Budva to the iconic island resort of Sveti Stefan. Admire the picturesque islet connected to the mainland by a causeway, and enjoy the stunning views of the fortified village from afar.
Explore the Island of Sveti Nikola: Take a boat trip to the nearby Island of Sveti Nikola, also known as Hawaii Beach. Discover secluded coves, pristine beaches, and enjoy snorkeling or swimming in the turquoise waters.
Discover the Churches: Visit the numerous churches in Budva, each with its own architectural and historical significance. Highlights include the Church of St. John, the Church of the Holy Trinity, and the Church of St. Sava.
Experience the Nightlife: Budva is renowned for its vibrant nightlife. Explore the bustling bars and clubs in the town center, such as Trocadero, Top Hill, or the famous open-air beach parties at Mogren.
Enjoy Water Sports: Engage in thrilling water sports activities along the Budva coast. Try jet skiing, parasailing, or take a kayak tour to explore hidden caves and beautiful coastlines.
Visit the Budva City Walls: Walk along the fortified walls that surround Budva's Old Town. Enjoy panoramic views of the town, the sea, and the nearby mountains.
Dine on Fresh Seafood: Indulge in Montenegrin cuisine, especially fresh seafood dishes, in one of Budva's many restaurants. Try local specialties such as black risotto, grilled fish, or shrimp buzara.
Take a Boat Trip: Embark on a boat excursion along the Budva Riviera. Sail to nearby coastal gems like Petrovac, Kotor, or the Blue Cave, and enjoy the scenic beauty of the Montenegrin coastline.
Shop at the Market: Immerse yourself in the local culture by visiting the Budva Market. Browse through stalls offering fresh produce, local products, and souvenirs.
Visit the Budva Citadel: Climb up to the Budva Citadel for breathtaking views of the town and the Adriatic Sea. Explore the museum housed within the fortress and learn about Budva's history.
Attend the Budva Theatre City Festival: If you're visiting in July, don't miss the Budva Theatre City Festival. Experience a vibrant mix of theater performances, concerts, art exhibitions, and cultural events throughout the town.
These activities offer a diverse range of experiences, allowing you to soak up the history, natural beauty, and vibrant atmosphere of Budva. Enjoy your time exploring this enchanting coastal gem in Montenegro!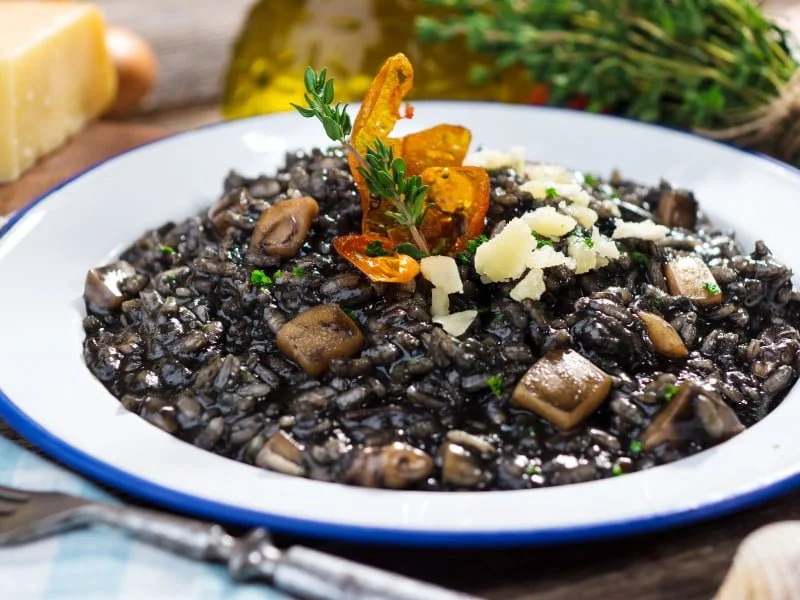 What To Eat and Drink in Budva, Montenegro
When it comes to food and drink in Budva, Montenegro, you'll have the opportunity to savor a delightful mix of Mediterranean flavors and local specialties. Here are some dishes and beverages you should try during your visit:
Black Risotto (Crni Rižot): A popular seafood dish made with squid ink, rice, and various types of seafood. It has a unique flavor and striking black color, and it's a must-try for seafood lovers.
Grilled Fish (Riba na Žaru): Enjoy the fresh catch of the day, such as sea bass, sea bream, or mackerel, prepared on the grill. The fish is usually seasoned with olive oil, lemon, and herbs, resulting in a delicious and flavorful dish.
Buzara: This traditional seafood dish consists of mussels, clams, or shrimp cooked in a flavorful sauce made with white wine, garlic, parsley, and breadcrumbs. It's typically served with crusty bread to soak up the tasty broth.
Njeguški Steak: A hearty meat dish originating from the nearby region of Njeguši. It features thin slices of grilled pork or beef, often served with melted cheese and a side of potatoes or vegetables.
Montenegrin Prosciutto and Cheese: Sample the local cured ham, known as pršut, paired with delicious Montenegrin cheeses, such as Njeguški sir or kajmak. It's a great appetizer or snack to enjoy with a glass of wine.
Montenegrin Wine: Montenegro has a long tradition of winemaking, and Budva offers the opportunity to try a variety of local wines. Look for the Vranac red wine, a robust and fruity varietal, or the crisp white wine made from the Krstač grape.
Rakija: A popular fruit brandy found throughout the Balkans, rakija is considered a traditional spirit in Montenegro. Try different flavors, such as plum (šljivovica), grape (loza), or honey (medovača), for a true taste of the region.
Pita: These savory pastries are filled with various ingredients like cheese, spinach, or meat. They make for a quick and satisfying snack or light meal.
Baklava: Indulge in this sweet pastry made with layers of filo dough, nuts, and honey syrup. It's a delicious treat to satisfy your sweet tooth.
Montenegrin Coffee: Sit back and enjoy a leisurely cup of Montenegrin coffee, a strong and rich brew similar to Turkish coffee. It's often accompanied by a glass of water and a cube of sugar.
Pastrovski Škakavac: This traditional dish consists of lamb cooked in a clay pot with potatoes, onions, and various herbs and spices. The slow cooking process ensures tender and flavorful meat.
Montenegrin Platter: Experience a variety of flavors with a Montenegrin platter that typically includes an assortment of cured meats, cheeses, olives, and bread. It's a great option for sharing and trying a little bit of everything.
Priganice: These deep-fried dough balls are often served as a sweet treat. They can be enjoyed plain or dusted with powdered sugar, and sometimes accompanied by honey or a side of jam.
Montenegrin Honey: Montenegro is known for its high-quality honey, with various types produced across the country. Sample the different flavors, such as chestnut, acacia, or wildflower, and take a jar home as a sweet souvenir.
Lavender Products: Budva and the surrounding area are known for their lavender fields. Look for lavender-infused products such as essential oils, soaps, or sachets, which make for unique and fragrant gifts.
Local Craft Beer: Montenegro's craft beer scene has been gaining popularity, and Budva offers a selection of locally brewed beers. Look for small breweries and beer bars that showcase the country's emerging craft beer culture.
Ruzica: A traditional Montenegrin dessert, ruzica is a sweet, rose-shaped pastry made with layers of filo dough, crushed walnuts, and sugar syrup. It's a visually stunning and delicious treat.
Montenegrin Rakija Tasting: If you're a fan of spirits, embark on a rakija tasting journey. Discover different flavors and aromas, including herbal infusions or fruit-based varieties, for a truly authentic Montenegrin experience.
When dining in Budva, be sure to visit local restaurants and seafood establishments to sample the freshest ingredients and traditional Montenegrin flavors. Embrace the Mediterranean influence and savor the culinary delights that this coastal town has to offer.
Top Restaurants In Budva, Montenegro
Budva boasts a vibrant culinary scene with a variety of restaurants offering delicious cuisine ranging from traditional Montenegrin dishes to international flavors. Here are some top restaurants in Budva to consider during your visit:
Jadran Kod Krsta: This well-established restaurant is known for its fresh seafood and stunning sea views. Located near the Old Town, it offers a delightful dining experience with a focus on Mediterranean cuisine.
Jardan Gusti: Situated in the heart of Budva's Old Town, Jardan Gusti combines a charming atmosphere with excellent food. The menu features a variety of local and international dishes, including seafood, pasta, and grilled meats.
Porto: Enjoy a fusion of Mediterranean and Asian flavors at Porto. With a contemporary atmosphere and an extensive menu, this restaurant offers a diverse selection of dishes to suit all tastes.
Konoba Stari Grad: Tucked away in the narrow streets of the Old Town, Konoba Stari Grad serves up traditional Montenegrin cuisine. Indulge in hearty meat dishes, seafood, and local specialties, all in a cozy and authentic setting.
Casper: For a sophisticated dining experience, Casper is a popular choice. Located near the marina, this elegant restaurant offers a diverse menu featuring international dishes, expertly prepared seafood, and a wide selection of wines.
Restoran Porto Montenegro: Situated in the nearby town of Tivat, Restoran Porto Montenegro offers waterfront dining with stunning views of the marina. The menu showcases a fusion of Mediterranean and international flavors, complemented by an extensive wine list.
Restoran Obala: Enjoy a beachfront dining experience at Restoran Obala. With a relaxed atmosphere and a menu featuring seafood, grilled specialties, and refreshing cocktails, it's an ideal spot to savor the flavors of the Adriatic.
Galion: Located right on the water's edge, Galion offers panoramic views of the Budva Riviera. This seafood-focused restaurant offers a variety of dishes, including fresh catches of the day, shellfish, and traditional Montenegrin specialties.
Konoba Bocun: Located in the nearby village of Kuljače, Konoba Bocun is a rustic restaurant serving authentic Montenegrin cuisine. Feast on homemade dishes such as slow-cooked meats, stews, and traditional desserts in a cozy, countryside setting.
Casper Lounge Bar & Kitchen: Perfect for a stylish dining experience, Casper Lounge Bar & Kitchen combines modern design with a creative menu. From innovative cocktails to flavorful dishes, it offers a unique dining experience in Budva.
These restaurants in Budva cater to a range of tastes and provide a variety of dining experiences. Whether you're seeking fresh seafood, traditional Montenegrin cuisine, or international flavors, you'll find a restaurant to suit your preferences. Bon appétit!
Tours For Visitors To Budva, Montenegro
Budva, Montenegro, offers a variety of tours and excursions that cater to different interests and preferences. Here are some popular tours for visitors to Budva:
Budva Old Town Walking Tour: Explore the historic heart of Budva on a guided walking tour of the Old Town. Learn about its rich history, admire the medieval architecture, and visit landmarks such as the Citadel and the Church of St. Ivan.
Budva Riviera Boat Tour: Embark on a boat tour along the stunning Budva Riviera, visiting secluded coves, hidden beaches, and picturesque islands. Enjoy swimming in crystal-clear waters, sunbathing on deck, and exploring the coastal beauty of Montenegro.
Sveti Stefan and Coastal Highlights Tour: Take a guided tour to the iconic island resort of Sveti Stefan, admiring its unique architecture and panoramic views. Continue along the Montenegrin coast, visiting charming coastal towns like Petrovac and exploring the natural beauty of the region.
Montenegro Day Trip from Budva: Discover the highlights of Montenegro on a full-day excursion from Budva. Visit the UNESCO-listed town of Kotor, explore the charming village of Perast, and take a scenic drive through the stunning Lovćen National Park.
Skadar Lake National Park Tour: Venture inland to explore the picturesque Skadar Lake National Park. Take a boat trip on the lake, home to diverse wildlife and bird species, and enjoy the tranquility of the surrounding nature.
Wine Tasting Tour: Indulge in a wine tasting experience in the Montenegrin countryside. Visit local wineries, sample a variety of wines, and learn about the wine production process while enjoying the scenic landscapes.
Ostrog Monastery Tour: Embark on a spiritual journey to the Ostrog Monastery, one of the most important Orthodox Christian pilgrimage sites in the Balkans. Explore the stunning monastery built into a cliffside and learn about its religious and historical significance.
Adventure Activities: For the adventurous traveler, Budva offers thrilling activities like rafting on the Tara River, zip-lining in the mountains, or off-road jeep tours that allow you to explore the rugged landscapes of Montenegro.
These tours provide opportunities to immerse yourself in the culture, history, and natural beauty of Budva and its surroundings. Whether you prefer guided walking tours, scenic boat trips, or active adventures, there are options to suit every traveler's interests.
Budva Accommodations Guide: Hotels, Guesthouses and Hostels
When it comes to accommodations in Budva, Montenegro, there are a variety of options to suit different preferences and budgets. Here's a guide to help you choose the right type of lodging for your stay in Budva:
Hotels: Budva offers a wide range of hotels, from luxury resorts to boutique properties and budget-friendly options. Many hotels are located near the beach, offering easy access to the sea and popular attractions. Amenities may include swimming pools, restaurants, spa facilities, and stunning sea views. Check out properties such as Avala Resort & Villas, Splendid Conference & Spa Resort, or Hotel Budva for a luxurious stay.
Apartments and Vacation Rentals: If you prefer a more independent and flexible experience, consider renting an apartment or vacation home in Budva. This option allows you to have your own space, kitchen facilities, and often a more local experience. Websites like Airbnb and Booking.com offer a variety of rental options to choose from.
Guesthouses and B&Bs: Budva has numerous guesthouses and bed and breakfast establishments that provide a comfortable and more intimate experience. These accommodations are typically family-run and offer personalized service. They are often located within or near the Old Town, providing easy access to historical attractions and local restaurants. Check out places like Villa Perla Di Mare or Villa Kentera for a cozy stay.
Hostels: For budget-conscious travelers or those looking to meet fellow travelers, hostels are a popular choice. Budva has several hostels that offer affordable dormitory-style rooms, as well as private rooms. These accommodations often have communal areas, kitchens, and organized activities. Hostel Hikers Den and Freedom Hostel Budva are popular options for backpackers.
All-Inclusive Resorts: If you prefer a hassle-free vacation where everything is taken care of, consider booking an all-inclusive resort in Budva. These resorts offer accommodation, meals, drinks, and sometimes even activities and entertainment all in one package. Queen of Montenegro or Iberostar Bellevue are examples of all-inclusive options in Budva.
When selecting accommodations in Budva, consider factors such as location, amenities, price, and reviews from previous guests. It's also advisable to book well in advance, especially during the high season, to secure your preferred choice. Budva's diverse range of accommodations ensures that every traveler can find a suitable place to stay and enjoy their time in this beautiful coastal town.
Day Trips From Budva, Montenegro
Budva, Montenegro, serves as an excellent base for exploring the stunning coastal and inland destinations nearby. Here are some day trip options you can consider from Budva:
Kotor: Visit the UNESCO-listed town of Kotor, located just a short drive from Budva. Explore its well-preserved medieval Old Town, walk along the fortified city walls, and admire the breathtaking views of the Bay of Kotor from the top of the hill. Don't miss the Cathedral of St. Tryphon and the Maritime Museum of Kotor.
Perast and the Bay of Kotor: Travel to the picturesque town of Perast, known for its beautiful Baroque architecture and stunning views of the Bay of Kotor. Take a boat trip to the nearby islets of Our Lady of the Rocks and St. George, and explore the charming streets of Perast, dotted with historic palaces and churches.
Lovćen National Park: Discover the natural beauty of Lovćen National Park, located in the Dinaric Alps. Take a scenic drive through the mountains, visit the mausoleum of Montenegrin ruler Petar II Petrović Njegoš, and enjoy panoramic views of the surrounding landscapes from the mountain peaks.
Skadar Lake: Venture inland to Skadar Lake National Park, the largest lake in the Balkans. Take a boat tour on the lake, explore its diverse flora and fauna, and visit the historic villages and monasteries scattered along its shores. The lake is a paradise for nature lovers and birdwatchers.
Sveti Stefan and Petrovac: Enjoy a coastal drive and visit the iconic island resort of Sveti Stefan, known for its luxurious accommodations and scenic beauty. Continue to the nearby town of Petrovac, with its beautiful beaches, historic fortresses, and charming promenade.
Durmitor National Park: If you're an outdoor enthusiast, consider a day trip to Durmitor National Park, a UNESCO World Heritage site. Explore its rugged mountains, deep canyons, and glacial lakes. Activities in the park include hiking, rafting, and taking in the breathtaking landscapes.
Ulcinj: Journey south to the town of Ulcinj, known for its beautiful sandy beaches and rich cultural heritage. Explore the historic Old Town, visit the Ulcinj Castle, and relax on the pristine beaches, including the famous Velika Plaža.
Ostrog Monastery: Embark on a spiritual journey to the Ostrog Monastery, one of the most significant Orthodox Christian pilgrimage sites in the Balkans. Built into the side of a vertical cliff, this monastery offers stunning views and a peaceful atmosphere.
Ada Bojana: Escape to the tranquil Ada Bojana, a river island located near the Albanian border. Known for its beautiful sandy beaches and nature reserves, it's a great spot for relaxation, water sports, or enjoying fresh seafood at the local restaurants.
Bar: Explore the coastal town of Bar, which boasts a rich historical heritage. Visit the Old Town, with its medieval fortress and archaeological sites, and relax on the beaches in the area.
Tara River Canyon: Embark on an adventurous day trip to the Tara River Canyon, the deepest canyon in Europe and a UNESCO World Heritage site. Experience exhilarating white-water rafting or simply take in the breathtaking views of this natural wonder.
Ada-Kaleh Island: Discover the captivating Ada-Kaleh Island, located on the Skadar Lake. This uninhabited island is known for its picturesque ruins and offers opportunities for birdwatching and peaceful walks through nature.
Cetinje: Visit the historical town of Cetinje, the former royal capital of Montenegro. Explore its museums, including the National Museum of Montenegro and the Cetinje Monastery, and learn about the country's rich history and culture.
Dubrovnik, Croatia: If you're up for a longer day trip, consider visiting the renowned city of Dubrovnik, just across the border in Croatia. Walk along the ancient city walls, explore the charming Old Town, and immerse yourself in the cultural and architectural splendors of this UNESCO World Heritage site.
These day trip options offer a diverse range of experiences, from exploring historical sites to immersing yourself in nature's beauty. Choose based on your interests and preferences, and make the most of your time in Budva by exploring the surrounding regions of Montenegro.
Budva Transportation Guide
When it comes to transportation in Budva, Montenegro, there are several options to help you navigate the town and its surrounding areas. Here's a transportation guide to assist you during your visit:
Walking: Budva's Old Town and city center are relatively compact and pedestrian-friendly, making walking a convenient and enjoyable way to get around. Explore the narrow streets, visit attractions, and stroll along the promenade at your own pace.
Taxis: Taxis are readily available in Budva and can be hailed on the street or found at designated taxi stands. It's advisable to use licensed taxi services and confirm the fare before starting your journey. Uber is also available in Budva.
Buses: Budva has a reliable local bus network that connects the town with nearby destinations. The main bus station is located near the Old Town, and you can purchase tickets onboard or at ticket kiosks. Buses are an affordable option for traveling within Budva and to nearby towns like Kotor or Tivat.
Renting a Car: If you prefer more flexibility and independence, renting a car allows you to explore Budva and its surrounding areas at your own pace. Several car rental companies operate in Budva, and you'll find rental offices at the airport, in the town center, and at larger hotels.
Private Transfers: Private transfers provide a convenient and comfortable way to travel from airports or other destinations to Budva. Pre-booked transfers offer door-to-door service and can be arranged through various transportation companies or with your accommodation provider.
Ferries and Boat Tours: Budva's location along the Adriatic coast offers opportunities for exploring nearby islands and coastal destinations by ferry or boat tour. You can take boat trips to Sveti Stefan, visit the nearby island of Katic, or embark on scenic boat excursions along the Budva Riviera.
Bicycles and Scooters: Renting bicycles or scooters is a popular option for exploring Budva and its surroundings. Numerous rental shops offer these options, allowing you to navigate the town and enjoy the coastal scenery with ease.
Remember to check local transportation schedules, plan ahead for longer journeys, and consider traffic conditions during peak seasons. Parking in Budva can be limited, especially in the Old Town, so it's advisable to inquire about parking options with your accommodation provider if you're renting a car.
Where To Visit After Your Trip To Budva?
After your trip to Budva, there are several fascinating destinations nearby that you can visit to continue your exploration of Montenegro and the Balkans. Here are a few options:
Kotor: Just a short distance from Budva, the medieval town of Kotor awaits. Its stunning natural setting, well-preserved Old Town, and the majestic Bay of Kotor make it a must-visit destination. Climb the city walls for panoramic views, explore narrow streets, and visit historical sites like St. Tryphon's Cathedral.
Durmitor National Park: If you're a nature enthusiast, head inland to Durmitor National Park. This UNESCO World Heritage site offers breathtaking mountain landscapes, glacial lakes, and opportunities for hiking, mountain biking, and even skiing during the winter months. Don't miss the stunning Tara River Canyon, the second deepest canyon in the world.
Skadar Lake: Visit the largest lake in the Balkans, Skadar Lake. Explore its diverse ecosystems, including wetlands and bird sanctuaries. Take a boat tour to discover hidden islets, visit the historic village of Virpazar, and enjoy the tranquility of this natural oasis.
Lovćen National Park: Venture to Lovćen National Park, located in the Dinaric Alps. The park offers hiking trails that lead to breathtaking viewpoints, including the mausoleum of Montenegrin ruler Petar II Petrović Njegoš, perched on the top of Mount Lovćen.
Sveti Stefan: A short distance from Budva, the iconic island resort of Sveti Stefan beckons. Admire its picturesque beauty from afar or visit the nearby beaches to soak up the sun and enjoy the crystal-clear waters.
Bar: Explore the coastal town of Bar, known for its long sandy beaches and historic sites such as the Old Town, the Bar Fortress, and the Olive Grove, which boasts centuries-old olive trees.
Ada Bojana: For a unique experience, head south to Ada Bojana, an island in the Bojana River. This hidden gem offers a relaxing atmosphere, sandy beaches, and opportunities for water sports such as kiteboarding and windsurfing.
Dubrovnik, Croatia: If you have more time and want to venture beyond Montenegro, consider visiting the stunning city of Dubrovnik, Croatia. Walk the ancient city walls, explore the UNESCO-listed Old Town, and immerse yourself in the cultural and historical wonders of this Adriatic gem.
Shkodra, Albania: Cross the border into Albania and visit the vibrant city of Shkodra. Explore the historic center, visit the impressive Rozafa Castle, and immerse yourself in Albanian culture and cuisine.
Cetinje: Discover the former royal capital of Montenegro, Cetinje. Visit the Cetinje Monastery, explore historical museums, and learn about Montenegro's rich cultural heritage.
Herceg Novi: Visit the coastal town of Herceg Novi, known for its stunning beaches, medieval fortress, and beautiful promenade. Explore the town's Old Town, enjoy waterfront dining, and relax in the Mediterranean ambiance.
Lovćen National Park: Head to Lovćen National Park, renowned for its panoramic views, hiking trails, and the imposing Njegoš Mausoleum. Climb to the top of Jezerski Vrh, the park's highest peak, for breathtaking vistas.
Nikšić: Explore the vibrant city of Nikšić, known for its strong beer-brewing tradition. Visit the Trebjesa Brewery, enjoy local craft beer, and discover the city's cultural and historical landmarks.
Tivat: Pay a visit to the coastal town of Tivat, which offers a blend of natural beauty, luxury marinas, and cultural attractions. Explore the Porto Montenegro marina, stroll along the seaside promenade, and relax on its picturesque beaches.
These destinations offer a diverse range of experiences, from historical exploration to natural beauty, allowing you to continue your journey and discover more of the Balkans after your time in Budva.
Budva Travel Guide: Final Thoughts
In conclusion, Budva, Montenegro, is a captivating destination that offers a delightful blend of history, natural beauty, and vibrant coastal charm. Whether you're seeking relaxation on pristine beaches, exploring the rich cultural heritage of the Old Town, or embarking on exciting day trips to nearby attractions, Budva has something for every traveler.
Immerse yourself in the ancient walls of Budva's Old Town, where narrow streets, medieval architecture, and historic landmarks transport you back in time. Indulge in the local cuisine, savoring fresh seafood dishes and traditional Montenegrin specialties. Enjoy the lively nightlife scene, from bustling bars to open-air beach parties.
Beyond Budva, explore the picturesque coastal towns of Kotor and Perast, venture inland to national parks like Lovćen and Durmitor, or cross borders to discover the beauty of Albania and Croatia.
With its stunning beaches, historical treasures, and proximity to breathtaking landscapes, Budva serves as an ideal gateway to experiencing the wonders of Montenegro and the Adriatic region.
As you plan your trip to Budva, consider the best time to visit, arrange accommodations that suit your preferences, and explore the diverse range of activities and attractions available. Whether you're a history buff, nature lover, or beach enthusiast, Budva is sure to leave you with unforgettable memories.
So pack your bags, embark on a journey to Budva, and get ready to be enchanted by the coastal beauty and cultural heritage of this charming Montenegrin gem. Happy travels!
In the land where sun meets sea, Lies a coastal town, Budva by decree. With ancient walls and stories to tell, A destination where dreams can dwell.
Step into the Old Town's embrace, Where history whispers in every space. Cobblestone streets lead the way, To secrets of the past, where memories sway.
The Adriatic's azure hues, Glisten as the sun imbues. Beaches of golden sand invite, To bask in warmth and pure delight.
From Mogren to Jaz, the shores so fair, Where gentle waves caress with care. Sun-kissed days and balmy nights, A paradise where relaxation takes flight.
Indulge in flavors, a culinary delight, Seafood feasts that tempt the appetite. Montenegrin wines, a toast to cheers, Savoring moments that soothe and endears.
Adventure beckons, a world to explore, To Durmitor's peaks, where eagles soar. Skadar Lake's serenity, a tranquil retreat, Nature's embrace, a sight so sweet.
From Sveti Stefan's allure, To Lovćen's heights, majestic and pure. Budva's spirit, a vibrant blend, Where ancient and modern beautifully blend.
So come, wanderer, to Budva's embrace, Where memories are woven with grace. Let the rhythm of the Adriatic's beat, Guide your footsteps to this coastal retreat.