Jodhpur Travel Guide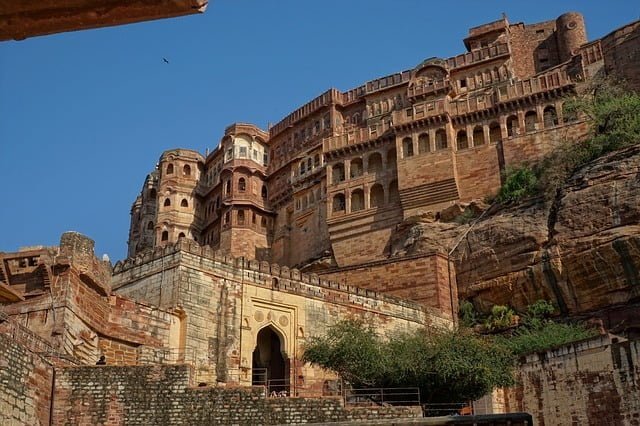 Introduction
As a prominent city in Rajasthan, Jodhpur is a must-visit destination for those travelling to this desert region.
From the imposing Mehrangarh Fort to museums, and other cultural attractions, you'll have plenty to do during your stay.
Come check out our Jodhpur City travel guide as we cover the best things to do in Jodhpur, Rajasthan, India.
Top Attractions
Begin your time in Jodhpur by spending at least a half day at the Mehrangarh Fort. Massive in scale and perched atop a hill, this fortification looms 410 feet above the city it once protected. Completed in the mid-15th century, it has seen several battles against combatants like the Mughals. Within its gates, you'll find several impressive palaces, sweeping courtyards, and intricate stonework.
While you can spend an entire day walking its passageways, set aside time to check out the Mehrangarh Museum. In its galleries, you'll get to witness many cool artifacts. Howdahs are the best, as these elaborate wooden seat/canopies allowed Jodhpur kings to ride elephants. Other highlights include palanquins (a seat for the queen, carried by servants), weapons, turbans, paintings, and other artistic objects.
Take in the final resting place of Maharaja Jaswant Singh II, ruler of Jodhpur, by visiting the Jaswant Thada. Fashioned with white marble and boasting many decorative spires, it is a magnificent sight to see.
Located upon a picturesque lake, it is a place of repose for locals, and a great spot to relax. Artists recognize this, so you'll often find them playing traditional Rajasthani folk music here. While this place is relatively laid back, it is still a mausoleum. As such, do take off your shoes when entering the Jaswant Thada.
Situated within the Rajasthani desert, Jodhpur doesn't get much rain in the run of a year. Nevertheless, this city thrived through the digging of deep stepwells, which allowed citizens to access the water table.
Toorji Ka Jhalra is one of the best remaining examples of this ingenious infrastructure in the area. Despite meeting a basic need, nothing is boring about this attraction. As you walk down the steps of this elaborate borehole, you'll find bold arches, and numerous reliefs scattered throughout the complex.
Built in the mid-18th century by Queen Toorji, visitors will descend 200 feet to the water table. Take water with you, as the searing sun and the exertion required will take a toll on your body.
Learn more about the lives of the Jodhpur Royal Family by dropping by the Umaid Bhawan Palace Museum. Completed in 1943, this art deco gem was once home to the ruling class of Jodhpur. These days, it shows off the lives of luxury they enjoyed just a couple of generations ago.
Highlights of this museum include the King's classic car collection, an exhibit of vintage clocks, and beautiful miniature paintings. Allow one to two hours to get the most out of this attraction.
Other Attractions
Do you love nature? If so, spend some time exploring the ecosystem of Rajasthan and Jodhpur by visiting Rao Jodha Desert Rock Park. Sitting beneath the Mehrangarh Fort, it comprises 72 hectares of restored desert habitat.
After checking out examples of local plants in the nursery, set out along one of four trails. None are much longer than a kilometre – this fact makes it easy to fit into a tight schedule.
Bear witness to the artistic talent of Jodhpur and Rajasthan by stopping by the Umaid Heritage Art School. Here, you'll get to see many miniature paintings created by the students of teacher Vijay Prajapat.
Most works are for sale. However, the opportunity to buy these pieces isn't the best part of this attraction. You'll get the chance to take an art lesson from Mr Prajapat – and it won't cost you a dime! Many do buy a piece as a way of saying thanks, but there is no pressure to buy.
Get a taste of everyday local life by visiting the Sardar Market. Located near the clock tower, it is known for its handicrafts and sweets. Products to watch out for include pashmina shawls, traditional Jodhpuri suits, and bangles. If you plan on doing some serious bargaining, don't bring a guide with you, as they will direct you to a preferred shop keeper. They will raise their prices markedly, as they will need to pay commission to the 'guide' you hired.
End your time in Jodhpur by relaxing by the shores of Balsamand Lake. Crafted in the 12th century, this kilometre-long reservoir was home to a summer palace that served the royal family. These days, it is home to a hotel, lush gardens, and peacocks that roam the property.