It´s often never too terribly difficult to spot a Canuck while backpacking [ "Canuck" is a slang term for Canadian people. ] The Canadian flag is – for better or worse – often plastered all over the backpacks, daypacks, and various other attire of a large percentage of Canadian backpackers/travellers. In fact, I´ve met a few individuals who have so many Maple Leafs on their personal effects that it might inspire one to conclude they´re a Canadian ambassador impostor gone haywire. It´s quite a bewildering phenomenon in the sense that no other nation is so well represented visually in such a distinct manner. Are Canadians a nation full of overzealous nationalistic maniacs hyper-actively flaunting their ´symbolic pride´ overseas or is there another underlying reason behind this trend?
On my first trip overseas to Asia – way back in 2004 – I was told by many fine folks back home to make sure I had the Canadian flag on my suitcase and day-pack at all times. The advice of these individuals, in a collective nutshell, was very succinct and blunt: "If you don´t wear it people will think you are American." One person even candidly suggested other American travellers do the same thing: "I met a guy from New York who was wearing a Canadian flag the last time I went to Thailand."
The apparent discernment was quite clear, in the sense, that a large percentage of Canadians believe they enjoy a far better reputation abroad than our neighbours down south; however, I´m particularly not in favour of this ´vogue´ and will suggest a number of reasons why I think it is  in certain cases vexatious.
Should I Wear A Flag On My Backpack?
Canadian Identity
As a Canadian who has spent more years as a mature adult abroad, I feel I have a bit more of an objective stance when it comes to Canadian-American relations from a somewhat removed and detached point of view. Firstly, what I find particularly disturbing is that such a large part of the Canadian identity is based upon the notion of NOT wanting to be American. It´s the kind of inferiority complex that is not ´uncommon´ for a peripheral nation sharing a border with a much larger and significant power. Instead of having uniquely Canadian values that are clearly identifiable at home and abroad, a large part of ´being´ Canadian is simply ´not´ being American. We´re not ´like´ this or we´re not ´like´ that.
Elitist Snobs
Personally, I´ve found that travelers/backpackers (in general) share characteristics that transcend nationality, political affiliation and geographical location. Most adventurers and backpackers are outgoing, curious, open minded, and generally are ´in awe´ of the unique experiences they are having abroad in a foreign country. It takes a certain personality to be able to successfully travel abroad on an extended journey. If one does not have many of the select traits I´ve listed above, it becomes a rather daunting scenario to imagine how one would ´get by´ on a day to day extended basis with all of the significant cultural differences, diversity and completely different way of life from back home.
Most of the American friends I have made while overseas have been some of the most open-minded types of travellers I have ever encountered. Thus, it really comes across as being ´elitist´ when Canadian travellers openly admit they are adorning the Maple Leaf for no other reason than to show/prove they are not American. This is uniquely Canadian. Korean trailblazers are not wearing the Korean flag to distinguish themselves as ´not being from Japan´ and Austrian vagabonds are not proudly displaying their national crest to boldly demonstrate they are not from Germany. When I´ve explained my stance to other backpacking acquaintances they´ve often told me in confidence they found it ´odd´ to see so many Canadian flags all the time as well.

source: Wolters World on YouTube
Local Significance
In order to understand fully the complete folly of the Canadian flag being a significant ´positive symbol´ in some far off corner of the world it becomes necessary to imagine an inverse scenario back home. At a local Tim Horton´s (an inordinately popular Canadian doughnut chain) imagine a Khmer individual (Cambodian) walking into the store and placing an order for a medium sized coffee and a maple dip donut. The local Canadian teenage employee, who has never been abroad, notices the Temple of Angkor flag proudly displayed on the Khmer´s backpack and gleefully demonstrates exuberance over the fact this person is in fact ´Cambodian´ and NOT ´Thai. If the scenario seems a little bit far fetched what on earth is one thinking the exact same scenario abroad – in a far off corner of the world – `plays itself out any differently?
The fact remains that most individuals in local cultures simply do not care where you are from or are able to distinguish the cultural differences between a Canadian or American any differently than a typical Canadian is able to tell the same differences between two neighbouring countries in South East Asia. In my humble opinion, it´s absolutely an absurd notion to think any differently if looked upon both critically and objectively.
Although I´m certainly not ashamed to be Canadian – and I´m in fact proud to be where I come from – I will not be amongst those who wear the Canadian flag on their backpack. In my opinion, it´s simply a ´false´ attempt and a gross miscalculation to believe that it is going to allow myself to experience better service and a more friendly welcome from locals because I have it on my backpack.
"However, when in doubt, I will ´wear a smile´ and try to fumble a few sentences in the native language of my host country as a way of making a ´real´ ´positive´ first impression."

source: KnowledgeHusk on YouTube
Brief History Of The Canadian Flag
Oh, the history of the Canadian flag is just thrilling. I mean, who doesn't love a good flag story?
So, back in the day, Canada used the Red Ensign flag that featured the Union Jack, because we all know how much Canada loves being associated with the United Kingdom. But alas, some Canadians started feeling a bit self-conscious about not having their own distinct national symbol, and thus began the debate over a new flag.
Fast forward a few decades to the 1960s, and finally the Prime Minister, Lester B. Pearson, decided it was time to take action. He formed a committee to choose a new design for the national flag, and let me tell you, the process was riveting. The committee received over 5,900 design submissions. I mean, can you even imagine the excitement of going through all those designs? So. Much. Fun.
After a long process of elimination, the final design was chosen. Drumroll please…and ta-da! The flag features a red field with a white square in the centre, which contains a stylized, 11-pointed red maple leaf. Riveting stuff, right?
But wait, there's more! The new flag was not without controversy. Some Canadians, particularly those with ties to the British Empire, were opposed to the new design, arguing that it lacked tradition and historical significance. Because nothing says "tradition" like being associated with another country's flag, right?
Despite the controversy, the Maple Leaf flag was officially adopted on February 15, 1965. And now, it is one of the most recognizable flags in the world, and is a symbol of Canadian identity and pride. Exciting stuff, eh?

source: Gentleman's Gazette on YouTube
How To Dress Neutral While Backpacking
Dressing neutrally while backpacking is a wise decision that can enhance your traveling experience in more ways than one. Not only does it help you blend in with the natural environment, but it also minimizes the risk of attracting unwanted attention to yourself. Whether you're exploring a mountain trail or wandering through a bustling city street, dressing in neutral tones is an effective strategy that can bring multiple benefits.
To start, consider selecting clothes in earthy tones like beige, khaki, olive green, and brown. These colors are synonymous with the natural world and can seamlessly blend in with your surroundings, allowing you to immerse yourself in the landscape without being noticed. Additionally, these colors are subtle and versatile, making them ideal for any type of adventure.
Avoid wearing bright colors or patterns, as these can easily draw attention to you and make you stand out. By contrast, dressing in neutral tones allows you to remain low-key and unobtrusive, enabling you to blend in with the background and keep a low profile.
When choosing your attire, it's important to opt for lightweight, breathable clothes that can provide comfort and mobility. Look for materials like cotton or synthetic fabrics that are breathable and easy to wear, and avoid heavy or bulky clothes that can be cumbersome to carry around.
Layering your clothing is also an excellent way to adjust your outfit to the weather conditions. Packing a lightweight jacket or fleece can be a lifesaver in cooler temperatures, while a hat and sunglasses can protect you from the sun and offer a stylish touch to your attire.
When it comes to footwear, prioritize comfort and stability. Hiking boots or trail running shoes are ideal for backpacking and can handle different types of terrain with ease. These shoes not only provide ample support and cushioning for your feet but also keep you grounded and stable while trekking across challenging terrain.
Hence, keep your accessories minimal and simple. Avoid wearing flashy jewelry or accessories that can easily attract attention, and opt for a watch, hat, and small backpack instead. This will help you stay organized and focused, while minimizing your risk of attracting unwanted attention.
Dressing neutrally while backpacking can provide numerous benefits that can make your traveling experience more enjoyable, comfortable, and safe. By choosing the right clothes, footwear, and accessories, you can blend in with your surroundings, avoid drawing unwanted attention, and focus on the beauty and wonder of the world around you.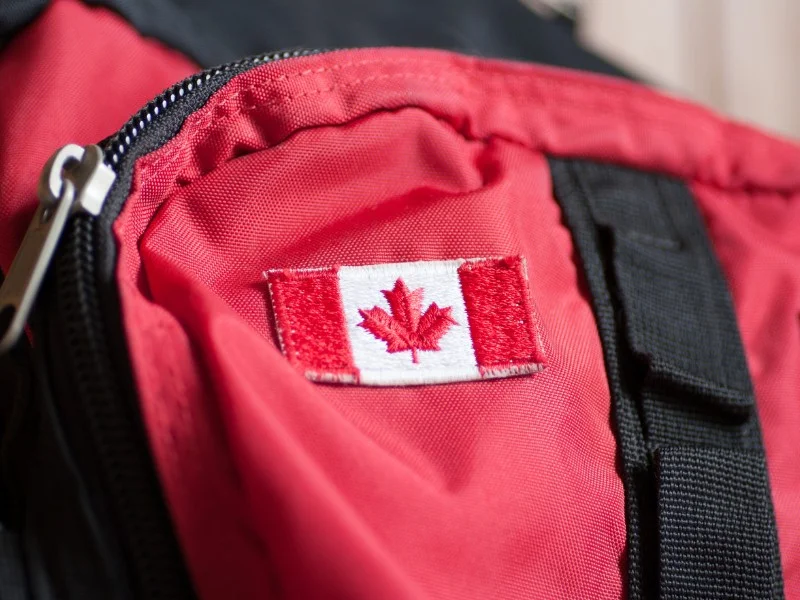 The Downsides of Wearing the Canadian Flag
Misrepresentation and Authenticity
The Importance of Authentic Travel: Traveling offers an unparalleled opportunity to immerse oneself in diverse cultures, exchange ideas, and form lasting bonds. Central to these experiences is the concept of authentic travel, which encourages travelers to remain genuine and seek deeper connections with the places they visit and the people they meet.
Hiding Behind a Nationality: Adorning oneself with a Canadian flag, especially when one isn't Canadian, can be seen as hiding behind a nationality. It presents a façade which might not be representative of the traveler's true identity. In many ways, this can lead to superficial interactions, as the local populace may change their behavior based on perceived notions about Canadians.
Diminishing Genuine Interactions: The spirit of travel lies in forging genuine connections. By masquerading under a different nationality, travelers potentially rob themselves of unique experiences that could arise from honest interactions. Locals are often keen on understanding the unique stories and backgrounds of their visitors. However, when confronted with a misleading representation, the essence of such interactions could be lost.
Safety Concerns
The Allure of Prominent Symbols: Prominent symbols, such as a brightly colored Canadian flag, can easily draw attention. While many might argue that it attracts positive reactions due to Canada's favorable global image, it's also true that it can make one stand out in a crowd, sometimes in undesirable ways.
False Assumptions and Real Dangers: Wearing a Canadian flag might lead some travelers to assume they are immune to potential dangers, given Canada's generally positive reputation. This false sense of security can lead to riskier behaviors or decisions, like wandering into unsafe areas or trusting strangers too quickly.
Stereotyping and Generalizations
The Double-Edged Sword of Stereotypes: While Canadians are often stereotyped as friendly, polite, and peace-loving, relying on these generalized notions can be limiting. Locals might interact with a traveler based purely on these stereotypes, rather than seeing the individual for who they truly are.
Overshadowing Personal Identity: For genuine Canadians wearing the flag, there's a risk of their personal stories, identities, and experiences being overshadowed. Instead of being seen as John or Jane with unique life experiences, they might solely be interacted with as "the Canadian."
Ethical Implications
Borrowing Identities: For non-Canadians, wearing a Canadian flag brings up significant ethical concerns. By consciously choosing to adopt another country's identity for personal benefits or perceived safety, individuals are essentially appropriating an identity that isn't theirs.
Undermining Authentic Canadian Travelers: When non-Canadians wear the flag and then possibly engage in inappropriate or disrespectful behavior, it can lead to skewed perceptions of Canadians. This not only taints the image of Canadians abroad but can also affect the interactions of actual Canadian travelers, who might be judged based on the actions of impostors.
While the Canadian flag is a symbol of pride for many, its use as a protective cloak or as a tool for misrepresentation in international travels raises several issues. From diminishing the authenticity of travel experiences to potentially jeopardizing one's safety and propagating stereotypes, there are profound implications to consider before sewing that maple leaf onto a backpack.
Other Ways to Showcase National Pride Responsibly
Sharing Cultural Experiences
The Power of Cultural Exchange: One of the most beautiful aspects of travel is the mutual exchange of cultures. As global ambassadors, travelers can play a pivotal role in presenting the best of their homeland to foreign shores. This doesn't necessarily have to be through tangible symbols but can be achieved through the rich tapestry of cultural experiences that every nation possesses.
Canadian Music, Art, and Stories: Canada has a vast cultural landscape. From the evocative sounds of Leonard Cohen and Joni Mitchell to the compelling works of Margaret Atwood and Douglas Coupland, Canadians have a rich array of artists and thinkers to introduce to the world. Sharing a song, recommending a book, or discussing Canadian art can be enriching for both the traveler and the listener.
Cooking Up Memories: Food is a universal language, and every culture takes immense pride in its culinary heritage. Offering to cook a traditional Canadian dish like poutine, butter tarts, or tourtière for hosts or fellow travelers not only showcases Canadian culture but also fosters a deeper connection through shared meals.
Wearable Souvenirs
Subtlety in Representation: While it's natural to want to showcase national pride, doing so subtly can sometimes be more impactful. Instead of the more overt display of a flag, smaller tokens can spark genuine curiosity and open conversations without overwhelming or misrepresenting.
Canadian Pins, Necklaces, and More: A tastefully designed pin featuring the maple leaf, a necklace with a Canadian motif, or even clothing items with Canadian symbols can be conversation starters. They're discreet enough not to overshadow the individual but still signify the traveler's roots.
Spreading Kindness and Respect
Embodiment of Values: Canada is renowned globally for its values of kindness, tolerance, and respect. Instead of merely showcasing a flag, Canadians traveling abroad can embody these values, leaving an indelible mark of genuine Canadian spirit wherever they go.
Positive Interactions and Lasting Impressions: Being a responsible traveler involves respecting local customs, understanding boundaries, and engaging in positive interactions. By doing so, a traveler not only upholds the reputation of their homeland but also sets an example for others. Such behavior leaves behind a legacy far more potent than any symbol – the memory of a respectful, kind-hearted individual who represented the best of Canada.
In essence, national pride doesn't have to be a visible proclamation. Sometimes, the most profound representations come from shared experiences, subtle symbols, and, most importantly, the values that a traveler embodies.
Why It Is Not A Good Idea To Wear A Flag On Your Backpack
Wearing a flag on your backpack while traveling may seem like a harmless gesture to showcase your national pride or identity. However, it is a practice that could potentially create unintended consequences and should be approached with caution. In fact, it is generally considered ill-advised for several reasons.
It is essential to keep in mind the importance of cultural sensitivity when traveling abroad. Displaying national symbols, including flags, can be perceived differently depending on the region you are in. In some cultures, it may even be regarded as a political statement or a sign of disrespect towards the local customs and beliefs. As such, it is crucial to be mindful of the cultural norms of the country you are visiting to avoid any misunderstandings that could potentially lead to unpleasant or even dangerous situations.
Wearing a flag on your backpack can make you more noticeable as a foreigner, which can attract unwanted attention from individuals with nefarious intentions. For instance, it may make you a target for pickpockets, scammers, or even more serious criminal elements. In regions with a history of political unrest or anti-foreigner sentiment, displaying a flag can make you more vulnerable to attacks, discrimination, or even arrest.
Wearing a flag on your backpack could potentially lead to misrepresentation, which could result in awkward or even hostile encounters. For example, if you are not from a particular country, but wear its flag, locals may assume you are from that country and make assumptions or judgments about you based on that. This could create unnecessary tension, misunderstandings, and even hostility towards you.
It is essential to consider the inappropriate use of national symbols. In some countries, the flag is considered a sacred symbol of national pride and is treated with reverence. Using it as a fashion accessory or casual decoration could be seen as disrespectful or even offensive, causing unintended offense or hostility.
While it may seem like a small gesture to wear a flag on your backpack while traveling, it could potentially create unwanted attention, misunderstandings, and even safety risks. To ensure a smooth and respectful travel experience, it is best to avoid using national symbols as fashion accessories and instead focus on immersing oneself in the local culture and customs with respect and mindfulness.