Salzburg Travel Guide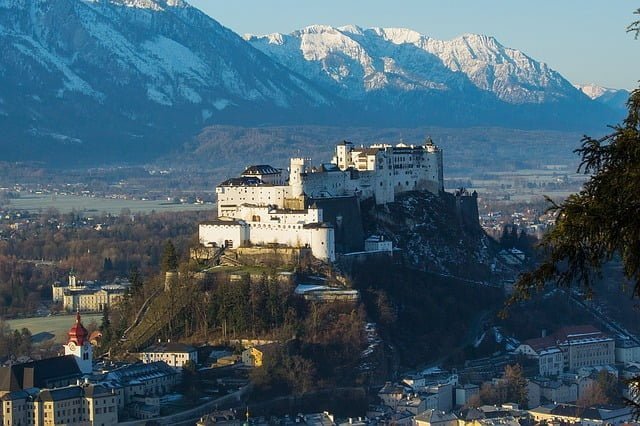 Introduction
Salzburg may be best known for producing one of the most gifted musicians ever.
However, it has so much more to offer than that. In the city and its immediate surroundings, you'll find scores of palaces, castles, and fortresses.
From gardens that'll make you want to sing to playful fountains, you'll find it all in Salzburg.
Come check out our Salzburg travel guide for cultural travelers as we cover the best things to do in Salzburg, Austria.
Top Attractions
You can't really leave Salzburg without paying a visit to Mozart's Birthplace. Born Wolfgang Amadeus Mozart, this man became one of the most accomplished composers to ever live. From his early childhood years, Mozart was clearly gifted. He quickly excelled at the keyboard and violin, and performed for royalty.
After briefly working in the Salzburg royal court, he quit and moved to Vienna. There, he dedicated himself fully to composing. Ignoring the trappings of material wealth, he created numerous symphonies, concertos, and operas. At the time of his tragic death, he was in the midst of creating the Requiem in D Minor.
In Salzburg, you'll walk through where his parents raised him in his youth. Curators have faithfully reconstructed their apartment as it would have appeared in the 18th century. As you take your one-hour walking tour, note that this is how middle-class people lived back then.
Exhibits also contain items that belonged to Wolfgang himself. These included his musical instruments, letters, and other personal memorabilia. Be sure to pick up the audio guide at the entrance. By doing so, it will add depth to everything you see on your tour.
Next, make your way over to the Hohensalzburg Fortress. At the orders of Archbishop Gebhard, workers built this behemoth in the 11th century. Thanks to its superior construction/positioning, it stood throughout its life without the enemy conquering it. Within its walls, several museums exist. The fortress itself features cannons, lofty ramparts, as well as exhibits. In its displays, you'll find coins, pottery, weapons, suits of armour, and more.
After that, check out this attraction's other museums. These include Altes Zeughaus, which shows how the fortress changed in the age of firearms. IIf you have a family, the Marionette Museum will be of interest. It shows how stringed puppets entertained royalty and commoners alike in past centuries.
The Hohensalzburg Fortress sits atop a sizable hill in Salzburg. To save your legs, take the funicular to the top. At about 5 EUR, it's a good value. Also, pick up the audio guide upon entering the fortress. It will help illuminate your experience here as you wander this attractions many halls.
After the fortress, make the Mirabell Palace and Gardens your next stop. Prince-Archbishop Wolf Dietrich built this beautiful estate in the 17th century for his beloved spouse. As you walk the grounds of this palace, a strong case of deja vu may come on.
This feeling is no accident. Years ago, the Mirabell Gardens served as the backdrop for a memorable movie scene. In "The Sound of Music," Maria Von Trapp and her children sang "Do Re Mi" here. If you are a fan of this movie, be sure to take a "Sound of Music" themed tour.
If you have one more palace in you, also include Schloss Hellbrunn in your Salzburg travel plans. Built more than four centuries ago as Prince-Archbishop Markus Sittikus' summer residence, it's a fun place to visit.
While the gardens of this palace are magnificent, its trick fountains are the real showstopper. As you walk through the garden, water can randomly shoot out of sculptures and beneath pathways. For this reason, you should wear clothes you don't mind getting wet in.
Other Attractions
If you want to see this city's top place of worship, head to Salzburg Cathedral. Best known as the site of Mozart's baptism, this church also features excellent elements of Baroque design. Churches have existed on this spot since the 8th century. However, the current structure dates from the 17th century.
Inside, its frescoes and stained glass windows will command your attention. However, the fact that this cathedral boasts no less than five organs will astound you. Unlike other churches in Europe, admission is free, but they do accept donations.
Adrenaline sports fans will not want to miss visiting Red Bull Hangar-7 while in Salzburg. Crafted by Red Bull founder Dietrich Mateschitz, it is the home of The Flying Bulls, a fleet of vintage aircraft. A group of enthusiastic pilots fly these beauties, which hit at this hangar when not in use.
There is more than planes here, though – you'll also get to check out classic helicopters and Formula One cars. If you have the scratch, stay for dinner at Ikarus, a Michelin-starred resto.
Before leaving Salzburg, get a sweeping panoramic photo from above by riding the Untersberg Cable Car. From bottom to top, this tram ascends more than 1,320 metres. From the summit station, get a perfect shot of Salzburg, then go for a hike.