Located at the far eastern end of Sabah and Malaysian Borneo, Semporna has moved beyond being a humble fishing centre to become a home base for divers and snorkelers wanting to check out some of the best underwater scenery in Asia, and perhaps, the world.
While it will take a long day of transport by bus to get here, your discomfort will be repaid by the marvellous sights and experiences you will soon get to witness for yourself.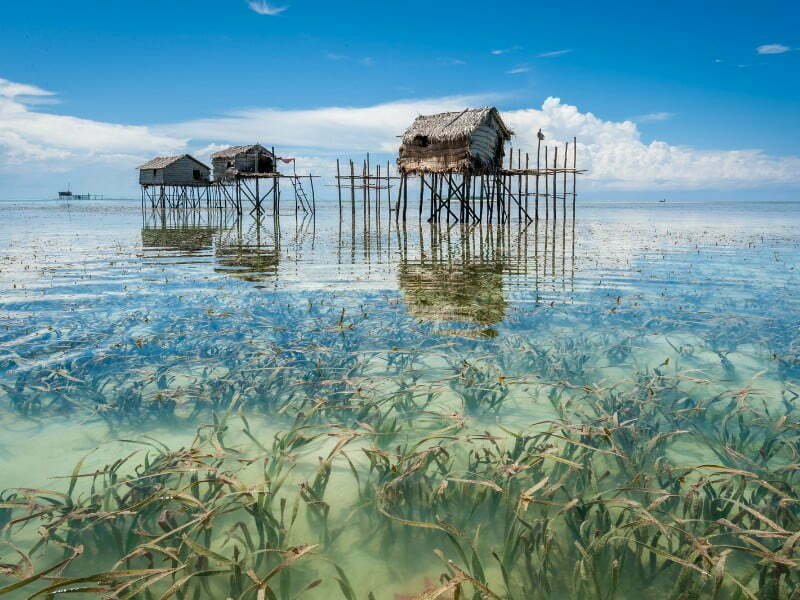 Semporna City Guide: A Brief History Of Semporna, Malaysia
Semporna is a small, but historically significant town situated along the southeastern coast of Sabah, Malaysia. Its rich and diverse history spans back to the 14th century, when it was under the rule of the Brunei Sultanate.
Nestled amidst the azure waters of the Celebes Sea, Semporna's early history is intricately linked with the sea. The town's residents were skilled seafarers, relying on the ocean for their livelihoods, trade, and transportation. The Bajau Laut, a community of sea gypsies, who lived in stilt houses above the water, played a significant role in shaping Semporna's maritime culture and traditions.
As the 19th century dawned, Semporna's strategic location made it a vital port town. The town became a bustling center of commerce, with various commodities such as tobacco, cotton, and spices transported through its harbor to other parts of Asia. The town's prosperity and influence continued to rise until World War II, when it was occupied by the Japanese, and heavily bombed, causing extensive damage.
After the war, Semporna began the slow and arduous process of rebuilding itself. The government invested in infrastructure, and diversified industries such as agriculture, fisheries, and tourism, which today is one of the town's primary sources of income. With its stunning coral reefs, islands, and rich marine biodiversity, Semporna is a paradise for scuba divers and beachgoers alike.
Despite the tumultuous events of its past, Semporna's culture and traditions have remained intact. The town's people take pride in their maritime heritage, and celebrate their unique identity through traditional music, dance, and food.
Today, Semporna is an important center of trade and commerce in the region, with its port serving as a hub for the transportation of goods to neighboring countries. Its history is a testament to the resilience of its people, and the beauty and bounty of the sea that surrounds it.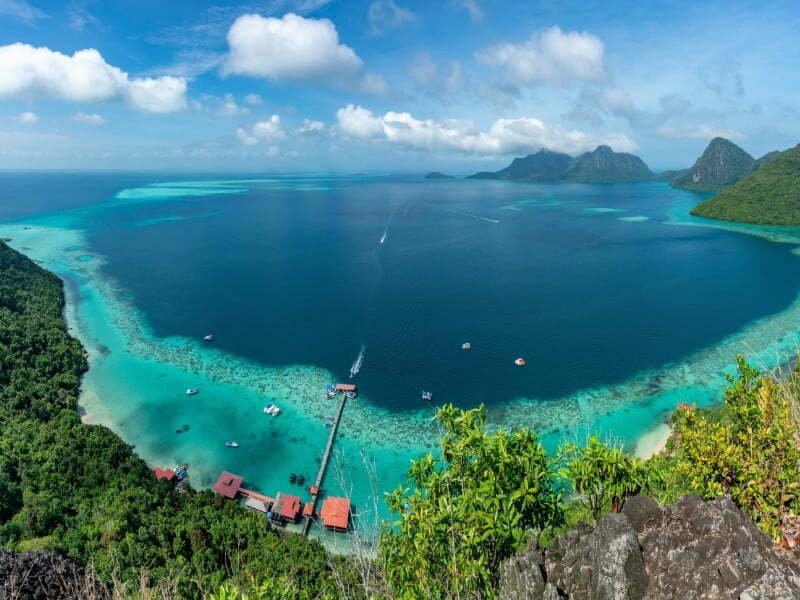 Semporna Top Attractions and Best Places to Visit in Malaysia
Of all the attractions people come to the Semporna area, Sipadan National Park is by far the biggest draw. Regarded by many diving experts to be one of the best spots in the world to descend beneath the waves, as the biodiversity in this part of the world is among the most intense.
With colourful coral, fauna such as sea turtles and hammerhead sharks, and bathtub-warm water, it has become so popular that permits began to be issued in 2005 to control the throngs of people who were flocking to this gorgeous corner of the world.
Don't have the money or time to go to Sipadan Island? Mabul Island is a worthy consolation prize, as its multicoloured reefs, diverse marine life, and powdery white sand onshore will make you quickly forget not being able to make to the former destination.
A small community of fishing families live on this isle as well – while they are friendly folk, respect their privacy by not entering or photographing the interior of their homes without permission.
Lesser visited but incredibly impressive by any standard, Bohey Dulang Island is a place you should make an effort to see and experience. Made of the former remains of an ancient volcano, its sharp inner mountain range will beckon to hikers everywhere.
While the snorkelling and diving off its shore is nothing short of world-class, you'll want to bring a good pair of shoes to ascend its interior, as the view from its summit will give you views that you'll remember for a lifetime.
Don't forget to bring water, though, as the equatorial heat and exertion from climbing may cause you problems if you don't stay adequately hydrated.
In the Semporna area for the long haul? Team up with local dive companies to tour the islands which comprise Tun Sakaran Marine Park. With eight main islands and numerous other islets, there are plenty of spots to dive in with SCUBA gear or with a mask and snorkel, but that's not all there is to this beautiful park.
With over 2,000 sea gypsies calling this park home, you will see their settlements as your dive boat makes their way between these isles. Also, you'll see stunning beaches which will forever ruin lesser ones in your mind.
Want to see a truly amazing example of this? Ensure your tour takes you to Sibuan Island – were it not for your life back home, you might not ever want to leave.
Other Cultural Attractions: Trip to Semporna, Malaysia
As beautiful as the reefs in the Semporna area are, many have been damaged considerably by a practice known as bomb fishing, where explosives are tossed into the water to kill large numbers of fish in the resulting blast. Effective but permanently damaging to marine ecosystems, the Tropical Research and Conservation Centre has made it one of their missions to help rehabilitate coral reefs wounded by this practice.
In addition to the test reef where they carry out research to help complete this goal, they also offer volunteer programs where you can help them while learning about responsible diving and snorkelling.
Want to engage in a nature-related activity that doesn't involve SCUBA diving or snorkelling? Sign up for the Semporna Proboscis River Cruise, which is an adventure that will take you into the dark heart of Borneo in search of one of the world's unique and threatened primate species.
In addition to sighting this colourful monkey, you'll also have a chance to spot long-tailed macaques, pipe hornbills, fruit bats, and as darkness begins to fall, fireflies.
On your way to your dive boat early in your day, take a path that will lead you through the morning market. Filled with the catches that local sea gypsies bring ashore, stalls that sell cheap Chinese made goods, and other crafts and local produce, it is the perfect place to connect with Semporna before heading out into its famed waters.
Be sure to snap a good photo of this town's mosque while you are down there, as it located adjacent to where this daily event occurs.
As you putter out into the Sulu Sea in search of amazing walls and coral reefs, look to your left as you pull out of Semporna. You'll get to see a water village where many sea gypsies and migrant Filipino fishing families live at low cost.
While some of the homes and pilings look unwieldy in their construction, they are well-built and provide a cost-effective place to call home for those who live off the bounty of the local seas. Don't try to access the community by yourself unless you are invited by a resident, as the locals here have no interest in participating in the tourism trade.

source: Jumping Places on YouTube
Top 10 Things To Do in Semporna, Malaysia For Visitors
The tranquil town of Semporna, nestled on the southeastern coast of Sabah, offers a breathtakingly immersive experience that blends nature, culture, and adventure. Here are the top ten things to do in this serene haven:
Immerse yourself in the blue – Semporna boasts some of the most splendid dive sites in the world. Discover the stunning marine biodiversity of Sipadan Island, Mabul Island, and Kapalai Island, where the vibrant coral reefs and fascinating marine creatures are sure to leave you spellbound.
Island hopping – Take a boat tour and explore the picturesque nearby islands, such as Bohey Dulang, Mantabuan, and Sibuan. Revel in the white sandy beaches, crystal-clear waters, and stunning vistas that will have you mesmerized.
Encounter the Bajau Laut – The indigenous sea gypsies who inhabit Semporna, the Bajau Laut, offer a captivating insight into a unique way of life. Visit their stilt villages, savor their delicious seafood, and learn about their rich culture and traditions.
Traverse Tun Sakaran Marine Park – This marine park is a natural treasure trove, home to a diverse range of marine life that will have you captivated.
Ascend Bohey Dulang Island – For those seeking a challenge, Bohey Dulang Island offers a hike to its summit, where breathtaking panoramic views of the surrounding islands await.
Witness sea turtles – At the Sea Turtle Conservation Centre, witness the marvel of baby turtles hatching or participate in conservation efforts to preserve these wondrous creatures.
Go fishing – Embark on a fishing trip with a local guide, and catch your own dinner from the teeming waters of Semporna, where grouper, snapper, and tuna abound.
Stroll through Semporna Old Town – The town's history and culture come alive in its historic district, where a leisurely walk immerses you in the rich tapestry of the area's heritage.
Collect souvenirs – Take home some of the town's traditional Bajau Laut handicrafts, such as woven baskets, mats, and wooden carvings, from the bustling local markets.
Unwind and rejuvenate – Indulge in a spa treatment, sip on a sunset cocktail on the beach, or simply soak up the tranquil ambiance of Semporna. Whatever your preference, the serene charm of Semporna will leave you feeling refreshed and rejuvenated.
What To Eat and Drink At Restaurants in Semporna, Malaysia
Semporna is renowned for its mouth-watering seafood and traditional delicacies. Here are some must-try dishes and beverages in Semporna:
Seafood – As a coastal town, Semporna offers an abundance of fresh seafood dishes, including grilled fish, prawns, crabs, and squids. Be sure to try the famous seafood platter at Dragon Pearl Restaurant, which offers an array of seafood cooked in different styles.
Nasi Lemak – This national dish of Malaysia consists of rice cooked in coconut milk and served with a range of accompaniments such as sambal (spicy sauce), fried anchovies, peanuts, cucumber, and boiled egg. The best place to enjoy this dish in Semporna is at Restoran Che Salleh.
Laksa – Semporna's version of laksa is unique and distinctive, with a tangy and slightly sweet broth made with fish, tamarind, and coconut milk, served with noodles, fish cakes, and bean sprouts. One of the best places to try this dish is at D'Laksa Restaurant.
Hinava – This traditional Bajau dish consists of thinly sliced raw fish mixed with lime juice, chili, ginger, onions, and other herbs. It's a refreshing and flavorful dish that's perfect as an appetizer or side dish.
Coconut Shake – This refreshing beverage is made from fresh coconut water, blended with ice and syrup, and topped with a scoop of ice cream. The best place to try this drink is at the Coconut Shake stall located near the Semporna jetty.
Teh Tarik – This iconic Malaysian drink is made from black tea mixed with condensed milk, creating a frothy and creamy texture. You can find this drink at most coffee shops and restaurants in Semporna.
Semporna's rich cultural and culinary heritage offers a wide range of delicious and unique dishes, ensuring that there's always something to satisfy your taste buds. So, be sure to indulge in the local cuisine during your visit to this delightful town.

source: 北马搞怪团 on Youtube
Tours For Visitors To Semporna, Malaysia
Semporna offers a wide range of tours and activities for visitors to experience the unique culture and natural beauty of the area. Here are some of the top tours that visitors can take:
Island Hopping Tour: Semporna is surrounded by numerous islands, each with its own unique charm. Visitors can take an island-hopping tour to explore some of these islands, including Mabul Island, Bohey Dulang Island, and Sibuan Island. These tours typically include snorkeling or diving activities, and visitors can expect to see an abundance of marine life.
Semporna Heritage Walk: For visitors who want to learn more about the history and culture of Semporna, the Semporna Heritage Walk is a must-try tour. Visitors can explore the town's historical sites, including the Semporna Old Mosque and the Semporna Cultural Village, while learning about the town's rich history and cultural heritage.
Scuba Diving: Semporna is renowned for its world-class scuba diving spots, including the Sipadan Island, which is known for its breathtaking coral reefs and diverse marine life. Visitors can take scuba diving tours to explore these spots and experience the thrill of diving in some of the world's most beautiful waters.
Firefly Watching: Visitors can take a firefly watching tour to see the beautiful bioluminescent fireflies that inhabit the mangrove forests near Semporna. These tours usually take place at night and offer a unique and mesmerizing experience.
Sepilok Orangutan Rehabilitation Centre Tour: The Sepilok Orangutan Rehabilitation Centre, located near Semporna, is home to orphaned orangutans that are being rehabilitated to return to the wild. Visitors can take a tour of the centre to see these magnificent creatures up close and learn about the conservation efforts being undertaken to protect them.
Kinabatangan River Cruise: The Kinabatangan River is the second-longest river in Malaysia and is known for its diverse wildlife, including proboscis monkeys, Borneo pygmy elephants, and various bird species. Visitors can take a river cruise to explore this unique ecosystem and spot these animals in their natural habitat.
Semporna features a diverse range of tours and activities that cater to different interests and preferences. Visitors can explore the area's natural beauty, cultural heritage, and unique wildlife, making it an ideal destination for adventurous travelers.
Semporna Accommodations Guide: Hotels, Guesthouses and Hostels
With a plethora of accommodations to choose from, visitors are sure to find the perfect place to stay and make unforgettable memories.
For those seeking luxury and privacy, the Sipadan Kapalai Dive Resort is a must-visit. This resort offers overwater bungalows that provide guests with panoramic views of the stunning turquoise sea. The resort is renowned for its excellent diving facilities, which makes it a top pick for diving enthusiasts.
For those who prefer an eco-friendly and serene ambiance, the Pom Pom Island Resort is the ideal destination. Situated on a secluded island, this resort features private villas and chalets that blend traditional architecture with modern amenities. Its commitment to sustainability and breathtaking diving and snorkeling opportunities make it an ideal option for nature lovers.
For budget-conscious travelers, Seafest Hotel and Semporna Paradise Backpackers offer comfortable and affordable accommodations without sacrificing quality. The former is located in the heart of the town center, providing easy access to shops and restaurants, while the latter is ideal for backpackers who wish to explore the town's attractions.
For a unique experience, the Dragon Inn Floating Resort offers traditional wooden houses built on stilts that are connected by walkways. It provides a rare opportunity to experience the local way of life and is located near the town center.
Semporna's accommodations offer a diverse range of options that cater to different preferences and budgets. From luxury resorts to budget-friendly guesthouses, visitors are sure to find a place that suits their needs and allows them to fully immerse themselves in the town's beauty and culture.
Day Trips From Semporna, Malaysia
Semporna offers a plethora of day trip options for visitors who wish to explore the natural beauty and cultural richness of the region. These options range from marine conservation areas to cultural settlements and pristine wilderness areas.
One of the most sought-after day trip destinations is Sipadan Island, renowned for its world-class diving sites that attract divers from across the globe. The island offers visitors the opportunity to explore its vibrant coral reefs and swim alongside sea turtles, sharks, and other marine creatures in the crystal-clear waters.
Tun Sakaran Marine Park, comprising eight islands, is another popular day trip destination. The park offers a range of activities, including snorkeling, diving, and relaxing on the white sandy beaches while taking in the stunning views of the coral reefs and lush rainforests.
For visitors seeking a glimpse into the local culture, a visit to the Bajau Laut Settlement is a must. This community of sea gypsies has lived in the area for centuries, preserving their traditional lifestyle and practices. Visitors can immerse themselves in the community's fishing techniques, try traditional handicrafts, and savor their delicious seafood cuisine.
Nature lovers can indulge in a guided trek through the pristine Maliau Basin Conservation Area, also known as the "Lost World of Sabah." The region is home to a diverse array of flora and fauna, including several rare and endangered animal species. Visitors can spot wildlife, marvel at the stunning waterfalls and natural wonders, and soak in the tranquility of the rainforest.
For visitors seeking relaxation and tranquility, Bum Bum Island offers secluded beaches, crystal-clear waters, and a laid-back atmosphere. The island is a perfect escape from the crowds and an ideal place to reconnect with nature.
Semporna's day trip options offer an assortment of experiences that cater to a range of interests, from adventure and nature to culture and relaxation. With its proximity to a wealth of stunning destinations, Semporna is a must-visit for travelers seeking to explore the beauty and diversity of Sabah.
Semporna Transportation Guide
Semporna offers a range of transportation options for visitors to explore the town and its surroundings.
When it comes to getting around the town, the most popular mode of transportation is by taxi or motorbike rental. Taxis can be easily found at designated taxi stands or hailed on the street. Motorbikes, on the other hand, can be rented from local shops that are scattered around the town. Negotiating the fare beforehand is always recommended to avoid any misunderstanding.
For visitors seeking to explore the nearby islands and marine conservation areas, boat tours are the most common mode of transportation. Visitors can either join organized tours or hire private boats from the many tour operators located throughout the town. It is important to ensure that the boat operator is licensed and equipped with adequate safety equipment, as safety should be the top priority when it comes to water transportation.
For those who are planning to travel further afield, Semporna is connected to other major cities in Sabah by road and air. The nearest airport is Tawau Airport, which is approximately 1.5 hours away by road. Buses and minivans operate between Semporna and Tawau, as well as other major cities in Sabah.
In addition to taxis, motorbikes, and boat tours, it is also possible to hire a car or motorbike to explore the surrounding areas independently. However, it is important to note that driving in Sabah can be challenging due to the narrow roads, unpredictable weather conditions, and local driving habits.
For visitors who prefer a more environmentally-friendly mode of transportation, bicycles are also available for rent in some places in the town. Cycling around the town can be a fun and leisurely activity, especially if you want to take in the beautiful scenery and soak in the local culture.
Semporna offers a variety of transportation options for visitors to explore the town and its surroundings. Whether you prefer to take a taxi, rent a motorbike, or join a boat tour, there are plenty of options to choose from. Visitors should always prioritize safety when it comes to water transportation, and exercise caution when driving on the narrow roads in Sabah.
Where To Visit After Your Trip To Semporna?
As your trip to Semporna draws to a close, you may be wondering what other hidden gems Sabah, Malaysia has to offer. Fear not, as there are plenty of exciting destinations that await your exploration!
First up is Kota Kinabalu, Sabah's vibrant capital city. Immerse yourself in the local culture by visiting the iconic Atkinson Clock Tower, and grab a bite to eat at the bustling Night Market. For the more adventurous, hike up to the top of Mount Kinabalu for breathtaking views of the surrounding landscape.
If wildlife is more your thing, head over to Sandakan, located on the east coast of Sabah. Visit the Sepilok Orangutan Rehabilitation Centre, where you can witness the playful primates in their natural habitat. Next, take a trip to the Rainforest Discovery Centre to learn about the rich flora and fauna of the region. Lastly, take a boat ride to the nearby Turtle Islands to witness these beautiful creatures in action.
Kundasang is another great destination for nature lovers. Located in the foothills of Mount Kinabalu, this picturesque town offers stunning views and a chance to visit the Desa Dairy Farm to see how milk is produced. Soak in the hot springs or go on a trek to the beautiful Poring Waterfall for an unforgettable experience.
Further south of Semporna lies the bustling town of Tawau, known for its seafood and vibrant markets. Visit the Teck Guan Cocoa Museum to learn about the history of cocoa production in the region, explore the Tawau Hills Park for some scenic hiking trails, or take a day trip to the nearby islands of Bohey Dulang and Mataking.
Last but not least is Mabul Island, a paradise for diving and snorkeling enthusiasts. This stunning island is known for its vibrant coral reefs and diverse marine life, making it an unforgettable underwater experience.
Sabah is a treasure trove of diverse destinations that cater to every traveler's interests. From cultural cities to natural wonders, there is no shortage of places to visit and explore after your Semporna adventure.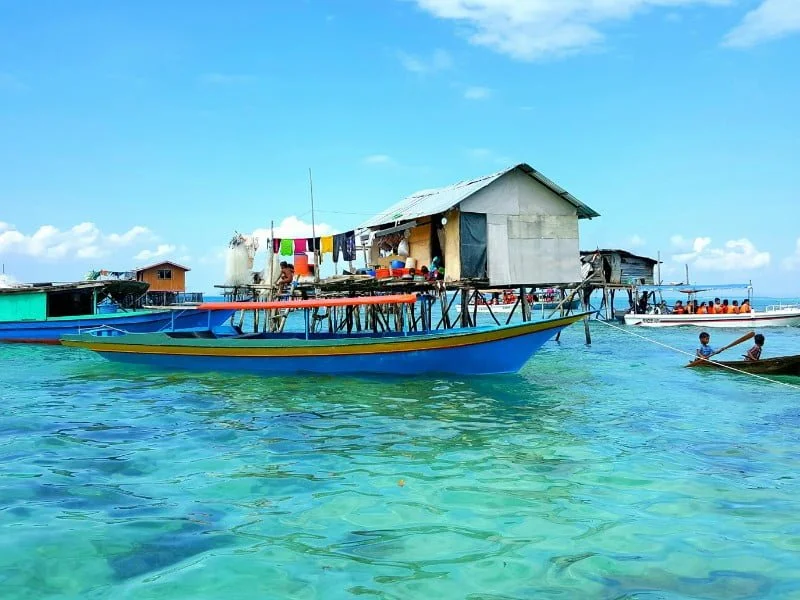 Semporna Travel Guide: Final Thoughts
Semporna, with its stunning islands and vibrant culture, is a destination that will leave you with lasting memories. Whether you're interested in exploring the diverse marine life or immersing yourself in local traditions, this charming town has something for everyone.
From the historic sites to the lush tropical landscapes, Semporna is a treasure trove of experiences waiting to be discovered. With the vast array of activities, it's easy to get lost in the beauty of the town and the surrounding areas.
As you leave Semporna, you'll take with you a sense of awe and wonder, and the knowledge that you've experienced one of Malaysia's most breathtaking destinations. The memories of the stunning islands, friendly locals, and mouth-watering cuisine will stay with you long after you've returned home.
So, pack your bags and get ready to embark on a journey of a lifetime. With its idyllic setting, rich cultural heritage, and endless possibilities for adventure, Semporna is a must-visit destination for any traveler seeking a true taste of Malaysia.
In Semporna, where the sea meets the sky A paradise on earth, that catches the eye The crystal waters, a shimmering blue The sandy beaches, a perfect view
The islands are many, the choices abound From Sipadan to Mabul, the beauty astounds The corals are vibrant, the marine life alive The depths of the sea, a treasure to thrive
The culture is rich, the people so warm A tapestry of traditions, a community so strong The food is a delight, a blend of spice and sweet A feast for the senses, a culinary treat
The town is a hub, a gateway to explore To new adventures, and to so much more With day trips and tours, the options are vast A journey of discovery, that's sure to last
In Semporna, the wonders never cease A land of enchantment, that brings you peace A destination like no other, so rare and true Semporna, a place to fall in love with anew.