Nestled amidst the lush mountains of Malaysia, the Cameron Highlands is a captivating destination that offers a refreshing escape from the heat and hustle of city life. Located in the state of Pahang, this scenic highland region is known for its emerald tea plantations, cool climate, and picturesque landscapes.
The Cameron Highlands provides a tranquil retreat where visitors can immerse themselves in the beauty of nature, explore vibrant green valleys, and indulge in the charm of colonial-era architecture. With its rolling hills, cascading waterfalls, and serene tea estates, the Cameron Highlands offers a perfect blend of relaxation, adventure, and cultural experiences.
Renowned for its tea production, the region is home to sprawling tea plantations that offer breathtaking vistas and a chance to witness the tea-making process firsthand. Travelers can stroll through tea gardens, visit tea factories, and savor a cup of freshly brewed tea while enjoying panoramic views.
Nature enthusiasts will find plenty to explore in the Cameron Highlands. Trek through mossy forests, discover hidden trails, and marvel at the vibrant flora and fauna that call this region home. The renowned Mossy Forest, with its mystical ambiance and unique ecosystem, is a must-visit for those seeking a truly enchanting experience.
For a taste of local culture, explore the bustling markets and charming towns that dot the region. Visit the vibrant night market in Brinchang, where you can sample local delicacies, shop for fresh produce, and immerse yourself in the lively atmosphere. Don't miss the opportunity to interact with the friendly locals and learn about their traditions and way of life.
Whether you're seeking adventure, relaxation, or a cultural experience, the Cameron Highlands offers something for every traveler. With its cool climate, breathtaking landscapes, and warm hospitality, this enchanting destination promises an unforgettable journey amidst nature's embrace. So pack your bags, breathe in the fresh mountain air, and embark on a memorable escape to the Cameron Highlands.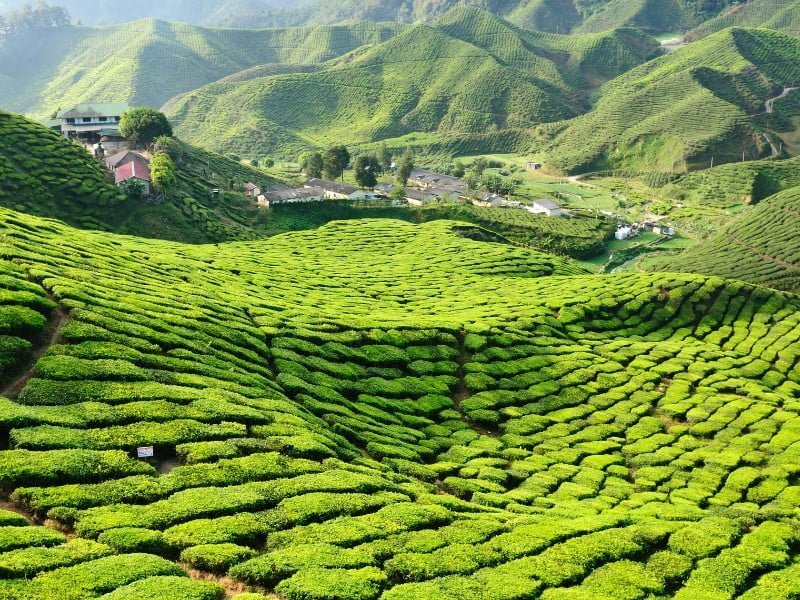 Cameron Highlands Travel Guide: A Brief History Of Cameron Highlands, Malaysia
The history of the Cameron Highlands is as rich as its lush landscapes. Originally inhabited by the indigenous Orang Asli people, the region remained largely untouched until the late 19th century when it caught the attention of British colonizers.
In 1885, William Cameron, a British surveyor, stumbled upon the area while mapping the region. Impressed by its cool climate and picturesque scenery, he deemed it suitable for a hill station. However, it wasn't until 1925 that the colonial government established the Cameron Highlands as a hill retreat.
The British administration recognized the region's potential for agriculture, particularly tea cultivation. They introduced Chinese and Indian laborers to develop the land and cultivate crops. Tea plantations, along with vegetable farms and flower gardens, soon flourished in the fertile highland soil.
The Cameron Highlands became a popular retreat for British expatriates seeking respite from the tropical heat. They built colonial-style bungalows, golf courses, and recreational facilities, creating an atmosphere reminiscent of their homeland. Many of these colonial-era structures can still be seen today, adding to the region's charm and nostalgia.
During World War II, the Cameron Highlands briefly fell under Japanese occupation. The Japanese army used the area as a base and forced the British population into internment camps. However, after the war, the region regained its prominence as a preferred holiday destination.
In the post-colonial era, the Cameron Highlands experienced significant development and attracted both local and international visitors. Its cooler climate, scenic landscapes, and agricultural bounty continue to draw tourists seeking a break from urban life.
Today, the Cameron Highlands is a thriving tourist destination known for its tea plantations, strawberry farms, and eco-tourism activities. The region's agricultural practices have expanded to include a variety of fruits, vegetables, and flowers, contributing to Malaysia's agricultural economy.
While modernization has brought changes to the Cameron Highlands, it has managed to retain its natural beauty and cultural heritage. Visitors can still explore the colonial-era buildings, sample freshly brewed tea, and immerse themselves in the charm of this highland retreat.
Understanding the history of the Cameron Highlands adds depth and context to the experiences and attractions that await travelers in this picturesque region. From its humble beginnings as a colonial hill station to its status as a beloved tourist destination, the Cameron Highlands continue to captivate visitors with its captivating history and breathtaking landscapes.
Cameron Highlands Top Attractions and Best Places to Visit in Malaysia
Sitting 5,000 feet above sea level, the Cameron Highlands have long been a beloved getaway for Malaysians and travellers tired of the equatorial heat at sea level. Up here, temperatures in the low 20's (Celsius), daily downpours, and tea plantations will be features of your visit.
Just be sure to pack a sweater – the mercury can dip into the low teens (Celsius) at night, which can be bone chilling to travellers acclimated to the tropical heat.
While most of the attractions in the Cameron Highlands revolve around its farms and mountainous landscape, there are a few points of interests worth visiting for the cultural traveller. Start by dropping by the grounds of the Sam Poh Temple, a Chinese Buddhist temple which stands out from the surrounding green landscape.
Within, you'll find various statues representing deities worshipped by Chinese Buddhists, and you'll be treated to amazing views of surrounding tea plantations and the town of Brinchang below. As one of the most peaceful spots in the area, it is a wonderful place to mediate if you need to bring some balance back to your day.
While Islam, Buddhism, and Hinduism are the primary religions of Malaysia, pockets of Christianity do exist throughout the country. The Cameron Highlands are one of those places where this faith has a foothold, with the impressive Church of Our Lady of Mount Carmel being physical proof.
Located in Tanah Rata, its design is simple, but if you are looking for a quiet place to pray, or a spot to observe the Sabbath on Sundays, it serves both purposes well.
Feel like taking in the work of local creatives? Take in a private collection of exquisite wood carvings at the Mah Meri Art Gallery. Featuring sculptures crafted from wood by the Mah Meri tribe of Western Malaysia, it will give you a glimpse of a disappearing culture and way of life.
Not just another chintzy attraction in a region that has plenty of them, the carvings displayed are recognized by UNESCO as artifacts of genuine cultural significance. While you will have to pay a 35 ringgit admission fee to see them, their quality makes it well worth the cost.
If you are looking to have a bit of fun while learning about how things were a generation or two ago, you'll enjoy paying a visit to the Time Tunnel Museum. Situated in Brinchang next to the Kok Lim Strawberry Farm, it shows off memorabilia, photographs, and other artifacts that will take you back to the Malaysia that existed prior to the Second World War.
Schoolhouse implements, a mock-up of a barber shop, First Nations artifacts, an old-school coffee shop, an expansive photo gallery, and an exhibit on the life of Jim Thompson are just a few of the highlights of this attraction, so check it out when in the Cameron Highlands.
Other Cultural Attractions: Trip to Cameron Highlands, Malaysia
The hills of the Cameron Highlands are carpeted in tea plantations, creating photo opportunities that make a trip here worth it on this count alone.
While there are many farms you can visit with a tour or on the back of a rented scooter, we recommend dropping back the Boh plantation if you are pressed for time. After getting more share of pictures of tea plants coating the undulating hills which surround the compound, head inside for a tour of the factory.
Here, harvested leaves are broken down by machines to release their inner juices, making it easy for them to turn hot water into what might be your favourite beverage. Afterwards, head to the cafe, where you can buy a pot or cup of tea to go with an assortment of sweet treats – we liked the strawberry shortcake!
During your trip up Mount Brinchang (the highest peak in Peninsular Malaysia at 6,666 feet – no, that's not a misprint), take a short walk along the boardwalks of the Mossy Forest. An ecosystem that differs greatly from the steamy jungle of the lowlands on either side of the hydrological divide it sits atop, you'll find plenty of temperate greenery that thrives in constantly cool, wet conditions.
A quiet place that offers excellent views when the mist parts, it is a world away from the busy streets of Tanah Rata below.
The cool weather which predominates in the Cameron Highlands makes it an ideal place to grow temperate fruits and vegetables. You'll find plenty of this region's most popular export at the Big Red Strawberry Farm.
Here, you will see how these juicy berries are grown hydroponically in this area's moderate temperatures and gentle sunshine, and you'll have an opportunity to consume strawberry themed desserts after your tour has concluded. Succulent lovers aren't left out, either – cacti are grown alongside the berry planters as well.
Finally, don't leave the Cameron Highlands without going on a hike through its backcountry. After arriving, obtain maps which contain numbered trails – past visitors recommend #1 and #10 among the many available options, as the former takes you past visually stunning tea plantations, while the latter will take you into what remains of this region's temperate jungle.
Just stay on the path – Jim Thompson disappeared on a walk in the Cameron Highlands in 1967, never to be seen again – it would be a shame if the same happened to you.

source: Puri and Sue on YouTube
Top 10 Things To Do in the Cameron Highlands, Malaysia For Visitors
Here are the top 10 things to do in the Cameron Highlands:
Visit the Boh Tea Plantation: Explore the sprawling tea plantations that have become an iconic symbol of the Cameron Highlands. Take a guided tour, learn about the tea-making process, and enjoy panoramic views of the rolling hills.
Mossy Forest: Embark on a guided trek through the Mossy Forest, an enchanting and mist-covered ecosystem. Marvel at the unique flora, including carnivorous plants and exotic ferns, and soak in the mystical ambiance of this ancient forest.
Strawberry Farms: Visit one of the many strawberry farms in the region, where you can pick your own strawberries, indulge in strawberry-themed treats, and learn about the cultivation of these sweet berries.
BOH Tea Centre: Head to the BOH Tea Centre for a tea-tasting experience amidst picturesque surroundings. Savor a cup of freshly brewed tea while enjoying breathtaking views of the tea plantations.
Cameron Lavender Gardens: Immerse yourself in the fragrant world of lavender at the Cameron Lavender Gardens. Explore the beautiful fields, stroll through lavender-scented pathways, and capture Instagram-worthy photos.
Butterfly Farms: Get up close with nature's delicate beauties at the butterfly farms in the Cameron Highlands. Observe a kaleidoscope of colorful butterflies in their natural habitat and learn about their life cycle.
Cactus Valley: Discover a unique collection of cacti and succulent plants at Cactus Valley. Wander through the garden's pathways, admire the diverse species of cacti, and purchase souvenirs made from cactus-related products.
Sam Poh Temple: Pay a visit to Sam Poh Temple, the fourth-largest Buddhist temple in Malaysia. Admire the intricate architecture, ornate decorations, and serene atmosphere of this religious site.
Cameron Highlands Butterfly Farm: Explore the Cameron Highlands Butterfly Farm, home to various species of butterflies and insects. Observe the colorful displays, learn about the life cycles of butterflies, and witness the delicate beauty of these winged creatures.
Night Market: Experience the vibrant atmosphere of the night market in Brinchang. Indulge in local delicacies, shop for fresh produce, and browse through a variety of handicrafts, souvenirs, and clothing.
These top 10 things to do in the Cameron Highlands offer a diverse range of experiences, from immersing yourself in nature's beauty to exploring the region's cultural attractions. Whether you're a nature enthusiast, a tea lover, or someone seeking a peaceful escape, the Cameron Highlands has something to captivate every visitor.
What To Eat and Drink in the Cameron Highlands, Malaysia
When visiting the Cameron Highlands, there are several delicious and unique foods and drinks that you should try. Known for its cool climate and lush tea plantations, the region offers a variety of culinary delights. Here are some popular dishes and beverages to enjoy:
Steamboat: Cameron Highlands is famous for its steamboat or hot pot, where you can cook a variety of fresh ingredients in a flavorful broth at your table. It's a popular communal dining experience and a great way to warm up in the cool weather.
Tea: The Cameron Highlands are renowned for their tea plantations, so be sure to indulge in a cup of freshly brewed tea. The region produces a variety of teas, including black tea, green tea, and the famous Cameron Highlands tea. You can visit the tea plantations for a tour and enjoy tea tasting sessions.
Scones with Strawberry Jam: Enjoy a British-inspired treat by indulging in scones served with locally made strawberry jam. The Cameron Highlands' cool climate is conducive to growing strawberries, and the region produces some of the best strawberries in Malaysia.
Fresh Produce: The highlands are known for their agricultural produce. You can find a wide variety of fresh fruits and vegetables, such as strawberries, corn, tomatoes, and lettuce. Explore the local markets and farms to taste the freshness of the produce.
Steam Corn: One popular snack in the Cameron Highlands is steam corn, where corn cobs are steamed and served hot. It's a simple yet delicious treat that you can enjoy while exploring the area.
Local Cuisine: Don't miss out on trying local dishes that incorporate the region's fresh produce. Look out for dishes like vegetable curry, fried noodles (char kuey teow), and Chinese-style roasted duck.
Honey: Cameron Highlands is also known for its honey production. You can find a variety of local honey, including wildflower honey, strawberry honey, and forest honey. It's a great souvenir to bring back home.
Steamboat Ginger Soup: If you're trying steamboat, make sure to order the ginger soup base. The warm and aromatic ginger-infused broth adds a delightful flavor to the ingredients.
Strawberry Smoothies: Take advantage of the abundance of strawberries and try a refreshing strawberry smoothie or milkshake. You'll find many cafes and stalls offering this delightful beverage.
Cactus Point: Visit Cactus Point, a unique attraction in Cameron Highlands that features a cactus nursery and a cafe. You can enjoy cactus-themed desserts and beverages, including cactus ice cream and cactus-infused drinks.
These are just a few of the many culinary delights you can experience in the Cameron Highlands. The region offers a diverse range of food and beverages that cater to different tastes and preferences. Enjoy exploring the local cuisine and savor the flavors of this beautiful highland destination.
Top Restaurants in the Cameron Highlands, Malaysia
When visiting the Cameron Highlands, you'll find a variety of restaurants that offer delicious food, ranging from local Malaysian cuisine to international dishes. Here are some top restaurants in the Cameron Highlands:
Ye Olde Smokehouse: This charming English-style restaurant is known for its classic British fare, including scones, English breakfast, fish and chips, and roast beef. The cozy ambiance and beautiful garden setting make it a popular choice.
The Lord's Café: Situated in Tanah Rata, The Lord's Café offers a mix of Western and Asian cuisine. The menu includes dishes like pastas, burgers, nasi lemak (a Malaysian coconut rice dish), and curry. They also have a selection of cakes and pastries.
Barracks Café: Located in Tanah Rata, Barracks Café is a unique dining spot housed in a colonial-era building. The menu features a fusion of Asian and Western dishes, including sandwiches, burgers, salads, and local specialties.
The Dining Room at Cameron Highlands Resort: This elegant restaurant is part of the Cameron Highlands Resort and offers a fine dining experience. The menu features a range of gourmet dishes with a focus on fresh local ingredients. It's an ideal place for a special occasion or romantic dinner.
Jasmine Café: If you're looking for a vegetarian or vegan option, Jasmine Café is a great choice. They serve a variety of plant-based dishes, including curries, stir-fries, and soups. The café also has a cozy and relaxing atmosphere.
Cameron Organic Produce Steamboat & Grill: As the name suggests, this restaurant specializes in steamboat and grill. They offer a wide selection of fresh vegetables, meat, and seafood that you can cook at your table. The ingredients are sourced locally, ensuring freshness.
Restoran Sri Brinchang: This restaurant is known for its authentic Indian and Malaysian cuisine. They serve a range of dishes, including biryani, tandoori, roti canai, and banana leaf rice. It's a popular spot for flavorful and affordable meals.
T Cafe: Located in Tanah Rata, T Cafe is a cozy café that offers a selection of hot and cold beverages, including various teas and coffees. They also serve light meals, cakes, and pastries, making it a great place to relax and unwind.
Raju's Hill Strawberry Farm: While not a traditional restaurant, Raju's Hill Strawberry Farm offers a unique experience where you can pick your own strawberries. They also have a café where you can enjoy strawberry-themed desserts and drinks.
The Mossy Forest Café: Situated near the Mossy Forest, this café offers a tranquil setting amidst nature. They serve a range of dishes, including Western, Asian, and local favorites. The café also has a beautiful view of the surrounding greenery.
These are just a few of the many dining options available in the Cameron Highlands. Whether you're looking for local specialties, international cuisine, or vegetarian/vegan options, you'll find a wide range of restaurants to satisfy your culinary cravings.
Tours For Visitors To Cameron Highlands, Malaysia
When visiting the Cameron Highlands, there are several tours and activities available that allow visitors to explore the region's natural beauty, cultural heritage, and agricultural wonders. Here are some popular tours you can consider:
Tea Plantation Tour: Explore the famous tea plantations of Cameron Highlands on a guided tour. Visit tea estates like Boh Tea Plantation or Cameron Valley Tea and learn about the tea production process. Enjoy scenic views, take a guided walk through the tea fields, and indulge in tea tasting sessions.
Mossy Forest Tour: Embark on a guided tour of the Mossy Forest, a unique ecosystem located on the highlands. Traverse through mist-covered trails, observe the diverse flora and fauna, and learn about the forest's importance to the region's ecosystem.
Strawberry Farm Tour: Discover the strawberry farms of Cameron Highlands and learn about the cultivation of these juicy fruits. Some farms offer guided tours where you can pick your own strawberries and savor the experience of harvesting them fresh from the fields.
Butterfly Farm and Insectarium Visit: Visit the butterfly farms in the region to witness the vibrant beauty of these delicate creatures. Some farms also have insectariums where you can learn about a variety of insects, including beetles and stick insects.
Agro-Tourism Farm Visits: Explore the agricultural side of Cameron Highlands by visiting agro-tourism farms. These farms offer guided tours where you can learn about organic farming, hydroponics, and the cultivation of various fruits and vegetables. Some farms also allow visitors to participate in hands-on activities like vegetable picking.
Orang Asli Village Tour: Experience the indigenous culture of the Orang Asli people by taking a tour to their village. Learn about their traditional lifestyle, customs, and crafts. Some tours may include activities like blowpipe demonstrations and traditional dance performances.
Boh Sungei Palas Tea Centre Tour: Visit the Boh Sungei Palas Tea Centre, which offers a comprehensive tour of its tea factory. Witness the tea processing steps, from withering and rolling to drying and sorting. Enjoy breathtaking panoramic views of the tea plantation and indulge in tea tasting at the center's café.
Time Tunnel Museum Tour: Explore the Time Tunnel Museum, which showcases the history and development of Cameron Highlands. Through photographs, artifacts, and displays, you can gain insights into the region's past, its people, and the transformation over the years.
Cameron Highlands Butterfly & Reptile Farm: This farm is home to a wide variety of butterflies and reptiles. Take a guided tour to observe colorful butterflies and learn about different reptile species. The farm also offers interactive sessions and educational exhibits.
Jungle Trekking and Waterfall Tours: For outdoor enthusiasts, there are guided jungle trekking tours that take you through the lush rainforests of Cameron Highlands. These tours often lead to picturesque waterfalls where you can take a refreshing dip.
Make sure to check with local tour operators for availability, specific tour details, and any additional tours that might be available during your visit to the Cameron Highlands.
Cameron Highlands Accommodations Guide: Hotels, Guesthouses and Hostels
When visiting the Cameron Highlands, there are numerous accommodation options to suit different preferences and budgets. Whether you're looking for luxury resorts, cozy guesthouses, or budget-friendly stays, the region has something for everyone. Here's a guide to different types of accommodations in the Cameron Highlands:
Luxury Resorts: If you're seeking a luxurious experience, there are several high-end resorts in the Cameron Highlands. These resorts often offer spacious rooms or suites with beautiful views, upscale amenities, spa facilities, on-site dining options, and recreational activities.
Mid-Range Hotels: The Cameron Highlands has a range of mid-range hotels that provide comfortable accommodations at affordable prices. These hotels offer well-equipped rooms, essential amenities, and sometimes additional facilities like on-site restaurants, swimming pools, and tour assistance.
Budget Guesthouses and Backpacker Hostels: For budget-conscious travelers, there are numerous guesthouses and hostels available. These accommodations typically offer shared dormitories or private rooms at budget-friendly rates. While they may be basic, they provide the essentials such as comfortable beds, shared bathrooms, and common areas for socializing.
Boutique and Heritage Hotels: If you're looking for a unique and charming stay, consider boutique or heritage hotels in the Cameron Highlands. These properties are often housed in historical buildings and offer a blend of modern comforts with traditional elements. They provide an intimate atmosphere, personalized service, and distinctive decor.
Homestays: To experience local hospitality and immerse yourself in the culture, consider staying in a homestay. You can rent a room or an entire house from a local family, allowing you to get a glimpse of their daily life. It's a great option for those seeking an authentic and immersive experience.
Eco-Resorts and Nature Retreats: If you prefer a more eco-friendly and nature-focused stay, there are eco-resorts and nature retreats available in the Cameron Highlands. These accommodations often emphasize sustainability, offer eco-friendly practices, and provide opportunities to explore the surrounding natural environment.
Farm Stays: For a unique experience, consider staying at a farm stay accommodation. These properties are usually located on working farms, allowing guests to learn about agricultural practices, participate in farm activities, and enjoy the tranquility of the countryside.
Vacation Rentals: Another option for accommodations is vacation rentals, which can range from apartments and condominiums to private houses and villas. Vacation rentals often provide more space and privacy, making them suitable for families or larger groups traveling together.
When choosing your accommodation, consider factors such as location, amenities, budget, and the type of experience you're looking for. It's advisable to book in advance, especially during peak travel seasons, to secure your preferred accommodation.
Day Trips From Cameron Highlands, Malaysia
If you're staying in the Cameron Highlands and looking to explore the surrounding areas, there are several day trips you can take to nearby attractions. Here are some popular day trips from the Cameron Highlands:
Ipoh: Located approximately 90 kilometers south of the Cameron Highlands, Ipoh is known for its charming old town and delicious local cuisine. Explore the historic buildings, visit the cave temples such as Sam Poh Tong and Kek Lok Tong, and try famous Ipoh dishes like bean sprout chicken and Ipoh white coffee.
Taiping: Taiping, situated about 60 kilometers northwest of the Cameron Highlands, is a charming town with a rich history. Visit attractions like the Taiping Lake Gardens, Taiping Zoo, and the beautiful colonial-era buildings. Don't miss the chance to explore the nearby Taiping Rainforest and take a boat ride on the Matang Mangrove Forest Reserve.
Kuala Kangsar: Located about 90 kilometers north of the Cameron Highlands, Kuala Kangsar is known for its royal heritage. Visit the iconic Ubudiah Mosque, the majestic Royal Palace (Istana Iskandariah), and the centuries-old Sultan Azlan Shah Gallery. You can also take a boat ride on the Perak River.
Belum Rainforest: If you're interested in immersing yourself in nature, consider a day trip to the Belum Rainforest. Located around 120 kilometers northeast of the Cameron Highlands, it is one of the oldest rainforests in the world. Take a boat tour on the vast Tasik Temenggor (Temenggor Lake), go trekking, spot wildlife, and visit the Orang Asli (indigenous people) village.
Orangutan Island: For wildlife enthusiasts, a visit to Orangutan Island is a great option. Located about 70 kilometers northwest of the Cameron Highlands, the island is a sanctuary for orphaned and injured orangutans. Take a guided tour to observe these amazing creatures in their natural habitat and learn about conservation efforts.
Pangkor Island: If you're interested in a beach getaway, consider a day trip to Pangkor Island. Located around 120 kilometers west of the Cameron Highlands, it offers pristine beaches, clear waters, and water activities like snorkeling and kayaking. Explore attractions like the Dutch Fort and the Chinese Fu Lin Kong Temple.
Penang: While it's a longer journey, Penang is worth considering for a multi-day trip from the Cameron Highlands. Known as the "Pearl of the Orient," Penang offers a mix of cultural heritage, vibrant street art, delicious food, and beautiful beaches. Explore the UNESCO-listed George Town, visit the Kek Lok Si Temple, and indulge in Penang's famous street food.
Remember to plan your day trips in advance, considering travel time and any specific attractions or activities you wish to experience. It's also a good idea to check the availability of transportation options and consider hiring a private driver or joining a guided tour for a hassle-free experience.
Cameron Highlands Transportation Guide
Getting around the Cameron Highlands can be relatively straightforward, thanks to the available transportation options. Here's a transportation guide to help you navigate the region:
Bus: Buses are a common and affordable mode of transportation in the Cameron Highlands. There are regular bus services connecting major towns within the highlands, such as Tanah Rata and Brinchang, as well as to other destinations like Ipoh and Kuala Lumpur. The bus terminals are usually located in the town centers, making it convenient to access.
Taxi: Taxis are available in the Cameron Highlands, and you can find them at designated taxi stands or book them through your accommodation. It's recommended to negotiate the fare before starting your journey, as taxis may not always use meters. Taxis can be a more convenient option if you prefer direct transportation or have specific destinations in mind.
Grab: Grab is a popular ride-hailing service in Malaysia, and it operates in the Cameron Highlands as well. You can use the Grab app to book a ride from your location to your desired destination. It provides a convenient and reliable option for getting around the highlands.
Rental Cars and Motorcycles: If you prefer more freedom and flexibility, you can rent a car or motorcycle from rental agencies available in the Cameron Highlands. Having your own vehicle allows you to explore the region at your own pace and reach more remote attractions. However, it's essential to have a valid driver's license and be comfortable driving on winding and hilly roads.
Walking: Many attractions within the Cameron Highlands are located within walking distance of the town centers, particularly in Tanah Rata and Brinchang. Walking can be an enjoyable way to explore the local area, especially if you're staying nearby.
Tour Operators: There are several tour operators in the Cameron Highlands that offer guided tours to various attractions. Joining a tour can be a convenient option if you prefer a structured itinerary and want to visit multiple places in a day.
It's worth noting that some attractions in the Cameron Highlands, such as tea plantations and strawberry farms, are not easily accessible by public transportation. In such cases, it's advisable to join organized tours, hire a taxi, or arrange transportation through your accommodation.
Additionally, during peak travel periods, it's recommended to book transportation in advance, especially for long-distance buses or private transfers, to secure your preferred schedule.
Overall, the Cameron Highlands' transportation options allow you to explore the region's attractions and navigate between towns conveniently. Choose the mode of transportation that best suits your preferences and travel needs.
Where To Visit After Your Trip To Cameron Highlands?
After your trip to the Cameron Highlands, there are several wonderful destinations in Malaysia that you can consider visiting. Here are a few popular options:
Kuala Lumpur: Malaysia's vibrant capital city, Kuala Lumpur, is a bustling metropolis known for its iconic landmarks, modern architecture, and rich cultural heritage. Visit the Petronas Twin Towers, explore the vibrant street markets of Chinatown, experience the cultural diversity at Merdeka Square, and indulge in delicious Malaysian cuisine.
Penang: Located on the northwest coast of Malaysia, Penang is renowned for its historical charm, UNESCO-listed George Town, and mouthwatering street food. Explore the city's colonial architecture, visit the vibrant street art displays, enjoy the famous hawker food stalls, and take in the stunning views from Penang Hill.
Langkawi: If you're looking for a beach getaway, consider visiting Langkawi, an archipelago of 99 islands on Malaysia's west coast. Langkawi offers pristine beaches, clear waters, and lush rainforests. Explore the SkyBridge, take a cable car ride to Mount Mat Cincang, visit the Underwater World Langkawi, and enjoy water activities like snorkeling and island hopping.
Malacca (Melaka): A historic city with a rich colonial past, Malacca is known for its well-preserved heritage buildings and cultural sites. Visit the UNESCO-listed Malacca Historic City Center, explore the Jonker Street Night Market, see the iconic red Dutch Square, and try local delicacies like Nyonya cuisine.
Taman Negara National Park: For nature lovers and adventure seekers, Taman Negara National Park offers a pristine rainforest experience. Located in Peninsular Malaysia, it is one of the oldest rainforests in the world. Enjoy activities like jungle trekking, river cruises, canopy walks, and wildlife spotting.
Borneo: If you have more time and want to explore Malaysian Borneo, you can visit destinations like Kota Kinabalu in Sabah or Kuching in Sarawak. Borneo is known for its incredible biodiversity, stunning national parks (such as Kinabalu National Park and Bako National Park), and opportunities to encounter orangutans and other unique wildlife.
Perhentian Islands: Located on the east coast of Peninsular Malaysia, the Perhentian Islands offer pristine beaches, crystal-clear waters, and excellent snorkeling and diving opportunities. Explore the islands of Perhentian Besar and Perhentian Kecil, relax on the white sandy beaches, and discover the vibrant marine life.
Cameron Highlands to Singapore: If you have more time and want to explore beyond Malaysia, you can consider continuing your journey to Singapore. Experience the modern skyline, visit iconic landmarks like Marina Bay Sands and Gardens by the Bay, indulge in diverse culinary delights, and explore the cultural neighborhoods such as Chinatown and Little India.
Genting Highlands: Located near Kuala Lumpur, Genting Highlands is a popular hill resort known for its entertainment options and theme parks. Enjoy the cool climate, visit the Resorts World Genting complex, try your luck at the casino, and experience thrilling rides at the indoor and outdoor theme parks.
Pulau Tioman: Situated off the east coast of Peninsular Malaysia, Pulau Tioman is a tropical paradise with stunning beaches, lush jungles, and excellent diving spots. Relax on the pristine beaches, explore the vibrant marine life, hike through the dense rainforests, and visit charming fishing villages.
Johor Bahru: Located at the southern tip of Peninsular Malaysia, Johor Bahru is a bustling city just across the border from Singapore. Explore attractions like the Sultan Abu Bakar Mosque, visit Legoland Malaysia Resort, shop at Johor Bahru City Square, and enjoy delicious street food.
Kota Bharu: Located in the state of Kelantan, Kota Bharu offers a glimpse into traditional Malay culture and heritage. Visit the Royal Museum, explore the bustling Central Market, wander through the colorful night markets, and discover the unique local arts and crafts.
Kota Kinabalu: Located in Sabah, East Malaysia, Kota Kinabalu is a vibrant coastal city known for its stunning sunsets, bustling markets, and proximity to Mount Kinabalu. Visit the Kota Kinabalu City Mosque, explore the vibrant Filipino Market, take a dip in the crystal-clear waters of the Tunku Abdul Rahman Marine Park, or embark on an adventure to climb Mount Kinabalu.
Kuching: The capital city of Sarawak, Kuching is a charming riverside city known for its rich history, diverse culture, and abundant wildlife. Explore the lively waterfront area, visit the Sarawak Cultural Village to learn about local indigenous cultures, take a river cruise to spot proboscis monkeys, and visit the Semenggoh Wildlife Centre to see orangutans.
George Town, Penang: If you haven't already visited Penang, specifically George Town, it's worth considering as a destination on its own. The UNESCO-listed historic center is renowned for its well-preserved colonial architecture, street art, and delicious street food. Explore the vibrant Clan Jetties, wander through the colorful Little India, and indulge in the diverse culinary offerings.
Redang Island: Situated off the east coast of Peninsular Malaysia, Redang Island is known for its pristine white sandy beaches, crystal-clear turquoise waters, and vibrant coral reefs. It's a paradise for snorkeling, diving, and sunbathing. Relax on the beaches, go snorkeling or diving to explore the underwater world, and enjoy the serene island atmosphere.
Kuala Terengganu: Located on the east coast of Peninsular Malaysia, Kuala Terengganu is the capital of Terengganu state. Visit the beautiful Crystal Mosque, explore the bustling Pasar Payang (Central Market), and take a boat trip to the nearby Tenggol Island for snorkeling or diving.
Sandakan: If you're interested in wildlife and nature, consider visiting Sandakan in Sabah. It's a gateway to various wildlife experiences, including the Sepilok Orangutan Rehabilitation Centre, the Bornean Sun Bear Conservation Centre, and the Kinabatangan River for wildlife cruises and jungle trekking.
These are just a few suggestions, and Malaysia has much more to offer depending on your interests and preferences. Each destination has its own unique attractions, cultural experiences, and natural wonders to explore, allowing you to continue your Malaysian adventure beyond the Cameron Highlands.
Cameron Highlands Travel Guide: Final Thoughts
The Cameron Highlands is a beautiful highland region in Malaysia that offers a unique and refreshing experience for travelers. With its cool climate, lush greenery, tea plantations, and charming towns, it's a destination that appeals to nature lovers, adventure seekers, and those looking for a tranquil getaway. Here are some final thoughts to keep in mind for your Cameron Highlands travel:
Climate and Attire: Due to its high elevation, the Cameron Highlands has a cooler climate compared to the rest of Malaysia. It's advisable to pack some warm clothing, especially during the evenings and early mornings when temperatures can be chilly. Don't forget to bring comfortable shoes for walking and exploring the various attractions.
Timing and Crowds: The Cameron Highlands can get quite crowded, especially during weekends and public holidays. If possible, consider visiting on weekdays to avoid the crowds and enjoy a more serene experience. Additionally, plan your activities and visits to popular attractions during non-peak hours to have a more relaxed and enjoyable time.
Transportation: The Cameron Highlands has several transportation options, including buses, taxis, and Grab services. Depending on your preferences, budget, and itinerary, choose the mode of transportation that suits you best. If you plan to explore remote areas or attractions, it's advisable to hire a taxi or join organized tours.
Local Etiquette: As with any travel destination, it's important to be respectful of the local culture and customs. Dress modestly, particularly when visiting religious sites or interacting with local communities. It's also polite to ask for permission before taking photos of individuals or their property.
Tea Plantations and Farms: The tea plantations and agricultural farms are major highlights of the Cameron Highlands. Take the time to visit these attractions, join guided tours, and learn about the processes and history behind tea production and farming. Don't miss the opportunity to indulge in fresh produce, such as strawberries and local vegetables.
Nature and Outdoor Activities: The Cameron Highlands offers numerous opportunities for outdoor activities like hiking, jungle trekking, and exploring nature trails. Take advantage of the scenic beauty and embark on adventures to discover the region's flora, fauna, and breathtaking landscapes.
Local Cuisine: Don't forget to try the local cuisine during your visit. Whether it's steamboat, scones with strawberry jam, or authentic Malaysian dishes, the Cameron Highlands has a range of culinary delights to satisfy your taste buds. Explore local markets, cafes, and restaurants to sample the flavors of the highlands.
Remember to check the latest travel advisories, confirm the operating hours of attractions, and make reservations in advance, especially for accommodations and popular tours. With proper planning, you can make the most of your time in the Cameron Highlands and create lasting memories of this picturesque destination.
In the Cameron Highlands, where nature thrives, A paradise awaits, where beauty derives. Lush green hills, tea plantations in sight, A traveler's haven, a serene delight.
Amidst the mist, the air cool and pure, A respite from the chaos, an allure. Wander through trails, hike through the trees, Nature's embrace, a gentle breeze.
Tea leaves sway in the plantation's grace, Sip a cup, let tranquility embrace. Strawberry fields, vibrant and sweet, Taste the freshness, a delightful treat.
In colorful markets, flavors unfold, Local cuisine, a story to be told. Steamboat feasts, scones with jam, Savor the tastes, in every bite, a slam.
Journey to the Mossy Forest, a mystical land, Where secrets whisper, where wonders expand. Butterflies dance, with colors ablaze, Insects crawl, in nature's intricate maze.
The Orang Asli, guardians of the land, Their heritage cherished, hand in hand. Learn from their wisdom, their ancient ways, Respect their culture, through the passing days.
Cameron Highlands, a sanctuary of peace, A place where nature's wonders never cease. Embrace its beauty, let your spirit soar, For in this haven, memories are forevermore.
So come, traveler, to the Cameron Highlands fair, Discover its magic, breathe in the mountain air. Let nature's embrace heal and inspire, In this highland paradise, let your soul transpire.