Situated about 40 minutes south of Seoul by train, Cheonan is easily reachable on a day trip. This mid-sized city may seem unimpressive at first blush, but it is home to some cool attractions.
From a museum that chronicles the Korean independence movement to beautiful temples, visitors will have an enjoyable stay here.
Come check out our Cheonan visitor guide as we cover the best things to do in Cheonan, South Korea.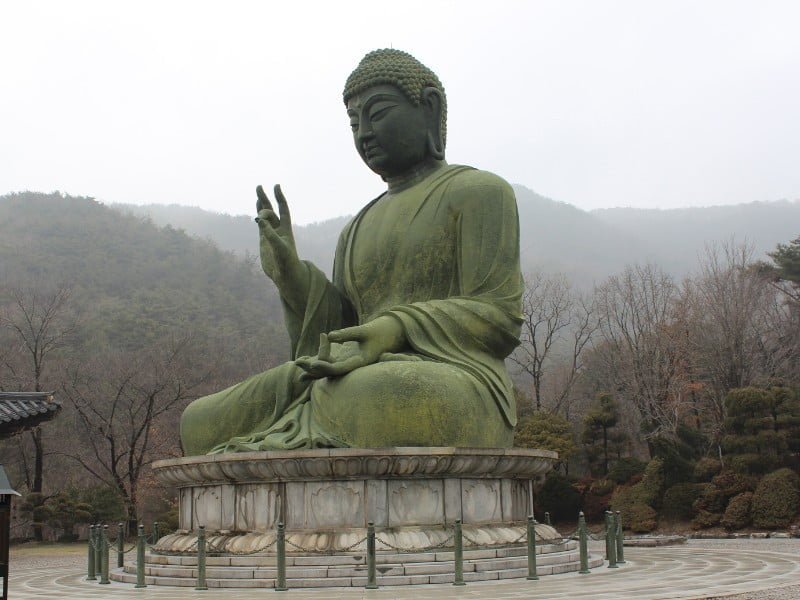 Cheonan City Guide: A Brief History Of Cheonan, South Korea
Cheonan is a city that's steeped in history and culture, with a story that dates back thousands of years. As you explore this vibrant city in the western region of South Korea, you'll discover a wealth of fascinating historical sites, breathtaking natural beauty, and a lively cultural scene that's sure to leave you enchanted.
Cheonan's roots can be traced back to the Baekje kingdom, one of the three major kingdoms that dominated Korean history during the Three Kingdoms period. During this time, Cheonan was a vital center for trade and commerce, and it played an important role in the cultural and artistic achievements of the Baekje kingdom.
Throughout the Joseon dynasty, Cheonan continued to flourish as an agricultural and commercial hub, and it became a center for Confucian scholarship. Many of the country's most prominent scholars and intellectuals were born and raised in this city.
The 20th century brought major changes to Cheonan, with the construction of a major railway station that transformed the city into a transportation hub. The Korean War also had a significant impact on the city, with several major battles fought on its soil.
Despite these challenges, Cheonan emerged as a modern and prosperous city in the years following the war. Today, it is a bustling metropolis with a population of over 700,000 people, and it's known for its vibrant markets, thriving cultural scene, and breathtaking natural surroundings.
As you explore Cheonan, you'll discover a wealth of historical and cultural attractions, from the Baekje Cultural Land to Gagwonsa Temple and the Cheonan War Memorial Museum. And with its proximity to other major cities in South Korea, Cheonan is an ideal destination for travelers seeking to immerse themselves in the rich history and culture of this amazing country.
Cheonan Top Attractions and Best Places to Visit in South Korea
Start your time in Cheonan by exploring The Independence Hall of Korea. Built to honour Korean resistance to Japanese colonial rule, its exhibits shed light on the struggle for freedom during those times. They also highlight the history of Korea from prehistoric times to the late Joseon Dynasty.
This gallery gives context to the struggle faced by resistance members, who started operations in the early 20th century. From the Uibyeong Movement to actions taken during World War II, it took tremendous sacrifice to liberate Korea.
The Cheonan area is home to a pair of notable temples. Make Gakwonsa Temple your first stop, as it is home to one of the more massive bronze Buddhas in Korea. The bronze Buddha has considerable prominence, as it stands 15 metres tall and weighs over 60 tons.
This temple sits above the city of Cheonan at the foot of Mount Taejosan. A public desire for Korean re-unification motivated its construction in 1977, with many visitors praying for that specific purpose. However, you must climb 203 steps to reach the temple – remember this if you decide to visit during the summer months.
Next, make your way toward Seongbulsa Temple. A hermitage situated in the hills, this temple has existed since the days of the Goryeo Dynasty. Despite its seclusion, it has had a rich history, including its destruction by the Japanese in the 16th century.
From here, the sight of Cheonan's sprawl will stand in stark contrast to the peacefulness of this temple. Soak it in – it isn't often you're free from crowds in South Korea.
The period spent under Japanese colonial rule was a painful and embarrassing one for Koreans. Learn about one of the greatest folk heroes of that time by visiting Yu Gwan-sun Memorial Hall. Born in 1902, she grew up in a Korea that quickly found itself subjugated by the empire of Japan.
Aghast at the loss of her country's sovereignty, she organized protests that became known as The March 1st Movement. It drew thousands of people, but the Japanese authorities were ruthless in their response – they opened fire on the crowds, killing 19.
Arrested in the aftermath of the protest, Yu Gwan-sun refused to name her co-conspirators. As a result, she endured intense torture, eventually passing away from her injuries. The courage of her convictions led to her lionization, with some dubbing her Korea's Joan D' Arc.
The hall contains exhibits and a commemorative statue – a worthy tribute to one of Korea's bravest citizens.
Other Cultural Attractions: Trip to Cheonan, Korea
If you're in the mood to check out some contemporary art, make room in your Cheonan itinerary for the Arario Gallery. Built in 2002 in response to President Chang-il Kim's passion for the arts, it promotes contemporary culture in Korea.
In addition to displaying Korean works, it hosts international exhibitions by creatives like Keith Haring and Jorg Immendorff. A clean, evocative place amidst the bustle of downtown Cheonan, spending time here is a must for cultural travellers.
As mentioned earlier, there are plentiful hiking opportunities in the Cheonan area. With peaks in every direction, you are never far from trails where you can get away from it all. If you want to get active after visiting Independence Hall, head up Heukseong Mountain.
With easily accessible trailheads, you can use this peak to seek peace quickly. With a round trip distance of three kilometres, it is easy to fit this walk into a jam-packed schedule. From this peak, you can enjoy a stunning view of Independence Hall, Cheonan, and the surrounding area.
After a tiring hike in the mountains of Cheonan, soak your cares away at Tedin Water Park. Tapping into natural hot spring waters, it contains minerals such as calcium, potassium, and magnesium. Meanwhile, there are water features that will allow your kids to get the most out of their time here.
Before moving on, see if there is a local football game happening by dropping by the Cheonan Sports Complex. If there isn't anything going on, no worries – there are plenty of facilities that will help you entertain yourself.
With an Olympic-size swimming pool, tennis courts, and basketball facilities, athletically-minded visitors will find plenty to do here.

source: Vina Choi on YouTube
Top 10 Things To Do in Cheonan, Korea For Visitors
Visit the Gagwonsa Temple: This stunning Buddhist temple is a must-visit destination for anyone interested in Korean culture and history. The temple dates back over a thousand years and is home to some of the country's most beautiful and intricate Buddhist artwork and architecture.
Explore the Baekje Cultural Land: This fascinating historical site offers visitors a glimpse into life during the Baekje kingdom, with reconstructed ancient buildings and artifacts on display.
Hike in Taejosan Mountain: This scenic mountain range offers breathtaking views of the surrounding countryside and is a popular destination for hiking enthusiasts.
Visit the Independence Hall of Korea: This museum and cultural center commemorates Korea's struggle for independence from Japanese colonial rule, and offers visitors an engaging and educational experience.
Shop at Cheonan's bustling markets: Cheonan is known for its lively and colorful traditional markets, where visitors can find everything from local handicrafts to delicious street food.
Explore the Cheonan Art Center: This state-of-the-art facility is home to a wide range of exhibitions and performances, showcasing some of the best contemporary art and culture in South Korea.
Relax at the Cheonan Hot Springs: These natural hot springs are said to have healing properties and are a popular destination for relaxation and rejuvenation.
Visit the Cheonan World Dance Festival: This annual festival brings together some of the world's best dancers and performers for a celebration of dance and culture.
Explore the Gakwonsa Temple Stay Program: This unique program allows visitors to experience life in a traditional Buddhist temple, with opportunities for meditation, chanting, and cultural immersion.
Take a day trip to Seoul: Cheonan's proximity to South Korea's capital city makes it an ideal base for exploring all that Seoul has to offer, from its bustling shopping districts to its historic palaces and temples.
What To Eat and Drink at Restaurants in Cheonan, South Korea
As you wander through the vibrant streets of Cheonan, you'll find yourself tantalized by the enticing aromas of its cuisine, a rich blend of traditional Korean dishes and local specialties that showcase the city's storied history and culture. Allow me to be your guide as we explore the must-try foods and drinks of Cheonan:
First on the list is galbi-jjim, a dish of slow-cooked beef short ribs that have been marinated to perfection in a rich and savory sauce, seasoned with garlic, soy sauce, and other spices. The flavors of this dish are sure to transport you to a world of culinary bliss.
Next up is ssambap, a local specialty that consists of rice wrapped in lettuce or other leafy greens, with a variety of seasoned meats and vegetables. The combination of textures and flavors in this dish will leave your taste buds dancing with delight.
If you're in the mood for something light and refreshing, look no further than kongnamul-guk, a soup made from soybean sprouts, with a clear broth and simple seasoning. Its delicate flavors are sure to leave you feeling refreshed and energized.
Jangajji is another must-try dish, featuring pickled vegetables and other ingredients, such as fish or meat. It's often served as a side dish or snack, and its bold and tangy flavors make it a perfect complement to any meal.
No visit to Cheonan is complete without sampling some of the local beverages. Makgeolli, a traditional Korean rice wine with a slightly sweet and tangy flavor and low alcohol content, is a popular choice among locals and visitors alike. And of course, soju, the clear and potent distilled liquor that is a staple of Korean drinking culture, is a must-try as well.
For those with a sweet tooth, be sure to sample some chalboribbang, small rice cakes with a sweet and chewy texture, often flavored with red bean paste or other fillings. And for a healthy and nutritious snack, try gukmul-tteok, a soft and chewy rice cake made from a mixture of rice flour and mugwort.
Bindaetteok, a savory pancake made from mung beans and other ingredients, is another popular choice in Cheonan. Served with a variety of dipping sauces and toppings, this dish is sure to satisfy your craving for something crunchy and flavorful.
Finally, be sure to try sikhye, a sweet and refreshing traditional Korean drink made from malted barley and rice, with a slightly carbonated texture and a hint of sweetness from added sugar. It's the perfect way to cap off a delicious meal in Cheonan.
Tours For Visitors To Cheonan, Korea
Cheonan, a beautiful city in South Korea, offers a variety of tours and experiences for visitors. Whether you're interested in exploring the city's historical landmarks, experiencing Korean culture, or enjoying the beautiful natural scenery, there's something for everyone. Here are some of the top tours for visitors to Cheonan:
With so many exciting tours and experiences to choose from, visitors to Cheonan are sure to have a memorable and enriching trip.
Cheonan Accommodations Guide: Hotels, Guesthouses and Hostels
From luxury hotels to budget-friendly guesthouses, there's something for everyone. Here's a guide to some of the best accommodations in Cheonan:
Hotel T.T: This upscale hotel offers spacious rooms with modern amenities such as flat-screen TVs and free Wi-Fi. Guests can enjoy the on-site restaurant and bar, as well as the fitness center and sauna. The hotel is conveniently located near Cheonan Station and several shopping and dining options.
Shilla Stay Cheonan: This modern hotel offers stylish rooms with city views and top-notch amenities such as flat-screen TVs and rain showers. The hotel also features an on-site restaurant, fitness center, and business center. The location is ideal for exploring the city, as it's just a few minutes' walk from Cheonan Station.
Namoo Hotel: This budget-friendly hotel offers clean, comfortable rooms with basic amenities such as flat-screen TVs and free Wi-Fi. The hotel also has an on-site restaurant and provides free breakfast. The location is convenient for exploring the city, with several attractions and restaurants nearby.
Star Motel Cheonan: This affordable motel offers cozy rooms with comfortable beds and free Wi-Fi. The motel also has an on-site restaurant and provides free breakfast. The location is ideal for travelers who want to be close to the train station and other amenities.
Graytone Hotel Cheonan: This modern hotel offers spacious rooms with city views and top-notch amenities such as flat-screen TVs and free Wi-Fi. The hotel also has an on-site restaurant and provides free breakfast. The location is convenient for exploring the city, with several shopping and dining options nearby.
Cheonan Four Season Hotel: This luxurious hotel offers elegant rooms with upscale amenities such as whirlpool tubs and Nespresso machines. The hotel also has a spa, fitness center, and on-site restaurant serving Korean and Western cuisine. The location is convenient for exploring the city, with several attractions nearby.
K-Grand Hotel & Guesthouse: This guesthouse offers affordable private rooms and shared dormitories with basic amenities such as free Wi-Fi and air conditioning. The guesthouse also has an on-site restaurant and provides free breakfast. The location is ideal for budget travelers, with several shopping and dining options nearby.
No matter what your budget or travel style, there's a perfect accommodation option waiting for you in Cheonan.
Day Trips From Cheonan, South Korea
This vibrant city is surrounded by several fascinating day trip destinations that offer a glimpse into Korea's rich culture and history. Here are some of the top day trips you can take from Cheonan:
Gongju: Just a 30-minute train ride from Cheonan, Gongju is a city steeped in history. It was once the capital of the Baekje Kingdom and is home to several important historical sites such as the Gongju National Museum and the Tomb of King Muryeong. The tomb is a UNESCO World Heritage Site and is said to contain the remains of the king and his queen, along with a wealth of treasures.
Daejeon: This bustling city is just 40 minutes from Cheonan by train and offers a stark contrast to the peaceful surroundings of Cheonan. Daejeon is a modern metropolis that's home to several attractions such as the Daejeon Museum of Art and the Expo Science Park. The latter is an interactive science museum that's great for both kids and adults.
Asan: If you're in need of some relaxation, head to Asan, just 15 minutes from Cheonan by train. This small city is known for its hot springs and is home to several bathhouses and resorts. The most popular of these is the Asan Spavis, which features outdoor and indoor hot spring baths.
Sejong City: Sejong City is a planned city that's just 50 minutes from Cheonan by train. It's named after King Sejong, the fourth king of the Joseon Dynasty and the inventor of the Korean alphabet. The city is home to several government buildings and is a great place to learn about Korean politics and history. The Sejong Museum of Art is also located here, and features a variety of contemporary Korean art.
Buyeo: This historic city is located about an hour from Cheonan by train and was once the capital of the Baekje Kingdom in the 3rd century. It's home to several important historical sites such as the Buyeo National Museum and the Jeongnimsaji Temple. The temple is a beautiful example of ancient Korean architecture and features several ornate pagodas.
If you're planning a trip to Cheonan, be sure to set aside some time for one or more of these fascinating day trips. Each destination offers a unique perspective on Korean culture and history, and is sure to leave you with unforgettable memories.
Cheonan Transportation Guide
Cheonan is a well-connected city that's easy to navigate. Here's a quick transportation guide to help you get around during your stay:
Train: Cheonan is located on the Gyeongbu Line, which is one of Korea's main railway lines. The Cheonan-Asan Station is the city's main railway station and is located in the heart of downtown Cheonan. From here, you can easily access other cities such as Seoul, Daejeon, and Busan.
Bus: Cheonan has a well-developed bus network that covers the entire city. You can buy bus tickets at any convenience store or at the bus terminal. The city also has several express bus routes that connect it to other major cities in Korea.
Subway: Cheonan is not currently served by a subway system, but there are plans to build a subway line in the near future.
Taxi: Taxis are readily available in Cheonan and are a convenient way to get around, especially if you're traveling in a group. You can either flag down a taxi on the street or use a ride-hailing app such as KakaoTaxi.
Rental car: If you prefer to drive yourself, there are several rental car companies located in Cheonan. However, keep in mind that traffic in Korean cities can be hectic, and parking can be difficult to find.
Overall, Cheonan's transportation options make it easy for visitors to explore the city and its surroundings. Whether you choose to travel by train, bus, taxi, or rental car, you're sure to have a smooth and enjoyable experience.
Where To Visit After Your Trip To Cheonan?
After your trip to Cheonan, South Korea, there are many nearby destinations that you might consider visiting. Here are some of the top places to add to your itinerary:
Gongju: This ancient city is located just 20 kilometers south of Cheonan and is a great place to explore Korea's rich history. Gongju was the capital of the Baekje Kingdom for nearly 500 years, and there are many ancient tombs, temples, and other cultural sites to see here. Be sure to visit the Gongju National Museum to learn more about the area's history.
Daejeon: Known as South Korea's "City of Science," Daejeon is just a short train ride from Cheonan and is home to many science museums and research institutes. You can also visit the Yuseong Hot Springs, which have been popular for their healing properties for over 1,300 years. Daejeon is also known for its beautiful parks, including the Daecheong Dam Recreational Forest and the Expo Park.
Asan: Located just a few kilometers south of Cheonan, Asan is a city that's famous for its hot springs and spas. There are several public bathhouses and hot springs resorts in the area where you can relax and soak in the healing waters. Be sure to visit the Oeam Folk Village, a traditional Korean village that dates back to the Joseon Dynasty.
Seoul: South Korea's capital city is just an hour away from Cheonan by train, and it's a must-visit destination for any traveler to Korea. Seoul is a bustling metropolis with a rich history and culture. You can visit historic sites like Gyeongbokgung Palace and Changdeokgung Palace, explore the trendy neighborhoods of Gangnam and Hongdae, and enjoy delicious Korean food at street markets and traditional restaurants.
Busan: Located on the southern coast of the Korean peninsula, Busan is a bustling city that's known for its beautiful beaches, delicious seafood, and vibrant nightlife. You can visit the famous Haeundae Beach, explore the historic Gamcheon Culture Village, and enjoy fresh seafood at the Jagalchi Market. Be sure to check out the Busan International Film Festival, which is held every fall and attracts film lovers from around the world.
These destinations offer a great way to extend your trip and see more of what Korea has to offer. Whether you're interested in history, culture, or just want to relax on the beach, there's something for everyone near Cheonan.
Cheonan Travel Guide: Final Thoughts
Cheonan, South Korea, beckons visitors with its eclectic blend of ancient history and modern culture. This vibrant city boasts an impressive array of cultural and historic sites, as well as world-renowned cuisine and plenty of opportunities for relaxation and leisure.
Savor the tantalizing flavors of dakgalbi and makgeolli, traditional Korean dishes that are sure to tantalize your taste buds. Immerse yourself in the rich history of the city by visiting the Independence Hall of Korea, where you can learn about the nation's struggle for independence and the formation of its democracy.
Don't miss the opportunity to explore Gongju, an ancient city that offers a glimpse into the region's fascinating past. And when you're ready to unwind, take a stroll through one of Cheonan's beautiful parks, where you can enjoy the serene natural beauty of the surrounding landscape.
Thanks to its convenient transportation options, you can easily venture beyond Cheonan and explore other parts of Korea. The bustling metropolis of Seoul, the port city of Busan, and the cultural hub of Daejeon are all within reach, offering even more opportunities to experience the best of Korean culture and history.
So come and discover the enchanting charm of Cheonan, a city that's sure to leave a lasting impression on your heart and mind.
Amidst the bustling streets of Cheonan town, A land of rich culture and history renowned. The ancient Gongju and its treasures, With tales of times gone by, beyond all measures.
The flavors of dakgalbi and makgeolli, A culinary journey that's sure to fill thee. The Independence Hall of Korea, A symbol of struggle and stories to remember forever.
The verdant parks and tranquil retreats, A balm for the soul, a much-needed retreat. Cheonan's allure, a blend of old and new, A traveler's paradise, with much to pursue.
From Seoul to Busan and Daejeon in between, A journey that's sure to be nothing but a dream. So come, explore Cheonan's every nook and cranny, An unforgettable journey, worth every penny.