Welcome to Haikou, the enchanting coastal city nestled on the northern coast of Hainan Island, China's tropical paradise. As the provincial capital of Hainan Province, Haikou invites you to experience a perfect blend of pristine beaches, vibrant culture, and breathtaking natural beauty.
Haikou, often referred to as the "Coconut City," is renowned for its lush greenery, crystal-clear waters, and warm tropical climate. The city's palm-fringed beaches, such as Holiday Beach and Baishamen Park, offer a tranquil escape where you can soak up the sun, take a refreshing swim, or engage in exciting water sports like snorkeling and surfing.
To immerse yourself in Haikou's rich history, head to the iconic Qilou Old Street. Here, you'll find a picturesque collection of traditional arcade buildings that date back to the 19th century. Stroll along the vibrant streets, adorned with colorful facades and charming shops, where you can purchase local handicrafts, traditional snacks, and souvenirs. This cultural hub provides a glimpse into the city's past and is a delight for architecture enthusiasts.
For an enriching cultural experience, visit the Hainan Provincial Museum. This modern museum showcases a fascinating collection of artifacts and exhibitions that trace the island's history, from ancient times to the present day. Marvel at the ancient bronze artifacts, intricate jade carvings, and exhibits highlighting the cultural diversity of Hainan's ethnic groups.
Nature enthusiasts will be captivated by the natural wonders surrounding Haikou. Embark on a journey to the Dongzhai Harbor Mangrove Nature Reserve, a sanctuary that preserves the unique mangrove ecosystem. Take a boat ride along the meandering waterways, observe the lush mangrove forests, and spot a variety of bird species. It's a haven for birdwatchers and a peaceful retreat where you can connect with nature.
Haikou's culinary scene is a treat for food lovers. As the gateway to Hainan's seafood bounty, the city boasts numerous seafood markets and restaurants. Indulge in a seafood feast, sampling freshly caught fish, shrimp, crab, and other delicacies prepared in traditional Hainanese style. Don't miss the opportunity to savor Wenchang Chicken, a local specialty known for its tender meat and rich flavor.
Throughout the year, Haikou comes alive with vibrant festivals and events that showcase its cultural heritage. Experience the exhilarating Dragon Boat Festival, where dragon boat races take place along the city's rivers. Witness the colorful costumes, rhythmic drumbeats, and jubilant atmosphere that accompany this traditional celebration.
To delve deeper into Haikou's artistic traditions, attend a Haikou opera performance. This local opera style, characterized by its unique singing techniques and captivating storytelling, offers a glimpse into Hainan's cultural heritage.
As you explore Haikou, you'll be embraced by the warm hospitality of its residents, known for their friendly nature and relaxed way of life. The city's laid-back atmosphere, combined with its natural beauty and cultural treasures, creates an ideal destination for a rejuvenating vacation or an unforgettable cultural adventure.
So, whether you're lounging on sun-kissed beaches, savoring delectable seafood, immersing yourself in history and culture, or simply basking in the tropical ambiance, Haikou invites you to embark on an extraordinary journey of discovery and relaxation. Prepare to be captivated by the allure of this coastal gem on Hainan Island.
Haikou City Guide: A Brief History Of Haikou, China
Haikou, located on Hainan Island in southern China, has a rich history that spans thousands of years. As you explore the city, you'll discover its intriguing historical past and the influences that have shaped its cultural heritage.
Ancient records indicate that Haikou was inhabited as early as the Qin Dynasty (221-206 BCE). During the Tang Dynasty (618-907 CE), it served as a trading port and was known as Hainan Port. The city flourished as a hub for maritime trade, attracting merchants from various parts of China, Southeast Asia, and beyond.
In the 14th century, during the Yuan Dynasty, the city was officially established as Hainan County. However, it wasn't until the Ming Dynasty (1368-1644 CE) that the city started to be known as Haikou, which translates to "Mouth of the Sea" in Chinese. This name was inspired by the city's location at the mouth of the Nandu River, where it flows into the South China Sea.
Throughout its history, Haikou faced numerous challenges, including invasions by pirates and conflicts between different ethnic groups. The city's strategic coastal location made it a target for maritime raids, which led to the construction of fortifications and defensive structures.
In the 19th century, Haikou became an important trading port during the Qing Dynasty. It was designated as one of the "Treaty Ports" following the Opium Wars, opening up to foreign trade and cultural exchanges. This period brought significant changes to the city's urban landscape, with the construction of Western-style buildings and the establishment of foreign concessions.
During the early 20th century, Haikou played a crucial role in the development of Hainan Province. It became the provincial capital in 1988 when Hainan Island was designated as a separate province. Since then, Haikou has undergone rapid urbanization and has become a major economic and cultural center.
Today, Haikou stands as a modern city that still retains glimpses of its historical past. The Qilou Old Street, with its well-preserved arcade buildings, reflects the architectural styles of the late 19th and early 20th centuries, offering a window into the city's colonial past. The historical landmarks, such as the Haikou Clock Tower and the Temple of the Five Lords, provide insights into the city's cultural and religious traditions.
As you explore Haikou, take the opportunity to delve into its fascinating history. Visit the Hainan Provincial Museum to learn more about the region's historical artifacts and cultural heritage. Take a stroll through the city's streets, where you can witness the fusion of old and new, and imagine the bustling scenes of the past.
Haikou's history contributes to its vibrant cultural tapestry, making it a destination that offers not only beautiful beaches and natural wonders but also a deeper appreciation for the legacy of this coastal city.
Haikou Top Attractions and Best Places to Visit in China
Hainan is known for its beaches and tropical climate, but few linger long in Haikou, as it is a capital city rather than a beach destination.
Before you head off to Sanya, though, take a day or two to visit this city's museums, parks, and other attractions.
Come check out our Haikou travel guide as we cover the best things to do in Haikou, China.
Begin your time in Haikou by learning about the history of China's tropical isle by exploring the halls of the Hainan Museum. With over 20,000 artifacts in its collection, you'll learn about this island's history as a place of exile for failed government officials and political prisoners.
Its exhibits also shed light on the culture of the native inhabitants of Hainan, with particular attention paid to its indigenous residents. Special galleries which highlight the region's literature, art, and economic development have also been held here over the years, so keep an eye out for these as you explore.
While some exhibits are in Chinese only, audio guides are available for rent that will tell the story of this place in English, Russian, Japanese, and other tongues.
Dive into the past of the city of Haikou by spending a few hours walking down Qilou Old Street. While this thoroughfare has existed for over 2,000 years, the architecture you'll see along its length dates back to the mid-19th century, when this place was done up in the Arcade style commonly seen in many Chinese enclaves in Southeast Asia.
As you make your way under the overhangs built to protect locals from torrential downpours and the punishing tropical sun, make note of the European, Indian, and Arabic influence in the buildings you see. As an important trading port in those days, it played host to many foreigners from those nations, you helped inform many of the structures you'll see as you walk through here.
If you're more into natural sights and attractions, book a day trip to Huoshankou National Geopark. Centred around a dormant volcano, this geological reserve is recognized by UNESCO for the ease of access it allows visitors to a former volcanic site.
A delightful hike that will take you through tropical rainforest, up the slopes of a formerly active volcano, and down into its crater, it will put you in touch with some of the best natural environments that the Haikou area has to offer.
As a Special Economic Zone in China, the island has seen the development of a number of schemes, including the building of infrastructure meant to prop up the film industry. During your trip here, check out Movie Town Haikou, a combo tourist attraction and open-air filming location.
Over 1,400 acres, you'll find 96 buildings situated along a variety of themed streets which allow producers to shoot films based in the Republican era of China, along a Beijing street in the 1950s/60s, or in a prototypical European town square.
There are also four sound stages where indoor scenes can be done with a myriad of lighting, sound, and other physical effects, so be sure to check those out while touring the grounds of this studio.
Other Cultural Attractions: Trip to Haikou, China
The island of Hainan and the Haikou area sit in a tropical climate biome; as such, there are plenty of plant and animal species which can live in this corner of China. Check out a good cross-section of these on a visit to Hainan Tropical Wildlife Park and Botanical Garden.
Here, you'll find the Liger, a rare cross-breed of wild feline (lion + tiger = liger), as well as other tropical animals like the Asian Elephant, hippos, and over 200 species of birds. The garden portion of this attraction contains many delicate species of orchid, lush palm trees, and many examples of flora species that are endemic to the island of Hainan.
Most of the attractive beaches on Hainan can be found around the Sanya area, but if you want to enjoy some time in the sun in a low-key place, spend a sunny afternoon on the sands of Jiari Beach. Featuring golden sands that aren't as crowded as Sanya's beaches (even so, make sure you visit during the week rather than on weekends). A popular gathering place for locals, you'll find them barbequing food and enjoying the company of family and friends.
Take a break from sightseeing in Haikou by spending time in Wanlv Park. Situated along the coast near the centre of Haikou, this green space is a great place to watch fireworks, fly kites, ride a bike, or go for a jog.
Finally, satisfy any cravings you have while walking around Haikou by stopping for a meal along Qilou Snack Street. Note that hard currency isn't accepted at the booths which serve everything from seafood to steamed pork buns – instead, you need to load money onto a prepaid card at the tourist information office, or download Wechat and put money on it.
Once you jump this hurdle, though, an evening here will be cheap and enjoyable, as there are many dishes to choose from.

source: xuxiaopang on YouTube
Top 44 Things To Do in Haikou, China For Visitors
Here is a list of 44 top things to do in Haikou, China, for visitors:
Relax on the beautiful beaches of Haikou, such as Holiday Beach or Baishamen Park Beach. Feel the soft sand between your toes and take a refreshing dip in the azure waters.
Explore the Qilou Old Street, featuring traditional arcade buildings and shops. Admire the architectural beauty of the buildings that date back to the late 19th and early 20th centuries.
Visit the Hainan Provincial Museum to learn about the history and culture of the region. Discover artifacts that showcase the rich heritage of Hainan Island, from ancient relics to contemporary artworks.
Marvel at the stunning architecture of the Haikou Clock Tower, a symbol of the city's progress and development. Capture panoramic views of the city from the top of this iconic landmark.
Discover the Temple of the Five Lords, a significant religious site in Haikou dedicated to the legendary Five Officials of the Tang Dynasty. Experience the serene ambiance and learn about the local beliefs and rituals.
Enjoy a leisurely boat ride along the Nandu River, which flows through the heart of Haikou. Take in the picturesque views of the city's skyline and the surrounding natural landscapes.
Explore the Hainan Tropical Wildlife Park and Botanical Garden, a sprawling park that showcases the region's diverse flora and fauna. Encounter rare and exotic animals, stroll through lush gardens, and learn about conservation efforts.
Sample delicious Hainanese cuisine at a local restaurant. Indulge in signature dishes like Wenchang Chicken, Hainanese rice noodles, and various seafood delicacies prepared with fresh local ingredients.
Visit the Haikou Volcanic Cluster Global Geopark, featuring unique volcanic landscapes and hot springs. Explore the lava formations, soak in the therapeutic waters of the hot springs, and learn about the geological history of the area.
Take a walk in Evergreen Park, a lush green space perfect for relaxation and picnics. Enjoy the peaceful atmosphere, colorful flowers, and manicured gardens.
Play a round of golf at one of the world-class golf courses in Haikou. Tee off at championship courses like the Mission Hills Golf Club, which offers stunning views and challenging fairways.
Explore the Meishi Mayflower International Golf Club, known for its picturesque scenery and well-designed course. Challenge your skills amidst rolling hills, pristine lakes, and lush greenery.
Take a dip in the rejuvenating hot springs of Xinglong Hot Spring Resort, located just outside Haikou. Experience the soothing effects of the mineral-rich waters and indulge in spa treatments for ultimate relaxation.
Visit the Haikou Mangrove Natural Reserve, a haven for birdwatching and nature enthusiasts. Take a guided tour to observe a variety of bird species, explore the winding boardwalks, and learn about the importance of mangrove ecosystems.
Discover the beautiful Wugongci Scenic Area, known for its ancient stone carvings and cultural significance. Explore the historical buildings, stone sculptures, and tranquil gardens that reflect the rich heritage of Hainan.
Explore the Wanlu Garden, a traditional Chinese garden with exquisite landscapes and pavilions. Stroll through lush greenery, admire the delicate architecture, and enjoy moments of tranquility.
Take a bike ride along the scenic Haikou Binhai Road, a picturesque coastal road that offers stunning views of the sea and the city's skyline. Feel the refreshing sea breeze as you cycle along the palm-lined promenade.
Visit the Guoxing Avenue Night Market for a taste of local street food and shopping. Indulge in a variety of snacks, such as grilled seafood skewers, fresh fruit juices, and delectable desserts while exploring the vibrant market stalls.
Enjoy a cruise on the Haidian River and take in the city's skyline from a different perspective. Relax on a boat as you glide along the river, enjoying the scenic views and the gentle breeze.
Attend a traditional Haikou opera performance for a cultural experience. Be captivated by the intricate costumes, melodic tunes, and expressive storytelling of this local art form.
Explore the Haikou Great Hall of the People, a grand architectural landmark that hosts various cultural and political events. Admire the impressive design and learn about the significance of this iconic building.
Take a tour of the Hainan International Convention and Exhibition Center, a modern venue that hosts conferences, exhibitions, and trade shows. Check the schedule for upcoming events and immerse yourself in the business and cultural atmosphere.
Visit the Hainan Museum of Contemporary Art for a dose of modern and contemporary art. Admire the works of local and international artists, explore the thought-provoking exhibitions, and gain insight into the art scene of Hainan.
Learn about traditional handicrafts and watch artisans at work at the Hainan Provincial Arts and Crafts Research Institute. Observe the creation of intricate embroidery, bamboo weaving, and other traditional crafts that have been passed down through generations.
Explore the Wugong Temple, dedicated to five ancient military officials known as the "Five Worthy and Loyal Ministers." Marvel at the architecture, visit the ancestral halls, and learn about the historical significance of these revered figures.
Discover the beauty of the Dongzhai Harbor Mangrove Nature Reserve, a vast wetland area teeming with biodiversity. Take a boat tour through the mangrove forests, spot rare bird species, and immerse yourself in the peaceful ambiance of this ecological gem.
Enjoy a boat tour to explore the scenic beauty of the Wanquan River. Cruise along the river's meandering course, marvel at the surrounding lush vegetation, and admire the idyllic landscapes that make for fantastic photo opportunities.
Attend the Dragon Boat Festival and witness thrilling dragon boat races. Join in the festivities, watch teams paddle in unison, and experience the vibrant energy and traditions associated with this ancient Chinese festival.
Shop for local produce and goods at the Haikou People's Park Farmers' Market. Browse through stalls filled with fresh fruits, vegetables, seafood, and a variety of local products, and get a glimpse of the daily life of the locals.
Discover the charm of the Haikou Arcade Buildings, a unique architectural feature of the city. Admire the fusion of Eastern and Western influences in these historic buildings, which were once bustling commercial centers.
Visit the Haikou Museum of Hainan Culture and Customs to learn about the island's traditions and customs. Explore the exhibits that showcase the diverse cultural heritage of Hainan's ethnic groups and gain insights into their way of life.
Take a scenic drive along the Haikou Eastern Coastal Ring Road, offering stunning views of the coastline. Enjoy the refreshing sea breeze, stop at lookout points, and capture unforgettable vistas along the way.
Explore the Haikou Wetland Park, a sprawling nature reserve that offers an escape into untouched natural landscapes. Walk along the boardwalks, observe the diverse bird species, and appreciate the serene beauty of the wetlands.
Attend a traditional Hainanese wedding ceremony for a cultural immersion experience. Witness the rituals, costumes, and customs that are unique to Hainanese weddings, and celebrate this joyous occasion with the newlyweds.
Explore the scenic Haikou Mangrove Natural Reserve on a guided tour. Learn about the ecological importance of mangroves, spot wildlife like egrets and mudskippers, and gain a deeper understanding of this fragile ecosystem.
Take a leisurely walk in the Haikou Century Bridge Park and enjoy the city views. Admire the elegant bridge that spans the Nandu River, take a rest in the shaded areas, and soak in the tranquil atmosphere of this waterfront park.
Discover the Haikou Arcade Houses Museum, showcasing the history and architecture of the city. Step inside these well-preserved arcade houses, explore their interiors, and learn about the daily life of the past.
Enjoy a performance at the Haikou Grand Theatre, featuring a variety of cultural shows, including musicals, dance performances, and concerts. Immerse yourself in the vibrant performing arts scene of Haikou.
Visit the Haikou Guanlanhu Park, a scenic park with a central lake and lush green surroundings. Take a leisurely stroll, rent a paddleboat, or have a picnic while enjoying the serene ambiance of this urban oasis.
Discover the beauty of the Haikou Century Park, a large recreational park with extensive green spaces, walking paths, and recreational facilities. Engage in outdoor activities, such as jogging, cycling, or practicing tai chi.
Explore the Haikou Seaview Park, known for its panoramic views of the city and the sea. Take a leisurely walk along the coastal promenade, enjoy the sea breeze, and admire the cityscape.
Indulge in retail therapy at the Haikou Mingzhu Plaza, a modern shopping complex offering a wide range of international and local brands. Browse through fashion boutiques, electronics stores, and enjoy a variety of dining options.
Explore the Haikou Guishan Park, a scenic park located on the outskirts of the city. Hike up the mountain trails, visit ancient temples, and enjoy panoramic views of Haikou from the hilltop.
Immerse yourself in the vibrant nightlife of Haikou by visiting popular entertainment districts like Bar Street. Experience the city's dynamic energy, enjoy live music, and savor cocktails at stylish bars and lounges.
These 44 top things to do in Haikou offer a diverse range of experiences, allowing you to discover the city's cultural heritage, natural beauty, culinary delights, and recreational activities. With its captivating charm and a wealth of attractions, Haikou promises an unforgettable travel experience.

source: CGTN on YouTube
What To Eat and Drink in Haikou, China
Haikou offers a delightful array of culinary delights that highlight the freshest seafood and local Hainanese flavors. Here are some must-try dishes and drinks in Haikou, China:
Wenchang Chicken: Considered a local specialty, Wenchang Chicken is a tender and flavorful dish that represents Hainanese cuisine. The chicken is poached to perfection and served with aromatic ginger and soy sauce.
Hainanese Rice Noodles: This popular breakfast dish features thin rice noodles served in a flavorful broth, accompanied by various toppings like sliced pork, fresh herbs, peanuts, and chili sauce. It's a comforting and satisfying meal.
Seafood Delicacies: Haikou is renowned for its abundant seafood. Don't miss the chance to savor the freshest catches from the ocean, such as steamed fish, grilled prawns, stir-fried squid, and spicy clams.
Jiaji Duck: This famous dish from Haikou features succulent roast duck with crispy skin and tender meat. The ducks are traditionally roasted over lychee wood, which imparts a unique smoky flavor.
Hainanese Coconut Rice: A staple dish in Hainanese cuisine, coconut rice is fragrant and flavorful. The rice is cooked in coconut milk and served with a variety of side dishes, such as stir-fried vegetables, grilled meats, and pickled vegetables.
Haikou Seafood Hotpot: Indulge in the ultimate seafood feast with a Haikou-style hotpot. Cook a variety of fresh seafood, including fish, shrimp, crabs, and clams, in a flavorful broth. Dip the cooked seafood in a variety of sauces for a burst of flavors.
Hainanese Satay: Enjoy skewered and grilled meats, such as chicken, pork, and beef, served with a rich peanut sauce. The Hainanese version of satay is slightly sweet and savory, making it a popular street food snack.
Hainanese Coconut Pudding: End your meal on a sweet note with Hainanese coconut pudding. Made from fresh coconut milk and jelly-like texture, it's a refreshing and cooling dessert perfect for Haikou's tropical climate.
Fresh Tropical Fruits: Haikou is known for its abundance of tropical fruits. Sample the juicy and sweet delights, such as mangoes, lychees, papayas, and pineapples, which are readily available in local markets and street stalls.
Coconut Water: Quench your thirst with the refreshing and naturally sweet coconut water. Haikou's coconut plantations produce some of the best coconuts, and you can enjoy the pure and hydrating drink straight from the source.
Hainanese Coffee: Wake up your senses with a cup of Hainanese coffee. This strong and aromatic brew is typically served with sweetened condensed milk, giving it a rich and smooth flavor.
Coconut Wine: Experience the unique flavor of Haikou's coconut wine. Made from fermented coconut juice, this traditional local drink has a slightly sweet taste with a hint of tropical fruit flavors.
Hainanese Beef Noodles: This iconic dish features tender slices of beef served with chewy rice noodles in a flavorful broth. The dish is often garnished with fresh herbs, bean sprouts, and chili sauce for added taste.
Hainanese Fish Soup: Enjoy a light and nourishing bowl of Hainanese fish soup, made with fresh fish fillets, vegetables, and fragrant herbs. The clear broth allows the natural flavors of the ingredients to shine.
Steamed Mud Crab: Haikou is known for its succulent mud crabs, and steaming them is a popular cooking method. Delight in the sweet and tender meat of the crab, infused with delicate flavors from ginger and garlic.
Hainanese Shrimp Balls: These delightful shrimp balls are made from minced shrimp mixed with seasonings, then deep-fried to a golden crisp. They make for a tasty appetizer or side dish.
Hainanese Spring Rolls: Indulge in crispy spring rolls filled with a flavorful mixture of vegetables, meat, and sometimes shrimp. Dip them in sweet and sour sauce for an extra burst of flavor.
Grilled Oysters: Haikou's coastal location offers an abundance of fresh oysters. Enjoy them grilled to perfection, enhancing their natural brininess with a smoky flavor.
Seafood Congee: Savor a comforting bowl of seafood congee, a rice porridge cooked with a medley of fresh seafood such as shrimp, squid, and fish. It's a popular choice for breakfast or a light meal.
Fried Hainanese Yellow Noodles: Delight in the combination of chewy yellow noodles stir-fried with vegetables, meats, and sauces. The dish is flavorful and satisfying.
Hainanese-style BBQ Pork: Enjoy succulent slices of barbecued pork marinated in a sweet and savory sauce. The caramelized exterior and tender meat make it a delectable treat.
Sweet Potato Balls: These deep-fried sweet potato balls are crispy on the outside and soft on the inside. They make for a delightful snack or dessert.
Hainanese Peanut Soup: Indulge in a warm bowl of Hainanese peanut soup, a comforting dessert made from boiled peanuts, rock sugar, and pandan leaves. It's a sweet and nutty treat.
Sugarcane Juice: Quench your thirst with a refreshing glass of sugarcane juice. Haikou's warm climate makes it the perfect beverage to cool down and enjoy the natural sweetness of sugarcane.
Hainanese Herbal Tea: Try a cup of Hainanese herbal tea, which combines various traditional Chinese herbs and flowers. It's believed to have cooling properties and offers a soothing and aromatic experience.
Hainanese Coconut Milk Tea: Enjoy the unique combination of black tea, coconut milk, and a touch of sweetness in this creamy and flavorful beverage.
Hainanese Rice Wine: Sip on Hainanese rice wine, a traditional alcoholic beverage made from fermented glutinous rice. It has a mild sweetness and is often served as an aperitif or paired with Hainanese dishes.
Lychee Liquor: Haikou is known for its abundant lychee orchards, and you can sample the flavors of this tropical fruit in the form of lychee liquor. It offers a sweet and fruity taste.
When in Haikou, be sure to explore the local markets, night markets, and restaurants to fully indulge in the city's culinary offerings. Whether you're a seafood lover or looking to try authentic Hainanese cuisine, Haikou's food and drink scene will tantalize your taste buds and leave you with a memorable gastronomic experience.
Where To Visit After Your Trip To Haikou?
After your trip to Haikou, there are several fascinating destinations nearby that you can visit to further explore the natural beauty and cultural heritage of Hainan Island. Here are some recommendations:
Sanya: Located on the southern coast of Hainan Island, Sanya is known for its pristine beaches, crystal-clear waters, and tropical landscapes. Explore the famous Yalong Bay, visit the Nanshan Cultural Tourism Zone with its towering Buddhist statues, or relax in the hot springs of Yanoda Rainforest Cultural Tourism Zone.
Wuzhizhou Island: Situated just off the coast of Sanya, Wuzhizhou Island is a tropical paradise with turquoise waters, white sandy beaches, and vibrant coral reefs. Enjoy snorkeling, diving, or simply basking in the sun on this idyllic island.
Qionghai: Located on the eastern coast of Hainan Island, Qionghai offers a blend of natural beauty and cultural attractions. Explore Bo'ao, known for its picturesque scenery and hosting the Bo'ao Forum for Asia. Visit the Wanquan River and take a boat tour to witness the stunning landscapes.
Wanning: Travel to Wanning, a city renowned for its surfing spots and breathtaking scenery. Visit the famous Riyue Bay, a popular surfing destination with consistent waves, or explore the lush rainforests of Wuzhishan National Nature Reserve.
Wenchang: Known as the birthplace of Hainanese culture, Wenchang is a charming coastal city with a rich historical heritage. Explore the historic Wenchang Old Town, visit the Wenchang Satellite Launch Center, or enjoy the beautiful beaches and seafood offerings.
Danzhou: Head to Danzhou, located in the northwest part of Hainan Island, and immerse yourself in the city's rural charm and natural landscapes. Discover the idyllic Yanoda Rainforest Cultural Tourism Zone, hike in the Qiongbei Mountains, or visit the Baihua Ridge Scenic Area.
Dongfang: Explore Dongfang, a city known for its agricultural landscapes, hot springs, and unique ethnic cultures. Visit the Dahua Volcano Geological Park, soak in the rejuvenating hot springs, or learn about the traditions of the Li and Miao ethnic minority groups.
Baoting: Journey to Baoting, a county nestled in the central part of Hainan Island and famous for its tropical rainforests and hot springs. Discover the Yanoda Tropical Rainforest Park, soak in the natural hot springs of Nantian Hotspring Resort, or visit the Li and Miao Cultural Tourism Zone.
Ledong: Located in the southern part of Hainan Island, Ledong offers stunning natural landscapes and ethnic minority cultures. Explore the Yanuo Tropical Rainforest Cultural Tourism Zone, hike through the majestic Jianfengling National Forest Park, or visit the Li and Miao Ethnic Minority Villages.
Wuzhishan: Head to Wuzhishan City, named after the five peaks of Wuzhishan Mountain, and embark on an adventure in the heart of Hainan's tropical rainforest. Hike to the summit of Wuzhishan Mountain, explore the picturesque Nanshan Valley, or visit the Li and Miao Ethnic Minority Cultural Park.
Qiongzhong: Travel to Qiongzhong, a mountainous region in the center of Hainan Island, known for its picturesque landscapes and ethnic minority cultures. Explore the charming villages of the Li and Miao ethnic groups, hike in the Qiongzhong Tropical Rainforest Park, or visit the stunning Diaoluoshan Nature Reserve.
Baisha: Visit Baisha, a small town located in the northeast of Hainan Island. Discover the ancient Baisha Li Ethnic Village, where you can learn about the customs, traditions, and daily life of the Li people. Explore the scenic countryside, visit local farms, and enjoy the tranquility of this rural area.
Chengmai: Journey to Chengmai, a county in the northern part of Hainan Island, known for its agricultural heritage and cultural sites. Explore the Yacheng Ancient Town, visit the Chengmai Confucius Temple, or take a bike ride through the idyllic countryside.
Lingao: Explore Lingao, a county in the northeastern part of Hainan Island, known for its rural landscapes and historical sites. Visit the ancient Lingao Tower, explore the rural villages, or enjoy the natural beauty of the Lingao Mangrove Nature Reserve.
Changjiang: Head to Changjiang, a county located in the western part of Hainan Island, and immerse yourself in its natural wonders. Explore the Bawangling National Nature Reserve, home to diverse flora and fauna, hike to the peak of Wuzhishan Mountain, or visit the Tianyahaijiao Scenic Area with its dramatic coastal landscapes.
Tunchang: Travel to Tunchang, a county in the central part of Hainan Island, known for its scenic beauty and cultural attractions. Discover the enchanting Wanlu Lake, visit the Tunchang Li Ethnic Village, or take a leisurely boat ride on the Yongxing River.
Wanning: Visit Wanning, a city known for its beautiful coastlines and surfing spots. Explore the Xinglong Tropical Botanical Garden, relax on the sandy beaches of Xinglong Bay, or take a dip in the refreshing hot springs of Nantian Hotspring Resort.
Sansha: For a unique experience, consider visiting Sansha, a prefecture-level city located on several islands in the South China Sea. Explore the pristine beaches, dive in the crystal-clear waters, and learn about the history and culture of this remote and fascinating region.
Xisha Islands: Embark on an adventure to the Xisha Islands, also known as the Paracel Islands, which are part of the Sansha City. Explore the untouched coral reefs, go snorkeling or diving, and soak up the beauty of these remote and idyllic islands.
Nansha Islands: If you're looking for an off-the-beaten-path destination, consider visiting the Nansha Islands, part of the Sansha City. Discover the stunning beaches, explore the marine biodiversity, and enjoy the tranquility of these secluded tropical islands.
Each of these destinations offers a unique blend of natural wonders, cultural heritage, and local experiences that will enrich your Hainan Island journey. Whether you're seeking relaxation on beautiful beaches, exploring rainforests, or immersing yourself in ethnic minority cultures, these places will provide you with memorable experiences beyond Haikou.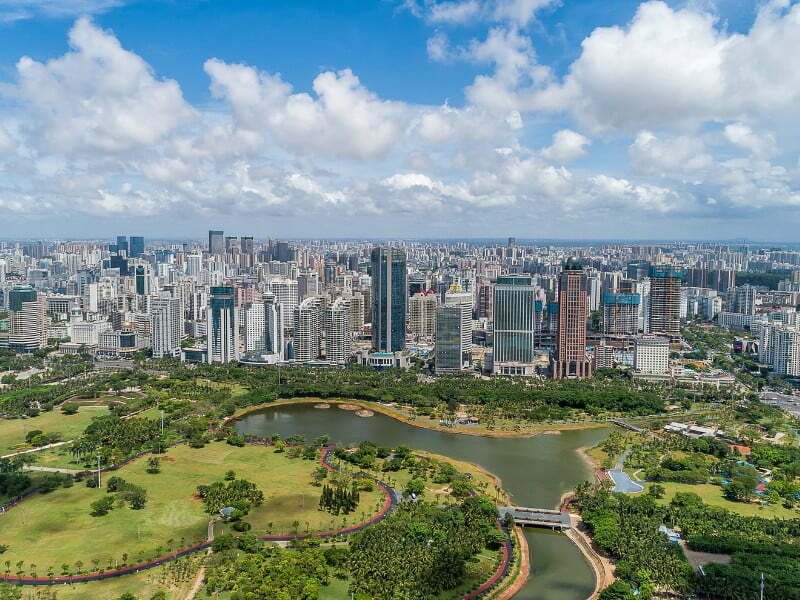 Haikou Travel Guide: Final Thoughts
As you conclude your Haikou travel guide journey, it's important to reflect on the captivating experiences and rich offerings this coastal city in China has provided. From its beautiful beaches and historical landmarks to its mouthwatering cuisine and vibrant culture, Haikou has much to offer visitors.
Haikou's pristine beaches, such as Holiday Beach and Baishamen Park Beach, provide opportunities for relaxation, swimming, and enjoying the coastal scenery. The Qilou Old Street allows you to step back in time and admire the traditional architecture of its arcade buildings, while the Hainan Provincial Museum offers a glimpse into the history and culture of the region.
Immersing yourself in the local cuisine is a must-do in Haikou. From savoring Wenchang Chicken and Hainanese Rice Noodles to indulging in seafood delicacies like grilled oysters and steamed mud crab, your taste buds are in for a treat. Don't forget to try Hainanese coconut pudding, sweet potato balls, and other delightful desserts to satisfy your sweet tooth.
Haikou's natural beauty extends beyond its beaches. Exploring the Haikou Volcanic Cluster Global Geopark, Evergreen Park, and the mangrove reserves allows you to appreciate the city's diverse landscapes and ecological treasures. Additionally, the city's vibrant nightlife, cultural performances, and traditional markets offer glimpses into the local way of life.
Venturing beyond Haikou, you have the opportunity to explore the nearby destinations of Sanya, Wuzhizhou Island, Qionghai, and other scenic spots on Hainan Island. Each of these places has its own unique charms, ranging from stunning beaches and rainforests to cultural landmarks and ethnic minority cultures.
In conclusion, Haikou is a city that combines natural beauty, historical significance, and a vibrant culture that will leave a lasting impression on any traveler. Whether you're seeking relaxation, adventure, or a deeper understanding of Hainan's heritage, Haikou has something for everyone. So pack your bags, immerse yourself in the enchanting atmosphere of Haikou, and create memories that will stay with you for a lifetime.