Korea may be a small country, but Jeonju is a bit out of the way. It takes 2-3 hours by bus, and the fastest train will get you here in one hour 40 minutes. If you persevere, though, you'll find a city bursting with culture.
Start with its traditional folk village within city limits, then move on to its museums. Stop for a meal of local bibimbap, then explore its Christian heritage. During your time in Jeonju, you won't be short of things to do.
Come check out our Jeonju travel guide for cultural visitors as we cover the best things to do in Jeonju, South Korea.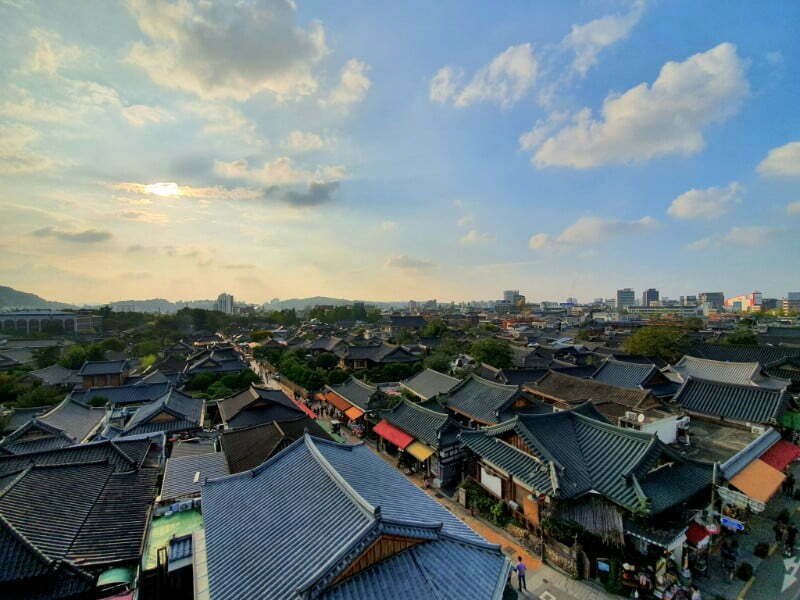 Jeonju City Guide: A Brief History Of Jeonju, South Korea
Jeonju is a city in South Korea with a rich and intriguing history that dates back over a millennium. Its name originates from the ancient kingdom of Baekje, which flourished from the 2nd century BCE to the 7th century CE. During this period, Jeonju was known as Wansan-gyeong, meaning "city surrounded by mountains."
In the early 10th century, during the Unified Silla period, Jeonju was established as the capital of Jeolla Province. This era witnessed the construction of significant historical sites such as Jeonju Hyanggyo, a Confucian school, and Gyeonggijeon, a palace where Taejo, the first king of the Joseon Dynasty, was enshrined.
During the Joseon Dynasty (1392-1910), Jeonju experienced a flourishing cultural and economic renaissance. The city became an important hub of traditional Korean art and culture, particularly pottery, textiles, and paper-making. The Joseon era also saw the emergence of notable political figures and scholars in Jeonju, including Yi Hwang, a renowned Confucian scholar.
Jeonju's significance as a center of Korean cuisine also dates back to the Joseon Dynasty. The city has its own distinct regional dishes such as bibimbap, a mixed rice dish with vegetables and chili pepper paste, and jeon, a type of Korean pancake. Jeonju has since become known as the "food capital" of South Korea, attracting visitors from all over the world.
The Japanese occupation of Korea from 1910 to 1945 inflicted significant damage on Jeonju's cultural and historical sites. However, the city has undergone extensive restoration and preservation efforts to safeguard its cultural legacy.
Today, Jeonju is a vibrant and modern city that respects its rich cultural heritage. The city's historical sites, museums, and cultural festivals make it a popular destination for both domestic and international travelers. Jeonju's multifaceted history and cultural significance continue to enthrall scholars and enthusiasts alike.
Jeonju Top Attractions and Best Places to Visit in Korea
Start your time in North Jeolla's largest city by checking out the Jeonju Hanok Village. In actuality, this isn't a 'village', per se – it is a neighbourhood of traditional houses. They stand in stark contrast to the towers that popped up like mushrooms over the past generation.
With over 800 houses, there is no shortage of buildings to explore and photograph. With signature roofs, separate rooms for men and women, and heated floors, you'll be fascinated how different the lives of Koreans used to be.
Do you want to check out a historical point of interest in the Jeonju area? Make room in your schedule for the Gyeonggijeon Shrine. It holds the portrait of King Taejo, and mortuary tablets for him and his wife.
Around since the 15th century, it has seen many wars since its founding. A battle fought during The Imjin War led to the partial destruction of this structure. Since then, it has been renovated periodically to keep it in its original form. In addition to the relics mentioned above, carriages used to transport dignitaries are also on display.
Keep exploring the legacy of Korea's monarchy by including the Royal Portrait Museum in your sightseeing. Only open since 2010, it is a recent addition to Jeonju. Here, you'll find the painted likeness of numerous Korean monarchs, including King Sejong, King Yeongjo, and King Cheoljong.
Additional exhibits relay royal history and show off artifacts that include incense burners and objects related to rituals. Allow at least an hour and a half to fully appreciate everything this museum has to offer.
While in the Jeonju area, make time to check out two historically significant places, Omokdae and Imokdae. Located atop a steep hill, Omokdae is where Yi Seong-gye (later King Taejo) celebrated his victory over the Japanese. Imokdae is a short distance away at the base of Seungamsan Mountain. It was here where King Taejo's great-great-great-grandfather Mokjo engaged in war games with his friends.
Mokjo was banished from Jeonju by rivals – five generations later, King Taejo believed the gods preordained his rise to power. This accomplishment and Taejo's victory over the Japanese are honoured with an attractive pavilion. The views from here are spectacular, especially in the fall, so don't forget your camera at your accommodation.
Other Cultural Attractions: Trip to Jeonju, South Korea
The Jeonju area has long been a stronghold for Christianity in Korea. As such, it should come as no surprise to find a church as attractive as the Jeondong Catholic Cathedral. Religious authorities built this 100-year-old cathedral in honour of missionaries who martyred themselves during the Joseon Dynasty.
Built in the Romanesque style, this church greatly resembles Seoul's Myeongdong Cathedral. There's a reason for this – Father Poinel, its priest, took it upon himself to design the church in Jeonju. One final note – its bricks were sourced from the Jeonjueupseong Fortress after the Japanese dismantled it.
Get in touch with local street life by visiting the Nambu Traditional Market. Founded in 1905, it boasts a mix of produce, housewares, and other goods. Entrepreneurs from the current generation have rejuvenated its stalls, offering goods commonly found in Seoul's Hongdae. Food fans will want to drop by Friday or Saturday evening, as additional stalls offer treats from nokdujeon to bibimbap.
Are you looking for an attraction that pairs The Office with Jeonju? Set aside enough space in your schedule for a visit to the Hanji Museum. This institution exists to extol the virtues of Korean-made paper, or Hanji. During your time here, you'll get to feel 100 different kinds of Hanji and see the machinery that creates it. On top of this, you'll get to make sheets of Hanji – exciting!
Take a second to chill out and relax during your visit to Jeonju by stopping by Deokjin Park. Situated around a pond that has been relevant since the Goryeo Dynasty, it is a favourite among locals. Famous for its water irises and lotus blossoms, it is the place to be on a beautiful day.
Park officials hold fountain shows regularly between April and October, and pedal boats are available for rent. Buy some food from a local supermarket or shop and enjoy an afternoon here – you'll love it!

source: She travel the world on YouTube
Top 10 Things To Do in Jeonju, Korea For Visitors
Here are the top 10 things to do in Jeonju that you simply cannot miss!
Immerse yourself in the charm of Jeonju Hanok Village, where over 800 traditional Korean houses have been preserved or restored to showcase the city's cultural heritage. You'll feel like you've stepped back in time as you wander through the winding alleys and admire the beautiful architecture.
Savor the flavors of Jeonju Bibimbap, a dish that has made the city famous. This mixed rice dish is served with an array of fresh and flavorful ingredients, including vegetables, meat, and chili pepper paste. It's a true culinary delight!
Explore the fascinating Gyeonggijeon, a palace built during the Joseon Dynasty that houses the portrait of King Taejo, the founder of the dynasty. The palace also features beautiful gardens and historical artifacts, making it a must-see attraction.
Admire the unique architecture of Jeondong Catholic Church, one of the oldest churches in Korea. This beautiful building features a blend of Western and Korean architectural styles and is a true marvel to behold.
Take a leisurely stroll along Omokdae and Imokdae, two picturesque hills that offer stunning views of Jeonju. Whether you visit during the day or at night, the views are truly breathtaking.
Discover the city's rich history of paper-making at the Jeonju Hanji Museum, where you can learn about traditional techniques and even make your own paper.
Sip on Jeonju Makgeolli, a traditional Korean rice wine that is beloved by locals and visitors alike. The refreshing and flavorful drink is the perfect accompaniment to a delicious meal or a warm summer day.
Learn about the cultural heritage of Jeonju and its surrounding regions at the Jeonju National Museum, which features a vast collection of artifacts and exhibits.
Take a peaceful stroll along the Jeonju Stream, a picturesque waterway that runs through the heart of the city. It's the perfect spot to unwind and soak in the beauty of the city.
Experience the vibrant energy of Jeonju's cultural festivals, which showcase the city's rich cultural heritage. From the Jeonju International Film Festival to the Jeonju Bibimbap Festival and the Jeonju Hanji Culture Festival, these events offer a unique and unforgettable experience.
Jeonju is a city that truly has it all, from fascinating historical sites to delicious cuisine and cultural events. Don't miss the chance to experience all that this beautiful city has to offer!
What To Eat and Drink at Restaurants in Jeonju, South Korea
Jeonju is an absolute foodie's heaven! The city is famous for its mouthwatering cuisine and rich culinary traditions, which will surely leave you craving for more. Let's dive into the must-try dishes and drinks when visiting Jeonju.
First up is the iconic Jeonju Bibimbap, a mixed rice dish that features an array of colorful vegetables, beef, and chili pepper paste. One bite of this delicacy and you'll instantly understand why it has become synonymous with the city.
To complement your Bibimbap, try Makgeolli, a traditional Korean rice wine that has a refreshing and slightly sweet taste. This drink is a perfect accompaniment to any Korean meal, including Jeonju Bibimbap.
For something crispy and savory, indulge in Jeonju-style Fried Chicken, coated in a sauce made with garlic, ginger, and chili pepper. It's no surprise that this dish is a fan favorite and pairs perfectly with a cold beer.
Another beloved Jeonju classic is Kongnamul Gukbap, a nourishing soup made with bean sprouts, rice, and beef. This comforting and flavorful dish is perfect for any chilly day.
If you're looking for a light bite or appetizer, don't miss out on Pajeon, a delicious Korean pancake made with scallions and seafood. It's a great snack that will definitely satisfy your cravings.
For meat lovers, Tteokgalbi is a must-try dish. This Korean beef patty, made with ground beef and other ingredients, is served with rice and vegetables and will leave you craving for more.
A simple yet satisfying soup, Gukbab, is a staple dish in Jeonju. Made with rice and beef broth, it's the perfect comfort food on a cold day.
For drinks, try Baekseju, a traditional Korean liquor made with 100 medicinal herbs and grains. Its unique flavor will definitely leave a lasting impression on your taste buds.
If you have a sweet tooth, Sikhye, a sweet rice punch made with malted rice and sugar, is a refreshing drink that is perfect for any time of the day.
Last but not least, Soju, a clear distilled spirit made from rice, is the most popular alcoholic drink in South Korea. It's the perfect drink to pair with any Korean meal or to enjoy with friends.
Jeonju's food scene is rich and diverse, offering a plethora of unique and delicious dishes and drinks that will leave you wanting more. Make sure to explore the local markets and restaurants to fully immerse yourself in the gastronomical delights of this charming city.
Tours For Visitors To Jeonju, South Korea
There are many tours available in Jeonju that can help visitors make the most of their time in this amazing city. Here are some of the top tours for visitors to Jeonju:
Jeonju Hanok Village Tour: Jeonju Hanok Village is a must-visit attraction in the city, and this tour will take you on a journey through the traditional Korean houses and streets of the village. You will learn about the history and culture of the area while enjoying the beauty of the architecture and the scenery.
Jeonju Food Tour: Jeonju is known for its delicious cuisine, and this tour will take you to some of the best local restaurants and markets in the city. You will get to taste traditional Korean dishes and learn about the ingredients and cooking methods used in the region.
Jeonju Temple Stay: For those who want to experience the spiritual side of Jeonju, a temple stay is a great option. You will have the opportunity to learn about Buddhism and meditation, and participate in temple activities like chanting and praying.
Jeonju Night Tour: Jeonju is just as beautiful at night as it is during the day, and this tour will take you to some of the best spots to see the city lit up after dark. You will also get to experience the nightlife and culture of the city.
Jeonju Traditional Culture Experience Tour: This tour will take you to various traditional cultural experiences such as tea ceremonies, rice cake making, and traditional paper craft. You will have the opportunity to learn about and participate in these cultural activities, giving you a deeper understanding of Jeonju's heritage.
Jeonju History Tour: Jeonju has a rich history that spans over 1,000 years, and this tour will take you to some of the most important historical sites in the city. You will learn about the Joseon Dynasty, the Japanese occupation, and other key events that have shaped the region.
Jeonju Nature Tour: Jeonju is surrounded by beautiful natural scenery, and this tour will take you to some of the best spots to enjoy it. You can go hiking in the mountains, visit a waterfall, or explore the countryside on bike.
Jeonju Craft Beer Tour: Jeonju has a growing craft beer scene, and this tour will take you to some of the best breweries and bars in the city. You will get to taste a variety of locally brewed beers and learn about the brewing process.
Jeonju Art Tour: Jeonju is home to many talented artists and galleries, and this tour will take you to some of the best. You can see a variety of art styles and mediums, from traditional Korean paintings to contemporary installations.
Jeonju Architecture Tour: Jeonju has a unique blend of traditional Korean and modern architecture, and this tour will take you to some of the most interesting buildings in the city. You will learn about the history and design of each building, and how they fit into the city's overall aesthetic.
Jeonju Accommodations Guide: Hotels, Guesthouses and Hostels
Here's a guide to help you find the perfect place to stay during your visit to Jeonju.
Hanok Stays: One of the most popular accommodations in Jeonju is staying in a Hanok, a traditional Korean house. These Hanoks have been converted into guesthouses, providing an authentic Korean experience. Some of the most popular Hanok guesthouses are Jeonju Hanok Village, Gyeonggijeon Hanok Stay, and Jeonju Hanok Living Experience Center. You can enjoy traditional Korean architecture, furniture, and decor, along with modern amenities such as air conditioning, heating, and Wi-Fi.
Hotels: Jeonju has a variety of hotels, ranging from luxury to budget-friendly options. Some of the most popular hotels are Ramada Jeonju, Jeonju Kukje Hotel, and Jeonju Tourist Hotel. These hotels offer a comfortable stay with modern amenities such as fitness centers, restaurants, and free Wi-Fi.
Motels: If you're looking for a budget-friendly option, you can consider staying in a motel. Jeonju has many motels located throughout the city. Some of the most popular motels are Goodstay Jeonju Hotel, Jeonju Asia Hotel, and Jeonju Youngdong Hotel. These motels offer basic amenities such as air conditioning, free Wi-Fi, and parking.
Hostels: Jeonju has many hostels that cater to backpackers and budget travelers. Some of the most popular hostels are Guesthouse Yett, Jeonju Hanok Guesthouse, and Yellow Backpackers Hostel. These hostels offer comfortable dormitory-style rooms and private rooms at affordable prices, along with communal spaces such as kitchens and lounges.
Guesthouses: Guesthouses in Jeonju are another popular option for travelers. Some of the most popular guesthouses are Dukmanjae Guesthouse, 88 Guesthouse, and Sosabeol Guesthouse. These guesthouses offer comfortable rooms with basic amenities such as air conditioning, free Wi-Fi, and laundry facilities.
When choosing your accommodation in Jeonju, it is important to consider your budget, travel preferences, and the type of experience you're looking for. Whether you're looking for an authentic Korean experience or a budget-friendly stay, there is something for everyone in Jeonju.
Day Trips From Jeonju, South Korea
While the city itself offers plenty to see and do, there are also many fantastic day trips that you can take to explore the surrounding areas. Here are some of the best day trips from Jeonju:
Naejangsan National Park: Located about an hour and a half away from Jeonju, Naejangsan National Park is a stunning destination for nature lovers. The park is famous for its beautiful fall foliage, but it is also a great place to visit in the summer for its lush greenery and hiking trails.
Tapsa Temple: Tapsa Temple is a unique Buddhist temple located in Jinan, about an hour away from Jeonju. The temple is known for its 80 stone pagodas, which were built by a single monk over the course of several decades.
Maisan Provincial Park: Maisan Provincial Park is home to the stunning Maisan Mountain, which is known for its unique rock formations. The park is also home to several temples and hiking trails, making it a great destination for both nature lovers and history buffs.
Gunsan: Gunsan is a charming coastal city located about an hour and a half away from Jeonju. The city is known for its beautiful architecture, including many old Japanese colonial buildings. It is also home to several museums and cultural sites.
Damyang Bamboo Forest: Located about two hours away from Jeonju, the Damyang Bamboo Forest is a peaceful and serene destination. The forest is filled with towering bamboo stalks and winding pathways, making it a great place for a leisurely walk or bike ride.
Jeonju Hanok Village: While technically not a day trip, the Jeonju Hanok Village is still worth a visit if you have the time. The village is home to hundreds of traditional Korean houses, many of which have been converted into shops and restaurants.
Muju Deogyusan Resort: Muju Deogyusan Resort is a great destination for skiing and snowboarding in the winter, and hiking and mountain biking in the summer. The resort is located about an hour and a half away from Jeonju, making it a great day trip destination.
Soswaewon Garden: Soswaewon Garden is a beautiful traditional garden located in Damyang, about two hours away from Jeonju. The garden is known for its beautiful ponds, bridges, and pavilions, and is a great place to relax and enjoy nature.
Gochang Dolmen Site: The Gochang Dolmen Site is a UNESCO World Heritage Site located about an hour and a half away from Jeonju. The site is home to over 400 dolmens, which are ancient tombs made of stone.
Suncheon Bay Wetland Reserve: Suncheon Bay Wetland Reserve is a stunning destination for bird watching and nature lovers. The reserve is home to over 150 species of birds, as well as numerous other animals and plants. It is located about two and a half hours away from Jeonju, but is well worth the trip.
Jeonju Transportation Guide
Here is a guide to transportation in Jeonju:
Buses: Jeonju offers a comprehensive bus system that can take you anywhere you need to go. The city bus system is affordable and easy to navigate, with buses running from early morning to late at night. There are also intercity buses that can take you to nearby cities and attractions.
Taxis: Taxis are readily available in Jeonju and are a convenient way to get around, especially if you're short on time or traveling with a group. Taxis can be hailed on the street or called in advance, and fares are affordable.
Trains: While Jeonju does not have a subway system, it is connected to the national train network, making it easy to travel to other parts of Korea. There are several train stations in Jeonju, including Jeonju Station and Namwon Station, with regular services to Seoul, Busan, and other major cities.
Car rental: If you prefer to explore on your own, renting a car is a great option. There are several rental car companies in Jeonju, and driving in Korea is relatively easy, with well-maintained roads and clear signage.
Bicycle: For a more active and eco-friendly way to get around, Jeonju has a bike sharing program called Jeonju Bike. You can rent a bike at various stations around the city and ride to your destination, enjoying the scenery and fresh air along the way.
No matter how you choose to get around, Jeonju offers a variety of transportation options that can help you explore the city and surrounding areas. With so many things to see and do, getting around in Jeonju is a breeze.
Where To Visit After Your Trip To Jeonju?
After you have explored all that Jeonju has to offer, you may be wondering where to go next. Luckily, there are many incredible destinations within South Korea that are waiting to be discovered. Here are some suggestions for where to visit after your trip to Jeonju:
Seoul – South Korea's bustling capital city is a must-visit destination for any traveler to the country. From historic palaces to modern shopping districts, there is something for everyone in this vibrant city.
Busan – Known for its beautiful beaches and seafood, Busan is a coastal city that offers a more relaxed atmosphere than Seoul. Don't miss the stunning Haedong Yonggungsa Temple and the vibrant nightlife in the Gwangalli area.
Jeju Island – If you're looking for natural beauty, Jeju Island is the perfect destination. From scenic hikes to stunning beaches, this island has it all.
Gyeongju – Known as the "museum without walls," Gyeongju is a historic city that was once the capital of the ancient Silla dynasty. Explore the many temples and tombs that dot the city and learn about Korea's rich cultural history.
Andong – This traditional city is famous for its Hahoe Folk Village, a UNESCO World Heritage Site that offers a glimpse into traditional Korean life. Don't miss the Andong Mask Dance Festival, which takes place every October.
Sokcho – If you're looking to escape the city, head to Sokcho, a small coastal town located near Seoraksan National Park. Hike the scenic trails in the park, enjoy fresh seafood, and soak in the natural hot springs.
No matter where you decide to go, South Korea has a wealth of incredible destinations waiting to be explored. So pack your bags and hit the road – your next adventure awaits!
Jeonju Travel Guide: Final Thoughts
Jeonju, the city of tradition, culture, and gastronomy, has something to offer for every type of traveler. From historic sites and cultural experiences to mouth-watering food and vibrant nightlife, this city has it all. Exploring the streets of Jeonju feels like stepping back in time with its traditional hanok houses and winding alleys that lead to hidden gems.
Whether you are a history buff, foodie, or just looking for a charming getaway, Jeonju will not disappoint. The city's rich cultural heritage is reflected in its stunning architecture and historic sites, such as the Jeondong Catholic Church and the Gyeonggijeon Shrine. Additionally, the Jeonju Hanok Village is a must-visit destination for those who want to experience traditional Korean culture.
The cuisine in Jeonju is known throughout Korea for its distinct flavor and quality. The city is particularly famous for its bibimbap, a rice bowl dish mixed with vegetables, meat, and chili paste, and the perfect way to experience Jeonju's unique food culture is through a visit to the Nambu Night Market. This bustling market offers a variety of street foods, such as tteokbokki (spicy rice cakes) and kimbap (seaweed rice rolls), as well as souvenirs and traditional crafts.
When it comes to accommodations, Jeonju offers a wide range of options, from traditional hanok guesthouses to modern hotels. Staying in a hanok house is a great way to immerse yourself in the city's culture and traditions while enjoying modern amenities. You can also opt to stay in a luxurious hotel or budget-friendly hostel, depending on your preference and budget.
In addition to exploring the city, there are also plenty of day trips you can take from Jeonju. Just a short drive away is the scenic Naejangsan National Park, where you can enjoy hiking and stunning autumn foliage. Another popular destination is the island of Gunsan, which is known for its beautiful beaches and historic architecture.
Navigating Jeonju is relatively easy, thanks to its efficient transportation system. Buses and taxis are readily available and affordable, and the city's subway system is clean, safe, and convenient.
Overall, Jeonju is a destination that should not be missed. With its rich cultural heritage, mouth-watering cuisine, and welcoming people, this city will leave you with unforgettable memories and a desire to return.
There once was a city named Jeonju Where the food was the star of the show Bibimbap was the dish of the day And makgeolli was there to stay
The streets were lined with hanok houses And the night market buzzed with spouses There were palaces and museums to explore And even a village of paper dolls galore
So come to Jeonju, don't be shy Eat, drink, and explore, don't be sly The city has so much to offer You won't regret being a Jeonju lover!