Jeonju Travel Guide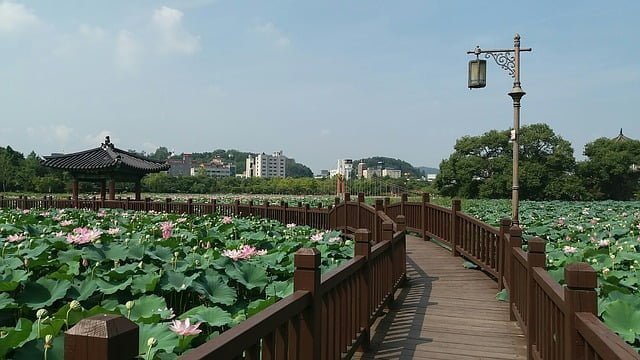 Introduction
Korea may be a small country, but Jeonju is a bit out of the way. It takes 2-3 hours by bus, and the fastest train will get you here in one hour 40 minutes. If you persevere, though, you'll find a city bursting with culture.
Start with its traditional folk village within city limits, then move on to its museums. Stop for a meal of local bibimbap, then explore its Christian heritage. During your time in Jeonju, you won't be short of things to do.
Come check out our Jeonju travel guide for cultural visitors as we cover the best things to do in Jeonju, South Korea.
Top Attractions
Start your time in North Jeolla's largest city by checking out the Jeonju Hanok Village. In actuality, this isn't a 'village', per se – it is a neighbourhood of traditional houses. They stand in stark contrast to the towers that popped up like mushrooms over the past generation.
With over 800 houses, there is no shortage of buildings to explore and photograph. With signature roofs, separate rooms for men and women, and heated floors, you'll be fascinated how different the lives of Koreans used to be.
Do you want to check out a historical point of interest in the Jeonju area? Make room in your schedule for the Gyeonggijeon Shrine. It holds the portrait of King Taejo, and mortuary tablets for him and his wife.
Around since the 15th century, it has seen many wars since its founding. A battle fought during The Imjin War led to the partial destruction of this structure. Since then, it has been renovated periodically to keep it in its original form. In addition to the relics mentioned above, carriages used to transport dignitaries are also on display.
Keep exploring the legacy of Korea's monarchy by including the Royal Portrait Museum in your sightseeing. Only open since 2010, it is a recent addition to Jeonju. Here, you'll find the painted likeness of numerous Korean monarchs, including King Sejong, King Yeongjo, and King Cheoljong.
Additional exhibits relay royal history and show off artifacts that include incense burners and objects related to rituals. Allow at least an hour and a half to fully appreciate everything this museum has to offer.
While in the Jeonju area, make time to check out two historically significant places, Omokdae and Imokdae. Located atop a steep hill, Omokdae is where Yi Seong-gye (later King Taejo) celebrated his victory over the Japanese. Imokdae is a short distance away at the base of Seungamsan Mountain. It was here where King Taejo's great-great-great-grandfather Mokjo engaged in war games with his friends.
Mokjo was banished from Jeonju by rivals – five generations later, King Taejo believed the gods preordained his rise to power. This accomplishment and Taejo's victory over the Japanese are honoured with an attractive pavilion. The views from here are spectacular, especially in the fall, so don't forget your camera at your accommodation.
Other Attractions
The Jeonju area has long been a stronghold for Christianity in Korea. As such, it should come as no surprise to find a church as attractive as the Jeondong Catholic Cathedral. Religious authorities built this 100-year-old cathedral in honour of missionaries who martyred themselves during the Joseon Dynasty.
Built in the Romanesque style, this church greatly resembles Seoul's Myeongdong Cathedral. There's a reason for this – Father Poinel, its priest, took it upon himself to design the church in Jeonju. One final note – its bricks were sourced from the Jeonjueupseong Fortress after the Japanese dismantled it.
Get in touch with local street life by visiting the Nambu Traditional Market. Founded in 1905, it boasts a mix of produce, housewares, and other goods. Entrepreneurs from the current generation have rejuvenated its stalls, offering goods commonly found in Seoul's Hongdae. Food fans will want to drop by Friday or Saturday evening, as additional stalls offer treats from nokdujeon to bibimbap.
Are you looking for an attraction that pairs The Office with Jeonju? Set aside enough space in your schedule for a visit to the Hanji Museum. This institution exists to extol the virtues of Korean-made paper, or Hanji. During your time here, you'll get to feel 100 different kinds of Hanji and see the machinery that creates it. On top of this, you'll get to make sheets of Hanji – exciting!
Take a second to chill out and relax during your visit to Jeonju by stopping by Deokjin Park. Situated around a pond that has been relevant since the Goryeo Dynasty, it is a favourite among locals. Famous for its water irises and lotus blossoms, it is the place to be on a beautiful day.
Park officials hold fountain shows regularly between April and October, and pedal boats are available for rent. Buy some food from a local supermarket or shop and enjoy an afternoon here – you'll love it!