Aosta Travel Guide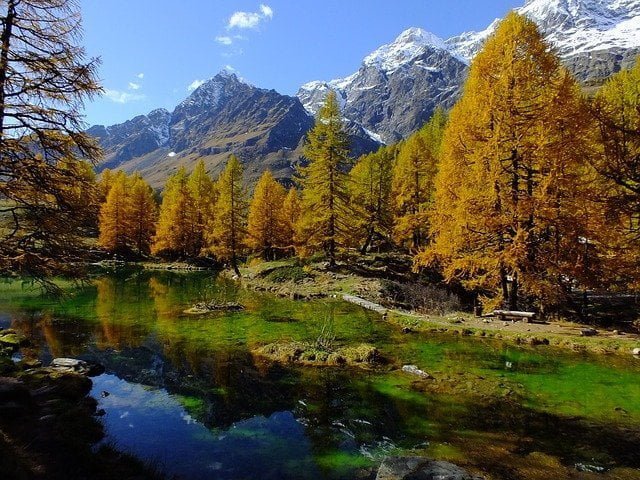 Introduction
Located in a high mountain valley in Northwestern Italy, the small city of Aosta was once an important military outpost for the Romans. Today, its past heritage is one of its biggest attractions, as is its mountain surroundings. Because of this, history buffs and nature lovers alike will enjoy spending 2-3 days in this lesser-known destination.
Top Attractions
Make the Criptoportico Forense your first stop in Aosta. There are several noteworthy Roman remnants in the city, but this covered alcove stands out. Nobody knows what the Criptoportico was used for, but experts speculate it served as a market during the winter months.
But if you love ruins, it won't matter, as this 2,000-year-old gem gives your imagination room to run. Like the other Roman sites in this city, you'll need a ticket to enter. For 7 EUR, you'll gain admission to this amazing place. Sadly, this attraction is unsuitable for wheelchair-bound visitors.
Next, pay a visit to the Teatro Romano. While the complex is open ruins today, historians believe this structure once had a roof. During the reign of Emperor Claudius, this theatre started hosting cultural events for local residents.
After falling prey to scavengers and the elements for more than 1,500 years, Teatro Romano is once again hosting shows. Check with local authorities, and you may be able to catch a performance.
Want to learn more about the history of Aosta? Check out the exhibits at Museo Archeologico Regionale. Here, you'll get to see artifacts that pre-date the Roman Empire, as well as scores of items from Roman times.
In this institution's collection, you'll find pottery, ancient glass, funeral implements, and much more. However, as good as this hidden gem is, many captions are in Italian only. To get around this, use Google Translate or bring an Italian-speaking friend.
While in Aosta, church lovers will want to visit Collegiata dei Santi Pietro e Orso. This humble house of worship may be small, but it dates back to the 9th century. Within, you'll find loads of cool artifacts, as well as Romanesque paintings that illustrate how old this church really is.
Other Attractions
Aosta has a rich history, but the nature surrounding it is just as impressive. Make time for a day trip to Parco Nazionale Gran Paradiso during your visit. From dense valley forests to chilly glaciers, its landscapes vary greatly.
As you make your way through the park, keep your eyes open for wildlife. In particular, the alpine ibex, alpine chamois, marmots stand out. In any season, this park offers amazing vistas – do not miss it.
Up for more time in the outdoors? Then work Mont Avic Natural Park into your schedule. Unlike Gran Paradiso, this park had been home to humans before its establishment in 1989. In that time, however, nature has reclaimed the land, leaving only faint traces of habitation.
In this park, there are loads of trails that lead to alpine lakes and amazing sights. After several hours of hiking, a rest house at the park gates awaits with food and refreshments.
Back in Aosta, be sure to walk through Porta Pretoria. This ancient stone gate dates back to the Roman Empire, when it was one of several entryways through the city wall. After taking a selfie with this landmark, have a coffee at one of the coffee shops nearby.
Relax on your final day at this destination by spending an evening in Aosta Old Town. Planners have pedestrianized most of its streets, making it easy to take in all the sights. After you've finished sightseeing, there are plenty of shops, cafes, restaurants, and bars to experience.
Visiting in the winter season? In the centre of Aosta, you'll find their annual Christmas Market. As you check out the crafts, don't forget to try some grappa – their answer to Germany's gluhwein.
What To Eat
Feeling a hunger pang come on as you explore Aosta? Fill the void with a Crespelle alla Valdostana. This savoury treat is a crepe that is stuffed with Fontina cheese, ham, and mushrooms. Topped with béchamel sauce, it almost feels too fancy to be a snack.
At dinner time, find a restaurant that serves Carbonade Valdostana. This rich stew, which contains ingredients like cubed beef, onions, and red wine, simmers for hours on end. When it finally makes its way to your table, you'll be in for a treat – come hungry.
If you have room left for dessert, visit a bakery that sells Tegole Valdostane. These are thin cookies that contain almonds, hazelnuts, vanilla extract, and lots of sugar. If you don't have them after dinner, try these biscuits with one of your coffee breaks in Aosta.