Bari may be the second biggest city in Southern Italy (after Naples), but to most, it's just a transit hub. This is a shame, as this place has managed to retain much of its architecture dating back to medieval times.
Take a while to look around, and you'll find spectacular churches, a castle, and other hidden gems.
Travel Guide to Bari, Italy
Bari Top Attractions and Best Places to Visit in Southern Italy
Start your visit to Bari by dropping by Basilica San Nicola. Local records aren't clear on when this church was built, but historians believe construction was completed in the 11th or the 12th century. Local authorities named it in honour of Saint Nicholas, who reportedly wanted to be buried there.
In fact, this basilica owes its existence to the return of Saint Nichola's remains to Italy from Turkey. Because of this, Basilica San Nicola is a pilgrimage site for both Roman Catholics and Russian Orthodox Christians.
After that, make the Cattedrale di San Sabino your next stop. This Romanesque church opened in the late 13th century and was named for Saint Sabinus, a Puglian bishop who lived in the 6th century. In this building's crypt, you'll find his relics.
Apart from that, the church itself is also an attraction. Despite its predominant Romanesque architecture, its arches, columns, and bell tower all have Byzantine features. But as you take pictures, do remember to be respectful of local parishioners.
Next, make your way over to Castello Normanno Svevo. Built in the 12th century by the Normans, this fortification has seen plenty of action over its life. For example, shortly after its completion, King William I of Sicily razed it.
However, Frederick II of the Holy Roman Empire saw value in the structure, as he had it rebuilt and expanded in the 13th century. After that, it passed to the Kingdom of Naples, then to the Poles, then back to Naples. Within its walls, you'll find pottery and other artifacts associated with this castle.
If you love live shows, take in one at Teatro Petruzzelli. Although it opened in the late 19th century, the current building is a reconstruction, after a fire consumed it in the 1990s.
Video: 24 Hours in Bari, Italy: Orecchiette, Awesome Food on the Adriatic Sea

source: Newstate Nomads on YouTube
Other Cultural Attractions: Trip to Bari, Italy
If you have time for another church while in Bari, check out Chiesa Russa San Nicola. Now, as you may recall earlier, Basilica San Nicola attracts loads of pilgrims every year. However, not all are Catholic, as Saint Nicolas is also a major saint in the Russian Orthodox church.
So, to give Russian Orthodox pilgrims a familiar place to pray in Italy, a Russian Orthodox church was built in the early 20th century. Even today, it stands out, as Roman Catholicism is the dominant form of Christianity in Italy.
Southern Italy gets hot in the summertime – like, really hot. So, if you are in Bari on a particularly steamy day, seek relief by spending an afternoon at Pane e Pomodoro Beach. This place, while a bit short, is really wide and is covered in fine white sand.
Swimmers will love this place. In peak season, the water temperature averages around 26 to 27 degrees Celsius, which complements the perpetual 30 degree days that Bari gets in August. Arrive early during this time, though, as the sands fill with people from all over the country.
After a long day of sightseeing, join locals in a walk along the Lungomare e Murat. This promenade follows the waterfront of Bari, so you'll find people strolling, jogging, or enjoying life. Along the way, there are cafes, so take a seat and watch the beautiful people of this city go by.
End your time in Bari by exploring and enjoying La Città Vecchia. Translating to English as "The Old City," this part of town contains the finest architecture in Bari. After you finish exploring its narrow, maze-like streets, stop in at a bar, restaurant, or cafe for a great meal.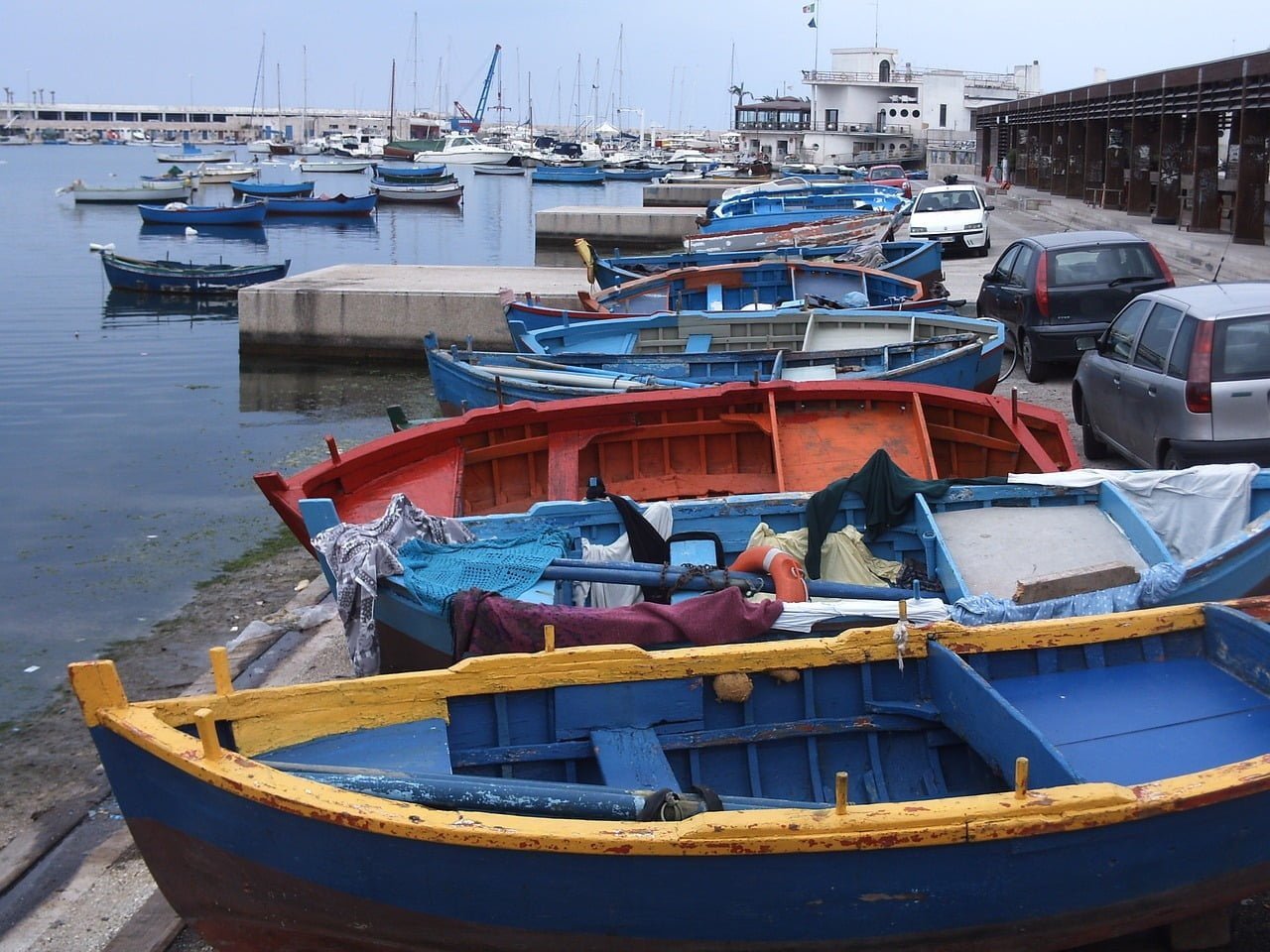 What To Eat and Drink in Bari, South Italy
If you find yourself in Bari during the winter, try some Sgagliozza. These squares of fried polenta, which are only seasoned with salt, are sold by street food vendors during colder seasons. While they are not complex, they are universally beloved comfort food in this region.
At dinner, find a restaurant that serves Orecchiette con Cime di Rapa. This pasta dish combines broccoli, chili peppers, Orecchiette noodles, and Pecorino Romano cheese to create a dish that Bari is famous for.
And as you enjoy this meal, pair it with some wine from the Locorotondo region. These dry varietals work best with seafood, but according to experts, they also pair amicably with pasta as well.