I have to admit I had serious reservations about attending the Boryeong Mud Festival held annually at Daecheon Beach, South Korea.  Firstly, it's well noted for being over-saturated with foreigners and I typically prefer events that are culturally rooted.  Secondly, I was sceptical of whether or not I should bring my dSLR given the forecast weather and obvious culprit, also know as mud, which apparently isn't all that fine and dandy to have smeared all over your camera.
Well, I can honestly say attending this festival was one of the best decisions I've made in recent months.  Not only did I have a blast getting covered in mud but I also feel I've captured one of the best photo sets this year.  Head over to Backpacking Travel Blog to see my sister Boryeong Mud Festival Photo Essay once you've of course perused this set 😛
The Boryeong Mud Festival is a spectacle that takes place annually in Boryeong during the monsoon season in South Korea.  The first fest took place in 1997 and in recent years participants have been crowding Daecheon beach in record numbers that exceed 2+ million.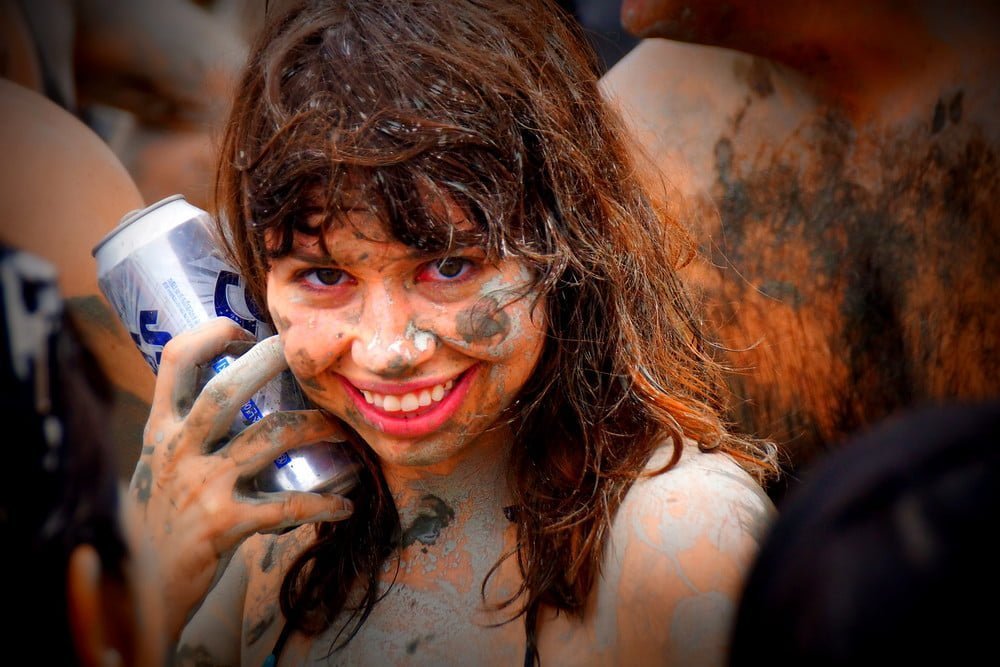 Major attractions include all day music concerts, mud wrestling, mud pools, mud mazes, mud jails and general beach activities along with copious amounts of alcohol and plastered mud.  It attracts an enormous foreign crowd (known locally as Waegooks) that include ESL teachers, American military personnel and others who specifically come to Korea for this event.
It's not easy to book cheap holidays when thousands of revellers descend on this small stretch of beach, however, it truly is an event not to be missed in my opinion.
Boryeong Mud Festival in Korea
A Korean girl flashes an authentic smile while enjoying a moment splashing around in a floating tube at Daecheon Beach, Korea.
You wish! A lady is being carried on piggyback through the crowd.
A candid shot of a Korean man wearing a 'distinct' Korean style cowboy hat near the beach.
Everybody getting their muddy boogie on during the musical performances.
Mud flying everywhere! This mud wrestling event covered the crowd just as much as the participants. I'm certainly glad I wrapped my dSLR in plastic.
A dude carrying a random 'old school' boom box entertains the wrestling crowd with music.
Two foreigners covered in mud engage in a friendly pre-ceremonial ritual before wrestling one another.
A Korean family enjoys a water gun fight with plenty of squirting and even more smiling faces.
An ecstatic lady covered in mud flashes a lovely smile while posing for the camera.
A Korean lady flashes a peace sign and an even bigger smile near the music stage.
Two Korean boys enjoying digging sand in what appears to be an early foundation of a sandcastle.
A Korean boy charges into the water with his water tube firmly gripped.
Two foreigners enjoy a candid smile near the mosh pit / concert area of the Boryeong Mud Festival.
A drummer plastered in mud without a shirt smiles while entertaining thousands with his slick skills.
A Korean lady bows during a traditional Korean religious ceremony that was taking place mere meters away from all of the drunken festivities.
Boryeong Mud Festival History
The Boryeong Mud Festival is a summer celebration that takes place in Boryeong, a charming coastal city situated on South Korea's west coast. This festival is centered around the remarkable properties of mud, which is extracted from the Boryeong mud flats, believed to have numerous health benefits, such as detoxification and enhanced skin health.
The festival's origin lies in an astute marketing campaign launched in 1998 by a Boryeong-based cosmetics company that featured mud extracted from the mud flats. This marketing initiative proved to be remarkably successful, paving the way for the inaugural festival held in 1999, aimed at promoting the cosmetics and drawing tourists to the city.
Since its inception, the Boryeong Mud Festival has surged in popularity, becoming a premier summer attraction that draws countless visitors from across the globe. The festival's various activities, including mud wrestling, mud sliding, mud skiing, and mud painting, all provide endless hours of fun and entertainment for attendees.
Beyond the mud-centric activities, the festival also offers a plethora of other events, such as live music performances, stunning fireworks displays, and numerous food and drink vendors. The festival has evolved into a cultural landmark in South Korea, eagerly anticipated each summer by both locals and visitors alike.
In summary, the Boryeong Mud Festival's roots lie in a clever marketing campaign for a cosmetics company that evolved into an extraordinary cultural experience. The festival's focus on the therapeutic and beneficial properties of mud has made it a significant drawcard for visitors from around the world. As its popularity continues to grow, the Boryeong Mud Festival cements its status as an essential event for anyone seeking to experience the unique and vibrant culture of South Korea.
Boryeong Mud Festival: Where To Stay
The Boryeong Mud Festival is an event that attracts tourists from far and wide. If you're looking to partake in this one-of-a-kind experience, finding the right accommodation can be an essential component of your trip. Fortunately, Boryeong and its surrounding areas offer a wide range of lodging options, catering to all preferences and budgets.
One popular choice among festival-goers is to stay in one of the many hotels located within Boryeong's city center. These accommodations provide convenient access to the festival's festivities and are often a cost-effective option.
For those looking for a more serene and laid-back experience, the nearby beach resort town of Daecheon may be the ideal choice. This picturesque town is home to a variety of guesthouses and pensions, as well as luxury hotels that offer a range of amenities. It is an excellent place to retreat after a long day spent in the midst of the festival.
For those seeking a more luxurious stay, the coastal resorts and high-end hotels lining Boryeong's coastline are sure to impress. With an array of amenities such as gourmet dining, swimming pools, and spas, these establishments offer the perfect opportunity to indulge in relaxation and luxury.
If you're looking to immerse yourself in traditional Korean culture, staying at a Hanok guesthouse is a must. These accommodations provide a unique opportunity to experience traditional Korean architecture and customs. Many of these guesthouses can be found in Bukchon Hanok Village, a short distance from Boryeong.
Choosing the right accommodations can make or break your Boryeong Mud Festival experience. With a variety of options ranging from budget-friendly hotels to luxury resorts and traditional Hanok guesthouses, visitors are sure to find a lodging option that fits their preferences and budget.