Hakodate Travel Guide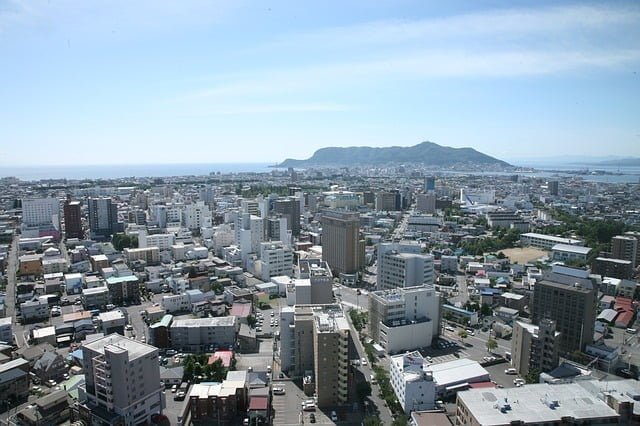 Introduction
Those entering Hokkaido via ferry will arrive at the historic city of Hakodate.
Boasting a magnificent fortress, an attractive foreigner district, and great museums, it will prove to be a worthy introduction to this massive island.
Come check out our Hakodate travel guide as we cover the best things to do in Hakodate, Japan.
Top Attractions
Often throughout its history, Japan has closed itself off from the world. By the 19th century, though, they could not afford to ignore the massive growth and influence of Western powers. While Hakodate was one of a handful of cities they opened up to foreign traders, they also correctly realized this opened them up to an attack by the countries from which they were from.
To defend against this, the Japanese built Fort Goryokaku to guard the essential port city of Hakodate. Constructed in a classic star formation, it never was involved in a war against a foreign aggressor, but it did see action in a civil war, where the shogunate mounted a last-gasp offensive against the Meiji government by attempting to take this fortress.
By the early 20th century, it became obsolete from a military perspective, so it was converted into a public park. Come by if you here in early May, as it is usually at this time when the cherry trees planted here burst out into full blossom.
As mentioned previously, Hakodate has been open to the West since 1854. Soon after considerable numbers of foreigners began to move to the city, they took a liking to the district of Motomachi. In little time, they began to erect structures that reminded them of home, injecting some foreign flavour into this distinctly Japanese city.
As you stroll its streets, you'll find signs of British, Chinese, and Russian residency, among other countries. As you climb higher up the hill in this neighbourhood, be sure to look back and take in the view of Hakodate Bay, as it is particularly majestic on a clear day.
While you are still in Motomachi, fans of architecture will want to make room in their schedule to stop by the Old Public Hall of Hakodate Ward. A prime example of the European influence that swept this city soon after its opening to foreign traders and dignitaries, it has long been a residence of choice for members of the Japanese Royal Family whenever they visit the city of Hakodate.
Check with tourism officials to see if musical events are on the schedule during your visit, as the main hall of this building often hosts concerts by artists from across the country and around the world. Also, the balcony offers excellent views of the foreign quarter of Hakodate, so make sure you get a few shots from it as you wander around this grand building.
Finally, make sure to take a second to visit Hakodate Orthodox Church before leaving Motomachi to visit other parts of Hakodate. Built in 1859, it was constructed in tandem with the establishment of the Russian Consulate, as Orthodox Christianity was the state religion at the time.
Designed in the Russian Byzantine style (aka the typical onion bulb domes many associate with Russian churches), it is known by locals as the 'ding dong temple' due to the clarity of the church bells which ring out to announce the imminent start of mass.
Other Attractions
Those wanting to witness authentic street life in this city will want to set their alarms early so they can get up in time to check out the Hakodate Morning Market. Opening its doors at 5 am (6 am in winter), you'll get to see a dizzying array of seafood hauled in fresh from the ocean, along with fresh produce in season.
Nearby, there are numerous restaurants that draw on this reliable supply of excellent seafood to produce excellent cuisine – stop by after your market tour to have one of the better breakfasts you have had in your life.
Learn more about the indigenous tribes which called Hokkaido home before the arrival of the Japanese at the Hakodate Museum of Northern Peoples. While its collection is a bit on the small side, its low admission fee and the opportunity to learn about this resourceful First Nations tribe will add an element of enrichment to your Hokkaido holiday that you may not have expected.
As mentioned above, the opening of Hakodate to foreigners opened the door to different religions as well. The enduring legacy of this decision can be seen in the present day by visiting the Trappistine Monastery.
A peaceful compound featuring buildings built in the Gothic and Romanesque styles, you will feel like you have walked through a portal straight to Europe. Indeed, the only reminder you are in Japan will be the Japanese nuns you will get to meet during your visit. Be sure to try their ice cream, as it gets rave reviews from local and travellers alike!
Before moving on to your next destination in Hokkaido, head up to the top of Mount Hakodate via tram. The views of the city below are spectacular, especially at night. Those feeling a bit peckish will have a cafeteria-style restaurant at their disposal – while it is not five-star fare, it will pair perfectly with your time here.