Teaching English In China is one of the most amazing experiences we've ever had. We've travelled the world for three years, witnessed amazing cultures, sampled succulent cuisines and indulged in a lifestyle of adventure and excitement. There comes a time in every traveller's life, however, when new experiences present themselves in ways never before imagined. For us, it was the joy of volunteering to teach English in a rural village in Myanmar that really sparked our interest in this astonishingly rewarding profession. We've now been teaching English in China for 6 months and although we will soon pack our bags again and carry on our life's journey, we have found our experiences here to be as epic as any we've ever had on the road.
Teaching English in China: Top 10 Reasons
Teaching will stay with us forever and we will come back to it. It's the perfect way for travellers to "work" while still enjoying new people, places and perspective. Teaching English has enriched our lives and taught us much about Chinese culture and customs that we would never have learned while passing through. It has had such a profound effect on our life that we have decided to put together this list of 10 Reasons To Start Teaching English In China.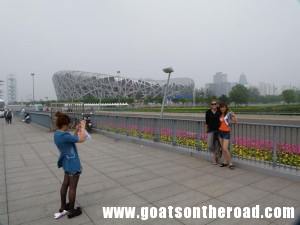 1. The People: The people in China are incredibly friendly and they will always treat you like an honoured guest in their country. If you live in a touristy city like Shanghai or Beijing, you may not receive as warm of a welcome, but almost everywhere else in the country you will be treated like a star. People go out of their way to say hello, smile at you or stop their car to stare at you. They will invite you to their homes for dinner, offer you free vegetables at the market and never rip you off. We've lived here for 7 months and we've never had a taxi try to over charge, or a shop owner give us the "tourist price" that you see in so many other countries. The people of China are friendly, kind, honest and genuine.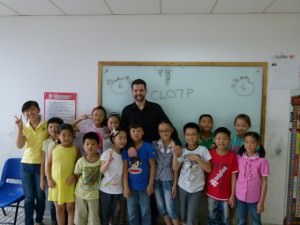 2. The Job: Teaching English in China is the most rewarding job we've ever had. Walking into a classroom to see 12 students light up at the sight of you, is an indescribable feeling. Chinese kids work extremely hard in school. By the age of 12 they spend up to 10 hours a day studying, but when they start their English lesson with the foreign teacher who lets them play games in class, they finally get a chance to let loose and have fun. Being a part of that fun is a blessing and they truly love and respect their foreign teachers in China.
3. The Food: Sure you've had Chinese food at home, but you really have no idea just how delicious the food here is until you've sampled it straight from the source. There is an astounding variety of colors and flavors, and although Chinese people are notorious for eating anything and everything, there are plenty of "normal" dishes on the menu. And who knows, you may be like us and find out that you really like ox tongue and sheep stomach!
4. The Salary: You may think that $1500 a month would be hard to live off of at home, but here in China where everything is affordable, you really only need half of that to survive. This means that the rest can be saved or spent on an extravagant lifestyle. You can pretty much afford to eat at restaurants every meal, drink as much beer as you want and travel around the country on your holidays. Or you can save that money and travel the world for a few months when your teaching contract is up.
5. The Assistance Programs: Usually when you get a job teaching English in China, you will be assigned a "welfare assistant" who will help you with everything you need … and we mean everything. It's like having a full-time assistant at your disposal at any time. If you don't know how to order a dish at a restaurant you can call, if you're stranded somewhere you can call, if you don't know how to pay your bills, deposit money or send money home, your welfare assistant can do it all for you. Just be sure that when you're searching for a job, you look for a school with a good welfare program.
6. The Feeling Of Travelling While You're Working: One of the best parts of teaching English in China is the feeling of being somewhere new every day. Sure you have a bit of a routine going to work, but every day on your way to work you'll see something you're not used to. China is a fabulously different place and every minute you're here, you know you're somewhere exotic. So for those of you who crave the spontaneity of travel, China manages to satisfy those needs while you're living your day-to-day life.
And on your time off, you can explore places most tourists never get to see. For example, Travel in Yunnan will allow you to take in sights like Tiger Leaping Gorge, as well as soaring mountains and scenic rice terraces.
7. The Hours: Most jobs teaching English in China will advertise around 20 hours per week, but we know a lot of foreigners here teaching at many different schools and the truth is that you will often work far less than that. Our schedule is 6 teaching hours on Saturday and Sunday, and then 5 or 6 more hours spread over the rest of our work week (from Wednesday to Friday). How easy is that? There is always some extra time associated with teaching like marking tests and writing lesson plans, but working less than 20 hours a week leaves us plenty of time to do things we love: hanging out with friends, seeing China and working on our website.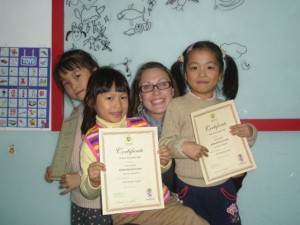 8. Tutoring Opportunities: If you're coming to China to teach English and you want to make more money and work more than 20 hours a week, then you're in for a treat. It's extremely easy to find tutoring work here. In fact, within your first couple of months working, you'll probably be offered a few private jobs. You can make around 200 RMB ($28) / hour tutoring students and you probably only teach one or two kids at a time. Easy money to add to your travel fund!
9. Feeling Like A Rock Star: Being a foreigner in much of China is still a commodity. We've been asked to be on TV twice and we were recently paid to be white faces in an advertisement campaign for an energy company here in Yangzhou. We've heard of other foreigners being paid to attend business meetings solely for the purpose of having a white face in the meeting to boost the business' credibility. Sounds strange to us, but many Chinese people associate a foreign face with success, and these moments of fame can pay quite handsomely.
10. China Is Just A Great Place: We love living in China. We love how different it is and yet, how comfortable we can be living here. We love learning new things every day and hearing Chinese people laugh when we try to speak mandarin (it's extremely difficult). We love the food and the friends, the foreigners and the locals, the parties and the festivals. There is a lot to love about China and teaching English in China was one of the best decisions we've ever made.
So what are you waiting for? If you thought it was too hard to get a job, the hours were too long or China was too crazy for you, hopefully this article has helped put those worries to rest. China's the perfect place to start teaching English and you'll always look back on it with fond memories and perhaps it will be your first step into a better lifestyle. All you need to do now is learn more about teaching English In China, what to expect and then find a job and go! The best way to do this is to check out these articles:
Teaching English In China, Frequently Asked Questions About The Job
&
Teaching English In China: Getting Started FAQ's.
Nick & Dariece have an inspiring travel blog Goats On The Road which features excellent tips, advice and stories.