An elderly Thai lady wearing a conical hat dips her paddle into the water as I fire off an exposure of a vendor arranging an assortment of fruit at her individual stall. As a passenger on this small vessel making its way down a canal, I'm surrounded by colorful displays of goods and inundated by exotic smells at this Thai floating market.
Visiting markets (especially floating ones) is one of my favorite travel activities; however, the scene I tried to convey above is far from the truth. What I failed to mention is that the boat I'm on is packed with other foreigners (Thai: farang) with a plethora of other vessels – both behind and in front of us – transporting even more tourists.
As a travel photographer, this is a treasure trove of an opportunity to take candid portraits while capturing all of the colorful exotic displays and bustle of this Thai floating market; however, as I've pointed out in a previous article, impressive travel photos don't always have an equally impressive story behind them.
Unlike local markets, where vendors hardly notice the presence of a foreigner, I'm constantly being badgered to purchase something: "By from meeeee. Fried Bananaaaaa! Coconut here!!!!"
Conflicted by the reality of the situation, I can allow myself to feel entirely jaded by the experience or just go with the flow; I decide on the latter and continue pressing down on my shutter release as I wander around the floating market.
As a now popular tourist attraction, Damnoensaduak floating market was originally the name of a canal dug by military personnel during the reign of Thai King Rama IV. Rivers and canals, at the time were the lifeblood of transportation and goods; however, the now crowded market caters mostly towards tourists.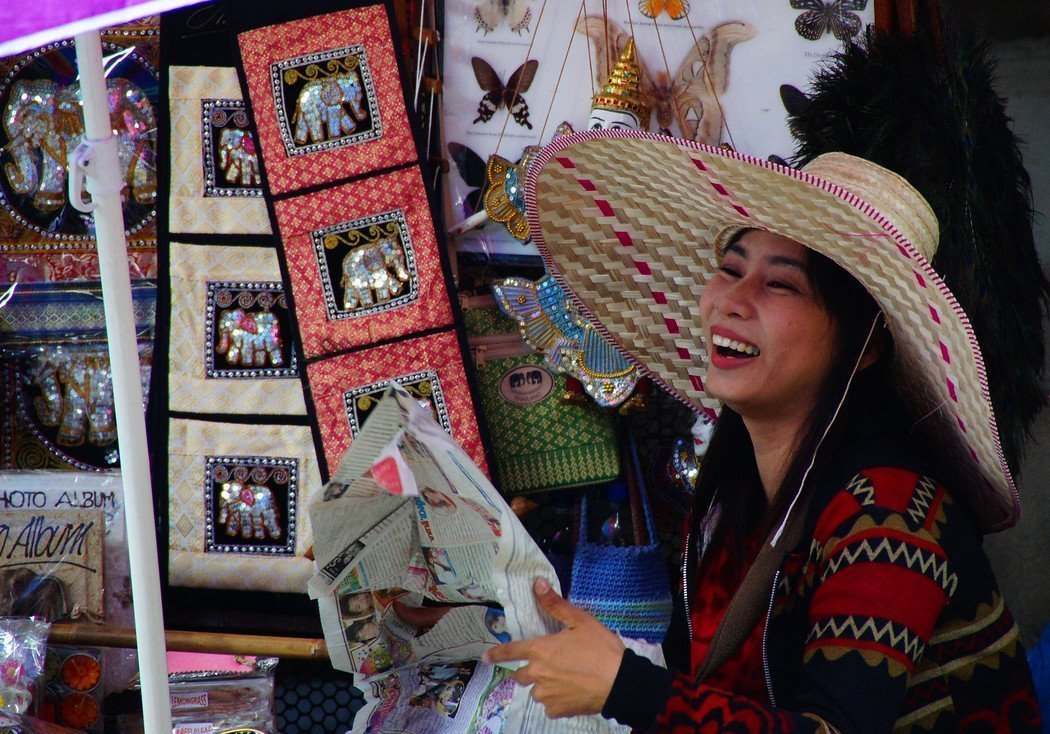 History Of Thai Floating Markets
The floating markets of Thailand are a captivating wonder, steeped in rich history and traditions that date back centuries. They are a testament to the resourcefulness and ingenuity of the Thai people, who have ingeniously adapted to the natural waterways of the region to create a vibrant marketplace on the water.
As you glide through the bustling markets on a traditional wooden boat, you are transported to another world. The vibrant colors, the exotic scents, the lively chatter of the vendors, all create an atmosphere of excitement and energy that is truly unforgettable.
But the floating markets are not just about commerce; they are a vital part of the cultural fabric of the region. Here, you can witness the rich tapestry of Thai traditions and customs on full display, from the intricate dances and performances to the mouth-watering cuisine and local delicacies.
The markets are a celebration of diversity and cultural exchange, bringing together people from all walks of life and backgrounds. They offer a glimpse into the lives of the locals, who have built their communities and livelihoods around these waterways.
As you explore the markets, you will be swept up in the enchanting sights and sounds that surround you. The colorful boats, adorned with flowers and brightly colored fabrics, are a sight to behold. The vendors, expertly balancing their wares on the water, are a testament to the skill and dexterity of the Thai people.
The floating markets of Thailand are more than just a tourist attraction; they are a living, breathing part of the country's heritage and culture. They are a testament to the resilience and adaptability of the Thai people, who have created a thriving marketplace on the water that is as vibrant today as it was centuries ago.
Damnoen Saduak: Thai Floating Market
A Thai conical hat for sale on an otherwise bare display table
Scenic views from our longboat of lush green vegetation and murky brown waters prior to reaching the Thai floating market.
An elderly Thai lady paddles here way down the canal in a tiny vessel while trying to avoid colliding with much larger ones.
Batter is being poured into a mold being used to make Thai cakes.
A Thai lady vendor with a collection of hats for sale flashes a smile.
This is a side perspective shot of a Thai lady rowing a boat loaded with fruit to the floating market.
An overhead perspective shot of the colorful Thai floating market.
A candid moment, where this Thai lady is communicating with another vendor at the floating market.
A Thai lady with dyed hair makes eye contact with a group of tourists.
An overhead perspective travel photo of three rowboats filled with fruit (bananas and coconuts) passing each other at the same time.
A friendly exchange between two Thai vendors both selling deep fried banana wedges.
Colorful fans for sale with elephant patterned designs.
A selfie portrait from two tourists visiting the floating market.
A candid photo of a Thai lady wearing a conical hat and army fatigue inspired apron.
What Can You Buy At A Thai Floating Market?
Damnoen Saduak is a place that captures the essence of traditional Thai commerce and culture. This bustling floating market is a must-visit for anyone looking to experience the vibrant energy and unique products of Thailand.
As you explore the market, you'll discover a kaleidoscope of colors and smells that awaken your senses. The scent of fresh fruits and exotic spices fills the air, and the bright hues of handcrafted textiles and artisanal crafts catch your eye.
Food is a major highlight of Damnoen Saduak, and there's no shortage of delicious treats to try. From savory noodle soups to sweet and sticky desserts, there's something to satisfy every craving. Be sure to sample the famous mango sticky rice, a delicacy that perfectly blends the sweetness of ripe mangoes with the creaminess of coconut milk and the nuttiness of glutinous rice.
If you're in the mood for shopping, Damnoen Saduak has plenty of treasures to discover. The market is known for its handmade souvenirs and gifts, such as intricate wood carvings, delicate ceramics, and beautiful textiles. These unique products are made with care by local artisans, and are a great way to support the local community while also taking home a piece of Thai culture.
For fashion lovers, Damnoen Saduak is a paradise of colorful fabrics and accessories. You'll find a range of traditional Thai clothing, such as sarongs and silk scarves, as well as ornate jewelry and headpieces. These items make great statement pieces and are perfect for adding a touch of Thai flair to your wardrobe.
And of course, no visit to Damnoen Saduak is complete without sampling some of the fresh produce on offer. The market is brimming with tropical fruits, such as juicy pineapples and ripe mangoes, as well as fragrant herbs and spices like lemongrass and coriander. It's the perfect opportunity to taste the flavors of Thailand and take home some ingredients to recreate your favorite dishes back home.
Overall, Damnoen Saduak is a true gem of Thai culture and commerce, a place that captures the spirit of the country in its vibrant colors, delicious flavors, and unique products. So be sure to visit and immerse yourself in the sights, smells, and sounds of this lively floating market.
How To Visit Damnoen Saduak From Bangkok
Located about 100 kilometers southwest of Bangkok, Damnoen Saduak is one of Thailand's most iconic floating markets. It is a bustling, colorful, and authentic representation of traditional Thai commerce that has captured the imagination of travelers from around the world. For those looking to experience the market's vibrant energy and local culture, here's how to visit Damnoen Saduak from Bangkok.
The easiest and most convenient way to reach Damnoen Saduak is by hiring a private car. This gives you the freedom to explore the market at your own pace and return to Bangkok whenever you're ready. You can hire a car from any of the major car rental companies in Bangkok or arrange for a private driver through your hotel. Expect to pay around 1,500 to 2,000 baht for a round trip, depending on the size of the vehicle and the duration of the trip.
Another popular option for visiting Damnoen Saduak is to join a tour. There are numerous tour operators in Bangkok offering day trips to the market. These tours usually include hotel pickup, transportation to the market, and a guided tour of the market itself. Some tours also include additional activities, such as a visit to a nearby temple or a traditional Thai lunch. Prices for tours vary, but expect to pay around 800 to 1,500 baht per person, depending on the tour operator and the type of tour.
For travelers on a budget, taking a public bus from Bangkok to Damnoen Saduak is a viable option. Buses depart regularly from the Southern Bus Terminal in Bangkok and take around two hours to reach the market. Once you arrive, you can hire a boat to explore the market. However, be prepared for crowds and limited space on the boat.
If you prefer a more luxurious experience, you can hire a private boat to take you around the market. This will allow you to avoid the crowds and have a more personalized tour of the market. Private boat tours can be arranged through tour operators in Bangkok or directly at the market. Prices vary depending on the size of the boat and the duration of the tour, but expect to pay around 1,000 to 2,000 baht per person.
Regardless of how you choose to get to Damnoen Saduak, be prepared for a sensory overload of colors, sounds, and smells. The market is open daily from early morning until late afternoon, but it's best to arrive early to avoid the crowds and heat. Once you're there, be sure to take a leisurely boat ride through the market's narrow canals to get a closer look at the local vendors and their goods. Don't forget to try the local delicacies, such as grilled squid or mango sticky rice, and sample the fresh fruit and juices for a truly authentic experience.
Overall, visiting Damnoen Saduak is an essential part of any trip to Thailand. It's a chance to immerse yourself in the country's vibrant culture, interact with the locals, and get a taste of traditional Thai cuisine. Whether you choose to go by car, bus, or boat, a visit to Damnoen Saduak will be an unforgettable experience.
How do you feel about visiting an attraction that clearly caters towards tourists?